On 4/20, ACLU Highlights Racist Marijuana Enforcement In New Report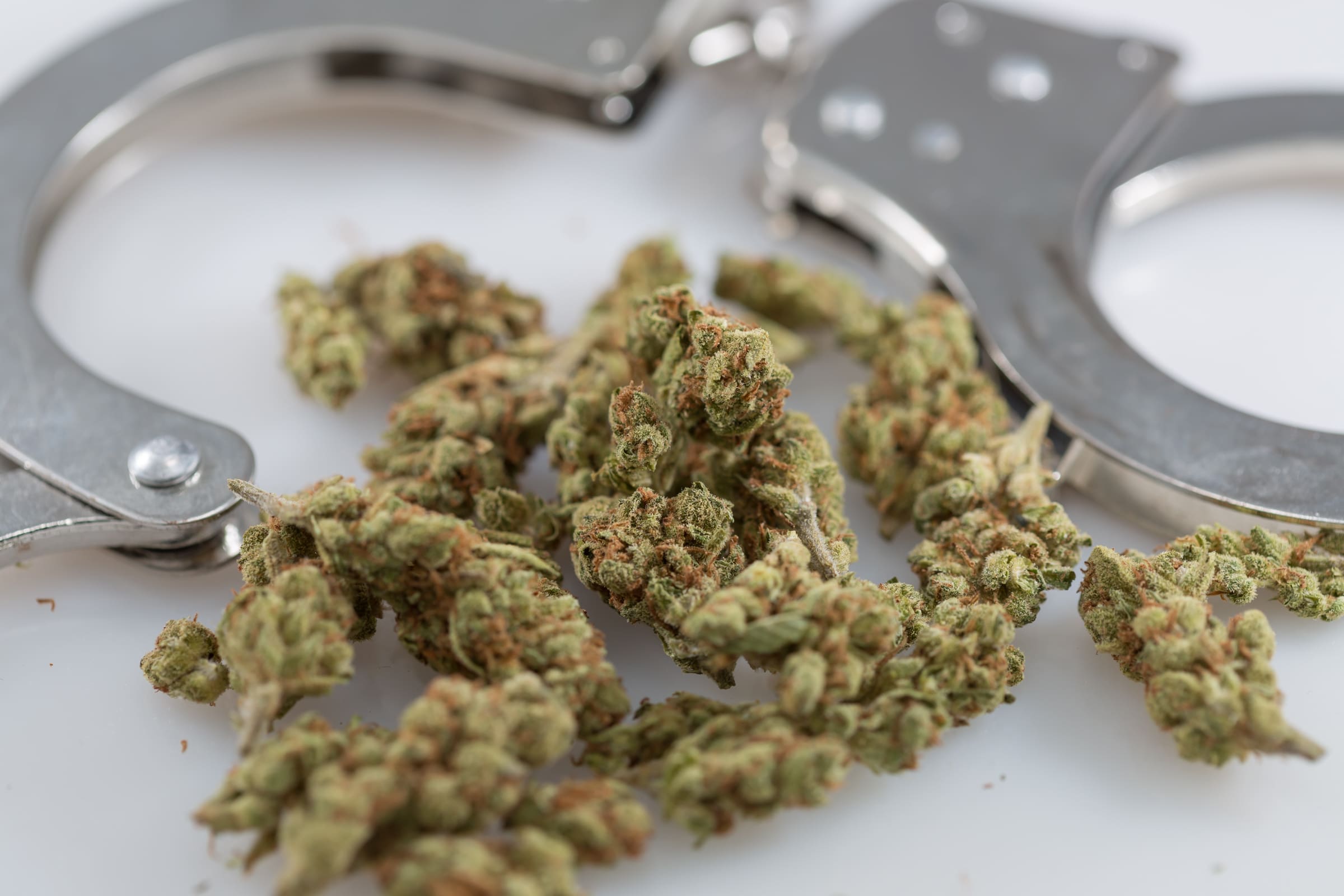 April 20, or 4/20, is a day when many people across the world celebrate marijuana culture by toking up, jamming out to tunes and filling up on munchies.
But the American Civil Liberties Union (ACLU) is using the unofficial cannabis holiday to draw attention to a serious issue: Despite the growing number of states that are enacting legalization laws, people of color are still much more likely to be arrested for marijuana than white people are—even though consumption rates are virtually identical across races.
In a new report released on Monday, ACLU reveals that while overall arrests are way down in states that have ended prohibition, racial disparities in remaining enforcement persist in those places. Meanwhile, some still-criminalized states are arresting black people for cannabis at almost ten times the rate that whites are busted.
Here are the key findings of the report—"A Tale of Two Countries: Racially Targeted Arrests in the Era of Marijuana Reform"—which is a follow-up to a similar study the organization released in 2013 that drew broad attention to unfair cannabis arrests rates at a time when legalization was just starting to become a major issue in American politics:
Marijuana Arrests Are Still Widespread Across The U.S.
Marijuana arrests nationally are down 18% since 2010, but there has been an uptick since 2015—even though more states are enacting legalization or decriminalization policies.
Cannabis arrests accounted for 43 percent of all drug arrests in 2018, the most recent year the report covers, and an overwhelming majority of those arrests—89.6 percent—were for possession alone.
Extreme Racial Disparities In Marijuana Enforcement Persist
Overall, black people are 3.64 times more likely than white people to be arrested for marijuana possession, even though usage rates are comparable. The trend toward legalization and decriminalization hasn't reduced national trends in disparate enforcement—and in some parts of the country, they have worsened.
African Americans are more likely to be arrested for marijuana possession in every single state in the country.
"Racial disparities in marijuana possession arrests exist across the country, in every state, in counties large and small, urban and rural, wealthy and poor, and with large and small Black populations," the report says. "Indeed, in every state and in over 95 percent of counties with more than 30,000 people in which at least 1 percent of the residents are Black, Black people are arrested at higher rates than white people for marijuana possession."
Marijuana Arrests Decrease After Decriminalization, But Drop More Sharply In Fully Legalized States
Not surprisingly, states that legalized cannabis saw decreases in marijuana possession arrests—though ACLU found that some of these had been experiencing a downward trend even before prohibition was ended.
States with less far-reaching policies that simply decriminalize possession also see reductions in arrests, but not as much as in those places where prohibition is ended altogether. Cannabis possession bust rates are roughly eight times higher in decriminalized states than in ones that have fully legalized, though they are lower than in those where broad criminalization is still the law.
When it comes to arrests for selling marijuana, states with legalization saw an 81.3 percent drop between 2010 and 2018, while decriminalized states experienced a 33.6 percent reduction over that period.
Racial Disparities Persist Even Legalized Or Decriminalized States
Even while overall marijuana arrests are down in legalized and decriminalized states, black people are still much more likely to be busted for cannabis than white people are. "In every state that has legalized or decriminalized marijuana possession, Black people are still more likely to be arrested for possession than white people," ACLU found.
"Most jurisdictions that have enacted progressive marijuana policy have failed to do so from a foundation of racial justice," the report warns. "As such, though legalization and decriminalization appear to reduce the overall number of marijuana possession arrests for black and white people alike, such laws have not substantially reduced, let alone eliminated, the significantly larger arrest rates of black people."
While on average legalized states have lower racial disparities in marijuana possession arrests compared those that have only decriminalized or where prohibition is in full force, Maine and Massachusetts—which both voted to legalize cannabis in 2016—had larger racial disparities in 2018 than they did in 2010.
"The one common finding across every state and the vast majority of counties is that black people are more likely to be arrested for possessing marijuana than white people, regardless of whether possession is illegal, legal, or decriminalized in their state," the report concludes.
ACLU also reported that shortcomings in police data make it hard to get a full understanding of the unfair impact marijuana enforcement has across racial lines. For example, FBI arrest numbers do not distinguish between Latinos and those of other races, obscuring the particular impact that prohibition has on brown as well as black people.
Along with the report, ACLU launched an online tool that makes it easy for people to see just how discriminatory marijuana enforcement practices are in their own states.
Montana is the worst offender, with black people there being 9.6 times more likely to be arrested for marijuana than white people. Kentucky was not far behind with a disparate rate to the tune of 9.4.
In Colorado, the state with the least discriminatory enforcement rate, African Americans are still 1.5 times more likely to be busted for cannabis than white people are.
Zooming in further to the county level, ACLU found that even within states there are vast differences in how cannabis laws are being enforced.
In Franklin County, Massachusetts, a black person is 117 times more likely to be busted for marijuana possession than a white person is.
"The U.S. has waged a failed, devastating, decades-long war on drugs, including marijuana, in specific communities. Rounding up hundreds of thousands of people every year—millions every decade—for marijuana offenses, this racist campaign has caused profound and far-reaching harm on the people arrested, convicted, and/or incarcerated for marijuana offenses," ACLU said. "Such harm cannot be undone, but as a country we can acknowledge, repair, and rebuild so that our future looks nothing like our prohibitionist past."
Looking ahead, the organization is recommending that the federal and state governments legalize marijuana, but that they not stop there. In addition to expunging prior convictions and granting clemency to people still incarcerated on cannabis changes, the group is urging that newly legal markets be made equitable and accessible to people from communities that have been most harmed by the war on drugs.
It's past time that we not just legalize marijuana, but do so in a way that tackles racial disparities head-on.

The MORE Act will do just that.

This #420day, tell your representatives to pass the most comprehensive marijuana reform bill in Congress. https://t.co/SD9sOaMExT

— ACLU (@ACLU) April 20, 2020
"The question no longer is whether the U.S. should legalize marijuana—it should—or whether marijuana legalization is about racial equity—it is. It is also no longer about whether all levels of government should redirect resources away from prosecution of marijuana and toward public health investments and community collaborations—they should," the report says.
"Rather, the question is: When states legalize, how can they do so through a racial justice lens to address the panoply of harms that have been selectively aimed at Black and Latinx communities for decades?" it continues.
Although opponents of marijuana legalization have pointed to previous data showing ongoing racial disparities in enforcement post-prohibition as a reason to argue against the policy change, ACLU is very clear that their new report should not be used to push for continued criminalization.
"In short, legalization by itself means fewer black people getting arrested. Conversely, prohibition means more—many, many more—black people getting arrested, jailed, convicted," Ezekiel Edwards, who authored the report and is the director of the organization's Criminal Law Reform Project, said in an email. "So it would be wrong to suggest that legalization is a wash regarding alleviating the negative impacts of marijuana criminalization."
He also cautioned against stopping at simply decriminalizing cannabis possession, a policy that some legalization opponents say they support as an alternative between incarceration and a commercial marijuana market, pointing out that there are "more black people getting arrested in states that decriminalized than those that have legalized."
That said, he noted that "legalization on its own does not address the racial disparities in marijuana arrests or achieve racial equity more broadly in marijuana reform."
It is crucial, Edwards argued, for states to "center legalization in racial justice."
"This means not only including equity-focused legislation led and informed by communities directly harmed by prohibition, but also tethering legalization to changing the way police departments treat communities of color," he said. "If marijuana is legalized without reducing racial profiling and the unnecessary harassment and surveillance of people because of the color of their skin or the neighborhood they live in, there will be a drop in marijuana arrests but no tangible impact on the racial disparities of those arrests, or on other arrests for other petty offenses regarding which we consistently find the police treating people differently based on race."
Mississippi Supreme Court Overturns Medical Marijuana Legalization Ballot That Voters Approved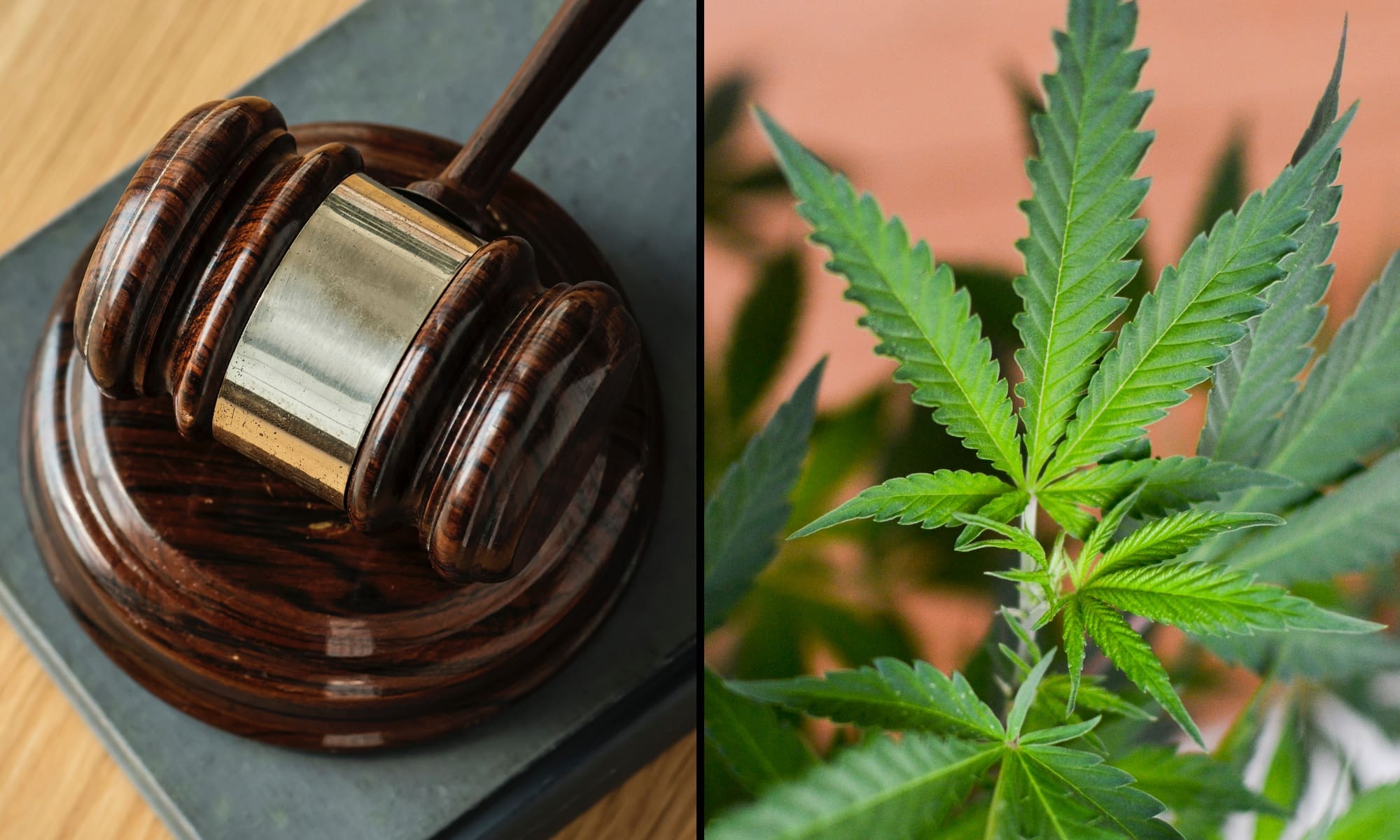 A voter-approved initiative to legalize medical marijuana in Mississippi has been overturned by the state Supreme Court.
On Friday, the court ruled in favor of a Mississippi mayor who filed a legal challenge against the 2020 measure, nullifying its certification by the Secretary of State. The lawsuit was unrelated to the reform proposal itself, but plaintiffs argued that the constitutional amendment violated procedural rules in place.
While the court acknowledged that a "strong, if not overwhelming, majority of voters of Mississippi approved Initiative 65" to legalize medical cannabis in the state, Madison Mayor Mary Hawkins Butler's (R) petition was valid for statutory reasons.
Madison's challenge cites a state law stipulating that "signatures of the qualified electors from any congressional district shall not exceed one-fifth (1/5) of the total number of signatures required to qualify an initiative petition for placement upon the ballot." But that policy went into effect when Mississippi had five congressional districts, and that's since been reduced to four, making it mathematically impossible to adhere to.
The state pushed back against the lawsuit and argued that a plain reading of the state Constitution makes it clear that the intention of the district-based requirement was to ensure that signatures were collected in a geographically dispersed manner—and the result of the campaign met that standard.
But in the court's ruling released on Friday, the justices said that their hands were tied. The legislature or administration might be able to fix the procedural ballot issue, but it had to follow the letter of the law.
"We find ourselves presented with the question squarely before us and nowhere to turn but to its answer," the decision states. "Remaining mindful of both the November 3, 2020 election results and the clear language in section 273 seeking to preserve the right of the people to enact changes to their Constitution, we nonetheless must hold that the text of section 273 fails to account for the possibility that has become reality in Mississippi."
In sum, a Census-driven change in the number of congressional districts in Mississippi "did, indeed, break section 273 so that, absent amendment, it no longer functions," meaning there's no legal way to pass a constitutional ballot initiative in the state.
"Whether with intent, by oversight, or for some other reason, the drafters of section 273(3) wrote a ballot-initiative process that cannot work in a world where Mississippi has fewer than five representatives in Congress. To work in today's reality, it will need amending—something that lies beyond the power of the Supreme Court."
"We grant the petition, reverse the Secretary of State's certification of Initiative 65, and hold that any subsequent proceedings on it are void," the court ruled.
One justice who dissented said that the district-based requirement is arbitrary as it concerns Mississippi elections. While the federal government defines the state as having five congressional districts, the state Constitution "lays out the five districts," and "there have been zero changes to the five districts" as far as the state's laws are concerned.
In any case, this marks a major defeat for cannabis reform activists in the state who collected more than 214,000 signatures for their measure and saw 68 percent of voters approve it last year.
Under the voter-approved initiative, patients with debilitating medical issues would have been allowed to legally obtain marijuana after getting a doctor's recommendation. The proposal included 22 qualifying conditions such as cancer, chronic pain and post-traumatic stress disorder, and patients would have been able to possess up to 2.5 ounces of marijuana per 14-day period.
There was an attempt in the legislature to pass a bill to legalize medical marijuana in the event that the court overruled the voter-approved initiative, but it failed to be enacted by the session's end.
This is the latest state Supreme Court setback to affect cannabis reform efforts.
Last month, the Florida Supreme Court dealt a critical blow to marijuana activists working to legalize marijuana in the state—killing an initiative that hundreds of thousands of voters have already signed and forcing them to start all over again if they want to make the 2022 ballot.
While a Nebraska campaign collected enough signatures to qualify a reform initiative in 2020, the state Supreme Court shut it down following a legal challenge. It determined that the measure violated the state's single-subject rule, much to the disappointment of advocates.
Read the Mississippi Supreme Court ruling on the medical cannabis initiative below: 
Mississippi Supreme Court m… by Marijuana Moment
Congressional Bill Filed To Protect Marijuana Consumers From Losing Public Housing
Photo elements courtesy of rawpixel and Philip Steffan.
Congressional Bill Filed To Protect Marijuana Consumers From Losing Public Housing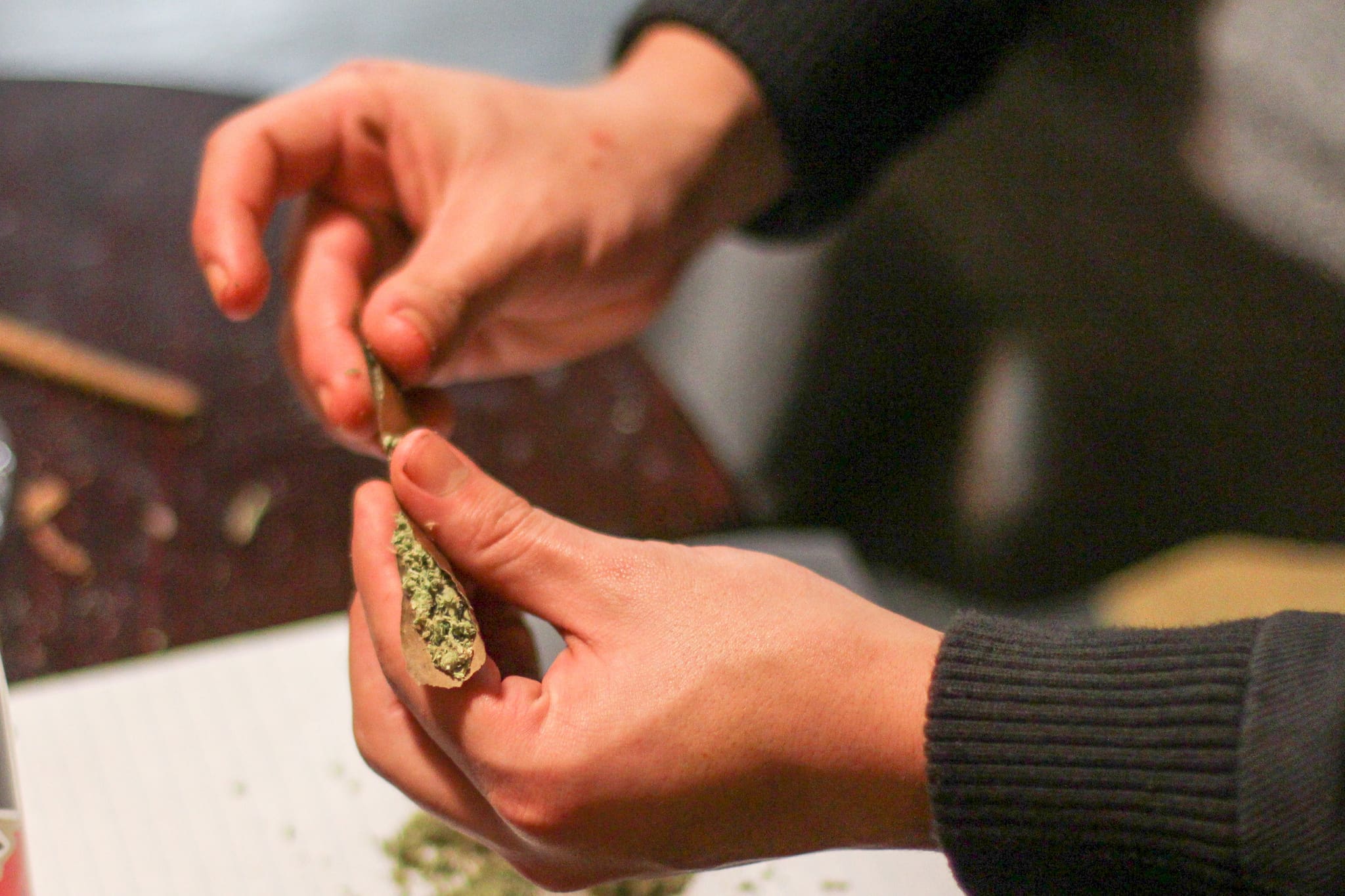 A congresswoman on Thursday reintroduced a bill that would allow people living in federally assisted housing to use marijuana in compliance with state law without fear of losing their homes.
As it stands, people living in public housing are prohibited from using controlled substances in those facilities regardless of state law, and landlords are able to evict such individuals. But the bill from Rep. Eleanor Holmes Norton (D-DC) would change that.
It would provide protections for people living in public housing or Section 8 housing from being displaced simply for using cannabis in states that have legalized it for medical or recreational purposes.
"Individuals living in federally assisted housing should not be denied admission, or fear eviction, for using a legal product," Norton said on Thursday. "Adult use and/or medical marijuana is currently legal in 36 states and the District of Columbia, and over 90 percent of Americans support legalized medical marijuana."
The legislation would also require the head of the Department of Housing and Urban Development (HUD) to enact regulations that restrict smoking marijuana at these properties in the same way that tobacco is handled.
"HUD, like DOJ, should not be allowed to enforce federal marijuana laws where states have taken action to legalize marijuana," the congresswoman said, referring to a congressionally approved rider that prevents the Department of Justice from interfering with state medical cannabis laws.
Norton filed earlier versions of the Marijuana in Federally Assisted Housing Parity Act in 2018 and 2019, but they did not receive hearings or votes.
In 2018, a Trump administration official said that she was working to resolve conflicting federal and state marijuana laws as it applies to residency in federally-subsidized housing, but it's not clear what came of that effort.
Rep. Alexandria Ocasio-Cortez (D-NY) also raised the issue during a committee hearing in 2019, pressing former HUD Secretary Ben Carson on policies that cause public housing residents and their families to be evicted for committing low-level offenses such as marijuana possession.
She pointed to two specific HUD policies: the "one strike" rule, which allows property managers to evict people living in federally assisted housing if they engage in illicit drug use or other crimes, and the "no fault" rule, which stipulates that public housing residents can be evicted due to illicit drug use by other members of their household or guests—even if the resident was unaware of the activity.
Ocasio-Cortez and then-Sen. Kamala Harris (D-CA) also filed legislation that year that would protect people with low-level drug convictions from being denied access to or being evicted from public housing.
Sen. Jeff Merkley (D-OR) also introduced an affordable housing bill last year that included a provision to prevent landlords from evicting people over manufacturing marijuana extracts if they have a license to do so.
Read the text of the marijuana housing legislation below: 
Norton cannabis housing bill by Marijuana Moment
Drug Possession Is Officially A Crime Again In Washington, But As A Misdemeanor Instead Of Felony
Photo courtesy of Martin Alonso.
FDA Clears Researchers To Study MDMA Use By Therapists Being Trained In Psychedelic Medicine
The Food and Drug Administration (FDA) has already authorized clinical trials into the therapeutic potential of MDMA for patients with post-traumatic stress disorders—but now it's given the green light to a psychedelics research institute to expand its studies by administering the substance to certain therapists.
Volunteer therapists who are being trained to treat people with PTSD will be able to participate in the Phase 1 trials to gain personal experience with the treatment option. This is a complementary research project that comes as the Multidisciplinary Association for Psychedelic Studies (MAPS) is in the process of conducting Phase 3 trials involving people with the disorder.
The development comes months after Canadian regulators announced that certain therapists would be allowed to take psilocybin in order to gain a better understanding of the psychedelic when treating patients.
MAPS sought permission to proceed with the therapist-specific trials in 2019, but FDA placed them on a 20-month hold because of concerns about the merits, risks and credentials of investigators. MAPS appealed that hold, providing evidence about the study's scientific value and ability of its staff, and FDA cleared them on Tuesday.
The U.S. FDA granted MAPS' appeal of the clinical hold on the Phase 1 #research study to assess the safety and psychological effects of #MDMA-assisted #therapy in healthy volunteer therapists.

Read the full press release: https://t.co/1PUJ9mpIQk pic.twitter.com/MnEyUSY6TB

— MAPS (@MAPS) May 13, 2021
The organization "chose to dispute" FDA's hold not just because of the impact it had on the planned studies, "but in an attempt to resolve an ongoing issue with the FDA regarding investigator qualifications across studies," it said in a press release on Wednesday.
"While the term 'dispute' may seem adversarial, this process can actually strengthen the relationship and trust between us and our review Division and ensures the Division has support on this project from the [FDA] Office of Neuroscience," MAPS Public Benefit Corporation (PBC) CEO Amy Emerson said. "This decision demonstrates how our strategic, data-driven strategy in challenging the FDA rulings can be successful."
Now MAPS is able to launch the Phase 1 clinical trials into MDMA-assisted therapy for therapists.
It will be designed to "measure development of self-compassion, professional quality of life, and professional burnout among clinicians delivering the treatment to patients," the association said.
Getting personal experience with the substance "is widely considered to be an important element in preparation and training to deliver psychedelic-assisted therapies."
This will "support the goals of the MDMA Therapy Training Program to provide comprehensive training to future providers," and it "builds capacity to deliver quality, accessible care to patients, pending approval of MDMA-assisted therapy as a legal prescription treatment," MAPS PBC Director and Head of Training and Supervision Shannon Carlin said.
FDA first granted MAPS's request for an emergency use authorization for MDMA in PTSD in 2017. The organization expects to complete its Phase 3 trails in 2022.
The scientific expansion move also comes as the psychedelics decriminalization movement continues to build in the U.S.
Nebraska Activists Relaunch Medical Marijuana Ballot Campaign After Legislative Filibuster Blocks Bill