Bees Like Big Hemp And They Cannot Lie, Study Shows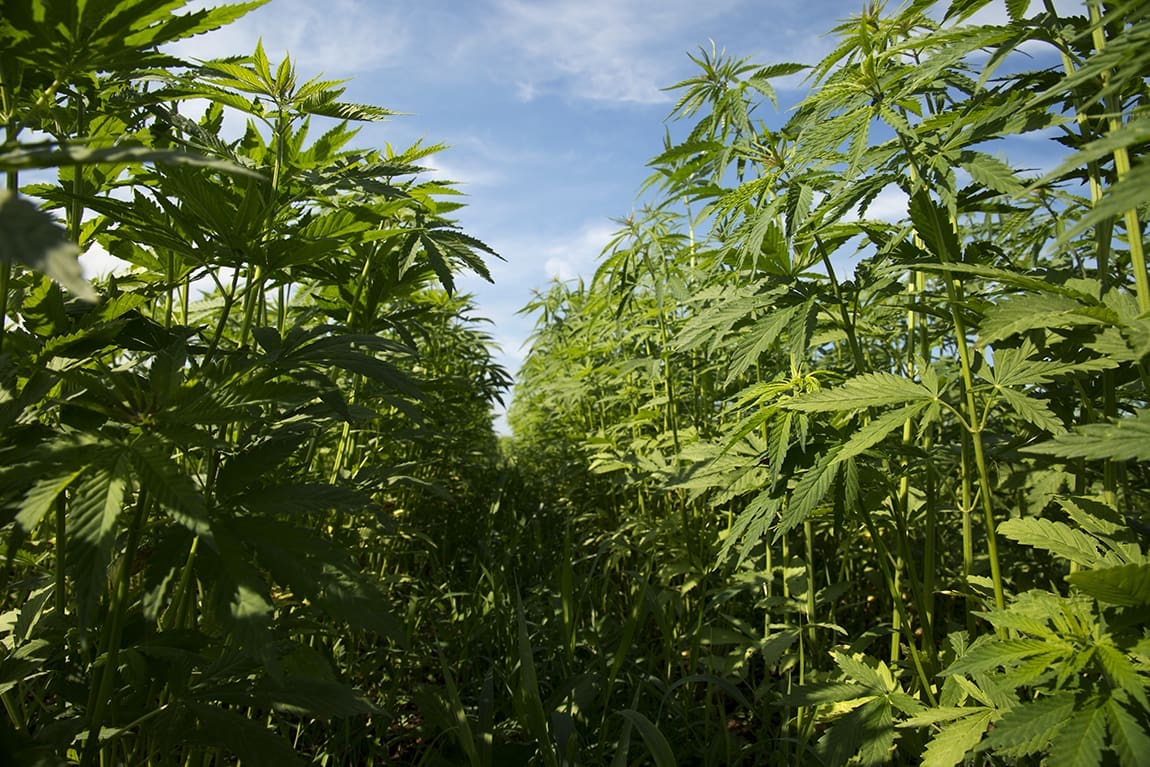 Some pollinators tend to flock to hemp, but according to a recent study, the taller the trees, the more plentiful the bees.
Researchers at Cornell University collected bees at 11 hemp farms in the Finger Lakes region of central New York in the summer of 2018 to identify which ones are attracted to hemp and "to analyze the effects of landscape composition" when they visit the crop.
In the study, published in the journal Environmental Entomology last week, the team found that plant height is "strongly correlated" with bee abundance and that hemp plants at least two meters tall attract "nearly 17 times the number of [bee] visits compared to short plants."
Both the sheer number and species of bees found visiting hemp "increased with plant height."
Additionally, they found that the cash crop can support 16 different bee varieties in the northeastern United States.
Of the 355 individual bees captured by "repeated sweep net collections," 60 percent were Apis mellifera, or western honey bees, while 30 percent were Bombus impatiens, the most commonly encountered bumblebee in eastern North America, which "is intensively relied upon" for pollination, the authors note.
"As cultivation of hemp increases, growers, land managers, and policy makers should consider its value in supporting bee communities and take its attractiveness to bees into account when developing pest management strategies," they wrote.
"Plant height…was strongly correlated with bee species richness and abundance for hemp plots with taller varieties attracting a broader diversity of bee species."
A similar study published earlier this year in Colorado concluded that bees are uniquely attracted to hemp, a finding that may inform more sustainable agricultural practices.
Although hemp does not have the characteristic vivid colors, enticing aromas and other alluring features that tempt insects and other pollinators, it nevertheless produces large amounts of pollen at a time of the year when there's typically a shortage—meaning hemp can be an important and plentiful source of food and nectar for bees when they need it.
The authors noted that bee populations—wild and domesticated alike—have taken a hit in recent years due to "large scale, intensified agriculture." According to the study, "landscape simplification," or the replacement of native plants with cash crops, "negatively impacted" the total number of bees near hemp, but did not affect the number of species found. This research suggests that hemp, especially tall plants, could be crucial to stemming declining bee populations.
New York has taken significant steps to encourage the cultivation of hemp. In 2015, the Empire State launched a hemp agricultural research pilot program. Two years later, the state lifted limits on the number of sites authorized for hemp growth and research and expanded the program to include businesses and farmers.
Congress paved the way for a massive expansion of hemp production in 2018 after Senate Majority Leader Mitch McConnell (R) pushed to add a provision legalizing hemp into the 2018 Farm Bill, helping to make his home state of Kentucky a significant hemp producer.
Senate Minority Leader Chuck Schumer (D-NY) has also been a champion of the hemp industry, and he's taken steps to ensure that his state reaps the benefits of the crop's legalization. After the Farm Bill was enacted, Schumer celebrated an announcement from a major cannabis company that said it would be investing millions into a hemp park in New York.
And after that company, Canopy Growth Corp., experienced a staffing shakeup, he called executives directly to confirm that plans were still on to launch the site.
People Are Skipping Sleep Aids In Favor of Marijuana, Study Reports
Photo courtesy of Brendan Cleak.