Atlanta Mayor Signs Marijuana Decrim Proposal
Marijuana penalties are about to get a lot lower in Georgia's largest city.
On Tuesday, Atlanta Mayor Kasim Reed (D) signed into law an ordinance that advocates say essentially decriminalizes cannabis.
Reed announced the move on Wednesday morning following a bout of confusion over erroneous reports that he had actually vetoed the proposal.
Pleased to sign the marijuana legislation last night at 6:24pm. Thanks to @KwanzaHall & @KeishaBottoms for all their hard work on this. pic.twitter.com/OyUFYwWYkW

— Kasim Reed (@KasimReed) October 11, 2017
Per the new ordinance, the threat of jail time for possession of less than an ounce of cannabis will be eliminated under local code. Instead, those caught with small amounts will be subject to a maximum fine of $75.
Currently, people who encounter police while possessing marijuana face fines of up to $1,000 and as many as six months in jail.
But the changes only apply to city policy. Even when the proposal takes effect, Georgia state marijuana criminalization will remain on the books and enforceable in the city of Atlanta.
"I am pleased to sign this ordinance, which eliminates jail time as a penalty for a conviction for possession of less than an ounce, into law," Reed said in a press release. "People of color, young and low-income people are disproportionately jailed – with sentences up to six months – for possessing small amounts of marijuana. An average of 1,000 people are arrested each year in Atlanta for possession only. We needed to change that. I believe our public safety resources are better directed to stopping and preventing violent crime."
The City Council unanimously approved the measure last week by a vote of 15-0.
We're still on a high from yesterday's vote to reduce penalty for possessing less than 1 ounce marijuana. The Mayor says he will sign off🙌

— Atlanta City Council (@ATLCouncil) October 3, 2017
The decriminalization measure's sponsor, Councilman Kwanza Hall, is running for mayor this year. Reed is term-limited and cannot run for reelection.
"While this is a significant step forward for all of Atlanta, and especially parents who fear their children may be jailed for what used to be an unjust marijuana law, it was also just a common-sense reform," Hall said in a press release after the mayor signed his legislation. "Today is a victory for grassroots organizers who fought tirelessly and created the momentum for us to deliver for the people. But while [the] signing is significant, we have more to do to address the many ways that 'Broken Windows' policing has unjustly and negatively impacted low income people and people of color."
In a recent interview Hall said that police shouldn't be "wasting money on penalizing the possession of less than an ounce when they could be focused on serious violent crimes… You've seen families broken up, and we've seen officers spend their time on this type of stuff when they could be focused on real things that keep our citizens safe."
There is some uncertainty about when the new ordinance's provisions will go into effect.
While an earlier version stipulated that "this ordinance shall become effective immediately upon approval," that language was removed during its consideration prior to passage.
Colleen Kiernan, Hall's policy director, told Marijuana Moment in an email that Reed's administration now has some discretion as to the ordinance's implementation.
"It will really be up to them how they direct the Municipal Court," she said.
Reed's willingness to sign decriminalization into law took some observers by surprise. Earlier this year, he called marijuana a "gateway drug," and has historically been critical of efforts to reform cannabis laws.
Even though state criminalization is still on the books, Hall argued that his measure's passage sends a strong message to law enforcement that Atlanta officials want to reduce cannabis arrests.
We're sending a strong directive to our police department.

Marijuana possession of less than an ounce is a non-jailable offense in ATL. pic.twitter.com/DihMViOLHY

— Kwanza Hall (@kwanzahall) October 3, 2017
Voters In Key Congressional Districts Support Marijuana Legalization, Poll Says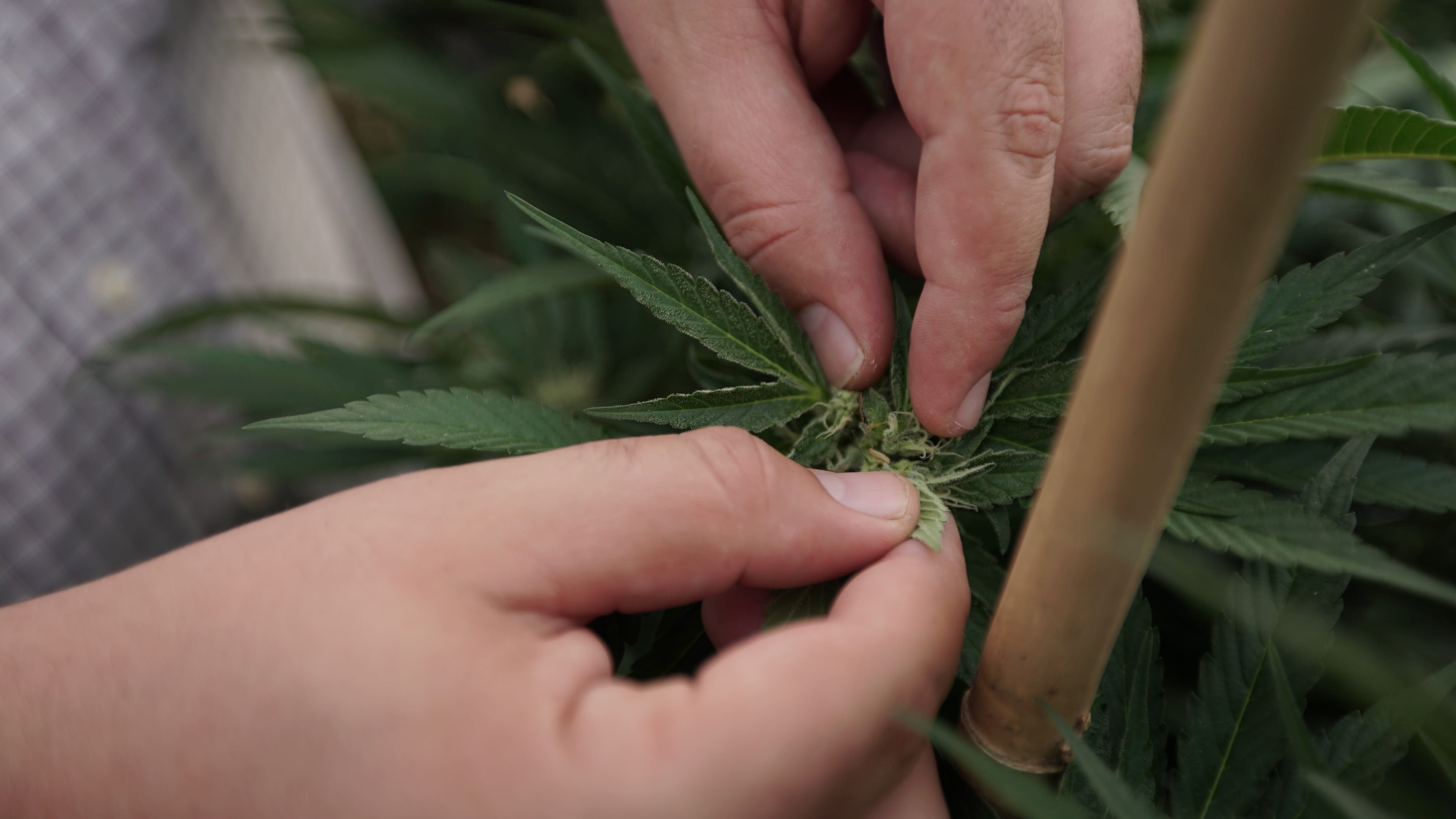 With many key congressional races rated as "toss ups" by political observers, either major party could end up controlling of the U.S. House of Representatives after this November's midterm elections.
A new poll identifies one thing that can help Republican or Democratic candidates come out ahead: Embracing marijuana legalization.
The polling firm Lake Research Partners surveyed 800 likely 2018 general election voters in 60 so-called "battleground districts," finding that 60 percent support ending cannabis prohibition. Only 36 percent are opposed.
Medical marijuana is even more popular, with 79 percent of voters in these swing districts on board.
More to the point for politicians looking to win elections, the survey showed that 44 percent of battleground voters say they would be more more likely to vote for a candidate who supports legalization, including 26 percent who say they would be "much" more likely. Only 33 percent said they would be less likely to back a pro-legalization candidate.
The survey was conducted in February but is being released on Tuesday at Washington, D.C. event sponsored by MedMen Enterprises, a cannabis dispensary chain that commissioned the poll.
Another key finding is that 55 percent of voters say they would be "more likely" to vote if a marijuana initiative was on the ballot in their state.
The survey also tested the effectiveness of various arguments concerning legalization, determining that "the strongest pro-legalization message frame highlights how we need legalization to repair the financial and moral damage of the failed war on drugs," according to a polling memo prepared by the firm.
Several other recent national polls have found majority support for marijuana legalization, but the new results narrowed down to key swing districts are likely to warrant special attention from candidates and political operatives.
Support for Marijuana Legalization At Record High, New Survey Shows
Photo courtesy of Chris Wallis // Side Pocket Images.
Congressional Committee Blocks Marijuana Votes (Again)
Lawmakers on a key congressional committee once again blocked colleagues in the full House from being able to vote on marijuana-related amendments.
One proposed measure, filed last week, would have allowed Washington, D.C. to legally tax and regulate retail marijuana sales and another would have prevented federal regulators from penalizing federal banks from working with businesses and individuals in the legal cannabis industry.
But on Monday evening, the Republican-controlled Rules Committee, led by Congressman Pete Sessions (R-TX), continued its recent tradition of preventing floor votes on any and all measures to scale back federal cannabis prohibition.
"Everyone who knows that Congress has a responsibility to at least debate these issues should unite and help Pete Sessions find another line of work," Congressman Earl Blumenauer (D-OR), who cosponsored both cannabis measures, told Marijuana Moment in a statement.
Sessions's Texas district, which Hillary Clinton won in 2016, is currently considered a "toss up" by political analysts in this November's midterm elections.
Before Monday, his panel had blocked at least 34 other cannabis-related amendments from reaching the floor for votes during the current Congress. The full House of Representatives has not been allowed to consider marijuana reform proposals since the spring of 2016.
Analysis: GOP Congress Has Blocked Dozens Of Marijuana Amendments
Bipartisan groups of lawmakers cosponsored both new cannabis measures, which they were seeking to attach to legislation to fund parts of the federal government through Fiscal Year 2019.
(A third marijuana-related measure considered on Monday proposes shifting money away from forest and rangeland research toward "eradicating, enforcing, and remediating illegal marijuana grow operations on National Forest System land." That measure was cleared for a floor vote, likely sometime this week.)
"Our federal laws are outdated. The people in this country want the law to treat marijuana as we do alcohol," Congressman Denny Heck (D-WA), said in testimony about his marijuana banking amendment. "These large sums of cash make dispensaries an obvious target for robberies."
He recounted the story of Travis Mason, a 24-year-old Marine veteran who was killed during a 2016 robbery at a Colorado marijuana dispensary where he was serving as a security guard.
"He managed to survive his service in the United States Marine Corps, but he didn't survive his job guarding a store here at home," Heck said.
"If we do nothing, this is bound to happen again."
Congress could vote on these marijuana amendments next week (unless GOP blocks them again) https://t.co/TCeS4RFpp6 story by @marijuanamoment's @tomangell

— Denny Heck (@RepDennyHeck) July 14, 2018
The D.C. measure was filed by Democratic Congresswoman Eleanor Holmes Norton, who represents the District of Columbia.
"This rider has unintentionally benefited violent drug gangs," Norton said of current policy in her testimony before the Rules Committee. "For that reason, some refer to it as the 'Drug Dealer Protection Act.' As one marijuana dealer told the Washington Post, the rider is 'a license for me to print money.' Regulating marijuana like alcohol would allow D.C., instead of drug dealers, to control production, distribution, sales and revenues."
Under a ballot measure approved by D.C. voters in 2014, low-level marijuana possession and home cultivation is legal. But because of an ongoing federal appropriations rider enacted in past years and included in the new FY19 bill, local officials have been prevented from adding a system of taxed and regulated cannabis sales.
Congressman Jared Polis (D-CO), a member of the Rules Committee, specifically moved during the meeting Monday night to make the amendment on cannabis businesses' access to banks in order for a floor vote, but that was defeated by a party-line vote of 8 – 2.
Last night the Rules Committee blocked an amendment I cosponsored w/ @RepDennyHeck to protect financial institutions working with legal cannabis businesses. @RepJaredPolis asked for a roll call vote and EVERY Republican present voted no. What are they afraid of? Let us vote! pic.twitter.com/YDmnousHki

— Dina Titus (@repdinatitus) July 17, 2018
The marijuana banking measure had 22 cosponsors, more than any of the 276 other measures the Rules Committee considered this week. Eighty-seven amendments were cleared for floor consideration.
Congress Could Vote On These Marijuana Amendments Next Week (Unless GOP Blocks Them Again)
Sen. Jeff Merkley "Disappointed" That Democrats Blocked His Marijuana Banking Amendment
One of the U.S. Senate's foremost champions for marijuana law reform says he is "disappointed" that fellow Democrats recently joined with Republicans in blocking his amendment to increase cannabis businesses' access to banks.
Last month, Sen. Jeff Merkley (D-OR) offered a measure that would have shielded banks that open accounts for state-legal marijuana businesses from being punished by federal regulators for that activity even though cannabis remains illegal under federal law.
While the Senate Appropriations Committee had approved two similar amendments in previous years, the panel this time voted to table the measure with a bipartisan vote of 21 – 10, with ranking member Sen. Patrick Leahy (D-VT) and other Democrats who normally support marijuana reform objecting on procedural grounds.
"I was disappointed," Merkley said in an interview with BuzzFeed editor Ben Smith on Monday. "We had passed this twice before."
"We need to establish banking for cannabis because a cash economy is an invitation to money laundering and theft and cheating your employees and cheating on your taxes [and] organized crime. All bad."
"I accompanied the owner of a company who had $70,000 in his backpack to pay quarterly taxes," Merkley recounted in response to the cannabis banking question on Monday, which was suggested to BuzzFeed by Marijuana Moment's editor. "It's so bizarre going down the freeway and talking about how they have to pay their employees in cash, have to pay their suppliers in cash. It's a bad system."
"Everyone should agree: States' rights on this. Let the states have an electronic system to track what these businesses are doing, not billions of dollars floating around like this."
I asked!

— Ben Smith (@BuzzFeedBen) July 16, 2018
Despite his disappointment with the measure being blocked, the Oregon Democrat, who is believed to be considering a 2020 presidential run, said that his colleagues "had a fair point to make on the policy front" in tabling the measure.
At the time, Leahy argued that spending bills such as the one before the committee should be kept "free of new controversial policy riders" and that a more appropriate forum would be an authorizing committee that sets banking laws.
"It wasn't existing policy and therefore it was new policy," Merkley acknowledged in the new interview.
But he pointed out that there are few other avenues available for senators to pursue the issue.
"Here's the thing. Normally we could take these policy bills like I was putting forward [and] you could put it on the floor of the Senate as an amendment to something," he said. "In 2017, outside of the budget process, not a single amendment was considered on the floor of the Senate… This is the end of the Senate really as a deliberative body on policy. So if you're blocked in the Appropriations Committee, and you're blocked on the floor, then it's very hard to put ideas out there and say, 'Hey vote on this. This matters.'"
The House Appropriations Committee also defeated a cannabis banking amendment last month.
See the video of Merkley's remarks at about 19:15 into the clip below:
#AM2DM is LIVE discussing the Trump/Putin summit, Sacha Baron Cohen's #WhoIsAmerica, and @SenJeffMerkley is here ⬇️ https://t.co/dYoIIW8VoY

— AM to DM by BuzzFeed News (@AM2DM) July 16, 2018
Photo courtesy of Senate Democrats.