Anti-Marijuana Rep. Joe Kennedy Now Supports Legalization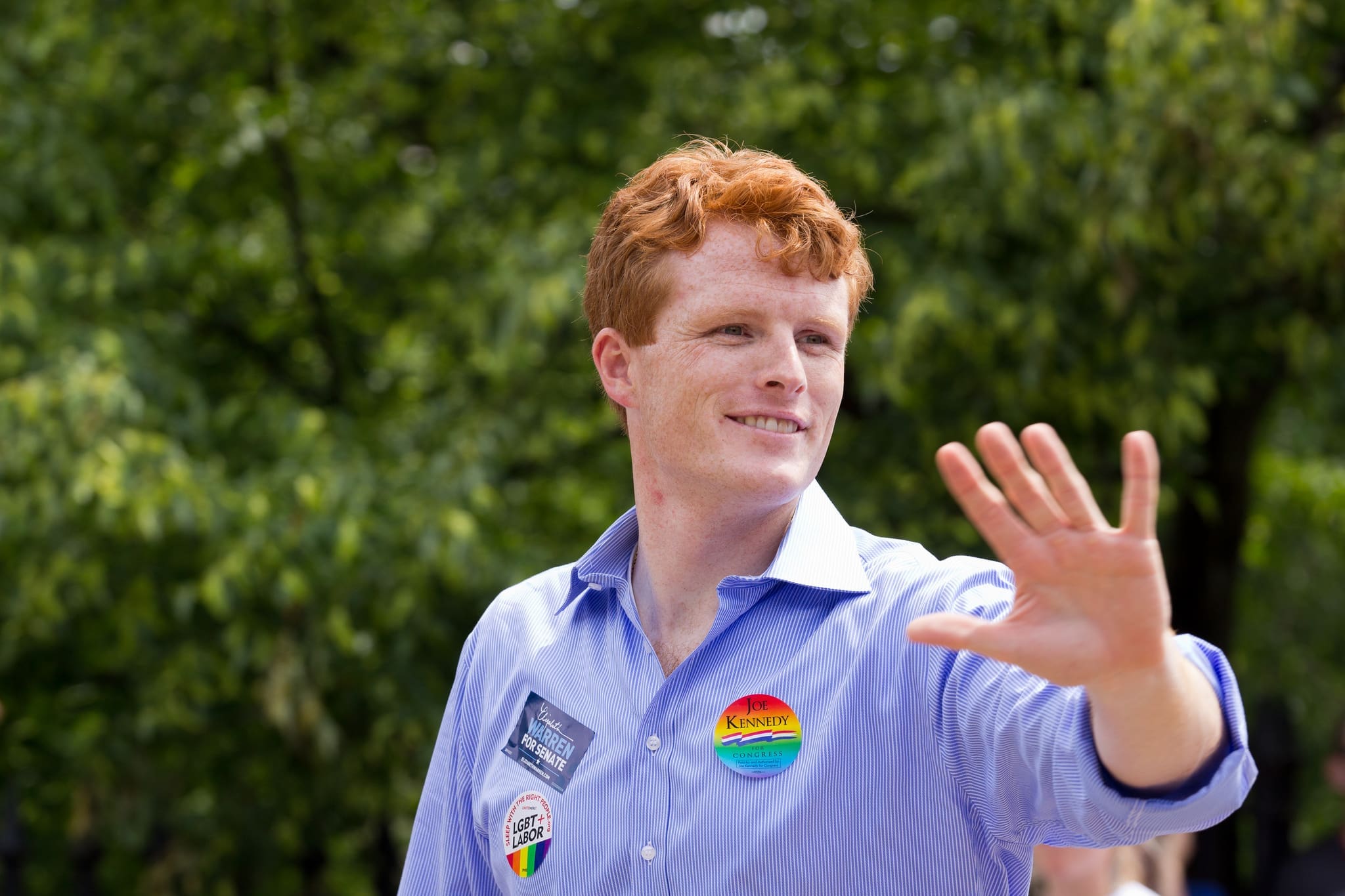 The last remaining young Democrat in Congress to vocally oppose the legalization of marijuana has changed his mind.
"I believe legalization is our best chance to actually dedicate resources toward consumer safety, abuse prevention, and treatment for those who need it," Rep. Joe Kennedy III (D-MA) wrote in an op-ed published on Tuesday. "It is our best chance to ensure that addiction is treated as a public health issue — not a criminal justice one."
As a member of Congress, Kennedy, 38, not only opposed his home state of Massachusetts's move to legalize marijuana, but has consistently voted against House amendments to shield state medical cannabis laws from federal interference, allow military veterans to access medical marijuana and protect children who use non-psychoactive cannabidiol extracts to treat severe seizure disorders.
Most other Democratic lawmakers—and a growing number of Republicans—are supporting policy changes like the ones Kennedy has opposed. And in the latest national Gallup poll, solidly two out of three Americans—including 75 percent of Democrats and even 53 percent of Republicans—now say it is time to legalize marijuana outright.
As such, Kennedy has been an outlier in his caucus when it comes to cannabis, something he admitted in an interview earlier this year.
"That's a tough issue for me. I come at it a little bit differently, obviously, than the vast majority of my colleagues," he said. "I hear their position. I really do. I'm in a state that voted for [legalization]."
In a separate interview he conceded that "the party is clearly moving in that legalization direction. It might already be there."
Beyond any legitimate policy-based concerns underlying Kennedy's shift, it would seem that opposing marijuana legalization has become a politically untenable position for a young lawmaker who many have floated as a potential future presidential candidate.
In the new op-ed, published on the health website STAT, Kennedy said that his longtime reluctance to embrace marijuana reform stems from his "ongoing work with the mental health and addiction communities."
But now he says he realizes that "federal policy on marijuana is badly broken, benefiting neither the elderly man suffering from cancer whom marijuana may help nor the young woman prone to substance use disorder whom it may harm."
Our federal policy on marijuana is badly broken — failing to benefit those the drug may help and protect those the drug may harm. It's time to legalize and regulate at the federal level.https://t.co/9QknhLLFYv

— Joe Kennedy (@joekennedy) November 20, 2018
So Kennedy is calling for the removal of cannabis from the Controlled Substances Act (CSA), a move commonly referred to as descheduling. In the op-ed, he cites racial disparities in prohibition enforcement, cannabis businesses' lack of access to banks and jeopardized public housing opportunities for people who consume marijuana as reasons the policy change is needed.
"As long as marijuana remains regulated by the CSA, the federal government is barred from rectifying these failures or acting with any oversight authority as states move ahead with reform at record pace. So a broken, patchwork system flourishes in our country today with no federal guardrails — like the ones we have for alcohol and tobacco — to protect public health and safety and ensure equal justice."
From health care to criminal justice, the failures of our nation's prohibition on marijuana can be seen in every corner of our society. Status quo isn't working & states aren't turning back. It's time to legalize & regulate marijuana at the federal level. Read my @STATnews op/ed: https://t.co/q5ZHzYpRwz

— Rep. Joe Kennedy III (@RepJoeKennedy) November 20, 2018
"Legalization would restore the federal government's ability to regulate a powerful new industry thoroughly and thoughtfully," he writes. "It would allow us to set packaging and advertising rules, so marketing can't target kids. It would help set labeling requirements and quality standards, so consumers know exactly what they're buying. It would ensure that we can dedicate funding to encourage safe use and spread awareness about the risks of impaired driving. And it would create tax revenue for research on mental health effects, safe prescription drugs, and a reliable roadside test."
It remains to be seen whether Kennedy's new position on cannabis will be matched with actions to cosponsor legislation to end federal prohibition.
"My concerns about the public health impact of marijuana remain. But it has become clear that prohibition has wholly failed to address them."
Either way, his new op-ed is one of the clearest signals yet that the politics of marijuana have shifted. And it is sure to disappoint his relative and former Rep. Patrick Kennedy (D-RI), who is a cofounder of prohibitionist organization Smart Approaches to Marijuana (SAM) and continues to be a leading voice against legalizing cannabis.
SAM released a statement saying that while the congressman's op-ed "articulates an understandable frustration" about federal marijuana laws, the group's leaders "do not agree" with his decision to back legalization.
Here's our statement on @RepJoeKennedy's comments on marijuana legalization: pic.twitter.com/BwxSEjathS

— SAM (@learnaboutsam) November 20, 2018
The announcement of the younger Kennedy's shift comes on the same day legal recreational marijuana sales began in his home state of Massachusetts, where voters overwhelmingly approved a cannabis legalization ballot measure despite his objections in 2016.
The congressman began to reconsider his position earlier this year, he indicated in an interview with WGBH radio.
"The federal government policy on this is incoherent, and the federal government needs to get far more coherent on this," he said at the time, while stopping short of endorsing legalization. "For states that have put in place the proper safeguards and procedures, I'd be inclined to support those states."
But he received criticism when, during a separate interview with Vox's Ezra Klein suggested that marijuana should be kept illegal in order to make it easier for police to search people's vehicles.
"If you smelled [marijuana] in a car, you could search a car," he said. "When it became decriminalized, you couldn't do that."
Kennedy's grandfather, former U.S. Attorney General Bobby Kennedy, criticized the hypocrisy underlying marijuana criminalization during a television interview 50 years ago.
This story has been updated to include reaction from prohibitionist organization Smart Approaches to Marijuana.
Photo courtesy of Martin Grondin.
GOP Senator Says He Tried CBD And Jokes About Its Hair Regrowth Potential
Sen. Pat Roberts (R-KS) said on Wednesday that he's tried using CBD to relieve knee pain, but it didn't work for him. He joked about the compound's potential to promote hair growth.
During a Senate Health, Education, Labor and Pensions Committee confirmation hearing for Stephen Hahn, the nominee to become Food and Drug Administration (FDA) commissioner, the senator shared the personal anecdote while making a broader point about the need for research into the cannabis ingredient.
"I have a personal interest in this," Roberts said. "I don't know why I'm bringing this up, but I have football knees. My wife insists that this little bottle of CBD stuff that you can put that on your knees and it's going to work. It doesn't. Well, at least for me it doesn't."
"But this is being used for everything. I was gonna mention [Sen. Bob Casey (D-PA)], myself and then you, sir, about the possibility of growth of hair," he said, observing that both senators and the FDA nominee all lack full heads of hair. "This is ridiculous."
Watch Roberts's CBD remark at around 1:54:00 into the video below: 
The exchange ended on a more serious note, with Roberts emphasizing that hemp farmers are eager for FDA to develop a regulatory framework for CBD products, but that the compound must also be carefully studied.
"I think you've described very well the balance that's needed here," Hahn replied. "As you know from manufacturer surveys, a significant proportion of Americans are using these products, and a significant proportion of Americans who are using the products think that they're already judged to be safe and effective by FDA when they're not."
"I think there are unanswered questions that need to be filled in by data and science and research," the nominee said, adding that there are signs that CBD "can be an effective medical product and I think we have to have a clear and transparent framework for assessing them, certainly on the medical product side."
Hahn also recognized the therapeutic potential of CBD while taking questions from Sen. Jacky Rosen (D-NV), who noted that the compound is known to treat childhood seizure disorders but pointed out scientists continue to struggle accessing cannabis for research purposes to explore its impact on other conditions. The senator asked what can be done to streamline research into Schedule I substances such as marijuana.
"The top-line answer to that is clarity and transparency about what the rules of the road are," the nominee said. "It's really important for all innovators as they try to bring new medical products to patients across America."
"The issue of CBD, which you described, in fact it is an active ingredient in this drug that was approved for a very serious childhood seizure disorder," he said, referring to the prescription medication Epidiolex. "I think that tells us that there is a pathway for medical products. There are also some indications—cancer, palliative care setting—where CBD might be of benefit, but there are some open and unanswered questions that have to be filled with research."
Hahn said that research should address what kind of dosages of CBD are best for different conditions and what the implications of long-term use are. He also expressed concern about companies making unsubstantiated claims about what their CBD products can treat. (The exchange with Rosen can be seen in the video above, starting at around 1:39:30.)
Former FDA Commissioner Scott Gottlieb also repeatedly stressed that the agency would take action against CBD companies that make especially outlandish medical claims about their products. However, while Gottlieb was often dismissive of the therapeutic potential of these products—suggesting that pets who benefitted from them were simply high from THC, for example—Hahn appears more open-minded about what the compound has to offer.
Air Force Issues Notice Banning CBD Use Regardless Of Legal Status
Photo courtesy of Senate Health, Education, Labor and Pensions Committee.
Air Force Issues Notice Banning CBD Use Regardless Of Legal Status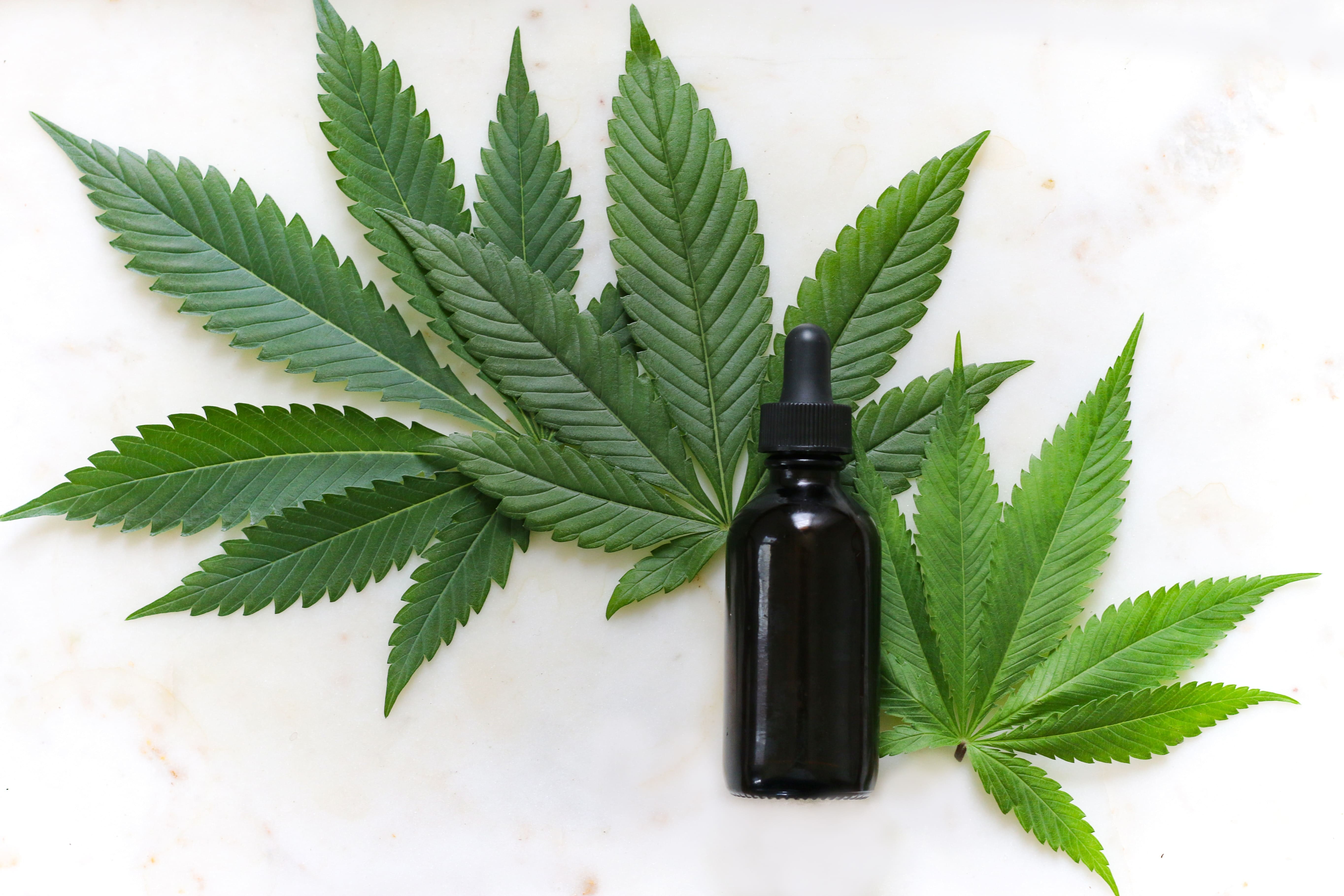 The U.S. Air Force published a notice on Tuesday emphasizing that service members are not allowed to use CBD products, even though the non-intoxicating compound is federally legal when it's derived from hemp.
While the military branch recognized that CBD is widely available in everything from teas to lotions to pet supplements, it said the current lack of regulation by the Food and Drug Administration (FDA) poses a risk to members because they could inadvertently consume a product that contains excessive amounts of THC that could show up on a drug test.
"It's important for both uniformed and civilian Airmen to understand the risk these products pose to their careers," Maj. Jason Gammons, Air Force Office of The Judge Advocate General spokesperson, said. "Products containing unregulated levels of THC can cause positive drug tests, resulting in the same disciplinary actions as if members had consumed marijuana."
"The important point for Airmen to consider is the level of uncertainty for these products," he said. "We want to ensure we arm them with the facts so they can make informed decisions and not inadvertently jeopardize their military careers."
This isn't the first time the Air Force has weighed in on cannabis. Last year, the branch issued an advisory cautioning against the use of marijuana products regardless of state law.
"Your friend's grandma's miracle sticky buns might look mighty tasty and get rave reviews at the big shindig, but if you're in the military or work for the federal government you might want to think twice and make sure they weren't made to treat her bad hip first before you jeopardize your career," the military branch wrote at the time.
But in the months since the president signed the 2018 Farm Bill, which federally legalized hemp and its derivatives, a wave of agencies have posted notices clarifying the rules around CBD consumption.
NASA similarly warned that CBD products could contain unauthorized THC concentrations that could cost employees their jobs if they fail a drug test. Both the Department of Defense and Navy reminded their rank that they're barred from using CBD no matter its legality. The Coast Guard said in July that sailors can't use marijuana or visit state-legal dispensaries.
At first, it wasn't clear if the federal updates on cannabis policy for workers were being coordinated. But it was later reported that the Substance Abuse and Mental Health Services Administration (SAMHSA) issued guidance to federal agency drug program coordinators in July that outlined concerns about THC turning up in CBD products, which seems to have prompted the various departments to clarify their rules.
"Products containing THC, even pet products, may qualify as possession of a controlled substance," the new Air Force notice says. "Possession of a controlled substance is regulated under the Uniform Code of Military Justice, federal law and state laws."
It's not clear if the federal guidance will be updated after FDA finalizes regulations for CBD products, which it is actively working on. FDA has been under pressure to expedite the rulemaking process, but former Commissioner Scott Gottlieb said that it may take years to develop regulations without congressional action.
Lawmakers And Advocates React To Historic Passage Of Bill To End Federal Marijuana Prohibition
Photo by Kimzy Nanney.
Lawmakers And Advocates React To Historic Passage Of Bill To End Federal Marijuana Prohibition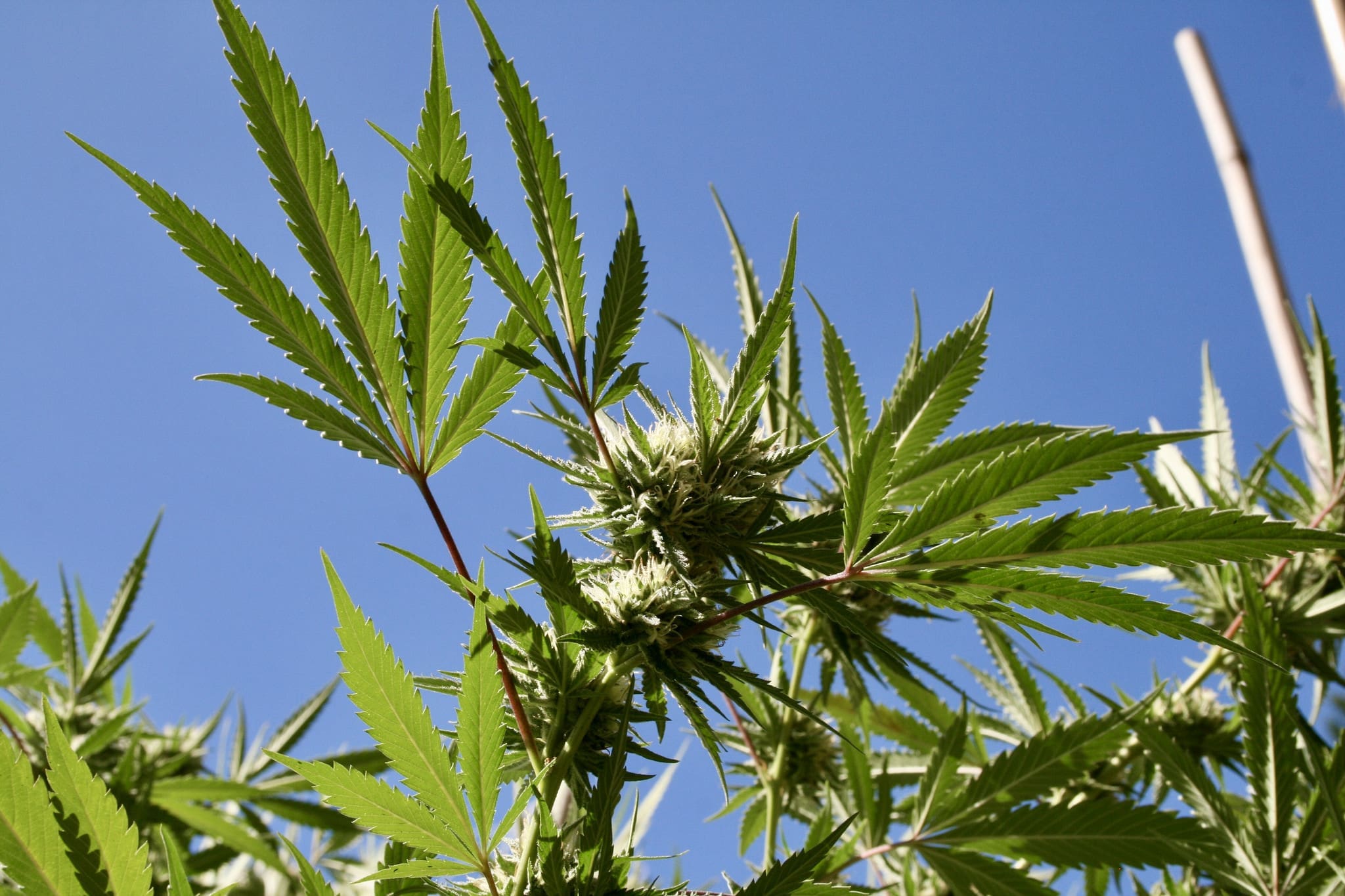 Drug policy reform advocates and lawmakers celebrated on Wednesday after a key congressional committee approved a bill to end federal marijuana prohibition for the first time in history.
The House Judiciary Committee voted 24-10, including two "aye" votes from Republican lawmakers, to advance the Marijuana Opportunity, Reinvestment and Expungement (MORE) Act. Chairman Jerrold Nadler (D-NY) is the bill's sponsor.
The legislation would federally deschedule cannabis, provide expungement and resentencing relief and impose a five percent federal tax on marijuana sales to support investments in communities most harmed by the drug war. It would also protect immigrants from being denied citizenship over cannabis and prevent federal agencies from denying public benefits or security clearance due to its use.
Here's how people are reacting to the bill's historic passage. 
House Judiciary Committee Chairman Jerrold Nadler (D-NY):
"I have long believed that the criminalization of marijuana has been a mistake, and the racially disparate enforcement of marijuana laws has only compounded this mistake," Nadler said in a statement. "While states have led the way in reform, our federal laws have not kept pace with the obvious need for change. With the passage of the MORE Act today, the Judiciary Committee has taken long overdue steps to address the devastating injustices caused by the War on Drugs and to finally decriminalize marijuana at the federal level."
Proud to announce that @HouseJudiciary just passed my MORE Act, which ends the federal prohibition of marijuana and enacts restorative justice for communities of color that continue to be devastated by our nation's failed War on Drugs. #WeWantMORE pic.twitter.com/9FEn9DF9pq

— (((Rep. Nadler))) (@RepJerryNadler) November 20, 2019
🚨BREAKING🚨 The House Judiciary committee has passed 1st ever legislation to decriminalize marijuana & start repairing the damage of the misguided war on drugs. Will you sign my petition to show your support? #WeWantMORE https://t.co/O8E1xvpBkv

— (((Jerry Nadler))) (@JerryNadler) November 20, 2019
Sen. Kamala Harris (D-CA):
"As more states legalize marijuana, millions of Americans with marijuana-related convictions continue to face overwhelming barriers to jobs, education, and housing," Kamala Harris said in a statement. "That is why we must act to remove the burden of marijuana convictions and make sure these individuals have the support needed to move forward. It is also critical that everyone — especially people of color who have been disproportionately impacted by the War on Drugs — has a real opportunity to participate in this growing industry. This is a matter of racial and economic justice. I am grateful for Chairman Nadler's partnership on this issue and for his leadership in moving this legislation forward. I look forward to the House of Representatives passing our legislation soon."
Not only do we need to legalize marijuana at the federal level, but we have to do it right and bring justice to communities of color.

My bill with @RepJerryNadler will do that—and it just passed committee in the House. Grateful we're one step closer to passing it in Congress. https://t.co/RecNLKXAXn

— Kamala Harris (@SenKamalaHarris) November 20, 2019
Sen. Cory Booker (D-NJ):
"After years of work in the Senate, our efforts to pair marijuana legalization with expungement and reinvestment in the communities most harmed by the War on Drugs have finally led us to today's critical mark-up," Booker said in a statement. "The war on drugs has systematically targeted people of color and the poor, harmed job prospects and access to housing for our nation's most vulnerable communities, and destroyed countless lives."
"The House Judiciary Committee's decision to advance this bill is a significant step toward righting these wrongs and healing the wounds of decades of injustice," he said.
"This is a significant tipping point. The Committee passage of this bill is an important step towards reversing decades of failed drug policy that has disproportionately impacted communities of color and low-income individuals. These draconian laws have sacrificed critical resources, violated our values, destroyed families and communities, and failed to make us safer," Booker added in a separate press release. "This legislation continues us down the path towards justice and I'm excited to see momentum growing around the movement to fix our nation's broken drug laws."
Rep. Barbara Lee (D-CA):
"This is really a defining moment on so many fronts as it relates to cannabis reform," Lee told Marijuana Moment in an interview prior to the vote. "I have to salute and thank Chairman Nadler for being bold and for living up to his commitment and for making sure that this is a comprehensive bill that will address the different aspects of these very complicated issues."
🚨 BREAKING: The MORE Act just passed out of committee! This is a HUGE step forward in righting the wrongs of the failed and racist War on Drugs. Let's keep up the fight and get this passed on the floor! #WeWantMORE https://t.co/r7cVqWGX6l

— Rep. Barbara Lee (@RepBarbaraLee) November 20, 2019
This critical bill will help right the wrongs of the failed and racist War on Drugs by expunging criminal convictions, reinvesting in communities of color through restorative justice, and promoting equitable participation in the legal marijuana industry. https://t.co/XLm2O0Gekb

— Barbara Lee (@BLeeForCongress) November 20, 2019
"For those who have been victimized by these unjust laws, I want to just say to them that we have to keep optimistic, keep hope alive and just know that their members of Congress worked to make sure that justice is served."
Rep. Earl Blumenauer (D-OR):
It was exciting and frankly very emotional for me to be in the @HouseJudiciary hearing room as Chairman Nadler announced the final vote on the MORE Act, which was 24-10 and bipartisan. #WeWantMORE

— Earl Blumenauer (@repblumenauer) November 20, 2019
This vote was a vote for progressive reform, for racial justice, for personal freedom, for economic opportunity, and for better health. #WeWantMORE

— Earl Blumenauer (@repblumenauer) November 20, 2019
Rep. Ed Perlmutter (D-CO):
I'm glad @HouseJudiciary is marking up the #MOREAct today. This comprehensive legislation will help modernize our federal cannabis policies, ensure policies are fair, equitable & inclusive, and invest in local communities. #WeWantMORE https://t.co/rqYynSeXZr

— Rep. Ed Perlmutter (@RepPerlmutter) November 20, 2019
Rep. Tulsi Gabbard (D-HI):
Today, the House Judiciary Committee voted to pass H.R.3884, the Marijuana Opportunity, Reinvestment, and Expungement (MORE) Act, which I introduced with Chair Jerry Nadler (NY-10). The bill passed with a bipartisan vote, 24-10, and now awaits consideration by the full House.

— Rep. Tulsi Gabbard (@TulsiPress) November 20, 2019
Congress must pass this bill so that we can begin to help heal the wounds caused by the failed war on drugs and move forward together.https://t.co/n4BMAH8a8p

— Rep. Tulsi Gabbard (@TulsiPress) November 20, 2019
Rep. Steve Cohen (D-TN):
This critical bill works to right the wrongs of the failed and racist War on Drugs by expunging criminal convictions, reinvesting in communities of color, decriminalizing #marijuana & promoting equitable participation in the cannabis industry. #WeWantMore

— Steve Cohen (@RepCohen) November 20, 2019
Rep. Ted Lieu (D-CA):
Today's @HouseJudiciary Committee's markup of the Marijuana Opportunity Reinvestment & Expungement Act is significant. As states like California continue to modernize how we regulate cannabis, Congress needs to ensure that our policies are fair, equitable & inclusive. #WeWantMORE pic.twitter.com/SA5Wffsuvf

— Rep. Ted Lieu (@RepTedLieu) November 20, 2019
Rep. Madeleine Dean (D-PA):
FACT: Our marijuana laws disproportionately harm individuals and communities of color, leading to convictions that damage job prospects, access to housing, and the ability to vote.

I look forward to the passage of this bill on the House floor.

#WeWantMORE pic.twitter.com/KotkPH8kw2

— Congresswoman Madeleine Dean (@RepDean) November 20, 2019
Rep. Chellie Pingree (D-ME):
Today @HouseJudiciary will vote on the #MOREAct which would decriminalize marijuana, reassess pot convictions, and support small businesses. I'm proud to be a cosponsor of this common sense bill. It's time to bring federal cannabis policies into the 21st century.

— Chellie Pingree (@chelliepingree) November 20, 2019
Rep. Mark Pocan (D-WI):
Our cannabis policy is reflective of the failures of our past.

Rooted in a racist war on drugs targeting communities of color—it's time we right our wrongs.

The @HouseJudiciary markup of the #MOREAct is monumental: we need decriminalization, expungement & #WeWantMORE. pic.twitter.com/YNZ2kP0974

— Rep. Mark Pocan (@repmarkpocan) November 20, 2019
NORML Political Director Justin Strekal:
"The passage of the MORE Act represents the first time that the Judiciary Committee has ever had a successful vote to end the cruel policy of marijuana criminalization," Strekal said. "Not only does the bill reverse the failed prohibition of cannabis, but it provides pathways for opportunity and ownership in the emerging industry for those who have suffered most."
HISTORY MADE: The MORE Act was approved by the House Judiciary Committee in a 24-10 bipartisan vote. Next stop the House floor! Thanks to all of you who sent nearly 60,000 letters in the last few days. #WeDeserveMORE #MakeHistory #WeDidIt #Onward #EndingProhibition pic.twitter.com/CKCMoRxo8a

— NORML (@NORML) November 20, 2019
"In 2018 alone, over 663,000 Americans were arrested for marijuana-related crimes, a three-year high," he said. "Now that Chairman Nadler has moved the MORE Act through committee, it is time for the full House to vote and have every member of Congress show their constituents which side of history they stand on."
NORML Executive Director Erik Altieri:
"This is a truly historic moment in our nation's political history," Altieri said. "For the first time, a Congressional committee has approved far-reaching legislation to not just put an end to federal marijuana prohibition, but to address the countless harms our prohibitionist policies have wrought, notable on communities of color and other marginalized groups."
"Opposition to our failed war on marijuana has reached a boiling point with over two-thirds of all Americans, including majorities of all political persuasions, now supporting legalization," he said. "Congress should respect the will of the people and promptly approve the MORE Act and close this dark chapter of failed public policy."
Drug Policy Alliance Executive Director Maria McFarland Sánchez-Moreno:
"With today's mark-up of the MORE Act, the United States is coming one step closer to ending the devastating harms of marijuana prohibition, which have fallen so heavily on Black and Brown people," Sánchez-Moreno said.
"This legislation won't make up for the full scale of harm that prohibition has caused to its victims. It's not going to return anyone their lost dreams, time lost at the mercy of the criminal justice system; or the years spent away from their families," she said. "But this legislation is the closest we've come yet to not only ending those harms at the federal level, but also beginning to repair them. Now it's up to Congress to do the right thing and swiftly pass the bill to ensure justice is not delayed a moment longer."
Cannabis Trade Federation CEO Neal Levine:
"This committee vote is a historic step forward for cannabis policy reform at the federal level," Levine said. The MORE Act would ensure cannabis consumers and businesses are treated fairly under the law. It would also bolster state and industry efforts to promote diversity within the cannabis business community, while helping communities and individuals adversely impacted by the war on drugs."
The House Judiciary just made history, casting the first-ever congressional vote in favor of ending cannabis prohibition! Help keep the momentum going — tell your lawmakers to support the MORE Act! Take action now and urge others to do the same! https://t.co/wymUGkdoHg

— Cannabis Trade Federation (@CanTradeFed) November 20, 2019
"A solid majority of Americans support ending cannabis prohibition, and we're finally seeing that reflected in a vote on Capitol Hill. These votes demonstrate the broad bipartisan support that exists in Congress for allowing states to determine their own cannabis policies," he said. "There appears to be a consensus among both parties that the conflict between state and federal cannabis laws is untenable and needs to be resolved. We encourage our allies in the Democratic and Republican parties come together to find a bipartisan path forward and pass a law this Congress."
Aaron Smith, executive director of the National Cannabis Industry Association:
"Today's vote marks a turning point for federal cannabis policy, and is truly a sign that prohibition's days are numbered," Smith said. "Thanks to the diligent efforts of advocates and lawmakers from across the political spectrum, we've seen more progress in this Congress than ever before."
Today's vote marks a turning point for federal cannabis policy, and is truly a sign that prohibition's days are numbered. https://t.co/cdMaNAKHfd

— Aaron Smith (@FAaronSmith) November 20, 2019
"Supermajority public support for legalization, increasing recognition of the devastating impacts of prohibition on marginalized communities and people of color, and the undeniable success of state cannabis programs throughout the country are all helping to build momentum for comprehensive change in the foreseeable future," he said.
Americans for Safe Access Interim Director Debbie Churgai:
"This groundbreaking legislation would eliminate barriers to cannabis research and provide access for patients throughout the entire country," Churgai said. "It is time our federal government steps up to provide relief so that patients everywhere can medicate without fear of losing any of their civil rights and protections, including while in federal housing or healthcare settings, such as hospices."
Breaking News!!! #MOREAct just passed in committee 24-10! Read more about it here! #SafeAccess #MedicalCannabis #medicalMarijuana #CannabisLegalization #Jutise https://t.co/yLaWr1ur7q

— Americans4SafeAccess (@SafeAccess) November 20, 2019
Maritza Perez, senior policy analyst for Criminal Justice Reform at the Center for American Progress:
"We commend Chairman Nadler, Rep. Barbara Lee (D-CA), and the House Judiciary Committee for voting the MORE Act out of committee today," Perez said. "Along with the Marijuana Justice Coalition, CAP has called on Congress to enact marijuana legalization legislation centered on justice reform and equity. We are proud of the milestone reached today and ask that this bill now move swiftly to the House floor for a vote."
Leadership Conference on Civil and Human Rights President Vanita Gupta:
Very big deal. MORE Act passes out of @HouseJudiciary with bipartisan support.

Hope the full House will act soon on this @civilrightsorg-supported legislation. #WeWantMORE https://t.co/AuHn335c4y

— Vanita Gupta (@vanitaguptaCR) November 20, 2019
Prohibitionist organization Smart Approaches to Marijuana:
Today, the U.S House Judiciary Committee will hold a vote on the Marijuana Opportunity Reinvestment and Expungement (MORE) Act, a bill to federally legalize, commercialize, and tax the use of marijuana.

"To put it simply, this bill is a complete nonstarter…" –@KevinSabet pic.twitter.com/d7kQo0mhYm

— SAM (@learnaboutsam) November 20, 2019
Marijuana Legalization Bill Approved By Congressional Committee In Historic Vote
Photo courtesy of Brian Shamblen.