Michigan Cops Lock Up 80-Year Old Grandmother For Expired Medical Marijuana Card
An 80-year-old grandmother who uses medical marijuana to treat arthritis was arrested by Michigan police earlier this summer for possessing a small amount of cannabis.
Delores Saltzman, of Clare County—a small, rural and conservative area in Central Michigan—then then spent a night in jail because her state-issued medical marijuana registration had expired.
Saltzman was not convicted of a crime. Charges were dropped last week after she renewed her medical cannabis paperwork.
However, news of her arrest is causing nationwide outrage.
Saltzman's case is also likely to serve as a rallying point this fall, when Michigan voters will decide on a broader marijuana legalization ballot initiative—which Saltzman now heartily endorses.
Saltzman had been a medical cannabis patient for about four years when Clare County Sheriff's Deputy Ashley Gruno visited Saltzman's home at around 9 p.m. on June 13.
The grandmother credits cannabis with saving her life, after doctors prescribed her opioids that "caused stomach pains and vomiting," she told a local Fox affiliate.
According to court records, Deputy Gruno was there to locate Saltzman's great-granddaughter, who had lost her phone and ID, when she smelled marijuana while on Saltzman's porch.
Saltzman told the deputy the marijuana was hers. She also revealed that while she was a licensed medical marijuana patient, she had let her recommendation expire.
Medical cannabis has been legal in Michigan since 2008.
It can take up to a month for patients to have a renewal application processed, according to the Michigan Department of Licensing and Regulatory Affairs website.
According to researchers, based on differing areas' arrest rates, police in Michigan (as well as everywhere else) "exercise considerable discretion regarding enforcement, not just for marijuana offenses"—meaning, police in situations like Gruno's have a choice whether or not to enforce the law to the fullest.
Marijuana possession in Michigan is a misdemeanor, and Gruno chose to enforce the law.
The officer seized "several pipes, four joints and one purple jar" with less than an eighth of an ounce of cannabis, Saltzman said.
The deputy then searched the octogenarian's bedroom, handcuffed her and took her off to jail for the night, where cold conditions severely aggravated her arthritis, she said.
Gruno also failed to read Saltzman her Miranda rights, Saltzman said.
According to Michelle Ambrozaitis, the Clare County prosecutor, Saltzman was charged with misdemeanor marijuana possession after Deputy Gruno forwarded on the case to prosecutors for charging.
"However, our goal is to ensure that individuals who utilize medical marijuana are doing so legally," Ambrozaitis wrote in a statement provided to Fox 17. "As such, Ms. Saltzman was encouraged to obtain her medical marijuana card and if she did so, the case would be dismissed. She did obtain her medical marijuana card and the case was dismissed."
The charges were dismissed last week. In a statement provided to the television station, Clare County Sheriff John Wilson seemed to defend the arrest.
"What the person was doing was illegal, had she renewed her medical marijuana card she would have been fine," he wrote in a statement. "The person was illegally in possession of marijuana."
According to Saltzman, though her registration was renewed, she's still waiting on her card—and, were Gruno to visit her home again, she could technically be sent back to jail.
Saltzman says she's now sharing her story for two reasons: to encourage others to be open participants in the state's medical marijuana program, and to encourage everyone to vote for the legalization initiative in November.
Legalization has followed busts of sick senior citizens in other jurisdictions.
Perhaps most infamously, in September 2016, Massachusetts cops used a helicopter to raid the home of an 81-year-old woman who was growing a single marijuana plant.
Less than three months later, Massachusetts voted to legalize recreational marijuana.
Photo courtesy of Fox 17.
Tulsi Gabbard Talks CBD For Military Members, Biden's Legalization Opposition And Congressional Retirement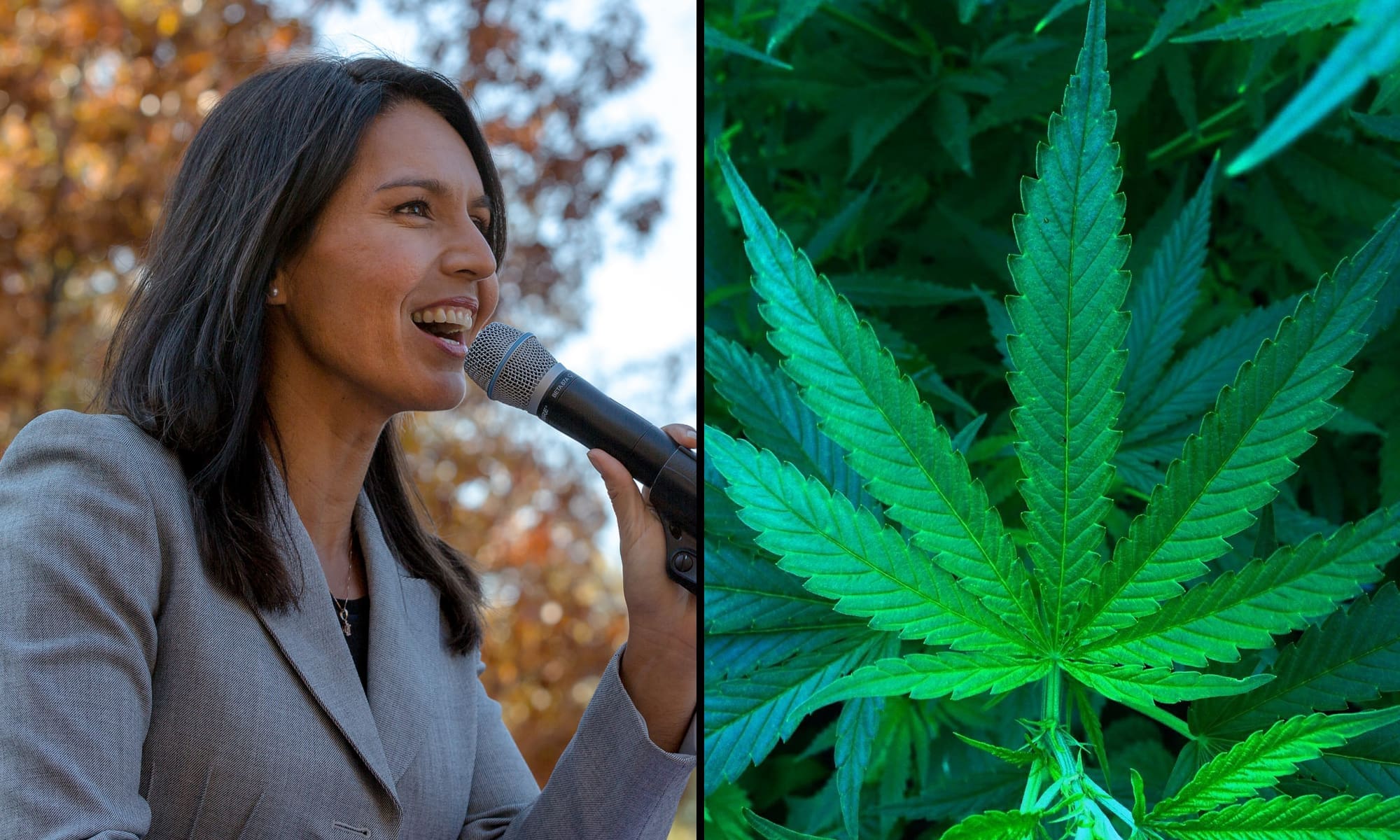 Over her eight years in Congress, Rep. Tulsi Gabbard (D-HI) quickly established herself as a leading advocate for marijuana and hemp reform by introducing numerous pieces of cannabis legislation and actively working to build bipartisan support around the issue.
And while the congresswoman will be retiring after this session, she's made clear she plans to keep pushing legislative reform until her last day on Capitol Hill—and beyond. Last month, for example, she filed an amendment to allow military service members to use hemp-derived CBD at a time when multiple branches are expanding their ban. The House approved the measure, and now it remains to be seen if it can survive bicameral negotiations with the Senate.
A military veteran herself, Gabbard says the non-intoxicating cannabinoid represents a promising alternative treatment for those on the front lines and argued, contrary to military leaders, that it can actually improve readiness. And while it remains to be seen whether her measure will make it to the president's desk, she says moving leadership in that direction will be a priority in the weeks ahead.
Marijuana Moment caught up with the congresswoman, who made legalization a centerpiece of her 2020 Democratic presidential campaign, in a phone interview. She discussed her amendment, the evolving politics of cannabis reform, former presidential primary opponent Joe Biden's opposition to marijuana legalization and more.
Marijuana Moment's Patreon supporters can listen to the audio recording of our conversation with Gabbard. In addition to the topics covered in this publicly available writeup of the interview, the congresswoman also talks about whether she has plans to join the cannabis industry after leaving Congress and reacts to the Democratic National Committee's refusal to endorse legalization.
The exclusive audio clip is available for supporters who help make our cannabis journalism possible with monthly pledges of $10 or more.
This interview has been lightly edited for length and clarity. 
Marijuana Moment: I wanted to start by asking about your CBD amendment. What motivated that, and have you heard from service members about the need for this legislation?
Tulsi Gabbard: I have, and it really came about as a result of the changes that were included in the 2018 Farm Bill that really opened a lot of doors of opportunity for more research and more products to come into the market that can help people with day-to-day ailments that, as a service member, I'm very well aware are common occurrences.
Being able to have other options of alternative forms of treatment other than, 'Hey, just take another Motrin or prescription drug X, Y or Z' is something that can actually increase our service members' health and wellbeing and, ultimately, their readiness to be able to do their job.
MM: It was interesting to see just days after the House approved the measure, the Navy announced it was expanding its CBD ban, prohibiting members from using even products like hemp-infused shampoos and conditioners. What do you make of that?
TG: It seemed really strange and, frankly, almost silly. I don't know what instigated that change, and I'm not going to make any assumptions. But, you know, it just speaks, to me, a very backward way of viewing these products and the changes that are being made in both state and federal law as it relates to CBD and hemp products.
MM: Do you have any thoughts about the prospects of advancing the amendment through the House-Senate conference committee? Are you talking to leadership about that process?
TG: It's something we're working on currently. I think it's too early to say, but conference can be a place where great things go to die unfortunately so we're trying to do as much work as we can, both with senators on the Senate Armed Services Committee—those who anticipate being in the conference committee—as well as the leadership to make sure that this and a few other key amendments that we included in the House bill actually stay in the bill.
MM: Looking back at your time in Congress, what would you say about the way its evolved on this issue?
TG: It has been interesting over my eight years in Congress to see how this issue at the very beginning of my first term in office was something that, you know, you could tell the people who were for and against. It was mostly partisan, but also just based on people saying things like, "I don't want my kids to smoke pot" and therefore voting against any legislation that had anything to do with whether it was decriminalization as a whole or taking it off the [Controlled Substances Act] or even saying, "Hey, for states where it's legal, we should allow people to use our banking system."
But it's changed, I feel, too slowly, but it is changing over the years to where we've built support, as we saw even recently in some amendments to the appropriations bill to people who are saying, "Hey look, this is a states' right issue." Those who may have been opposed traditionally are recognizing that, in states where this is legal, we should be supporting the state's decision in that. And frankly, others who, whether through personal experience or through actually doing research, are seeing that there just are so many fear-based myths that have perpetuated opposition, where there's actually some incredible game-changing research being done both from a medical perspective as well as from an economic opportunity perspective, as we've seen in Kentucky obviously.
This is something that we should support more of the exploration of and the introduction into our everyday commerce and lives.
MM: Speaking of Kentucky, Senate Majority Leader Mitch McConnell (R-CA) and other Republicans recently criticized House Speaker Nancy Pelosi (D-CA) over her defense of including cannabis banking language in your chamber's latest COVID-19 relief bill. They argue it's not germane. Do you feel its a relevant provision for this legislation?
TG: I think it's relevant because, from the data I've seen, the numbers of people who've been going to their local dispensary has dramatically increased in the midst of this pandemic. By continuing to disallow anyone associated with these industries that states have deemed legal is further perpetuating serious problems and uncertainty during time when, frankly, we need as much certainty as we can get.
Marijuana Moment asked Gabbard about whether she has plans to work in the marijuana industry following her retirement from Congress early next year, as other lawmakers have done. She also reacted to the Democratic National Committee's rejection of a cannabis legalization platform plank. 
The congresswoman's answers to those questions, and the full audio of our interview, are available exclusively for Marijuana Moment supporters pledging at least $10/month on Patreon.
MM: Presumptive Democratic presidential nominee Joe Biden remains opposed to legalizing marijuana. What message would you send to the former vice president about the importance of embracing the policy change?
TG: I would speak from personal experience—just the more information that I've learned, the more research that I have done, it shows how, number one, outdated our laws are as it relates to cannabis in particular and how much opportunity there is, again from a medical perspective as well as from an economic perspective, especially related to hemp, which is you know why I introduced the Hemp For Victory Act. There's tremendous opportunity available. I would urge him to examine this information with the hopes that, with information, he would be willing to reconsider his position.
MM: A staffer to a committee chair told us recently that there are plans in the work to put House Judiciary Chairman Jerrold Nadler's (D-NY) marijuana legalization bill on the floor for a vote in September. Have you heard anything about that?
TG: I have not, about the scheduling of it. I know that the chairman has been very committed to moving this forward and that we knew from the beginning that of any cannabis-related legislation, it would likely be something like this that would have the greatest chance of actually getting a vote on the House floor. So I'm hopeful.
MM: Are you optimistic about the prospect of legalization advancing in your state of Hawaii in the near future?
TG: I don't know is the honest answer to that. This just shows that cannabis legislation is not limited to party lines because we've got a very strong Democratic legislature here in the state, obviously a Democratic governor, but there have been very strange responses, in my opinion, to some of the cannabis-related legislation. So it remains to be seen.
Just to add to that, one example that continues to perplex me is the data very clearly shown how, in states where there is some form of legal cannabis use in place, medicinal or otherwise, a direct correlation with the reduction of opioid addiction and opioid-related deaths. That's an indisputable fact. However, even with bipartisan support, bicameral support, in the passage of legislation that would make opioid addiction eligible for medicinal marijuana use in our state, that bill was vetoed by our Democratic governor, claiming a lack of evidence and information and stating that, if proponents want to push this, they should go through the Department of Health bureaucracy to do so.
Things like that, frankly, scientifically it makes no sense. And in the way of people in a state like ours where just under, I think last time I checked, just under like 500,000 active opioid prescriptions in a state with a population of about 1.3 million people. There's clearly an issue here, and by providing this, you give people an alternative form of treatment.
MM: Looking back at your eight years in Congress, what are you most proud of in terms of advancing cannabis reform?
TG: You know, I've introduced a number of pieces of legislation, amendments, provisions in larger bills throughout my time in Congress, and I appreciate having played a role in helping to build bipartisan support for some of the changes that we've actually seen take place.
It may sound like, "Well, that's not much," but when you work in a place where too many members of Congress on both sides of the aisle are unwilling to have real dialogue and conversations with one another purely because of prejudging them based on their partisan affiliation, this is exactly the only way how we'll actually make change around these and other important issues that impact all Americans, not just those of one party or another.
MM: Is there anything else you want to add?
What's going to be interesting is whether the Pentagon, obviously, whether officially or unofficially weighs in on [the NDAA CBD and hemp amendment]. That is going to be an issue of contention with that. We'll see.
Become a Marijuana Moment supporter on Patreon with a monthly pledge of $10 or more to hear our conversation with Gabbard and to support our ongoing cannabis journalism that helps to keep you informed about key developments.
Joe Biden Mocks Drug Testing In Response To Reporter's Cognitive Assessment Question
Photo element courtesy of Lorie Shaull.
Texas Lawsuit Challenges State's New Ban On Smokable Hemp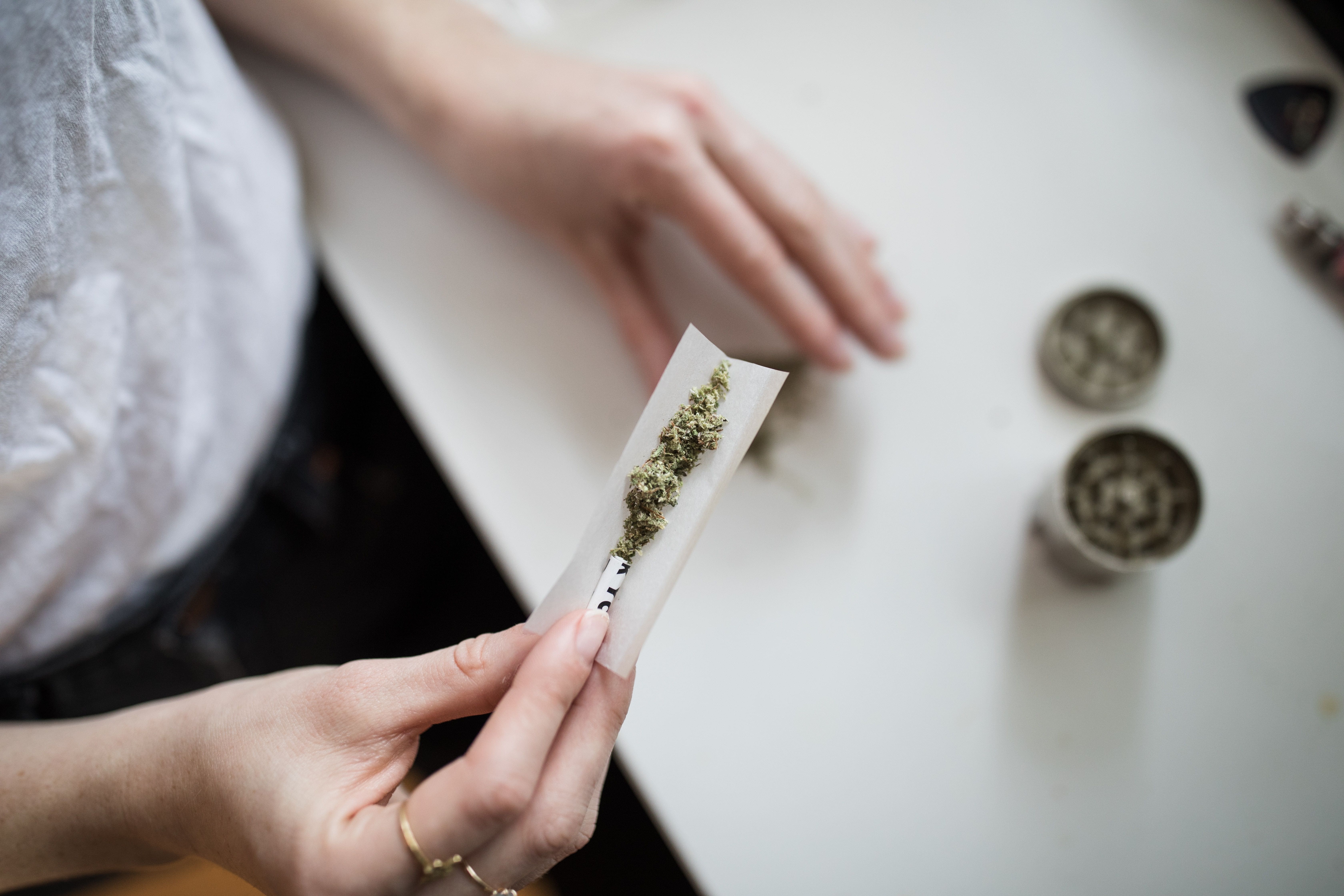 Four Texas companies are suing to overturn the state's new ban on the manufacture and sale of smokable hemp products, which they warn will shut Texas companies out of a multibillion-dollar industry and lead to inaccurately labeled products on store shelves.
In a lawsuit filed in Travis County District Court on Wednesday, the companies are asking a judge to declare the ban unconstitutional and allow hemp products intended for smoking or vaping to be produced and sold legally across the state.
"At a time when the Texas economy is reeling from the fiscal impact of COVID-19, it is unfortunate that the State chose to foreclose such a large economic opportunity for our state and instead chose to force long-standing Texas businesses and jobs across the border to neighboring states, such as Oklahoma," said attorney Chelsie Spencer, counsel for lead plaintiff Crown Distributing LLC.
"Crown Distributing, which manufactures the popular Wild Hemp brand of smokable products, stands to lose $59.6 million in revenue over the next five years if the bans are upheld," Spencer told Marijuana Moment in an email. "The state of Texas stands to lose $2.9 million in sales tax revenue alone."
Texas legalized hemp in 2019, in large part to capture a piece of an industry that is booming following the federal legalization of the crop through the 2018 Farm Bill. Hemp, a category of cannabis that contains less than 0.3 percent THC, has a variety of uses: Its seeds are a nutritious food source, its fibrous stalks can be made into textiles or building materials and its flowers can produce a variety of cannabinoids, most notably cannabidiol (CBD).
Texas's hemp law as passed by the legislature specifically prohibited the manufacture of hemp products intended for smoking or vaping, though it left open the door for selling products made out of state. But a year later, regulators at the Texas Department of State Health Services (DSHS) issued rules extending that ban to forbid the retail sale of any smokable hemp products. That restriction took effect on Sunday.
Plaintiffs in the lawsuit argue that both those provisions should be overturned. The state legislature's ban on processing and manufacturing smokable products violated the state constitution's protection of economic freedom, they say, while DSHS lacked the authority to extend lawmakers' ban to include retail sales.
"DSHS characterizes banning distribution and retail as 'a logical extension' of banning manufacturing," the lawsuit says. "But even if this were true (it is not), agencies have no authority to enact rules that they deem to be a 'logical extension' of law."
Cannabis advocates in the state agree, calling the change a regulatory overreach.
"Hemp regulators are over-stepping their authority and encroaching on the economic liberty of Texas business owners," Heather Fazio, director of Texans for Responsible Marijuana Policy, told Marijuana Moment. "It's absurd to forbid the in-state sale of products that are completely legal in Texas and across the country. Consumers can simply make their purchases online and have it shipped, legally. Cutting local entrepreneurs out of this thriving market is bad for business and bad for Texas."
Joining in the lawsuit are America Juice Co. LLC, a Crown affiliate that also manufacturers smokable products; Custom Botanical Dispensary LLC, an Austin-based retailer that sells smokable hemp products; and 1937 Apothecary, also based in Austin, which makes and sells consumable hemp products including tea, smokables and gummies.
"If allowed to move forward, these bans on smokable hemp products will shutter businesses across the state, resulting in a loss of jobs and tax revenue," the companies said in their complaint. "They impede the economic liberty of Texas businesses, pose an existential threat to Texas hemp manufacturers, farmers, and retailers, and are sure to stifle growth of a budding Texas industry."
As for the ban on producing and manufacturing smokable hemp products, the companies say it violates the state constitution's protections against arbitrary economic restrictions.
"There is no plausible law enforcement benefit from banning the Texas manufacture and processing of smokable hemp products," the lawsuit argues. "Imposing an arbitrary constraint here is particularly perverse because the law does not ban the use or consumption of smokable hemp products. As such, Texas consumers will simply buy smokable products made out-of-state."
"Stated differently," it continues, "if Texas had banned the processing and manufacture of cheese in Texas, Texans wouldn't stop eating cheese."
Banning in-state sales are also problematic from a practical standpoint, the lawsuit argues. Because smokable hemp flower is indistinguishable from hemp flower intended to be used for other purposes, the companies argue, marketers will be encouraged to mislabel products in efforts to skirt the ban.
"The retail ban—especially in view of DSHS's public comments—has no more logic to it than the ban on processing and manufacturing smokables," the lawsuit says. "Texans can still purchase and use smokable hemp products manufactured out-of-state. Texans can also purchase hemp that is not labeled or marketed 'for smoking'—for example, hemp marketed as 'tea'—and they can use that hemp to make their own smokables or with the vaporizing devices shown above. If anything, the Rule and DSHS commentary encourages Texas farmers and retailers to mislabel hemp flower so that consumers will still be able to purchase hemp flower grown in Texas."
While Texas's legalization of hemp last year was met with considerable fanfare, its rollout has been bumpy. In addition to industry frustration over bans on smokables, legalization has also sparked unintentional disruptions in marijuana enforcement across the state.
Because hemp—whether as flower or vape liquid—is virtually indistinguishable from marijuana without testing, law enforcement agencies across the state say they're now unable to bring sound criminal cases without analyzing seized cannabis for THC. Facing backlogs and high costs of private labs, prosecutors have dropped hundreds of low-level cases. The situation has led to a patchwork of marijuana enforcement policies across the state and uncertainty for consumers, who still risk arrest for hemp products that are perfectly legal.
In February, state officials announced a crucial caveat to a long-awaited test to help determine whether samples were hemp or marijuana: State labs wouldn't perform testing in misdemeanor cases. The Texas Department of Public Safety "will not have the capacity to accept those," a letter from Director Steve McCraw said.
In the meantime, Texas hemp companies that once saw the state as a business-friendly environment are considering whether to set up shop elsewhere. The new lawsuit says that Crown is already weighing a move to Oklahoma, citing concerns of more than $50 million in lost revenue during the next five years and as many as 60 lost jobs.
It's not just about profits, the companies insist. "To the extent the Legislative Ban purports to address law enforcement concerns or health related concerns," they argue, "it does nothing."
"The Legislative Ban cannot rationally be understood to reduce the prevalence of smokable hemp in Texas. On the contrary, it works against promoting safe and effective products for consumers," the lawsuit says. "Rather than keeping the manufacture and processing of smokable hemp products in-state, the products will be manufactured and processed out-of-state and shipped into Texas outside its full regulatory reach for consumer safety. The state of Texas will have little to no regulatory oversight over these products."
Read the full lawsuit challenging Texas's ban on smokable hemp below:
Texas Smokable Hemp Lawsuit by Marijuana Moment on Scribd
Texas Marijuana Prosecutions Have Dropped By More Than Half Following Hemp's Legalization
Vermont Will Advance Marijuana Sales Legalization Bill Within Weeks, House Speaker's Office Says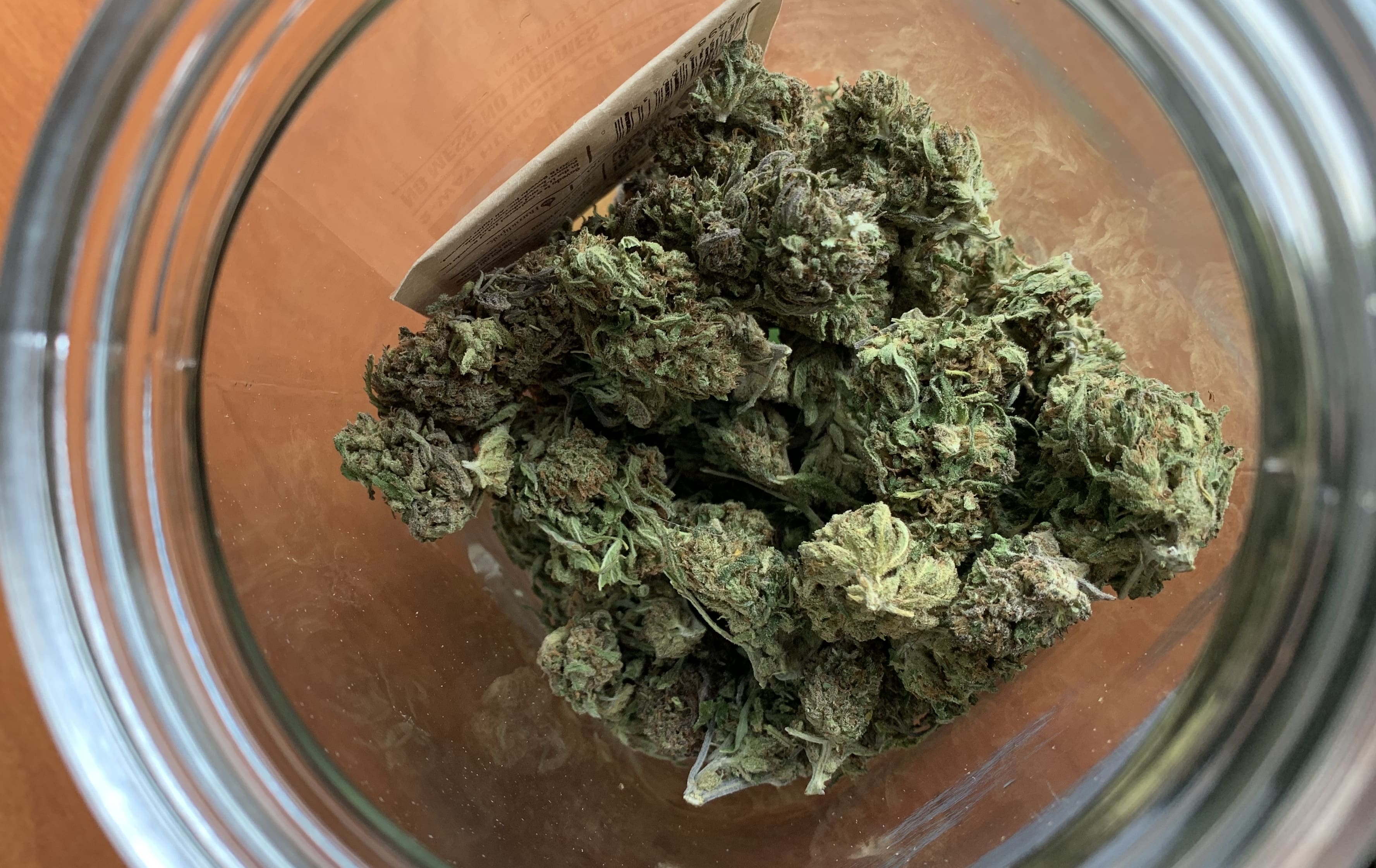 A bill to legalize marijuana sales in Vermont is set to advance during a special session this month or next, a top lawmaker's office confirmed to Marijuana Moment on Wednesday.
While Vermont legalized cannabis possession of up to one ounce and cultivation of two plants in 2018, there is currently no regulatory system in place that allows for retail sales. A bill to establish that program, S. 54, cleared both the House and Senate in differing forms, but now it must move through a bicameral conference committee charged with reconciling the versions into a single proposal to send to the governor.
The panel was appointed in March but has not met yet. Advocates have grown frustrated over the delay, questioning when the committee will be authorized to convene.
"S.54 is currently in a committee of conference and we expect that committee to meet during the August/September legislative session," the chief of staff to House Speaker Mitzi Johnson (D) told Marijuana Moment in an email. "That's consistent with what the leader said during a June telephone town hall, where she said they were 'aiming to get in passed in August.'"
Asked about minutes from a recent Vermont Department of Health Substance Misuse Prevention Oversight and Advisory Council meeting—in which participants said the tax-and-regulate legislation "is not currently slated to be discussed in this special session"—the staffer said "I do not see anyone who speaks for the legislature listed as attending the meeting, nor do I see that opinion credited to a person."
"I'm really not sure why that was said or where that information came from," she said.
Marijuana Moment reached out to the Health Department for clarification, but a representative was not immediately available.
Johnson has repeatedly said that the legislature will get around to moving the cannabis commerce bill this year, but she said in May that she felt lawmakers and the administration are appropriately focused on responding to the coronavirus pandemic.
In terms of the economic impact of the health crisis, it stands to reason that taxing and regulating marijuana could represent one method of generating needed revenue. According to a new analysis from Vicente Sederberg LLP, the state could take in more than $175 million in cannabis revenue through 2025 if it allows sales starting 2021.
Dave Silberman, a pro bono drug policy reform advocate and candidate for the elected office of high bailiff in Addison County, told Marijuana Moment that beyond that revenue, "an adult-use cannabis market will provide an economic lifeline to thousands of Vermonters by creating new, well-paying jobs that support our rural economy."
"Continued foot-dragging on this bill, which has passed both chambers by overwhelming margins and which could be quickly reconciled by legislators acting in good faith, makes no sense," he said. "Creating a well-regulated cannabis economy should be a centerpiece of our statewide COVID recovery plans, instead of the afterthought that House leadership has so far made it out to be."
Matt Simon, New England political director for the Marijuana Policy Project, said in a press release about the new economic analysis that "Vermonters overwhelmingly supported the effort to regulate cannabis sales prior to COVID-19, and the sense of urgency has only increased in light of the economic downturn."
"It's time for advocates to stand together and support legislators as they determine the best path forward for the state," he said.
One potential complication down the line concerns Gov. Phil Scott (R), who reluctantly signed the earlier noncommercial legalization bill into law and has voiced concerns with adding legal sales to the mix.
In particular, he is worried about road safety issues. However, top lawmakers and an administration official indicated earlier this year that the governor is "at the table" in discussions about the current legislation and would be open to using cannabis tax revenue to fund an after-school program he's pushing.
As the tax-and-regulate bill awaits conference committee action, the Senate approved a bill in June that would double the amount of marijuana that can be possessed and grown without the threat of jail time.
DEA Reveals Details Of Investigation Into California Marijuana Companies With Latest Court Filing
Photo courtesy of Kimberly Lawson.