Oklahoma Medical Marijuana Campaign Reports Show Grassroots Can Trump Big Money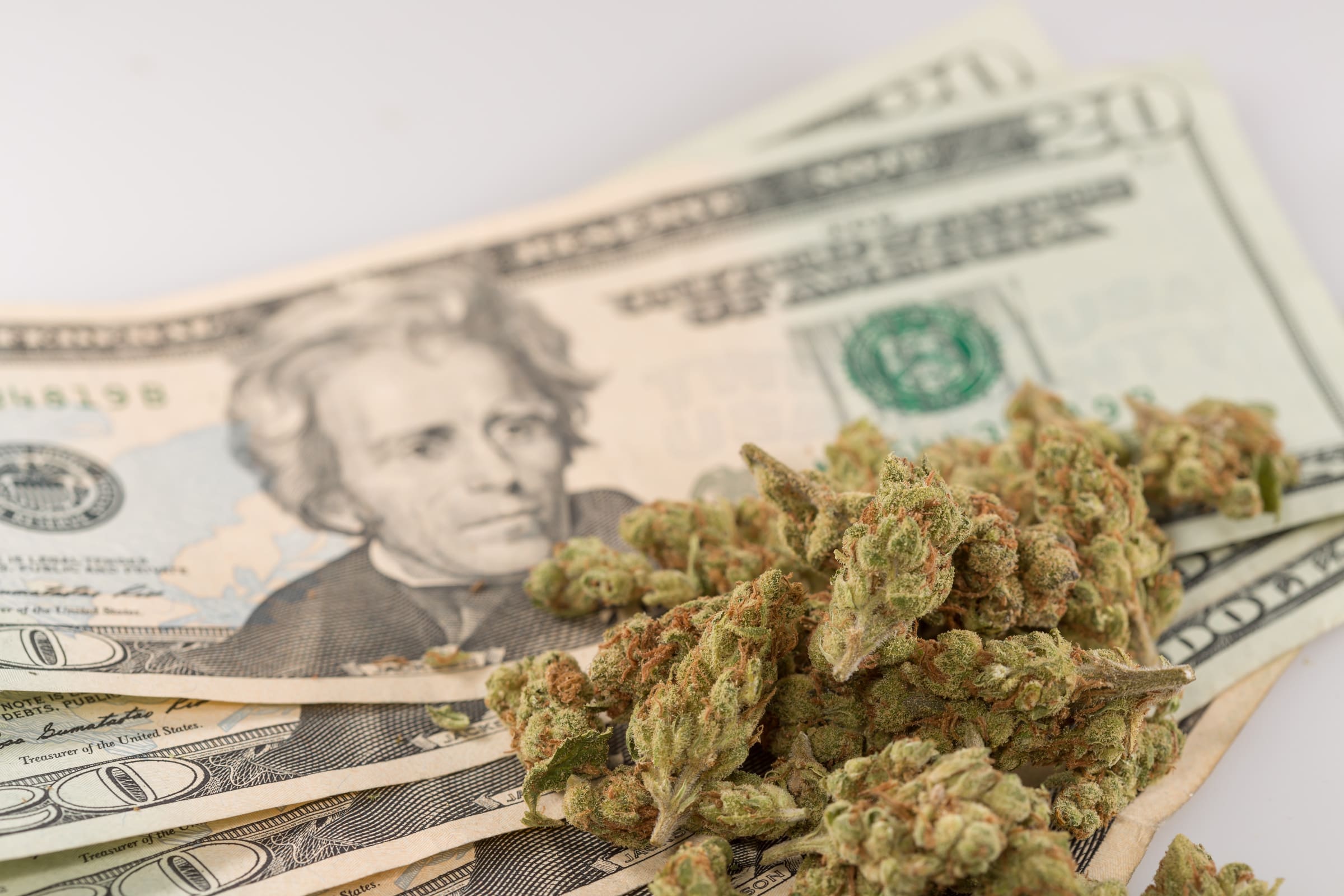 The story of the "yes" vote on Oklahoma's medical marijuana ballot measure was one of grassroots versus big money. And in this round, David beat Goliath.
On June 26, Oklahoma voters approved State Question 788 to legalize use, possession and cultivation of cannabis for medicinal purposes by a sizable margin of 57.9 percent to 43.1 percent.
New campaign finance reports received this week by the Oklahoma Ethics Commission revealed that the two "No" political action committees (PACs) heavily outraised and outspent the two "Yes" PACs.
Supporters took in just $176,577.99 in cash donations, compared to the $1,260,600.00 raised by opponents.
The pro-PACs had a secret weapon: Additional in-kind contributions of $133,684. The main "No" PAC didn't report a single dollar of in-kind donations, but even counting donated services, supporters had far fewer resources overall.
With 507,582 "yes" votes and 385,176 "no" votes on Election Day, the "Yes" PACs had to raise only 35 cents in cash donations per vote (or 61 cents per vote, if in-kind donations are included). The "No" PACs raised $3.27 per vote, nearly ten times the amount medical cannabis backers had to take in to get their voters to the polls.
This is a sharp contrast to previous marijuana ballot measure campaigns in other states in which supporters have usually heavily outraised and outspent opponents.
This year in Oklahoma, pro-medical-marijuana forces also received far more individual donations, whereas opponents relied on a smaller number of contributions from monied interests.
The main pro-PAC, Vote Yes On 788, registered on December 7, 2017 and got a head-start on fundraising and campaigning, raising $31,279.82 in the first three months of 2018, half of that in in-kind contributions. Their biggest donor by far was New Health Solutions Oklahoma, with a cash infusion of $130,000 and in-kind donations of legal services, office space, t-shirt printing, printing and fundraisers totaling $90,903.
The Drug Policy Reform Network Of Oklahoma donated $300 to the "Yes" PAC in 2018. The remaining donations were all from individuals. In six months, the committee received $43,735 from 181 individual donors, with an average donation of $242. The largest individual donor gave $2,493.
The "Yes" PAC spent $6,393 in the first three months of 2018 to get out the word about the vote in old-school grassroots efforts including yard signs, flyers, stickers, buttons, shipments to volunteers and a highway sign. From April to the end of June, they spent $165,976 on similar items, and added in professional campaign tactics like surveys, electronic billboards, campaign management, phone banking and radio ads.
The main "No" PAC, SQ 788 Is Not Medical, didn't even register until May 15, 2018, about 10 weeks before the vote. Their corporate donors contributed $1,181,925 to the losing effort. These included several oil and gas heavy hitters: Newfield Exploration and Devon Energy ($100,000 each), Cimarex Energy Co. ($75,000), ConocoPhillips and Gulfport Energy ($50,000 each), Oge Energy Corp, Chesapeake Energy and Phillips 66 ($25,000 each). Three banks also ponied up: Arvest ($25,000), IBC $20,000) and Bancfirst ($10,000). Communication giant Cox tossed in $25,000.
Non-profit organizations that supported the "No" PAC included the Oklahoma City and Tulsa Chambers of Commerce ($190,000 and $25,000 respectively), the Chickasaw Nation ($100,000) and national prohibitionist organization Smart Approaches to Marijuana ($10,000). The Oklahoma State Medical Association and Hospital Association and also pitched in, to the tune of $75,000 and $25,000, respectively.
Opponents had individual donations from just 14 people totaling $78,550, or an average of $5,611. The largest individual donor, the retired President of Mercedes Benz of Oklahoma, gave $50,000.
The "No" PAC poured more than $100,000 into mailings and over $1 million into media buys of television, print and radio. Given that the media buy included a television ad that said, "State Question 788 is not about medical marijuana… Why could anyone get it without a specific medical condition?" it's possible that the ad did more to help get out the "Yes" vote from people who support broader reforms. The question did not set limits on physicians as to what qualifying conditions were eligible.
The "Vote Yes on 788" PAC received $35,000 in-kind for web development and social media, and 41,500 people have followed Yes on 788's Facebook Group.
Neither of the "No" PACs bothered to create a website. SQ 788 Is Not Medical spent $15,000 on social media services, though no Facebook or Twitter accounts seem to exist. The spend included $10,000 to an organization called Student Development Institute, which also runs the Facebook page "Worth the Wait" for an abstinence/chastity ring non-profit.
A small anti-PAC, Oklahomans Against 788, raised $250 in 2018, plus $505.92 in-kind for a P.O. box, copies, office supplies and gas. All of the donations came from the two people who founded the PAC, and all of the expenses went to filing fee to create the PAC, plus bank fees and mileage reimbursement.
Another pro-PAC, Oklahomans For Health SQ 788, registered on November 21, 2017. The group, which helped get the question on the ballot, raised just $250 in 4th quarter 2017 and nothing in 2018.
Following the passage of the ballot measure, its backers were dismayed by the way the Oklahoma State Department of Health took up implementing regulations. The Department initially proposed requiring pharmacists at cannabis dispensaries, banning smokeable products and requiring women patients to take pregnancy tests, which if positive would prevent them from receiving medical cannabis.
Under pressure from supporters, the department last week walked back those restrictions. The director of the Board of Pharmacy was also fired over bribery allegations.
Approval of the medical marijuana ballot initiative marked the second time in recent years that Oklahoma voters surprised state lawmakers and law enforcement by approving a drug policy reform measure. In 2016, they passed state question 780, making possession of any drug a misdemeanor, by a wide margin: 58 percent to 42 percent.
Meanwhile, a group collecting signatures to get state question 797, a full marijuana legalization measure, on the ballot in November says they have reached their goal, though it is unclear for now if a sufficient number of the signatures they have garnered will turn out to be valid.