Advocates And Experts Join Fight Against DEA In Federal Psilocybin Rescheduling Case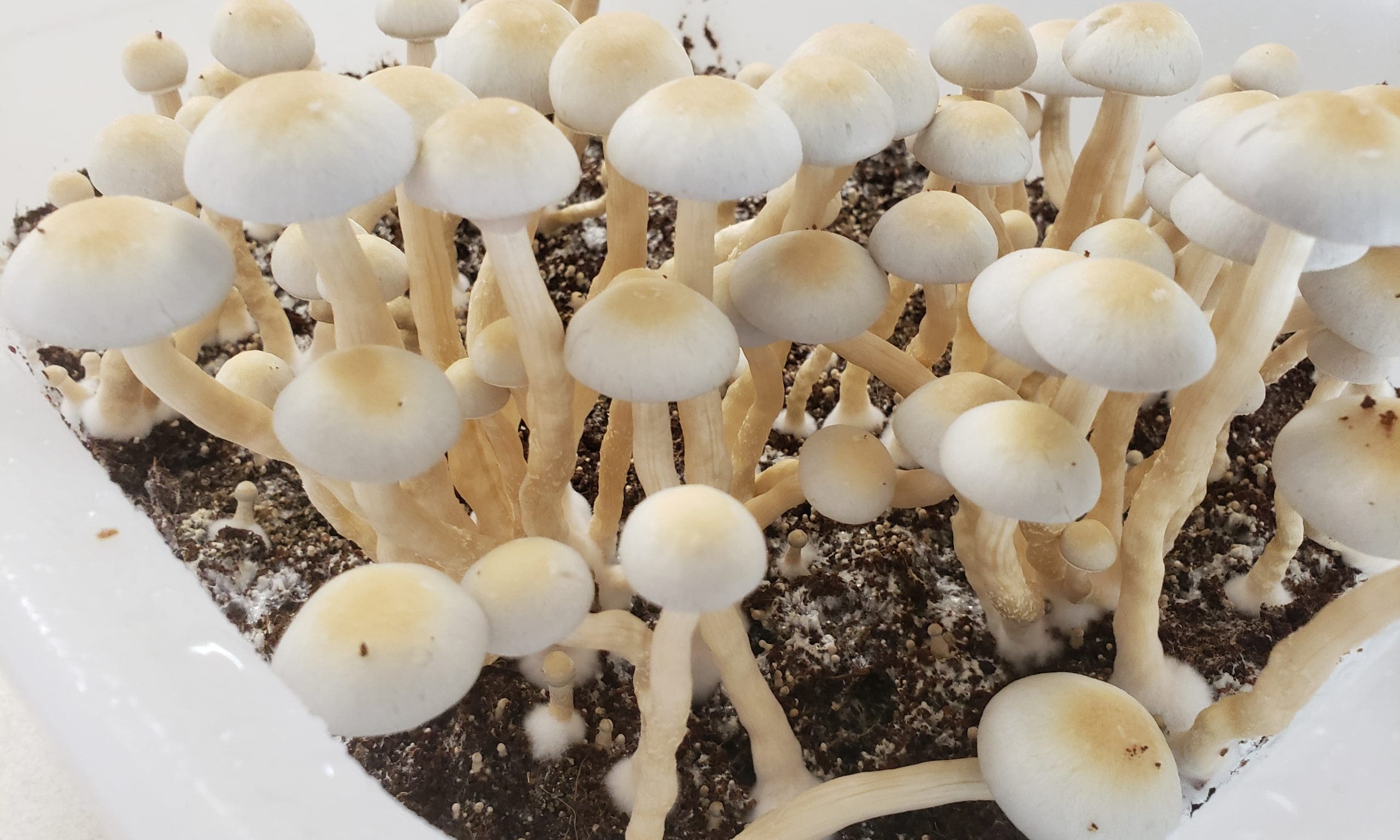 Advocacy groups, researchers, academics and medical professionals have submitted a series of briefs in support of an effort to force the Drug Enforcement Administration (DEA) to carry out a review into psilocybin as part of a rescheduling petition.
Washington State-based palliative care doctor Sunil Aggarwal recently asked a federal appeals court to vacate DEA's rescheduling petition denial. It's the latest chapter in a long-running saga that's pitted him against the agency as he's sought to treat his terminally ill patients with psilocybin.
Groups like NORML, Reason for Hope, Veteran Mental Health Leadership Coalition, End of Life Washington and Global Wellness Institute—in addition to numerous individual experts—are urging the court to see the case through, submitting several amicus briefs to the U.S. Court of Appeals for the Ninth Circuit.
Aggarwal, who serves as co-director of the Advanced Integrative Medical Science (AIMS), petitioned DEA to place psilocybin in Schedule II, rather than Schedule I, of the Controlled Substances Act. The request was denied, despite his argument that the Food and Drug Administration (FDA) designation of the psychedelic as a "breakthrough therapy" demonstrated that Schedule II was the proper designation.
Attorneys for Aggarwal have maintained that DEA's justification for the petition denial failed to account for merits, instead relying on a loose argument about interstate marketability.
To that end, Aggarwal filed a lawsuit against DEA in federal appeals court late last year, and an appeals filing that was submitted last month states that "the Court should vacate the Denial and remand to DEA."
The appellants said DEA's response to the psilocybin rescheduling petition was "not serious, nor was it how Congress imagined the agency would conduct itself upon receiving petitions presenting meaningful arguments and recent evidence that call into question the propriety of an extant scheduling placement."
"With a remand, the Court should also instruct DEA to request from the [U.S. Health and Human Services] Secretary a scientific/medical evaluation and recommendations," it says.
"There is every reason to believe that the HHS would conclude, as it has in the past, that a schedule II placement is justified for an unapproved substance under these exceptional circumstances," the brief continues. "Given the life-saving implications that rescheduling psilocybin could bring, there is no good cause for this agency to engage in further obstruction, gamesmanship, or delay."
Last week, a number of advocates and experts weighed in on the case, expressing frustration with the complexities and confusion surrounding DEA's rationale for the denial and long-standing reluctance to free up alternative treatments through existing administrative and statutory processes.
NORML, which has a long history with DEA as it has sought the rescheduling of marijuana, said in its amicus brief that the agency's "consistent delay tactics and perfunctory decisions unsupported by recent scientific or medical evidence only leaves individuals with often fatal conditions without any recourse under the CSA."
"That is inhumane and unconstitutional. When considering appeals from the denials of rescheduling petitions, this Court should consider the real-world effect that lengthy delays have on patients who have no other options available and wish to try breakthrough therapies, such as psilocybin or cannabis. These procedural delays of the past—which often amounted to years, if not decades—should not be countenanced going forward."
End of Life Washington, EvergreenHealth, A Sacred Passing, Pancreatic Cancer North America and the Global Wellness Institute, along with a series of researchers and advocates such as Drug Policy Alliance founder Ethan Nadelmann, said that DEA's "refusal to even consider reclassifying pharmaceutical grade psilocybin from a Schedule I to a Schedule II drug is unfounded."
"Phase 2 studies show that psilocybin can have a therapeutic benefit for both those with a terminal illness and those with serious mental health disorders. And the studies provide a roadmap for using psilocybin sufficiently safely under medical supervision," the brief said. "These studies also demonstrate psilocybin is the type of drug that the FDA would find to have a 'currently accepted medical use with severe restrictions' because it is in the later stages of investigation."
DEA's "obstinance is founded on an infinity loop of excuses: it cannot consider rescheduling psilocybin until FDA gives its approval, FDA cannot give its approval until extensive safety studies are conducted on psilocybin, and psilocybin's current scheduling adds prohibitive time and cost to the required extensive studies," it says.
Reason for Hope and Veteran Mental Health Leadership Coalition argued in their brief that the court should grant the petition for review "because suicide is a national health problem; decreasing Veteran suicide by prioritizing medical research activities is a national priority; and psilocybin-assisted therapy is a promising suicide prevention treatment that has accepted medical use under severe restrictions."
"Rescheduling will significantly reduce regulatory barriers to research and compassionate use access to treatment while reducing the number of Veterans and other patients with severe mental health conditions who are forced to seek treatment abroad or from underground providers," it says.
Matt Zorn, an attorney on the case who has spent ample time litigating against DEA on drug policy issues, thanked those who submitted the briefs and summed up their arguments in a Substack post on Thursday.
"It is a special moment for us to see so many people come together to try to fix an arcane regulatory issue," he said.
Meanwhile, DEA has also faced legal action over its denial of Aggarwal's waiver request to administer psilocybin to his patients under federal "Right to Try" (RTT) law.
The doctor has argued that federal RTT statute makes clear that seriously ill people qualify for investigational drugs, including psychedelics in Schedule I of the CSA.
But DEA has said that, because the RTT law only explicitly discusses exemptions under the Federal Food, Drug, and Cosmetic Act (FDCA), it doesn't have implications for the CSA. The doctor contends that that's not the case, as CSA has a section that says DEA can't interpret the drug law in a way that conflicts with the FDCA.
The agency previously rejected a RTT waiver request in 2021, which resulted in litigation in the same federal court. But the court rejected the case on procedural grounds last year, with judges saying they could not reach the merits of the challenge because DEA hadn't made clear that its denial constituted a final rule that could be appealed.
Plaintiffs then made repeated attempts to get DEA on record about whether it had made a final rule. The agency didn't give a clear answer for months, but it finally confirmed that its decision was "final" in a letter that was dated in September and received by Aggarwal the following month.
After receiving that confirmation, the petitioners pulled their earlier legal challenge and filed a new request for a review in October.
DEA is also facing increased political pressure from bipartisan lawmakers, who recently took an extra step to provide additional congressional clarification, filing companion bills in the House and Senate last year to reaffirm that the scope of RTT policy should include Schedule I drugs like psilocybin.
The legislation would make a technical amendment to the text of the existing statute, with the primary purpose of clarifying—in the face of DEA objections—that RTT policy as signed into law by former President Donald Trump already means that patients with terminal health conditions can obtain and use investigational drugs that have undergone clinical trials, even if they're Schedule I controlled substances.
The bills were filed about six months after bipartisan members of Congress sent a letter, led by Rep. Earl Blumenauer (D-OR), requesting that DEA allow terminally ill patients to use psilocybin as an investigational treatment without the fear of federal prosecution.
Last year, Sens. Cory Booker (D-NJ) and Brian Schatz (D-HI) separately pushed top federal officials to provide an update on research into the therapeutic potential of psychedelics, arguing that ongoing federal prohibition has stymied studies.
Meanwhile, as part of their efforts to better understand DEA's administrative process, Aggarwal and his counsel have submitted several Freedom of Information Act (FOIA) requests for relevant documents. They've previously accused the agency of using deliberate delay tactics in processing those requests—the subject of another lawsuit.
After asking for records related to both the RTT case and a separate rescheduling petition under FOIA law, the agency responded by designating the request as "commercial" and asking for $11,740 up front to cover initial processing. Aggarwal and Tucker strongly contested the idea that there's a commercial motivation to the case, and they've appealed the categorization, so far to no avail.
Activists—including one of the plaintiffs in the RTT case, Erinn Baldeschwiler—staged a demonstration outside of DEA headquarters in Virginia last year, demanding that the agency allow terminally ill patients to access psilocybin therapy.
In a procedural win for scientists and advocates, DEA last year retreated on a proposed ban on psychedelic compounds that experts say have research value. The development came just one month after the agency abandoned separate plans to place five tryptamine psychedelics in Schedule I.
DEA faced significant criticism over the latter proposal, receiving nearly 600 messages during a public comment period, with most opposing the rule change and requesting a hearing. The agency's own administrative court subsequently agreed that there was a need to hold a hearing on the matter before the prohibition could be enacted—but DEA pulled the proposal instead.
Separately, DEA has released its final 2023 production quotas for drugs to be used in research—with the agency calling for even more manufacturing of psychedelic compounds like MDMA, psilocyn and 5-MeO-DMT than the existing significant increases it had initially proposed for the current year.
Read the doctor's psilocybin rescheduling petition brief in the case against DEA below: 
Psychedelics Reform Developments In Even More States, From Utah To New Hampshire