A Guide To Vermont's New Marijuana Legalization Law
In January, Vermont became the ninth state to legalize marijuana—and the first to end cannabis prohibition through an act of lawmakers, rather than a ballot initiative. But with the law set to take effect on July 1, questions remain about how the recreational system will actually function.
What you need to know
Vermont Governor Phil Scott (R) signed the adult-use legalization bill, H. 511, into law on January 22. The governor said that he had "mixed feelings" about the legislation, but added that he believed "what adults do behind closed doors and on private property is their choice, so long as it does not negatively impact the health and safety of others, especially children."
The law permits adults 21 and older to:
Possess up to an ounce of cannabis, or five grams of hashish.
Grow "two mature and four immature marijuana plants" on private property in a secured enclosure that's kept out of public sight.
Those plants wouldn't count toward the one ounce possession limitation.
If you don't own the property, you'd have to get the property owner's permission before cultivating cannabis.
"Consumption of marijuana in a public place or in a vehicle is prohibited as is possession of an open container of marijuana in a vehicle, and violations are subject to civil penalties," a summary of the bill text explains. There are also penalties for providing or "enabling consumption" of marijuana to individuals under 21.
The legislation doesn't explicitly address marijuana "gifting," which has served as a way to circumvent market restrictions in certain legal jurisdictions like the District of Columbia.
Employers are still allowed to enforce policies against consuming, cultivating or displaying marijuana in the workplace.
Are you an employer with questions about VT's recreational marijuana law that goes into effect 7/1? Today, we released a guidance for employers on how to navigate the law. Comments? email our Civil Rights Unit at [email protected] #vtbusinesseshttps://t.co/Xl955mOZNq

— Vermont AG Donovan (@VTAttorneyGen) June 14, 2018
If an employer has a no-tolerance drug policy, employees can be fired for violating that policy even if they use cannabis outside the workplace. However, the Vermont Attorney General's office cautioned employers when it comes to penalizing medical cannabis patients suffering from debilitating conditions in a recent guidance report:
"Under [Vermont's Fair Employment Practices Act], it is unlawful for any employer, employment agency, or labor organization to discriminate against a "qualified individual with a disability." Discrimination means not only intentional mistreatment of a disabled employee or applicant, but also failure to provide a reasonable accommodation to that individual… employees carrying a medical marijuana card and those dealing with substance abuse issues may be protected under VFEPA's disability provisions."
The new system does not provide access to cannabis seeds or products at dispensaries, as is the case in other states where recreational marijuana is legal. And that's where things start to get tricky.
Where are adult users supposed to obtain cannabis or seeds to grow their own plants if there's no legal retail system in place? If you're a registered medical marijuana patient, who does have access to dispensaries that sell cannabis and seeds, then you could hypoathetically circumvent that issue; but for adults outside the medical system, the conflicting regulations could create headaches.
"Legalization advocates argue that people who are interested in growing marijuana probably have access already," The Burlington Free Press reported. "The main difference after legalization, they say, will be the lifting of penalties and stigma."
The winding road to non-commercial legalization in Vermont
While Vermont made history in January by becoming the first state to pass a legalization measure through the legislature, it wasn't necessarily a smooth path to reform. It's taken about two years, since the state Senate first voted in favor of a tax and regulate legalization bill—which the House ultimately rejected.
Even as recently as April, Vermont lawmakers attempted to rally support for a commercial legalization bill but were defeated in a floor vote. But House Speaker Mitzi Johnson (D) and others cautioned that the timing wasn't right, considering the fact that the governor had just signed the non-commercial legalization bill into law just three months prior.
Lt. Gov. David Zuckerman (D) told Vermont Public Radio in April that regardless of the fate of the eleventh-hour effort to move a tax and regulate legalization bill forward, it would only be a matter of time.
"This vote does not reflect the sentiment of the people, and when the sentiment of the people is reflected in this body, it will move forward," Zuckerman said.
Are medical marijuana patients being left behind as the state prepares to implement its recreational system?
Though adult users won't have a legal way to obtain cannabis or seeds under the law, there are a number of other differences in how laws apply to medical patients and recreational consumers. For example, adults over 21 are allowed to grow up to six plants outdoors, whereas medical patients can grow up to nine plants—but they're required to keep their grows indoors.
Also, while harvested cannabis doesn't count toward a recreational user's one ounce possession restriction, harvested plants do count toward medical patients two ounce possession restriction.
"I've heard concerns from several medical cannabis patients and their loved ones that they cannot get clear guidance from anyone in state government regarding how many plants they are allowed to grow for their own use, and how they may grow them," Dave Silberman, a Middlebury, Vermont attorney and pro bono drug policy reform advocate, told Marijuana Moment.
"Many patients are wondering whether these rights can be 'stacked,' such that, for example, a married couple consisting of one registered medical patient and one non-patient could legally grow four mature plants (two for "adult use" and two for "symptom relief")," he said.
There is currently a bill being considered in special session that aims to reconcile some of these regulatory differences, according to The Burlington Free Press. Among other things, the bills seeks to impose "locked container transport" requirements that are currently in effect for medical patients but do not apply to adult users. It would also clarify the state's prohibition on providing cannabis to individuals under 21 under the recreational system, as medical patients may be under 21 and the law doesn't offer assurances to medical caregivers that they wouldn't be penalized under the new law.
"Vermont's homegrow law is a great first step, but is incomplete," Silberman said. "Despite the failure to move [a more wide-ranging legalization bill, H. 490] forward this past session, I'm optimistic that we'll be able to move forward quickly in 2019 with a comprehensive bill to establish a regulated market and clear up the inconsistencies between the current 'adult use' and 'medical' regimes, as more and more legislators are coming to understand the reality that it's the same damned cannabis either way."
In the meantime, beginning on July 1, adults over 21 in Vermont will finally be able to legally use, possess and grow marijuana without a doctor's recommendation.
Montana Lawmakers Weigh Bill To Limit Marijuana Businesses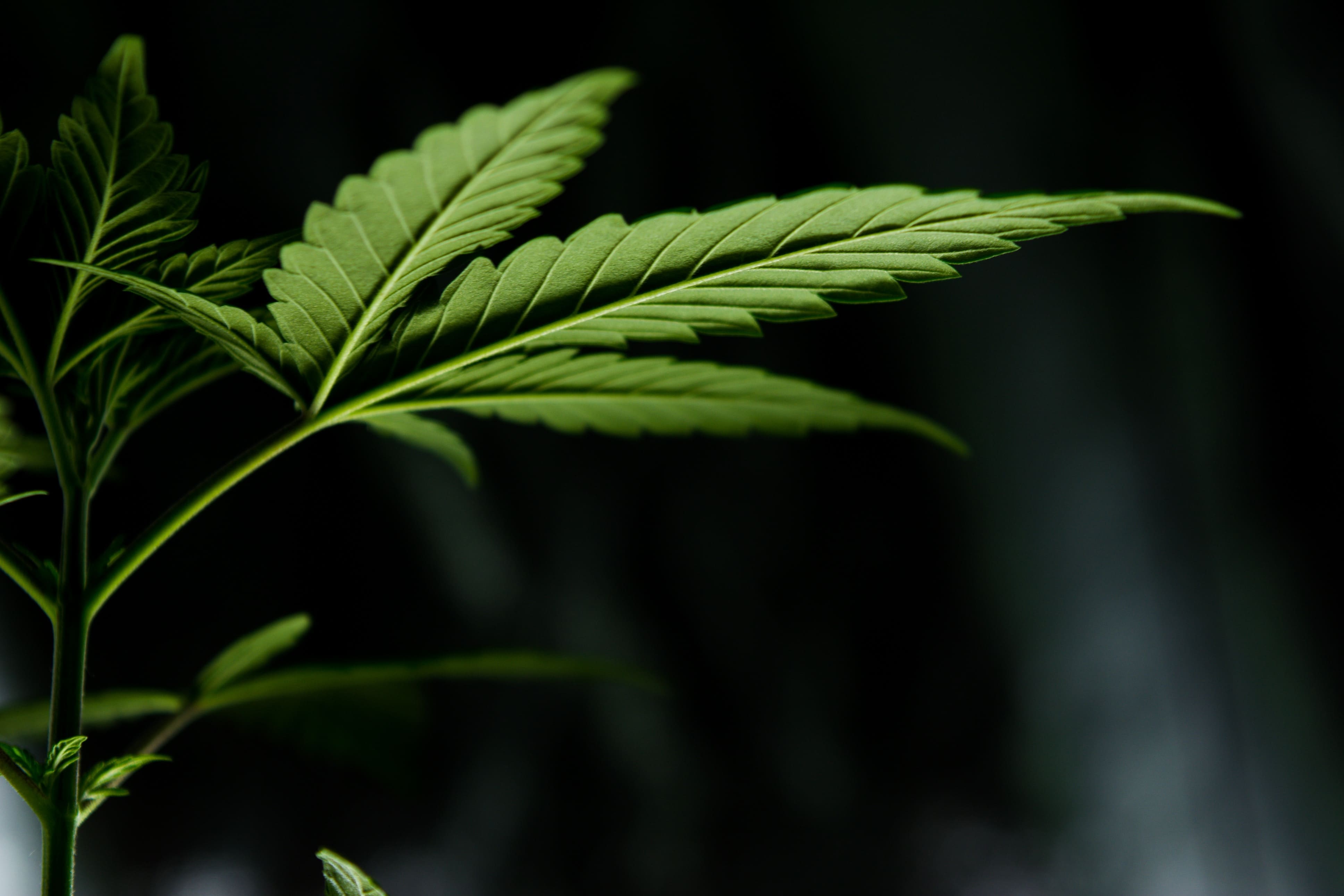 The committee also considered legislation on employment protections for medical cannabis patients.
By Keila Szpaller, The Daily Montanan
Glenn Broughton grew his medical marijuana business from a small storage shed to an operation that employees nearly 30 people, and if he's shut down, he said he'll go bankrupt.
"I've never been so scared in my life of what is going to happen to me at a pen-stroke," said Broughton, who operates in Missoula, Lolo and St. Regis.
The business owner testified Wednesday before the House Business and Labor Committee against House Bill 568. The bill would allow roughly 115 marijuana dispensaries in the state—or not more than one per 10,000 people in a county, but 10 maximum—compared to the 355 medical dispensaries that are currently open.
No members of the public spoke in favor of the legislation.
In November, voters passed an initiative that legalizes recreational marijuana by 57 percent, and the Montana Department of Revenue anticipates accepting license applications in October.
Sponsored by Rep. Lola Sheldon-Galloway, R-Great Falls, the bill would limit dispensaries to be no closer than 1,000 feet from a school, daycare, place of worship, park or playground. It also would limit dispensaries to one per 10,000 residents in a county or up to 10 dispensaries maximum in one county.
"The people of Montana have asked us to have recreational marijuana in our state," Sheldon-Galloway said. "My bill is just asking for some sideboards."
Opponents, though, argued the sideboards would "squash the little guy" and favor massive operations flush with cash over smaller homegrown businesses. They also said the prohibitions go too far to realistically implement.
Sam Belanger, who said he read Montana's marijuana legalization bill from cover to cover, told the committee he didn't think the location restriction of 1,000 feet as the crow flies—rather than 500 feet and on the same street—would work in cities and towns.
"It eliminates almost all viable options for any dispensary in the state inside municipalities," said Belanger, of Ronan.
Kate Cholewa, a cannabis advocate who has worked on related legislation in Montana, said the math simply doesn't pencil out. When medical users were "tethered," or tied to a specific provider, she said a business with 200 customers could make a good living.
With proposed limits, providers would have six times those customers. She also wondered who would be deciding who gets the the small number of licenses that would be available if the bill is enacted.
"This is just an invitation to problems and corruption," Cholewa said.
Pepper Petersen, president of the Montana Cannabis Guild, said one of the reasons he helped draft Initiative-190, the legalization bill, is that recreational marijuana can generate tax revenue for the state.
"Most of that coal economy is gone. We need a replacement for that money," Petersen said.
He estimated the revenue for state coffers could hit nearly $100 million a year for both recreational and medical marijuana. A study from the Bureau of Business and Economic Research at the University of Montana estimated a 20 percent tax on recreational marijuana could result in $43.4 million to $52.0 million a year from 2022 to 2026.
As part of her argument in favor of the bill, Rep. Sheldon-Galloway pointed to the relatively high use of marijuana among Great Falls middle and high school students compared to the state average. In Alaska, she said school suspensions for marijuana increased 141 percent after legalization.
Chuck Holman, though, said Montanans don't want more regulations, and Cascade County needs to deal with its own problems.
"That county needs to address it themselves," Holman said.
Wednesday, the committee heard a separate bill related to medical marijuana, House Bill 582.
Sponsor Rep. Robert Farris-Olsen, D-Helena, said he brought the bill forward because one of his constituents told him she lost her job because of her use of medical marijuana for a debilitating condition.
He said the bill wouldn't allow the use of medical marijuana on the job, but it would prevent an employer from barring a person from using medical marijuana off the job for a medical condition.
Several opponents argued the bill wouldn't make sense for industries where employees operate heavy equipment or must have a CDL, a commercial driver's license. Jason Todhunter, with the Montana Logging Association, said logging is a highly hazardous industry, and some employers choose to conduct drug testing.
"This would muddy the waters on what we could check for," Todhunter said.
The committee did not take action on either bill on Wednesday.
This story was first published by The Daily Montanan.
IRS Chief Says Agency Would 'Prefer' If Marijuana Businesses Could Pay Taxes Electronically
The head of the Internal Revenue Service (IRS) told Congress this week that the federal agency would "prefer" for state-legal marijuana businesses to be able to pay taxes electronically, as the current largely cash-based system under federal cannabis prohibition is onerous and presents risks to workers.
During an oversight hearing before the House Appropriations Financial Services and General Government Subcommittee on Tuesday, IRS Commissioner Charles Rettig was asked about the lack of banking access for marijuana businesses and what steps could be done to normalize the market.
Rep. David Joyce (R-OH), who serves as a co-chair of the Congressional Cannabis Caucus, said that barring marijuana companies from traditional financial services is "inefficient for business and the IRS alike, obviously, not to mention ample opportunity for fraud and abuse it creates, as well as potential for criminal acts as far as robbing and stealing from those."
Rettig replied that "the IRS would prefer direct deposits moreso than receiving actual cash payments."
"It's a security issue for the IRS. It's a security issue for our employees in our taxpayer assistance centers, [which] is actually where we receive these payments," he said. "We created special facilities in the tax to receive the payments. Then we similarly have to transport the payments themselves."
Watch the IRS commissioner talk about marijuana tax challenges below: 
"Money is fungible. We have to receive it. We don't make a determination as to what is or is not legal, but the tax payments do come in and we would rather have direct deposits if we could," the commissioner said.
Former Treasury Secretary Steven Mnuchin said in 2019 that he'd like to see Congress approve legislation resolving the cannabis banking issue and he pointed to the fact that IRS has had to build "cash rooms" to deposit taxes from those businesses as an example of the problem.
Marijuana finances also came up this week during a confirmation hearing for President Joe Biden's pick for deputy secretary of the Treasury.
Sen. Catherine Cortez Masto (D-NV) asked the nominee, Adewale Adeyemo, whether he feels 2014 Financial Crimes Enforcement Network (FinCEN) guidance should be updated to "set expectations for financial institutions that provide services to cannabis-related industries" and what steps he would take to that end.
"I look forward, if confirmed, to talking to my colleagues at Treasury about this important issue and thinking through what changes may be needed and doing this in a way that's consistent with the interagency with the president's guidance," Adeyemo replied. "In doing that, I look forward to consulting with you and members of this committee on our path forward."
IRS released updated guidance on tax policy for the marijuana industry last year, including instructions on how cannabis businesses that don't have access to bank accounts can pay their tax bills using large amounts of cash.
This update appears to be responsive to a Treasury Department internal watchdog report that was released in April. The department's inspector general for tax administration had criticized IRS for failing to adequately advise taxpayers in the marijuana industry about compliance with federal tax laws. And it directed the agency to "develop and publicize guidance specific to the marijuana industry."
The IRS's commissioner of the Small Business/Self Employed Division participated in a cannabis-focused event in December in which he noted the legalization movement's continued momentum, saying that it will potentially succeed in ending prohibition in "all states."
As far as banking is concerned, House Democrats did approve a bill in 2019 that would have protected financial institutions that service the marijuana industry from being penalized by federal regulators. Leadership also attached that measure's language to two pieces of coronavirus relief legislation last year, but they declined to add it to their latest version, despite having reclaimed the majority in both chambers of Congress and control of the White House.
Many of these financial services issues would also be resolved if Congress passed legislation to federally deschedule cannabis—and there's a plan in the works on the Senate side to get that done this year.
A trio of senators—Senate Majority Leader Chuck Schumer (D-NY), Senate Finance Committee Chairman Ron Wyden (D-OR) and Sen. Cory Booker (D-NJ)—are in the process of drafting a legalization bill. And they recently held a meeting with representatives from a variety of advocacy groups and business associations to get input on the policy change.
Connecticut Governor Touts Marijuana Legalization Bill Ahead Of First Hearing
Missouri Bill Would Add MDMA, Psilocybin Mushrooms And LSD To Right-To-Try Law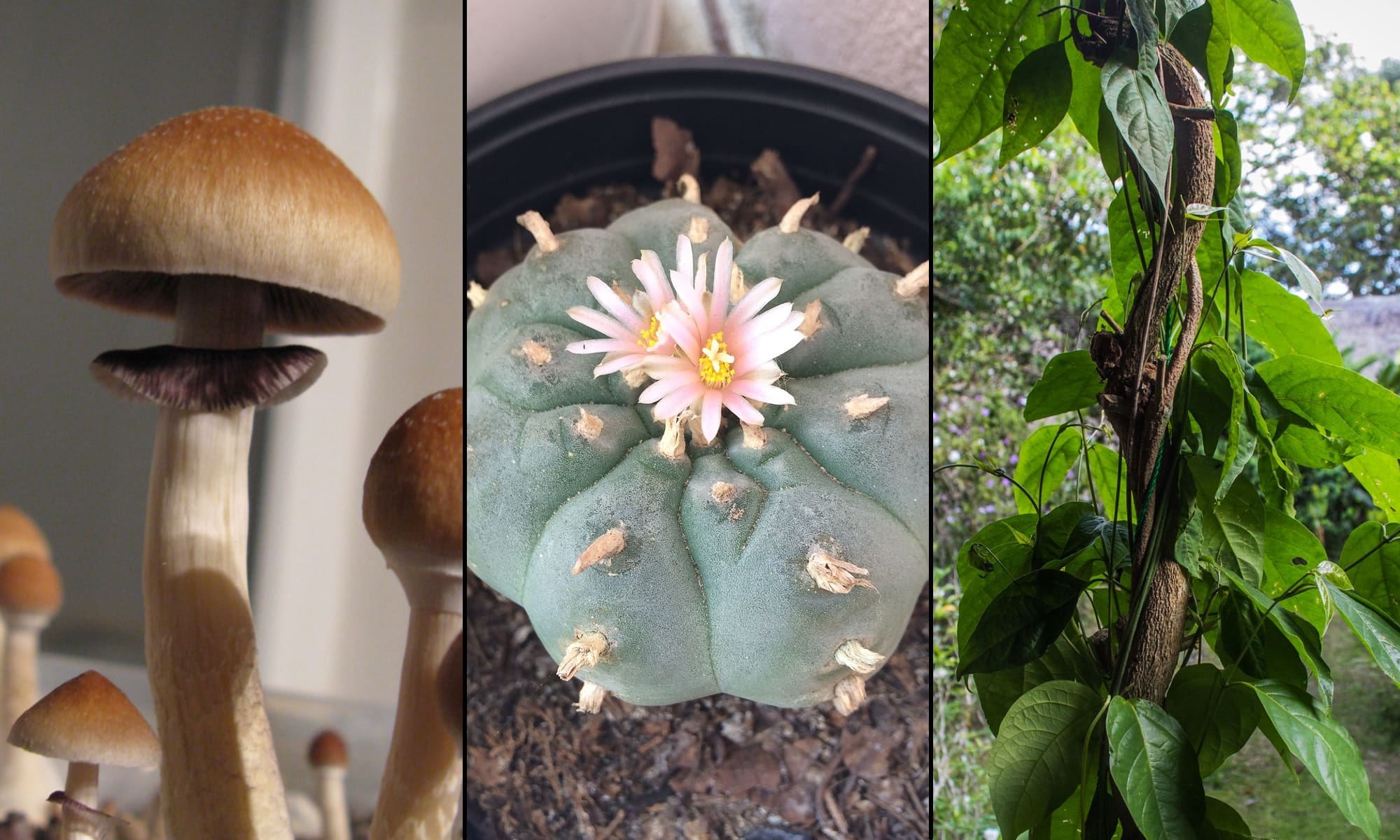 Missouri residents with debilitating, life-threatening or terminal illnesses could gain legal access to an array of psychedelic drugs under new legislation aimed at expanding the state's existing right-to-try law.
A bill introduced last week by Republican Rep. Michael Davis of Kansas City would allow seriously ill people to use substances such as MDMA, psilocybin mushrooms, LSD, DMT, mescaline and ibogaine with a doctor's recommendation after exhausting all other approved treatment options. It would also remove felony penalties statewide for simple possession of the drugs, reclassifying low-level offenses as misdemeanors.
Supporters at Crossing Paths PAC, a political action committee that supports "pro-drug policy and criminal justice reform campaigns and candidates," said the bill would allow patients to try therapies "considered promising in the treatment of a variety of mental health conditions," including post-traumatic stress disorder (PTSD) and depression.
In a statement put out by the group, Davis said the bill "protects the liberty interests of Missourians who believe these drugs offer valuable options in the treatment of numerous conditions."
Missouri State Representative Michael Davis Files Psychedelic "Right to Try" Access Billhttps://t.co/gjpAEz49s8 #moleg #mogov@tomangell @kylejaeger @MAPS pic.twitter.com/cMeRvIi7uD

— Crossing Paths PAC (@DrugReformMO) February 19, 2021
"Many psychedelic drugs have decades of clinical research supporting their efficacy and safety profiles," Davis said, "yet the FDA has been slow to act to reschedule these drugs."
HB 1176 would build on the state's 2014 right-to-try law, Republican-led legislation that allows patients with terminal illnesses to access "investigational drugs and devices" that are not approved by the U.S. Food and Drug Administration (FDA).
President Donald Trump signed a federal "Right to Try Act" in 2018, allowing certain patients to access drugs that have not yet been approved by the Food and Drug Administration for broad use.
The current Missouri law specifically forbids the use of Schedule I controlled substances.
The new bill would remove that provision and expand eligibility to include patients with "debilitating" or "life-threatening" illnesses. A patient with a doctor's recommendation who "has considered all other treatment options" would be exempt from the state's laws against possessing the drugs.
Drug manufacturers could also legally produce the substances under state law, and physicians and pharmacies could lawfully distribute them.
For people who aren't qualifying medical patients, the measure appears to reduce existing criminal penalties for possessing the listed substances. Under HB 1176, possession of up to 10 grams would be a class D misdemeanor, which carries a maximum $500 fine. Possession of between 10 and 35 grams would be a class A misdemeanor, punishable by up to a year in jail and a maximum $2,000 fine.
Under current law, possessing any amount of the listed psychedelics is class D felony, which can mean up to seven years in prison.
The Missouri measure is similar to a bill introduced in Iowa last week that would expand that state's right-to-try law to include psilocybin, MDMA, LSD, DMT, peyote and other currently illegal drugs. The Iowa bill's sponsor, Rep. Jeff Shipley (R), who earlier this month introduced legislation to remove psilocybin from the state's list of controlled substances, recently described the right-to-try legislation to Marijuana Moment as "the most conservative approach to usher in the new age of mental and emotional healthcare."
—
Marijuana Moment is already tracking more than 700 cannabis, psychedelics and drug policy bills in state legislatures and Congress this year. Patreon supporters pledging at least $25/month get access to our interactive maps, charts and hearing calendar so they don't miss any developments.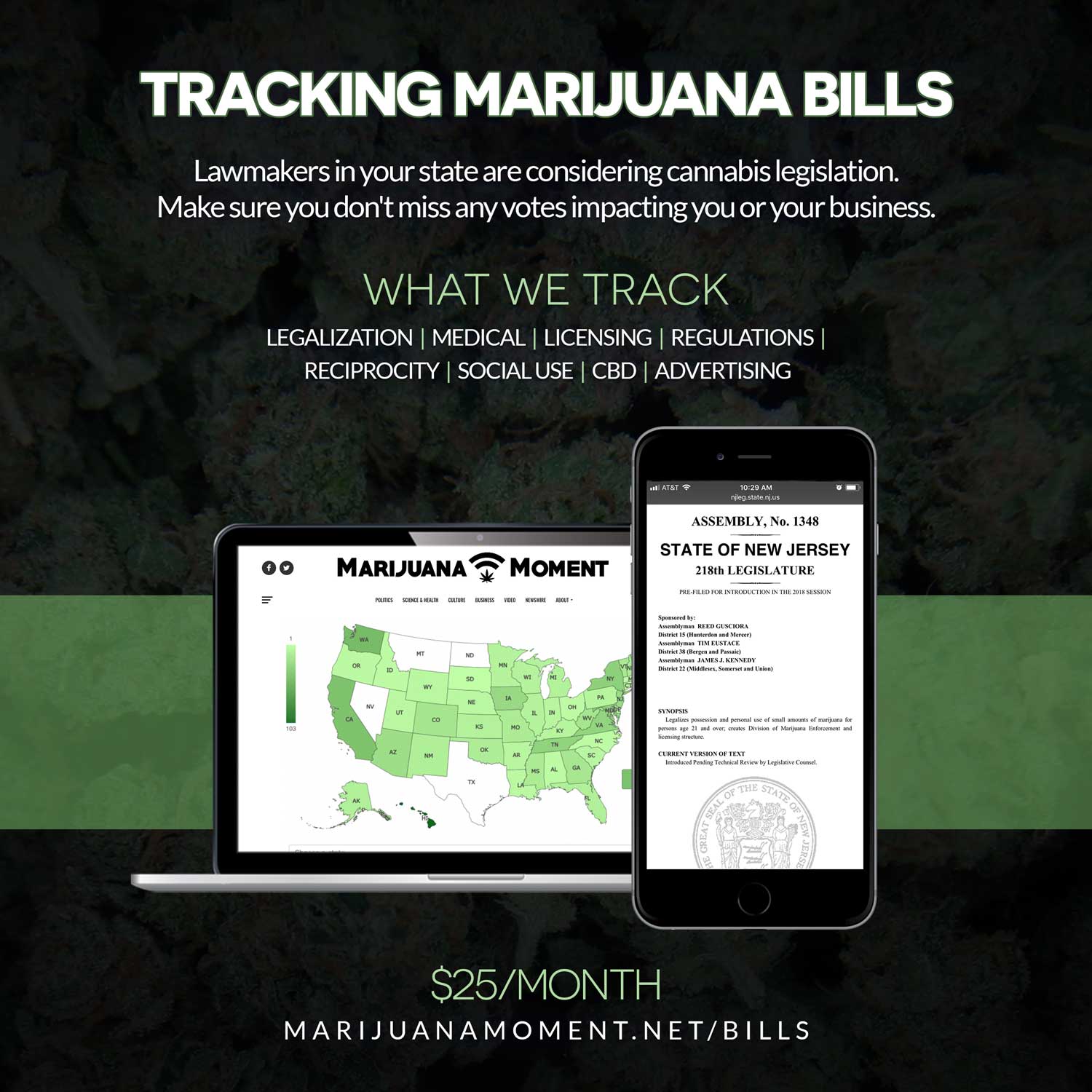 Learn more about our marijuana bill tracker and become a supporter on Patreon to get access.
—
Missouri's HB 1176 is one of more than a dozen bills related to drug policy to have been introduced in the state this year, including measures to put marijuana legalization on the 2022 ballot and allow medical marijuana consumption at hotels and Airbnb lodgings.
Other bills being considered this session, according to a summary of legislation being tracked by Crossing Paths PAC, would expunge marijuana-related offenses, prohibit the disclosure of medical marijuana patient information to unauthorized parties, reduce penalties for drug possession, protect medical marijuana patients in family court matters and adjust rules around medical marijuana licensing, taxes and banking.
"While other crises took precedence in terms of media attention," the group said in a blog post last week, "2021 will go down in history as the year Missouri lawmakers—Republican and Democrat—began to take serious action to end the War on Drugs."
Elsewhere across the country, lawmakers are considering similar reforms to roll back drug penalties or carve out legal access for therapeutic use.
Last week, a California lawmaker, state Sen. Scott Wiener (D) introduced legislation that would legalize the possession and social sharing of a number of drugs, including psilocybin mushrooms, LSD, ketamine, mescaline, ibogaine, DMT and MDMA. It would also provide for the expungement of past criminal records for possession or use. The state would establish a task force under the proposal to study potential future regulatory systems around psychedelics, with a report due in 2024.
Also last week, Massachusetts lawmakers introduced two drug-reform proposals, one to remove criminal penalties for all drugs and another to establish a task force to explore legalizing plant- and fungi-based psychedelics.
Earlier this month, a Texas state legislator introduced a bill to require the state to study the therapeutic potential of psilocybin, MDMA and ketamine in the treatment of certain mental health conditions.
Legislators in Connecticut, Florida, Hawaii, Kansas, Washington State and Virginia are also considering psychedelics and drug policy reform bills for the 2021 session.
Vermont lawmakers, meanwhile are expected to introduce a number of drug reform bills this session, including a measure to decriminalize all drugs and a separate proposal, expected Tuesday, that would remove psychedelic plants and fungi from the state's list of regulated substances.
Biden Cabinet Pick Defends Proposal To Use Marijuana Tax Dollars To Fund Schools
Photo elements courtesy of carlosemmaskype and Apollo