Where California Gubernatorial Candidates Stand on Marijuana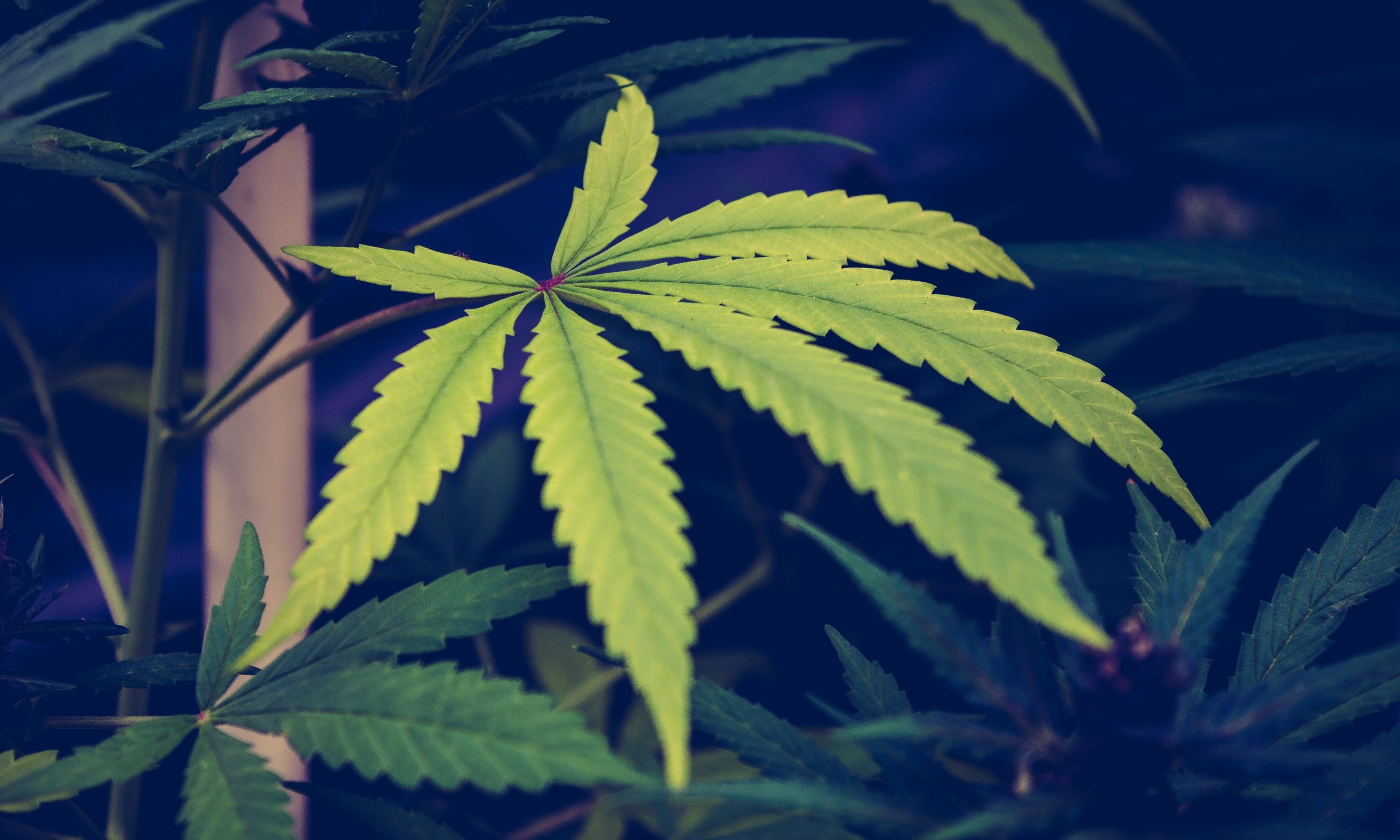 Twenty-seven candidates are competing to become California's next governor, but only a select few are considered viable based on recent polling. So where do those candidates stand on marijuana policy?
Marijuana Moment examined the cannabis records of each top contender in Tuesday primary. Here's what we found…
California Democratic gubernatorial candidates
Gavin Newsom, California lieutenant governor 
Generally seen as the favorite to come out on top in the primary, Newsom has repeatedly emphasized the importance of cannabis reform on the campaign trail. He endorsed California's successful 2016 ballot initiative, Proposition 64, to legalize marijuana for adult use and has pledged to defend the state against any attempts by the federal government to interfere in its legal cannabis program.
Before the proposition was even filed, Newsom, in partnership with the ACLU and others, formed a Blue Ribbon Commission that examined and reported on the various elements of cannabis regulation, the results of which were used to craft the legalization measure itself.
He was also one of the first statewide officials in the country to throw his support behind full legalization. In 2012, The New York Times wrote that Newsom "supports its legalization, a notable position for a Democrat widely considered one of the leading contenders to be the next governor." (Emphasis added).
Legalizing marijuana is about criminal justice reform. It's about putting an end to the failed war on drugs and fixing a broken system that has disproportionately affected low-income and minority communities.

It's time for our leaders in D.C. to step up.

— Gavin Newsom (@GavinNewsom) April 21, 2018
After Attorney General Jeff Sessions rescinded the Cole memo in January—which provided some protections for states that have legalized against federal interference—Newsom said in a press release that the move "destructively doubled down on the failed, costly and racially discriminatory policy of marijuana criminalization, trampling on the will of California voters and a year-long bipartisan implementation process led by Governor Brown and the California Legislature." The statement continued:
"This position defies facts and logic, threatens the promise of a safe, stable, and legal regulatory framework being pursued by twenty-nine different states, and continues the Trump Administration's cynical war on America's largest state – and its people and progress – through immigration crackdowns, tax increases, climate policy reversals, health care repeals and now marijuana policing. It also flies in the face of the overwhelming public opinion of a vast majority of Americans, who support marijuana legalization."
Antonio Villaraigosa, former Los Angeles mayor
Though Villaraigoa was initially reluctant to back efforts to legalize recreational marijuana in California, he ultimately endorsed Proposition 64, just days before the election. In an interview with The Los Angeles Times, the former mayor said that he took his time "on this measure because I wanted to make sure it included protections for children and public safety."
Legalizing recreational marijuana & regulating usage will benefit CA's economy, generating approx. $1 billion annually. Vote #YesOn64

— Antonio Villaraigosa (@antonio4ca) October 31, 2016
Satisfied that the measure did meet these standards, Villaraigoa said he was "convinced there are enough safeguards to make it a workable proposition."
During a debate in January, Villaraigosa was also the first to raise his hand when asked whether any of the candidates had consumed cannabis, Leafly reported.
@jorgeramosnews: "Candidatos, ¿alguna vez han fumado marihuana?" #Debate2018 pic.twitter.com/wTxgRVq7qR

— Univision Noticias (@UniNoticias) January 26, 2018
John Chiang, California treasurer
As California's treasurer, Chiang has made a concerted effort to flag concerns about banking issues in the cannabis industry. He's previously called for a study to explore the institution of a public, state banking system to accommodate legal marijuana businesses, which face challenges in securing accounts and credit lines as a consequence of federal prohibition. Because marijuana businesses are frequently denied federally backed banking options, they're often forced to deal in cash transactions, leaving them vulnerable to criminal targeting.
I'm helping lead efforts to create a public cannabis bank in CA so we can move those in the industry out of the shadows & into the light. We must ensure that legal businesses can operate as transparent, regulated, taxpayers—like CA voters intended. https://t.co/XYw3fZHj5X

— John Chiang (@JohnChiangCA) April 19, 2018
THREAD: A public cannabis bank will benefit public safety & support cannabis entrepreneurs, employees, & the general public.https://t.co/SwZkFVtPJq

— John Chiang (@JohnChiangCA) January 30, 2018
"California and other states will need to lead when it comes to bringing the cannabis industry out of the shadows so that it can be properly regulated to prevent sales to minors, to protect the public's health and safety, and ensure cannabis businesses behave as legitimate, tax-paying members of our economy," Chiang told The Los Angeles Times in January. "The recent action taken by Atty. Gen. Sessions threatens us with new national divisiveness and casts into turmoil a newly established industry that is creating jobs and tax revenues."
In 2017, Chiang outlined a series of steps he was proposing to fix the marijuana banking issue. In a press release, he said it's "unfair and a public safety risk to require a legal industry to haul duffle bags of cash to pay taxes, employees and utility bills," and that the "reliance on cash paints a target on the back of cannabis operators and makes them and the general public vulnerable to violence and organized crime."
The state treasurer did not publicly endorse Proposition 64, but later said that he voted for the measure.
"However, it must be properly regulated with the appropriate transparency, including adequate disclosure of THC content and adulteration," Chiang said during the campaign, according to The Sacramento Bee. "Local governments should be able to place appropriate limits on the location and density of outlets. Furthermore I want to ensure that safeguards are in place to protect minors from access and advertising."
Delaine Eastin, former California superintendent of public instruction
Eastin said that she respected California voters' decision to legalize recreational marijuana and sent a message to the federal government to "keep its mitts off" the state's legal program in a March interview.
Speaking with the Ukiah Daily Journal last year, the former state superintendent of public instruction characterized federal marijuana prohibition as a failure but said that she would have preferred an amended version of Proposition 64 with higher taxes on recreational cannabis. She also suggested that users can become addicted to marijuana. Here's her full response:
"To be honest with you, we tried making marijuana illegal, and that hasn't worked so well. I just don't think it makes sense for us to be thuggish about something that is not intrinsically evil. I will say that I think the initiative [Proposition 64] could have been written more strongly. I probably would have taxed the product more, I would have put the money into mental health programs and done something that moved the needle on some of the problems that can come out of either alcoholism or drug addiction. And people can become addicted to marijuana — I'm sorry, you can become dysfunctional. So, I thought it wasn't a particularly well-written initiative, but the general idea of it, to not make it such a criminal offense, I think is commonsensical."
California Republican gubernatorial candidates
John Cox, attorney
The attorney is on the record supporting medical marijuana.
However, Cox made headlines earlier this year after making a controversial proposal to "put people who use marijuana in hospitals and cure them of their substance abuse." He's since walked back that statement, telling San Diego NPR affiliate KPBS that his comments were misinterpreted.
"I clearly did not say that recreational pot users should go to hospitals," he told the station. "I talked about heroin. I talked about abuse of drugs that are addicting like heroin and opioids."
"We should do what Portugal does—not put those people in jail but put them in the hospitals and get them well. That's the right solution. Marijuana, no."
Travis Allen, California assemblyman
Arguably the least progressive viable candidate when it comes to cannabis policy, Allen has been dismissive of California's recreational marijuana program—and he's said that other states such as Colorado have seen "disastrous consequence" post-legalization. 
According to Leafly, Allen said in a May debate that "[t]he voters of California voted for medical marijuana, and I think a lot of Californians can understand that. It helps you with your nausea from cancer or for your glaucoma. Whatever it happens to be, a lot of voters are okay with that."
But he went on to say that "legalized recreational marijuana will have disastrous consequences in California, as we have already seen in Colorado."
The California assemblyman has also consistently voted against marijuana reform bills, including measures to restrict state cooperation with federal marijuana enforcement efforts and establish a statewide regulatory system to oversee California's medical marijuana program.
A look ahead to November
Under California law the top two vote-getters, regardless of party affiliation, will face off in November. Depending on the results of Tuesday's primary, that means there could be no Republican candidate on the gubernatorial general election ballot.
New York Doctors Can Now Recommend Medical Marijuana To Patients For Any Condition They See Fit
As New York prepares the launch of its adult-use marijuana market, the state Office of Cannabis Management (OCM) announced on Monday a significant expansion of the existing medical cannabis program.
Now doctors will be able to issue medical marijuana recommendations to people for any condition that they feel could be treated by cannabis, rather than rely on a list of specific eligible maladies. Physicians were granted that discretion through the state's recreational marijuana law that was enacted last year.
The expansion is being made possible as part of OCM's new Medical Cannabis Program certification and registration system.
"It is terrific to see the Medical Cannabis Program expand so vastly with the launch of the new certification and registration program and the ability of practitioners to determine qualifying conditions as included in the MRTA," Cannabis Control Board (CCB) Chair Tremaine Wright said in a press release.
"The new cannabis industry is taking shape as we continue to implement the MRTA and provide greater access for New Yorkers to a medicine that we're learning more about every day," Wright said. "We're continuing to move forward swiftly and today's system launch follows our achievements that already include adding whole flower medical product sales, permanently waiving $50 patient fees, and advancing home cultivation regulations, among others."
Medical practitioners can now certify a patient for any condition that the practitioner believes can be treated with medical cannabis, as intended by the MRTA.

— NYS Office of Cannabis Management (@nys_cannabis) January 24, 2022
Lat last year, CCB voted unanimously to advance a policy change to allow medical cannabis patients in the state to grow plants for personal use, another change made possible by the broad legalization law that was enacted.
In November, regulators also approved rules for the state's cannabinoid hemp program, notably clarifying that flower from the crop can be sold but delta-8 THC products are currently prohibited from being marketed.
"Launching the new patient certification and registration system and expanding eligibility for the Medical Cannabis Program are significant steps forward for our program," OCM Executive Director Chris Alexander said. "We will continue to implement the MRTA and ensure that all New Yorkers who can benefit from medical cannabis have the access they need to do so."
"It's important for New Yorkers to know that even as we shift the medical program to the OCM, your access will not be disrupted and the program will continue to expand," he stressed.
While marijuana retailers have yet to launch in New York, the legalization law signed by former Gov. Andrew Cuomo (D) already permits adults 21 and older to possess and publicly consume cannabis. Meanwhile, lawmakers in the state have been working to build upon the reform.
For example, a New York senator filed a bill last month to make it so that gay, lesbian and bisexual people can qualify as social equity applicants under the state's marijuana law.
Sen. Jeremy Cooney (D) introduced the legislation, shortly after filing a separate bill to include transgender and non-binary people in the cannabis social equity program. He's also behind other recent marijuana reform proposals related to cannabis business tax benefits and licensing.
—
Marijuana Moment is already tracking more than 1,000 cannabis, psychedelics and drug policy bills in state legislatures and Congress this year. Patreon supporters pledging at least $25/month get access to our interactive maps, charts and hearing calendar so they don't miss any developments.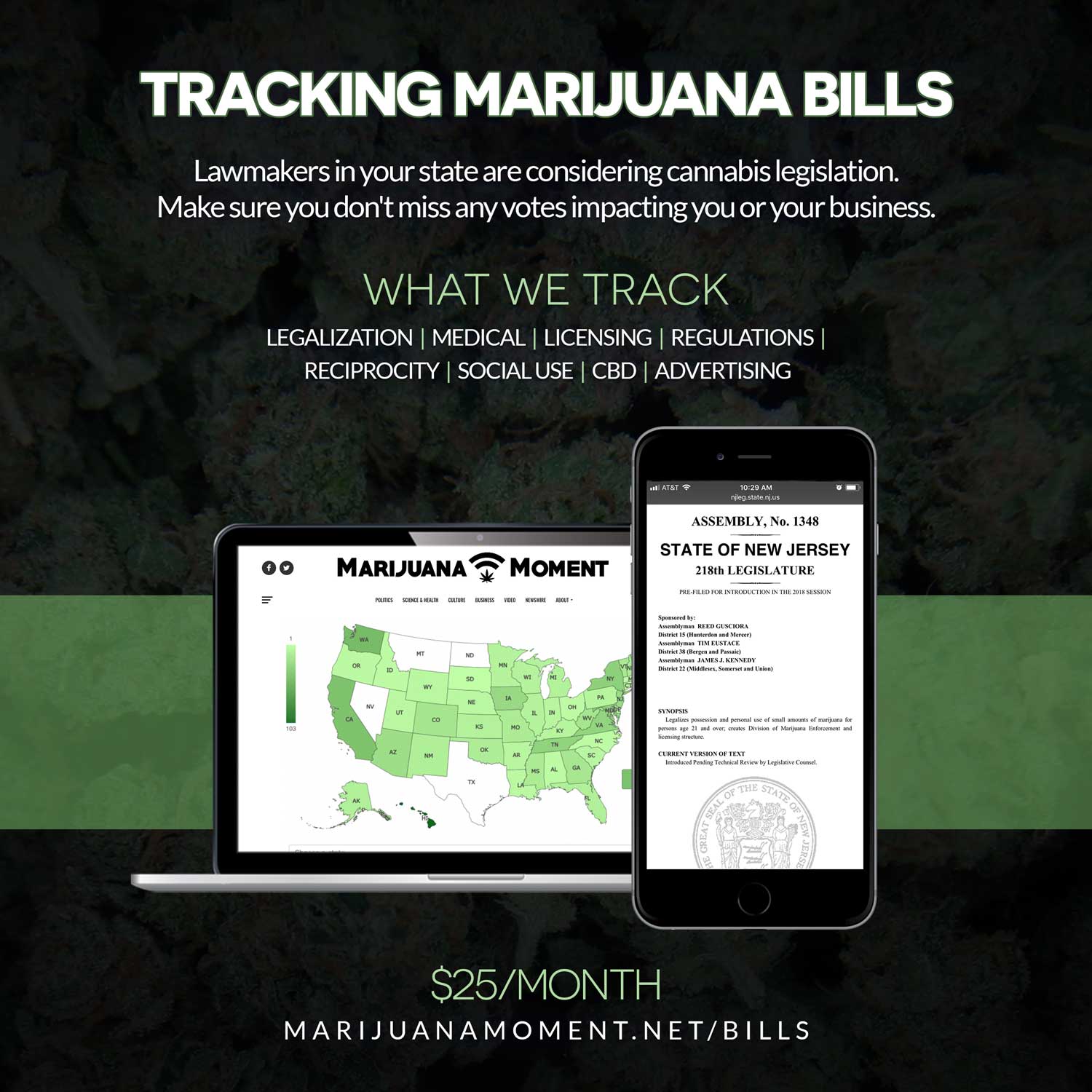 Learn more about our marijuana bill tracker and become a supporter on Patreon to get access.
—
In July, Cooney filed a bill to create a provisional marijuana licensing category so that farmers could begin cultivating and selling cannabis ahead of the formal rollout of the adult-use program.
Cooney is also sponsoring a newly filed bill to allow licensed cannabis companies to deduct certain business expenses on their state tax returns.
Gov. Kathy Hochul (D), who replaced Cuomo after he resigned amid a sexual harassment scandal, has repeatedly emphasized her interest in efficiently implementing the legalization law.
Hochul released a State of the State book earlier this month that called for the creation of a $200 million public-private fund to specifically help promote social equity in the state's burgeoning marijuana market.
The governor said that while cannabis business licenses have yet to be approved since legalization was signed into law last year, the market stands to generate billions of dollars, and it's important to "create opportunities for all New Yorkers, particularly those from historically marginalized communities."
That proposal was also cited in Hochul's executive budget, which was released last week. The budget also estimated that New York stands to generate more than $1.25 billion in marijuana tax revenue over the next six years.
The state Department of Labor separately announced in recent guidance that New York employers are no longer allowed to drug test most workers for marijuana.
Meanwhile, a New York lawmaker introduced a bill in June that would require the state to establish an institute to research the therapeutic potential of psychedelics.
Another state legislator filed legislation last month to legalize psilocybin mushrooms for medical purposes and establish facilities where the psychedelic could be grown and administered to patients.
Colorado Meets Marijuana Industry Diversity Goal Ahead Of Schedule
Colorado Meets Marijuana Industry Diversity Goal Ahead Of Schedule
Colorado officials announced on Monday that the state has achieved a "wildly important goal" of increasing diversity in the legal marijuana industry—but the data shows there's still a way to go before cannabis business ownership is on par with the state's population demographics.
Nearly 17 percent of the state's cannabis businesses are now minority-owned as of January 1, the Marijuana Enforcement Division (MED) reported. Colorado had set a goal of at least 16.8 percent minority ownership in the cannabis sector by June 30, 2022, and that's already been narrowly exceeded by the beginning of the year.
When data on licensee demographics started to be collected in July 2021, there was 15.2 percent minority ownership in the marijuana market. Now it's up to 16.8 percent.
As of January 1, the state has also approved 50 social equity licenses for communities disproportionately impacted by prohibition.
As one of the first states to legalize marijuana for adult use, there's been significant pressure on Colorado to ensure that the industry is equitable, benefitting those who have been most impacted under criminalization.
"Colorado is demonstrating that intentionally revising state marijuana laws to be more equitable gets results," Shaleen Title, a former Massachusetts cannabis regulator and current CEO of the Parabola Center, told Marijuana Moment.
"If one of the most mature markets can make clear progress, it's not too late for any market. And although there's always more to go—we should all be aiming for proportional representation in ownership at the very least—Colorado is setting and reaching reasonable goals," she said. "It's good for transparency and it's good for morale, and having more data on what's working at the state level is valuable to inform federal policy."
(Disclosure: Title supports Marijuana Moment's work via a monthly pledge on Patreon.)
As part of Colorado's commitment to equity, diversity, and inclusion, Social Equity Licenses are one of the many ways our Marijuana Enforcement Division is supporting diversity initiatives in the cannabis industry. To learn more, visit https://t.co/ye7c6WQJOZ @ColoradoEcoDevo pic.twitter.com/NljRlGtcuU

— CO Dept. of Revenue (@CO_Revenue) January 21, 2022
A demographic breakdown of the new data shows that while there's been an increase in minority ownership, the percentage of black people who own a majority stake in a cannabis business (2.9 percent) is still lower than the percentage of black people who live in the state (4.6 percent).
There's also a significant disparity when it comes to gender and marijuana licensing. MED's report says that there are 1,535 men who own a marijuana business, compared to just 350 women.
And with respect to license type, white people have a notably more expansive portfolio compared to other races.
Colorado Gov. Jared Polis (D) is also working to right the wrongs of prohibition outside of licensing. For example, last month he granted 1,351 pardons for convictions of possession of two ounces or less of marijuana.
That move focused on people who were made eligible for relief under a new law that increased the legal cannabis possession limit for adults in the state, which Polis signed in May. At the time, he directed state law enforcement to identify people with prior convictions for amounts under the new, two-ounce limit.
Polis signed an executive order in 2020 that granted clemency to almost 3,000 people convicted of possessing one ounce or less of marijuana. And while earlier legislation that enabled him to do that in an expedited way applied to possession cases involving up to two ounces, his office declined to pardon those with more than one ounce on their records because that amount violated the existing state law.
As the state works to increase diversity in the marijuana industry, it's also collecting significant tax revenue from cannabis sales.
Last year alone, Colorado generated $423 million in tax revenue from cannabis, the state's Department of Revenue reported last week.
Nearly $500 million of cannabis tax revenue in Colorado has supported the state's public school system so far, according to a report from the Marijuana Policy Project.
Massachusetts Marijuana Tax Revenue Now Exceeds Alcohol By Millions
Governors Across The U.S. Tout Marijuana Reform Progress In State Of The State Speeches And Budgets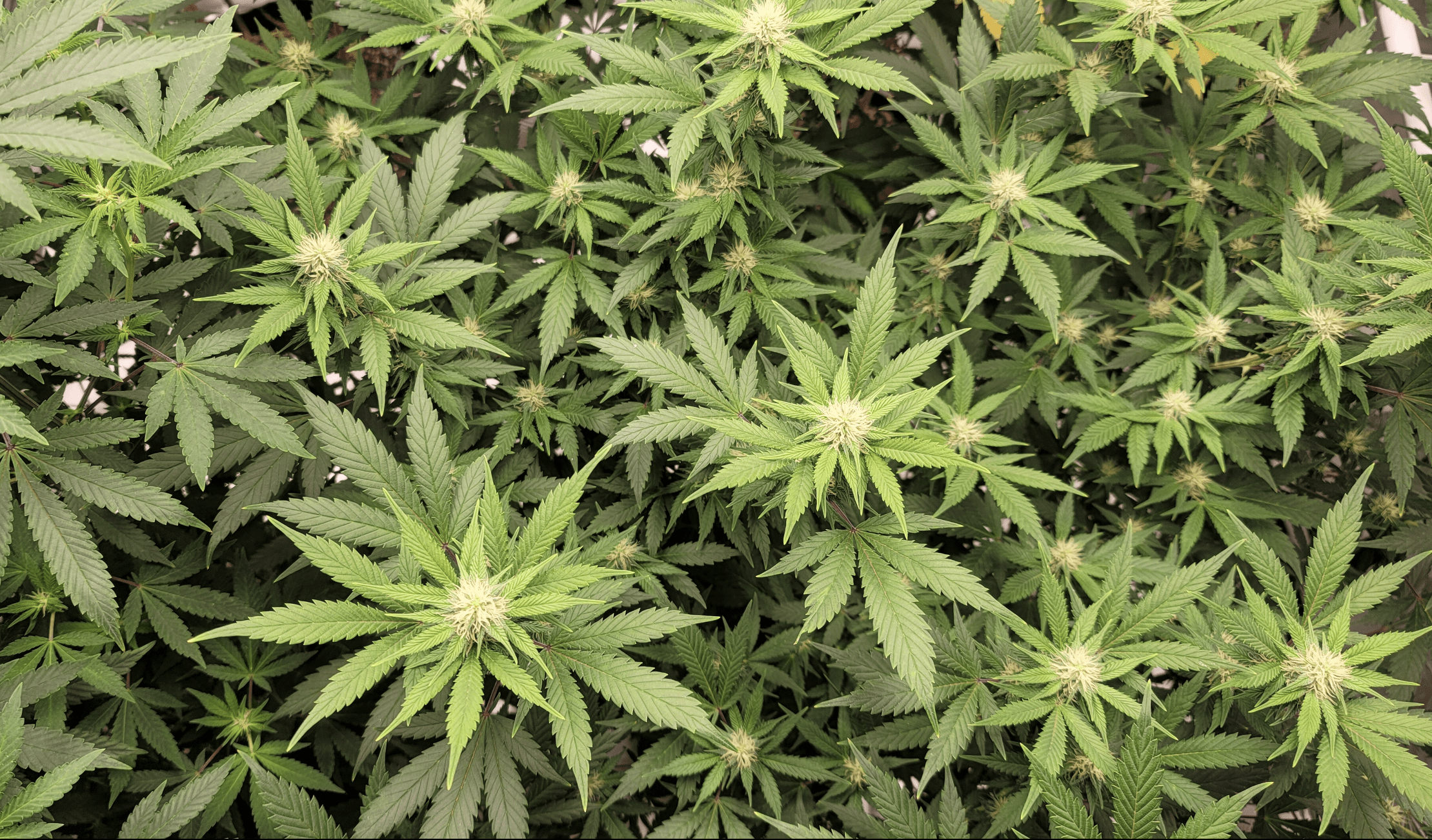 Governors across the U.S. have been taking the opportunity to tout marijuana reform accomplishments as part of their annual State of the State speeches and budget requests this month.
From New York to South Dakota, the comments and proposals from state executives demonstrate how cannabis has become more mainstream and is being talked about in high profile venues alongside more traditional fare such as taxes, education and infrastructure.
It's also part of a growing theme, as governors have increasingly brought up marijuana policy in State of the State addresses each year to kick off the new year as the legalization movement spreads.
Here's a look at what governors are saying about marijuana policy in 2022: 
New Jersey
While adult-use marijuana retail sales have yet to launch in New Jersey after voters approved a 2020 legalization referendum, the state's top executive said in his State of the State address that he's expecting an economic boon.
"Many jobs await in the cannabis industry ready to take off," Gov. Phil Murphy (R) said.
The governor also said separately in his second inaugural address this month that "businesses in the new cannabis industry that we are setting up in the name of social justice" are part of efforts to "continue growing the innovation economy that will power our future and make us a model for the nation and the world."
Businesses on the cutting edge of new technologies that will revolutionize our grasp of the possible.

Businesses in the new cannabis industry that we are setting up in the name of social justice.

In online gaming and sports betting, which we now dominate.

— Governor Phil Murphy (@GovMurphy) January 18, 2022
As the state prepares to implement legal cannabis sales, Murphy said late last year that he's open to giving adults the right to cultivate marijuana for personal use even though it's not currently written into the law.
New Mexico
New Mexico Gov. Michelle Lujan Grisham (D) talked in here State of the State speech about the economic potential of the marijuana industry under the legalization law she signed last year.
"We're expanding our economic footprint into every single community," the governor said in her State of the State address. "Legal cannabis is going to create thousands of jobs and serious tax revenue for local governments to support local services in every corner of our state."
Legal cannabis is going to create thousands of jobs & serious tax revenue to support local services.

Clean hydrogen will support thousands of jobs, especially in rural New Mexico, while helping us sprint toward our net-zero carbon deadlines and decarbonize transportation.

— Michelle Lujan Grisham (@GovMLG) January 18, 2022
New York
New York Gov. Kathy Hochul (D) released a State of the State book earlier this month that called for the creation of a $200 million public-private fund to specifically help promote social equity in the state's burgeoning marijuana market.
The governor said that while cannabis business licenses have yet to be approved since legalization was signed into law last year, the market stands to generate billions of dollars, and it's important to "create opportunities for all New Yorkers, particularly those from historically marginalized communities."
That proposal was also cited in Hochul's executive budget, which was released last week. The budget also estimated that New York stands to generate more than $1.25 billion in marijuana tax revenue over the next six years.
The briefing book for the executive budget touts how Gov. Kathy Hochul (D) has "prioritized getting New York's cannabis industry up and running" since marijuana was legalized under her predecessor last year. That includes appointing key regulators who've been "creating and implementing a comprehensive regulatory framework."
Rhode Island
The governor of Rhode Island included a proposal to legalize marijuana as part of his annual budget plan—the second time he's done so. And time around, he also added new language to provide for automatic cannabis expungements in the state.
Gov. Dan McKee (D) released his request for the 2023 fiscal year on Thursday, calling for adult-use legalization as lawmakers say they're separately nearing a deal on enacting the reform. It appears that an outstanding disagreement between the governor and legislators concerning what body should regulate the program remains unresolved based on the new budget proposal, however.
In general, McKee's plan would allow adults 21 and older to purchase and possess up to one ounce of cannabis, though it would not provide a home grow option. Adults could also store up to five ounces of marijuana in secured storage in their primary residence.
"The governor recommends creating a strictly regulated legal market for adult-use cannabis in the state," an executive summary states. "This proposal would create a weight-based excise tax on marijuana cultivation, an additional retail excise tax of 10 percent, and also apply sales tax to cannabis transactions."
South Dakota
South Dakota Gov. Kristi Noem (R) isn't a fan of adult-use legalization, going so far as to fund a lawsuit against a voter-approved 2020 reform initiative that ultimately led to a court ruling voiding the law. Her office has even suggested that activists behind the successful legalization campaign should front the legal bills for the case.
However, she seems to recognize the popularity of the issue and has recently attempted to associate herself with the implementation of the separate medical cannabis legalization law that voters also approved, as she did in her State of the State address this month.
"I take our citizens' health seriously. I don't make these decisions lightly. And when we create new policy, we're going to do everything we can to get it right from day one," Noem said. "Our state's medical cannabis program is one example."
"It was launched on schedule according to the timeline passed by South Dakota voters," she said. "I know there will be some debate about that program this session. My focus is on making sure South Dakota has the safest, most responsible, and well-run medical cannabis program in the country."
Noem tried to get the legislature to approve a bill to delay implementation of the medical cannabis program for an additional year, but while it cleared the House, negotiators were unable to reach an agreement with the Senate in conference, delivering a defeat to the governor.
In response, her office started exploring a compromise last year, with one proposal that came out of her administration to decriminalize possession of up to one ounce of cannabis, limit the number of plants that patients could cultivate to three and prohibit people under 21 from qualifying for medical marijuana.
Advocates weren't enthused with the proposal, and now they're taking a two-track approach to enacting broader legalization legislatively and through the ballot.
Virginia
In his final State of the Commonwealth address this month, now former-Gov. Ralph Northam (D) talked about the criminal justice implications of his state's move to legalize marijuana last year.
"We also worked closely with you to make sure our criminal justice system reflects the Virginia that we are today. Too often, our modern-day punishments and practices have their roots in a more discriminatory and unfair past," he said. "That's why we've made marijuana use legal."
Too often, our modern-day punishments and practices have their roots in a more discriminatory and unfair past.

That's why we've made marijuana use legal. That's also why we have ended use of the death penalty in Virginia—the first southern state to do so. #VASOTC

— Governor Ralph Northam (@VAGovernor73) January 13, 2022
He also thanked the legislators who championed the reform "for their work on this policy, which is complicated, but important."
Meanwhile, the new governor of Virginia, Glenn Youngkin, said recently that while he's not interested in re-criminalizing marijuana possession, which became legal in the state last summer, but he feels there's "still work to be done" before he gets behind creating a market for commercial sales and production.
Bipartisan Pennsylvania Senators File Bill To Let Medical Marijuana Patients Grow Their Own Plants
Photo courtesy of Mike Latimer.