What Tuesday's Election Results Mean For Marijuana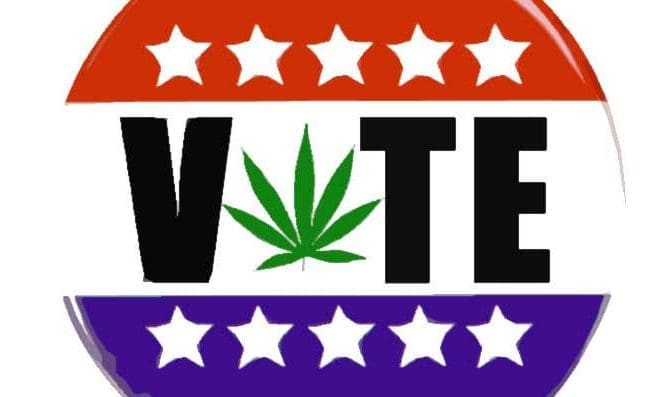 From Oregon to Pennsylvania, voters around the country participated in another round of primary elections on Tuesday.
What could the results mean for marijuana reform? Here's a glance at where winning gubernatorial nominees, plus victors in a handful of non-governor races, stand on cannabis.
Pennsylvania Gubernatorial Primary
Democratic winner: Pennsylvania Gov. Tom Wolf
The incumbent backed and signed a bill to legalize medical cannabis into law in 2016.
Wolf has also voiced support for decriminalizing marijuana possession. But when it comes to full legalization, the governor has been declined to lend his support. In a statement to a Philadelphia CBS affiliate in January, a spokesperson said Wolf remained "focused on implementing Pennsylvania medical marijuana program." 
The governor regularly personally announces details about the implementation of medical marijuana, for example listing dispensaries that started to sell legal cannabis to qualified patients in February.
Many of you have waited years for this moment. Medical marijuana is legal, safe, and now available to PA patients. Proud of the work so many have devoted to making #MMJ a reality in PA. https://t.co/bfDBbSluzt

— Governor Tom Wolf (@GovernorTomWolf) February 13, 2018
Wolf has also pushed back against potential federal intervention in the state's cannabis law, for example when U.S. Attorney General Jeff Sessions rescinded Obama-era protections. He said he wouldn't "stand for backwards attacks on the progress made in Pennsylvania to provide medicine to those in need," the York Daily Record reported. He's also called on Congress to act to protect states where marijuana is legal from federal intervention.
I urge Congress to act so PA'ians who are suffering aren't impeded from getting relief through medical marijuana. https://t.co/fRw1Jxb1ti pic.twitter.com/1PMmyKXTwv

— Governor Tom Wolf (@GovernorTomWolf) September 6, 2017
Republican winner: Pennsylvania Sen. Scott Wagner
All three of the Republican primary candidates for governor, including Wagner, said they support the state's medical marijuana legalization program. Wagner is on the record saying he's "not a fan" of recreational cannabis legalization.
Nebraska Gubernatorial Primary
Democratic winner: Nebraska Sen. Bob Krist
Krist made a series of strategic moves to become a viable contender against incumbent Gov. Pete Ricketts (R), shifting his party affiliation from Republican to Independent and, finally, to Democrat in February. Krist voted in favor of a measure to legalize medical marijuana in the state.
Republican winner: Nebraska Gov. Pete Ricketts
The incumbent governor is decidedly anti-legalization, writing in a blog post that he opposed an effort in the state legislature to legalize medical cannabis for a number of reasons, calling marijuana a "dangerous drug." Ricketts claimed he spoke to Colorado officials who warned him that legalization caused an uptick in criminal activity. He also expressed concerns about the lack of FDA approval and said cannabis use impairs cognitive function.
Though her chances were never considered particularly strong, it's worth mentioning that Ricketts's Republican primary challenger Krystal Gabel, who pulled in about 20 percent of the Nebraska GOP vote on Tuesday, campaigned on a promise to support cannabis reform.
Amanda Jajoo says she doesn't think Nebraska Gov. Pete Ricketts has done a good job. She voted for his opponent in the Republican primary, Krystal Gabel, in part because Gabel supports medical marijuana. pic.twitter.com/Uac23ZLa42

— AP Central U.S. (@APCentralRegion) May 15, 2018
Idaho Gubernatorial Primary
Democratic winner: former Idaho Rep. Paulette Jordan
Jordan is friendly to cannabis reform, supporting legislation to decriminalize marijuana during her time in the state House. During a televised debate last month, she said that wanted to see marijuana legalized for the health benefits and because it would bring in "millions" in tax revenue to the state.
Last year, I worked on a bill to decriminalize recreational marijuana. I do not believe that marijuana possession is a crime that should determine whether a person can find employment, pursue higher education, or be considered for scholarship or financial aid opportunities. (1/4)

— Paulette Jordan (@PauletteEJordan) April 19, 2018
"This is a natural medicine that grew here for thousands of years," she said, according to the Associated Press. "Unfortunately, we're seeing it being replaced by the opioid drugs through the opioid industry, which are far more impactful, hurtful, harmful to rural communities in Idaho, and they are destroying our communities. And opioids are the gateway drug to heroin and methamphetamines."
If elected, Jordan will become Idaho's first female governor and the nation's first Native American governor.
Republican winner: Idaho Lt Gov. Brad Little
Little said that he supported an executive order that set up a system to provide access to CBD oils for children suffering from epilepsy, but that's about as far as he's willing to go, MagicValley.com reported. He opposes any further legalization.
Oregon Gubernatorial Primary
Democratic winner: Oregon Gov. Kate Brown
The incumbent governor is pro-legalization and vowed to protect Oregon's legal marijuana program from federal intervention after Sessions rescinded the Cole memo. In a statement from January, Brown wrote: "Over 19,000 jobs have been created by the market Oregon worked carefully to build in good faith and in accordance with the Cole Memorandum. The federal government must keep its promise to states that relied on its guidance."
"States are the laboratories of democracy, where progressive policies are developed and implemented for the benefit of their people," she continued. "Voters in Oregon were clear when they chose for Oregon to legalize the sale of marijuana and the federal government should not stand in the way of the will of Oregonians."
Republican winner: Oregon Rep. Knute Buehler
Unlike most GOP gubernatorial candidates in Tuesday's primary elections, Buehler, who is also an orthopedic surgeon, has fully embraced the state's decision to legalize marijuana. He also condemned statements from the White House and Justice Department insinuating a crackdown on legal cannabis states, and he said he believes marijuana can help patients suffering from a variety of medical conditions.
Hands off OR legal Marijuana law @realDonaldTrump. Where is @OregonGovBrown in defending will of OR voters? #orpol https://t.co/SJRqUlSFfE

— Knute Buehler (@KnuteBuehler) February 24, 2017
"I just think we've had very successful implementation of marijuana access in Oregon and I think it's important to educate and explain to the new administration and the Attorney General that this issue is being handled quite well in Oregon," he told The Bulletin. "This is a model for states that choose to go this route."
Two other races of note… 
Pennsylvania Democratic Lieutenant Governor Primary
Winner: Braddock, Pennsylvania Mayor John Fetterman
In a significant upset, Mayor John Fetterman beat out three Democratic opponents, including incumbent Lt. Gov Mike Stack. Fetterman was endorsed by NORML PAC and U.S. Sen. Bernie Sanders (I-VT), in part because he's strongly pushed to fully legalize marijuana in Pennsylvania's marijuana laws.
"Mr. Fetterman has been an unrelenting champion for reversing Pennsylvania's failed and draconic policies when it comes to marijuana," NORML PAC executive director Altieri said in a statement. "He understands the absolute devastation prohibition has wrought on families across the state, most acutely in already marginalized communities."
RT to spread the word: there's only one candidate in the #PASen #PAPrimary who wants to legalize marijuana.https://t.co/mwKtwMVoR3

— John Fetterman (@JohnFetterman) April 26, 2016
Following the NORML PAC endorsement, Fetterman said that he would "never shy away from the doing the right thing, and fully legalizing marijuana is the right thing for Pennsylvania."
"We should go full-on Colorado," he said. "It's a simple solution to the devastation I have seen first-hand of the Opioid Crisis, and the disproportionate impact of mass incarceration on communities of color. As Lt. Governor I will be the leading voice on this issue in Harrisburg."
Pennsylvania Senate GOP Primary
Winner: U.S. Rep. Lou Barletta (R-PA)
The congressman received a C- rating from NORML based on his voting record on marijuana amendments. In 2016 he did support the Veterans Equal Access Amendment, which would have expanded access to medical cannabis for military veterans. But he voted against amendments to protect state medical cannabis programs and broader marijuana legalization laws from federal intervention.
Marijuana Moment also compiled the cannabis records of winners in last week's primary elections in other states.
Photo courtesy of Democracy Chronicles.
IRS Official Offers Tax Advice To Marijuana Businesses And Says Feds Expect Industry To Keep Growing
The Internal Revenue Service (IRS) says it expects the marijuana industry to continue to grow, and it's offering some tips to cannabis businesses on staying compliant with taxes while the plant remains federally prohibited.
In a blog post on Monday, IRS's De Lon Harris said that the "evolving and complex issue my organization has been focused on is the tax implications for the rapidly growing cannabis/marijuana industry."
"The specific rules and regulations regarding how [marijuana] is taxed at the federal level provides the IRS an opportunity to promote voluntary compliance, not only through audits, but also through outreach and education," he said, noting the rapid expansion of state-legal cannabis markets. "And while there are 14 states that still ban cannabis use, we expect both unlicensed and licensed marijuana businesses to grow."
"It's tricky from a business perspective, because even though states are legalizing marijuana and treating its sale as a legal business enterprise, it's still considered a Schedule 1 controlled substance under federal law," Harris wrote. "That means a cannabis/marijuana business has additional considerations under the law, creating unique challenges for members of the industry."
The official, who serves as commissioner of IRS's Small Business/Self Employed (SB/SE) Examination division, recognized that the status quo means that marijuana businesses are forced to operate on a largely cash-only basis, and federal prohibition also means that companies in the sector are precluded to taking key tax deductions.
However, while the tax statute known as 280E means the industry is ineligible for most federal tax deductions and credits, he noted that marijuana firms "can deduct their cost of goods sold, which is basically the cost of their inventory."
"What isn't deductible are the normal overhead expenses, such as advertising expenses, wages and salaries, and travel expenses, to name a few," Harris said. "I understand this nuance can be a challenge for some business owners, and I also realize small businesses don't always have a lot of resources available to them.
The official previewed a new "Cannabis/Marijuana Initiative" the agency is launching that will provide specific job training to tax officials to effectively carry out audits within the industry, ensure that there's consistency in the IRS's policy for cannabis, work with stakeholders to ensure tax compliance and help to identify non-compliant businesses.
"I'm very focused on the success of this strategy because it's very important for business owners to understand that under our nation's tax laws, and specifically Internal Revenue Code 61, all income is taxable, even if someone is running a business that's considered illegal under federal law," he said. "This is a truly groundbreaking effort for our agency."
"Our strategy is not limited to pushing information out via our website in the hope that business owners will find it. I've made it a priority for my SB/SE organization to engage with the cannabis/marijuana industry through speaking events and other outreach. I have done three of these types of events over the last year, and what I have heard is a genuine desire to comply with the tax laws regarding the industry. Through this extended outreach, we hope to help small business owners and others fully understand the unique tax rules before there are any compliance issues."
"Since the unique circumstances of the cannabis industry can make tax preparation challenging, I hope that new and experienced business owners take my advice in this post and use our resources to ensure they understand their tax obligations and avoid penalties associated with non-compliance," the blog post concludes. "We're always here to help with tools, information and guidance."
This is yet another signal that while marijuana remains federally illegal, agencies are increasingly recognizing that a policy shift is happening in states and may well be on the horizon at the congressional level.
As leadership in the House and Senate work to advance legislation to deschedule cannabis, lawmakers have also pushed to enact clear, statutory protections for financial institutions that work with state-legal marijuana businesses. And that would be accomplished through House-passed standalone legislation, or an amendment that was attached to a defense spending bill this week.
In the interim, banks and credit unions are operating under 2014 guidance from the Financial Crimes Enforcement Network (FinCEN) that lays out reporting requirements for those that choose to service the marijuana industry. FinCEN released a report last week showing that there were 706 financial institutions that said they were actively serving cannabis clients as of the last quarter.
IRS separately hosted a forum last month dedicated to tax policy for marijuana businesses and cryptocurrency.
The seminar, which was presented by a representative of the National Association of Tax Professionals (NATP), examined issues such as allowable tax deductions while cannabis remains federally illegal and how different states approach taxing marijuana. It also covered issues related to paying taxes on earnings in Bitcoin and other forms of digital currency.
Earlier this year, IRS Commissioner Charles Rettig told Congress that the agency would "prefer" for state-legal marijuana businesses to be able to pay taxes electronically, as the current largely cash-based system under federal cannabis prohibition is onerous and presents risks to workers.
Former Treasury Secretary Steven Mnuchin said in 2019 that he'd like to see Congress approve legislation resolving the cannabis banking issue and he pointed to the fact that IRS has had to build "cash rooms" to deposit taxes from those businesses as an example of the problem.
IRS released updated guidance on tax policy for the marijuana industry last year, including instructions on how cannabis businesses that don't have access to bank accounts can pay their tax bills using large amounts of cash.
The update appears to be responsive to a Treasury Department internal watchdog report that was released earlier in the year. The department's inspector general for tax administration had criticized IRS for failing to adequately advise taxpayers in the marijuana industry about compliance with federal tax laws. And it directed the agency to "develop and publicize guidance specific to the marijuana industry."
Harris's predecessor at IRS SB/SE also participated in an informational webinar in December, offering candid insights on a variety of cannabis industry issues from the federal perspective.
Marijuana Arrests Dropped Sharply In 2020 As Both COVID And Legalization Spread, FBI Data Shows
Massachusetts Lawmakers Discuss Drug Decriminalization And Safe Injection Sites At Hearing
Massachusetts lawmakers on Monday heard testimony on separate proposals to decriminalize drug possession and establish a pilot program for safe injection facilities where people could use illicit substances in a medically supervised environment to prevent overdose deaths and facilitate treatment.
The state legislature's Joint Committee on Mental Health, Substance Use and Recovery held a hearing on the harm reduction proposals, with experts and people personally impacted by substance misuse advocating for new approaches to drugs that destigmatize addiction and offer people resources outside of a criminal justice context.
The decriminalization bill would replace criminal penalties for the possession of any controlled substance with a civil fine of up to $50. To avoid the fine, individuals could enroll in a "needs screening to identify health and other service needs, including but not limited to services that may address any problematic substance use and mental health conditions, lack of employment, housing, or food, and any need for civil legal services."
For the safe injection site legislation, the state would establish a 10-year pilot program where at least two facilities would "utilize harm reduction tools, including clinical monitoring of the consumption of pre-obtained controlled substances in the presence of trained staff, for the purpose of reducing the risks of disease transmission and preventing overdose deaths."
A separate, less far-reaching bill that was added to the agenda in a late addition would direct the Department of Public Health to simply "evaluate the feasibility" of safe consumption sites and then report back to lawmakers by July 31, 2022..
The joint committee listened to academics, health professionals, lawmakers discuss the reform proposals but did not take immediate action on any of the legislation. It's unclear when the bills will be taken up again for further consideration.
"By every metric, the war on drugs has been a catastrophic failure," Rep. Mike Connolly (D) said. "In the United States and here in Massachusetts, the criminalization of drug possession is a major driver of mass incarceration. We know that black people have been incarcerated at a rate eight times higher than white people, and there's no question that the criminalization of substance use issues has contributed to these terrible disparities."
Connolly is also the sponsor of legislation that received a Joint Judiciary Committee hearing in July on  studying the implications of legalizing psychedelics like psilocybin and ayahuasca.
Officials with at least one Massachusetts city, Somerville, said that there are plans in the work to launch a safe injection facility in the jurisdiction. And they want to see the statewide bill pass to provide additional protections against being federally penalized.
"State legislation, wielding its constitutionally granted powers to enact laws for public health and safety, has the ability to greatly minimize these risks through legislation authorizing a pilot of safe consumption sites," Hannah Pappenheim, assistant city solicitor at the City of Somerville, said. "In addition, state legislation would also minimize the risk of costly—but more importantly, lengthy—litigation."
The official noted that a separate, Pennsylvania-based case on the legality of safe injection sites has been ongoing in federal courts for years at this point.
A coalition of 80 current and former prosecutors and law enforcement officials—including one who is President Joe Biden's pick for U.S. attorney of Massachusetts—recently filed a brief urging the Supreme Court to take up the case.
Xavier Bacerra, the Biden administration's secretary of health and human services, was among eight top state law enforcement officials who filed an earlier amicus brief in support of the Philadelphia-based Safehouse's safe injection site plan when he served as California's attorney general.
"State legislation paves the way for a more expedient process in Somerville, and of course elsewhere in the Commonwealth," Pappenheim said.
Somerville Mayor Joseph Curtatone (D) said at Monday's hearing that "it's important for Massachusetts to finally lead—not just compiling, but implementing a strategy that reduces harm and save lives." He conceded that he previously opposed the concept of allowing safe consumption sites; but his personal experience knowing people in his immediate family who suffered from addiction—as well as his own review of the scientific literature on harm reduction alternatives to criminalization—led him to embrace the reforms.
Massachusetts lawmakers advanced similar legislation last year, but it was not ultimately enacted.
The governor of neighboring Rhode Island signed a bill in July to establish a safe consumption site pilot program where people could test and use currently illicit drugs in a medically supervised environment. It became the first state in the country to legalize the harm reduction centers. It's not clear whether the Department of Justice will seek to intervene to prevent the opening of such facilities in that state.
Oamshri Amarasingham, deputy legislative director of the ACLU of Massachusetts, voiced support for both reform proposals at Monday's hearing and told WGBH that establishing a safe injection site pilot program "is one piece of that puzzle" that is "critically important and that's had great success in other countries."
The ACLU has long supported shifting to a #PublicHealth approach to drug policy rather than a criminal one…

Here's a report featuring additional statements from Oami @Amarasingham, our deputy legislative director. #Mapoli #Bospoli https://t.co/g1i9xbC2jS

— ACLU Massachusetts (@ACLU_Mass) September 27, 2021
Shaleen Title, a former Massachusetts cannabis commissioner who now heads the Parabola Center, juxtaposed how laws handle substances like caffeine, alcohol and nicotine differently from currently illegal drugs.
"What separates that from when we have these illicit drugs, where handcuffs and cages are involved, and what led that to be? The reason has nothing to do with science, or evidence or the relative dangers of those drugs," she said. "The reason is because—and this is well-documented—those drugs could be scapegoated and blamed on their association with indigenous and Indian and Mexican and Chinese and other cultures, and then used to target communities of color, particularly black and Latino people nationally and here in Massachusetts."
At the same time that Massachusetts legislators are looking into harm reduction and broad drug decriminalization, local activists in the state have also been pursuing psychedelics reform.
Three Massachusetts cities—Northampton, Somerville and Cambridge—have each passed resolutions to deprioritize enforcement of laws against the possession, use and distribution of a wide range of psychedelics and other drugs. The Easthampton City Council is also exploring a resolution to decriminalize a wide range of entheogenic substances, with a meeting set for Friday.
Marijuana Arrests Dropped Sharply In 2020 As Both COVID And Legalization Spread, FBI Data Shows
Marijuana Arrests Dropped Sharply In 2020 As Both COVID And Legalization Spread, FBI Data Shows
Marijuana arrests declined significantly in 2020 amid the coronavirus pandemic, newly released FBI data shows.
There were 1,155,610 drug-related arrests overall last year, with cannabis sales and possession busts accounting for just over 30 percent (or 350,150) of those cases. The vast majority were for marijuana possession alone.
The agency's data shows that there was a cannabis arrest every 90 seconds in the country in 2020, and there was a drug-related arrest every 27 seconds.
While these figures still highlight the rampant, ongoing criminalization of cannabis in states across the U.S., it's a substantial deescalation compared to 2019, when FBI reported a total of 545,601 marijuana arrests. That amounted to a cannabis bust every 58 seconds.
Put another way, there was a 36 percent decrease in cannabis cases from 2019 to 2020. And while the federal agency doesn't attempt to explain the statistical shift, there are a number of factors that could help explain it.
One of the more obvious societal changes during that timeframe is the COVID-19 health crisis, which involved social distancing requirements and generally discouraged people from being out in public where they might be at higher risk of being arrested for simple possession.
But advocates have also pointed out that the marijuana reform movement could be playing a role. Illinois's adult-use cannabis law took effect at the beginning of 2020, for example. Hawaii, New Mexico and North Dakota also enacted decriminalization of marijuana possession in 2019, and Virginia followed suit the next year.
In Arizona, limited cannabis possession was legalized for adults starting on November 30, 2020 following voter approval of a reform initiative earlier that month.
"As more states move toward the sensible policy of legalizing and regulating cannabis, we are seeing a decline in the arrest of non-violent marijuana consumers nationwide," NORML Executive Director Erik Altieri told Marijuana Moment. "The fight for legalization is a fight for justice. While these numbers represent a historic decline in arrests, even one person being put into handcuffs for the simple possession of marijuana is too many."
Despite the decline in cannabis busts, the new data shows that American law enforcement still carried out more arrests for marijuana alone last year than for murder, rape, robbery, burglary, fraud and embezzlement combined.
It should be noted that not all local police participate in FBI's reporting program, so these figures are not holistic and are estimates the agency makes based on those that do submit data.
The country had seen a consistent decline in cannabis arrests for roughly a decade prior to 2016, when those cases started to rise up until 2019.
Observers expect to see the downward trend in cannabis busts continue as more states move to end prohibition and law enforcement deprioritizes marijuana-relate cases. In New York, for example, police received new guidance this year stipulating that adults 21 and older can possess certain amounts of marijuana and consume it in places where tobacco use is permitted.
That directive alone seems to have led to a dramatic decrease in cannabis arrests in New York City.
Federal marijuana trafficking cases also continued to decline in 2020 as more states have moved to legalize, an analysis from the U.S. Sentencing Commission (USSC) that was released in June found.
Federal prosecutions of drug-related crimes overall increased in 2019, but cases involving marijuana dropped by more than a quarter, according to an end-of-year report released by Supreme Court Chief Justice John Roberts in December.
A study released by the Cato Institute in 2018 found that "state-level marijuana legalization has significantly undercut marijuana smuggling."
New York Governor Says Marijuana Legalization Will Create 'Thousands' Of Jobs And Touts Regulatory Appointments