What Tuesday's Election Results Mean For Marijuana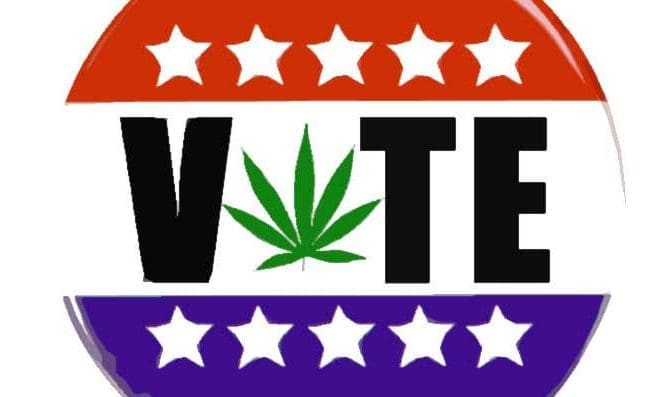 From Oregon to Pennsylvania, voters around the country participated in another round of primary elections on Tuesday.
What could the results mean for marijuana reform? Here's a glance at where winning gubernatorial nominees, plus victors in a handful of non-governor races, stand on cannabis.
Pennsylvania Gubernatorial Primary
Democratic winner: Pennsylvania Gov. Tom Wolf
The incumbent backed and signed a bill to legalize medical cannabis into law in 2016.
Wolf has also voiced support for decriminalizing marijuana possession. But when it comes to full legalization, the governor has been declined to lend his support. In a statement to a Philadelphia CBS affiliate in January, a spokesperson said Wolf remained "focused on implementing Pennsylvania medical marijuana program." 
The governor regularly personally announces details about the implementation of medical marijuana, for example listing dispensaries that started to sell legal cannabis to qualified patients in February.
Many of you have waited years for this moment. Medical marijuana is legal, safe, and now available to PA patients. Proud of the work so many have devoted to making #MMJ a reality in PA. https://t.co/bfDBbSluzt

— Governor Tom Wolf (@GovernorTomWolf) February 13, 2018
Wolf has also pushed back against potential federal intervention in the state's cannabis law, for example when U.S. Attorney General Jeff Sessions rescinded Obama-era protections. He said he wouldn't "stand for backwards attacks on the progress made in Pennsylvania to provide medicine to those in need," the York Daily Record reported. He's also called on Congress to act to protect states where marijuana is legal from federal intervention.
I urge Congress to act so PA'ians who are suffering aren't impeded from getting relief through medical marijuana. https://t.co/fRw1Jxb1ti pic.twitter.com/1PMmyKXTwv

— Governor Tom Wolf (@GovernorTomWolf) September 6, 2017
Republican winner: Pennsylvania Sen. Scott Wagner
All three of the Republican primary candidates for governor, including Wagner, said they support the state's medical marijuana legalization program. Wagner is on the record saying he's "not a fan" of recreational cannabis legalization.
Nebraska Gubernatorial Primary
Democratic winner: Nebraska Sen. Bob Krist
Krist made a series of strategic moves to become a viable contender against incumbent Gov. Pete Ricketts (R), shifting his party affiliation from Republican to Independent and, finally, to Democrat in February. Krist voted in favor of a measure to legalize medical marijuana in the state.
Republican winner: Nebraska Gov. Pete Ricketts
The incumbent governor is decidedly anti-legalization, writing in a blog post that he opposed an effort in the state legislature to legalize medical cannabis for a number of reasons, calling marijuana a "dangerous drug." Ricketts claimed he spoke to Colorado officials who warned him that legalization caused an uptick in criminal activity. He also expressed concerns about the lack of FDA approval and said cannabis use impairs cognitive function.
Though her chances were never considered particularly strong, it's worth mentioning that Ricketts's Republican primary challenger Krystal Gabel, who pulled in about 20 percent of the Nebraska GOP vote on Tuesday, campaigned on a promise to support cannabis reform.
Amanda Jajoo says she doesn't think Nebraska Gov. Pete Ricketts has done a good job. She voted for his opponent in the Republican primary, Krystal Gabel, in part because Gabel supports medical marijuana. pic.twitter.com/Uac23ZLa42

— AP Central U.S. (@APCentralRegion) May 15, 2018
Idaho Gubernatorial Primary
Democratic winner: former Idaho Rep. Paulette Jordan
Jordan is friendly to cannabis reform, supporting legislation to decriminalize marijuana during her time in the state House. During a televised debate last month, she said that wanted to see marijuana legalized for the health benefits and because it would bring in "millions" in tax revenue to the state.
Last year, I worked on a bill to decriminalize recreational marijuana. I do not believe that marijuana possession is a crime that should determine whether a person can find employment, pursue higher education, or be considered for scholarship or financial aid opportunities. (1/4)

— Paulette Jordan (@PauletteEJordan) April 19, 2018
"This is a natural medicine that grew here for thousands of years," she said, according to the Associated Press. "Unfortunately, we're seeing it being replaced by the opioid drugs through the opioid industry, which are far more impactful, hurtful, harmful to rural communities in Idaho, and they are destroying our communities. And opioids are the gateway drug to heroin and methamphetamines."
If elected, Jordan will become Idaho's first female governor and the nation's first Native American governor.
Republican winner: Idaho Lt Gov. Brad Little
Little said that he supported an executive order that set up a system to provide access to CBD oils for children suffering from epilepsy, but that's about as far as he's willing to go, MagicValley.com reported. He opposes any further legalization.
Oregon Gubernatorial Primary
Democratic winner: Oregon Gov. Kate Brown
The incumbent governor is pro-legalization and vowed to protect Oregon's legal marijuana program from federal intervention after Sessions rescinded the Cole memo. In a statement from January, Brown wrote: "Over 19,000 jobs have been created by the market Oregon worked carefully to build in good faith and in accordance with the Cole Memorandum. The federal government must keep its promise to states that relied on its guidance."
"States are the laboratories of democracy, where progressive policies are developed and implemented for the benefit of their people," she continued. "Voters in Oregon were clear when they chose for Oregon to legalize the sale of marijuana and the federal government should not stand in the way of the will of Oregonians."
Republican winner: Oregon Rep. Knute Buehler
Unlike most GOP gubernatorial candidates in Tuesday's primary elections, Buehler, who is also an orthopedic surgeon, has fully embraced the state's decision to legalize marijuana. He also condemned statements from the White House and Justice Department insinuating a crackdown on legal cannabis states, and he said he believes marijuana can help patients suffering from a variety of medical conditions.
Hands off OR legal Marijuana law @realDonaldTrump. Where is @OregonGovBrown in defending will of OR voters? #orpol https://t.co/SJRqUlSFfE

— Knute Buehler (@KnuteBuehler) February 24, 2017
"I just think we've had very successful implementation of marijuana access in Oregon and I think it's important to educate and explain to the new administration and the Attorney General that this issue is being handled quite well in Oregon," he told The Bulletin. "This is a model for states that choose to go this route."
Two other races of note… 
Pennsylvania Democratic Lieutenant Governor Primary
Winner: Braddock, Pennsylvania Mayor John Fetterman
In a significant upset, Mayor John Fetterman beat out three Democratic opponents, including incumbent Lt. Gov Mike Stack. Fetterman was endorsed by NORML PAC and U.S. Sen. Bernie Sanders (I-VT), in part because he's strongly pushed to fully legalize marijuana in Pennsylvania's marijuana laws.
"Mr. Fetterman has been an unrelenting champion for reversing Pennsylvania's failed and draconic policies when it comes to marijuana," NORML PAC executive director Altieri said in a statement. "He understands the absolute devastation prohibition has wrought on families across the state, most acutely in already marginalized communities."
RT to spread the word: there's only one candidate in the #PASen #PAPrimary who wants to legalize marijuana.https://t.co/mwKtwMVoR3

— John Fetterman (@JohnFetterman) April 26, 2016
Following the NORML PAC endorsement, Fetterman said that he would "never shy away from the doing the right thing, and fully legalizing marijuana is the right thing for Pennsylvania."
"We should go full-on Colorado," he said. "It's a simple solution to the devastation I have seen first-hand of the Opioid Crisis, and the disproportionate impact of mass incarceration on communities of color. As Lt. Governor I will be the leading voice on this issue in Harrisburg."
Pennsylvania Senate GOP Primary
Winner: U.S. Rep. Lou Barletta (R-PA)
The congressman received a C- rating from NORML based on his voting record on marijuana amendments. In 2016 he did support the Veterans Equal Access Amendment, which would have expanded access to medical cannabis for military veterans. But he voted against amendments to protect state medical cannabis programs and broader marijuana legalization laws from federal intervention.
Marijuana Moment also compiled the cannabis records of winners in last week's primary elections in other states.
Photo courtesy of Democracy Chronicles.
Hemp Legalization Is Officially Headed to President Trump's Desk For Signature
The 2018 Farm Bill, which would legalize industrial hemp, is officially headed to President Donald Trump's desk. The House passed the legislation on Wednesday, one day after the Senate approved it.
It's been decades since the ban on hemp was imposed—a byproduct of the federal government's war on marijuana and other drugs. The ban, it seems, will be lifted in a matter of days.
The House passed the bill, 369-47.
The votes come after months of debate over other aspects of the wide-ranging agriculture bill. But the hemp legalization provision, shepherded by Senate Majority Leader Mitch McConnell (R-KY), has received bipartisan support at every step of the legislative process.
Hemp legalization made it through a conference committee where the Senate and House Agriculture Committees reconciled their respective versions of the bill. McConnell marked the occasion this week by signing the conference report with a hemp pen, which he said on Wednesday that the president was free to use to sign the bill into law.
The hemp provision would allow U.S. farmers to grow, process and sell the crop. The Justice Department would no longer have jurisdiction over hemp under the legislation; rather, the U.S. Department of Agriculture would lightly regulate it.
One element of the hemp language created tension between lawmakers and advocates. The original Senate-passed bill prohibited people with felony drug convictions from participating in the hemp industry, but a compromise was reached last week that limited that ban in the final version to 10 years after the last offense.
House Democrats in the Agriculture Committee listed hemp legalization as one of several reasons they were calling for a "yes" vote on the legislation.
The farm bill conference report legalizes industrial hemp. pic.twitter.com/2u5xxtKwaS

— House Agriculture Committee Democrats (@HouseAgDems) December 12, 2018
According to VoteHemp, if the president signs the bill before the year's end, it will take effect on January 1, 2019.
Mitch McConnell Says Trump Can Borrow His Hemp Pen To Sign Farm Bill Into Law
Marijuana Industry Border Issues Would Be Solved Under New Congressional Bill
Marijuana can really mess up border and immigration issues for people who partake in consumption or participate in the industry, but that would change if a new bill being introduced in Congress this week is enacted.
Under current U.S. laws, people who admit to past cannabis use or who work for or invest in marijuana businesses can be barred from visiting the country under certain circumstances. And marijuana consumption, even if it is legal under state law, can lead to an immigrant being deported.
The new legislation, the Maintaining Appropriate Protections For Legal Entry Act, would provide exceptions for conduct that "was lawful in the State, Indian Tribe, or foreign country in which the conduct occurred" or that was "subsequently made lawful under the law or regulation of such jurisdiction," according to a draft obtained by Marijuana Moment.
The bill, known as the MAPLE Act for short—surely a nod to the leaf on Canada's flag—is being filed on Wednesday by Rep. Earl Blumenauer (D-OR).
U.S. border policies on entry by marijuana industry participants were slightly loosened just ahead of the launch of Canada's legal marijuana market in October to clarify that people working for cannabis businesses are generally admissible to the U.S., with the caveat that "if a traveler is found to be coming to the U.S. for reason related to the marijuana industry, they may be deemed inadmissible."
And that's a key exception. Several Canadians traveling to a cannabis industry conference in Las Vegas last month were detained for hours, with one investor being given a lifetime ban from visiting the U.S.
While there is almost certainly not enough time for Blumenauer's proposal to be considered and voted on by the end of the year, its language could easily be adopted into new legislation after the 116th Congress is seated in January.
In October, the congressman laid out a plan for a step-by-step approach to federally legalizing marijuana in 2019 in a memo to fellow House Democrats.
Marijuana Moment supporters on Patreon can read the full text of the new MAPLE Act below:
Chicago Mayor Wants Legal Marijuana Revenue To Fund Pensions
Tax revenue from legal marijuana sales should be earmarked to fund pension programs, the mayor of Chicago said on Wednesday.
"Illinois legislators will be taking a serious look next year at legalizing recreational marijuana," Mayor Rahm Emanuel (D) said in a speech to the City Council. "Should they follow that course, a portion of that revenue could go toward strengthening our pension funds and securing the retirement of the workers who depend on them."
Please visit Forbes to read the rest of this piece.
(Marijuana Moment's editor provides some content to Forbes via a temporary exclusive publishing license arrangement.)
Photo courtesy of Daniel X. O'Neil.