Watch Rep. Barbara Lee Talk Marijuana In This Hilarious Comedy Central Appearance
Congresswoman Barbara Lee (D-CA) sat down with Comedy Central host Jim Jeffries this week to talk immigration, the Trump administration and, of course, marijuana.
Despite some overworked munchies jokes from Jeffries, the California representative fired back with sharp wit. After Jeffries mentioned that Lee is protecting the state from President Trump's "stubby little fingers," talk turned to a bill Lee filed earlier this year to shield states that have passed laws to legalize and regulate marijuana from federal interference.
"The federal government needs to stay out of our business," Lee said, touting her the Restraining Excessive Federal Enforcement and Regulations of Cannabis (REFER) Act.
Jeffries joked, "Why don't you call it the REEFER Act?" (Insert sad trombone sound effect here.)
The Congresswoman replied, "If you smoke it's reefer; if you don't, it's refer." Easily one of the best responses from a lawmaker to a lowball pot joke in recent memory.
Did you catch me on the @JefferiesShow last night? I had a blast with @JimJefferies talking marijuana policy, sex education & more. Watch the full interview HERE → https://t.co/AIMdO8MxYQ pic.twitter.com/bZPLq4EcnZ

— Rep. Barbara Lee (@RepBarbaraLee) August 8, 2018
After confirming the lack of an increase in crime since California began allowing recreational marijuana, Jeffries implied Doritos sales are on a sharp upswing. Then he asked the congresswoman if she partakes, and Lee kept the host on his toes by replying, "Do I eat Doritos?" And she followed that with, "I don't even drink wine." A shining example of doing the right thing for public policy despite a lack of any personal proclivity towards cannabis.
It's almost like Lee has heard these jokes a hundred times (spoiler alert: she probably has). But even pushing through the uninspired soft lobs from Jeffries, she shined like the beacon of hope and progress that she is. There's no reason a Comedy Central host should be making tired munchies jokes a la Colorado Governor John Hickenlooper in 2012. But Lee's sharp, woke replies should be an example to us all.
For real, journalists, politicians, talk show hosts, et al.: WE. CAN. DO. BETTER. It's 2018. Worn-out pot puns weren't funny when Colorado and Washington legalized marijuana six years ago and they haven't gotten any funnier since. Next time you see the opportunity for an easy marijuana joke, just don't. I could've said "puff puff pass on using it," but I didn't. See how easy that was? Flex that creative muscle, maybe enjoy some marijuana and give consumers something to really laugh about.
New Congressional Bill Handcuffs Sessions's Marijuana Enforcement
Photo courtesy of Comedy Central.
Elon Musk: 'I Have No Idea How To Smoke Pot'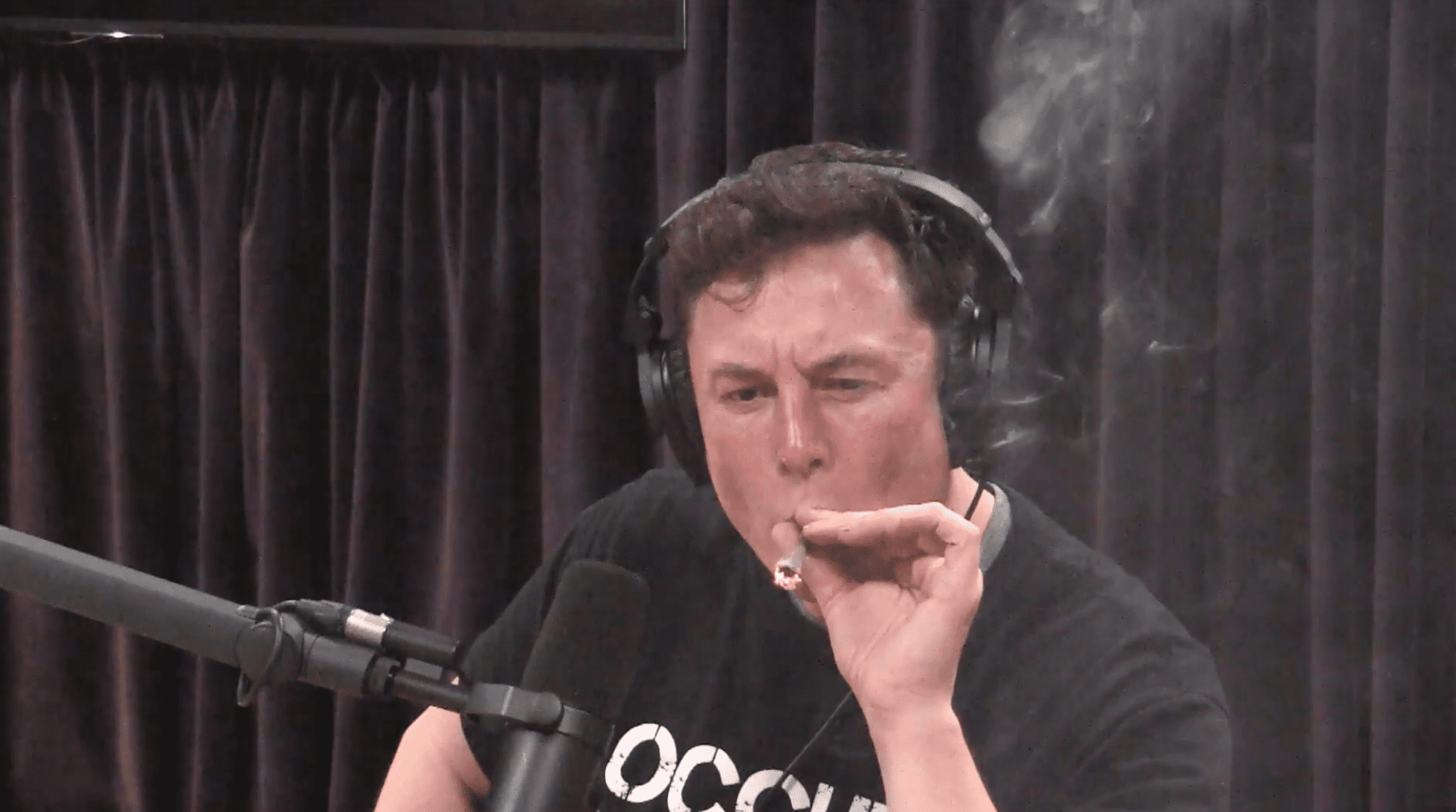 Elon Musk got himself into a bit of trouble after smoking marijuana during an appearance on Joe Rogan's podcast in September.
The move reportedly led to NASA launching an investigation into his company SpaceX's "workplace safety" and "adherence to a drug-free environment."
But now, in a new interview 60 Minutes, the Tesla founder indicated the on-camera puffing was a fluke and that he actually doesn't even know how to smoke weed.
"I do not smoke pot," he said.
"As anybody who watched that podcast could tell, I have no idea how to smoke pot or anything. I don't know how to smoke anything, honestly."
Musk seems to be telling the truth, at least judging from the widespread reaction to the fact that he didn't seem to actually inhale the blunt that Rogan passed him.
I'm sure this point has been made but @elonmusk clearly didn't inhale

— Ryan Lizza (@RyanLizza) September 7, 2018
elon musk didn't inhale lmao baby lungs

— MATT MIGGZ (@mattmiggz) September 7, 2018
"elon musk didn't inhale"

he doesn't inhale smoke

because he doesn't inhale oxygen

because he is a simulation

— kalabar's revenge (@itzthelimit) September 10, 2018
Elon Musk didn't inhale and his stock plummets 6% hahaha

— Parabolic Retard 🤪 (@Crypto_STEEZ) September 8, 2018
The full 60 Minutes interview with Musk is set to air on Sunday.
U.S. Air Force Warns About Grandma's Marijuana-Infused 'Miracle Sticky Buns'
The U.S. Air Force wants its members to be extra careful around "grandma's miracle sticky buns" that might contain marijuana.
In a post on the Air Force Medical Service site on Wednesday, the military branch reminded members that cannabis is illegal under federal law and that testing positive for THC metabolites will result in likely separation from service under "less than honorable conditions" and other possible punishments.
"Marijuana consumption is not permitted in any fashion, period."
The department stressed that with state-level legalization expanding, there's wider availability of "THC containing products," so military members "need to be extra vigilant about the foods and drinks they consume, especially during the holiday season."
"Many of us attend parties or gatherings with friends and relatives and have meals and libations prepared by others."
Maybe the Air Force got the memo from the National Highway Traffic Safety Administration, which also recently put out an advisory about holiday-related cannabis consumption and encouraged people to "#DitchDanksgiving."
While the message was serious, the warning to military members at least ended on a lighter note, seeming to acknowledge the therapeutic use of cannabis edibles, something that federal law still doesn't officially recognize:
"Your friend's grandma's miracle sticky buns might look mighty tasty and get rave reviews at the big shindig, but if you're in the military or work for the federal government you might want to think twice and make sure they weren't made to treat her bad hip first before you jeopardize your career."
To be sure, more seniors are using marijuana, primarily for medical purposes. But unless they're homemade, marijuana products are generally labeled accordingly. So federal workers should probably pay closer attention to pastry packaging if they want to avoid accidentally ingesting prohibited sticky buns.
The Feds Are Hiring Professional Marijuana Joint Rollers…Kind Of
Photo courtesy of Stacy Spensley.
Michael Moore: Put Marijuana On The Ballot To Drive Voter Turnout In 2020
Documentary filmmaker and activist Michael Moore says that if Democrats want to win in the 2020 election, they ought to put marijuana legalization proposals on the ballot in states across the country, especially in swing states.
Moore, whose home state of Michigan legalized cannabis during the midterms earlier this month, said the outcome of the election—in which Democrats won the state's gubernatorial, attorney general and U.S. Senate races—proved that ballot initiatives "are the answer" to electoral victories.
"This is what we did in Michigan two weeks ago: we had a ballot proposal to legalize marijuana," he said on MSNBC's The Last Word. "Largest turnout of young people in we don't know when came out to the polls."
It's not entirely clear how large youth turnout specifically was in the state compared to past elections. But in general, Michigan turnout reached its highest levels in 56 years—and across the country, young people did cast ballots in higher numbers.
Besides marijuana legalization, Moore said putting issues like free college and outlawing gerrymandering on the ballot will drive Democrats who "don't vote that much" or "don't like the politicians" to the polls. He emphasized the need to get those issues on the ballot in swing states.
The filmmaker also seems to be speaking from a place of experience, as he made his vote in favor of Michigan's legalization measure a late night TV spectacle when he filled out his absentee ballot in an appearance earlier this month on NBC's Late Night with Seth Meyers.
Michael Moore Votes For Marijuana Legalization During Late Night TV Appearance
There's some limited data that seems to support Moore's theory about marijuana and voter turnout, too. For example, an October survey of registered voters in Wisconsin found that 56 percent said they'd be more likely to cast their ballot if it included a cannabis-related question.
The Midwest May Be the Next Frontier In Marijuana Legalization
Photo courtesy of MSNBC.