Pennsylvania House Committee Holds Marijuana Legalization Hearing As Lawmakers Consider State-Run Stores
A Pennsylvania House committee convened for an informational meeting to hear from experts about adult-use marijuana legalization as legislators chart a path for the reform, which the panel's chairman says may involve consideration of a state-run cannabis sales model.
While the House Health Subcommittee on Health Care didn't take up any specific legislation on Wednesday, members had the chance to listen to testimony from professors, advocates and addiction specialists about the health considerations of moving forward with legalization in the Keystone State.
The full Health Committee is chaired by Rep. Dan Frankel (D), who has previously sponsored cannabis legalization legislation and circulated a cosponsorship memo earlier this year previewing plans to file another reform bill this session.
"Many of us want the same things. We want the products we sell to be tested and safe. We want to ensure teens with developing brains aren't impacting their development by utilizing cannabis. And we want to protect young children from the kinds of accidental overdoses have put kids in the hospital and led to one death," Frankel said in his opening remarks.
"We want to right some of the wrongs of the past by ensuring that those who have been the target of cannabis criminalization don't continue to carry the stigma now that cannabis is not considered a crime" under legalization, he said. "We'd like to see our economy benefit from legal sales rather than illegal sales."
He added that "there are legitimate concerns for health and safety," so lawmakers "want to start from a place of recognizing those concerns and think about how we might mitigate through appropriate regulation and oversight."
Rep. Kathy Rapp (R), the ranking GOP member of the Health Committee, said that while she's "adamantly opposed to legalization of marijuana" and doesn't believe regulated sales will lend to significant tax revenue for the state, she appreciates that informational hearings are being held and acknowledged that the issue will ultimately be decided "when we do a floor vote."
Watch the committee marijuana legalization information meeting in the video below: 
"We have values that drive the way we see this industry and things that we want to accomplish," Rep. Rick Krajewski (D), chair of the Health Care subcommittee, said. "And I'll say for me personally, this issue is important because of the way that my community and my family members have been impacted by the criminalization of cannabis. I have many loved ones who've been incarcerated due to the criminalization."
"We've seen other states try with varying success to regulate cannabis," he said. "We know the changes may be coming at the federal level that could impact our ability to regulate. And it's time for Pennsylvania to take agency in the conversation."
One of the expert witnesses, Penn State College of Medicine professor Kent Vrana, told the panel that he's "against legalization of recreational use for adults," though he recognized that marijuana is "safer than my drug of choice, which is a good single barrel bourbon."
One member of the committee asked Vrana to weigh in on the idea that marijuana is a gateway to "harder" drugs, and the professor said "that's been debunked," adding that "marijuana does not lead to opioid addiction—the data are pretty strong there."
Despite his personal opposition to legalization, he said he believes that if the state moves ahead with legalization, it "should regulate the production and sale" of cannabis, and ensure that "all products should be grown and processed here in the commonwealth." He expressed interest in the idea of established a state-run market.
New Frontier Data Chief Knowledge Officer Amanda Reiman said she wanted to open her testimony by pointing out the "common fallacy that I've seen over the past few decades," which is that "drug prohibition equals drug control."
"You really don't get to control anything. You don't get to control who produces products, how they're tested, how they're regulated, where they get to be sold, who they get to be sold to," she said. "All of that control comes with regulation."
She then went over data on how legalization mitigates the illicit market, consumer trends, reasons for use, youth prevention and more.
"I know that cannabis is compared to alcohol a lot. I'd also like to introduce the concept of it being compared to coffee—caffeine. Also a drug, also habit forming, also can cause negative mental and physical health issues in people that are very sensitive to it," she said. "So some people drink five or six cups of coffee a day. For others, one cup sends their heart racing and they can't sleep that night. So just like those consumers, we see a variable use patterns amongst cannabis consumers."
Carnegie Mellon University professor Jonathan Caulkins, another invited witness, told the panel that the size of the remaining illegal market after the end of prohibition "is to some degree up to you in your decisions and how much enforcement pressure is put on the illegal market after the legal market exists as a potential substitute."
"The next thing I'd like to say is a legalization is very complicated. And I'll just request that you not forget all of the boring basics of doing good legislative work while focusing on the things that get the headlines," he said. "A lot of states have got legal industries with quite a bit of corruption—a lot of rule breaking, a bit of a cowboy industry. It's important that the regulatory agency be quite aggressive."
Frankel, the committee chairman, told Marijuana Moment in a phone interview last week that the measure he's planning to introduce early next year will likely be "quite different" from the version he previously sponsored, and it will be partly informed by the meetings members hold in his panel. The lawmaker expects there will be two or three meetings to discuss the reform before a bill is brought to the full committee.
"My framework for addressing this overall, which is what we'll try to fit into this hearing, is as we move forward with an adult-use bill, focusing on for safety, equity—particularly with respect to restorative justice—and also revenue for the state and access for folks," Frankel said.
"My goal would be to find something that that our entire conference can support—and I would expect that there would be some bipartisan support for this legislation," he said. "I think it's very important that we have bipartisan support if we're going to send something over to the Senate, which is controlled by my Republican colleagues."
The chairman said that lawmakers will be looking at a variety of state regulatory models and "what we could do better" in Pennsylvania, noting that certain states have "come forward with some pretty interesting ideas as well that we want to hear about, so we'll be looking at those as well as we craft something."
One of those interesting ideas that the chairman said is "certainly an option" is the model of state-run cannabis stores, similar to what's been proposed and is being actively considered in the New Hampshire legislature as a commission there explores legalization options.
"It has some political challenges to go that way, but in some ways, it makes sense if you want to roll out adult-use quickly and safely," he said. "That could be part of the retail dispensary operation—having that administered as well, since there's already that infrastructure there with respect to alcohol," the sale of which the state currently controls in Pennsylvania.
"So there's some interest in looking at the state store system as part of it—not necessarily entirely—but as part of the distribution system or dispensary system," Frankel said. However, he recognized that beside political challenges, with certain conservatives already critical of the state's alcohol system, there's also the fact that Pennsylvania purchases much of the alcohol that is sold at retailers from out-of-state companies, which is "not an option with respect to cannabis" under federal prohibition.
With a new, narrow Democratic majority in the House this session and support from Gov. Josh Shapiro (D), the prospects of legalization in Pennsylvania picked up—but there's still an open question about how the GOP-controlled Senate might approach reform if the opposite chamber delivered it a bill.
That said, more Republican senators have come on board with the policy change, with a bipartisan legalization measure already having been filed in the body this session by Sens. Dan Laughlin (R) and Sharif Street (D), for example.
Last year, the Senate Law and Justice Committee held a series of hearings on marijuana legalization that were meant to inform legislation that the panel's Republican chairman, Sen. Mike Regan (R), was drafting.
At Wednesday's meeting, the House panel also heard from a representative of the addiction prevention community.
Cannabis industry stakeholders were intentionally excluded from this initial meeting in order to allow members to hear from those who don't have a direct investment in the potential market and learn more about "the contours and the landscape that they're going to be looking at as they consider legalization," a committee staffer said.
In addition to the more conventional legalization proposal that's being sponsored by bipartisan senators this session, House lawmakers have also filed separate bills to legalize marijuana sales through state-run stores and to provide permits for farmers and small agriculture businesses to cultivate cannabis once adult-use sales are allowed.
Also, earlier this month, the House approved a large-scale tax reform bill that contains language to provide state-level relief to medical marijuana businesses as they continue to struggle under federal financial barriers. The reform drew the ire of Republican members—who normally champion tax cuts—as a Democratic giveaway to the cannabis industry.
Another measure to allow all licensed medical marijuana grower-processors in the state to sell their cannabis products directly to patients cleared the Senate in September, and it advanced through the House Health Committee on Monday.
Former Gov. Tom Wolf (D), who came around to support legalization near the end of his term, also signed large-scale legislation last year that included provisions to protect banks and insurers in the state that work with licensed medical marijuana businesses.
—
Marijuana Moment is tracking more than 1,000 cannabis, psychedelics and drug policy bills in state legislatures and Congress this year. Patreon supporters pledging at least $25/month get access to our interactive maps, charts and hearing calendar so they don't miss any developments.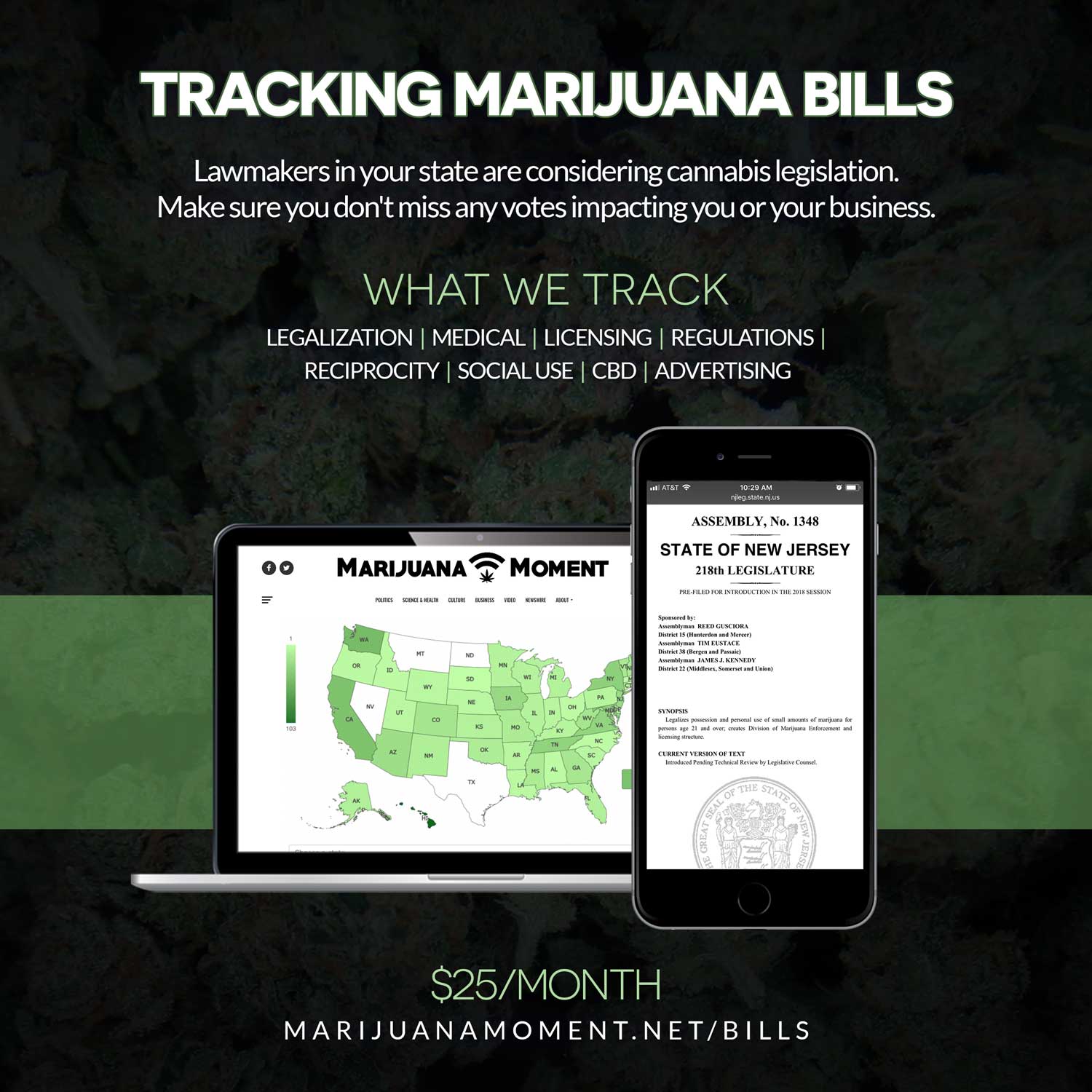 Learn more about our marijuana bill tracker and become a supporter on Patreon to get access.
—
Black lawmakers separately discussed the need to ensure equity considerations are at the center of any marijuana legalization plan at a conference last month.
Shapiro, the governor, supports enacting cannabis reform and proposed to legalize and tax adult-use marijuana as part of his 2023-2024 budget request in March.
Meanwhile, Laughlin, who is sponsoring legalization legislation this session, also sent a letter to state law enforcement in February, urging officials to take steps to protect gun rights for cannabis consumers, particularly medical marijuana patients, in light of a federal court's recent ruling on the issue.
Trump Team Says DeSantis Should Use Marijuana Edibles To Deal With Presidential Campaign Stress