Pennsylvania GOP Senator Pushes State Police To Reconsider Gun Restrictions For Marijuana Consumers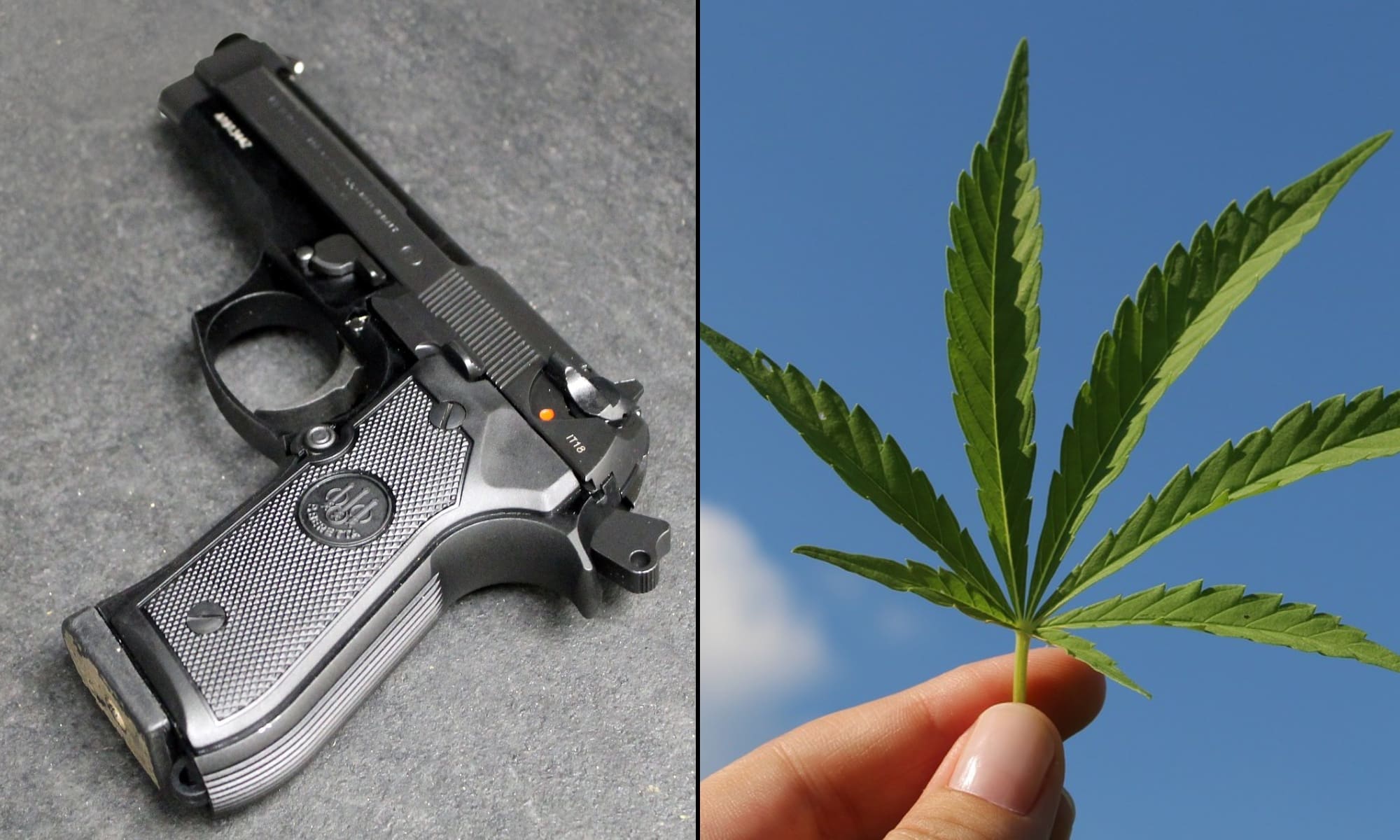 A Republican state senator in Pennsylvania is calling on law enforcement to take steps to protect the gun rights of marijuana  consumers, particularly medical cannabis patients—pointing to a federal judge's recent ruling that the U.S. government's ban on gun ownership by people who use marijuana is unconstitutional.
Sen. Dan Laughlin (R), in a letter to the acting commissioner of the Pennsylvania State Police, noted that the commonwealth currently prohibits people from obtaining a license to carry firearms if they acknowledge being "an unlawful user of marijuana" on a state form that they must fill out.
"I believe Pennsylvania can take a measured approach to lifting the prohibition on otherwise qualified medical cannabis users from obtaining their license to carry," Laughlin wrote on Twitter on Wednesday, including a copy of the February 17 letter.
Medical cannabis is legal in Pennsylvania but remains outlawed federally.
While Laughlin acknowledged that the state restriction aligns with the federal ban on gun ownership by cannabis consumers, he told the top commonwealth law enforcement officer that the recent federal court case "warrants reconsideration of the question on these forms."
I believe Pennsylvania can take a measured approach to lifting the prohibition on otherwise qualified medical cannabis users from obtaining their license to carry.

Please see the letter I wrote to the Acting PA State Police Commissioner below: pic.twitter.com/c5zqKjVVBt

— Senator Dan Laughlin (@senatorlaughlin) February 22, 2023
"I strongly encourage you to review the decision," the senator wrote.
Laughlin's tweet about the letter refers to "qualified medical cannabis users," though his letter to the state police makes no specific mention of medical use as opposed to recreational consumption. Medical marijuana is legal in Pennsylvania under a 2016 bill passed by the legislature. Nonmedical use is illegal, though calls to legalize have been growing in the legislature.
The federal government has long prohibited people who consume illegal drugs from purchasing firearms, but as more states legalize cannabis, some lawmakers—especially Republicans—have attempted to undo similar state-level restrictions on gun rights.
Most recently, lawmakers in Maryland held a hearing earlier this month to consider a bill that would prohibit the denial under state law of "the right to purchase, possess or carry a firearm…solely on the basis that the person is authorized to use medical cannabis." The measure's sponsor said the state's current policy "puts average Marylanders in a bind."
Such proposals do not attempt to change federal law but rather seek to remove additional state-level restrictions on gun ownership by marijuana consumers.
Opponents to the federal restriction, however, recently notched a courtroom win when a federal judge in Oklahoma declared the ban unconstitutional. Judge Patrick Wyrick, a Trump appointee, wrote in the February 3 ruling that the government's justification for denying gun rights to cannabis users "misses the mark."
"Because the mere use of marijuana does not involve violent, forceful, or threatening conduct," Wyrick said, "a user of marijuana does not automatically fall within that group."
As a district court ruling, the Oklahoma decision does not immediately create precedent that other courts must follow. It's also widely expected the ruling will be appealed. However, the development is an indication that the legal landscape around cannabis and firearms may be changing.
Another lawsuit challenging the federal ban on firearm ownership by marijuana users was filed in Florida by former Agriculture Commissioner Nikki Fried (D) and medical cannabis patients. But Fried's Republican successor, Commissioner Wilton Simpson, recently declined to pursue the case. It is now being appealed by the remaining individual nongovernmental plaintiffs.
The easiest way to address the federal ban would be through Congress. Last month, Rep. Alex Mooney (R-WV) introduced a bill that would allow cannabis users to skirt the restriction provided they are in compliance with state marijuana law. Gun ownership would still be restricted in areas where cannabis remains illegal.
Mooney introduced similar legislation in 2019, but it did not advance.
Another of the federal bill's sponsors, Rep. Thomas Massie (R-KY) spoke to Marijuana Moment in 2018 about the need for gun-focused cannabis reform.
Back in Pennsylvania, it remains to be seen whether the legislature is prepared to act on cannabis in the new session. Democrats won a majority of seats in the House of Representatives, but the GOP has maintained control of the Senate. That said, a handful of Republican senators—including Laughlin—have indicated support for legalizing marijuana.
Gov. Josh Shapiro (D), meanwhile, says he supports broader legalization, and he made it a tenet of his gubernatorial campaign last year. The policy change came up during an inauguration celebration for Shapiro last month, with performers discussing the issue and rapper Wiz Khalifa at one point encouraging adults to smoke cannabis despite ongoing prohibition.
But the state's former governor, Tom Wolf (D), as well as then-Lt. Gov. John Fetterman, now a U.S. senator, both pushed for reform and fell short of ending prohibition. The two did succeed in launching a pardon project that drew thousands of applications seeking clemency and ultimately granted just over 200 acts of relief.
GOP Congressional Lawmakers Tout Poll Showing Republican Voters Back Federal Marijuana Legalization