Lawmakers Meet For First-Ever Congressional Hearing On Psychedelic Therapy For Military Veterans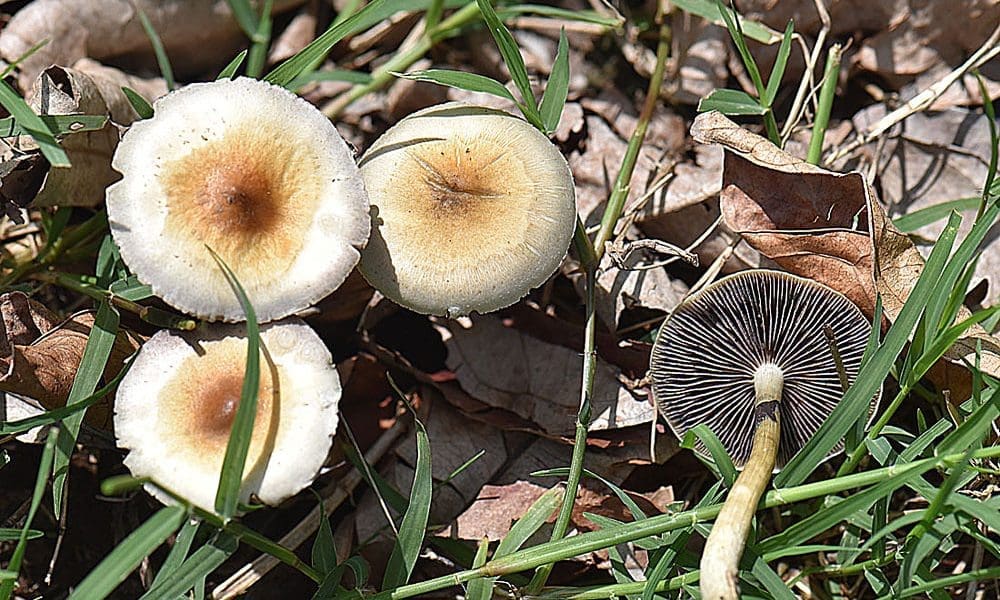 House lawmakers met on Tuesday for a first-ever congressional hearing on psychedelics, with lawmakers and witnesses focusing on how substances like psilocybin and MDMA can aid therapy for military veterans' facing mental health challenges.
A U.S. Department of Veterans Affairs (VA) official who testified claimed that there are "no statutory barriers" preventing the department from conducting research on psychedelics despite their strict Schedule I classification under federal law—seemingly contradicting other federal health officials and scientists who have routinely argued that the classification imposes significant challenges on the research community.
VA representatives also expressed optimism about the prospects of future federal approval of certain psychedelics, while lawmakers emphasized that it is an issue that has uniquely generated bipartisan support amid a rapidly evolving policy landscape.
Members of the House Veterans' Affairs Subcommittee on Health were originally scheduled to meet last month to discuss the issue, but that hearing was postponed as Republicans scrambled to elect a House speaker.
Tuesday's hearing—titled "Emerging Therapies: Breakthroughs in the Battle Against Suicide?"—featured a series of witnesses from the advocacy and scientific community, as well as three VA officials who spoke to the department's ongoing work on psychedelics research and its expectations for possible future clinical applications for veterans.
Rep. Mariannette Miller-Meeks (R-IA), chair of the subcommittee, said in her opening remarks that "psychedelic-assisted therapy is a groundbreaking clinical procedure that has the potential to transform the way we look at mental health care."
"We can't be afraid to explore new treatment methods—especially the ones that we will hear about today that have proven to transform veterans' lives and are done in a clinical and a scientific manner," the congresswoman said. "Still, we must argue and urge caution when speaking on this topic. We are not advocating for the legalization or the casual use of psychedelics. What we are discussing is the clinically administered dosage of these substances in combination with targeted therapy sessions in a clinical setting."
The panel's ranking member, Rep. Julia Brownley (D-CA), said that "the landscape of psychedelics has evolved significantly in recent years, and we are at the brink of a new era in which these substances—once stigmatize and misunderstood—are being examined for their potential to address mental health and addiction challenges."
"We must weigh the risks and rewards carefully recognizing the need for safeguards while also fostering innovation at VA and other federal agencies and expanding treatment options," she said. "This is also an exciting topic because of the time when much of Congress is polarized and partisan, this is one area where many of us on this dais agree that more should be done to research psychedelic-assisted therapy."
Several members of the committee asked the first panel of VA representatives about research barriers given the Schedule I status of psychedelics under the Controlled Substances Act (CSA).
While numerous federal health officials, including the head of the National Institute on Drugs (NIDA), have routinely criticized that classification for marijuana because of the onerous regulatory burdens they must overcome in order to access cannabis for research, VA's Carolyn Clancy seemed to dismiss that concern, stating there are "no statutory barriers" that warrant congressional attention.
Clancy, who serves as  VA's assistant undersecretary for health for discovery, education and affiliate networks, acknowledged that this is a "highly regulated environment" that "requires that investigators invest a considerable amount of time in getting approval" from the Food and Drug Administration (FDA) and Drug Enforcement Administration (DEA). But for psychedelics, she said she expects "this is something that will become easy."
Watch the congressional psychedelics hearing in the video below: 
She added that many her colleagues are "excited about the possibility" of psychedelics therapy.
It's "not that they think this is the answer—but they are inspired by hearing from veterans whose own experience has been very, very positive and want to be part of learning whether that is a generalizable finding for many veterans," Clancy said, adding that the department is encouraged by the recent results of a Phase 3 clinical trial that showed "all signs pointing towards MDMA-assisted therapy receiving FDA approval within the next year."
She reiterated in response to follow-up questions that she's not aware of any research barriers VA faces in carrying out its own trials, saying simply that there are FDA and DEA requirements that must be met but she doesn't believe Congress needs to intervene to streamline the process.
"I think you can help—and you are helping by having this hearing [and] the roundtable a few months ago," she said, referencing an event the committee's chair convened to discuss emerging therapies for PTSD and substance abuse. "We have appreciated Congress's support, particularly this committee, for our research budget. And again, I don't see anything else there" that's needed to build on that support.
Asked whether there are any limitations preventing VA providers from discussing psychedelics therapy with patients, the official said "no" and that she'd "encourage our veterans to actually openly have these conversations with their providers."
Rep. Morgan Luttrell (R-TX), a veteran who has publicly shared how treatment with ibogaine and 5-MeO-DMT "changed my life" and was "one of the greatest things that ever happened to me," pressed the VA officials on his concern that this effort to expand psychedelics research and access "dies on the vine between the communications between the VA and possibly the FDA." He added that "it sounds like the FDA is not fully engaged on this."
FDA is "an independent body and they have very, very serious responsibilities," Clancy replied. "I have no doubt whatsoever, because I have full confidence in the FDA commissioner."
Luttrell—who was one of several GOP lawmakers who spoke in favor of a bill to create a $75 million federal grant program to support research into the therapeutic potential of psychedelics for certain health conditions among active duty military service members—said he understands that "this is a tough challenge."
"I can appreciate the responsibility FDA has, but the members sitting on this dais right here—when we walk around our districts, we have to talk to the families lost the veterans, and there is no more serious situation than that," he said. "So if it seems like there's a friction point that this may stall, we want to engage."
🚨First-Ever Congressional Hearing On Psychedelic-Assisted Mental Health Care For Veterans Will Be Held Tuesday @HouseVetAffairs!

The effects are groundbreaking. We must continue pushing forward to get veterans & service members the help they deserve.https://t.co/WzUHgJOLzt

— Congressman Morgan Luttrell (@RepLuttrell) November 14, 2023
"I would like to see the VA leading this. Our veterans are ready," the congressman said. "Our veterans want to move away from the selective serotonin reuptake inhibitors and all the other tools that may not move the needle as much as they can."
Clancy also noted at the hearing that that VA hosted a so-called State of the Art conference in early September to address two major objectives. "The first objective was to better understand the current state of scientific evidence and to identify a strategic framework to consider future psychedelic treatment research for select mental health conditions," she said in written testimony. "The second objective was to determine the necessary next steps for potential VA system-wide clinical implementation for psychedelic compounds for potential future use."
While studies do indicate that psychedelics can help treat mental health conditions, she acknowledged, one of the "key gaps in research" is how to apply treatment to the "unique and diverse population" of veterans who receive care through the Veterans Health Administration.
On the second panel, one witness who testified at the hearing was Brett Waters, the co-founder and executive director of the advocacy group Reason for Hope, which works to expand access to psychedelic medicines to reduce deaths of despair. Another witness was Juliana Mercer, a Marine Corps veteran who now leads advocacy and public policy at the nonprofit Healing Breakthrough, which helps veterans access MDMA-assisted therapy to treat PTSD.
In addition to the VA representatives, witnesses also include a veteran who participated in a clinical trial of MDMA that successfully treated his PTSD, the chief operating officer of the Multidisciplinary Association for Psychedelic Studies (MAPS) Public Benefit Corporation, a psychology professor at the Johns Hopkins Center for Psychedelic and Consciousness Research and the co-director of the RAND Corporation's RAND Epstein Family Veterans Policy Research Institute.
All witnesses have already submitted testimony that's been posted online in advance of the subcommittee hearing.
Waters, who lost both his mother and grandfather—a fighter pilot in World War II—to suicide, wrote that five years after his mom's death, "I cannot help but think she would have benefitted immensely from psilocybin-assisted therapy. This is one of the many lingering questions I live with for which I will never know the answer."
Waters's written testimony urges Congress to support the Breakthrough Therapies Act, bipartisan legislation that would streamline the rescheduling of federally designated "breakthrough therapies" such as psilocybin and MDMA in order to promote research and drug development.
Among those who testified from positions outside the government is Frederick Barrett, a professor at the Johns Hopkins Center for Psychedelic and Consciousness Research. In written comments, he said that studies from his institution and others "are building a growing record of information demonstrating both the relative safety and potential efficacy of psychedelic therapies in a wide range of psychiatric indications."
"These studies have been funded nearly entirely by private philanthropy," he noted. "Only recently has the National Institute on Drug Abuse and the National Center for Complementary and Integrative Health come through with a notable grant for the investigation of clinical use of psychedelics."
Barrett said psychedelic-assisted protocols still need further refinement as the therapies become more widely available, pointing to recent Phase 3 clinical trials into MDMA's potential to treat PTSD.
Another witness, Michael Mullette of the MAPS Public Benefit Corporation, which led the clinical trials that now position MDMA for possible FDA approval as soon as next year, said VA "has the opportunity to create innovative care models to ensure treatments for PTSD are scalable, accessible and, importantly, covered in a timely manner for veterans in need."
A number of the subcommittee's members—Republicans especially—have expressed interest in psychedelics reform before. Rep. Jack Bergman (R-MI), for example, is the co-founding member of the Congressional Psychedelics Advancing Therapies (PATH) Caucus, a bipartisan group relaunched this past March.
At Tuesday's hearing, Bergman said that one of the goals of the committee is to "take the temperature down, get rid of the fear-mongering and get right into the realistic research and the outcomes that we know are potentially available."
He also talked about differences between state medical marijuana program and what's being discussed with respect to psychedelics-assisted therapy, noting that "some critics have pushed fear-mongering comparisons."
Republicans have been notably open to stories from veterans about the life-changing effects of psychedelics, especially at the federal level. Former Texas Gov. Rick Perry (R) said in a recent documentary about psychedelics for mental health that GOP lawmakers are more open to psychedelics reform than Democrats are—at least among those in Congress.
At the state level, however, blue states have taken the lead on psychedelics reform. Oregon in 2020 legalized psilocybin therapy in addition to decriminalizing possession of all drugs. The state approved the first legal psilocybin service center this past May.
And in Colorado, Gov. Jared Polis (D) signed a psychedelics regulation bill into law in May, setting rules for a psychedelics legalization law that voters passed last year.
In California, meanwhile, Gov. Gavin Newsom (D) recently vetoed a psychedelics legalization bill. In a veto message, however, he said he wants the legislature to send him a new bill next year establishing guidelines for regulated therapeutic access to psychedelics and also consider a "potential" framework for broader decriminalization in the future.
California officials cleared a campaign this summer to begin signature gathering for a 2024 ballot initiative to legalize the possession, sale and regulated therapeutic use of psilocybin. It's one of two campaigns in the state that are seeking to enact psychedelics reform through the ballot process next year. The other, formally filed last month, would legalize all psychedelics for medical, therapeutic and spiritual use and allow the home cultivation of entheogenic plants and substances.
Across the country, in Massachusetts, campaign organizers said recently that they believe they've collected enough valid signatures to force lawmakers to consider a psychedelics legalization initiative—the first option for the reform before activists move to put it on the state's 2024 ballot.
Meanwhile, VA recently launched a new podcast about the future of veteran health care, with its first episode focused on the healing potential of psychedelics.
Some feel the agency still isn't doing enough to prioritize therapies that involve controlled substances, even as states have legalized medical marijuana and some move to legalize possession of some psychedelics.
Earlier this year, House lawmakers passed a spending bill with a number of veteran-focused marijuana and psychedelics amendments. One would allow VA doctors to issue medical cannabis recommendations to former servicemembers, and the other would encourage research into the therapeutic potential of psychedelics.
In August, three bipartisan co-chairs of the Congressional Cannabis Caucus wrote to VA Secretary Denis McDonough expressing "deep concern" over a recent VA marijuana directive that continues to prohibit its doctors from making medical cannabis recommendations to veterans living in states where it's legal.
Rep. Earl Blumenauer (D-OR), one of the authors of that letter, recently sent a separate letter to McDonough and Department of Defense (DOD) Secretary Lloyd Austin slamming their departments for perpetuating a "misguided denial of services" by recommending against the use of medical marijuana by veterans with post-traumatic stress disorder (PTSD).
VA and DOD "have a long history of claiming the best interest of our veterans and service-members only to deny the reality of medical marijuana as a key treatment option for those impacted by PTSD," he wrote, referencing recently updated joint clinical practice guidelines that the departments released in July.
In a recent Harvard University-hosted panel featuring former VA and Centers for Disease Control and Prevention (CDC) officials, speakers broadly agreed that psychedelic substances like MDMA and psilocybin hold powerful potential to help treat PTSD and curb suicide rates in service members, but they cautioned against hasty, unsupervised use of psychedelics given the possibility for further harms.
Earlier this month, the National Institutes of Health (NIH) announced it's seeking proposals to develop psychedelics into treatments for substance use disorder (SUD), with plans to issue $2 million in grant money toward the research projects during fiscal year 2025.
New York Lawmakers Send Marijuana Tax Cut Bills To Governor, Providing Local 280E Relief For NYC Businesses
Photo courtesy of Dick Culbert.