VA And Defense Department Oppose Medical Marijuana For PTSD, But Take Neutral Position On Psychedelics As Research Continues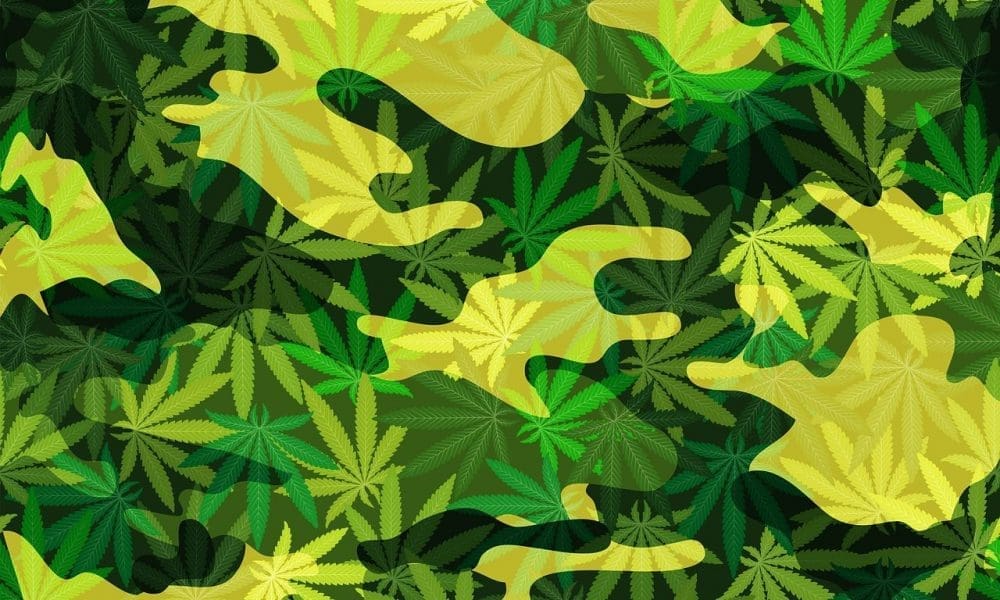 The U.S. Department of Veterans Affairs (VA) and Department of Defense (DOD) are strongly against the use of marijuana for the treatment of post-traumatic stress disorder (PTSD)—but they're taking a neutral position on psychedelics like psilocybin and LSD, simply saying that more research should be done.
In an update to their joint clinical practice guidelines, the departments provided recommendations on a variety of therapeutics used to treat PTSD and acute stress disorder that commonly afflict military veterans. And while many veterans use marijuana, often to treat symptoms of the conditions, the VA/DOD Management of Posttraumatic Stress Disorder and Acute Stress Disorder Work Group said it is fully against the alternative treatment option.
"The Work Group recommends against the use of cannabis or cannabis derivatives in treating patients with PTSD because of the lack of well-designed [randomized control trials] evaluating the efficacy of cannabis derivatives in large samples of individuals with PTSD and the serious side effects associated with their use," it says.
"Evidence from the 2017 VA/DoD PTSD [clinical practice guidelines] indicates significant harm associated with cannabis use," it said, arguing that research suggests that marijuana is linked to issues with attention, memory, IQ and driving.
While medical marijuana came with a "strong against" recommendation from the departments, they said that the work group's confidence in the existing evidence is "very low" due to a "lack of randomized, controlled, methodologically sound clinical trials; small sample sizes, and selection bias."
"The benefits of cannabis were outweighed by the potential serious adverse effects," the document, published last month, says. "Patient values and preferences varied largely because some patients seek new, novel treatments although others might be unwilling to use cannabis or cannabis derivatives. Thus, the Work Group made the following recommendation: We recommend against cannabis or cannabis derivatives for the treatment of PTSD."
Whereas the work group says it "found no new evidence" on cannabis to treat PTSD since the last joint review in 2017 and largely relied on that prior assessment for the current document, the departments actively looked for new data on psychedelics, which weren't even mentioned at all in the prior review six years ago.
The investigation into the potential therapeutic benefits of psilocybin, ayahuasca, DMT, ibogaine and LSD turned up "no studies meeting the search criteria that assessed the effects of psychedelics" for PTSD, the updated guidelines, first reported by Psychedelic Alpha, say.
"Of note, these agents cannot be legally prescribed in the U.S. outside a research study," it continues. "Additionally, given the lack of evidence, these agents might have adverse effects, risks, or both that are currently unknown (and adverse events have been anecdotally reported). Therefore, insufficient evidence exists to recommend for or against these specific psychedelic agents as a treatment for PTSD."
"Patient values and preferences varied because some patients might want to try psychedelics, but others may not," it added. "Thus, the Work Group made the following recommendation: There is insufficient evidence to recommend for or against psilocybin, ayahuasca, dimethyltryptamine, ibogaine, or lysergic acid diethylamide for the treatment of PTSD."
VA and DOD addressed MDMA—which has received "breakthrough therapy" designation from the Food and Drug Administration (FDA) based on preclinical evidence that it could help treat PTSD—in a separate section.
Despite the early evidence supporting its medical utility, it said that there's still "insufficient evidence to recommend for or against" the effectiveness of MDMA-assisted therapy for PTSD.
It recognized that at least five randomized control trials have found the psychedelic to "benefit individuals with PTSD," those studies "have differed notably in the control condition used" and such differences "could have potentially biased outcomes."
"It would be challenging to implement MDMA-assisted psychotherapy in current VA and DoD health care systems. The treatment protocol requires a high investment of resources," it continues. "Allocation of staff to conduct MDMA-assisted psychotherapy could have negative impacts on access for other patients. The success of MDMA-assisted psychotherapy might also require discontinuing SSRI use by the patient. Additionally, patients' willingness to engage in this intervention would likely vary significantly."
"The benefits of MDMA are balanced with the potential harms, which include worsening symptoms and an increase in suicidal ideation (study not included in the evidence base nor impacting the strength of the recommendation). Patient values and preferences varied mainly because of comfort with psychedelic treatment. Thus, the Work Group made the following recommendation: There is insufficient evidence to recommend for or against 3,4-methylenedioxymethamphetamine assisted psychotherapy for the treatment of PTSD."
While VA and DOD might not be ready to endorse the use of psychedelics—and they are strongly against the use of marijuana—to treat the mental health condition, bipartisan congressional lawmakers want to see federal agencies do more to explore their potential therapeutic efficacy. And they want to prevent situations where veterans are penalized over cannabis in legal states.
—
Marijuana Moment is tracking more than 1,000 cannabis, psychedelics and drug policy bills in state legislatures and Congress this year. Patreon supporters pledging at least $25/month get access to our interactive maps, charts and hearing calendar so they don't miss any developments.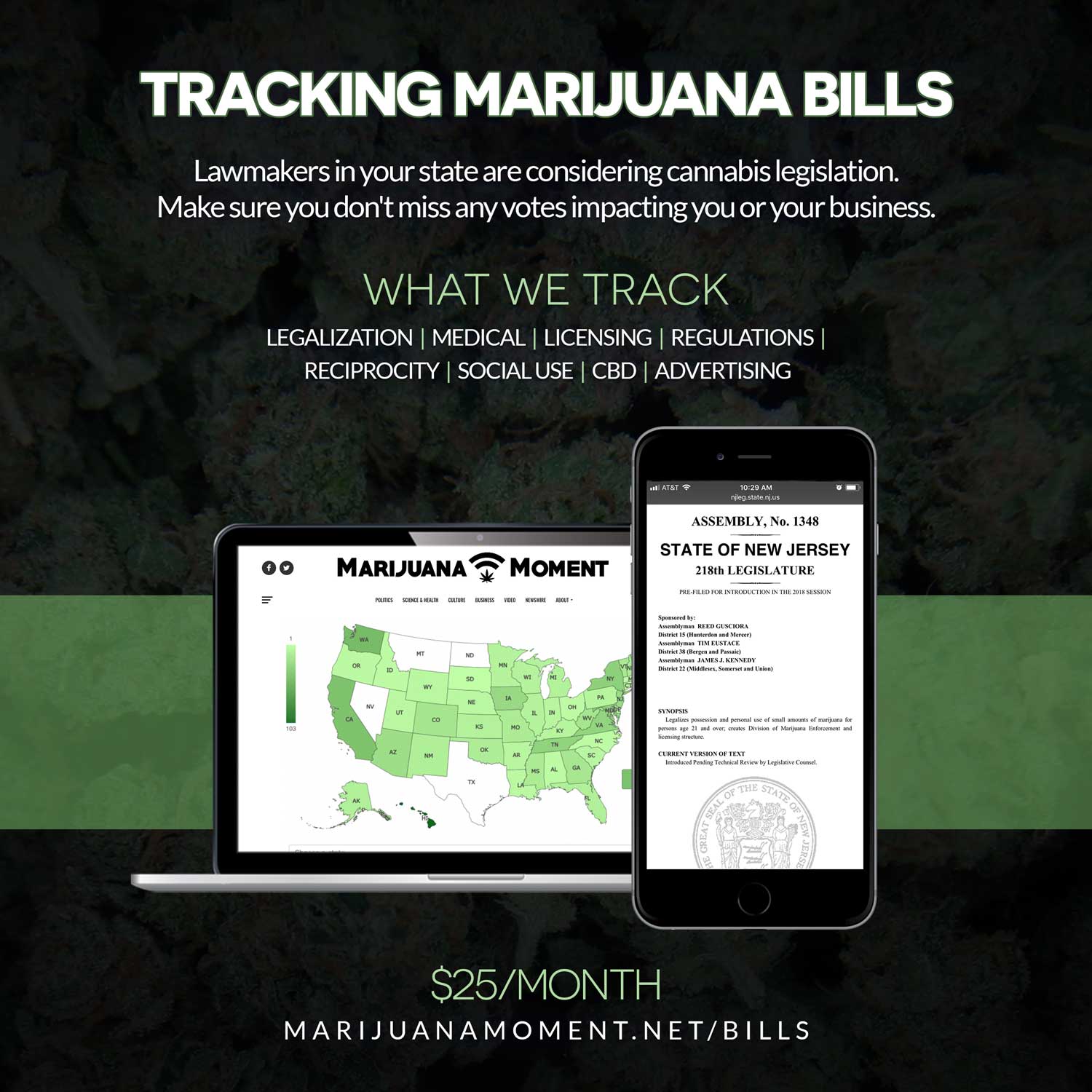 Learn more about our marijuana bill tracker and become a supporter on Patreon to get access.
—
For example, a pair of identical amendments that were recently filed for a VA spending bill in the House would provide such protections for veterans who use medical marijuana in legal states, as well as VA doctors who issue recommendations to allow participation in such programs.
The measures would have to be made in order by the House Rules Committee in order to receive floor consideration. It's unclear if that'll happen, however, especially after the same panel blocked more than a dozen cannabis and psychedelics amendments that were filed for the National Defense Authorization Act (NDAA) last week.
However, while the amendments didn't make it in, two marijuana and psychedelics measures were previously attached to the base text of the NDAA in the House Armed Services Committee.
Under the psychedelics measure from Rep. Morgan Luttrell (R-TX) that is part of the advancing bill, the defense secretary would be required to carry out a clinical study into the therapeutic benefits of psychedelics for active duty service members with PTSD, traumatic brain injury or chronic traumatic encephalopathy.
The clinical studies would need to involve psilocybin, MDMA, ibogaine or DMT. The secretary would need to provide lawmakers with a report within one year of the enactment of the legislation with information about trial findings. A few of the proposed revisions to NDAA that were rejected in the Rules Committee sought to further amend this language.
Rep. Dan Crenshaw (R-TX), who is sponsoring similar standalone legislation, said that he wanted the Rules Committee to adopt an amendment to Luttrell's amendment because, he said, House Armed Services Committee staff had stripped language from his measure without authorization that provided actual funding for the research and also changed it to require clinical studies, rather than clinical trials. The panel declined to follow suit, however, leaving the psychedelics amendment more hollow.
Crenshaw says he has the commitment of the House speaker to fight to broaden the scope of the measure in talks with the Senate.
Meanwhile, a cannabis amendment that had been attached to the bill in the earlier committee by Rep. Nancy Mace (R-SC) calls for a defense department medical cannabis pilot program that would examine the health impacts of marijuana use by veterans and service members who are VA beneficiaries. To be eligible for the program, the VA participant would need to have been diagnosed with PTSD, depression or anxiety, or have been prescribed pain management.
Meanwhile, Democratic senators are seeking to pass a series of marijuana reform amendments through its version of the NDAA.
One of the proposals, led by Sen. Brian Schatz (D-HI), would allow veterans to use medical cannabis in states and territories where its legal, mirroring a standalone bill that the senator introduced in April.
It would additionally protect doctors who discuss and fill out paperwork to recommend medical marijuana for veterans. And it would require VA to support clinical trials investigating the therapeutic effects of cannabis in the treatment of conditions such as pain and PTSD.
Over 90 percent of U.S. military veterans who use medical marijuana say that it improves their quality of life, with many using cannabis as an alternative to over-the-counter and prescription medications, according to a new study.
Separately, the Senate Appropriations Committee recently approved an amendment to allow VA doctors to issue medical cannabis recommendations and released a report for the relevant spending bill that calls on the department to facilitate medical marijuana access for veterans and explore the therapeutic potential of psychedelics.
A GOP congresswoman, meanwhile, is touting recently released FDA guidance on psychedelics research and calling for additional work to study the therapeutic benefits of marijuana for military veterans.
Minneapolis Mayor Issues Executive Order Making Psychedelics The City's 'Lowest Law Enforcement Priority'