Watch: 80-Year Old Michigan Marijuana Patient Recounts Possession Arrest In New Documentary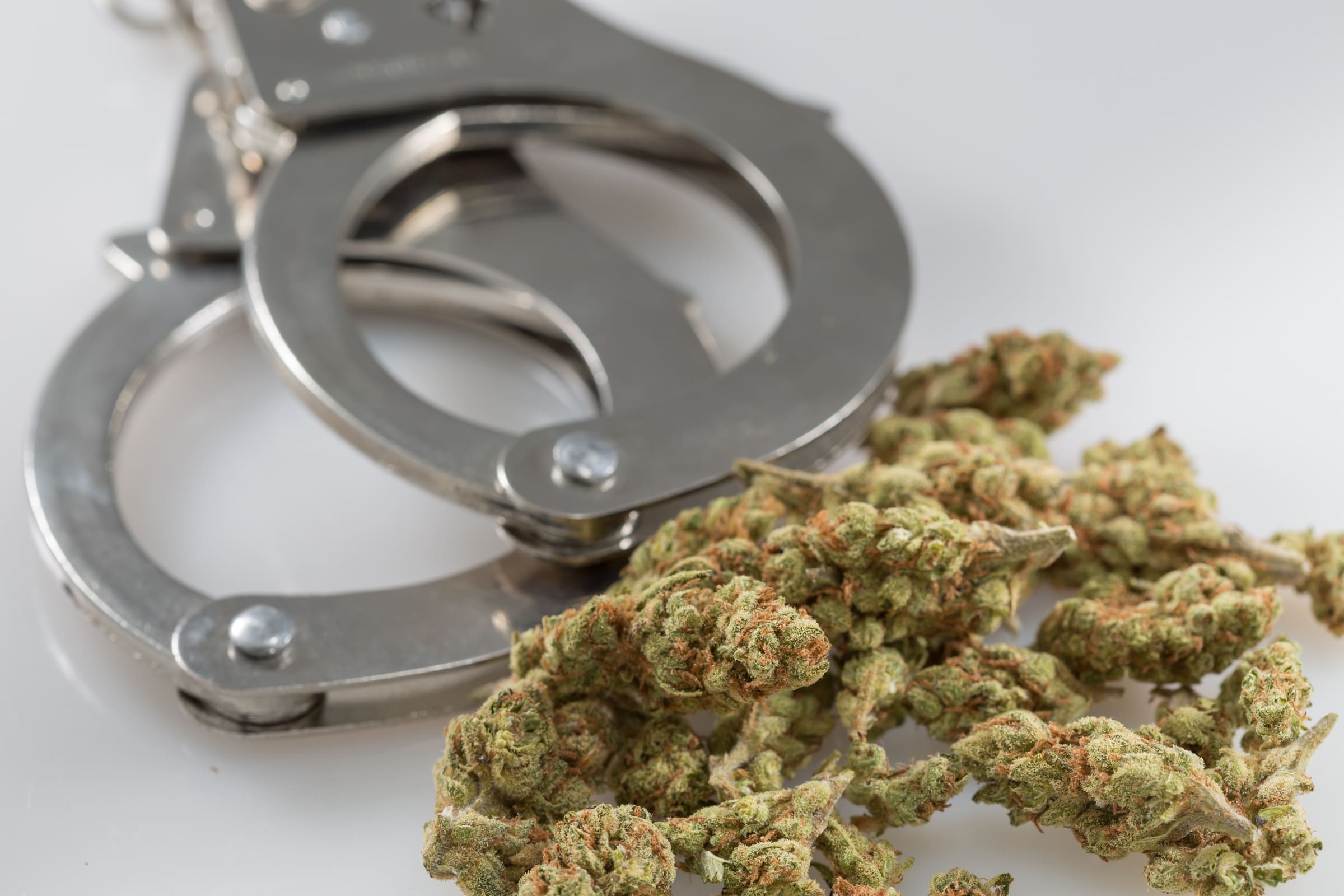 Since being busted for possession at her home this year, 80-year-old Michigan medical marijuana patient Delores Saltzman has become a cannabis hero and a rallying point for the legalization campaign in her state. And now, she's the subject of a short documentary film.
For "Mrs. Saltzman Goes to Jail: The True Story of a Michigan Outlaw," Emmy-nominated filmmaker Rebecca Richman Cohen pays a visit to Saltzman at her home in Lake George, a small resort town, and takes viewers through the senior citizen's brief ordeal with local police in June.
While Saltzman doesn't fit the profile of a typical marijuana arrest—she is white, she is a woman and she is an octogenarian—the story of her bust over a non-violent possession offense is "not unlike a whole lot of other stories," and it has turned her into an avowed supporter for Proposal 1, which would legalize recreational marijuana in Michigan and end petty busts like hers.
Saltzman uses cannabis to deal with the pain that arthritis causes "throughout" her body. On June 3, she was "relaxing and having a joint" at her home when a sheriff's deputy knocked on the door.
The deputy smelled cannabis and asked Saltzman if it was hers. When she answered in the affirmative—and it was determined that her medical marijuana recommendation from the state had lapsed—she was handcuffed and taken to jail.
Sleeping overnight in a cold cement-floored cell aggravated her arthritis, and it took Saltzmann "two months to get over the cold."
"Just because someone's wrong doesn't mean you have to torture them," she says on camera. "That's torture."
Cohen also managed to get Sheriff John Wilson to sit for an on-camera interview. Wilson, for his part, was adamant in maintaining that his officer "did nothing wrong."
"I mean, morally in this country, we don't want to put this old lady in jail," Wilson says. "But if the officer doesn't enforce the law with her and the 25-year-old gets in trouble for it—that's not good fairness across the board."
In Michigan, black people are 3.3 times more likely to be arrested than white people for marijuana possession offenses, according to an ACLU review.
According to a poll released before Saltzman became marijuana-famous, forty-eight percent of Michigan voters said they favored full legalization. Support has only grown since then, with 55 percent of voters telling pollsters in September that they want full legalization.
Michigan Cops Lock Up 80-Year Old Grandmother For Expired Medical Marijuana Card
Al Sharpton Jokes About Reaction To Elizabeth Warren's Marijuana Bill
At a conference focusing on legislation in the next Congress on Tuesday, civil rights activist Rev. Al Sharpton joked about the particular attention some attendees paid to a marijuana bill sponsored by Sen. Elizabeth Warren (D-MA).
Warren described the bipartisan legislation—which would let states implement legal cannabis systems free from federal interference—as part of her talk about criminal justice reforms she hopes to enact. Marijuana prohibition disproportionately impacts black Americans, she pointed out, and this bill would represent "a step toward making a real difference."
"We cannot give up on this."
When Sharpton, who founded the conference's hosting organization, National Action Network, came back to the podium to introduce the next lawmaker, he quipped:
"I know for all of you old weed smokers, y'all like that marijuana bill. I'm not calling no names, but I saw some of y'all kind of nodding off and your heads snapped up when she started talking about—when she got into that weed thing, some of y'all woke up."
Sharpton has made repeated calls for federal cannabis reform, characterizing decriminalization as a "civil rights cause" in a 2017 op-ed for The Guardian.
He's also challenged the marijuana industry to do more to create business opportunities for people of color and get behind civil rights movements more broadly.
Sen. Dianne Feinstein Signs Onto Marijuana Bill After Decades Of Drug War Advocacy
Photo courtesy of C-SPAN.
'Walking Dead' Actor Raises Money For Kids Who Use Medical Marijuana
Norman Reedus, who plays zombie-slaying Daryl Dixon on AMC's The Walking Dead, is once again raising money to help kids suffering from serious illnesses get medical marijuana treatment.
Yes, again. It seems he loves helping kids as much as he loves taking out walkers on TV.
— norman reedus (@wwwbigbaldhead) November 9, 2018
Right now, for every $5 you donate to SavingSophie.org, you're entered to win some Reedus-signed memorabilia from the organization. Saving Sophie is a non-profit set up by the parents of Sophie Ryan, who was diagnosed with a low-grade, optic pathway glioma brain tumor when she was eight years old.
After creating a Facebook page around their child's situation, a friend introduced them to Ricki Lake and filmmaker Abby Epstein, who were in production on their recently released documentary "Weed The People." With this new connection and information, the parents decided to use a combination of chemo and cannabis oil to treat Sophie's condition. Sophie's brain tumor has since shrunk by up to 90 percent, according to their website.
Through the donations to the non-profit, Sophie's parents "hope to pay it forward to those who are now in the same financial troubles we once found ourselves in."
Contributions will help fund the group's cancer research initiative, which currently consists of eight patients who are using "cannabinoid therapy alongside doctor-prescribed treatments," according to an email blast.
"Our goal with this research is to bring non-toxic cancer treatments through human trials so that doctors will have access to this life-saving medicine for patients in need."
This isn't the first time Reedus has helped raise funds for pediatric patients using cannabis.
In January 2017, he tweeted a call for donations to CannaKids.org for a raffle featuring some of his autographed gear and more.
$5 per entry and all proceeds go to help CannaKids' pediatric cancer patients. https://t.co/YGvN8pxhnR DO A GOOD THING. XXX

— norman reedus (@wwwbigbaldhead) January 3, 2017
It's clear the Boondock Saints star and heartthrob of early 2000's Hot Topic shoppers has a caring heart for children seeking to use cannabis as a cancer treatment.
'Godfather' Director Francis Ford Coppola Launches Luxury Marijuana Brand
Photo courtesy of Heather Paul.
Michelle Obama Talks Smoking Marijuana In New Memoir
Former First Lady Michelle Obama got candid in her new memoir, "Becoming," which includes a brief admission that she smoked marijuana as a teen.
In the book, released on Tuesday, Obama reminisces about her youthful transgressions, at one point writing that she and a high school boyfriend named David "fooled around and smoked pot in his car."
She doesn't get much further into it than that. Though she does allude to a "looser, more wild" young Barack Obama in another section. As a teen, the future president "smoked pot in the lush volcanic foothills of Oahu," she wrote.
In a recent interview, ABC News anchor Robin Roberts asked Obama about the admission.
"You even write about smoking pot," Roberts said. "Now you didn't go into great detail, but you could've left that out, so why'd you talk about it?"
"That was what I did," Obama said. "That's part of the 'Becoming' story."
"Everybody had something that they had to work through, something that they were figuring out. Why would I hide that from the next generation?"
New Book: Obama Considered Decriminalizing Marijuana, But Then Trump Won
Photo courtesy of Obama White House archives.