Visa Warns Against Misuse Of 'Cashless ATMs' Used By Cannabis Retailers To Skirt Restrictions
Visa, the world's second-largest card payment company, recently issued a compliance memo to customers warning them that miscoding point-of-sale transactions through the use of so-called cashless ATMs—a practice used by some cannabis retailers as a workaround to accept credit or debit cards for purchases—could lead to penalties or other unspecified enforcement action.
The warning comes as congressional lawmakers grapple with how to handle marijuana business banking. The House passed a defense bill in September with language that would have protected banks that work with state-legal cannabis companies, but after talks with the Senate, those provisions were not attached to a new bicameral deal filed Tuesday.
The December 2 memo from Visa that was obtained by Marijuana Moment says the company is "aware of a scheme" in which merchants are using the cashless ATMs to effectively sidestep restrictions on what types of sales that payment cards can be used for.
"Cashless ATMs are POS devices driven by payment applications that mimic standalone ATMs. However, no cash disbursements are made to cardholders," the memo explains. "Instead, the devices are used for purchase transactions, which are miscoded as ATM cash disbursements. Purchase amounts are often rounded up to create the appearance of a cash disbursement."
At a cannabis retailer, for example, a $45 purchase might be rounded up to $60 and coded as a cash disbursement. The retailer would then subtract the purchase price plus taxes from the apparent $60 withdrawal and return the change to the customer. To the payment processor it would look like a $60 ATM withdrawal, but to the customer it would seem as though they'd bought cannabis with a card.
While Visa's memo doesn't mention cannabis specifically, it notes that cashless ATMs, which are sometimes called reverse ATMs, "are primarily marketed to merchant types that are unable to obtain payment services—whether due to the Visa Rules, the rules of other networks, or legal or regulatory prohibitions," a category that includes cannabis businesses.
With federal prohibition preventing most marijuana retailers from accepting credit or debit cards as direct payment, some have seen the use of cashless ATMs as a convenience for customers and thus a smart business decision. Rather than maintain an on-premises ATM or ask customers to show up with cash, they can simply swipe a card like any other retailer. Companies that market cashless ATM devices, meanwhile, remind retailers that customers tend to spend more when they can pay with plastic.
Nathaniel Gurien, CEO of Fincann, which provides financial services specifically to cannabis businesses, estimated that thousands of cannabis retailers in the U.S. currently use what he called "the cashless ATM solution" in order to accept cards, a setup he described as "clever, attractive and likewise fraudulent."
"What keeps me up at night is that when, not if, one or more eager assistant U.S. attorneys with their eye on advancement sinks their teeth into this, it has the catastrophic potential to derail our industry's momentum and inflict great damage," he said in an email to Marijuana Moment.
Visa's compliance memo is brief when it comes to enforcement. Misuse of cashless ATMs "will be subject to non-compliance assessments and/or penalties" or "subject to further compliance enforcement," it says, but doesn't include details.
The company did not immediately respond to emails and a phone message from Marijuana Moment.
Steven Hawkins, CEO of the US Cannabis Council, said in a statement to Marijuana Moment that cannabis retailers across the country "are being squeezed by unfair banking and tax rules that single out cannabis businesses."
"We urge Visa and other financial institutions to constructively engage with lawmakers and the cannabis industry on payment options," he said. "Ultimately Congress will need to step in by passing the SAFE Banking Act, which we are urgently working to pass."
Other industry groups expressed disappointment with Visa for targeting cannabis retailers rather than supporting them.
"It is unfortunate that Visa is unwilling to work with the cannabis industry, which is legal in dozens of states and represents billions of dollars in economic activity, at a time when this country needs all the financial options it can use," said Morgan Fox, media relations director for the National Cannabis Industry Association. "But it is even worse that they are trying to discourage alternative solutions that are primarily utilized by small businesses to protect themselves and their customers from theft and violent crime."
"The announcement amounts to intimidation," Fox added, "and will directly put cannabis businesses at even greater risk that could cost lives."
A Chicago Bar Association blog post from January that examined the use of cashless ATMs in the cannabis industry said that miscoding cannabis sales would not only violate payment processors' policies but "would be a violation of federal law as well."
Combing through Visa's rules, author Kasim Carbide, a corporate and banking compliance lawyer, noted that such violations of company rules "may result in a disciplinary action against the Merchant, as well as a potential fine of $200,000 or $2,500 per day (which can be retroactively apply [sic] to and from the first day of noncompliance), and termination of the Merchant's account."
"Merchants are encouraged to remove their cashless ATMs and seek out legitimate data and payment processors without violating Network Rules," Carbide wrote. "While many Merchants are willing to tolerate the risk for immediate profits, most Merchants have too much invested in their business to jeopardize it for an illegal fad."
Already the use of cashless ATMs by the cannabis industry has prompted crackdowns. Leafly reported in 2019 that operators of roughly a third of San Francisco's licensed stores had their cashless ATM devices abruptly shut down, leaving them unable to accept payments.
Yet the use of cashless ATMs at cannabis businesses is still practiced widely.
"It's been an industry cliché for a decade that getting thrown out of one's bank several times a year is just another cost of doing business and speed bump in the road towards bringing our industry slowly into the mainstream," said Gurien, the Fincann CEO. "Of course, the reason most lose their bank accounts is that they committed federal bank fraud and de-facto money laundering by hiding the true nature of their business from the bank and putting the bank at serious risk in the process."
Jessica Billingsley, CEO of cannabis technology company Akerna, said that some businesses in the industry may not even understand the cashless ATM practice may be unlawful.
"With the number of unique complexities and challenges the cannabis industry faces, many operators don't understand that they have been sold misrepresented products that may not be legal," Billingsley said in a statement. "The work of a few bad actors cannot undermine the important legal work the majority of ancillary providers have been doing."
Calls for easier access to financial services for cannabis businesses have been growing since the first states legalized. In the past year or so, however, Congress has indicated its interest in addressing the issue, and lobbying by businesses and other groups has crescendoed.
Earlier this month, the American Bankers Association (ABA), Credit Union National Association (CUNA), United Food and Commercial Workers Union (UFCW) and 11 other organizations sent a letter imploring Senate leadership to adopt language protecting banks that work with state-legal cannabis businesses into the National Defense Authorization Act (NDAA).
"Our organizations have banded together because the status quo is untenable for workers, communities, ancillary businesses and law-abiding financial institutions," the group's letter said, adding that enacting the banking reform would "also provide legitimate business with access to necessary insurance products and protections that are afforded to other businesses."
In September, the House attached language from the Secure and Fair Enforcement (SAFE) Banking Act in its version of NDAA. The groups wanted the Senate to follow the chamber's lead, though it ultimately did not.
Bipartisan members of the Senate Armed Services Committee had also sent their own letter urging leaders to include the SAFE Banking Act in the final NDAA. Shortly thereafter, U.S. senators representing Colorado made the same request in a separate letter.
The SAFE Banking Act has been approved in some form in the House five times now, but it's so far languished in the Senate. Stakeholders have held out hope that the chamber would advance the legislation with a Democratic majority, but some key players like Senate Majority Leader Chuck Schumer (D-NY) have insisted on passing comprehensive legalization—like a reform bill he's finalizing—first.
That said, Schumer had signaled he was open to enacting banking reform through NDAA if it contained social equity provisions.
Last month, a bipartisan coalition of two dozen governors implored congressional leaders to finally enact marijuana banking reform through the large-scale defense legislation.
A group of small marijuana business owners also recently made the case that the incremental banking policy change could actually help support social equity efforts.
Rodney Hood, a board member of the National Credit Union Administration, wrote in a recent Marijuana Moment op-ed that legalization is an inevitability—and it makes the most sense for government agencies to get ahead of the policy change to resolve banking complications now.
Meanwhile, an official with the Internal Revenue Service said that the agency would like to "get paid," and it'd help if the marijuana industry had access to banks like companies in other legal markets so they could more easily comply with tax laws.
Federal data shows that many financial institutions remain hesitant to take on cannabis companies as clients, however, which is likely due to the fact that the plant is a strictly controlled substance under federal law.
Rhode Island Marijuana Legalization Bill Will Be Ready In Early 2022, Top Lawmaker Says
Colorado Earned $423 Million In Marijuana Tax Revenue Last Year
More than $12 billion in marijuana has been sold since legalization in 2014, with the state collecting over $2 billion in taxes.
By Robert Davis, The Center Square
Colorado brought in a record $423 million in tax revenue from marijuana sales last year, according to the latest market report from the state's Department of Revenue (DOR).
In all, Colorado has sold more than $2 billion in marijuana through November 2021, making it the second consecutive year that the state has eclipsed that mark. In 2020, the state collected $387 million in taxes from the sales.
Colorado's tax revenue total also implies that the state beat its previous record of $2.1 billion in sales, though DOR said it will release the final numbers next month.
More than $12 billion in marijuana has been sold since legalization in 2014, with the state collecting over $2 billion in taxes.
🚨New record alert!🚨 In 2021, Colorado collected over $423 million in revenue from marijuana sales (compared to the previous record of over $387 million in 2020). Colorado also surpassed $2B in tax and fee revenue and $12B in marijuana sales to date. https://t.co/M5zrEiSNYR pic.twitter.com/XxpZzyV1XQ

— CO Dept. of Revenue (@CO_Revenue) January 12, 2022
Colorado collects its marijuana taxes from a 2.9 percent state sales tax on marijuana sold in stores, a 15percent state retail marijuana sales tax and a 15 percent retail marijuana excise tax on wholesale sales and transfers of marijuana. The state also collects fee revenue from marijuana license and application fees.
In December, Colorado collected more than $30 million in taxes, capping off a five-month streak of declining tax revenue.
The state also recorded more than $158 million in sales in November, with both medical and recreational marijuana showing significant declines in sales.
Colorado sold $131 million in recreational marijuana in November, an 11 percent drop when compared to October.
Similarly, November's medical marijuana sales totaled $26 million, representing a drop of more than 10 percent on a month-over-month basis.
The story was first published by The Center Square.
Delaware Lawmakers File New Marijuana Legalization Bill With Key Equity Revisions
Arizona Hits Recreational Marijuana Sales Record, With New Program Catching Up To Medical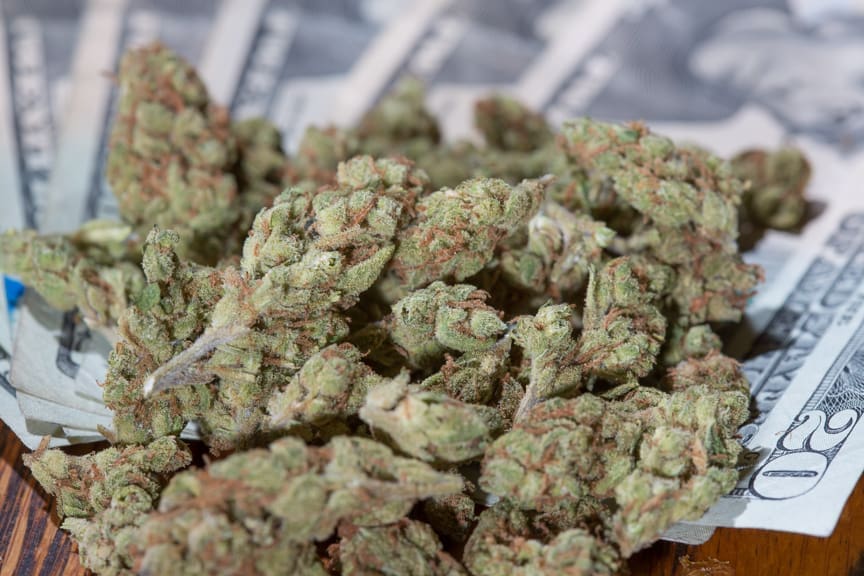 Medical cannabis sales eclipsed recreational from February through October—adult-use sales began on January 22—but in November, those numbers were almost identical.
By David Abbott, Arizona Mirror
Arizona cannabis sales continued on an upward trajectory in 2021, with the Arizona Department of Revenue reporting more than $1.23 billion in combined cannabis sales through the first 11 months of the year.
In November, adult-use recreational cannabis sales hit a new peak and crossed $60 million for the first time. Medical sales have fluctuated throughout the year, topping out at about $73 million in March and April.
Medical sales eclipsed recreational from February through October—adult-use sales began on January 22—but in November, those numbers were almost identical, with the medical program bringing in an estimated $60,365,545, while recreational sales reached $60,299,191.
In October, estimated cannabis sales for both programs were within $7 million of each other, the first time recreational sales came within $10 million of medical sales. But the adult-use market is in its infancy and is expected to match the medical program's economic heft within a few years.
Cannabis sales also provided a solid tax contribution in 2021.
TAXABLE Sales (Estimated) to date

| PERIOD COVERED | ADULT USE‐420 | MEDICAL‐ 203 | EXCISE TAX |
| --- | --- | --- | --- |
| Jan‐21 | $7,370,460 | $42,140,608 | $11,391,371 |
| Feb‐21 | $32,697,512 | $55,320,625 | $39,246,992 |
| Mar‐21 | $51,628,266 | $72,934,129 | $55,808,898 |
| Apr‐21 | $54,037,990 | $72,944,477 | $58,954,469 |
| May‐21 | $52,843,171 | $70,158,567 | $59,372,157 |
| Jun‐21 | $50,943,017 | $64,854,708 | $56,749,799 |
| Jul‐21 | $54,324,542 | $70,880,576 | $58,740,337 |
| Aug-21 | $51,877,656 | $65,492,643 | $57,675,654 |
| Sep-21 | $52,450,298 | $62,704,561 | $57,663,164 |
| Oct-21 | $59,508,253 | $65,415,461 | $62,446,719 |
| Nov-21 | $60,299,191 | $60,365,545 | $63,187,702 |
| Dec-21 | $20,922 | $591,294 | $0 |
| | $528,001,278 | $703,803,194 | $581,237,261 |
The state collects 16 percent excise tax on recreational sales in addition to the standard sales tax; medical patients pay a 6 percent excise tax. Local jurisdictions charge an additional 2 percent or so for all marijuana sales.
Taxes collected in November for recreational cannabis sales were $5,055,950, with medical slightly less at $5,026,317. The excise tax reached $10,110,032 for a total of $20,192,299 in tax revenue from November marijuana sales.
Proposition 207, which voters approved in 2020 to legalize adult use of cannabis, included specific uses for taxes collected on the recreational side. One-third is dedicated to community college and provisional community college districts; 31 percent to public safety—police, fire departments, fire districts, first responders—25 percent to the Arizona Highway User Revenue Fund and 10 percent to the justice reinvestment fund, dedicated to providing public health services, counseling, job training and other social services for communities that have been adversely affected and disproportionately impacted by marijuana arrests and criminalization.
The state collected a total of $196,447,570 in tax revenue the first 11 months of 2021 from cannabis sales, with $44,533,436 from recreational, $58,916,172 from medical and $92,997,962 from the excise tax.
This story was first published by Arizona Mirror.
Florida Marijuana Activists Pivot To 2024 For Legalization Ballot Initiative
Michigan Breaks Another Marijuana Sales Record For December, State Officials Say
Michigan closed out 2021 with another record-breaking month of adult-use marijuana sales in December, state officials say.
The state saw more than $135 million in recreational cannabis purchases and about $33 million in medical marijuana sales last month.
Andrew Brisbo, executive director of the Michigan Marijuana Regulatory Agency (MRA), said on Monday that the numbers "marked another high for the adult-use industry." The previous adult-use marijuana sales record happened in October, with about $128 million in purchases.
It's good to note that the new high is not because of increasing prices. In fact, prices in medical and adult-use continue to drop, month over month, and year over year.

Dec 2020: adult use was $350/oz & medical was $265/oz.

Dec 2021: adult-use at $185/oz & medical at $175/oz.

— Andrew Brisbo (@AndrewBrisbo) January 10, 2022
"It's good to note that the new high is not because of increasing prices," he said. "In fact, prices in medical and adult-use continue to drop, month over month, and year over year."
While December set the new record for adult-use marijuana purchases, the state saw the most combined recreational and medical cannabis sales in July, with about $171 million sold.
The latest data brings Michigan's total cannabis sales for 2021 to $1,311,951,737 for adult-use and $481,225,540 for medical marijuana. And those purchases are translating into hundreds of millions of dollars in tax revenue for the state.
About $131 million is going to a cannabis excise tax fund that supports various initiatives such as infrastructure and public education, MRA spokesman David Harns said. Another $115 million will support the state general fund.
Taxes flowing into the state of Michigan because of legalized marijuana in 2021:

$131.2 million goes to the marijuana excise fund which gets divvied up amongst local government, roads, and schools.

$115.4 million goes to the state sales tax bucket.

Almost 1/4 billion in taxes. https://t.co/kw2N4shya1

— David Harns (@DavidHarns) January 10, 2022
In nearby Illinois, December was also another record-breaking month, with $137.9 million in adult-use marijuana sales.
Last year, Illinois took in almost $100 million more in tax revenue from recreational cannabis sales than from alcohol, state data shows. And cannabis tax dollars have exceeded those for liquor every month since February.
Part of that marijuana tax revenue is actively funding equity initiatives in the state. For example, Illinois officials announced last month that applications are opening for $45 million in new grants—funded by cannabis tax dollars—that will support programs meant to reinvest in communities most harmed by the drug war.
States that have legalized cannabis have collectively garnered more than $10 billion in tax revenue since the first legal sales started in 2014, according to a report released by the Marijuana Policy Project (MPP) last week.
In Arizona, medical and adult-use marijuana sales topped $1 billion in the first ten months of the year, state tax officials said.
California collected about $817 million in adult-use marijuana tax revenue during the 2020-2021 fiscal year, state officials estimated in August. That's 55 percent more cannabis earnings for state coffers than was generated in the prior fiscal year.
A recent scientific analysis of sales data in Alaska, Colorado, Oregon and Washington State found that marijuana purchases "have increased more during the COVID-19 pandemic than in the previous two years."
In July alone, at least three states saw record-breaking sales for recreational cannabis. The same goes for Missouri's medical marijuana program.
GOP Texas Governor Says People Shouldn't Be Jailed Over Marijuana Possession, But Misstates Current Law