More Senators Urge Marijuana Banking Reform To Be Enacted Through Defense Bill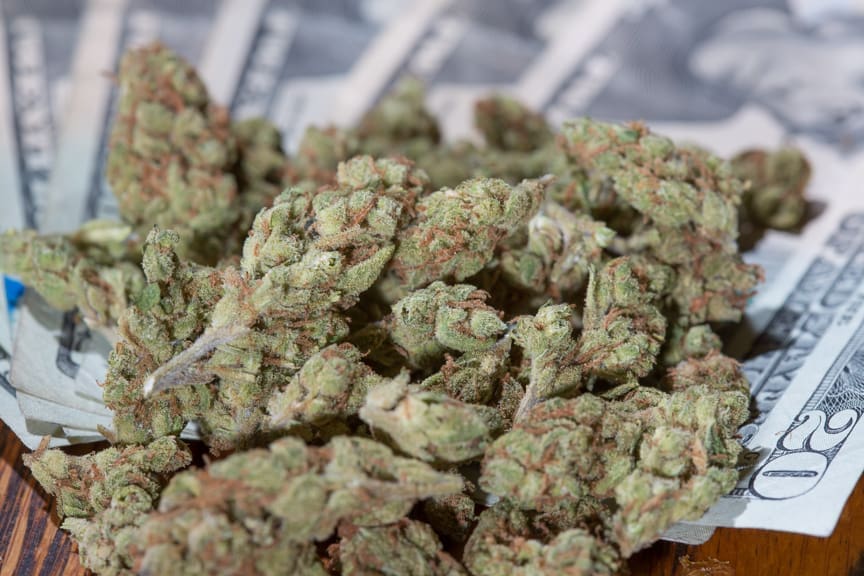 U.S. senators representing Colorado are adding their voices to calls for marijuana banking reform to be included in must-pass defense legislation.
In a letter sent to Senate committee leadership on Wednesday, Sens. John Hickenlooper (D-CO) and Michael Bennet (D-CO) noted that the House passed its version of the National Defense Authorization Act (NDAA) with the banking amendment, and argued that language should be adopted by negotiators in conference for the final legislation sent to President Joe Biden's desk.
This comes one day after bipartisan members of the Senate Armed Services Committee sent their own letter urging leaders to include the Secure and Fair Enforcement (SAFE) Banking Act in the final NDAA.
"Without federally-approved banking services, state-licensed cannabis businesses cannot write checks, make or receive electronic payments, utilize a payroll provider, or accept credit and debit cards," the new letter from the Colorado senators says. "This is a serious public safety risk for our communities, inviting theft, tax evasion, robberies, burglaries, or worse."
The senators made the case for how the lack of cannabis banking affects their state, which in 2012 became one of the first in the nation to legalize marijuana.
"Legalization has had profound impact on our state's economy, supporting over 35,000 jobs and bringing in more than $1 billion in tax revenue," they wrote. "In Denver, cannabis businesses make up less than 1% of all local businesses, but accounted for 10% of reported business burglaries from 2012 to 2016. Cash-only industries also complicate tracking revenues for purposes of taxation and regulatory compliance."
The SAFE Banking Act has been approved in some form in the House five times now, but it's so far languished in the Senate. Stakeholders have held out hope that the chamber would advance the legislation with a Democratic majority, but some key players like Senate Majority Leader Chuck Schumer (D-NY) have insisted on passing comprehensive legalization—like a reform bill he's finalizing—first.
That said, Schumer has signaled that he's open to enacting banking reform through NDAA if it contained social equity provisions.
Hickenlooper and Bennet, who also support broader reform, argued that SAFE Banking on its own would also help people from underrepresented communities.
"The all-cash model further disadvantages the cannabis industry by making it difficult to obtain loans at reasonable rates," they said. "The legalization of cannabis has created entrepreneurship opportunities out of formerly illicit markets, but a lack of access to capital limits the ability of would-be entrepreneurs and small business owners to enter this emerging industry. This is especially impactful for entrepreneurs from traditionally underserved business communities, such as veterans, women, and minorities."
"Including the SAFE Banking Amendment in the NDAA will align federal and state laws, promote economic growth and public safety, and increase access to the cannabis industry for underrepresented individuals. Congress has a responsibility to address inequities and public safety concerns that exist as a result of current law."
Earlier this month, a bipartisan coalition of two dozen governors implored congressional leaders to finally enact marijuana banking reform through the large-scale defense legislation.
A group of small marijuana business owners also recently made the case that the incremental banking policy change could actually help support social equity efforts.
Rodney Hood, a board member of the National Credit Union Administration, wrote in a Marijuana Moment op-ed last month that legalization is an inevitability—and it makes the most sense for government agencies to get ahead of the policy change to resolve banking complications now.
Meanwhile, an official with the Internal Revenue Service said last month that the agency would like to "get paid," and it'd help if the marijuana industry had access to banks like companies in other legal markets so they could more easily comply with tax laws.
Federal data shows that many financial institutions remain hesitant to take on cannabis companies as clients, however, which is likely due to the fact that the plant is a strictly controlled substance under federal law.
Read the letter from the senators on passing marijuana banking reform through the NDAA below: 
Click to access safe-banking-ndaa-final-hickenlooper-bennet-112421.pdf
Former GOP Texas Governor Promotes Psychedelics Research For Veterans At Event With Leading Experts