IRS Official Gives Marijuana Businesses Advice On Tax Compliance
The Internal Revenue Service (IRS) can't do anything on its own to resolve the unique financial challenges that marijuana businesses face as a result of federal prohibition—but the agency wants to make clear that it's here to support cannabis firms with tax compliance nonetheless.
De Lon Harris, commissioner of examination at the IRS Small Business/Self Employed (SB/SE) Division, spoke about tax-related issues in state-legal marijuana markets in a webinar published on Wednesday by PBC Conference. He said that while cannabis remains federally illegal, businesses that deal in the controlled substance must still file federal taxes, and IRS is here to help.
"It's really our mission at the IRS—not just with marijuana and cannabis industries, but with all taxpayers—to promote voluntary compliance," Harris said. "When most people think of the IRS, they think of examinations or audits and they think that's the only way that we interact or try to promote voluntary compliance with taxpayers, but we do our fair share of outreach and education as well."
To be sure, Harris also provided tips for marijuana businesses on tax compliance in a blog post published in September. And IRS separately hosted a forum in August dedicated to tax policy for marijuana businesses and cryptocurrency.
"Regarding the cannabis marijuana industry, we developed a strategy that we hope will increase voluntary compliance and identify and address non-compliance when it's there," Harris said at the PBC event. "Our focus is to positively impact filing and paying and reporting compliance on the part of all cannabis businesses to keep audits to a minimum."
Part of the IRS strategy involves training revenue officers and examiners "so that they can come to conduct an examination that is a quality one" and also "providing our examiners with the job aids to facilitate quality examinations."
"We also collaborate with external stakeholders like we're doing today," he said. "We hope that the more we are partners with those in the private industry, the better chance there is for compliance for the businesses that they represent."
A marijuana business might not be federally legal, but "nevertheless, it's a business in every sense of the word" as far as IRS is concerned.
Harris also explained that while cannabis companies can't make conventional tax deductions or receive credits because of the tax statute known as 280E, that "doesn't prohibit the participant in the marijuana industry to reduce their gross receipts by properly calculating the cost of goods sold."
This kind of information is also available on the IRS website, the official said, though he noted for now people need to search "marijuana," rather than "cannabis," to find what they need. That's changing, Harris said, "because I really feel like a lot of the folks that are in the industry prefer to use the word 'cannabis' instead of 'marijuana.'"
"So we're making that change, but for now you would type in 'marijuana industry' and it would pull up the page that we give you information about—not only general information that would help you understand and meet tax responsibilities required by the cannabis industry but the page which includes links to pages of more specific information."
Another top IRS official who's since left the agency also participated in a PBC Conference webinar last year. He offered similar recommendations to cannabis businesses, while also recognizing that the legalization movement will potentially succeed in ending prohibition in "all states."
There's growing recognition within the financial sector and among regulators that the federal-state marijuana policy conflict is untenable.
The secretary of the U.S. Treasury Department said last week that freeing up banks to work with state-legal marijuana businesses would "of course" make the IRS job of collecting taxes easier.
Steven Mnuchin, the Treasury secretary under the Trump administration, repeatedly addressed the issue, saying the current policy conflict creates "significant problems" for IRS and financial regulators. It "creates significant risk in the communities for collecting this amount of cash. It's problematic," he said last year.
At a separate PBC Conference event in September, former National Credit Union Administration Chairman Rodney Hood criticized Congress for failing to advance marijuana reform and talked about the need for federal financial regulators to take a "principles-based approach to cannabis banking" and "deliver a preliminary regulatory framework that we can share with other regulators and members of Congress who share our concern about addressing these problems."
Meanwhile, lawmakers, advocates and stakeholders have also been pushing for legislation to protect banks that work with state-legal cannabis businesses in an attempt to give the industry access to traditional financial institutions. Supporters say it's a public safety matter, as marijuana companies continue to operate on a largely cash-only basis that makes them targets of crime.
The House has passed the Secure and Fair Enforcement (SAFE) Banking Act in some form five times now, though advocates were disappointed on Tuesday when a must-pass defense bill was introduced that excluded the cannabis banking protections following bicameral negotiations.
Congressional Lawmakers Want 'Urgent' Update From Biden On Marijuana Pardons As Holidays Approach
Colorado Earned $423 Million In Marijuana Tax Revenue Last Year
More than $12 billion in marijuana has been sold since legalization in 2014, with the state collecting over $2 billion in taxes.
By Robert Davis, The Center Square
Colorado brought in a record $423 million in tax revenue from marijuana sales last year, according to the latest market report from the state's Department of Revenue (DOR).
In all, Colorado has sold more than $2 billion in marijuana through November 2021, making it the second consecutive year that the state has eclipsed that mark. In 2020, the state collected $387 million in taxes from the sales.
Colorado's tax revenue total also implies that the state beat its previous record of $2.1 billion in sales, though DOR said it will release the final numbers next month.
More than $12 billion in marijuana has been sold since legalization in 2014, with the state collecting over $2 billion in taxes.
🚨New record alert!🚨 In 2021, Colorado collected over $423 million in revenue from marijuana sales (compared to the previous record of over $387 million in 2020). Colorado also surpassed $2B in tax and fee revenue and $12B in marijuana sales to date. https://t.co/M5zrEiSNYR pic.twitter.com/XxpZzyV1XQ

— CO Dept. of Revenue (@CO_Revenue) January 12, 2022
Colorado collects its marijuana taxes from a 2.9 percent state sales tax on marijuana sold in stores, a 15percent state retail marijuana sales tax and a 15 percent retail marijuana excise tax on wholesale sales and transfers of marijuana. The state also collects fee revenue from marijuana license and application fees.
In December, Colorado collected more than $30 million in taxes, capping off a five-month streak of declining tax revenue.
The state also recorded more than $158 million in sales in November, with both medical and recreational marijuana showing significant declines in sales.
Colorado sold $131 million in recreational marijuana in November, an 11 percent drop when compared to October.
Similarly, November's medical marijuana sales totaled $26 million, representing a drop of more than 10 percent on a month-over-month basis.
The story was first published by The Center Square.
Delaware Lawmakers File New Marijuana Legalization Bill With Key Equity Revisions
Arizona Hits Recreational Marijuana Sales Record, With New Program Catching Up To Medical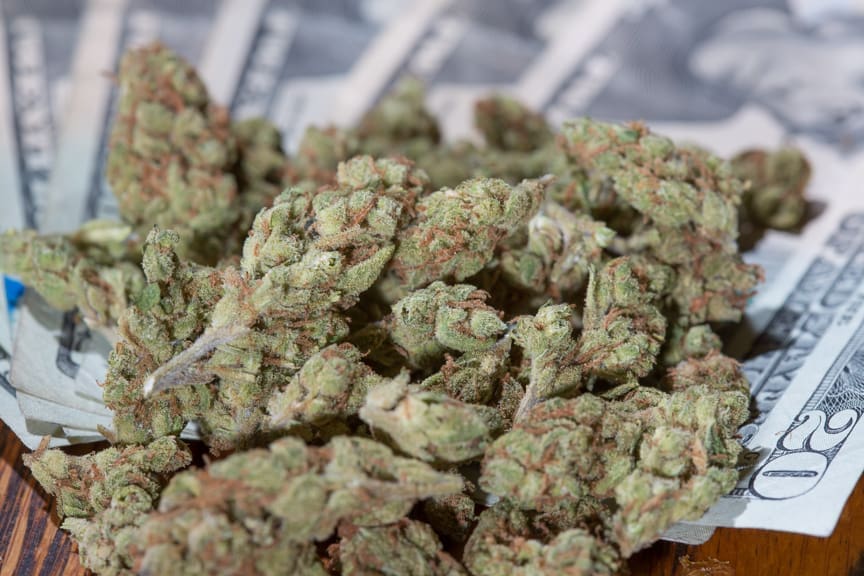 Medical cannabis sales eclipsed recreational from February through October—adult-use sales began on January 22—but in November, those numbers were almost identical.
By David Abbott, Arizona Mirror
Arizona cannabis sales continued on an upward trajectory in 2021, with the Arizona Department of Revenue reporting more than $1.23 billion in combined cannabis sales through the first 11 months of the year.
In November, adult-use recreational cannabis sales hit a new peak and crossed $60 million for the first time. Medical sales have fluctuated throughout the year, topping out at about $73 million in March and April.
Medical sales eclipsed recreational from February through October—adult-use sales began on January 22—but in November, those numbers were almost identical, with the medical program bringing in an estimated $60,365,545, while recreational sales reached $60,299,191.
In October, estimated cannabis sales for both programs were within $7 million of each other, the first time recreational sales came within $10 million of medical sales. But the adult-use market is in its infancy and is expected to match the medical program's economic heft within a few years.
Cannabis sales also provided a solid tax contribution in 2021.
TAXABLE Sales (Estimated) to date

| PERIOD COVERED | ADULT USE‐420 | MEDICAL‐ 203 | EXCISE TAX |
| --- | --- | --- | --- |
| Jan‐21 | $7,370,460 | $42,140,608 | $11,391,371 |
| Feb‐21 | $32,697,512 | $55,320,625 | $39,246,992 |
| Mar‐21 | $51,628,266 | $72,934,129 | $55,808,898 |
| Apr‐21 | $54,037,990 | $72,944,477 | $58,954,469 |
| May‐21 | $52,843,171 | $70,158,567 | $59,372,157 |
| Jun‐21 | $50,943,017 | $64,854,708 | $56,749,799 |
| Jul‐21 | $54,324,542 | $70,880,576 | $58,740,337 |
| Aug-21 | $51,877,656 | $65,492,643 | $57,675,654 |
| Sep-21 | $52,450,298 | $62,704,561 | $57,663,164 |
| Oct-21 | $59,508,253 | $65,415,461 | $62,446,719 |
| Nov-21 | $60,299,191 | $60,365,545 | $63,187,702 |
| Dec-21 | $20,922 | $591,294 | $0 |
| | $528,001,278 | $703,803,194 | $581,237,261 |
The state collects 16 percent excise tax on recreational sales in addition to the standard sales tax; medical patients pay a 6 percent excise tax. Local jurisdictions charge an additional 2 percent or so for all marijuana sales.
Taxes collected in November for recreational cannabis sales were $5,055,950, with medical slightly less at $5,026,317. The excise tax reached $10,110,032 for a total of $20,192,299 in tax revenue from November marijuana sales.
Proposition 207, which voters approved in 2020 to legalize adult use of cannabis, included specific uses for taxes collected on the recreational side. One-third is dedicated to community college and provisional community college districts; 31 percent to public safety—police, fire departments, fire districts, first responders—25 percent to the Arizona Highway User Revenue Fund and 10 percent to the justice reinvestment fund, dedicated to providing public health services, counseling, job training and other social services for communities that have been adversely affected and disproportionately impacted by marijuana arrests and criminalization.
The state collected a total of $196,447,570 in tax revenue the first 11 months of 2021 from cannabis sales, with $44,533,436 from recreational, $58,916,172 from medical and $92,997,962 from the excise tax.
This story was first published by Arizona Mirror.
Florida Marijuana Activists Pivot To 2024 For Legalization Ballot Initiative
Michigan Breaks Another Marijuana Sales Record For December, State Officials Say
Michigan closed out 2021 with another record-breaking month of adult-use marijuana sales in December, state officials say.
The state saw more than $135 million in recreational cannabis purchases and about $33 million in medical marijuana sales last month.
Andrew Brisbo, executive director of the Michigan Marijuana Regulatory Agency (MRA), said on Monday that the numbers "marked another high for the adult-use industry." The previous adult-use marijuana sales record happened in October, with about $128 million in purchases.
It's good to note that the new high is not because of increasing prices. In fact, prices in medical and adult-use continue to drop, month over month, and year over year.

Dec 2020: adult use was $350/oz & medical was $265/oz.

Dec 2021: adult-use at $185/oz & medical at $175/oz.

— Andrew Brisbo (@AndrewBrisbo) January 10, 2022
"It's good to note that the new high is not because of increasing prices," he said. "In fact, prices in medical and adult-use continue to drop, month over month, and year over year."
While December set the new record for adult-use marijuana purchases, the state saw the most combined recreational and medical cannabis sales in July, with about $171 million sold.
The latest data brings Michigan's total cannabis sales for 2021 to $1,311,951,737 for adult-use and $481,225,540 for medical marijuana. And those purchases are translating into hundreds of millions of dollars in tax revenue for the state.
About $131 million is going to a cannabis excise tax fund that supports various initiatives such as infrastructure and public education, MRA spokesman David Harns said. Another $115 million will support the state general fund.
Taxes flowing into the state of Michigan because of legalized marijuana in 2021:

$131.2 million goes to the marijuana excise fund which gets divvied up amongst local government, roads, and schools.

$115.4 million goes to the state sales tax bucket.

Almost 1/4 billion in taxes. https://t.co/kw2N4shya1

— David Harns (@DavidHarns) January 10, 2022
In nearby Illinois, December was also another record-breaking month, with $137.9 million in adult-use marijuana sales.
Last year, Illinois took in almost $100 million more in tax revenue from recreational cannabis sales than from alcohol, state data shows. And cannabis tax dollars have exceeded those for liquor every month since February.
Part of that marijuana tax revenue is actively funding equity initiatives in the state. For example, Illinois officials announced last month that applications are opening for $45 million in new grants—funded by cannabis tax dollars—that will support programs meant to reinvest in communities most harmed by the drug war.
States that have legalized cannabis have collectively garnered more than $10 billion in tax revenue since the first legal sales started in 2014, according to a report released by the Marijuana Policy Project (MPP) last week.
In Arizona, medical and adult-use marijuana sales topped $1 billion in the first ten months of the year, state tax officials said.
California collected about $817 million in adult-use marijuana tax revenue during the 2020-2021 fiscal year, state officials estimated in August. That's 55 percent more cannabis earnings for state coffers than was generated in the prior fiscal year.
A recent scientific analysis of sales data in Alaska, Colorado, Oregon and Washington State found that marijuana purchases "have increased more during the COVID-19 pandemic than in the previous two years."
In July alone, at least three states saw record-breaking sales for recreational cannabis. The same goes for Missouri's medical marijuana program.
GOP Texas Governor Says People Shouldn't Be Jailed Over Marijuana Possession, But Misstates Current Law