VA Will Explore Medical Marijuana, But Only If Federal Law Changes, Secretary Says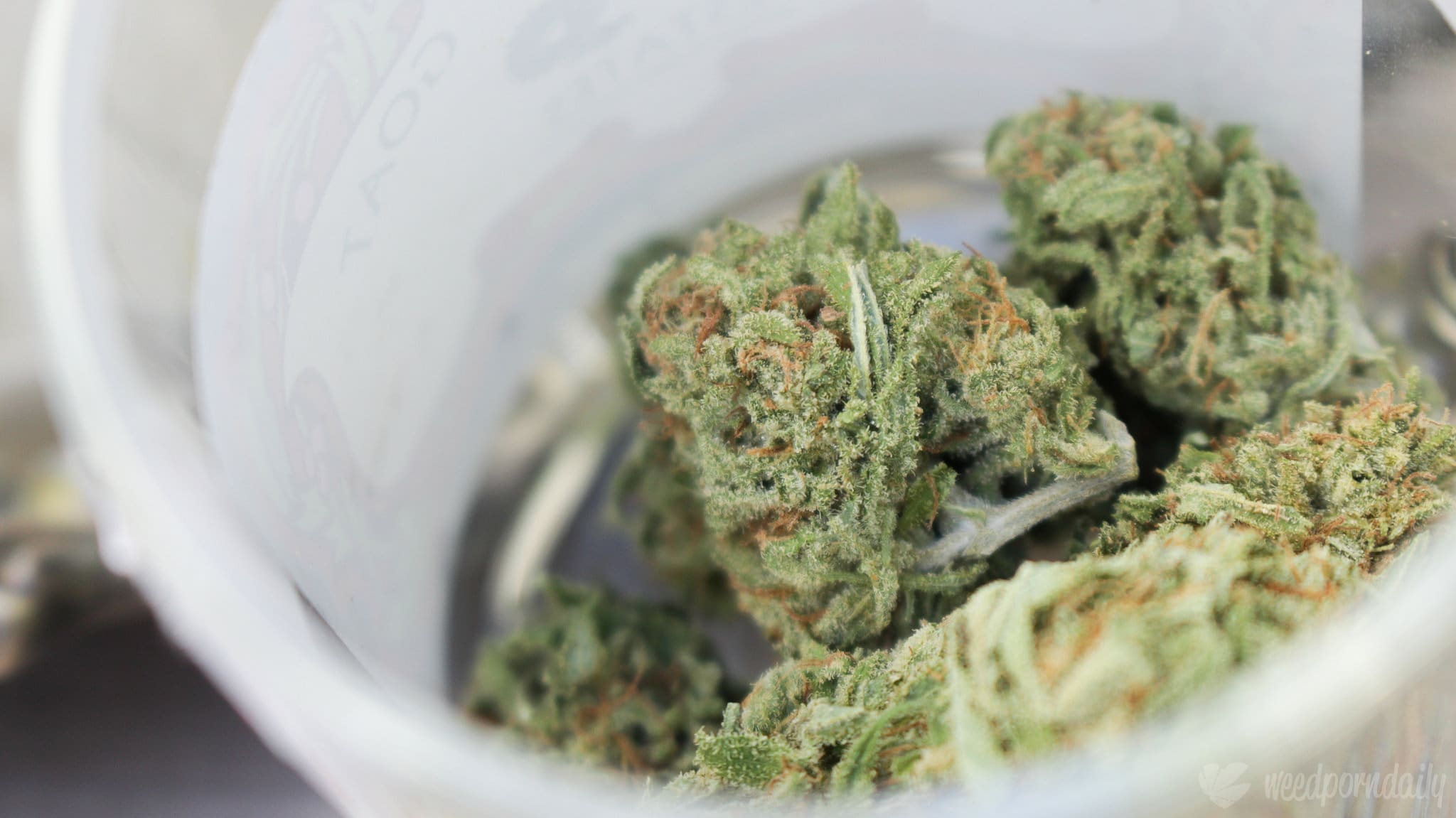 If marijuana is federally legalized, the Department of Veterans Affairs (VA) will consider letting benefits go toward medical cannabis for veterans, VA Secretary Robert Wilkie said on Friday. But until then, the issue is a non-starter.
Asked whether medical marijuana was among the alternative therapies the VA would explore for patients, Wilkie said flatly that cannabis "is against federal law."
"If that changed, would you be OK with it?" a moderator at a National Press Club forum asked.
"If the laws change and there's medical evidence there, of course we look at that," Wilkie said. "But the law is pretty clear at the federal level."
While there have been legislative attempts to force the VA to allow its doctors to recommend cannabis, none of those proposals have been enacted into law, and internal department policy currently prohibits such activities—even at facilities that operate in legal marijuana states. For now, the most VA doctors can do is discuss cannabis with patients, but they can't fill out state forms to help veterans obtain it.
But if things do change at the federal level (and some insiders are under the impression that cannabis reform will soon be on the White House agenda), it looks like medical cannabis will at the very least get a second look from VA officials.
Trump Plans To Back Legal Medical Marijuana After Midterms, GOP Congressman Says
Photo courtesy of WeedPornDaily.
Trump Treasury Official Wants Congress To Fix Marijuana Businesses' Banking Issues
Congress needs to come up with a solution for banking access by the marijuana industry, a top federal Treasury Department official said on Wednesday. And he hopes that will happen by 2020, if not sooner.
Joseph Otting, the comptroller of the currency, told reporters that lawmakers "have to act at the national level to legalize marijuana if they want those entities involved in that business to utilize the U.S. banking system," according to PoliticoPro.
Comptroller of Currency Joseph Otting hopes for resolution to marijuana banking issues by 2020. Via @vtg2: https://t.co/G8drwnvAvM

— POLITICO Pro (@POLITICOPro) January 16, 2019
Cannabis businesses acting in compliance with state law face uncertainty when dealing with federally regulated financial institutions. And banks potentially risk being penalized for servicing those businesses, leading many to avoid the industry altogether.
That said, a steadily growing number of banks are operating accounts for cannabis companies anyway, federal data shows.
"If I'm a betting person, I'm like 25-30 percent maybe next year, but I would hope by 2020 we can get this issue resolved," said Otting, who was also recently assigned to double duty as acting director of the Federal Housing Finance Agency.
He previously called the existing situation "generally not healthy," echoing comments made by Federal Reserve Chairman Jerome Powell, who said "it would be great if [the banking issue] could be clarified."
Similarly, Treasury Secretary Steven Mnuchin has described the banking conflict as untenable. He said last year that his department was "reviewing the existing guidance," referring to a 2014 Obama-era policy memo meant to provide direction for banks on how to service marijuana businesses.
"We do want to find a solution to make sure that businesses that have large access to cash have a way to get them into a depository institution for it to be safe," he said.
More Banks Welcome Marijuana Business Accounts, New Federal Report Shows
Legal Marijuana Advocates Rank The Best And Worst Governors On Cannabis
Where Presidential Candidate Kirsten Gillibrand Stands On Marijuana
Sen. Kirsten Gillibrand (D-NY) tossed her hat in the 2020 presidential ring on Tuesday, announcing that she's forming an exploratory committee.
The senator, who has an A grade from NORML, has become one of the most vocal advocates for federal marijuana reform in Congress, co-sponsoring multiple pieces of legislation and frequently talking about the issue in speeches and on social media.
Legislation And Policy Actions
While Gillibrand did not co-sponsor any cannabis-related bills during her time in the House, she's signed her name onto several notable Senate bills in recent years. That includes the Marijuana Justice Act, which would remove marijuana from the Controlled Substances Act and punish states that enforce cannabis laws disproportionately against people of color.
She also co-sponsored legislation designed to protect medical marijuana states from federal interference, make it easier to conduct research on cannabis and legalize industrial hemp. Another research-related bill she co-sponsored would encourage the U.S. Department of Veterans Affairs to study how marijuana can treat specific conditions like post-traumatic stress disorder.
During testimony at a Senate Judiciary Sub-Committee hearing in 2016, Gillibrand said that "I know some people are saying that we should wait until there's more research before changing the laws, but the one thing blocking the research is the law."
In April 2018, Gillibrand sent a letter to then-Attorney General Jeff Sessions, requesting that he attend a meeting with some of her constituents who've been arrested for non-violent marijuana offenses.
"It is an American principle that, no matter the law, it should be applied equally to all people, regardless of their race or background," she wrote. "Sadly, as you will hear from my constituents, for decades, the so-called 'War on Drugs' has not been pursued with equality."
She also joined a bipartisan coalition of lawmakers who sent a letter to Sessions, imploring him to update them on the status of applications to cultivate cannabis for federal research purposes.
Quotes And Social Media Posts
For the last five years, Gillibrand has made Twitter a central platform for her marijuana reform advocacy.
Cannabis can treat a variety of illnesses, incl MS, cancer, epilepsy & seizures. Wrong for patients & doctors to fear prosecution.#CARERSAct

— Kirsten Gillibrand (@SenGillibrand) March 10, 2015
But while she initially focused on medical cannabis, her views on the issue evolved and so did the tweets on her feed.
DOJ should investigate how pharma helped create the opioid crisis, not institute policies that take marijuana based medicines from patients and needlessly target non-violent minority youths.

— Kirsten Gillibrand (@SenGillibrand) January 4, 2018
Gillibrand has routinely railed against the pharmaceutical industry, which she criticized for opposing cannabis legalization.
Big pharma keeps pushing back against legalizing medical marijuana because, in many cases, they want to continue to sell addictive drugs and dominate the market for drugs that address chronic pain. That's wrong.

It is time to rework our cannabis laws. https://t.co/g23trjnJcT

— Kirsten Gillibrand (@SenGillibrand) February 28, 2018
"To them, it's competition for chronic pain, and that's outrageous because we don't have the crisis in people who take marijuana for chronic pain having overdose issues," the senator said. "It's not the same thing. It's not as highly addictive as opioids are."
She also criticized Sessions for rescinding Obama-era guidance that directed prosecutors to generally not interfere with state marijuana laws.
Attorney General Sessions' decision to restrict states' ability to legalize and decriminalize marijuana is either willfully ignorant of the medical science or an act of greed on behalf of the pharmaceutical industry. In either case, it's an attack on patients, and it's wrong. pic.twitter.com/Kiw8nOmPb7

— Kirsten Gillibrand (@SenGillibrand) January 4, 2018
Black and Latino New Yorkers are almost 10 times more likely to be arrested for the possession of marijuana than their white neighbors – though usage rates are about the same.

— Kirsten Gillibrand (@SenGillibrand) April 22, 2018
"Millions of Americans' lives have been devastated because of our broken marijuana policies, especially in communities of color and low-income communities," Gillibrand said in a press release. "Just one minor possession conviction could take away a lifetime of opportunities for jobs, education, and housing, tear families apart, and make people more vulnerable to serving time in jail or prison down the road."
"The reality that my 14-year-old son would likely be treated very differently from one of his Black or Latino peers if he was caught with marijuana is shameful. Legalizing marijuana is a social justice issue and a moral issue that Congress needs to address to help fix decades of injustice caused by our nation's failed drug policies."
The Marijuana Justice Act takes steps to fix stark inequalities in our criminal justice system and protects patients who need medication. It's a commonsense bill – and I'm proud to join @CoryBooker as a cosponsor. Americans have spoken and demanded change. It's time to act. pic.twitter.com/1VfFbEipYJ

— Kirsten Gillibrand (@SenGillibrand) March 3, 2018
Beyond Capitol Hill, Gillibrand has worked to build support for legislation to legalize marijuana in her home state of New York. He office has issued numerous press releases about cannabis policy in recent years.
Personal Experience With Marijuana
Gillibrand doesn't appear to have publicly discussed whether she has ever consumed marijuana, but she has repeatedly cited conversations with families and patients who've benefited from medical cannabis as a motivating factor behind her reform advocacy.
Marijuana Under A Gillibrand Presidency
It stands to reason that the senator would prioritize federal marijuana reform as president, especially in light of her co-sponsorship of the Marijuana Justice Act and the extent to which she has focused on the issue in public statements. It seems likely that she would continue that record if elected to the Oval Office.
Where Presidential Candidate Julián Castro Stands On Marijuana
Photo element courtesy of Gillibrand 2010.