South Carolina Medical Marijuana Bill Dies On House Floor Following Procedural Challenge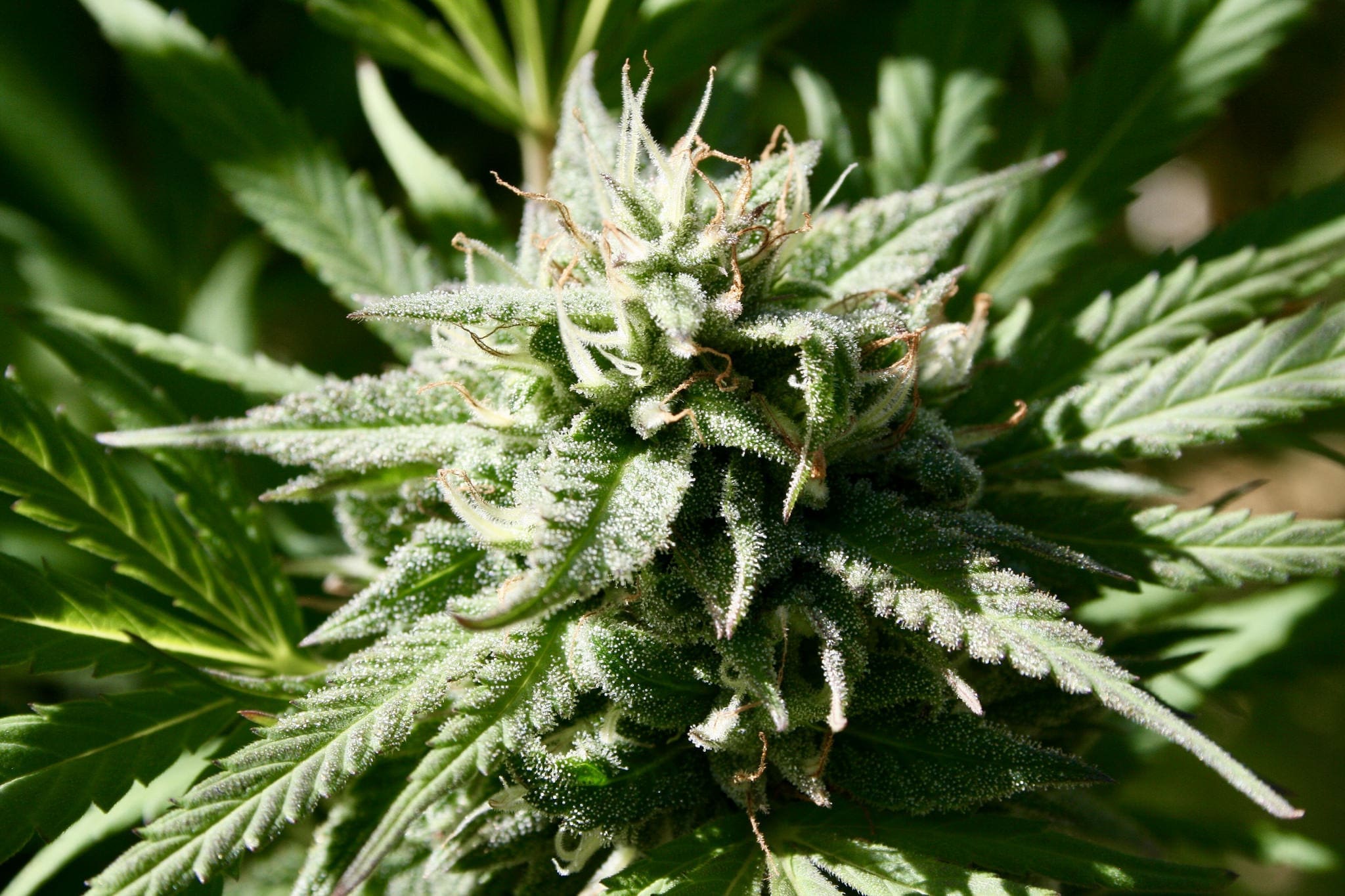 A bill to legalize medical marijuana in South Carolina died on the House floor on Wednesday following a nuanced debate over the constitutionality of the legislative process that the measure has moved through—before any discussion of the merits of the bill itself could occur. Its sponsor said he would scramble to try to find another way to keep the issue alive as the session winds down.
Advocates had already expected pushback on the Senate-passed legislation sponsored by Sen. Tom Davis (R), with opponents filing more than 1,000 amendments ahead of its floor consideration.
But things became even more complicated after a constitutional challenge from Rep. John McCravy (R), who raised a point of order against the Senate bill, claiming that because it involves a tax on medical cannabis, it should have originated in the House under the state constitution's provisions for legislation that raises revenue.
House Speaker Pro Tem Thomas Pope (R) mulled the issue over during a lunch break and later ruled to sustain the point of order.
Rep. Todd Rutherford (D) then sought to appeal the ruling, saying he planned an amendment to scrap the tax language later, but there was a subsequent motion to table his appeal, which was agreed upon by the body in a 59-55 vote, effectively killing the measure.
Davis's bill passed the Senate along largely bipartisan lines in February, after which point it moved to the House and cleared committee.
The House voted 59-55 to table Rutherford's appeal on the medical marijuana bill. Here's @SenTomDavisSC watching the vote. pic.twitter.com/9pfHbP0R0Y

— Maayan Schechter (@MaayanSchechter) May 4, 2022
Karen O'Keefe, director of state policies at the Marijuana Policy Project, contested Pope's interpretation of the law, specifically pointing out in an email to Marijuana Moment that medical cannabis would be exempt from the state's sales tax under the bill and so the separate six percent levy used to justify Wednesday's ruling would not actually raise revenue.
Davis, for his part, told reporters after the procedural vote that he would work on ways to attach the provisions of his bill to separate House legislation to give it another chance to pass before the looming end of the session.
UPDATE: @SenTomDavisSC spoke with us after the Compassionate Care Act was thrown out in the House.. @WSPA7 https://t.co/6ybcyw6IRH pic.twitter.com/PW2QrMbM5j

— Jason Raven (@JasonRaven_) May 4, 2022
"We suffered a setback procedurally in the House today," he said. "I can't cry about it. I can't pout about it. I can't come back and lash out and try to hurt other people's bills. That's not productive. I just need to find out a way to get this thing on the merits up or down in the House and that's what I'm going to be working on."
Davis also said: "I need to figure out if there's another vehicle. We still have 4 days left in the session, lots of bills on the calendar, some involving pharmacies and medical affairs,… And so I think there's an opportunity and I'll explore what they are." (3/3)#sctweets

— Joseph Bustos 🔥 (@JoeBReporter) May 4, 2022
As drafted, SB 150 would have allowed patients with qualifying conditions to possess and purchase cannabis products from licensed dispensaries. Smokable products, as well as home cultivation of cannabis by patients or their caretakers, would have been prohibited. Simply possessing the plant form of cannabis could have been punished as a misdemeanor.
The legislation was prefiled in late 2020 and passed out of the Senate Medical Affairs Committee last March, but a lone senator blocked it from reaching the chamber floor in 2021. Since then, sponsor Davis has redoubled his efforts to get the bill across the finish line, arguing that South Carolina voters are ready for what he's repeatedly called "the most conservative medical cannabis bill in the country."
While the bill advanced through the Senate earlier this year, the House adopted a series of amendments in committee, meaning it would have needed to go back to the opposite chamber for concurrence before it potentially moved to the governor's desk.
—
Marijuana Moment is already tracking more than 1,000 cannabis, psychedelics and drug policy bills in state legislatures and Congress this year. Patreon supporters pledging at least $25/month get access to our interactive maps, charts and hearing calendar so they don't miss any developments.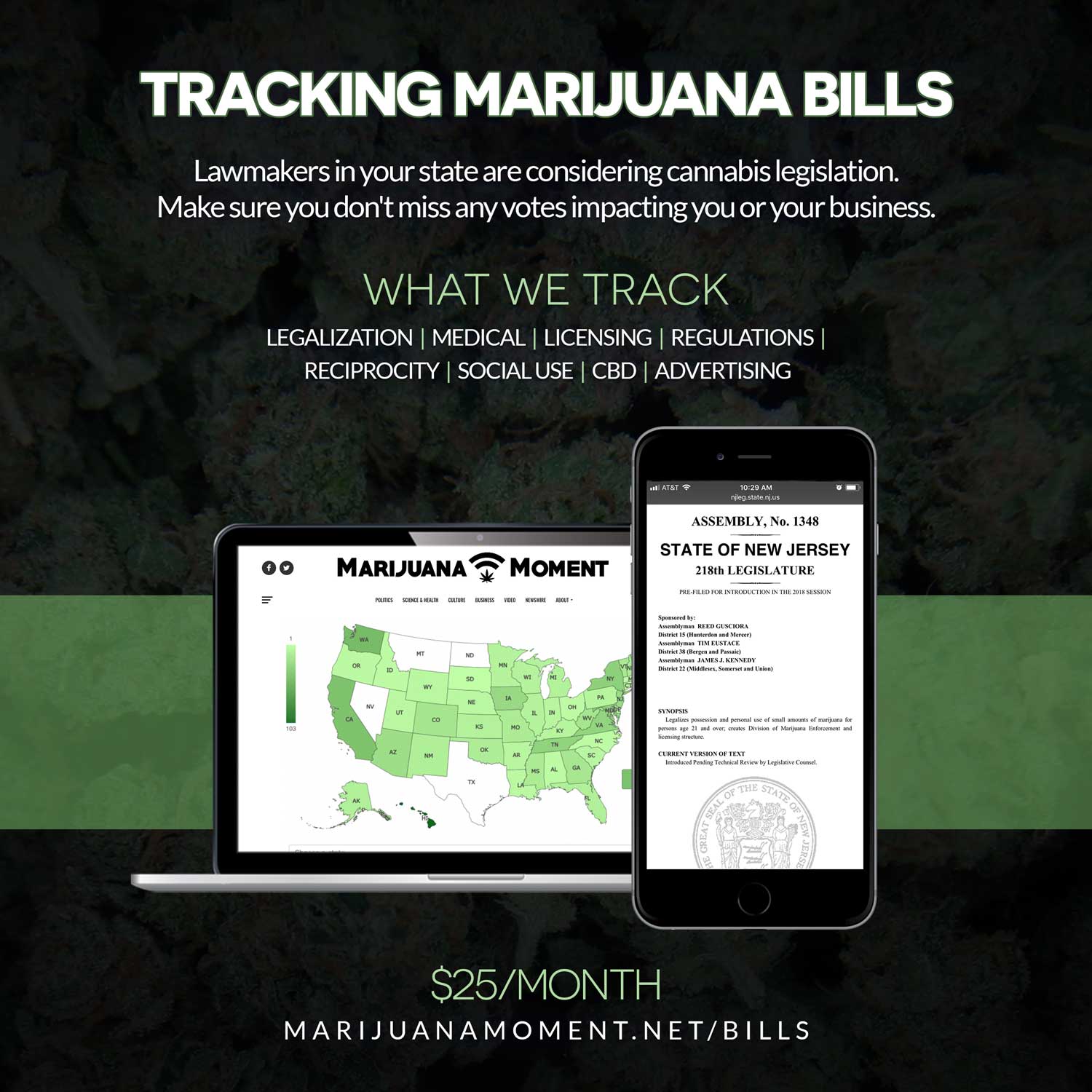 Learn more about our marijuana bill tracker and become a supporter on Patreon to get access.
—
While more than 1,000 amendments were filed as the bill moved to the floor, advocates hoped that many of them would be dispatched with as dilatory, as occurred with prior proposed revisions in a House committee.
Here's what SB 150 would have accomplished: 
Eligible patients could purchase and possess cannabis from dispensaries, but those products could not be smokable.
Qualifying conditions for medical cannabis include cancer, multiple sclerosis, epilepsy, glaucoma, Crohn's disease, sickle cell anemia, ulcerative colitis, cachexia or wasting syndrome, autism, nausea in homebound or end-of-life patients, muscle spasms, post-traumatic stress disorder (PTSD). Terminal patients with less than a year to live would also qualify. However, regulators would be authorized to add additional conditions in the future.
The bill would also allow access among patients with "any chronic or debilitating disease or medical condition for which an opioid is currently or could be prescribed by a physician based on generally accepted standards of care," for example severe or persistent pain.
Medical marijuana would be subject to the state's six percent sales tax, and local jurisdictions would be able to levy an additional tax.
Rather than have conventional medical marijuana dispensaries that are in place in other legal states, the bill stipulates that there would be so-called cannabis pharmacies. The facilities would be required to have a pharmacist on site at all times, and the South Carolina Board of Pharmacy would promulgate business regulations.
People with felony-level drug convictions would also be prevented from participating in the new industry for a period of 10 years under the proposal.
In-state businesses would also receive licensing priority when the market in established, with the intent being to prevent multi-state operators from dominating the industry.
Under the bill, 75 percent of tax revenue after expenditures would go to the state's general fund, with another 10 percent going to drug use disorder treatment service providers, five percent going to state law enforcement, and the remainder going to cannabis research and drug education.
For the initial rollout, regulators would approve 15 cannabis cultivators, 30 processing facilities, a cannabis pharmacy for every 20 pharmacies in the state, five testing laboratories and four cannabis transporters. Lawmakers, rather than regulators, would be authorized to approve additional license types.
Local governments could ban medical cannabis businesses from operating in their jurisdictions under the amended bill, but otherwise the it says that local land use and zoning burdens "should be no greater for a cannabis-based business than for any other similar business."
The state Department of Health and Environmental Control would oversee licensing and other regulations of the new industry. A newly established Medical Cannabis Advisory Board would be in charge of adding or removing qualifying conditions. The board would meet at least once per year and be led by a governor-appointed chairperson.
Davis has championed medical marijuana in South Carolina since 2014, and at a rally earlier this year, he brought out a binder that he said contained eight years of research into the issue. He said he would use the information to "take on every single argument that has been raised in opposition to this bill, and I'm going to show that they cannot stand in the way of facts and evidence."
—
Marijuana Moment is already tracking more than 1,000 cannabis, psychedelics and drug policy bills in state legislatures and Congress this year. Patreon supporters pledging at least $25/month get access to our interactive maps, charts and hearing calendar so they don't miss any developments.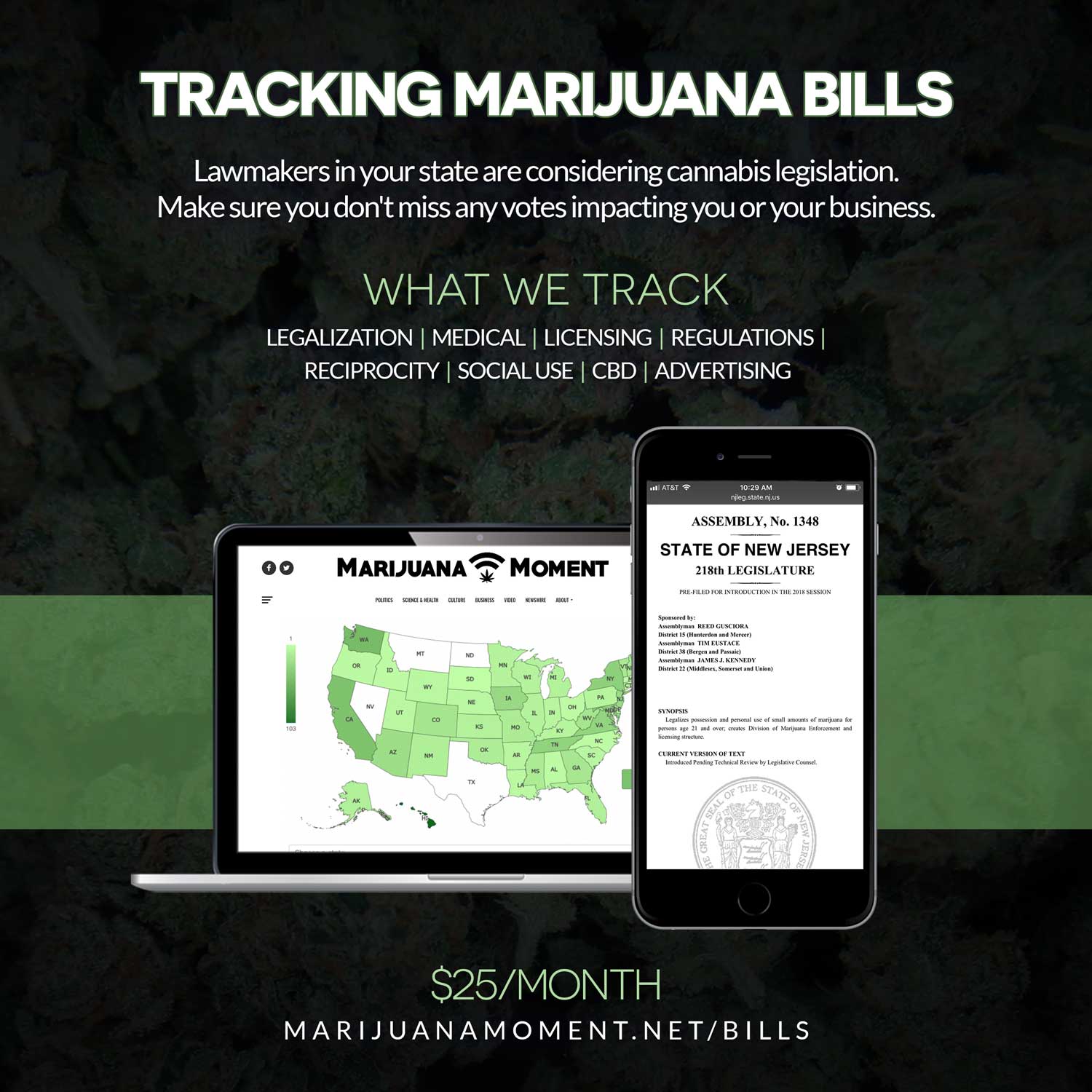 Learn more about our marijuana bill tracker and become a supporter on Patreon to get access.
—
He's also continued to push back against opposition to cannabis legalization from his own party, for example calling out an attack ad that was paid for by the South Carolina Republican Party.
The state GOP organization separately slammed a federal legalization bill from U.S. Rep. Nancy Mace, a Republican who represents South Carolina in Congress.
A former White House chief of staff under President Donald Trump also recently called out his home state South Carolina Republican Party for opposing the medical marijuana bill medical marijuana. Mick Mulvaney, Trump's top aide for more than a year and a former congressman, called the legislation "something that merits discussion and reasoned analysis," even if it's not a proposal that is conventionally considered a conservative priority.
Davis referred to the maneuvers by his own party as "the elephant in the room" on the Senate floor as debate on the floor kicked off in January, saying he was offended by the misinformation and planned to rebut every misleading claim the group made.
"I'm going to go through every single legal argument that's been put up there—lack of medical evidence, unintended social consequences—and take them all up and discuss them and refute them," the senator said at the time.
A House subcommittee that recently advanced the medical marijuana bill separately approved another bill in March that added marijuana to a list of investigational drugs that patients could lawfully access during epidemic or pandemic outbreaks.
Meanwhile, a South Carolina lawmaker filed a bill last month that would require officials to issue pardons for people with marijuana convictions on their records annually on the unofficial cannabis holiday 4/20.
A poll released last February found that South Carolina voters support legalizing medical marijuana by a five-to-one ratio. But the state does not have a citizen-led initiative process that has empowered voters in other states to get the policy change enacted.
Support for medical marijuana legalization among South Carolina residents has been notably stable, as a 2018 Benchmark Research poll similarly found 72 percent support for the reform, including nearly two-thirds (63 percent) of Republicans. Davis said last year that if the legislature didn't advance the reform, he'd propose a bill to put the question of medical marijuana legalization to voters through a referendum.
Also in 2018, 82 percent of voters in the state's Democratic primary election voted in favor of medical cannabis legalization in a nonbinding ballot advisory vote.
Lawmakers prefiled four marijuana measures for the 2019 session, but they did not advance.
Bankers Associations From All 50 States Push Senate To Pass Marijuana Banking Reform As Part Of Large-Scale Bill
Photo courtesy of Brian Shamblen.