South Carolina Senate Begins Long-Anticipated Medical Marijuana Debate
South Carolina's Senate kicked off debate on a medical marijuana bill on Wednesday, marking the first time in the Republican sponsor's eight-year legalization effort that his legislation has made it to the chamber floor.
The body is expected to hold several full legislative days' worth of discussion on the measure before taking a vote on it.
The Compassionate Care Act was prefiled in late 2020 and passed out of the Senate Medical Affairs Committee last March, but a lone senator blocked it from reaching the chamber floor in 2021. Since then, the bill's sponsor, Sen. Tom Davis (R), has redoubled his efforts to get the bill across the finish line.
"What I've attempted to do over the last several months is make the intellectual argument," Davis said, "make the argument based on logic, make the argument based on the law, make the argument based on what these empirical studies show."
Davis spent much of Wednesday's floor session answering questions from critics who appeared to have little understanding of medical marijuana programs in other states. He emphasized that the new program would be relatively limited in scope, forbidding patients from smoking or even possessing the plant form of marijuana and restricting qualifying conditions to only those that evidence shows cannabis can help.
"One of the things that I decided early on was that this was going to be a different kind of medical cannabis bill," he said. "It wasn't going to be like the medical cannabis bills in the 36 other states that have medical cannabis laws, because I wanted it to be a very tightly regulated medical bill" rather than a back door to full legalization.
My medical-marijuana bill is first up for debate tomorrow in the South Carolina Senate. Session begins at 1:00 pm, so I will take the well around 1:30 pm. You can watch the debate live at: https://t.co/NZ4UUKFWiv. Please retweet to share link, and please watch if you're able! pic.twitter.com/uBZOM5LEuq

— Tom Davis (@SenTomDavisSC) January 25, 2022
As the result of an agreement with Senate Majority Leader Shane Massey (R), Davis said last week, the bill was made a special order, meaning that now that senators have begun debate on the measure, they will have to vote on it before taking up other legislation.
Davis also said House Speaker Jay Lucas (R) has agreed to "allow the bill to go through the House process" if it advances through the Senate, although a spokesperson for Lucas later told the Charleston Post and Courier that "Sen. Davis doesn't speak for Speaker Lucas."
If the bill proceeds as Davis has described, the senator said he expected "that we're going to be standing here in three or four months celebrating a bill signing" with Gov. Henry McMaster (R).
—
Marijuana Moment is already tracking more than 1,000 cannabis, psychedelics and drug policy bills in state legislatures and Congress this year. Patreon supporters pledging at least $25/month get access to our interactive maps, charts and hearing calendar so they don't miss any developments.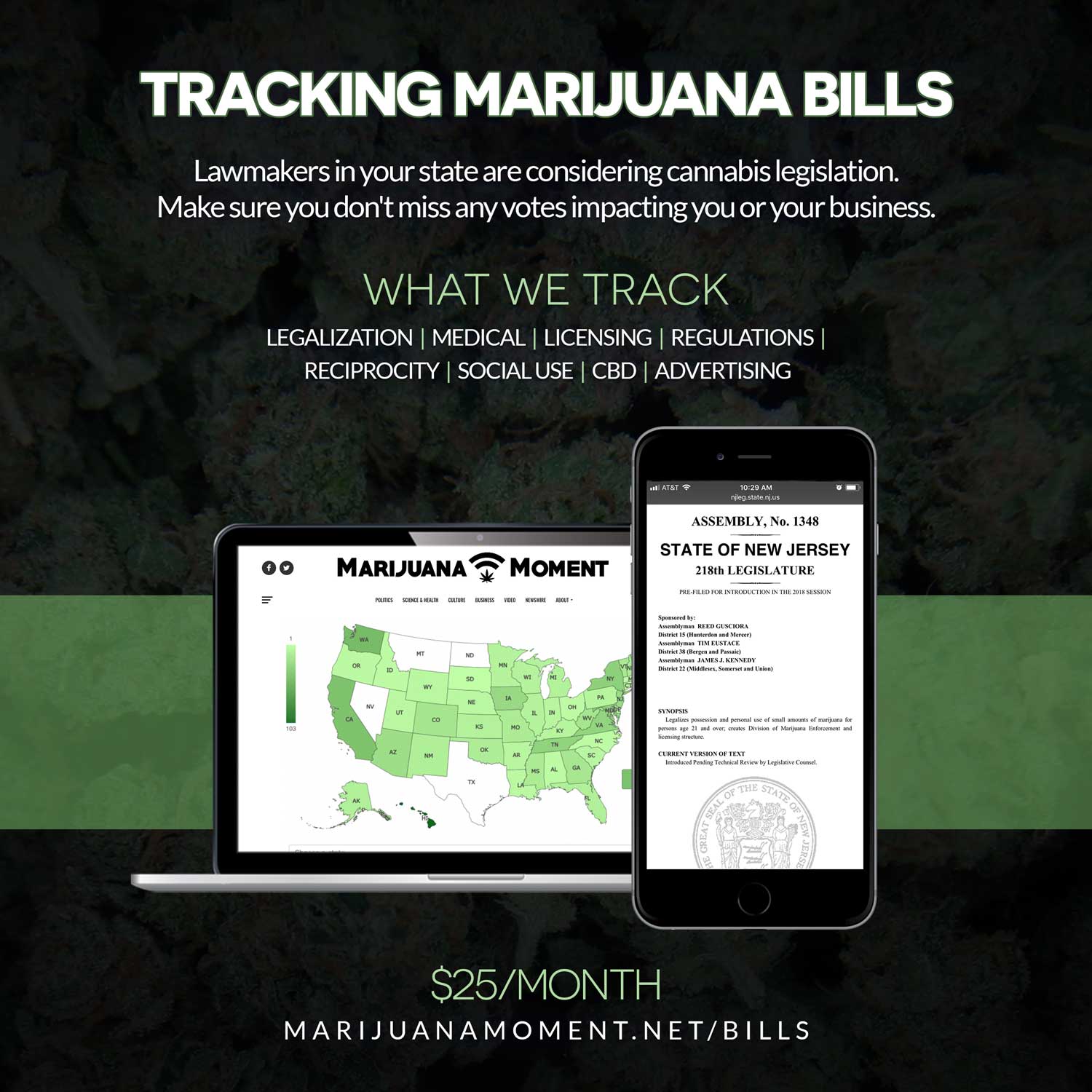 Learn more about our marijuana bill tracker and become a supporter on Patreon to get access.
—
Davis has emphasized the bill's conservative approach to medical marijuana, more limited than legislation that Mississippi lawmakers sent to their governor's desk on Wednesday. Advocating for the plan last session, the South Carolina senator repeatedly called it "the most conservative medical cannabis bill in the country."
"I understand what South Carolinians want," he said at the time. "They want to empower doctors, they want to help patients, they do not want recreational use."
On the Senate floor Wednesday, Davis said he was willing to entertain further amendments to tighten the bill, for example by finding a way to more closely involve state-licensed pharmacists in dispensing medical marijuana.
As drafted, the bill, S. 150, would allow patients with qualifying conditions to possess and purchase cannabis products from licensed dispensaries. It would impose two-week sales limits on patients, letting them buy up to 4,000 milligrams of THC in cannabis-infused topicals, 1,600 milligrams in edible products or 8,200 milligrams in oils meant for vaporization.
Smokable products, as well as home cultivation of cannabis by patients or their caretakers, would be forbidden. Patients caught smoking small amounts of marijuana would be subject to a fine of up to $500 for a first offense. Subsequent offenses would carry a misdemeanor criminal penalty and up to 30 days in jail.
While more qualifying conditions could be added in the future, the bill specifies cancer, multiple sclerosis, epilepsy and other neurological disorders, glaucoma, Crohn's disease, sickle cell anemia, ulcerative colitis, cachexia or wasting syndrome, autism, nausea in homebound or end-of-life patients, muscle spasms and post-traumatic stress disorder (PTSD) provided a patient can establish they experienced one or more traumatic events. Patients diagnosed with less than one year to live could also qualify.
Notably, the bill would also allow access among patients with "any chronic or debilitating disease or medical condition for which an opioid is currently or could be prescribed by a physician based on generally accepted standards of care," for example severe or persistent pain.
Medical marijuana would be subject to the state's 6 percent sales tax, though the bill specifies that "no other tax may be imposed on the purchase of cannabis or cannabis products," including by local governments. After funding the new program's costs, 90 percent of revenue would go to the state's general fund, with the remainder split up among research to detect drug-impaired drivers (3 percent), drug safety education (2 percent) and separate university research into cannabis dosing, efficacy, side-effects and related subjects.
For the initial rollout, regulators would approve 15 licenses for vertically integrated marijuana businesses that would control production, distribution and sales. More than a hundred dispensaries would be licensed under the bill. Licenses would also be granted to independent testing laboratories.
Local governments could set a limit on the number of medical cannabis businesses in their jurisdiction but could not ban them entirely. Land use and zoning burdens "should be no greater for a cannabis-based business than for any other similar business," the bill says.
The state Department of Health and Environmental Control would oversee licensing and other regulations. A newly established Medical Cannabis Advisory Board would be in charge of adding qualifying conditions. The advisory board would consist of the department director as well members appointed by the governor: doctors, a research scientist with expertise in cannabis medicine, a pharmacist, a patient, a parent of a minor patient and one representative of a licensed cannabis establishment.
Davis has championed medical marijuana in South Carolina since 2014 and at a rally last week brought out a binder that he said contained eight years of research into the issue. He said he would use the information to "take on every single argument that has been raised in opposition to this bill, and I'm going to show that they cannot stand in the way of facts and evidence."
The senator even came to the defense of a Democratic gubernatorial candidate in the state, former U.S. Rep. Joe Cunningham (D-SC), after Cunningham campaigned on cannabis legalization and drew criticism from the state GOP chairman for wanting to "play with fire." Chairman Drew McKissick said at the time that organization opposed "any" effort to end prohibition.
In a now-deleted tweet, Davis called the statement from his party "an intellectually lazy position that doesn't even try to present medical facts as they currently exist."
Last week, the state GOP paid to circulate a message from a sheriff attacking Davis's bill.
In a lengthy message paid for by the S.C. GOP (@SCGOP), Aiken County Sheriff Mike Hunt comes out swinging against medical marijuana.

And at the bottom of the email: "In a time where law enforcement officers are facing more hatred, mistrust, and even threats to defund…" pic.twitter.com/q9nVDpcFGF

— Colin Demarest (@demarest_colin) January 21, 2022
Davis referred to the maneuver by his party as "the elephant in the room" on the Senate floor Wednesday, saying he was offended by the misinformation and planned to rebut every misleading claim the group made.
"I'm going to go through every single legal argument that's been put up there—lack of medical evidence, unintended social consequences—and take them all up and discuss them and refute them," the senator said.
The state party organization separately slammed a federal legalization bill from U.S. Rep. Nancy Mace, a Republican who represents South Carolina in Congress.
"It's Tom Davis's pot party, but we'll be the ones left crying." ~ Anonymous pic.twitter.com/zuEjqFfAfM

— Tom Davis (@SenTomDavisSC) January 25, 2022
Meanwhile, patient groups and other advocates who appeared at last week's rally with Davis said S. 150 would reduce harm and expand legal access to safer drugs.
"We are counting on our lawmakers to listen to the many voices of patients who, like my daughter, need a safer, more effective alternative to opioids and other debilitating pharmaceutical drugs and pass the Compassionate Care Act NOW!" Jill Swing, executive director of the S.C. Compassionate Care Alliance, said in a press release.
Candace Carroll, state director at Americans for Prosperity South Carolina, said that Davis's bill would mean that South Carolina could "ensure more individuals access the most transformative treatments and reduce the harms presented by a robust black market."
A poll released last February found that South Carolina voters support legalizing medical marijuana by a five-to-one ratio. But the state does not have a citizen-led initiative process that has empowered voters in other states to get the policy change enacted.
Support for medical marijuana legalization among South Carolina residents has been notably stable, as a 2018 Benchmark Research poll similarly found 72 percent support for the reform, including nearly two-thirds (63 percent) of Republicans. Davis said last year that if the legislature didn't advance the reform, he'd propose a bill to put the question of medical marijuana legalization to voters through a referendum.
Also in 2018, 82 percent of voters in the state's Democratic primary election voted in favor of medical cannabis legalization in a nonbinding ballot advisory vote.
Lawmakers prefiled four marijuana measures for the 2019 session, but they did not advance.
Davis said ahead of the Senate session that after years of effort, even seeing his bill advance to the chamber floor was a victory.
"If you pound at the door long enough, if you make your case, if the public is asking for something, the state Senate owes a debate," he told the Post and Courier. "The people of South Carolina deserve to know where their elected officials stand on this issue."
Medical Marijuana Bill Passes Mississippi Legislature And Heads To Governor's Desk