Sessions "Can't Comment" On Marijuana Crackdown Plans
U.S Attorney General Jeff Sessions is a longtime opponent of marijuana legalization. But in an interview on Thursday he was guarded about the Trump administration's plans to push back against the growing number of states that are ending cannabis prohibition.
"I can't comment on the existence of an investigation at this time," he said, adding that he doesn't think changing state laws have taken away the Department of Justice's power to enforce the ongoing federal ban.
"I do not believe there is any argument that because a state legalizes marijuana that the federal law against marijuana is no longer existence," he said. "I do believe that the federal laws clearly are in effect in all 50 states, and we will do our best to enforce the laws as we are required to do so."
Sessions was responding to a suggestion from conservative radio host Hugh Hewitt about using federal racketeering laws to go after marijuana businesses.
"A lot of states are just simply breaking the law," Hewitt argued. "A lot of money is being made and banked. One RICO prosecution of one producer and the banks that service them would shut this all down. Is such a prosecution going to happen?"
Sessions replied that he's not sure an enforcement strategy could be so simple.
"I don't know that one prosecution would be quite as effective as that," he said. "We will analyze all those cases and I can't comment on the existence of an investigation at this time. I hear you. You're making a suggestion. I hear it. You're lobbying."
In a separate appearance at the Heritage Foundation on Thursday, Sessions elaborated on his disdain for society's shifting attitudes toward marijuana and other drugs.
"We've got to reestablish first a view that you should say no. People should say no to drug use," he said. "This whole country needs to be not so lackadaisical about drugs. … Much of the addiction starts with marijuana. It's not a harmless drug."
While a senator, Sessions was one of Congress's most vocal opponents of cannabis law reform. During one hearing, for example, he said, "Good people don't smoke marijuana."
He also spoke out against legalization last month.
"I've never felt that we should legalize marijuana," he said. "It doesn't strike me that the country would be better if it's being sold on every street corner."
Also last month, Deputy Attorney General Rod Rosenstein expressed concerns about state cannabis reforms and said that the Justice Department is considering rescinding Obama-era guidance that has generally allowed local marijuana laws to proceed without much federal interference.
"We are reviewing that policy," he said. "We haven't changed it, but we are reviewing it. We're looking at the states that have legalized or decriminalized marijuana, trying to evaluate what the impact is."
But last week, Sessions indicated in appearance before the Senate Judiciary Committee that he is open to at least allowing more marijuana cultivation for research purposes.
"I think it would be healthy to have some more competition in the supply," he said in response to a question from Sen. Orrin Hatch (R-UT), who has in recent weeks become a leading Congressional champion for medical cannabis.
A Gallup poll released on Wednesday found that 64% of Americans support legalizing marijuana. For the first time in the firm's 48 years of polling on cannabis, a majority of Republicans are on board with ending prohibition.
Marijuana Is Safer Than Alcohol, Tobacco Or Sugar, Americans Say In New Poll
Americans think marijuana is less dangerous than alcohol, tobacco or sugar. That's according to a new NBC News/Wall Street Journal poll released Friday.
When asked in a survey which substance is most harmful to health, 41 percent chose tobacco, 24 percent said alcohol and 21 percent flagged sugar.
Just nine percent believe cannabis is the most dangerous of the four options.
The poll also asked about American's views on legalizing marijuana in their state, with 60 percent saying they would favor the policy.
When the news organizations polled the same question in 2014, 55 percent were on board.
The new numbers are in line with other recent polls showing growing support for ending cannabis prohibition.
In October, a Gallup poll found that 64 percent of Americans back legalizing marijuana.
Earlier this month, in the wake of the Trump administration's decision to rescind Obama-era guidance that has generally allowed states to implement their own marijuana laws, three separate national polls found broad opposition to federal interference in local cannabis policies.
On Marijuana, Voters Want Feds To Butt Out Of State Laws, Polls Find
See the full NBC News/Wall Street Journal poll below:
18033 NBCWSJ January Poll (1!19!18 Release) by Carrie Dann on Scribd
Government Shutdown Would Let Sessions Attack Medical Marijuana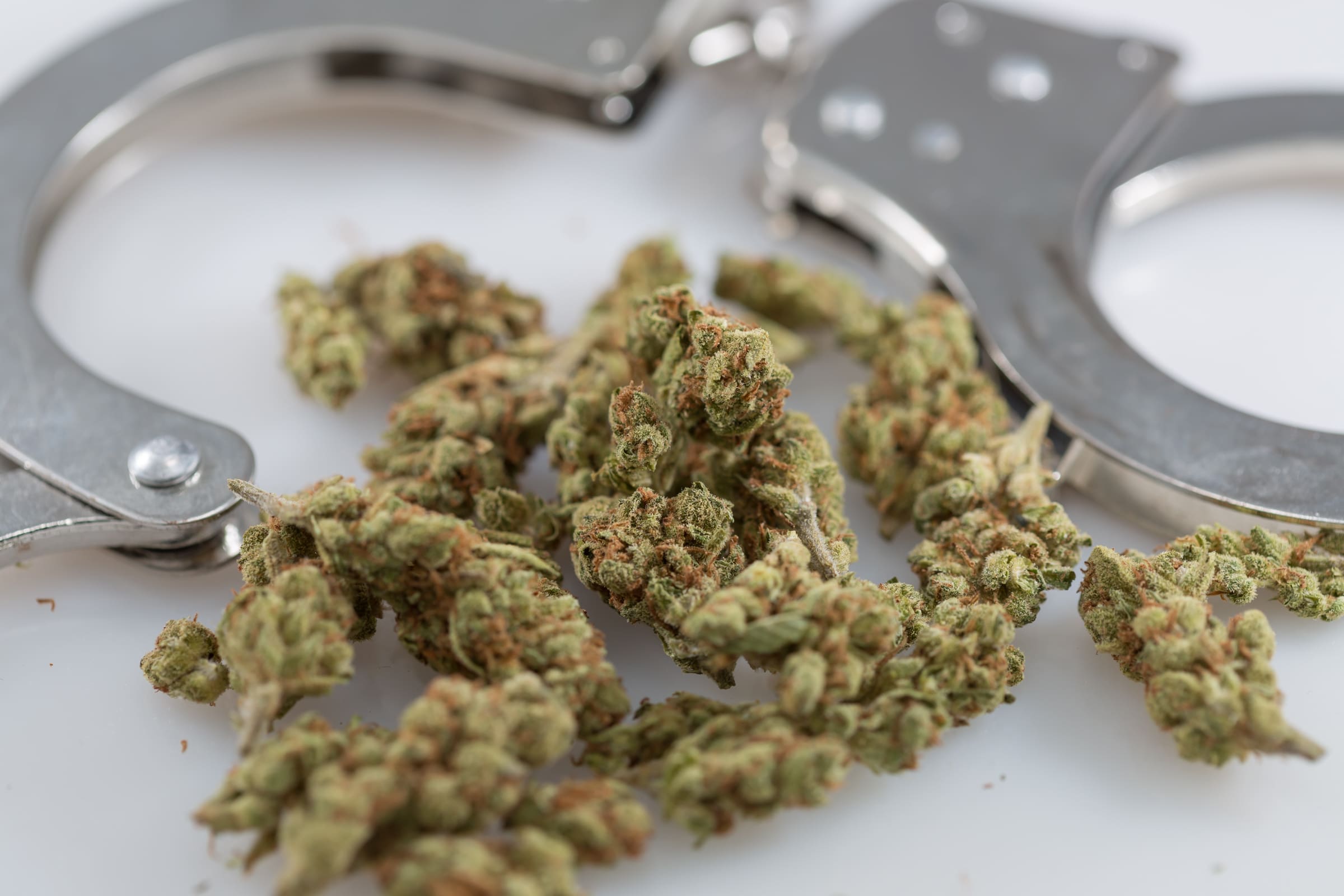 The federal government will shut down at midnight on Friday, barring an unexpected, last-minute bipartisan deal. That puts medical marijuana patients and providers at risk of being arrested, prosecuted and sent to prison by Jeff Sessions's Justice Department.
Here's why:
Under a shutdown scenario, an existing budget provision that prevents the Drug Enforcement Administration (DEA) and other agencies from spending money to interfere with state medical cannabis laws would expire. But federal drug enforcement and prosecution actions, which are exempted from furloughs, would continue.
Why Might The Government Shut Down?
A bill to extend federal funding levels and policy riders like the marijuana one through February 16 was approved by the House on Thursday. But a heated dispute over immigration issues has jeopardized its passage in the Senate, where a significant number of Democrats are refusing to support any bill that does not provide protections to people who were brought to the U.S. as children.
Earlier this month, Attorney General Sessions rescinded Obama-era guidance that has generally allowed states to implement their own cannabis laws without federal intervention. That has left recreational marijuana businesses and consumers without a key protection they've relied on since 2013, but the ongoing existence of the medical cannabis spending rider has continued to keep patients and providers safeguarded from federal attacks.
Until now.
An unintended consequence of Senate Democrats' move to block the funding extension bill and shut down the government over immigration issues is that medical marijuana patients and industry operators would be at much greater risk, as soon as this weekend.
Why Would Drug Enforcement Continue Under A Shutdown?
"All agents in DEA field organizations are excepted from furlough because they support active counternarcotics investigations. This encompasses 21 domestic divisions, 7 regional foreign divisions, critical tactical support groups including the El Paso Intelligence Center and the Special Operations Division, forensic sciences, and technical surveillance support," a Justice Department shutdown contingency plan says. "DEA investigations need to continue uninterrupted so that cases are not compromised and the health and safety of the American public is not placed at risk."
The same goes for federal prosecutors.
"As Presidential Appointees, U.S. Attorneys are not subject to furlough," the shutdown document reads. "Excepted employees are needed to address ongoing criminal matters and civil matters of urgency throughout the Nation. Criminal litigation will continue without interruption as an excepted activity to maintain the safety of human life and the protection of property."
Politics Of Marijuana And Immigration Collide
Democrats, especially those considering 2020 presidential bids, are facing enormous pressure from their progressive base not to go along with yet another bill in a series of short-term funding extensions that do not include protections for young immigrants known as "DREAMers." Because Republicans hold only 51 seats in the chamber, and a handful of GOP members are also opposing the spending resolution, leaders need support from Democrats to reach the critical 60-vote threshold to advance legislation.
The medical cannabis budget rider was first enacted into law in late 2014, and has since been extended for each subsequent fiscal year. Last May, Sessions sent a letter to congressional leaders asking them not to continue the medical marijuana rider into Fiscal Year 2018.
"I believe it would be unwise for Congress to restrict the discretion of the Department to fund particular prosecutions, particularly in the midst of an historic drug epidemic and potentially long-term uptick in violent crime," he wrote. "The Department must be in a position to use all laws available to combat the transnational drug organizations and dangerous drug traffickers who threaten American lives."
Setting aside the important question of whether the medical cannabis rider will be included in full Fiscal Year 2018 spending legislation that congressional leaders continue to negotiate — and it is a big question, since House leaders blocked lawmakers from even voting on whether to include the policy in that chamber's version of Justice Department spending legislation — the current budget brinksmanship on Capitol Hill means the medical marijuana protections could disappear as soon as Saturday morning.
A Shutdown Allows Old Federal Marijuana Prosecutions To Resume
If the provision lapses, it wouldn't just allow new actions against people violating federal marijuana laws. It would also allow earlier medical cannabis prosecutions that were suspended under to the rider to resume.
A federal judge in a California case last August, for example, wrote that the prosecution of two marijuana growers would be "stayed until and unless a future appropriations bill permits the government to proceed. If such a bill is enacted, the government may notify the Court and move for the stay to be lifted."
The failure to enact a new bill continuing the protections would have the same effect under a shutdown scenario, given that enforcement of federal drug laws would still continue.
Long-Term Status Of Marijuana Protections Unclear
The Senate Appropriations Committee voted in July to include the medical cannabis rider in its version of the 2018 Justice Department funding bill. But without the provision being approved on the House side, its long-term continuance will be determined behind closed doors by a bicameral conference committee that merges the two chambers' proposal into a single bill to be sent to President Trump.
Advocates have also pushed to expand the protection to encompass all state marijuana laws, not just those focused on medical access. A measure to do that came just nine flipped votes of passage on the House floor in 2015, and the number of states with legalization has doubled since then. However, Republican congressional leaders have blocked subsequent cannabis measures from advancing to floor consideration, including as recently as this week.
Bipartisan Lawmakers Push For Marijuana Protections In Funding Bill
In the meantime, medical cannabis patients and providers will wait to see if Jeff Sessions and his DEA agents will regain the ability to come after them for the first time since 2014 this weekend.
California Lawmakers Pressure Sens. Harris And Feinstein On Marijuana
A group of ten U.S. House members from California are calling on the state's two senators to do more to push back on the Trump administration's decision to rescind protections for state marijuana laws.
"As you know, in November 2016, the people of California spoke up and voted in favor of Proposition 64, which legalized recreational cannabis… The recent action by the Attorney General put the industry in jeopardy," the bipartisan group of ten members of Congress wrote to U.S. Sens. Kamala Harris and Dianne Feinstein, both Democrats.
"To increase pressure, we are calling on you to block nominations to the Justice Department until the Attorney General reinstates the Cole Memo," the House lawmakers said.
While Feinstein has long been one of Congress' most ardent opponents of marijuana legalization, Harris has in recent weeks repeatedly criticized the move by U.S. Attorney General Jeff Sessions to tear up Obama-era guidance that has generally allowed states to implement their own marijuana laws without federal interference.
But despite tweeting a lot about marijuana and starting an online petition on the issue through which her campaign apparatus is able to collect e-mail addresses, Harris hasn't yet added her name as a cosponsor of a single one of the various cannabis reform bills her Senate colleagues have introduced.
Now, the House members, led by Reps. Lou Correa (D) and Dana Rohrabacher (R), are asking her and Feinstein to prevent Sessions from being able to confirm new U.S. attorneys or other Justice Department nominees until he reverses the anti-marijuana move.
"The legalization of cannabis will spur economic growth and provide sales tax revenues," they write.
I'm calling on @SenFeinstein @SenKamalaHarris to block all @TheJusticeDept nominations until AGSessions reinstates the Cole Memo. #California voted to make #cannabis legal. AG Sessions' decision ignores the will of Californians and places law-abiding citizens in jeopardy. pic.twitter.com/mPu4SRADHx

— Rep. Lou Correa (@RepLouCorrea) January 18, 2018
Within hours of Sessions's announcement of rescinding the marijuana protections, Republican Sen. Cory Gardner of Colorado vowed to place a hold on all Justice Department nominations over the issue.
.@SenCoryGardner on Attorney General Jeff Sessions' #marijuana policy change: "I will be holding all nominations for the Department of Justice. The people of Colorado deserve answers." pic.twitter.com/BnVEkA54ag

— CSPAN (@cspan) January 4, 2018