Presidential Candidates Clash Over Marijuana Legalization At Democratic Debate
The Democratic presidential debate in South Carolina on Tuesday revealed fissures in how the candidates view marijuana reform, with former New York City Mayor Mike Bloomberg doubling down on his opposition to legalization and Sen. Bernie Sanders (I-VT) facing questions about the logistics of his plan to legalize in all 50 days on the first day of his presidency.
The exchange began when a moderator asked Sen. Amy Klobuchar (D-MN) whether Sanders's proposal to use executive action to legalize cannabis nationwide on the day he takes office and also expunge prior marijuana convictions was realistic.
"It is realistic to want to legalize marijuana. I want to do that too," Klobuchar said. "I also think you need to look back at people's records. You maybe can't do that on day one, as he said. I think you want a process that you go through because there are too many people that have things on their records that stopped them from getting jobs."
The senator went on to say that legalization should be coupled with investments in substance misuse treatment.
Klobuchar touched on a point that experts told Marijuana Moment in a recent analysis of Sanders's plan. While advocates have celebrated the fact that Sanders has made cannabis reform a major part of his campaign, legal experts have questioned whether a president could unilaterally lift the prohibition of marijuana immediately, and they also pointed out that states would likely continue to enforce anti-cannabis laws regardless of a change in the plant's status under federal law.
Bloomberg, who is one of just two candidates on the stage who opposes marijuana legalization, was then pressed on his record of characterizing cannabis as an addictive drug that has not been adequately researched. The former mayor has also recently faced criticism over a recording that recently surfaced showing him justifying racially disproportionate cannabis arrests during his time in office.
"The first thing you should do is we should not make this a criminal thing if you have a small amount. For dealers, yes. But for the average person, no," Bloomberg said. "You should expunge the records of those that got caught up in this before. Number two, we're not going to take it away from states that have already done it."
But he went on to say that "you should listen to the scientists and the doctors. They say go very slowly, they haven't done enough research and the evidence so far is worrisome. Before we get all our kids—particularly kids in their late teens, boys even more than girls—where this may be damaging their brains, until we know the science, it's just nonsensical to push ahead," he said.
"But the cat's out of the bag," he said. "Some states have it, you're not going to take it away. Decriminalize the possession."
Sanders then got a chance to argue that his plan is a realistic solution to ending the drug war.
We are going to legalize marijuana on day one of my presidency. #DemDebate pic.twitter.com/j7qhg1jwz7

— Bernie Sanders (@BernieSanders) February 26, 2020
"We have a criminal justice system today that is not only broken, it is racist. We've got more people in jail than in any other country on earth, including China. One of the reasons for that is a horrific war on drugs," he said. "I do believe that on day one, we will change the federal Controlled Substances Act which, if you can believe it, now equates heroin with marijuana. That's insane."
"We're going to take marijuana out of that and effectively legalize marijuana in every state in the country."
"What we are also going to do is move to expunge the records of those people arrested for possession of marijuana," the senator, who was the first major presidential candidate to call for legalization during his earlier 2016 bid, said. "And I'll tell you what else we're going to do. We're going to provide help to the African American, Latino, Native American community to start businesses to sell legal marijuana rather than let a few corporations control the legalized marijuana market."
Biden, who like Bloomberg opposes legalizing marijuana but backs more modest reforms such as decriminalizing possession and expunging records, sought to join the exchange as moderators were going to commercial. "I wrote the bill that set up drug courts," he said, before getting cut off.
Earlier in the debate, Biden tore into businessman Tom Steyer, saying that as an investor he "bought a system that is a private prison system" that "hogtied young men in prison."
Steyer shot back by calling out Biden's role in shaping and passing crime policy legislation that includes harsh drug penalties.
"You wrote the crime bill," he said, "that put hundreds of thousands of young black and Latino men in prison."
Bloomberg also took heat over the use of stop-and-frisk policing tactics during his time as mayor.
Former South Bend, Indiana Mayor Pete Buttigieg said that the policy was racist "in effect it was because it was about profiling people based on their race."
"The mayor even said they stopped white people too often and minorities too little," he pointed out.
"I've apologized and asked for forgiveness," Bloomberg said. "I've met with black leaders to try to get an understanding of how I can better position myself and what I should have done and what I should do next time."
Photo courtesy of YouTube/CBS News.
New Hampshire Marijuana Legalization Effort Runs Up Against New Republican Legislature
"Eventually it will get passed. But I don't think it will happen until we get a new governor."
By Christian Wade | The Center Square
Marijuana advocates are continuing a push to legalize the drug for recreational use in New Hampshire, but the effort faces an unlikely path in the Republican-controlled Legislature.
A bipartisan bill filed in the state House of Representatives this month would, if approved, legalize recreational cannabis for adults over 21 and set up a system of regulation and taxation for the drug that would allow retail sales. It's similar to proposals filed in previous legislative sessions, all of which have failed to win approval.
"The battle continues," said Rep. Rebecca McWilliams, D-Concord, a primary sponsor of the bill. "We keep refining it and negotiating and trying to come up with something that could potentially get to the two-thirds vote needed to override the governor's veto."
The proposal would allow adults 21 and older to possess up to one ounce of weed and would authorize regulated cultivation and retail sales. Adults would be allowed to grow up to six marijuana plants at home. A state-run cannabis commission would set regulations and oversee the new industry. The proposal calls for a 9% tax on recreational pot sales.
But the measure faces a steep climb in the state legislature—which swung back to the GOP in the November 3 elections—not to mention the threat of a veto by Republican Gov. Chris Sununu, who opposes legalization.
McWilliams acknowledges the measure faces long odds in the biennial legislative session and said lawmakers who support the effort lack the votes to override a Sununu veto. But she said the effort is building more support with every passing year.
"Eventually it will get passed," she said. "But I don't think it will happen until we get a new governor."
While marijuana remains an illegal drug under federal law, she said there's a chance the new Democrat-controlled Congress and White House could lift the federal prohibition on pot.
Nationally, 68 percent of Americans back the legalization of marijuana, according to a recent Gallup poll, which noted that support has been inching up steadily over the years.
To date, 15 states, the District of Columbia, and the U.S. territory of Guam have legalized recreational marijuana. Thirty-six states have medical marijuana programs.
New Hampshire has often been described as a "cannabis island" with neighboring states and Canada allowing recreational marijuana cultivation and retail sales.
While the Granite State decriminalized marijuana possession in 2017, recreational growing and sales are not authorized.
In 2014, the Democrat-controlled House approved a legalization bill but it failed to pass the Senate. Similar proposals have been refiled every session, but have failed to gain traction.
The state has also allowed medical marijuana dispensaries since 2013, but cultivating the drug for personal use is still a felony.
Lawmakers approved a bill in 2019 that would have allowed medical pot patients to grow their own supply, but Sununu vetoed it, citing public safety concerns.
This piece was first published by The Center Square.
New York Governor Releases More Details On Marijuana Legalization Proposal
American Medical Association Asks Court To Overturn Medical Marijuana Vote In Mississippi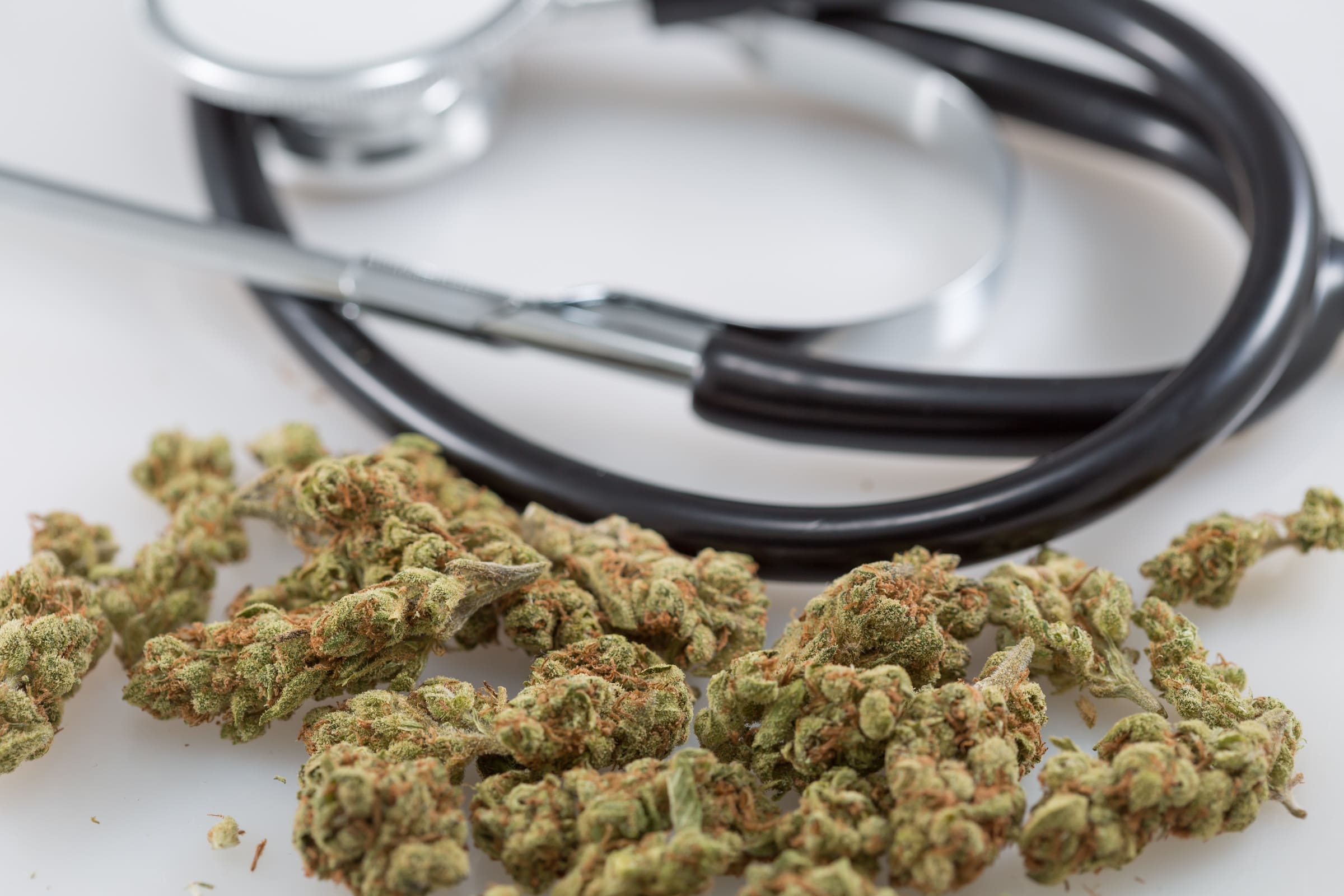 Two medical associations are throwing their support behind a lawsuit challenging the constitutionality of the medical marijuana ballot initiative that Mississippi voters overwhelmingly approved in November, arguing that it creates "risks to public health" and places a "burden" on physicians.
The American Medical Association (AMA) and its state affiliate, the Mississippi State Medical Association (MSMA), recently filed an amicus brief backing the legal challenge being considered by the state Supreme Court, which was brought by the city of Madison just days before the election.
The lawsuit argues that legalization proposal is invalid because of a state law that dictates the percentage of signatures required per district to qualify a ballot initiative.
While Mississippi's secretary of state and attorney general have strongly criticized the suit, calling it "woefully untimely" and contesting the merits, AMA and MSMA are backing the challenge nonetheless.
"Making sure the constitutional amendment map is followed is always important, but given the nature of the initiative at issue and the substantial ramifications it poses for Mississippi's public health and the medical community, particular care is warranted here," the brief states, according to a blog post published by AMA on Friday.
The groups further argue that, outside of the statutory concerns outlined in the suit, the medical cannabis legalization initiative "poses significant risks to public health and puts a burden on Mississippi physicians."
"While it is possible there may be beneficial medicinal uses of marijuana, numerous evidence-based studies demonstrate that significant deleterious effects abound," the brief states, adding "without question, the public health risks are immense."
Additionally, because marijuana remains federally illegal, the voter-approved measure would put physicians in "quite the pinch," it says. "Yet physicians will be expected by their patients (though perhaps not required by Initiative 65) to sign off on certifications to receive their supply. Perhaps no liability will lie under state law, but what about federal law?"
In fact, federal courts have ruled that doctors have a First Amendment right to discuss medical cannabis with their patients without risking federal sanction.
"As everyone knows, all it takes to file a lawsuit is a piece of paper and a filing fee, so even if a physician is judged correctly and immunity is appropriate, the matter will still have to be litigated," the AMA and MSMA brief continues. "And with increased exposure and litigation comes increased costs, not least of which is rising professional liability insurance premiums."
The legal challenge brought by Madison cites a state law stipulating that "signatures of the qualified electors from any congressional district shall not exceed one-fifth (1/5) of the total number of signatures required to qualify an initiative petition for placement upon the ballot." But that policy went into effect when Mississippi had five congressional districts, and that's since been reduced to four, making it mathematically impossible to adhere to.
Advocates see desperation in the court filing, with the medical associations now making a last-ditch effort to overturn the will of voters.
"These are cynical attempts to undermine the democratic process," Carly Wolf, state policies coordinator for NORML, said. "Legalization opponents have shown time and time again that they cannot succeed in either the court of public opinion or at the ballot box."
"Thus, they are now asking judges to set aside the votes of over a million Americans in a desperate effort to override undisputed election outcomes," she said. "Whether or not one supports marijuana legalization, Americans should be outraged at these overtly undemocratic tactics."
Paul Armentano, deputy director of NORML, said "AMA's position is woefully out of step with both public opinion and scientific consensus, as well as with the opinions of the majority of physicians."
"It is regrettable that this organization would go on record in attempting to nullify the vote of a supermajority of Mississippi voters," he said.
It's also not especially surprising that these particular groups would join in this legal challenge given their earlier attempts to get voters to reject the reform initiative.
Weeks before the vote, AMA and MSMA circulated a sample ballot that instructed voters on how to reject the activist-led cannabis measure. The mailers said the associations were "asking for you to join us in educating and encouraging our population to vote against Initiative 65."
Ultimately, however, nearly 74 percent of Mississippi voters approved the legalization initiative.
It will allow patients with debilitating medical issues to legally obtain marijuana after getting a doctor's recommendation. It includes 22 qualifying conditions such as cancer, chronic pain and post-traumatic stress disorder, and patients would be allowed to possess up to 2.5 ounces of marijuana per 14-day period.
Marijuana Moment reached out to AMA and MSMA for additional information about the brief, which has not yet been posted on the state court's public docket, but representative did not immediately respond.
The Mississippi case is just one example of legalization opponents asking the courts to overturn the will of voters who approve marijuana reform.
In South Dakota, another legal challenge against the constitutionality of a legalization initiative is playing out. In this case, plaintiffs—with the backing of Gov. Kristi Noem (R)—are claiming that the recreational marijuana measure violates a state statute requiring that proposals that appear on the ballot on deal with a single subject.
Over in Montana, opponents of a voter-approved initiative to legalize cannabis for adult use attempted to get the state Supreme Court to invalidate the proposal ahead of the vote, but the justices rejected that request, arguing that they failed to establish the urgency needed to skip the lower court adjudication process. They didn't rule on the merits, however.
The plaintiffs then announced they were pursuing action in a lower court, arguing that the statutory proposal unlawfully appropriates funds, violating a portion of the state Constitution that prohibits such allocations from being included in a citizen initiative.
Separately, the Nebraska Supreme Court ruled in September that a medical marijuana legalization initiative could not appear on the state's November ballot following a legal challenge, even though activists collected enough signatures to qualify.
The court determined that the measure violated Nebraska's single-subject rule that limits the scope of what can be placed on the ballot before voters. Activists have already introduced a new initiative that they say will satisfy the court's interpretation of state law—and their also working on a broader adult-use legalization measure.
New York Governor Releases More Details On Marijuana Legalization Proposal
New York Governor Releases More Details On Marijuana Legalization Proposal
New York Gov. Andrew Cuomo (D) has released more details of his marijuana legalization proposal, including plans to reinvest in communities most impacted by the war on drugs.
Following his State of the State address last week, in which the governor said enacting the reform could boost the economy while promoting social equity, he unveiled an outline of his agenda that provides more insights into what the state's legal cannabis market could look like. Next, he's expected to release the full budget proposal on Tuesday, which will contain much more detailed legislative language.
The State of the State Book released on Friday says Cuomo's upcoming proposal would create an Office of Cannabis Management to regulate the program, establish national standards and best practices to encourage responsible marijuana consumption and provide for "robust social and economic equity benefits to ensure New York's law will create an egalitarian adult-use market structure that does not just facilitate market entry but ensures sustained market share for entrepreneurs in communities that have been most harmed by cannabis prohibition."
Notably, it also states that the plan will "correct past harms by investing in areas that have disproportionally been impacted by the war on drugs, understanding that expunging past cannabis convictions helps to correct the injustice faced on the day that someone was arrested, but fails to correct the lasting harms that arrest has had on citizens, families, and communities."
That's important, as the governor in past years has pushed for marijuana tax revenue to be put into the state's general fund, rather than specifically allocating resources for community reinvestment, as some lawmakers and advocates have urged.
That said, it remains to be seen exactly how the governor's forthcoming budget will go about "investing" in communities that have been harmed by past prohibition enforcement and whether it will be deemed adequate by legislators and activists who have balked at his past proposals.
Cuomo has included legalization in his last two annual budget plans, but the issue has consistently stalled over details in negotiations.
That said, the legislature will have more influence this year after Senate Democrats secured a supermajority in the November election. If Cuomo were to veto any bill over details he didn't like, they could potentially have enough votes to override him.
The governor's new outline also talks about making investments in research into harm reduction and education campaigns to deter youth use and impaired driving.
"Cannabis legalization will create more than 60,000 new jobs, spurring $3.5 billion in economic activity and generating an estimated $300 million in tax revenue when fully implemented," the document says.
A separate section describes plans to bolster the state's hemp industry.
To accomplish that, Cuomo will call together a workgroup "composed of hemp growers, researchers, producers, processors, manufacturers, and trade associations to make recommendations for the further development of hemp as a multi-use agricultural commodity and a mature cannabinoid wellness market."
"The hemp workgroup will explore ways to provide more opportunities for New York growers and manufacturers and work to help facilitate the development of safe New York products that will meet the needs of informed consumers," the plan says. The group's recommendations could build upon regulations for hemp and CBD that were developed last year.
But for many advocates, it's recreational legalization that has the spotlight this session. And to that end, New York lawmakers have made comments in recent months that indicate they feel the reform is inevitable, despite differing opinions on the specifics.
The top Republican in the New York Assembly said last month that he expects the legislature to legalize cannabis this coming session.
Senate Majority Leader Andrea Stewart-Cousins (D) said in November that she also anticipates that the reform will advance next year, though she noted that lawmakers will still have to decide on how tax revenue from marijuana sales is distributed.
Cuomo also said that month that the "pressure will be on" to legalize cannabis in the state and lawmakers will approve it "this year" to boost the economy amid the health crisis.
The push to legalize in New York could also be bolstered by the fact that voters in neighboring New Jersey approved a legalization referendum in November.
Legislators prefiled a bill to legalize cannabis in New York earlier this month. The legislation, introduced in the Senate by Sen. Liz Krueger (D) and 18 other lawmakers, is identical to a version she filed last year that did not advance.
Separately, several other bills that focus on medical marijuana were recently prefiled in New York, and they touch on a wide range of topics—from tenants' rights for medical cannabis patients to health insurance coverage for marijuana products.
Biden Taps Marijuana Legalization Supporter To Lead Democratic National Committee