Oregon Regulators Issue Guidance On Cannabis Cups
The following is a bulletin the Oregon Liquor Control Commission sent to marijuana business operators about how to stay compliant with state laws while entering their products into cannabis cup competitions.
Compliance Education Bulletin
Bulletin CE2017-16
November 27, 2017
The Oregon Liquor Control Commission is providing the following information to: recreational marijuana licensees.
The bulletin is part of OLCC's compliance education.  It is important that you read it, and understand it.  If you don't understand it please contact the OLCC for help.
Failure to understand and follow the information contained in this bulletin could result in an OLCC rules compliance violation affecting your ability to work or operate your business.
Bulletin CE2017-16 covers the following issues:
Competitions and Promotional Events
Competitions and Promotional Events
The Oregon Liquor Control Commission has been receiving an increase in questions regarding how licensees can enter into Cup Competitions and remain in compliance with recreational marijuana laws and rules. Although you may have entered Cup Competitions in the past as an Oregon Medical Marijuana Program registrant, the allowances in the OLCC system may differ from what you are used to. It is important that you understand the proper process for entering these competitions as well as what is – and is not – allowed.
How to Enter Samples into a Cup Competition
Only Retailers can sell or give directly to the public. Producers, Processors, Wholesalers, and Labs cannot sell or gift to non-licensees.
The only compliant way for Cup Competition samples to be provided to judges is for the items to be purchased at an OLCC Retailer location. As a licensed producer or processor you can transfer items to an OLCC Retailer within Metrc, and those items can be purchased at cost by a judge or competition organizer for consumption in the judges' or organizer's personal residence. The retail store may charge a discounted price for the marijuana items or give it away free if the customer is an OMMP cardholder.
Most commonly, we have heard licensees say that they intend to use the "In-house Quality Control" adjustment reason in Metrc to enter samples into competition. This is not compliant. Using a licensee's "quality control" allowance to remove product from the system and provide to individuals would be circumventing the rules and would not be a valid method of entering into a competition. Quality Control samples are intended for quality improvement purposes within a facility, not for providing free product to individuals off the licensed premises.
Any attempt to use adjustments – of any kind – in Metrc for purposes of entering samples into a cup competition would be a violation of OLCC rules.

Booths at a Cup Competition
Under Oregon law, no consumption is allowed in a public place. Any location with an OLCC liquor license would be a public place, even if the venue is specifically reserved for a cannabis event. If the location is not licensed to sell liquor, whether it is considered "public" is determined by the local jurisdiction. For more information on what is and is not allowed regarding consumption, see OLCC's "Consumption, Gifting, and Giveaways" guide.
However, with prior approval, an OLCC licensee can set up a booth at an event and have limited amounts of marijuana items on-site for display only. The event as a whole would operate as a "promotional event" in which OLCC licensees with prior approval may participate.
More information regarding promotional events, including how to apply and how to document in Metrc can be found in bulletin CE2017-10 on OLCC's website.
As Denver Post Guts Cannabist, Former Editor Ricardo Baca May Buy It
Marijuana Moment is republishing the following press release with the permission of Grasslands.
'I Am Absolutely Gutted':
As The Denver Post Cuts Staffing to Groundbreaking Marijuana News Vertical The Cannabist, Site's Founder and Original Editor Laments its Unjustified Collapse 
Once Considered Among the Hottest Brands in New Media, Industry-Leading Marijuana Journalism Site The Cannabist No Longer Has a Dedicated Staff After The Denver Post Lays Off One-Third of its Newsroom
DENVER, Colorado—April 27, 2018—Embattled Colorado newspaper The Denver Post is no longer staffing its groundbreaking, first-of-its-kind marijuana news vertical The Cannabist, newsroom leadership confirmed Friday—a decision that is surprising cannabis and journalism circles today.
The Cannabist was founded in 2013 by veteran journalist Ricardo Baca as the world's first adult-use cannabis market was about to launch in Colorado. As The Post's first-ever Marijuana Editor, Mr. Baca and his team created the site from scratch and developed a robust national readership that appreciated the unique vertical's journalism-first approach to covering the newly legal industry, the policy surrounding it and the culture that grew from legalization. Feature-length documentary Rolling Papers—a film "more about marijuana journalism than the big picture, and as such it's a worthwhile endeavor," wrote Chicago Sun-Times film critic Richard Roeper in his three-star review—documented both The Cannabist's debut and the 2014 world premiere of state-regulated legal marijuana sales.
As the site's founder and original editor-in-chief, journalist and thought leader Ricardo Baca was brokenhearted to hear the news.
"I am absolutely gutted today," says Mr. Baca, who founded Grasslands: A Journalism-Minded Agency in early 2017 after resigning from The Post, where he worked as a reporter, critic and editor for 15 years. "We were so lucky to know The Cannabist as we did, and The Denver Post was lucky that we caught this lightning in a bottle during those historic days. We avoided the blind, pro-legalization activism of publications like High Times, and we also were an objective news source to counter prohibitionist misinformation that had plagued so much of the mainstream media's irresponsible coverage of cannabis throughout the last eight decades.
"But it's devastating to have helped create a news and culture site that changed the way so many people, journalists included, talked about marijuana—and to watch it fall apart, especially now that legal cannabis is increasingly becoming the law of the land. Now more than ever, we need serious journalists covering these state-legal marijuana markets, but this trend is not encouraging, as we're also seeing staff reductions at the San Francisco Chronicle's Green State vertical and elsewhere. If The Post's most recent staff reduction broke my heart, which it unquestionably did, this news about The Cannabist losing its dedicated staff is thoroughly drubbing the rest of my internal organs with a meat tenderizer.
"These layoffs are putting The Cannabist on life support and destroying The Post's ability to comprehensively cover Colorado, and it is entirely to blame on Alden Global Capital, the black-hearted hedge fund that owns Digital First Media and 100 American newspapers, including The Post. These vulture capitalists are literally hated throughout Denver, and while everyone from Gov. John Hickenlooper and Mayor Michael Hancock stands in support of The Post, we need to continue to let Alden Global Capital know that they are not welcome in Colorado, and they need to sell The Denver Post to a more responsible owner who will finally curb this undemocratic bloodletting."
In less than two years under Mr. Baca's leadership, The Cannabist was luring more readers than veteran publication High Times' website, according to media-tracking organization comScore. In less than three years, Mr. Baca had grown the staff from just himself to a seven-person full-time team that included four editorial and three advertising employees.
But after Mr. Baca resigned from The Post in December 2016, the newspaper started making cuts to the vertical's staff, nixing the General Manager advertising position and reassigning the remaining two Cannabist-focused sales staff in early 2017. That December, The Cannabist's editorial staff was cut from four to three during a separate newsroom-wide staff reduction.
And in April 2018, after the newspaper's editor told newsroom staff that it would be laying off one-third of its editorial employees, two Cannabist staffers announced they were leaving for other opportunities; later that month, Cannabist editor-in-chief Alex Pasquariello was told the paper was cutting editorial staffing to the site and that his position no longer existed.
The Denver Post has been in the national news recently because of a historic staff reduction and the resulting editorial-page public revolt against the newspaper's hedge-fund ownership via a package of op-eds and columns. Mr. Baca returned to newsprint recently to pen one of the cover op-eds for The Post'sattention-grabbing opinion section.
Mr. Baca's agency Grasslands is in early discussions with Post leadership about potentially purchasing The Cannabist should they decide to sell it.
# # #
About Grasslands
Grasslands is a journalism-minded agency, helping clients in a variety of industries with informed public relations, thoughtful content marketing, contextual social media, top-notch thought leadership work, impactful newsletter campaigns and compelling event execution. The Content Team, led by 20-year newspaper veteran Ricardo Baca, has nearly 45 years of top-level journalism experience at outlets including The Denver Post, the Chicago Sun-Times, the Rocky Mountain News, The Daily Beast and elsewhere. The Public Relations Team, led by 20-year New York City agency veteran Shawna McGregor, has nearly 35 years of high-level communications experience with clients including People magazine, IKEA North America, K12 Inc. and the American Wind Energy Association. Join the Grasslands conversation on Facebook, Twitter and Instagram.
Oregon Marijuana Stores Score 100% In Youth Sales Sting Operation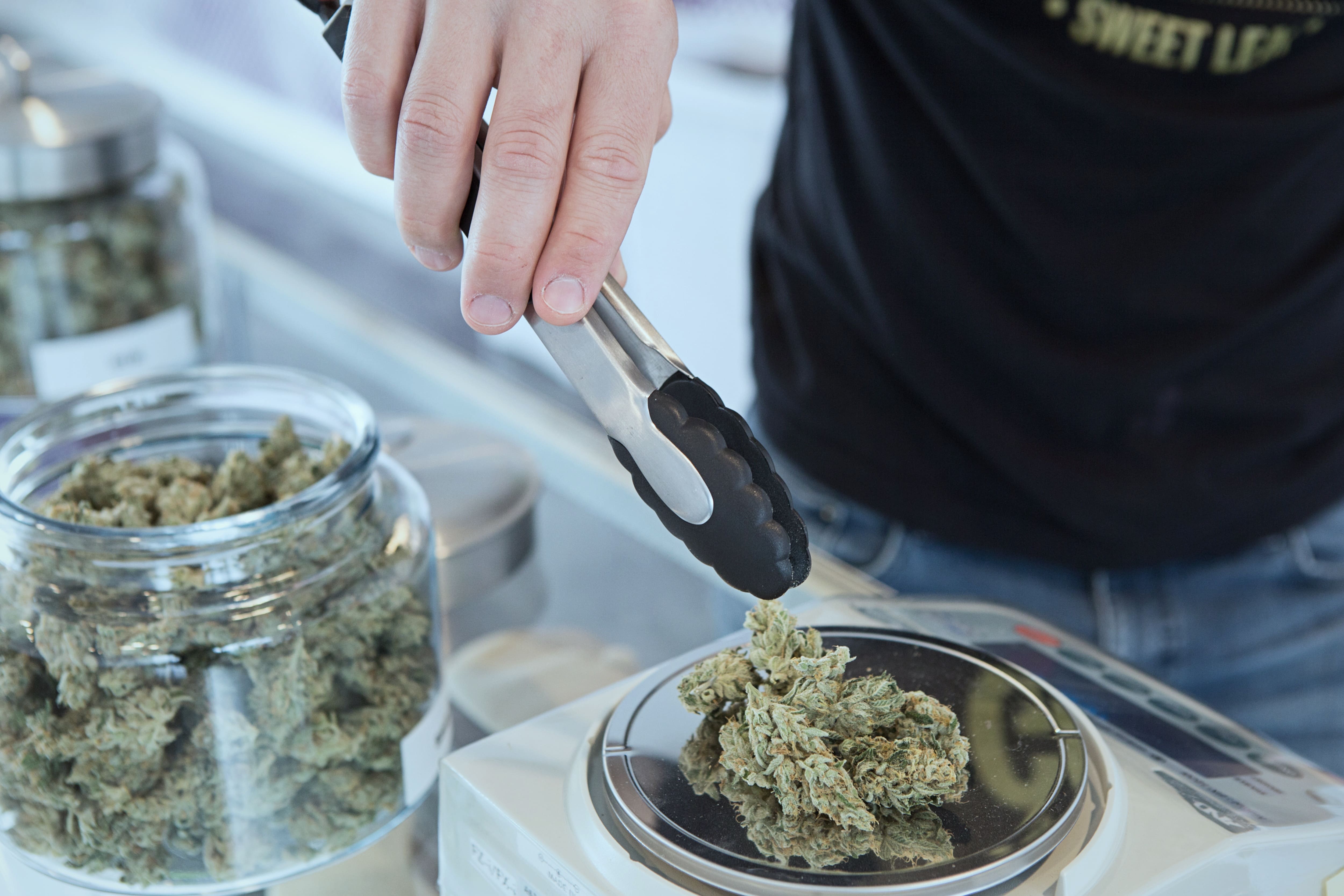 The following is a press release from the Oregon Liquor Control Commission.
OLCC Launches Marijuana Retailer Minor Decoy Checks
Bend Licensees Pass OLCC Check for Sales to Minors
Portland, OR – The Oregon Liquor Control Commission has conducted the first of its statewide minor decoy operations to determine if marijuana license retailers are complying with state laws and OLCC regulations ensuring minors aren't able to enter the business to purchase marijuana products.
On December 19, 2017 OLCC marijuana inspectors visited 20 marijuana retailers in central Oregon, and all of the 20 businesses visited in Bend and La Pine passed a check for prohibiting sales to a minor volunteer.
"That our licensed retailers in central Oregon scored 100 percent on refusal to sell marijuana to a minor is a sign that this segment of our regulated industry understands the importance of compliance," said Steve Marks, Executive Director of the OLCC. "As we continue these checks I hope that these results will be reflected across the state."
Sale of marijuana products to anyone under the age of 21 is a violation that for a first offense could result in a 10 to 30 day license suspension, or a fine of $1650, depending on whether or not the sale is intentional. Failure by a marijuana licensee, or its employee, to check a customer's identification before the attempted purchase of a marijuana product is a violation that could result in a seven (7) day license suspension or a fine more than $1100.
During the sales checks, a minor volunteer attempts to enter a licensed marijuana retailer and/or purchase marijuana products from a licensed business to see if staff are checking ID's correctly and refusing entry to anyone under 21. Commission inspectors supervise the minor volunteers. The volunteers carry their own legal ID that identifies them as under 21 and do not disguise their age or lie to encourage the sale of marijuana.
The Oregon Driver license for a minor carries a red border around the picture with the words "Minor Until" followed by the date of his/her 21st birthday.
The OLCC tests licensed marijuana businesses throughout the year, with each licensed retailer receiving a minimum of one visit per year. The OLCC offers a free training course on how to check ID's and identify false identification.
"This is part of our stepped up compliance and enforcement activity," said Marks. "We're working to make sure that all segments of our regulated market are living up to the requirements of their license, and the expectations Oregonians have that they will act responsibly and follow the law."
###
To see a list of marijuana retailers that were included in the sting operation, go here.
New Hampshire Marijuana Study Commission To Hold First Meeting
Controversial New Hampshire Marijuana Study Commission to Hold First Meeting Tuesday
Group will examine impacts of marijuana legalization, taxation, and regulation; advocates opposed creating the commission because it is overwhelmingly comprised of reform opponents
CONCORD, N.H. — On Tuesday, the inaugural meeting of New Hampshire's marijuana legalization study commission will take place in Concord. The commission, which was created by the passage of HB 215, is tasked with studying the potential impacts of legalizing, regulating, and taxing marijuana for adults' use.
The meeting is scheduled for 9 a.m. in Room 201 of the Legislative Office Building in Concord. Advocates will be there to observe and participate, despite the concerns they have raised regarding the make-up of the commission.
"This commission has a fantastic opportunity to learn what is really happening in states that have pioneered sensible marijuana regulations," said Matt Simon, New England political director for the Marijuana Policy Project. "Sadly, the commission includes staunch opponents of reform such as the Association of Chiefs of Police and New Futures, but supportive organizations such as the ACLU-NH were excluded in the language of the final bill. Additionally, none of the six legislators who were appointed to the commission has ever publicly expressed support for ending marijuana prohibition."
"Regardless of what this commission decides to recommend, most Granite Staters clearly recognize that marijuana is less harmful than alcohol, and they're ready for the state to start treating it that way," he said.
Eight states have enacted laws legalizing and regulating marijuana for adult use, including Massachusetts and Maine, all through ballot initiatives. A poll conducted by the University of New Hampshire Survey Center in April and May of 2017 found that 68% of Granite Staters support legalizing marijuana.
WHAT: First meeting of New Hampshire's marijuana legalization study commission
WHEN: Tuesday, October 17, at 9 a.m. ET
WHERE: Legislative Office Building Room 201, 33 N State St., Concord
WHO: Study Commission Members
Matt Simon, Marijuana Policy Project
# # #
The Marijuana Policy Project is the nation's largest marijuana policy organization. For more information, visit http://www.MarijuanaPolicy.org.
The above press release from the Marijuana Policy Project is reprinted with permission.