Oakland Marijuana Shop Flooded With Questions About Psilocybin Mushrooms After Decriminalization Vote
A vote to decriminalize psilocybin mushrooms and other psychedelics in Oakland has left some residents confused about whether the substances have become commercially available.
Debby Goldsberry, CEO of Magnolia Wellness, told Marijuana Moment that her licensed marijuana shop has been "receiving calls from our members and interested community members, wondering if the dispensary was or would carry these products."
While the City Council voted unanimously last week in favor of a resolution that bars the use of "any city funds or resources to assist in the enforcement of laws imposing criminal penalties" against adults who using and possessing the plants and fungi, the measure specifically does not allow for their legal sale.
"Selling mushrooms would violate both our local and state licenses, and it would put us squarely in the crossfire of federal laws that treat these plant medicines as felonies," Goldsberry said. "Magnolia Wellness, while appreciating their medicinal value, would never put our company, our member base or those in the community who depend on us for support at risk in order to provide medicinal mushrooms."
Further, the shop's staff doesn't "have the experience of expertise to advise people on the use of psychedelic plant medicines," she said.
Confusion over the distinction between decriminalization and commercial legalization isn't confined to Oakland, or psychedelics laws for that matter.
A separate successful campaign to decriminalize psilocybin mushrooms in Denver last month was complicated by voters conflating the policy change with broader legalization. Kevin Matthews, campaign director of Decriminalize Denver, made education about the difference between the two policy reforms a cornerstone of the group's outreach efforts.
"We spent a lot of time talking to people on the ground and letting them know that in terms of decriminalization, this is the kind of thing that's simply going to keep people out of jail for using substances," Matthews told Marijuana Moment. "I think it's one thing we did a decent thing of was really letting people that you can't go buy this at a dispensary."
But whereas Decriminalize Denver spent months educating the public about their proposal as they collected signatures to place the measure on the ballot, the Oakland resolution was introduced and voted on in relatively short order.
That, Matthews said, likely contributed to misunderstandings about the policy implications. Another factor may be that the resolution's sponsor in Oakland indicated just before the vote that legalization and regulated sales could follow.
"Now we have to agree on what's being regulated and identify a pathway for distribution and sales," Councilmember Noel Gallo told Marijuana Moment on the day his measure was approved. "Like with marijuana, we have to establish a process."
But that plan may run up against resistance, including from reform-minded allies.
"I think that in terms of Oakland, it's up to them to make it very clear that people can't go buy this right now," Matthews said. "And I don't think anyone should be able to in a recreational setting like that."
"I think it's important for people to keep in mind that this is a people-powered movement, not a profit-powered movement. We have some time before we should even start considering any kind of recreational sales," he said. "That could derail the whole damn movement."
Decriminalize Nature, the campaign behind Oakland's decriminalization victory, told Marijuana Moment that it does not support commercializing the plant-and fungi-based substances.
As an amendment attached to the resolution itself states, the measure "does not authorize or enable any of the following activities: commercial sale or manufacturing of these plants and fungi."
AOC Pushes To Make It Easier To Study Shrooms And Other Psychedelic Drugs
Photo courtesy of Wikimedia/Mädi.
Willie Nelson Will 'Never Stop Enjoying' Marijuana Despite Quitting Smoking, Son Says
Marijuana enthusiasts around the world have been shocked by the news that Willie Nelson no longer smokes cannabis. Cue the "Has hell frozen over?" jokes.
But the Grammy award-winning musician's son, Lukas Nelson, has taken to social media to clear the air and provide a little cannabis clarity.
While the Country Music Hall of Famer recently told a local television station that he doesn't smoke marijuana anymore for health reasons, his son clarified that he does still consume cannabis. Just not by smoking it.
On Tuesday, Lukas Nelson tweeted: "There is a lot of articles going around saying my father is no longer smoking weed. It's almost 2020, how people ingest cannabis has changed."
There is a lot of articles going around saying my father is no longer smoking weed. It's almost 2020, how people ingest cannabis has changed. Between vaping, edibles, gummies, drops, etc. I think it's safe to say Willie will never stop enjoying Mary Jane!

— Lukas Nelson & Promise Of The Real (@lukasnelson) December 4, 2019
"Between vaping, edibles, gummies, drops, etc. I think it's safe to say Willie will never stop enjoying Mary Jane!" he said.
The comment behind the cannabis controversy happened late last month, when the elder Nelson told local San Antonio news station KSAT that breathing "is a little more difficult these days and I have to be careful" and that "I've abused my lungs quite a bit in the past" so he was putting down the joint.
Nelson has more at stake than just his famed stoner reputation.
His namesake cannabis brand, Willie's Reserve, has been on shelves in legal cannabis markets since 2015. Today, the company's products—including marijuana flower, chocolate edibles, fruit chew edibles and a line of vaporizers—are available in six states: California, Colorado, Maryland, Nevada, Oregon and Washington.
The brand was compelled to send a tweet to clarify Nelson's cannabis consumption on Wednesday, stating, "Willie's still getting high!!"
No pigs in the sky, Willie's still getting high!!

AT 86, Willie Nelson demonstrates there's more than one way to get high. pic.twitter.com/l5JKvNuOs0

— Willie's Reserve (@WilliesReserve) December 4, 2019
Nelson also sells a CBD-centric line of products in all 50 states called Willie's Remedy, launched in 2019. Those offerings include infused whole bean coffee, tea and tinctures.
His spokeswoman, Elaine Shock, confirmed to The Associated Press that the musician has not, in fact, given up cannabis. She explained the different modes of consumption available today that don't involve combustion.
"Willie does what he wants, when he wants, when it comes to smoking," she said.
The musician's reputation as a cannabis icon has long been an area of interest and frequently comes up in media interviews.
Two years ago, actor Woody Harrelson told Jimmy Kimmel he was afraid to admit to his longtime friend Nelson that he had quit smoking cannabis.
Nelson also told Stephen Colbert on his tour bus in 2018 he would be happy to smoke marijuana with Donald Trump, Melania Trump and Barack Obama.
"He needs one bad," Nelson said of Trump. "That could be good for him."
Photo courtesy of CBS.

Postal Service Unveils 'Drug Free USA Forever' Stamp Commemorating 1980s Anti-Drug Program
The U.S. Postal Service (USPS) is rolling out a new stamp design that pays tribute to 1980s-era drug prevention programs and promotes a "drug-free USA."
The stamps, which will go on sale starting in October 2020, were announced at the conclusion of this year's Red Ribbon Week last month, an annual occurrence first launched under the Reagan administration.
"This Drug Free USA Forever stamp will help further raise awareness about the dangers of drug abuse, and the toll it is taking on families and communities around our country," Robert Duncan, chairman of the USPS Board of Governors, said in a press release. "The Postal Service is glad to do its part in marking Red Ribbon Week, and renewing our commitment to helping these efforts to educate youth about the dangers of illegal drugs."
USPS explained that Red Ribbon Week originated after a Drug Enforcement Administration (DEA) agent was tortured and killed in Mexico while investigating drug traffickers in 1985.
"I am very pleased that the U.S. Postal Service will issue a stamp affirming our commitment to a drug-free America," DEA Acting Administrator Uttam Dhillon said. "This stamp will help raise awareness of the fight against drug addiction and honor those who have dedicated their lives to that cause."
A description of the design states that the stamp "features a white star with lines of red, light blue and blue radiating from one side of each of the star's five points, suggesting the unity necessary at all levels to effectively address drug abuse."
USPS isn't applying anti-drug messaging to the cannabis component CBD anymore, however. In September, the agency clarified that hemp-derived CBD products can be mailed under certain circumstances since the crop and its derivatives were federally legalized under the 2018 Farm Bill.
For those with mailing needs who aren't interested in supporting the notion of a "Drug Free USA," USPS does have another stamp that recognizes the 50-year anniversary of the drug-fueled 1969 counterculture music festival Woodstock.
The stamp "features an image of a dove along with the words '3 DAYS OF PEACE AND MUSIC,' evoking the original promotional poster for the festival," USPS says.
Another option is a John Lennon Forever stamp, celebrating the iconic Beatles member and marijuana enthusiast who famously got "high with a little help" from his friends.
"Still beloved around the world, Lennon's music remains an anchor of pop radio and continues to speak for truth and peace," USPS wrote.
Top CDC Official Suggests Legal Marijuana Regulations Can Mitigate Vaping Injuries
Photo courtesy of Wikicommons.
Doctors Find Marijuana In Man's Nose That He'd Forgotten Smuggling Into Prison 18 Years Ago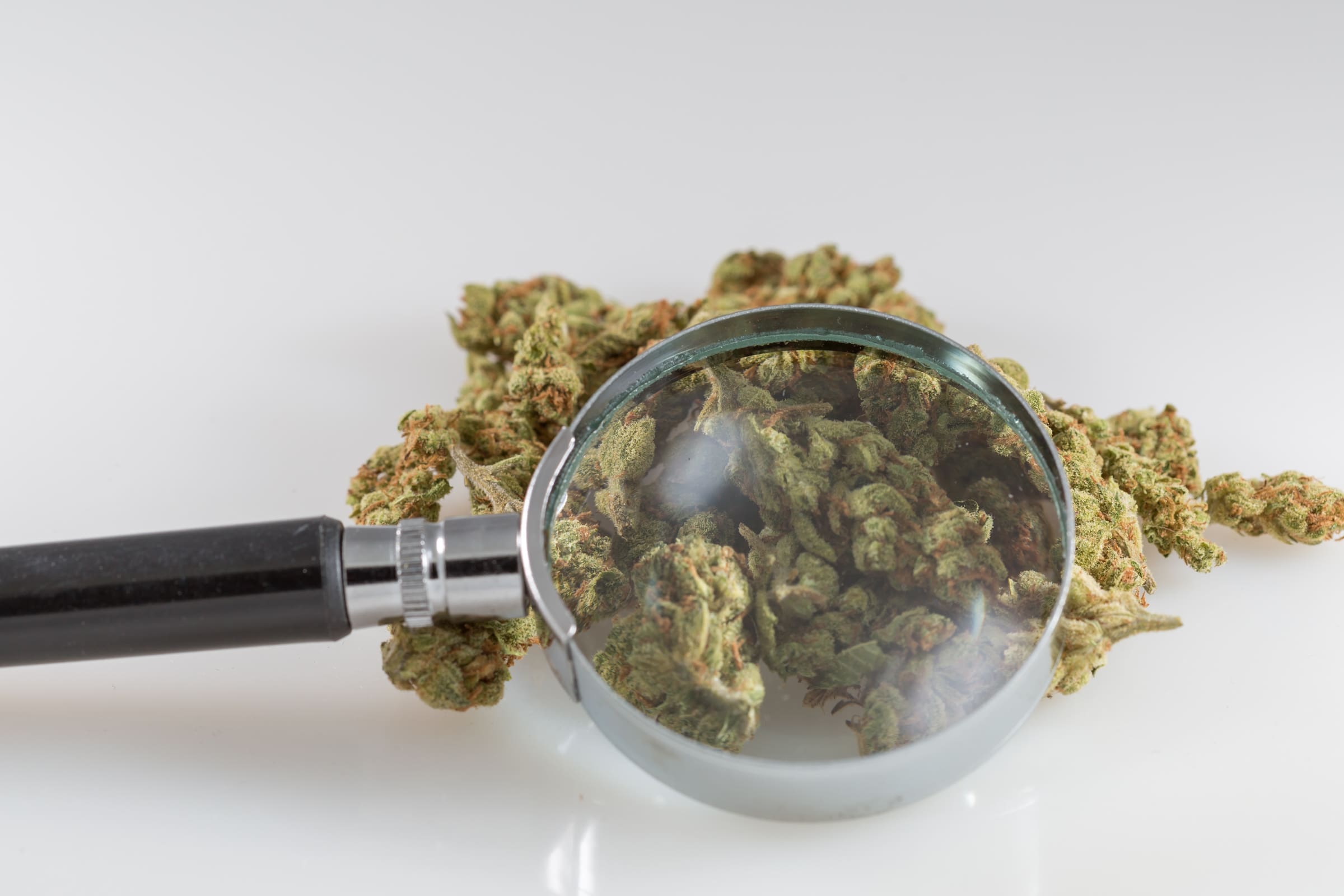 After a man attempted to smuggle a small amount of marijuana inside a balloon stuffed in his nose into prison, he thought he accidentally swallowed it and that the cannabis ended up passing through his body.
But that turned out not to be the case, because 18 years later doctors inadvertently discovered the marijuana—calcified in his right nostril—during a head scan.
The odd occurrence was highlighted in a report published in the journal BMJ Case Reports last week. Doctors said the patient presented with the rhinolith, which is essentially a stone lodged in the nasal cavity that can develop internally or through external factors like a child sticking a Lego in their nose.
But this incident proved unique and caught the attention of the medical journal. A 48-year-old man went to the hospital for a CT scan after complaining of headaches and, upon questioning, said that he had a history of nasal obstruction and infections. The scan turned up a 19mm by 11mm rhinolith, which was then removed endoscopically.
"The histopathology report noted a 'rubber capsule containing degenerate vegetable/plant matter,'" doctors from Westmead Hospital in Sydney, Australia wrote. "On follow-up and specific questioning, the patient was able to recall an incident that occurred 18 years prior, while he was incarcerated."
"During a prison visit, the patient's girlfriend supplied him with a small quantity of marijuana, inside a rubber balloon. In order to evade detection, the patient inserted the package inside his right nostril," they continued. "Despite effectively smuggling the package past the prison guards, the patient then accidentally pushed the package deeper into his nostril and mistakenly believed he had swallowed it. He remained unaware of the package's presence until presented with the unusual histopathology report."
The patient checked back in with the doctors three months after the rhinolith was removed and reported that the nasal issues had gone away.
The case report emphasizes that rhinoliths are generally rare, accounting for an estimated 1 in 10,000 nose doctor outpatient visits. It's possible that the number may be higher, as many instances do not present symptoms but, generally speaking, it's uncommon.
The 18-year-old marijuana shoved into the nose of a formerly incarcerated person that subsequently calcified is a next-level medical finding, the doctors said.
"To the best of our knowledge, our case represents the first report of a prison-acquired marijuana-based rhinolith," they wrote.
The medical team speculates that the reason doctors don't see more cases of prison-related rhinoliths is because most smuggling attempts "involve ingestion of the foreign body that acts as a bezoar to be retrieved after passage through the gastrointestinal tract, while insertion into the nasal cavity for this purpose is relatively rare."
"Nevertheless, an index of suspicion of rhinolith should be maintained in all cases of unilateral nasal symptoms," they concluded.
Medical Marijuana Laws Improve Health And Reduce Alcohol Use For Certain Groups, Study Finds