New York Marijuana Regulators Approve Rules On Packaging, Advertising And Testing As State Readies For Adult-Use Sales
New York marijuana regulators on Wednesday took another step toward setting up the state for the launch of its adult-use retail market, approving a series of proposed rules for packaging, labeling, advertising and testing requirements.
They also approved 16 additional adult-use cannabis cultivator applications to help ensure the market has enough product when recreational sales launch by the end of this year, raising the total to 162.
Members of the Cannabis Control Board (CCB) said that the new rules will help ensure public safety and prevent underage use.
For example, under one approved measure, only one brand name could be featured on a cannabis item, with no pictures or graphics, except for what regulators are requiring to be included—such as a new universal symbol that will be used to designate legal marijuana products.
BREAKING: When you see this symbol on a product in stores, you'll know it's, tested, high-quality New York Cannabis.

We're submitting this universal symbol to the Cannabis Control Board for its review at tomorrow's meeting & can't wait to hear from New Yorkers about it. pic.twitter.com/yuczhD3zQr

— NYS Office of Cannabis Management (@nys_cannabis) May 31, 2022
Packages also specifically can't be made to appeal to underage consumers and must be child-resistant and tamper-evident.
Labels must contain details about the cannabinoid content and concentration, the serving size for edible products, the weight of the item and a lot number.
"Protecting public health, reducing harm and promoting sustainable industry practices are key components of legalizing cannabis for adult-use and I look forward to considering these regulations as we develop the industry," CCB Chair Tremaine Wright said in a press release. "We are committed to building a New York cannabis industry that sets high standards for protecting children and keeping products safe and sustainable."
With regard to sustainable practices, licensees must "submit an environmental sustainability program for cannabis product packaging as part of the application process," the rules say, and the packages couldn't be made of single-use plastic, unless at least 25 percent is made from post-consumer recycled content.
Licensees could also include in their applications proposed plans to sanitize marijuana packaging for reuse.
A state senator separately filed a bill in February that would promote recycling in the marijuana industry once retail sales officially launch. Sen. Michelle Hinchey's (D) measure would require cannabis shops to apply a $1 deposit for any marijuana products sold in single-use plastic containers and also reimburse consumers for that fee if they return the container. She also sponsored legislation that would prioritize hemp-based packaging over synthetic plastics for marijuana products. Neither measure has been enacted, however.
For now, CCB's regulatory proposal says that "retail packages can be reused after appropriate sanitation and based on visual inspection, if the retail package is in good working order and does not appear to pose a risk of unintended exposure or ingestion of cannabis products."
Consistent with existing regulations for other non-cannabis food items, the packages must be labeled in such a way as to identify "any major allergens" the products contain. Marijuana edibles and beverages need to have a nutritional label, as well.
If solvents are used to produce the product, that also must be noted on the label, as does the expiration date and use-by date and usage instructions.
The proposed rules also call for a scannable bar code or QR code to be included on marijuana products so that people can view the certification of analysis.
Additionally, marijuana items must contain this language: "KEEP OUT OF REACH OF CHILDREN AND PETS. For use only by persons 21 years and older," and include a warning that pregnant women and those who are nursing should not use cannabis. Smokable or vapable products need to include their own warnings about the health risks of inhaling, and edible products will need to include a caution that the onset of effects could take up to four hours.
With respect to marijuana advertising, CCB also approved a wide range of rules, including a policy that businesses marketing their products must similarly add language stipulating the following: 'For use only by adults 21 years of age and older. Keep out of reach of children and pets. In case of accidental ingestion or overconsumption, contact the National Poison Control Center hotline 1-800-222-1222 or call 9-1-1. Please consume responsibly."
Similar to federal policy on cigarettes, there would be rotating series of warnings that ads would additionally need to include, such as:
"Cannabis may cause impairment and may be habit forming."
"Cannabis can impair concentration, coordination and judgment. Do not operate a vehicle or machinery under the influence of cannabis."
"There may be health risks associated with consumption of this product."
"Cannabis is not recommended for use by persons who are pregnant or nursing."
"A licensee shall only advertise cannabis products, cannabis paraphernalia, or goods or services related to cannabis or cannabis products by means of television, radio, print, internet, mobile applications, social media, other electronic communication, or print publication if the licensee has reliable evidence that at least 90 percent, unless otherwise determined by the Office, of the audience for the advertisement is reasonably expected to be twenty-one years of age or older," the rules say. "The burden of proof of the audience composition lies with the licensee."
Marijuana business licensees would be permitted to advertise at a "charitable, sports, or similar event" as long as it's determined that at least 90 percent of attendees are 21 or older.
Another notable regulation that the board approved stipulates that marijuana businesses could not promote "price, price reductions, or any other discount, customer loyalty program, or coupon." And they couldn't use the word "organic" in marketing their products, among many other restrictions.
Finally, CCB members gave the green light to certain testing requirements for marijuana products. Among the more important rules is that no marijuana testing facility may have a business interest in any of the other cannabis licensee types such as retailers, cultivators or on-site consumption facilities.
In addition to testing for the phytocannabinoid profile in products, labs will also need to screen for contaminates, including "microorganisms, foreign material, metals, moisture content and water activity, mycotoxins, pesticides, residual solvents, terpenoids, and any other analyte or group of analytes determined by" regulators.
All of the resolutions concerning marijuana packaging, labeling and advertising will now under go a public comment period.
As New York prepares for the launch of retail sales, regulators have been hard at work getting the market positioned for success.
For example, CCB help two meetings last month where they granted 94 cultivator licenses collectively for existing hemp businesses as part of the state's seeding opportunity initiative. The body previously approved the first 52 applications, and regulators will continue to review the bids on a rolling basis. Another 58 were approved earlier this month, and now at this latest meeting, they approved 16 more cultivator licenses.
NEW: New York State's Cannabis Control Board has just approved another 16 adult-use cannabis cultivation licenses.
 
162 NY farms are now licensed to grow adult-use cannabis, and you'll be able to buy this bud at retail dispensaries in 2022.

— NYS Office of Cannabis Management (@nys_cannabis) June 1, 2022
Gov. Kathy Hochul (D) signed a bill from Assembly Majority Leader Crystal Peoples-Stokes (D) and Sen. Michelle Hinchey (D) to create conditional licenses in February. The intent is to allow existing hemp operators to get a head start on growing marijuana to meet demand for the forthcoming industry.
Office of Cannabis Management Executive Director Chris Alexander affirmed last month that the state is still on track to launch retail sales "later this year," adding that, "so far, this has had a tremendous impact in our communities statewide."
Regulators also advanced a rule in March to make it so people with prior marijuana convictions, or whose family members have been harmed by criminalization, will get the first round of adult-use marijuana retailer licenses—ahead of existing medical cannabis businesses. A recent poll found that most New Yorkers voters are against that proposal.
During April's CCB meeting, regulators also approved revised regulations to allow medical marijuana patients to grow their own plants for personal use following a public comment period on initial rules that were proposed last year.
In general, the rule would allow registered patients and caregivers to grow up to six plants, only three of which could be mature. They could possess up to five pounds of cannabis derived from those plants, which is consistent with the state's adult-use legalization law.
Meanwhile, New York lawmakers recently sent a budget proposal to the governor's desk that includes provisions to let marijuana businesses take state tax deductions that are available to other industries despite an ongoing federal ban on cannabis. That was signed into law.
Sen. Jeremy Cooney (D) filed a standalone bill in December seeking a similar carve-out for the state's burgeoning cannabis market. Assemblymember Donna Lupardo (D) followed suit in her chamber. Cooney also filed a bill last month to allow regulators to disclose certain information about cannabis licensees to financial institutions to promote marijuana banking.
—
Marijuana Moment is already tracking more than 1,000 cannabis, psychedelics and drug policy bills in state legislatures and Congress this year. Patreon supporters pledging at least $25/month get access to our interactive maps, charts and hearing calendar so they don't miss any developments.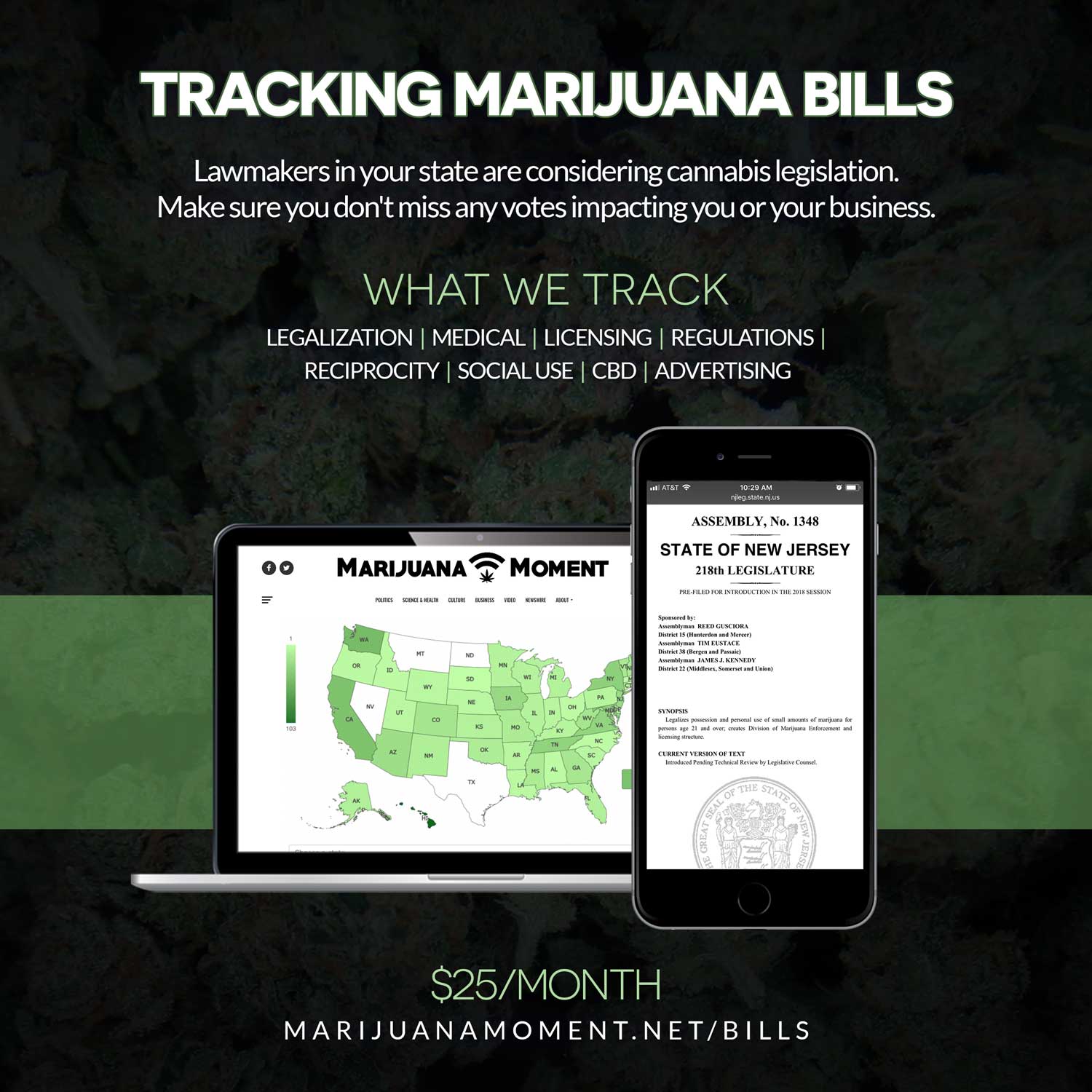 Learn more about our marijuana bill tracker and become a supporter on Patreon to get access.
—
As it stands, adults 21 and older can possess and publicly consume cannabis, as well as gift marijuana to other adults as long as they aren't being compensated. But regulators are still finalizing licensing rules, and there are currently no retailers that are authorized to sell cannabis for adult use in the state.
Hochul has repeatedly emphasized her interest in efficiently implementing the legalization law.
The governor released a State of the State book in January that called for the creation of a $200 million public-private fund to specifically help promote social equity in the state's burgeoning marijuana market.
That proposal was also cited in the governor's executive budget, which was released in January. The budget also estimated that New York stands to generate more than $1.25 billion in marijuana tax revenue over the next six years.
Hochul said that while cannabis business licenses have yet to be approved since legalization was signed into law last year, the market stands to generate billions of dollars, and it's important to "create opportunities for all New Yorkers, particularly those from historically marginalized communities."
Enacting legislation that expedites licensing could help the state reduce the number of businesses that are effectively using the legal "gifting" provision of the state's marijuana law to give away cannabis for "free" if a non-marijuana-related purchase is made.
New York regulators recently issued warnings to more than two dozen businesses that they allege are either illegally selling marijuana without a license or exploiting the "gifting" component.
CCB Chair Tremaine Wright talked about the complicated legal landscape that's developed in New York as the state moves from prohibition to legalization at a community board event in April.
She stressed that New York's marijuana law was specifically crafted with those most impacted by criminalization in mind, and so regulators are working to ensure that people who engaged in previously illegal activities and were caught up in the war on cannabis have a seat at the table in the new industry.
Here are some other ways that New York lawmakers and regulators are working to promote drug policy reform as the state prepares to implement retail marijuana sales: 
The state Department of Labor separately announced in recent guidance that New York employers are no longer allowed to drug test most workers for marijuana.
Meanwhile, a New York lawmaker introduced a bill in June that would require the state to establish an institute to research the therapeutic potential of psychedelics.
Another state legislator filed legislation in December to legalize psilocybin mushrooms for medical purposes and establish facilities where the psychedelic could be grown and administered to patients.
Separately, the mayor of New York City says he's looking into the idea of authorizing marijuana to be grown in greenhouses on the rooftops of public housing buildings—an ambitious proposal that's unlikely to sit well with the federal government, which provides funding to support the NYC Housing Authority (NYCHA).
State regulators also recently asked the social media app TikTok to end its ban on advertising that involves the word "cannabis" as they work to promote public education on the state's move to legalize.
North Carolina Medical Marijuana Legalization Bill Heads To Senate Floor Following Committee Vote