Mormon GOP Senator Pushes Medical Marijuana As Opioid Alternative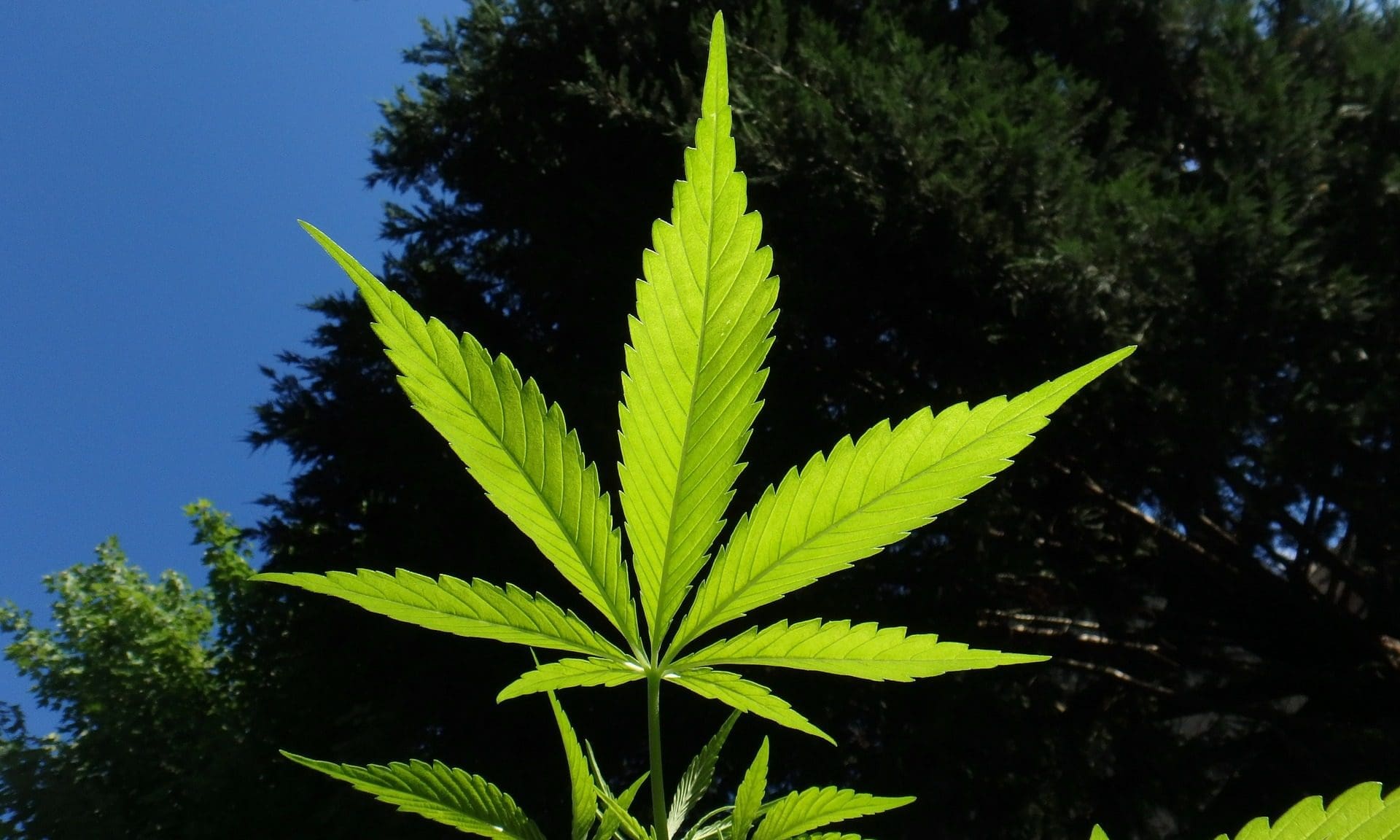 A conservative Republican U.S. senator spoke about the "possible benefits of medical marijuana as an alternative to opioids" on the Senate floor on Wednesday afternoon, and introduced bipartisan legislation aimed at expanding cannabis research.
Sen. Orrin Hatch, who has represented Utah in Congress since 1977, has historically not been a champion of marijuana law reform, and continues to oppose full recreational legalization.
But in a floor speech he said that "in our zeal to enforce the law, we too often blind ourselves to the medicinal benefits of natural substances like cannabis."
"While I certainly do not support the use of marijuana for recreational purposes, the evidence shows that cannabis possesses medicinal properties that can truly change people's lives for the better," the senator said. "And I believe, Mr. President, that we would be remiss if we threw out the baby with the bathwater."
Hatch's new bill, the Marijuana Effective Drug Study (MEDS) Act of 2017 would ease researchers' access to marijuana for studies on its medical benefits and would require the National Institute on Drug Abuse (NIDA) to develop recommendations for good manufacturing practices for growing and producing cannabis for research.
In a pun-filled statement about the legislation, Hatch said it is "high time to address research into medical marijuana," adding:
"Our country has experimented with a variety of state solutions without properly delving into the weeds on the effectiveness, safety, dosing, administration and quality of medical marijuana. All the while, the federal government strains to enforce regulations that sometimes do more harm than good. To be blunt, we need to remove the administrative barriers preventing legitimate research into medical marijuana, which is why I've decided to roll out the MEDS Act."
Sens. Brian Schatz (D-HI), Chris Coons (D-DE), Cory Gardner (R-CO) and Thom Tillis (R-NC) are initial cosponsors of the bill.
In his floor remarks, Hatch spotlighted impediments to research that currently exist because of marijuana's status under federal law.
"We lack the science to support use of medical marijuana products like CBD oils not because researchers are unwilling to do the work, but because of bureaucratic red tape and over-regulation," he said. "Under current law, those who want to complete research on the benefits of medical marijuana must engage in a complex application process and interact with several federal agencies. These regulatory acrobatics can take researchers over a year, if not more, to complete. And the longer researchers have to wait, the longer patients have to suffer."
Cannabis is currently classified under Schedule I of the Controlled Substances Act. That's the most restrictive category, and is supposed to be reserved for drugs with no medical value and a high potential for abuse. Researchers have long complained that the classification creates additional hurdles that don't exist for studies on other substances.
The Senate Appropriations Committee issued a report last week expressing concern about Schedule I's research roadblocks.
There are several other pending marijuana bills in the Senate that would change federal laws to allow protections to people who use medical cannabis legally in accordance with state laws, but Hatch has not yet added his name as cosponsor of any of them. One such comprehensive bill has three Republican and three Democratic cosponsors.
Activists in Hatch's home state of Utah are currently collecting signatures to qualify a medical cannabis ballot initiative for 2018. A recent poll found that 79% of the state's likely voters support the concept.
Hatch is a member of the Church of Jesus Christ of Latter-day Saints, which is opposing the pending Utah ballot initiative.
"We believe that society is best served by requiring marijuana to go through further research and the FDA approval process that all other drugs must go through before they are prescribed to patients," the Church said in a statement earlier this year.
While Hatch hasn't revealed his position on the ballot measure, he did speak of a young Utah constituent who suffers from seizures and could benefit from medical cannabis.
"This poor family is seeking help, yearning for a way for their child to live a safe and healthy life," he said. "Compounds found in marijuana could significantly mitigate the severity of my friend's seizures and even help him lead a normal life. But current regulations prevent the development of any such treatment from going forward. So this young man is left to suffer."
But despite Hatch's support for research and acknowledgment of marijuana's medical benefits, he isn't exactly a fan of how many state laws regulate the drug.
"If we make medical marijuana accessible to those who really need it, we should not increase access to recreational marijuana, nor should we do anything to promote the industry that has developed around marijuana dispensaries," he said, adding:
"Mr. President, the recreational marijuana industry has its fair share of budding entrepreneurs. But these men and women are in no way qualified to issue prescriptions or give any medical advice whatsoever to people suffering from chronic conditions. Only experienced medical professionals who have undergone years of education and formal training are qualified to consult patients seeking a marijuana-derived treatment. Only licensed professionals know how to accurately diagnose illnesses and use approved medical treatments to safely treat disease."
The senator also expressed discomfort with the smoking of medical cannabis, saying he believes that "treatment options should focus on non-combustive forms of marijuana."
Hatch introduced a similar marijuana research bill last year, but did not so clearly endorse cannabis's medical potential in the related press release as he did in his floor remarks this time.
A growing body of research suggests that legal marijuana access is associated with reduced opioid addiction and overdose rates.
Marijuana Banking Bill Will Get A House Floor Vote Next Week, Majority Leader Confirms
A bipartisan bill to protect banks that service state-legal marijuana businesses from being penalized by federal regulators has been formally scheduled to receive a House floor vote on Monday, a calendar released by Majority Leader Steny Hoyer's (D-MD) office confirms.
Marijuana Moment reported on the expected development earlier Friday after obtaining an email that was sent to stakeholders by a staffer for Rep. Ed Perlmutter (D-CO), the bill's sponsor, seeking letters of support for the Secure and Fair Enforcement (SAFE) Banking Act ahead of the anticipated vote.
The bill is now now officially listed on the majority leader's agenda of legislation for Monday.
This will mark the first floor action on a cannabis reform bill this Congress. The standalone legislation cleared the House with bipartisan support in 2019, and its language was also included in two coronavirus relief packages that the chamber approved. The proposal did not advance in any form in the Senate under GOP control, however.
With Democrats now in control of the House, Senate and White House, industry stakeholders are optimistic that the legislation stands a solid chance of becoming law this year.
The SAFE Banking Act was reintroduced in the House last month, and it currently has 151 cosponsors—more than one-third of the chamber. Days later, it was refiled in the Senate, where Sens. Jeff Merkley (D-OR) and Steve Daines (R-MT) are the chief sponsors.
—
Marijuana Moment is already tracking more than 1,000 cannabis, psychedelics and drug policy bills in state legislatures and Congress this year. Patreon supporters pledging at least $25/month get access to our interactive maps, charts and hearing calendar so they don't miss any developments.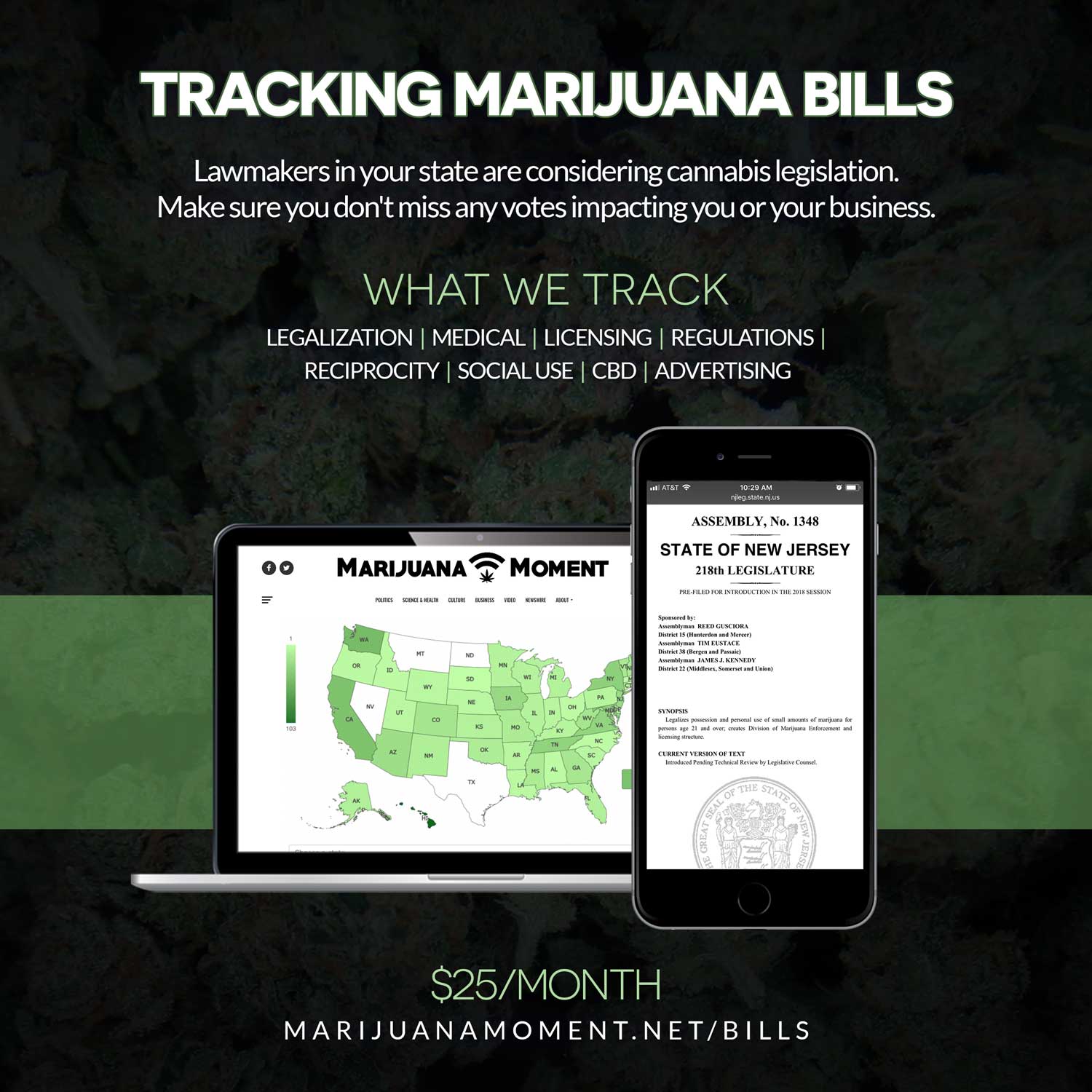 Learn more about our marijuana bill tracker and become a supporter on Patreon to get access.
—
The legislation would ensure that financial institutions could take on cannabis business clients without facing federal penalties. Fear of sanctions has kept many banks and credit unions from working with the industry, forcing marijuana firms to operate on a cash basis that makes them targets of crime and creates complications for financial regulators.
Because the bill will be taken up under the process known as suspension of the rules, it will need a two-thirds supermajority to pass—an achievable threshold given the level of support it got during the earlier 2019 vote. No floor amendments will be allowed under the procedure.
Rep. Matt Gaetz (R-FL) said in a tweet on Friday that he'll "be voting for the SAFE Banking Act in the House" and that it's "absurd that Marijuana business cannot fully access the US financial system." He did not comment on the timing of a vote, however.
I'll be voting for the SAFE Banking Act in the House.

It is absurd that Marijuana business cannot fully access the US financial system. pic.twitter.com/5YDeuUBr0p

— Matt Gaetz (@mattgaetz) April 16, 2021
After it passed the House last Congress, advocates and stakeholders closely watched for any action to come out of the Senate Banking Committee, where it was referred after being transmitted to the chamber. But then-Chairman Mike Crapo (R-ID) did not hold a hearing on the proposal, despite talk of negotiations taking place regarding certain provisions.
Crapo said he opposed the reform proposal, but he signaled that he might be more amenable if it included certain provisions viewed as untenable to the industry, including a 2 percent THC potency limit on products in order for cannabis businesses to qualify to access financial services as well as blocking banking services for operators that sell high-potency vaping devices or edibles that could appeal to children.
Sen. Sherrod Brown (D-OH), who took the top seat in that panel after Democrats secured a majority in the Senate, told reporters in February that he's "willing" to move the cannabis banking bill, "but with it needs to come sentencing reform."
The current Senate version of the SAFE Banking Act has 32 cosponsors.
When legislative leaders announced that the SAFE Banking Act was getting a House vote in 2019,  there was pushback from some advocates who felt that Congress should have prioritized comprehensive reform to legalize marijuana and promote social equity, rather than start with a measure viewed as primarily friendly to industry interests.
Rep. Earl Blumenauer (D-OR), co-chair of the Congressional Cannabis Caucus and an original cosponsor of the bill, said last month that the plan is to pass the banking reform first this session because it "is a public safety crisis now," and it's "distinct—as we've heard from some of my colleagues—distinct from how they feel about comprehensive reform."
Meanwhile, congressional lawmakers are simultaneously preparing to introduce legislation to end federal cannabis prohibition.
Senate Majority Leader Chuck Schumer (D-NY), Senate Finance Chairman Ron Wyden (D-OR) and Sen. Cory Booker (D-NJ) are in the process of crafting a legalization bill, and they've already met with advocates to get feedback on how best to approach the policy change.
Schumer said this week that the legislation will be introduced and placed on the floor "soon."
On the House side, Judiciary Chairman Jerrold Nadler (D-NY) said recently that he plans to reintroduced his legalization bill, the Marijuana Opportunity, Reinvestment and Expungement (MORE) Act, which cleared the chamber last year but did not advance in the Senate under GOP control.
Biden's Already On Board With Federal Marijuana Legalization Even If He Doesn't Use That Word, Booker Says
Washington Senate Replaces Drug Decriminalization Bill With Revised Measure To Reinstate Penalties
A bill that would have formally decriminalized drugs in Washington State was gutted on the Senate floor on Thursday, with lawmakers approving a dramatically revised version that instead reinstates criminal penalties following a state Supreme Court ruling that overturned prohibition.
The action sets up a possible showdown with more progressive Democrats in the House of Representatives who have said they won't vote for legislation that returns to a criminal war on drugs.
Washington has been without a law against drug possession since a divided state Supreme Court abruptly struck it down February, after ruling that a narrow portion of the decades-old law was unconstitutional. Lawmakers have since scrambled to address the decision—which has halted drug arrests and prosecutions across the state and freed dozens of people incarcerated on drug possession charges—before the legislative session ends on April 25.
On the Senate floor on Thursday evening, a bill that originally would have left drug possession decriminalized was amended to instead make possession a gross misdemeanor, a crime punishable by up to a year in jail and a $5,000 fine—a change that led its lead sponsor to vote against the measure.
Prior to the court decision, drug possession was classified as a felony.
Senators passed the amended version of the bill, SB 5476, on a 28–20–1 vote. It next proceeds to the House, where it's scheduled for an initial hearing in the Appropriations Committee on Monday, with possible committee action slated for Wednesday, April 21.
Watch the senators discuss the drug penalties legislation, around 1:01:33 into the video below: 
As amended, the Senate-passed bill represents a moderate reform to Washington's now-invalidated felony law against possession. It requires the prosecutors divert people for first- and second-time possession charges to evaluation and treatment programs, and allows for the possibility of further diversions with a prosecutor's approval.
"I think that this striking amendment will help move us forward as we continue negotiations in these final 10 days with the body across the way toward having a response that will provide services and treatment and help for people who are struggling with substance use disorder," Sen. Jamie Pedersen (D), who brought the amendment, said on the Senate floor.
The bill in its original form represented a more significant shift away from the drug war. It would have imposed no penalties for possession of small, "personal use" amounts of drugs, instead routing people to evaluation and treatment services for substance use disorder.
Some senators who initially supported SB 5476 ultimately changed their vote after the misdemeanor amendment was adopted. The bill's original sponsor, Sen. Manka Dhingra (D) said she could no longer support the proposal.
"The way we are doing this, I'm glad there'll be opportunities for diversion, but it needs to be not through the criminal justice system," Dhingra said during floor debate. "I understand this is my bill, I understand my name is on there, but I will be voting no on this today."
Many senators who weighed in on the bill Thursday said it was important that the legislature pass something before the session end, given the sweeping impact of February's state Supreme Court decision, State v. Blake. In a statement issued after the floor vote, Senate Majority Leader Andy Billig (D) said that not passing a state law on drug possession "means a patchwork of local ordinances that will be confusing to Washingtonians and won't provide equal justice across the state."
Generally speaking, state drug laws are understood to preempt those of Washington's cities and counties. With the state law against possession gone, localities could establish their own laws and penalties, and some have already begun doing so.
"The bill we passed today is not the final word on the subject," Billig said in a statement. "It is a compromise that keeps this important legislation moving so that we can do our duty as the representatives of the people of our whole state."
Representatives in the House, however, have indicated more openness to leaving drug possession decriminalized this session. On Thursday, lawmakers in favor of broader drug reform introduced a new bill, HB 1578, which would expand treatment and recovery services and reclassify low-level possession as a civil infraction, punishable by a fine of up to $125 and no possibility of jail time.
—
Marijuana Moment is already tracking more than 1,000 cannabis, psychedelics and drug policy bills in state legislatures and Congress this year. Patreon supporters pledging at least $25/month get access to our interactive maps, charts and hearing calendar so they don't miss any developments.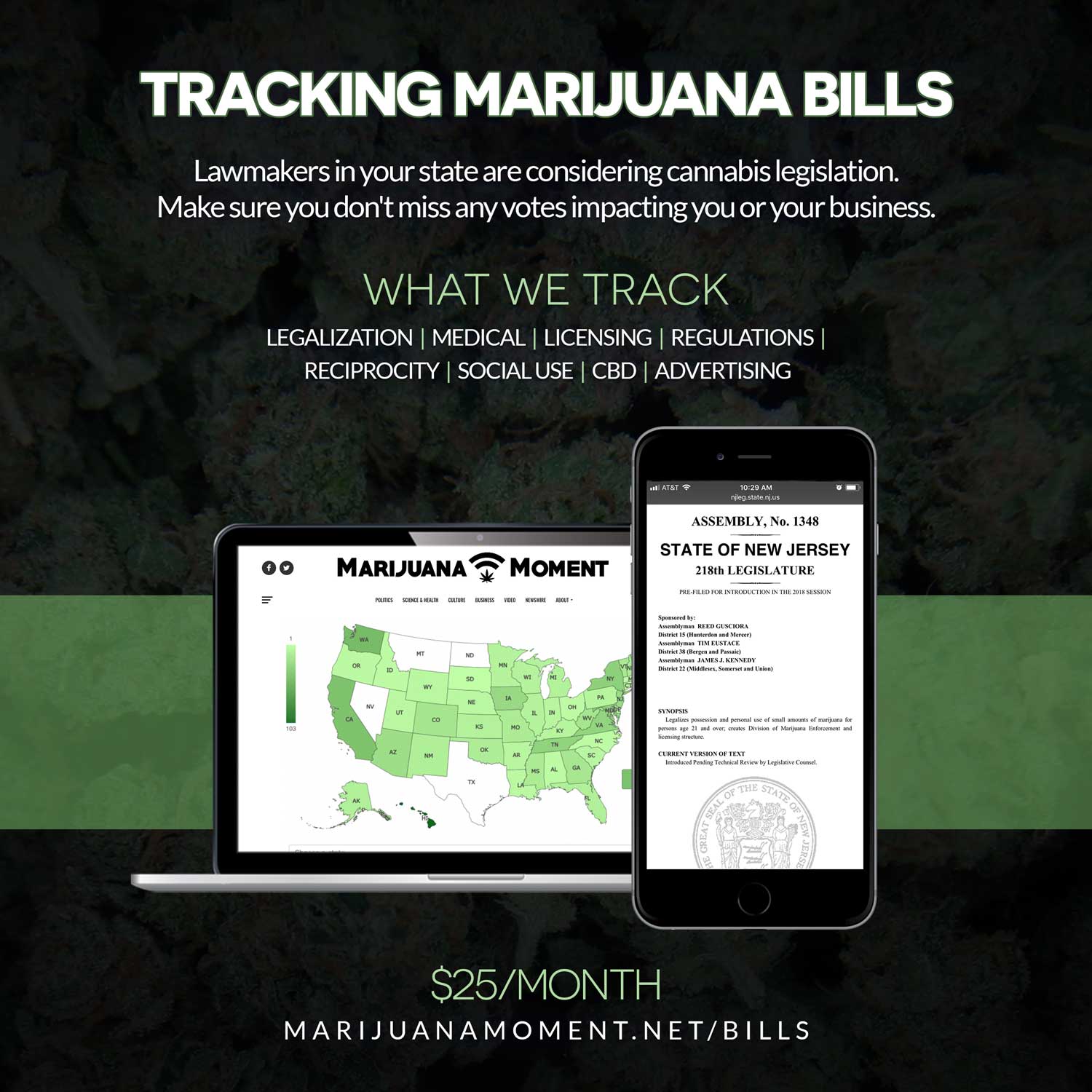 Learn more about our marijuana bill tracker and become a supporter on Patreon to get access.
—
Of all the measures currently in play this session, the new bill is the one that most closely resembles neighboring Oregon's drug decriminalization measure passed by voters in November. But its path forward is uncertain: HB 1578 would need to pass both chambers of the legislature in less than two weeks.
Likewise, it remains unclear how the House will receive the Senate-passed bill, SB 5476, in its new form. More progressive members of the Democratic caucus have said they won't vote for legislation that reimposes criminal penalties for simple possession, but it's not certain they'll be able to muster enough support to pass a decriminalization measure.
If House lawmakers were to amend the Senate bill before passing it, the legislation would need to go to a conference committee, where members of both chambers would iron out differences in the two versions of the bills.
Earlier this year, before the Supreme Court's decision, a House committee passed a separate bill, HB 1499, that would have ended criminal penalties for personal use amounts of drugs and instead routed people to evaluation and treatment. It would have also significantly expanded the state's outreach and recovery programs for people with drug use disorders. That measure failed to proceed further after missing a legislative deadline last month.
HB 1499, for its part, stemmed from an effort to put a drug decriminalization initiative on Washington's ballot last year. Supporters pivoted to a push through the legislature after pressing pause on their signature-gathering campaign after COVID-19 first broke out in the Seattle area early last year.
Advocates for reform have noted that the state's criminal enforcement of drug possession laws has had a strong bias against people of color, particularly the state's Black, brown and Indigenous communities.
In her comments on the Senate floor, Dhingra echoed that point, arguing that the Blake decision presents a chance for lawmakers to finally begin to address those racial disparities.
"I will say that the Supreme Court did provide us with an opportunity," she said, "an opportunity to really think about what we as a state and as a nation have been doing in regards to the war on drugs, and to really think critically of the impact that this has had very, very specifically on Brown and Black families."
"The racial impact of our drug laws cannot be understated," Dhingra continued. "When we take a look at mass incarceration, when we take a look at families with a single mom who is bringing up her children, when we take a look at parents who cannot find a job because of their criminal history, cannot find housing, cannot seek recovery, it comes down to the manner in which we have been enforcing our drug laws."
Rep. Roger Goodman (D), the lead sponsor of the new House measure, HB 1578, which would make possession a civil infraction, didn't immediately respond to a request for comment on Thursday evening. In an interview with Marijuana Moment last month, however, he called the Blake decision "both a blessing and a curse."
"It's an opportunity for us to come up with a more effective approach that does less harm," he said, "but we don't have the opportunity to be deliberate and inclusive in conversations with interested parties, so it's not as well thought-out a proposal as it would be otherwise. It has to be an interim measure."
Just five years ago, few state legislatures would have dreamed of letting drugs remain decriminalized after a court decision like Blake. Now attitudes are beginning to shift.
"There's this phenomenon called discontinuous change," Goodman told Marijuana Moment, "where nothing happens and nothing happens and nothing happens, and then the Berlin Wall falls down. We're getting to that place in drug policy where it's a tipping point."
Oregon voters ended prohibition of low-level drug possession at the ballot during last November's election, which has contributed to the national conversation.
In both Maine and Vermont, lawmakers have also recently unveiled legislation last month to decriminalize small amounts of illegal drugs. Last month, a Rhode Island Senate committee held a hearing on legislation that would end criminal penalties for possessing small amounts of drugs and replace them with a $100 fine.
In New Jersey, meanwhile, Gov. Phil Murphy (D) said last month that he's "open-minded" on decriminalizing all drugs.
California Bill To Legalize Possession Of Psychedelics Clears Second Senate Committee
Biden's Already On Board With Federal Marijuana Legalization Even If He Doesn't Use That Word, Booker Says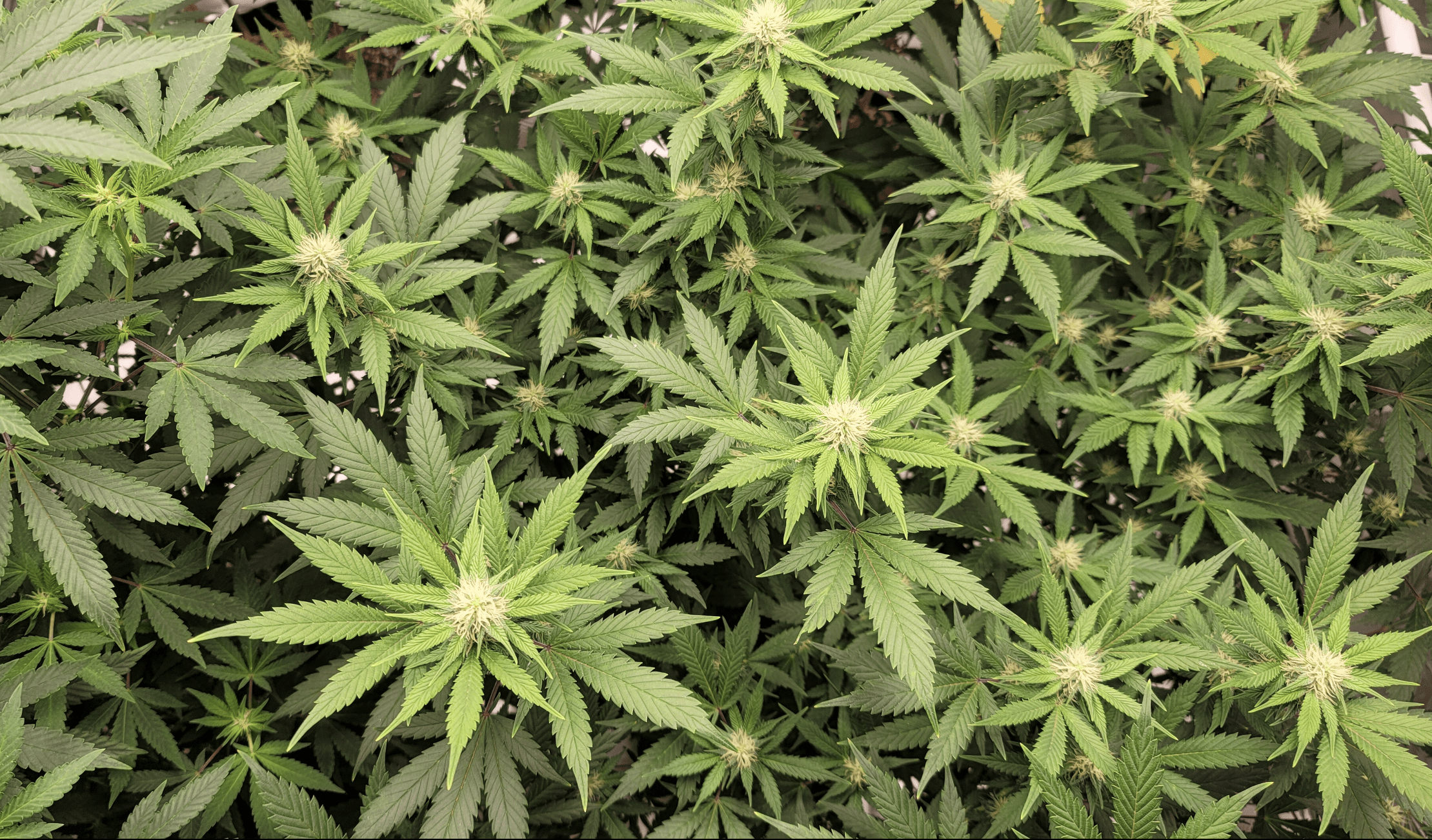 Sen. Cory Booker (D-NJ) says that President Joe Biden is already where he needs to be to get a bill to end federal marijuana prohibition enacted into law—even if he personally opposes legalization. Confusion about the president's position comes down to semantics, the senator indicated.
Booker said in a recent interview that Biden's stance in favor of "decriminalization" will be enough to advance the reform legislation he's working on with Senate Majority Leader Chuck Schumer (D-NY) and Senate Finance Committee Chairman Ron Wyden (D-OR).
That reason being, he said, is that what the reform proposal would accomplish at the federal level is effectively decriminalizing marijuana by removing it from the list of controlled substances and letting states set their own policies—something Biden does supports.
"I have a great partner" in the president, Booker said in an interview on the podcast Hell & High Water that was published on Wednesday. "He believes in decriminalization—and as I said to him the first time we talked about it was, 'well, my bill is no different. I think states should be allowed to do what they want.'"
"I think it should be legalized, but what we need to do at the federal level is de-list marijuana. And as soon as you decriminalize marijuana, you open up states that right now are not able to do a lot of things, to give way for what I want to achieve," Booker said. "His policy position on marijuana—he may say, 'I'm not for legalization, I'm for decriminalization'—as a federal official, that's where I'm trying to get."
In other words, the senator isn't especially concerned that Biden would be an obstacle if Congress passes the legalization bill he's planning to introduce, as long as it's made clear that there's no mandate for all states to set up tax-and-regulate marijuana markets if they don't want to.
Booker also said he would like for people to stop playing a video clip of him calling out Biden's opposition to legalization during a presidential primary debate in 2019, as the interview host did in the new podcast interview. At the time, the senator jokingly accused his fellow candidate of being "high" when he articulated his opposition to legalization days earlier.
"That is a little clip I'm hoping at some point stops being played," he said. "But yes, indeed, I accused Joe Biden of being high."
While the text of the pending legalization legislation has yet to be introduced, it's expected to incorporate key provisions from past reform bills such as Booker's own Marijuana Justice Act (MJA) that could create incentives for states to adopt legalization. For example, the MJA called for the withholding of certain federal funds to states where cannabis criminalization is enforced out in a racially disproportionate way.
That would go a bridge further than simple decriminalization, so it remains to be seen if Biden would be amendable to that kind of broader reform.
In any case, Booker's point about the decriminalization/legalization distinction when it comes to federal policy was also made by Schumer in a recent press conference. The majority leader, who's said that Congress will move forward with legalization regardless of the president's position, said last month that "I support decriminalization at the federal level, and we'll be introducing legislation with a few of my colleagues shortly."
Asked to clarify whether he supports legalization, Schumer replied, "decriminalization, legalization," implying that the two terms are used interchangeably.
"At the federal level, you call it 'decriminalization' because that lets the states legalize," he said. But in general, advocates draw a distinction between the terms, with decriminalization usually being used to describe state or local policies that simply remove the threat of incarceration for simple possession while fines or other penalties could still be levied, which is distinct from outright legalization.
Schumer also said this week that the legalization bill they're working on will be brought to the floor of his chamber "soon."
He, Wyden and Booker formally started their reform efforts by holding a meeting earlier this year with representatives from a variety of advocacy groups to gain feedback on the best approach to the reform.
Schumer made a point last month to say that it will specifically seek to restrict the ability of large alcohol and tobacco companies to overtake the industry.
Instead, it will prioritize small businesses, particularly those owned by people from communities most impacted by prohibition, and focus on "justice, justice, justice—as well as freedom," he said.
He also urged voters to reach out to their congressional representatives and tell them that "this is long overdue."
On the House side, Judiciary Chairman Jerrold Nadler (D-NY) said recently that he plans to reintroduced his legalization bill, the Marijuana Opportunity, Reinvestment and Expungement (MORE) Act, which cleared the chamber last year but did not advance in the Senate under GOP control.
Now that Democrats have the majority in both chambers, as well as the White House, there's a sense of optimism among advocates that comprehensive reform is achievable in this Congress.
But with respect to the White House, Press Secretary Jen Psaki said last month that Biden's position on adult-use legalization "has not changed," meaning he still opposes the policy.
69 Percent Of Americans Now Support Legalizing Marijuana—An All-Time High, Quinnipiac Poll Finds
Photo courtesy of Mike Latimer.