Missouri House Leadership Delays Marijuana Legalization Vote Amid Licensing Dispute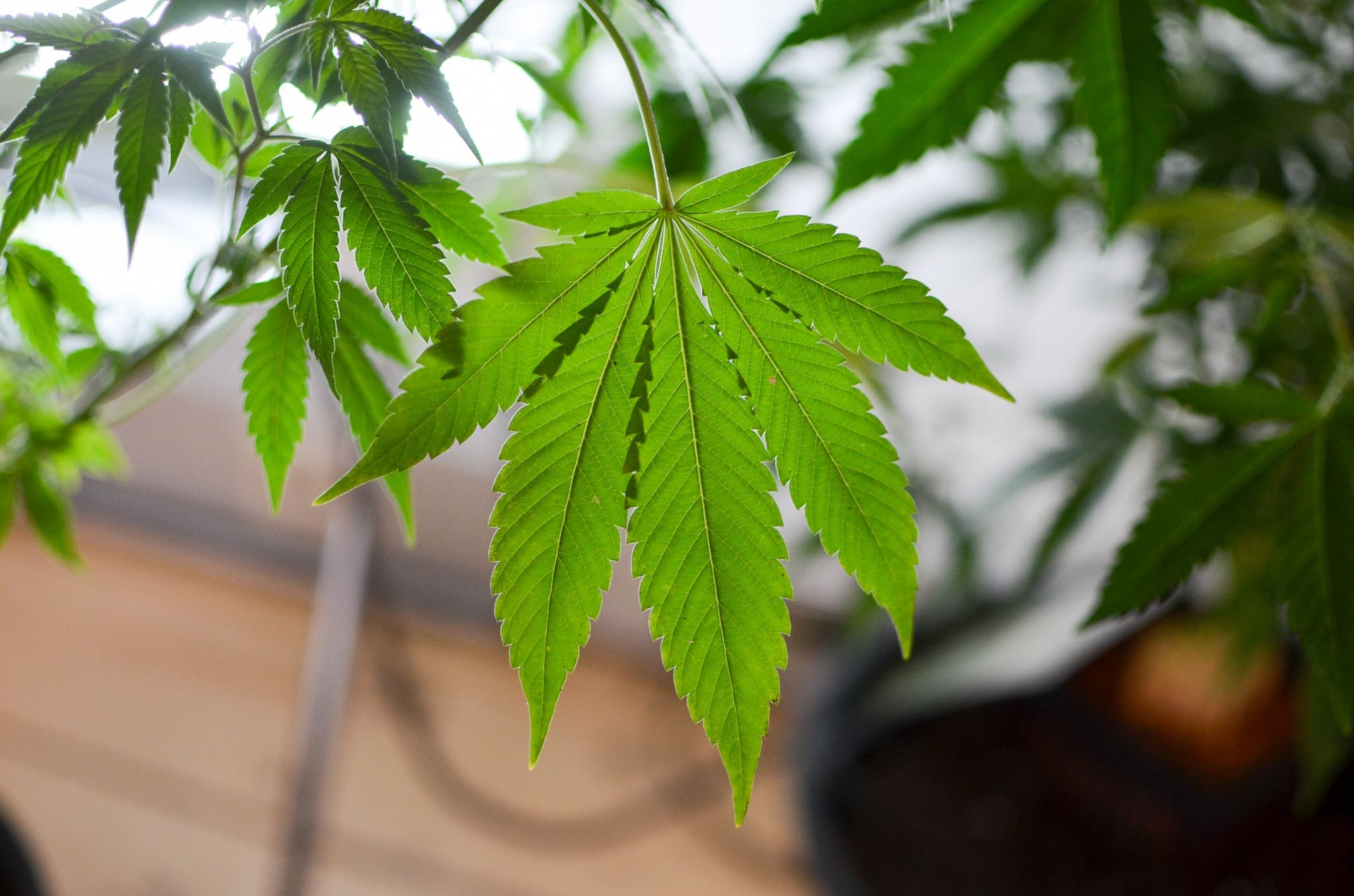 The Missouri House of Representatives was expected to consider a GOP-led bill to legalize marijuana on Monday—but the sponsor tells Marijuana Moment that leadership is standing in the way, prompting him to post a call to action for supporters.
This latest development comes days before the legislature adjourns and as an activist- and industry-driven campaign pushes to place reform on the ballot via a voter initiative.
The primary contention between the sponsor and leadership concerns whether or not to include licensing caps for marijuana businesses in the state. Rep. Ron Hicks (R) isn't interested in caps—and he didn't include any in his bill as filed before it was later amended in committee to include them—whereas the House floor leader is now insisting on them, according to the sponsor.
Hicks is sponsoring the "Cannabis Freedom Act," which has already moved through two committees so far and which he was expecting to get initial approval on the floor on Monday. The lawmaker told Marijuana Moment in a phone interview that House Majority Floor Leader Dean Plocher (R), rather than letting the vote proceed as planned, requested a meeting to further discuss the legislation before it is considered.
Hicks said that he believes this request for a meeting represents "another hold up," as he's "never been asked to be spoken to before on legislation" by leadership and would have ideally preferred to settle differences on the floor.
"I asked [Ploche] why it was being held up, and he said he wanted to talk to me about the [licensing] caps," Hicks said, adding that he informed the leader that he planned to introduce a floor amendment to resolve the issue by removing the caps. The leader apparently replied by saying he wanted caps to stay, which the sponsor views as ideologically antithetical to conservative principles, but he nonetheless would prefer floor debate.
Marijuana Moment reached out to Plocher's office for comment, but a representative was not immediately available.
Hicks said that he'd like to see the measure go back to its original form before it was amended in committee "so that we can have this discussion on the House floor with the members that have spoken to their constituents—not just us bureaucrats and us legislators."
Lawmakers like Hicks and some activists have raised concerns about the proposed voter initiative. They feel that the industry-funded measure's provisions to give existing medical cannabis businesses a head start in the recreational market would artificially stifle competition.
"This is about the people of Missouri, and I think it's time that we wake up and realize that we are going to be stuck with an initiative petition or it'll be no one's fault but our own," the lawmaker said.
If the bill is ultimately approved on the floor in the perfection stage, it would then go to the Fiscal Review Committee for consideration before it would be taken back up on the floor for final passage to the Senate.
"We need people to reach out and start telling everyone in the floor leader's office that this needs to be done—call all their representatives and their senators and tell them to go call the floor leader and get it done," Hicks said. "We need to get this done. We have two weeks left."
House leadership is refusing to allow us to debate and vote on the Cannabis Freedom Act. Sounds like some folks are afraid this could pass 👀 #moleg pic.twitter.com/F33tlZrwy1

— Rep. Ashley Aune (@Ashley4MO) May 2, 2022
Hicks also recently said that the timeline remains feasible and he's "seen bills sail through the process in a week," but the lawmaker said that it "really comes down to whether we have the will to tackle it."
Meanwhile, another Missouri Republican lawmaker is again making a push to refer cannabis legalization to voters via a ballot question—a separate effort from the activist- and industry-led campaign. Rep. Shamed Dogan (R)'s joint resolution on the issue is scheduled to be taken up by a House committee that the sponsor chairs on Tuesday. The lawmaker introduced a similar proposal last year, but it did not advance.
Hicks's bill, on the other hand, would legalize the possession and sale of cannabis for adults 21 or older, provide opportunities for expungements, authorize social consumption facilities and permit cannabis businesses to claim tax deductions with the state.
Advocates wanted to see the bill move through the committee process without revisions to the introduced legislation, but members did end up adopting several amendments in the first committee stop.
One of those amendments concerned adding licensing caps.
As originally drafted, there would not have been any cap on the number of licensees that could be approved under the bill. But as amended in the Public Safety Committee, it would allow double the number of current medical cannabis licensees in the state in order to serve the adult-use market. Hicks planned to introduce a floor amendment on Monday to address that issue.
Here's what the cannabis legislation would accomplish:
Possession, home cultivation and licensing
The bill would allow adults 21 and older to purchase and possess cannabis from licensed retailers. There doesn't seem to be a possession limit in the measure; it simply does away with existing statutes criminalizing the activity. Adults could also cultivate up to 12 plants for personal use.
The Missouri Department of Health and Human Services would be responsible for regulating the adult-use program, just as it currently does for medical cannabis.
The department would be required to develop rules to issue temporary and annual licenses for cannabis retailers, growers, processors, transporters and wholesale distributors.
Interestingly, the legislation also says that adults could "contract" with a licensed grower to cultivate up to 12 plants on their behalf for personal use and also work with licensed processors to produce marijuana products.
Social equity and consumer protections
Additionally, the measure contains expungement provisions, allowing people with non-violent marijuana convictions over activities made legal under the bill to petition the courts for record clearing. Those currently incarcerated would also be eligible for resentencing, and those on probation or parole would be allowed to use marijuana.
Police would not be allowed to use the odor of marijuana alone to conduct a warrantless search of a person's private property under the legislation. And cannabis could not be used "as a factor in family court proceedings."
The bill further stipulates that medical cannabis patient information cannot be shared with federal authorities.
—
Marijuana Moment is already tracking more than 1,000 cannabis, psychedelics and drug policy bills in state legislatures and Congress this year. Patreon supporters pledging at least $25/month get access to our interactive maps, charts and hearing calendar so they don't miss any developments.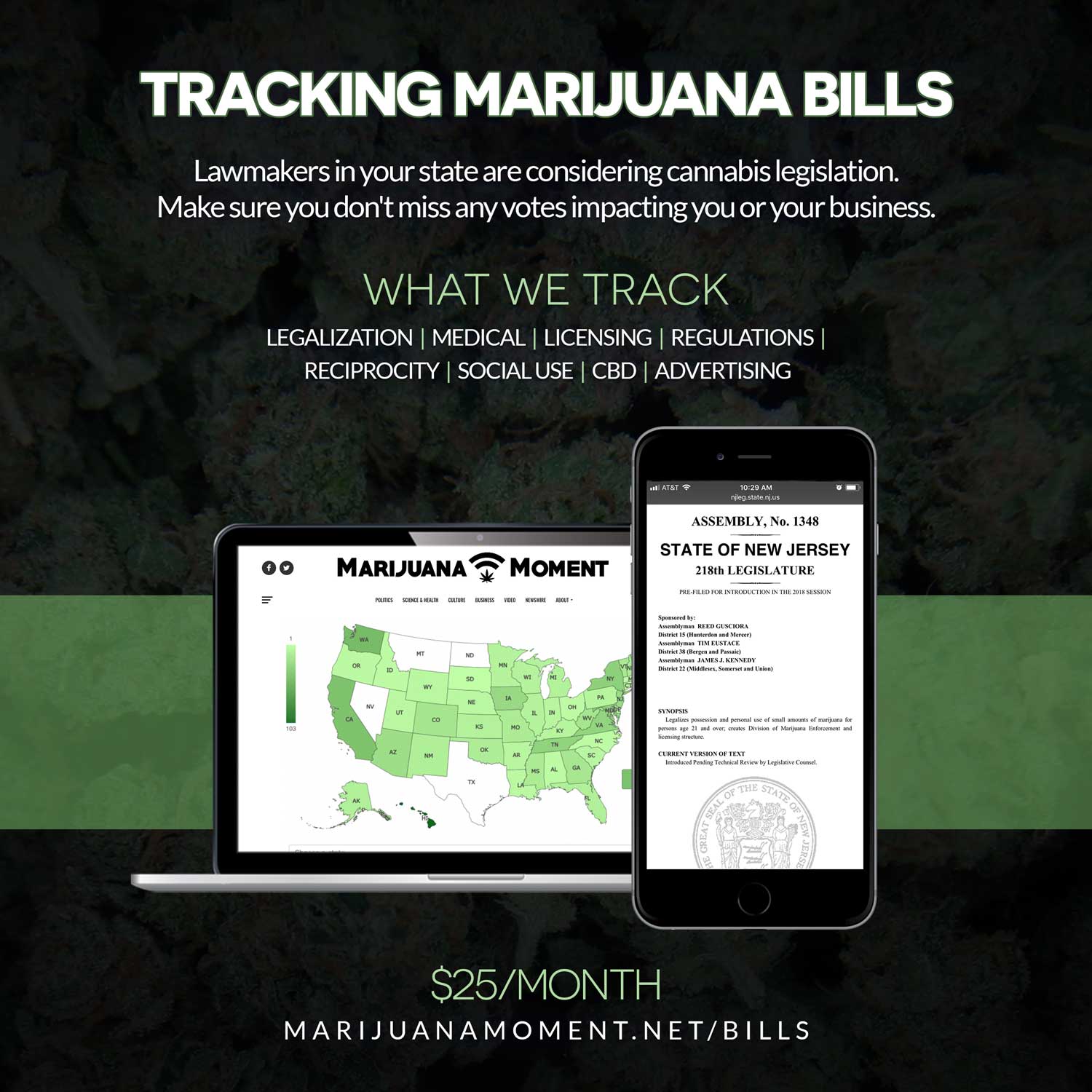 Learn more about our marijuana bill tracker and become a supporter on Patreon to get access.
—
As part of the licensing amendment that was adopted in committee in March, language was added to create a loan program to support women- and minority-owned businesses participate in the market. However, a GOP member later got a change attached that threatened to undermine Democratic support because it controversially revised the equity provisions to specify that only women who are "biologically" female would be eligible for the benefit.
Supporters hoped to approve a floor amendment on Monday to remove the equity licensing provisions altogether in an effort to salvage the bill and put the issue to the floor.
Taxation, banking and social use
The state Department of Revenue would set a tax rate for adult-use marijuana sales that could not exceed 12 percent. There would be no such tax on medical cannabis products.
Tax dollars that the state generates from the recreational market would be deposited into a "Cannabis Freedom Fund," with revenue first covering the administrative costs of implementing the marijuana program. Remaining revenue would be "divided equally between teachers' salaries, first responders' pensions, and the Missouri veterans commission."
Licensed marijuana businesses would also be able to make tax deductions with the state up to the amount that they'd otherwise be eligible for under federal law if they were operating in a federally legal industry. Cannabis companies across the country are required to pay federal taxes, but they're barred from receiving tax benefits.
People who apply for a Missouri cannabis business licenses and pay the application fee could also deduct that cost if they're ultimately denied licensing.
Hicks's bill also adopts a provision from a separate cannabis bill that would allow for "hospitality permits" so that hotels, bars and restaurants could "sell and serve marijuana or marijuana products in private events or venues."
Restrictions and room for improvement
Hicks stressed in an earlier cosponsorship memo to colleagues that his omnibus bill as drafted was "not perfect," and he urged lawmakers' "continued input as we move through the legislative process."
The lawmaker also specifically noted that he's working with members of the Black Caucus "to further ensure that startups in this market space can access loan and grant programs to ensure that entrepreneurs can compete on an equal playing field."
The separate Dogan proposal, meanwhile, would allow adults 21 and older to purchase, possess and cultivate cannabis for personal use. It also does not specify allowable amounts.
Another Republican lawmaker in the state, Rep. Jason Chipman (R), filed a joint resolution this session that would let voters require additional oversight over how medical cannabis tax revenue is distributed to veterans.
Separately, the group New Approach Missouri, which successfully got a medical cannabis initiative passed by voters in 2018, announced last summer its plans to put the reform proposal on the ballot through its new campaign committee Legal Missouri 2022.
The organization tried to place the issue of legalization before voters in 2020, but the COVID-19 pandemic derailed that effort.
Despite the health crisis, activists managed to collect tens of thousands of raw signatures within months, though they needed 160,199 valid signatures to qualify.
A different campaign, Fair Access Missouri, separately explored multiple citizen initiatives this year with the hopes of getting at least one on the ballot.
Another state lawmaker filed a bill late in February to decriminalize a range of drugs including marijuana, psilocybin, LSD, MDMA and cocaine.
The measure's introduction came after a Republican Missouri legislator filed a separate bill to give residents with serious illnesses legal access to a range of psychedelic drugs like psilocybin, ibogaine and LSD through an expanded version of the state's existing right-to-try law.
Additionally, a Missouri House committee held a hearing in March on a GOP-led bill to legalize a wide range of psychedelics for therapeutic use at designated care facilities while further decriminalizing low-level possession in general.
Nearly one out of every 10 jobs that were created in Missouri last year came from the state's medical marijuana industry, according to an analysis of state labor data that was released by a trade group last month.
Separately, there's some legislative drama playing out in the state over a proposal that advocates say would restrict their ability to place Constitutional amendments on the ballot.
Most Washington Voters Support Drug Decriminalization Ballot Measure, Poll Finds
Photo courtesy of Philip Steffan.