Missouri Governor Won't Add Marijuana To Special Session Agenda, Despite Push From Activists Against Legalization Ballot Initiative
The governor of Missouri has ruled out the idea of expanding a special legislative session he convened to add marijuana legalization  to the agenda as a separate cannabis reform initiative is set to appear on the November ballot.
A special session focused on tax relief is scheduled to begin on September 14, and a newly formed campaign that opposes the legalization ballot measure has called on Gov. Mike Parson (R) to permit legislators to advance the issue legislatively ahead of the election, with a particular focus on a previously filed legalization bill from Rep. Ron Hicks (R).
But on Tuesday—the same day that a legislative committee is hearing testimony on the November ballot proposal—a spokesperson for the governor told The St. Louis Post-Dispatch that the top official's call for a special session "will not be amended to include marijuana legalization."
The governor also recently said that people who vote for the ballot measure will be "doing more for the corporations behind marijuana and for the business side of it, than you ever are for yourself." But he's also made false claims about the initiative, which he described as a "disaster," such as that it is 450 pages long, when it is actually fewer than 50 pages.
That notwithstanding, the lack of plans for an expanded special session is welcome news for Legal Missouri 2022, the campaign behind the cannabis ballot initiative. Critics who support legalization hoped that giving lawmakers a chance to take matters into their own hands and possibly pass an alternate reform bill would undermine the ballot measure that they view as problematic.
The "No On Amendment 3—Missouri Deserves Better" campaign is being backed by lawmakers, former Missouri lieutenant governor, legalization advocates and the director of the state chapter of Americans for Prosperity, among others.
The coalition wanted to see action on Hicks's bill during the special session. That legislation advanced through the committee process earlier this year but never reached the House floor before the regular session adjourned.
Advocates and lawmakers are generally divided about the best path forward for legalization in the Show-Me State.
Legal Missouri 2022 has insisted that they crafted the proposed constitutional amendment in a way that wold provide a level playing field for the industry while still promoting equity by way of expungements, for example.
Dan Viets of Legal Missouri 2022 defended the ballot measure before the Missouri legislature's Joint Committee on Legislative Research on Tuesday, saying that he believes "we have an opportunity with Amendment 3 to do something which is wonderful for the people for everybody in the state of Missouri."
He pushed back on criticism that the constitutional amendment ballot measure is an inappropriate way to enact the reform, emphasizing that the legislature has placed three unrelated constitutional amendments before voters this year and could do so again if they felt the campaign's proposal needed to be revised upon implementation.
The initiative is endorsed by a number of advocacy organizations—including ACLU of Missouri and all six active chapters of Missouri NORML.
Adolphus Pruitt, president of St. Louis NAACP, also said in a statement shared with Marijuana Moment that the organization is "proud to support" the ballot initiative due to its "vital and broad criminal justice reforms and expanded economic opportunities for communities that have been harmed by marijuana prohibition."
Still, organizers have faced their fair share of pushback over certain provisions.
Rep. Ashley Bland Manlove (D), who chairs the state's Legislative Black Caucus, said last week that she's forming her own group called the Impactful Canna Reform Coalition (ICRC) that will work to educate voters about what they view as shortcomings of the certified ballot proposal.
She argued that the initiative lacks holistic provisions to make the cannabis market equitable, unnecessarily adds penalties for certain offenses and falls short of resolving the racial disparities of cannabis criminalization—though she conceded it is likely to be approved by voters.
"Don't let the capitalism monster exploit you for a temporary good," Manlove told Marijuana Moment in a recent phone interview. "I fully expected this initiative petition to pass—but the point of ICRC is just to let people know what's in it."
Rep. Tony Lovasco (R), who sponsored a bill this session to provide seriously ill patients with access to psychedelics, is also against the Legal Missouri 2022 initiative.
"The Missouri Constitution is an inappropriate place for any kind of marijuana possession or use regulation or criminal charges proposed by Amendment 3," he said in a press release distributed on Thursday by No On Amendment 3. "Rather than settle for an ill-suited and monopolistic program shoehorned into our Constitution, the Missouri General Assembly has a unique opportunity to consider legislation that would legalize cannabis in a truly free market fashion."
"I urge Governor Parson to expand the upcoming special session so that the legislature can properly implement these important reforms," he said.
He separately told Riverfront Times that, if voters approve Amendment 3 in November, he intends to introduced legislation to put another constitutional amendment on the ballot during the next election, or earlier if a special election is called, that would fix what he sees as its shortcomings.
"There's a lot of problems with [the certified measure], and it's going to be in the Constitution—I'm not good with that," Lovasco said. "The Constitution should be reserved for restraining governments. The statutes should really be where any regulation or restraints on people come from."
Hicks, in a tweet, said he "couldn't agree more" on the need to advance a cannabis legalization alternative to the ballot initiative.
I couldn't agree more.If Missouri is going to do this then let's do it for all! https://t.co/llTTr2GhxQ

— Ron Hicks (@RNHCKS) September 2, 2022
Eapen Thampy, a lobbyist with Great State Strategies, echoed many of these concerns at Tuesday's legislative committee. He said that ballot measure includes "serious and very significant deficiencies and issues," ranging from penalties that would be imposed for certain activities to licensing limitations.
In the lead-up to the state certification of the Legal Missouri 2022 ballot initiative, there were doubts that activists had collected enough signatures in key congressional districts to qualify, with early reporting suggesting that activists were coming up short in two districts. But following a review, Secretary of State Jay Ashcroft (R) determined that the campaign had actually come out ahead and announced that the measure would go before voters.
Shortly after the secretary of state's office verified the signatures, an anti-legalization resident filed a lawsuit with the state Supreme Court that's being backed by the Colorado-based Protect Our Kids PAC, arguing that the measure violates the state Constitution and should be removed from the ballot.
The suit asserts that that the initiative "makes multiple substantive changes to the Missouri Constitution that will impact all citizens of Missouri," and it does so not just by legalizing cannabis but also imposing licensing requirements and facilitating expungements, for example.
Because the measure is multifaceted and not solely proposing to amend the Constitution to end prohibition, the suit says it violates that single subject rule and must be invalidated. It further raises questions about the validity of the signatures that the state used to certify the measure for ballot placement.
A hearing on that lawsuit is expected to come on Thursday, and Cole County Circuit Court Judge Cotton Walker is anticipated to issue a ruling shortly thereafter.
Former Missouri Lt. Gov. Peter Kinder (R) is supporting the Missouri Deserves Better effort, and he said that the "Amendment 3 campaign is raising and spending millions of dollars to trick Missourians into passing a proposal that would never survive the deliberative and transparent process of the Missouri General Assembly."
"Conservatives will be outraged by the way this proposal attempts to subvert the will of the people," he said.
Americans for Prosperity Missouri Director Jeremy Cady added that the legislature "should act to end marijuana prohibition and do so in a manner that adheres to free market principles."
Here's what the Legal Missouri 2022 initiative would accomplish: 
Adults 21 and older could purchase and possess up to three ounces of cannabis.
They could also grow up to six flowering marijuana plants, six immature plants and six clones if they obtain a registration card.
The initiative would impose a six percent tax on recreational cannabis sales and use revenue to facilitate automatic expungements for people with certain non-violent marijuana offenses on their records.
Remaining revenue would go toward veterans' healthcare, substance misuse treatment and the state's public defender system.
The Department of Health and Senior Services would be responsible for regulating the program and issuing licenses for cannabis businesses.
Regulators would be required to issue at least 144 microbusiness licenses through a lottery system, with priority given to low-income applicants and people who have been disproportionately impacted by drug criminalization.
Existing medical marijuana dispensaries would also be first in line to start serving adult consumers with dual licenses.
Regulators could create rules around advertising, but they could not be any more stringent than existing restrictions on alcohol marketing.
Public consumption, driving under the influence of cannabis and underage marijuana use would be explicitly prohibited.
A seed-to-sale tracking system would be established for the marijuana market.
Local jurisdictions would be able to opt out of permitting cannabis microbusinesses or retailers from operating in their area if voters approve the ban at the ballot.
The measure would further codify employment protections for medical cannabis patients.
Medical marijuana cards would be valid for three years at a time, instead of one. And caregivers would be able to serve double the number of patients.
A strong majority of Missouri voters, including a plurality of Republicans, support legalizing marijuana for adult use, a recent poll found.
—
Marijuana Moment is tracking more than 1,500 cannabis, psychedelics and drug policy bills in state legislatures and Congress this year. Patreon supporters pledging at least $25/month get access to our interactive maps, charts and hearing calendar so they don't miss any developments.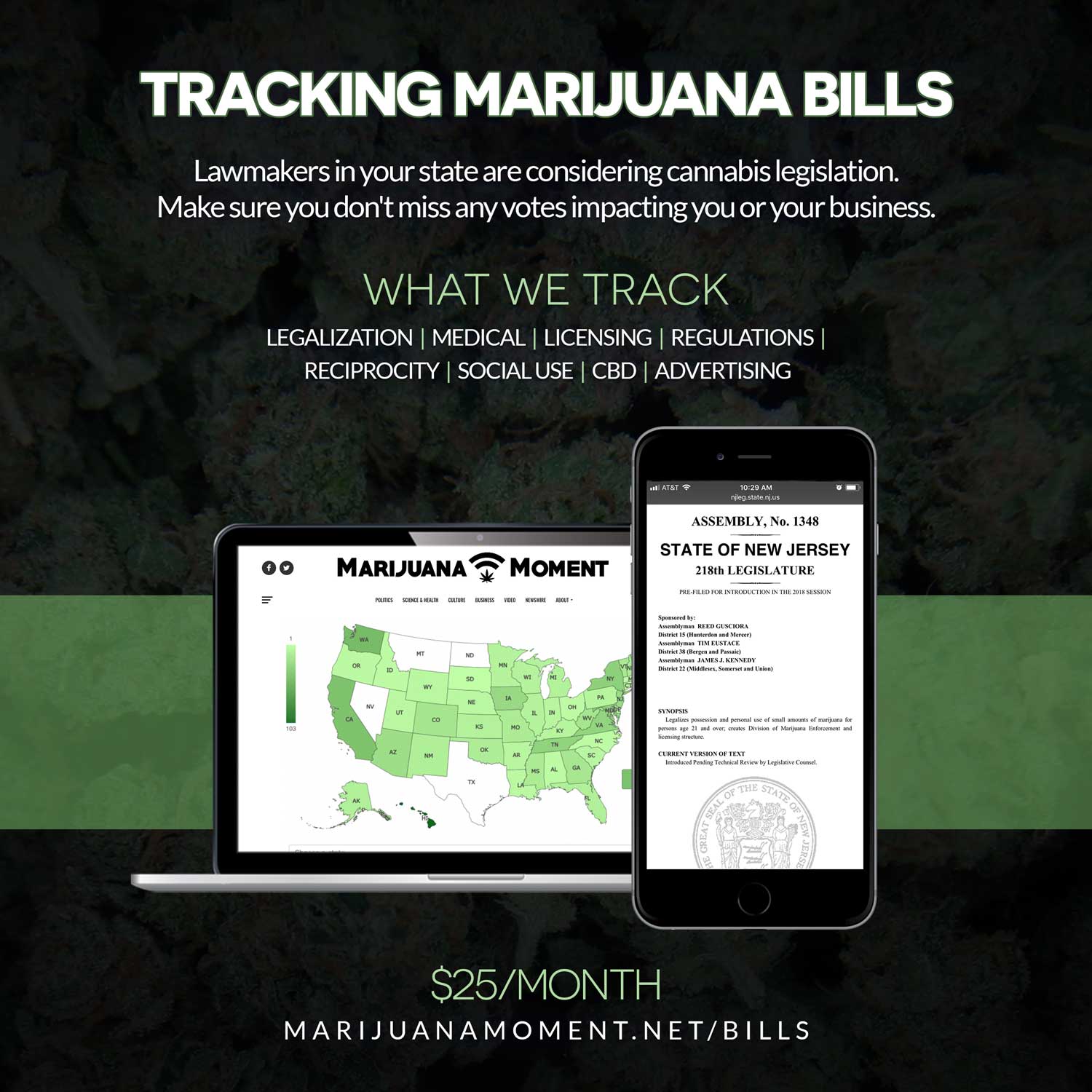 Learn more about our marijuana bill tracker and become a supporter on Patreon to get access.
—
Missouri health officials are already taking steps to prepare for voter approval of the legalization measure, and they're accepting public comment on best practices for implementation.
John Payne, Legal Missouri 2022 campaign manager, previously led a successful ballot effort to legalize medical cannabis in the Show-Me State in 2018.
He said at Tuesday's hearing that, contrary to how critics have depicted the initiative, there was a "long, robust drafting process with numerous people involved in it," rather than a handful of lawyers or stakeholders. He also disputed arguments about licensing restrictions in the proposal and criminal penalties for unsanctioned activities.
Supporters of the Hicks bill have argued that the lack of specific language in the initiative prohibiting a licensing cap means the market that emerges will not be competitive. Some have also raised concerns about the measure's provisions to give medical cannabis dispensaries a head start in serving the adult-use market.
Another Republican lawmaker in the state, Rep. Jason Chipman (R), filed a joint resolution this session that would have allowed voters to require additional oversight over how medical cannabis tax revenue is distributed to veterans.
A different campaign, Fair Access Missouri, separately explored multiple citizen initiatives this year with the hopes of getting at least one on the ballot, but did not end up submitting signatures for any of the measures.
Growing Majority Of Minnesotans Support Marijuana Legalization, State Fair Poll Conducted By Lawmakers Finds