Meet the Man Behind The Viral Marijuana Drone Videos
Marijuana Moment brings readers comprehensive, up-to-date reporting on important developments in cannabis politics, from Capitol Hill to state legislative chambers. But sometimes, we like to have a little fun, too.
That's why, when a viral video of a man toking a bong precariously balanced on a drone he was operating came across our feed, we decided to reach out.
Meet Eric Mercer.
He's a 23-year-old working in Maine's cannabis industry who's grown a sizable following of marijuana aficionados on platforms like YouTube and Instagram. When he's not honing his cannabis craft, he enjoys things like playing guitar and hiking.
For Mercer, his internet presence really started off with comparably smaller (and sometimes questionable) stunts: dabbing and ripping a bubbler simultaneously, dousing concentrates in hot sauce and inhaling the very bad combination (it was "stupid little thing I did a while back… a little on the spicy side, but to be honest, it wasn't as bad as you'd think," he told Marijuana Moment), and creating and smoking out of a "potato rig" or head of cabbage.
But then, around March 2017, he stepped up his game, integrating drone technology into his smoking routine.
The inspiration "was just a passion for drones, a passion for being creative, and wanting to come up with cool, new things to show people on Instagram," he said.
It started with the modest joint drone. A joint was affixed to the small device and guided toward his mouth. After a bit of a struggle, Mercer took the airborne hit.
He's posted several other videos showing off his joint drone skills.
Has it gotten easier over time? "Yes and no," Mercer said. "Inside, no problem. I feel like I've mastered that. I can fly circles around the room and let other people get a chance to hit it, but outdoors is still the challenge."
Then, there was the drone-based concentrate delivery system.
Which didn't always pan out as planned.
"Knock on wood, thankfully, I haven't injured myself really in it yet," he said. "I've bumped into myself with my tiny drone that I do the joint with, but yeah, I've been very fortunate."
Most recently, Mercer's cannabis content has taken off as he's perfected the art of smoking bongs and taking dabs placed on larger drones, piloting them with one hand and sparking up with the other. One video of Mercer accomplishing this feat is now the top post on the popular Reddit cannabis forum, r/trees.
Mercer announced on Tuesday that he's launching a new Instagram page dedicated to the craft, hoping to reach a larger audience. You can follow him on Instagram or Youtube—if that's your kind of thing.
How Reddit's r/trees Helped Scientists Make Marijuana Discoveries
Feds Warn About Marijuana Use And Driving On 'Danksgiving'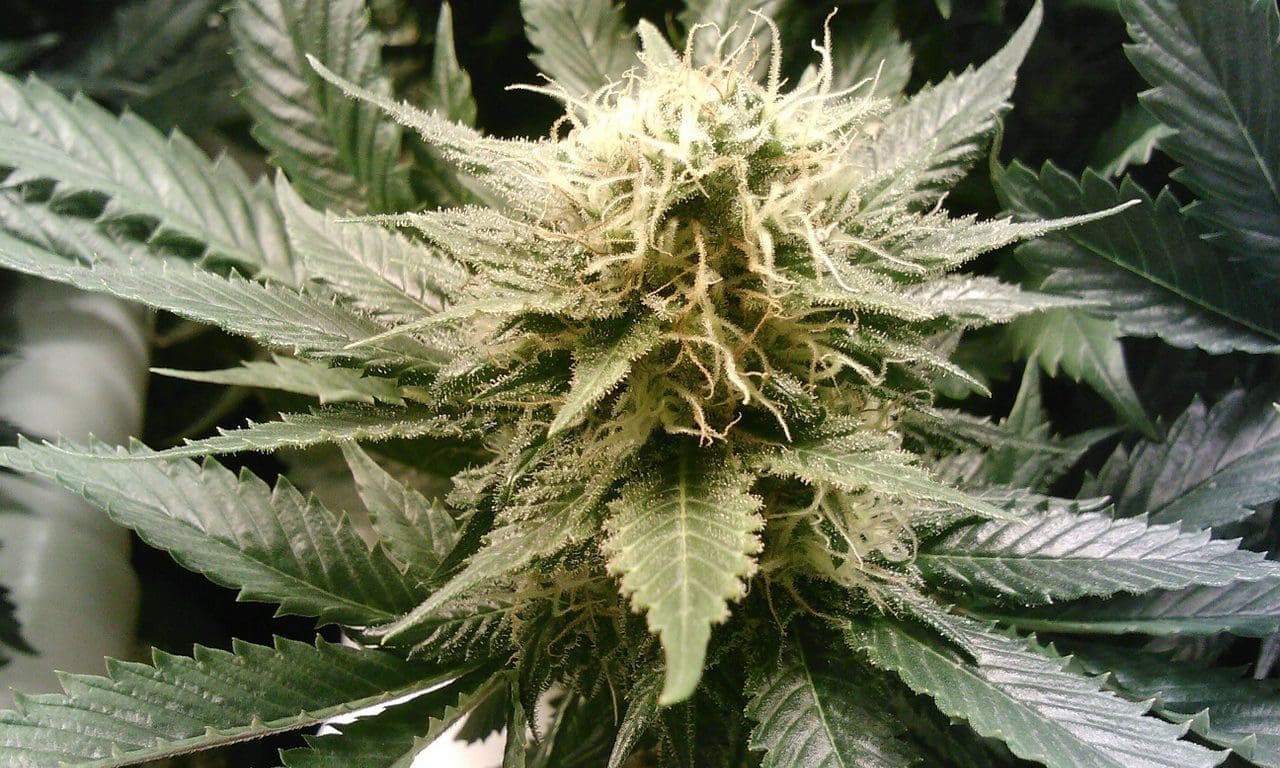 In the latest sign of the rise of cannabis into popular culture, a federal agency is spreading the word about "Danksgiving," cautioning people who use marijuana on Thanksgiving against driving.
Danksgiving can mean simply consuming cannabis to stimulate appetite to plow through some of grandma's homemade stuffing or, for more advanced enthusiasts, it can mean actually making a cannabinoid-infused spread for the holiday.
It's a relatively new trend, based on Google search interest. Starting in 2006, searches for "Danksgiving" have spiked each year around the holiday, and its popularity has continued to grow.
In any case, the National Highway Traffic Safety Administration (NHTSA) is imploring anyone who does partake to plan ahead, designate a sober driver or use public transportation or ride-sharing services to get home safely.
The same goes for people who drink alcohol on Thanksgiving. NHTSA said that substance abuse during the holiday "has become something of a cultural phenomenon."
"It has been promoted on social media as 'Blackout Wednesday,' 'Drinksgiving,' or Thanksgiving Eve;' 'Danksgiving' also occurs during the Thanksgiving weekend but is related to marijuana use," the agency said in an advisory.
"To counteract this trend, NHTSA and its partners will be running a social media blitz for Thanksgiving," which will include sharing posts on their accounts with hashtags like "#DitchDanksgiving" and "#BoycottBlackoutWednesday."
Ditching Danksgiving altogether might not resonate with all consumers, but the underlying message is one that many cannabis advocates and opponents alike can get behind: Don't drive stoned.
The Feds Are Hiring Professional Marijuana Joint Rollers…Kind Of
Al Sharpton Jokes About Reaction To Elizabeth Warren's Marijuana Bill
At a conference focusing on legislation in the next Congress on Tuesday, civil rights activist Rev. Al Sharpton joked about the particular attention some attendees paid to a marijuana bill sponsored by Sen. Elizabeth Warren (D-MA).
Warren described the bipartisan legislation—which would let states implement legal cannabis systems free from federal interference—as part of her talk about criminal justice reforms she hopes to enact. Marijuana prohibition disproportionately impacts black Americans, she pointed out, and this bill would represent "a step toward making a real difference."
"We cannot give up on this."
When Sharpton, who founded the conference's hosting organization, National Action Network, came back to the podium to introduce the next lawmaker, he quipped:
"I know for all of you old weed smokers, y'all like that marijuana bill. I'm not calling no names, but I saw some of y'all kind of nodding off and your heads snapped up when she started talking about—when she got into that weed thing, some of y'all woke up."
Sharpton has made repeated calls for federal cannabis reform, characterizing decriminalization as a "civil rights cause" in a 2017 op-ed for The Guardian.
He's also challenged the marijuana industry to do more to create business opportunities for people of color and get behind civil rights movements more broadly.
Sen. Dianne Feinstein Signs Onto Marijuana Bill After Decades Of Drug War Advocacy
Photo courtesy of C-SPAN.
'Walking Dead' Actor Raises Money For Kids Who Use Medical Marijuana
Norman Reedus, who plays zombie-slaying Daryl Dixon on AMC's The Walking Dead, is once again raising money to help kids suffering from serious illnesses get medical marijuana treatment.
Yes, again. It seems he loves helping kids as much as he loves taking out walkers on TV.
— norman reedus (@wwwbigbaldhead) November 9, 2018
Right now, for every $5 you donate to SavingSophie.org, you're entered to win some Reedus-signed memorabilia from the organization. Saving Sophie is a non-profit set up by the parents of Sophie Ryan, who was diagnosed with a low-grade, optic pathway glioma brain tumor when she was eight years old.
After creating a Facebook page around their child's situation, a friend introduced them to Ricki Lake and filmmaker Abby Epstein, who were in production on their recently released documentary "Weed The People." With this new connection and information, the parents decided to use a combination of chemo and cannabis oil to treat Sophie's condition. Sophie's brain tumor has since shrunk by up to 90 percent, according to their website.
Through the donations to the non-profit, Sophie's parents "hope to pay it forward to those who are now in the same financial troubles we once found ourselves in."
Contributions will help fund the group's cancer research initiative, which currently consists of eight patients who are using "cannabinoid therapy alongside doctor-prescribed treatments," according to an email blast.
"Our goal with this research is to bring non-toxic cancer treatments through human trials so that doctors will have access to this life-saving medicine for patients in need."
This isn't the first time Reedus has helped raise funds for pediatric patients using cannabis.
In January 2017, he tweeted a call for donations to CannaKids.org for a raffle featuring some of his autographed gear and more.
$5 per entry and all proceeds go to help CannaKids' pediatric cancer patients. https://t.co/YGvN8pxhnR DO A GOOD THING. XXX

— norman reedus (@wwwbigbaldhead) January 3, 2017
It's clear the Boondock Saints star and heartthrob of early 2000's Hot Topic shoppers has a caring heart for children seeking to use cannabis as a cancer treatment.
'Godfather' Director Francis Ford Coppola Launches Luxury Marijuana Brand
Photo courtesy of Heather Paul.