How Reddit's r/trees Helped Scientists Make Marijuana Discoveries
Reddit users subscribed to a popular marijuana forum are helping researchers identify trends and patterns in cannabis consumption.
A new peer-reviewed study, which has been accepted for publication in the journal Drug and Alcohol Dependence, analyzed more than two million posts found on the site's largest marijuana-related subreddit from 2010 to 2016. The research team made a series of discoveries, including a few that might seem obvious to regular consumers (e.g. dabbing is gaining in popularity, but users still largely favor smoking cannabis flower).
Nonetheless, the study contributes unique insights to the growing body of international cannabis research. Among research team's key takeaways was just how high the average "ent" gets on five different forms of cannabis.
(Although researchers didn't specify which subreddit the study examined, their description in the paper leaves little room for doubt that it was r/trees, where enthusiasts refer to themselves as "ents," an homage to the tree-resembling Lord of the Rings characters; trees is a common slang term for cannabis.)
How high do Reddit users get on average from smoking, vaping, dabbing, taking edibles or using butane hash oils (BHO) like shatter?
Researchers sought to answer that question by looking for keywords and tracking the subreddit's 1-10 "user-reported subjective highness" rating system. Though it's admittedly not scientific, a redditor reporting a [2] would generally be considered to have a light buzz, whereas a [10] signifies a very potent experience.
Here is the average r/trees high for five forms of cannabis, on a scale of 1-10:
Smoking: [6.8]
Vaping: [6.7]
Edibles: [7.2]
Dabbing: [7.8]
Butane hash oil: [7.2]
So in terms of intensity of a high, the crowdsourced data puts dabbing at the top—which isn't especially surprising since dabbing typically involves heating up and inhaling concentrated, high-THC cannabis extracts. Vaping appears to produce the least intense high on average.
(For the record, the researchers distinguished between dabbing and BHO products, which are commonly used to dab, because of differences in terminology; one is a method, the other refers to products.)
Of course, more people are getting into dabbing as more states have legalized marijuana in some form, giving many users a greater product selection. Dabbing also may be increasingly attractive, the study authors wrote, because "it requires fewer 'hits' and produces stronger effects."
The new study of Reddit posts also examined adverse effects of cannabis consumption, such as anxiety, coughing, nausea, vomiting and memory problems.
In general, the researchers found that "very few adverse effects were reported," and the study showed that "there were no statistically significant differences in adverse effect term occurrence across products," based on the subreddit post analysis.
But since r/trees is an online community that generally celebrates cannabis and promotes legalization of the plant, it's not entirely surprising that there weren't a large number of posts focusing on potential negative affects of marijuana.
Accordingly, researchers also examined other keywords frequently included in Reddit posts, and found evidence that first-time cannabis consumers seek out r/trees and its resident ents as a source of good information about how to have a fun and safe experience.
"The frequent occurrence of the word 'first' for vaping, dabbing, and edibles indicate that many posters are using or considering using for the first time," they wrote. "With diverging medical and scientific opinions regarding the efficacy and safety of cannabis use, new and experienced cannabis users may be seeking out peer-generated information in online communities and social media about these newer forms of use."
Why this study matters
"Analysis of social media data has been used to complement other epidemiologic methods as a strategy for understanding emerging trends in real time with limited social desirability or recall bias," the study authors noted. "Despite the limited ability to determine the representativeness of creators of social media content and thus inform generalizability, social media data analysis can uncover behaviors not captured in traditional surveillance and inform terminology and emerging behaviors that larger scale health surveys may wish to incorporate."
And that's exactly what this study did—leverage data from a unique and popular social media site to paint a different kind of informative picture of the emerging marijuana landscape.
Willie Nelson Wants To Smoke Marijuana With Trump And Putin
Everyone's favorite country singer and legendary stoner Willie Nelson says he'd be glad to smoke weed with Donald Trump, Vladimir Putin and Barack Obama.
The Red Headed Stranger made the revelations in an appearance on The Late Show With Stephen Colbert this week. The host showed Nelson celebrity photos in a rapid-fire fashion and the singer had to say if he'd toke up with them or not.
Nelson doesn't say no to consuming cannabis with a single person, including the former and current presidents. When shown a picture of Putin, Colbert asks if it would help international relations if Nelson shared a joint with him, to which he replies, "There's several people I'd like to see take a hit, so to speak."
When a picture of Donald Trump immediately follows, Nelson says, "Oh yeah. He needs one bad. That could be good for him."
And capping off the round is a photo of former president Barack Obama. Nelson laughs and says, "Yeah, I think he may have already been there a time or two." Now that he's out of office, wouldn't we all love to see the former Choom Gang leader go for a session in Willie's bus?
Absent from the lineup of celebrities was Colbert himself. Is the beard the real clue we need to know The Late Show host is jumping on the pot bandwagon?
Colbert left his desk and studio audience to speak to the singer from the inside of Nelson's famous bus, which wasn't (at the time) full of marijuana smoke. After asking about the bus's name and joking about other people with named vehicles, like Batman or The Pope, Colbert complimented the smell of the "air freshener" inside the bus, saying it was "relaxing."
"Is that lavender? Is that one of the flavors?" he joked, to which Nelson laughed and replied, "If it's not, it will be. The Colbert Lavender. We'll have it," most likely referring to his marijuana company Willie's Reserve.
Colbert asks about the history of Nelson's iconic braids, and then the conversation moves to his support for Beto O'Rourke, the Democratic U.S. Senate candidate from Texas. O'Rourke, as Marijuana Moment has previously reported, wants to end the federal prohibition of marijuana and create a legal, regulated system. Colbert brings up the recently viral photo of Nelson wearing a "Beto For Texas" shirt while giving the camera his upright middle finger, a la Johnny Cash.
The pair go on to cover Nelson's latest album, My Way, which is all Frank Sinatra covers. Colbert plays an old ad for the Space Foundation featuring Ol' Blue Eyes himself and Nelson joking around.
Nelson relays a story about an astronaut recently visiting the bus and telling the country legend, "You're the only I know that's been higher than me." Maybe Nelson is working his way to a smoke session with Elon Musk.
It's not Colbert's funniest segment, but not without some laughs—and certainly respecting, and playing to, Nelson's famous relationship with the plant.
Watch the full interview below:
Photo courtesy of CBS.
Marijuana Looks Like An Alien World Under An Electron Microscope
Have you ever seen marijuana?
No, have you ever seen it up close? Like, really up close?
Ted Kinsman has, and you won't believe his photos.
When viewed under an electron microscope, cannabis looks like an alien world.
"I like to think it's what a person would see if they were just a few microns tall, walking through these forests," Kinsman told Tech Insider in an interview published on Friday.
He included many of his pictures, which are artificially colorized, in his book, "Cannabis: Marijuana Under The Microscope," which was published in May.
Kinsman, who is a professor at the Rochester Institute of Technology, has also photographed psilocybin mushroom spores, bedbugs, spiders and even human brain cells.
Take a look at more photos and learn about Kinsman's techniques in the Tech Insider video below:
Photo courtesy of Ted Kinsman // Tech Insider.

Amsterdam's Marijuana Strategy Means Cops Don't Have Much To Do, Comedy Central Finds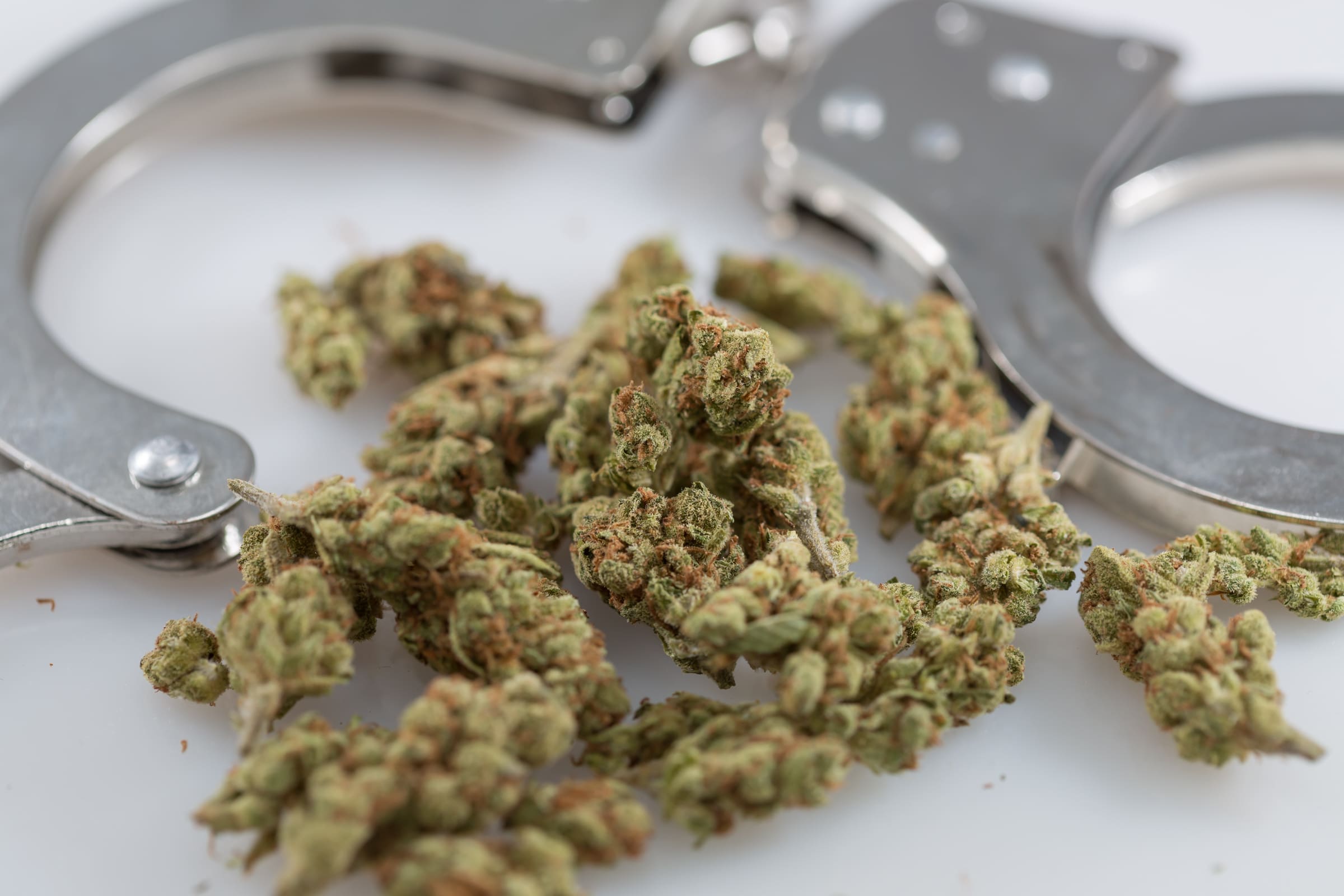 There aren't very many cities in the world where the police will politely wait for you to smoke a joint and then rejoin them while walking the streets, but Amsterdam isn't like many other cities.
Comedy Central's Jim Jeffries took his show to the Netherlands this week for an installment of "Jim's A Cop." In the hilarious segment, he rides and walks with two members of the city's police force while cracking jokes and poorly singing the COPS theme song for hours—all while getting exactly zero calls about active crimes.
Jeffries and the cops discuss the absurdly low crime rate in the city as well as one officer's love for the TV show Dexter. They pass through the famous Red Light District where Jeffries asks, "Why is everyone waving at us?" The cop replies, "They like us."
Jeffries asks if marijuana is legal to which both officers reply, "No." They go on to explain that the coffeeshops operate under what the Dutch call gedoogbeleid, which translates to a "policy of tolerance." It's this tolerance of drug use that contributes to Amsterdam's low crime rate—as well as Holland's moves to close prisons "because the country is so safe," Jeffries says.
The Comedy Central host mentions that, in contrast, the War on Drugs here in the U.S. has contributed to violence and a mass incarceration rate that's the highest in the world.
As Marijuana Moment previously reported, studies have shown legalizing marijuana can free up police time to solve other crimes. It's becoming more obvious that acceptance and legalization of cannabis use makes cities safer.
Watch the clip below:
Legalizing Marijuana Helps Police Solve Other Crimes, New Study Shows