How Reddit's r/trees Helped Scientists Make Marijuana Discoveries
Reddit users subscribed to a popular marijuana forum are helping researchers identify trends and patterns in cannabis consumption.
A new peer-reviewed study, which has been accepted for publication in the journal Drug and Alcohol Dependence, analyzed more than two million posts found on the site's largest marijuana-related subreddit from 2010 to 2016. The research team made a series of discoveries, including a few that might seem obvious to regular consumers (e.g. dabbing is gaining in popularity, but users still largely favor smoking cannabis flower).
Nonetheless, the study contributes unique insights to the growing body of international cannabis research. Among research team's key takeaways was just how high the average "ent" gets on five different forms of cannabis.
(Although researchers didn't specify which subreddit the study examined, their description in the paper leaves little room for doubt that it was r/trees, where enthusiasts refer to themselves as "ents," an homage to the tree-resembling Lord of the Rings characters; trees is a common slang term for cannabis.)
How high do Reddit users get on average from smoking, vaping, dabbing, taking edibles or using butane hash oils (BHO) like shatter?
Researchers sought to answer that question by looking for keywords and tracking the subreddit's 1-10 "user-reported subjective highness" rating system. Though it's admittedly not scientific, a redditor reporting a [2] would generally be considered to have a light buzz, whereas a [10] signifies a very potent experience.
Here is the average r/trees high for five forms of cannabis, on a scale of 1-10:
Smoking: [6.8]
Vaping: [6.7]
Edibles: [7.2]
Dabbing: [7.8]
Butane hash oil: [7.2]
So in terms of intensity of a high, the crowdsourced data puts dabbing at the top—which isn't especially surprising since dabbing typically involves heating up and inhaling concentrated, high-THC cannabis extracts. Vaping appears to produce the least intense high on average.
(For the record, the researchers distinguished between dabbing and BHO products, which are commonly used to dab, because of differences in terminology; one is a method, the other refers to products.)
Of course, more people are getting into dabbing as more states have legalized marijuana in some form, giving many users a greater product selection. Dabbing also may be increasingly attractive, the study authors wrote, because "it requires fewer 'hits' and produces stronger effects."
The new study of Reddit posts also examined adverse effects of cannabis consumption, such as anxiety, coughing, nausea, vomiting and memory problems.
In general, the researchers found that "very few adverse effects were reported," and the study showed that "there were no statistically significant differences in adverse effect term occurrence across products," based on the subreddit post analysis.
But since r/trees is an online community that generally celebrates cannabis and promotes legalization of the plant, it's not entirely surprising that there weren't a large number of posts focusing on potential negative affects of marijuana.
Accordingly, researchers also examined other keywords frequently included in Reddit posts, and found evidence that first-time cannabis consumers seek out r/trees and its resident ents as a source of good information about how to have a fun and safe experience.
"The frequent occurrence of the word 'first' for vaping, dabbing, and edibles indicate that many posters are using or considering using for the first time," they wrote. "With diverging medical and scientific opinions regarding the efficacy and safety of cannabis use, new and experienced cannabis users may be seeking out peer-generated information in online communities and social media about these newer forms of use."
Why this study matters
"Analysis of social media data has been used to complement other epidemiologic methods as a strategy for understanding emerging trends in real time with limited social desirability or recall bias," the study authors noted. "Despite the limited ability to determine the representativeness of creators of social media content and thus inform generalizability, social media data analysis can uncover behaviors not captured in traditional surveillance and inform terminology and emerging behaviors that larger scale health surveys may wish to incorporate."
And that's exactly what this study did—leverage data from a unique and popular social media site to paint a different kind of informative picture of the emerging marijuana landscape.
People Searched For A Certain Cannabis Product A Lot In 2018, Google Says
People in the U.S. were really interested in learning about cannabidiol (CBD) gummies in 2018, according to Google's year-end trend report.
"CBD gummies" was the third most popular food-related Google search of the year—following unicorn cake and romaine lettuce. If not for a recent E. coli outbreak on the latter product, CBD gummies would seemingly have risen to the number two slot.
Interest in the cannabis product grew throughout 2018.
Searches for the cannabis candy products outpaced those for items like keto pancakes and Necco Wafers this year, according to the tech giant.
The trend data, published on Wednesday, seems to support a recent analysis from Whole Foods Market, which predicted that hemp products will be a top trend heading into 2019.
CBD gummies might also get a boon from the likely passage of the 2018 Farm Bill, which would legalize CBD-producing industrial hemp.
Photo courtesy of Pixabay.
Elon Musk: 'I Have No Idea How To Smoke Pot'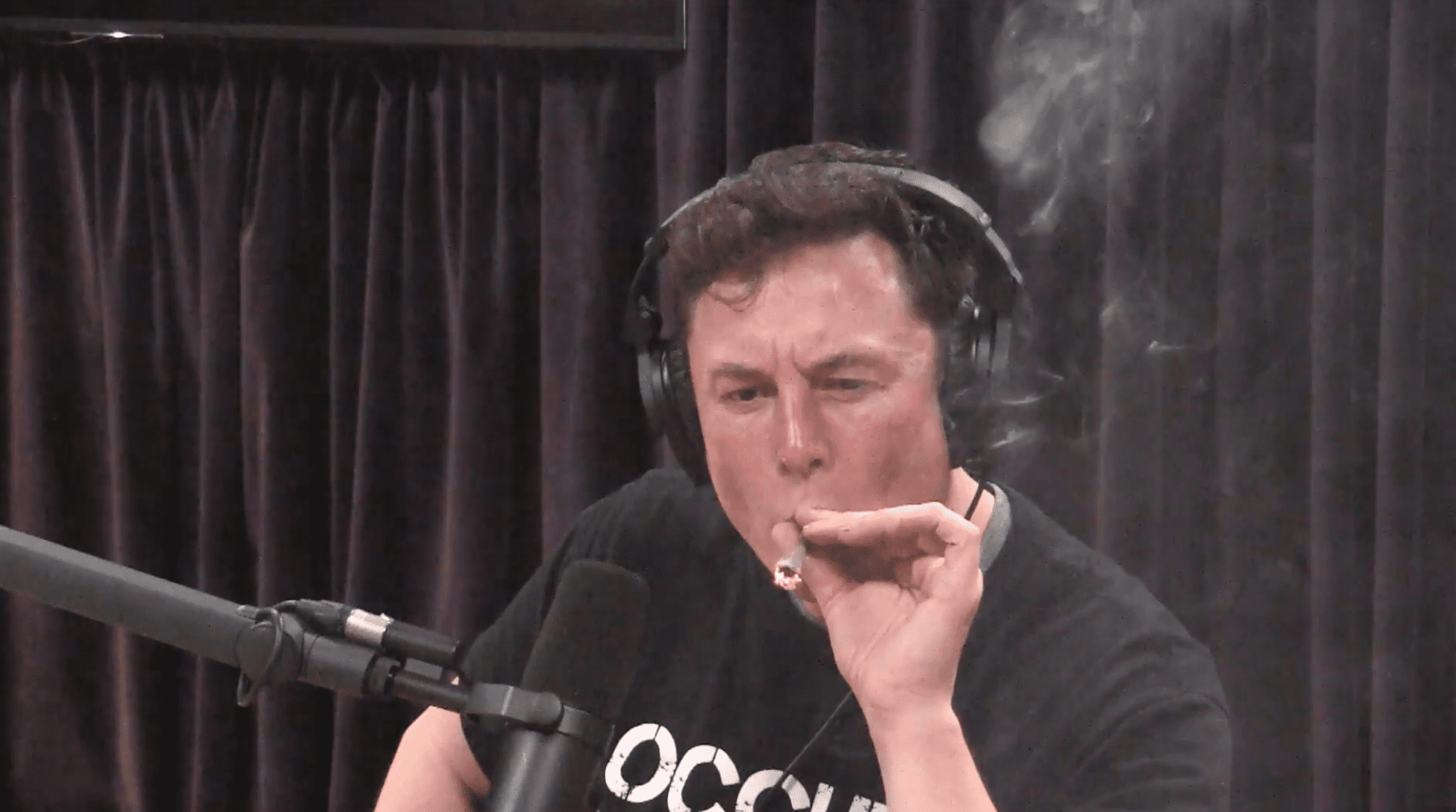 Elon Musk got himself into a bit of trouble after smoking marijuana during an appearance on Joe Rogan's podcast in September.
The move reportedly led to NASA launching an investigation into his company SpaceX's "workplace safety" and "adherence to a drug-free environment."
But now, in a new interview 60 Minutes, the Tesla founder indicated the on-camera puffing was a fluke and that he actually doesn't even know how to smoke weed.
"I do not smoke pot," he said.
"As anybody who watched that podcast could tell, I have no idea how to smoke pot or anything. I don't know how to smoke anything, honestly."
Musk seems to be telling the truth, at least judging from the widespread reaction to the fact that he didn't seem to actually inhale the blunt that Rogan passed him.
I'm sure this point has been made but @elonmusk clearly didn't inhale

— Ryan Lizza (@RyanLizza) September 7, 2018
elon musk didn't inhale lmao baby lungs

— MATT MIGGZ (@mattmiggz) September 7, 2018
"elon musk didn't inhale"

he doesn't inhale smoke

because he doesn't inhale oxygen

because he is a simulation

— kalabar's revenge (@itzthelimit) September 10, 2018
Elon Musk didn't inhale and his stock plummets 6% hahaha

— Parabolic Retard 🤪 (@Crypto_STEEZ) September 8, 2018
The full 60 Minutes interview with Musk is set to air on Sunday.
U.S. Air Force Warns About Grandma's Marijuana-Infused 'Miracle Sticky Buns'
The U.S. Air Force wants its members to be extra careful around "grandma's miracle sticky buns" that might contain marijuana.
In a post on the Air Force Medical Service site on Wednesday, the military branch reminded members that cannabis is illegal under federal law and that testing positive for THC metabolites will result in likely separation from service under "less than honorable conditions" and other possible punishments.
"Marijuana consumption is not permitted in any fashion, period."
The department stressed that with state-level legalization expanding, there's wider availability of "THC containing products," so military members "need to be extra vigilant about the foods and drinks they consume, especially during the holiday season."
"Many of us attend parties or gatherings with friends and relatives and have meals and libations prepared by others."
Maybe the Air Force got the memo from the National Highway Traffic Safety Administration, which also recently put out an advisory about holiday-related cannabis consumption and encouraged people to "#DitchDanksgiving."
While the message was serious, the warning to military members at least ended on a lighter note, seeming to acknowledge the therapeutic use of cannabis edibles, something that federal law still doesn't officially recognize:
"Your friend's grandma's miracle sticky buns might look mighty tasty and get rave reviews at the big shindig, but if you're in the military or work for the federal government you might want to think twice and make sure they weren't made to treat her bad hip first before you jeopardize your career."
To be sure, more seniors are using marijuana, primarily for medical purposes. But unless they're homemade, marijuana products are generally labeled accordingly. So federal workers should probably pay closer attention to pastry packaging if they want to avoid accidentally ingesting prohibited sticky buns.
The Feds Are Hiring Professional Marijuana Joint Rollers…Kind Of
Photo courtesy of Stacy Spensley.