How Reddit's r/trees Helped Scientists Make Marijuana Discoveries
Reddit users subscribed to a popular marijuana forum are helping researchers identify trends and patterns in cannabis consumption.
A new peer-reviewed study, which has been accepted for publication in the journal Drug and Alcohol Dependence, analyzed more than two million posts found on the site's largest marijuana-related subreddit from 2010 to 2016. The research team made a series of discoveries, including a few that might seem obvious to regular consumers (e.g. dabbing is gaining in popularity, but users still largely favor smoking cannabis flower).
Nonetheless, the study contributes unique insights to the growing body of international cannabis research. Among research team's key takeaways was just how high the average "ent" gets on five different forms of cannabis.
(Although researchers didn't specify which subreddit the study examined, their description in the paper leaves little room for doubt that it was r/trees, where enthusiasts refer to themselves as "ents," an homage to the tree-resembling Lord of the Rings characters; trees is a common slang term for cannabis.)
How high do Reddit users get on average from smoking, vaping, dabbing, taking edibles or using butane hash oils (BHO) like shatter?
Researchers sought to answer that question by looking for keywords and tracking the subreddit's 1-10 "user-reported subjective highness" rating system. Though it's admittedly not scientific, a redditor reporting a [2] would generally be considered to have a light buzz, whereas a [10] signifies a very potent experience.
Here is the average r/trees high for five forms of cannabis, on a scale of 1-10:
Smoking: [6.8]
Vaping: [6.7]
Edibles: [7.2]
Dabbing: [7.8]
Butane hash oil: [7.2]
So in terms of intensity of a high, the crowdsourced data puts dabbing at the top—which isn't especially surprising since dabbing typically involves heating up and inhaling concentrated, high-THC cannabis extracts. Vaping appears to produce the least intense high on average.
(For the record, the researchers distinguished between dabbing and BHO products, which are commonly used to dab, because of differences in terminology; one is a method, the other refers to products.)
Of course, more people are getting into dabbing as more states have legalized marijuana in some form, giving many users a greater product selection. Dabbing also may be increasingly attractive, the study authors wrote, because "it requires fewer 'hits' and produces stronger effects."
The new study of Reddit posts also examined adverse effects of cannabis consumption, such as anxiety, coughing, nausea, vomiting and memory problems.
In general, the researchers found that "very few adverse effects were reported," and the study showed that "there were no statistically significant differences in adverse effect term occurrence across products," based on the subreddit post analysis.
But since r/trees is an online community that generally celebrates cannabis and promotes legalization of the plant, it's not entirely surprising that there weren't a large number of posts focusing on potential negative affects of marijuana.
Accordingly, researchers also examined other keywords frequently included in Reddit posts, and found evidence that first-time cannabis consumers seek out r/trees and its resident ents as a source of good information about how to have a fun and safe experience.
"The frequent occurrence of the word 'first' for vaping, dabbing, and edibles indicate that many posters are using or considering using for the first time," they wrote. "With diverging medical and scientific opinions regarding the efficacy and safety of cannabis use, new and experienced cannabis users may be seeking out peer-generated information in online communities and social media about these newer forms of use."
Why this study matters
"Analysis of social media data has been used to complement other epidemiologic methods as a strategy for understanding emerging trends in real time with limited social desirability or recall bias," the study authors noted. "Despite the limited ability to determine the representativeness of creators of social media content and thus inform generalizability, social media data analysis can uncover behaviors not captured in traditional surveillance and inform terminology and emerging behaviors that larger scale health surveys may wish to incorporate."
And that's exactly what this study did—leverage data from a unique and popular social media site to paint a different kind of informative picture of the emerging marijuana landscape.
Postal Service Unveils 'Drug Free USA Forever' Stamp Commemorating 1980s Anti-Drug Program
The U.S. Postal Service (USPS) is rolling out a new stamp design that pays tribute to 1980s-era drug prevention programs and promotes a "drug-free USA."
The stamps, which will go on sale starting in October 2020, were announced at the conclusion of this year's Red Ribbon Week last month, an annual occurrence first launched under the Reagan administration.
"This Drug Free USA Forever stamp will help further raise awareness about the dangers of drug abuse, and the toll it is taking on families and communities around our country," Robert Duncan, chairman of the USPS Board of Governors, said in a press release. "The Postal Service is glad to do its part in marking Red Ribbon Week, and renewing our commitment to helping these efforts to educate youth about the dangers of illegal drugs."
USPS explained that Red Ribbon Week originated after a Drug Enforcement Administration (DEA) agent was tortured and killed in Mexico while investigating drug traffickers in 1985.
"I am very pleased that the U.S. Postal Service will issue a stamp affirming our commitment to a drug-free America," DEA Acting Administrator Uttam Dhillon said. "This stamp will help raise awareness of the fight against drug addiction and honor those who have dedicated their lives to that cause."
A description of the design states that the stamp "features a white star with lines of red, light blue and blue radiating from one side of each of the star's five points, suggesting the unity necessary at all levels to effectively address drug abuse."
USPS isn't applying anti-drug messaging to the cannabis component CBD anymore, however. In September, the agency clarified that hemp-derived CBD products can be mailed under certain circumstances since the crop and its derivatives were federally legalized under the 2018 Farm Bill.
For those with mailing needs who aren't interested in supporting the notion of a "Drug Free USA," USPS does have another stamp that recognizes the 50-year anniversary of the drug-fueled 1969 counterculture music festival Woodstock.
The stamp "features an image of a dove along with the words '3 DAYS OF PEACE AND MUSIC,' evoking the original promotional poster for the festival," USPS says.
Another option is a John Lennon Forever stamp, celebrating the iconic Beatles member and marijuana enthusiast who famously got "high with a little help" from his friends.
"Still beloved around the world, Lennon's music remains an anchor of pop radio and continues to speak for truth and peace," USPS wrote.
Top CDC Official Suggests Legal Marijuana Regulations Can Mitigate Vaping Injuries
Photo courtesy of Wikicommons.
Doctors Find Marijuana In Man's Nose That He'd Forgotten Smuggling Into Prison 18 Years Ago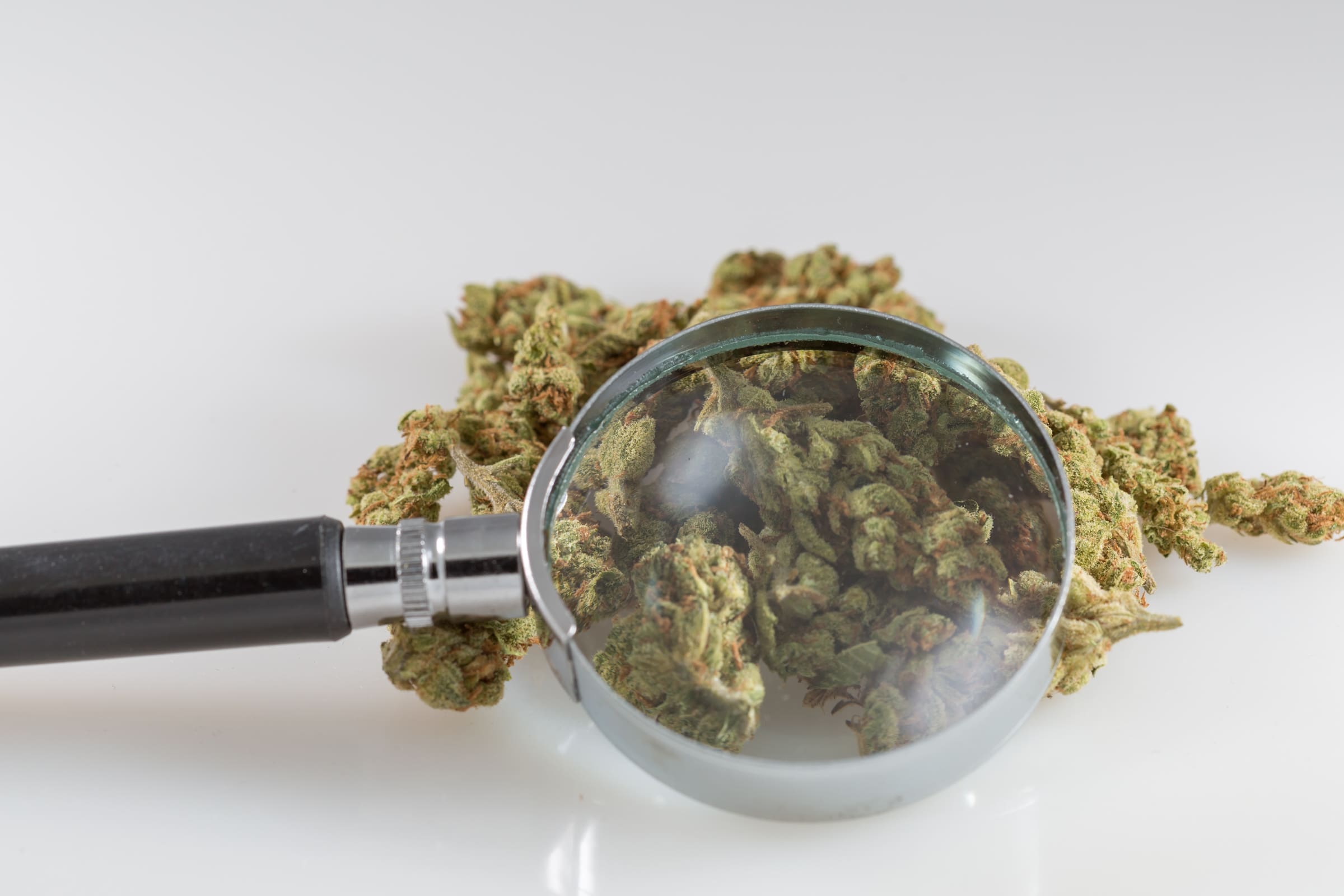 After a man attempted to smuggle a small amount of marijuana inside a balloon stuffed in his nose into prison, he thought he accidentally swallowed it and that the cannabis ended up passing through his body.
But that turned out not to be the case, because 18 years later doctors inadvertently discovered the marijuana—calcified in his right nostril—during a head scan.
The odd occurrence was highlighted in a report published in the journal BMJ Case Reports last week. Doctors said the patient presented with the rhinolith, which is essentially a stone lodged in the nasal cavity that can develop internally or through external factors like a child sticking a Lego in their nose.
But this incident proved unique and caught the attention of the medical journal. A 48-year-old man went to the hospital for a CT scan after complaining of headaches and, upon questioning, said that he had a history of nasal obstruction and infections. The scan turned up a 19mm by 11mm rhinolith, which was then removed endoscopically.
"The histopathology report noted a 'rubber capsule containing degenerate vegetable/plant matter,'" doctors from Westmead Hospital in Sydney, Australia wrote. "On follow-up and specific questioning, the patient was able to recall an incident that occurred 18 years prior, while he was incarcerated."
"During a prison visit, the patient's girlfriend supplied him with a small quantity of marijuana, inside a rubber balloon. In order to evade detection, the patient inserted the package inside his right nostril," they continued. "Despite effectively smuggling the package past the prison guards, the patient then accidentally pushed the package deeper into his nostril and mistakenly believed he had swallowed it. He remained unaware of the package's presence until presented with the unusual histopathology report."
The patient checked back in with the doctors three months after the rhinolith was removed and reported that the nasal issues had gone away.
The case report emphasizes that rhinoliths are generally rare, accounting for an estimated 1 in 10,000 nose doctor outpatient visits. It's possible that the number may be higher, as many instances do not present symptoms but, generally speaking, it's uncommon.
The 18-year-old marijuana shoved into the nose of a formerly incarcerated person that subsequently calcified is a next-level medical finding, the doctors said.
"To the best of our knowledge, our case represents the first report of a prison-acquired marijuana-based rhinolith," they wrote.
The medical team speculates that the reason doctors don't see more cases of prison-related rhinoliths is because most smuggling attempts "involve ingestion of the foreign body that acts as a bezoar to be retrieved after passage through the gastrointestinal tract, while insertion into the nasal cavity for this purpose is relatively rare."
"Nevertheless, an index of suspicion of rhinolith should be maintained in all cases of unilateral nasal symptoms," they concluded.
Medical Marijuana Laws Improve Health And Reduce Alcohol Use For Certain Groups, Study Finds
SXSW Announces Two Dozen Marijuana Panels For 2020 Festival
South by Southwest (SXSW) revealed the festival's 2020 lineup this week, and it includes 24 panels dedicated exclusively to cannabis issues.
The sessions are part of SXSW's "Cannabusiness" convergence track, which will invite attendees to learn about "the technological, cultural, financial, legal and political ecosystems that are defining the cannabis-focused enterprises of both today and tomorrow," according to a description on the event site.
In July, the Austin-based festival announced that it was soliciting panel ideas from the public. More than 150 marijuana-related panel proposals were submitted—more than double the submissions for this year's event—and SXSW invited individuals to vote on their top choices throughout August. Ultimately, 24 cannabis-focused panels made the final cut, including one that isn't in the Cannabusiness Track.
Here are some examples that stand out: 
Descheduling Cannabis: Be Careful What You Wish—Leading cannabis industry stakeholders discuss how removing cannabis from the list of federally banned substances could be destructive to the market as it exists today by allowing for a corporatized marijuana model. Panelists including The Arview Group CEO Troy Dayton will address how descheduling could "decimate the dispensary system and see the destruction of millions of dollars of investment."
Duty Bound: Why the DoD Should Embrace Cannabis—Active duty military members and veterans stand to greatly benefit from marijuana, this panel argues, by "alleviating both mental and physical traumas" while at the same time saving tax dollars. "During our panel we'll dive into the specific individual, national, and even global benefits of allowing for active duty cannabis use in the US military," a description states.
Featured Session: Cat Packer—Top Los Angeles marijuana regulator Cat Packer will talk about her role in the "licensing and regulation of commercial cannabis activity" as well as managing "the implementation of the City's cannabis related policies and programs."
Cannabis in Canada: What We've Learned—Panelists from Leafly, Spiritleaf, Tilray, 48North and Hill+Knowlton will discuss the impacts of marijuana legalization in Canada, including talks about the impact on local economies and industry innovation.
Can Social Equity Help Heal The War On Drugs?—This panel will look at the disproportionate impact of cannabis prohibition on disadvantaged communities, efforts to enact restorative justice policies and how those measures have affected the business community.
The Future of the Cannabis Industry is Colored—Another social justice-focused panel, this event will look at actionable things that people can do to ensure that the legal marijuana market is equitable. "The right and just thing to do for racially equity industry is also the profitable thing to do in business," a description of the panel states. Kris Krane of 4Front Investments, Simply Pure CEO Wanda James and representatives of the People's Dispensary will participate.
Frenemies: Cannabis Activists & Cannabis Industry—Krane, who also previous served as executive director of Students for Sensible Drug Policy (SSDP), will also lead a session that explores the complicated relationship between the reform advocacy world and the marijuana industry. He will take a "deep dive into this relationship, examining how the two can support each other, where they clash" and why he thinks "the industry is obligated to support the drug policy reform movement."
Boutique Cannabis Needs Appellations—Individuals fighting to get a designation for cannabis products that reflect where they were produced will discuss the importance of the business move.
Forbidden Territories: Women & Children First!—This panel will focus on the use of cannabis in the treatment of conditions that afflict women and children. "This session will explore this taboo topic, explore the science that supports the use of cannabis for these populations as well as what we as physicians have learned from our patients about cannabis."
Hemp: Game Changers—Representatives from Canopy Growth, Vincente Sederberg LLP and outdoor apparel company Patagonia will discuss marijuana's non-intoxicating cousin, hemp, as part of a panel centered on the "rapidly evolving new industry."
Is Cannabis Media Coverage Fair or Biased?—Panelists including Business Insider reporter Jeremy Berke and Rolling Stone contributor Amanda Chicago Lewis will look at the media landscape for marijuana coverage. "They'll delve into how media coverage has changed for cannabis companies and discuss the high bar companies need to achieve to gain media attention," as well as addressing "how misinformation persists and how the careful art of semantics—such as using the word dope vs. cannabis—changes reader perceptions."
Marijuana Today: Live Podcast Recording—The weekly podcast Marijuana Today will record live for a segment that "will focus on the status of efforts to reform federal law and to promote equity in the cannabis industry." SSDP Executive Director Betty Aldworth will participate in the event.
Medical Cannabis: From Rogue to Recovery to Riches—A Texas state senator will join a panel to discuss the evolution of the cannabis reform movement as well as future "business and social opportunities" for the industry. The panel of "government, medical and family activists will uncover the unexpected alliances formed—and strategies for collaboration for commercial success in a complex marketplace."
Navigating an Emerging Cannabis Beverage Market—While federal regulators are playing catchup, a market for cannabis-infused beverages has exploded. This panel will explore the business and "share insights and lessons learned as they navigate the rapidly changing landscape in hopes of bringing world-class cannabis beverages to market."
"Cannabusiness Track includes content that will appeal to more experienced professionals in this rapidly evolving industry, as well as to newcomers who are just starting to enter this space," SXSW said.
At this year's SXSW event, in March, social equity activists protested an appearance by former House Speaker John Boehner (R-OH), who opposed legalization while in Congress but now sits on the board of a large cannabis company.
Michael J. Fox Parkinson's Foundation Urges Congress To Pass Three Marijuana Research Bills
Photo courtesy of Mike Latimer.