Medical Marijuana Dispensaries Save Lives, Study Finds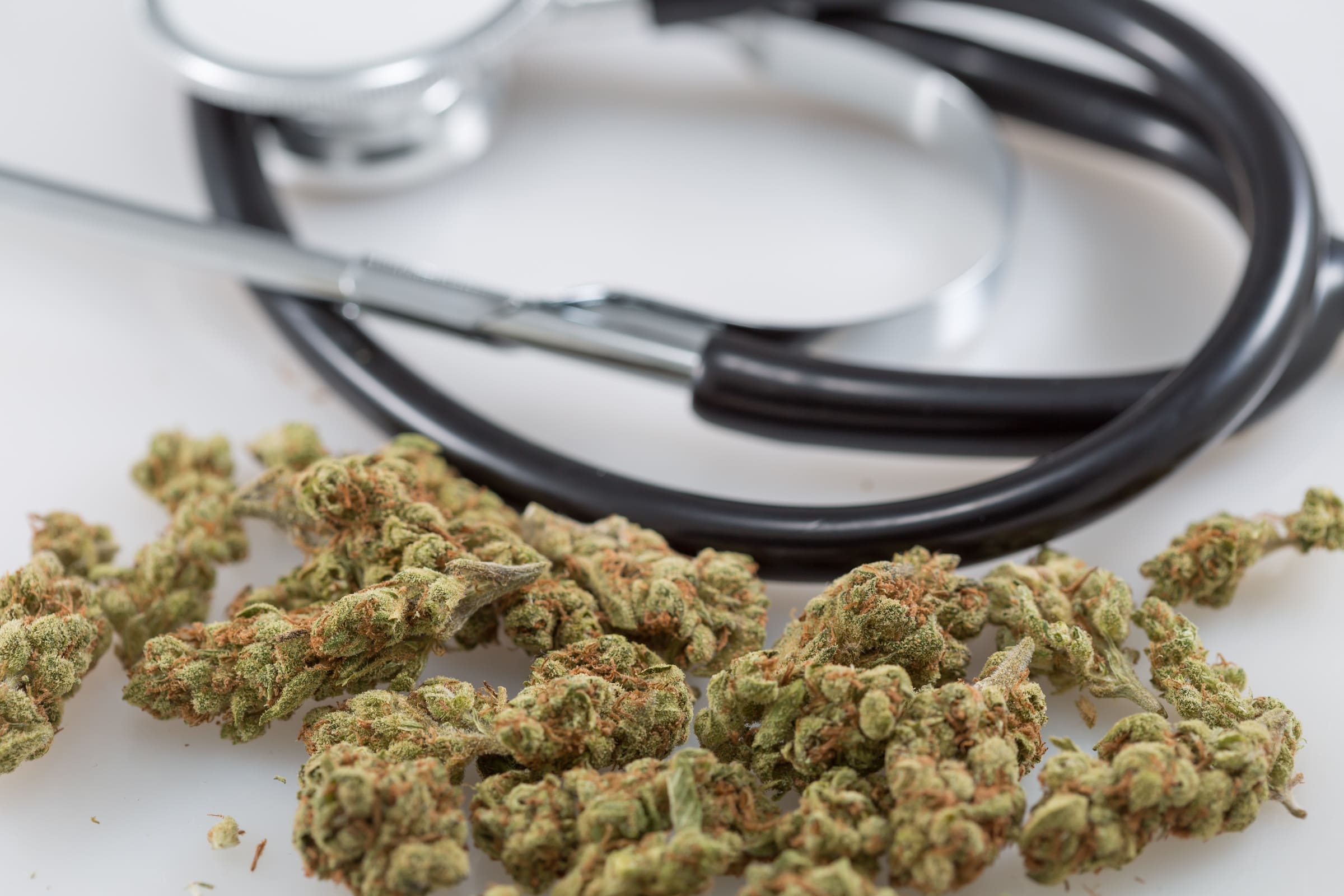 States where people can legally access marijuana through dispensaries see dramatically reduced opioid overdose death rates, new federally funded research shows.
"In short, our findings that legally protected and operating medical marijuana dispensaries reduce opioid-related harms suggests that some individuals may be substituting towards marijuana, reducing the quantity of opioids they consume or forgoing initiation of opiates altogether," the study concludes. "Marijuana is a far less addictive substance than opioids and the potential for overdosing is nearly zero."
While previous research has shown that medical marijuana laws are associated with lower opioid overdose rates, the new analysis distinguished between states where medical cannabis is simply legal and states that actually allow streamlined patient access to marijuana through active dispensaries.
"Because legal protection of retail dispensaries does not mean dispensaries are operational, we construct our policy measure to identify the state/year in which dispensaries are both legally protected and open for business," researchers from the RAND Corporation, the National Bureau of Economic Research and the University of California, Irvine wrote. "Dispensaries – retail outlets that sell marijuana to qualified patients – contribute to the decline in opioid overdose death rates."
To be more specific:
"Using data from just the early period of these laws 1999–2010, dispensaries reduce opioid mortality rates by about 40%, above and beyond the reduction from marijuana laws alone. The total effect is estimated to be even larger. When we consider the full time period (1999–2013), the estimates imply that dispensaries reduce opioid mortality rates by about 20% while the main effect of having a law is relatively small in magnitude, implying declines of about 5%, and not statistically distinguishable from zero. Importantly, together – a marijuana law with a legal, operational dispensary provision – the estimates imply a statistically significant (at the 5% level) decline in overdose death rates of about 25%."
"It is clear that operational dispensaries are critical," the study, published online over the weekend by the Journal of Health Economics, concluded. "This evidence is consistent with the need for a clear and legal supply chain for medical marijuana policy to have an effect."
Going a step further, the study, which was funded by the National Institute on Drug Abuse, found that examining data from after 2010, "a period when states began opening more tightly regulated medical marijuana retail systems," apparently in response to federal enforcement guidance, weakens the effect.
"The effect of medical marijuana policies on opioid related harm diminishes over time, particularly after 2010, which might be due to the regulatory tightening of medical marijuana dispensaries, the major marijuana policy feature behind the reduced harm in the earlier period," the data suggests.
Nonetheless, the researchers concluded that "our results suggest a potential overlooked positive effect of medical marijuana laws that support meaningful retail sales."
VA Admits It "Can Look At Marijuana As An Option For Treating Veterans"
Despite repeated claims to the contrary, the U.S. Department of Veterans Affairs (VA) is now admitting that it "can look at marijuana as an option for treating Veterans."
The stance, which comes in the form of new content uploaded to a VA webpage last week, contrasts with a letter that Veterans Affairs Sec. David Shulkin sent to members of Congress in December, less than two months ago.
"Federal law restricts VA's ability to conduct research involving medical marijuana, or to refer veterans to such projects," he claimed at the time.
There have been no changes to federal cannabis laws in the interim.
The VA Office of Research & Development's webpage on Post-Traumatic Stress Disorder (PTSD) now says that earlier research on medical cannabis "found limited evidence that marijuana use might alleviate neuropathic pain in some patients, and that it might reduce spasticity associated with multiple sclerosis, but found insufficient evidence to assess the effects of marijuana on PTSD."
"VA is not currently able to prescribe medical marijuana to Veterans," it continues, "but can look at marijuana as an option for treating Veterans."
A cached previous version of the same page doesn't mention marijuana at all.
The update to the webpage comes as Shulkin and the department are under increasing pressure on medical cannabis and completely unrelated issues.
A group of members of Congress are pushing the VA to allow its physicians to recommend medical cannabis, or at least to refer veterans to studies on the drug's potential.
And a VA inspector general's report released last week found that Shulkin made "serious derelictions" that resulted in improper use of taxpayer money to cover portions of an overseas trip he and his wife took to Denmark and the UK last year.
The report, which included portions of Shulkin's travel agenda, happened to reveal that on July 19 he met with British officials to discuss medical cannabis as part of the trip.
Under an internal VA administrative directive, the department's policy is that its "providers are prohibited from recommending, making referrals to or completing paperwork for Veteran participation in State marijuana programs."
Shulkin has repeatedly tried to pass the buck to Congress when asked about the issue.
During a White House briefing last year, for example, he said that state medical cannabis laws may be providing "some evidence that this is beginning to be helpful, and we're interested in looking at that and learning from that." But he added that "until time the federal law changes, we are not able to be able to prescribe medical marijuana for conditions that may be helpful."
The distinction between recommendation and prescription is an important one. No physician in the U.S. — government or private — can prescribe marijuana, because prescription is a federally-regulated process and cannabis currently falls under the Controlled Substances Act's restrictive Schedule I, a category that is supposed to be reserved for drugs with a high potential for abuse and no medical value.
That's why the 29 states with medical cannabis access allow doctors to simply recommend the drug, circumventing the prescription process.
Shulkin has the unilateral authority to rescind the internal ban and clear the way for VA doctors to recommend medical cannabis to veterans in states where it is legal, but he has repeatedly claimed that federal law — without citing a particular statute — blocks him from doing so.
The secretary's unwillingness to move on marijuana goes beyond just letting doctors who work for him recommend it. He has also thus far refused to help lift institutional roadblocks preventing the department from participating in scientific research on cannabis's uses.
In an interview last year, he said that it is "not within our legal scope to study that in formal research programs."
That position has led to recruitment issues for researchers conducting trials. For example, one such study on marijuana's effects on PTSD has been prevented from reaching veterans at the Phoenix, Arizona VA hospital.
"This study needs 50 more participants and the Phoenix V.A. is in the best possible position to assist by simply allowing principle investigators to brief [VA] medical staff on the progress of the study, and by allowing clinicians to reveal the existence of the study to potential participants," the American Legion, which represents more than 2.4 million military veterans, wrote to Shulkin in September. "Your immediate attention in this important matter is greatly appreciated. We ask for your direct involvement to ensure this critical research is fully enabled."
And John Hudak, a researcher with the Brookings Institution said that despite Shulkin's claims, "doctors and researchers at the VA or in VA hospitals could conduct research into the medical efficacy of marijuana while remaining completely compliant with federal laws, regulations, and the United States' obligations under international agreements."
In December, VA issued an updated policy offers physicians greater encouragement to discuss cannabis with their patients.
The new directive urges government doctors to "discuss with the Veteran marijuana use, due to its clinical relevance to patient care, and discuss marijuana use with any Veterans requesting information about marijuana."
But it maintains the longstanding departmental ban on physician recommendations.
V.A. Issues New Medical Marijuana Policy For Military Veterans
The new website language, however, and the revelation that Shulkin discussed the issue on his overseas trip, shows that VA's opposition to cannabis is not necessarily set in stone, at least when it comes to research, though the implications aren't immediately clear.
"No other arguments have worked in the past so this may be a breakthrough," Sue Sisley, the researcher running the Arizona PTSD trial, told Marijuana Moment in an interview, referring to the webpage update. "VA can definitely be more helpful if they wanted to. There is nothing blocking them."
NBA Players Push League To Allow Medical Marijuana
The union that represents professional basketball players thinks they should be able to use medical marijuana without being punished for it by the NBA.
"My own view is that there are substantial signs that support its efficacy and the value that it has for us, especially pain management," National Basketball Players Association (NPBA) Executive Director Michele Roberts said in an interview SB Nation published on Monday. "We're in talks with the league to see where we can go with it."
While Roberts is optimistic that public policies and league rules on cannabis will eventually be changed, she worries that the anti-legalization position taken by U.S. Attorney General Jeff Sessions complicates things.
"The obvious future is that marijuana will be decriminalized probably throughout the country in short order," she said. "It is a banned substance in our league right now. If we do go down that road, we have to protect our players from — my words — a crazed attorney general who says he will prosecute violations of the law involving marijuana and he doesn't care what individual states say. In other words, I don't want my guys being arrested at airports in possession of a cannabinoid by some Fed."
Former NBA Commissioner David Stern endorsed removing league penalties for players' cannabis use last year.
"I'm now at the point where personally I think it should be removed from the banned list," he said.
Roberts said that after the video of Stern's comments came out, she "got some phone calls and we began discussions internally with our players and to some extent with the league to at least look at it."
Current Commissioner Adam Silver is open to considering a change.
"I would say it's something we will look at. I'm very interested in the science when it comes to medical marijuana," he said recently. "My personal view is that it should be regulated in the same way that other medications are if the plan is to use it for pain management. And it's something that needs to be discussed with our Players Association, but to the extent that science demonstrates that there are effective uses for medical reasons, we'll be open to it."
In a separate interview with The Undefeated last week, Roberts said there "has been a lot of buzz from the start of the year about medical marijuana," and "a lot of players are interested in knowing what that is all about, so we will have some conversations about that."
She also revealed that the players' union is examining "independent research" on cannabis's medical uses.
"I have certainly taken a look at what the current scientists are saying about this. And we are looking to have conversations with the league," she said. "The thought is that we don't have the same pain management issues as football does. It is true because their injuries are much more significant. But we do have pain issues."
Roberts believes, based on reviewing data about cannabis, that it can help basketball players deal with injuries related to the sport.
"I go to meetings, and I've gotten used to it now, but eight of the guys will come into the meetings wearing ice on their knees," she said. "I couldn't stand that for 12 seconds. But they need to do that to be able to walk. Joint issues. Running up and down the court. The cardiovascular nature of the game. Jumping. Pain is an issue in the game. It's a matter of allowing guys to use what science to me is suggesting is effective."
But she didn't reveal how close the league might be to agreeing to policy changes.
"We're exploring it," she said. "I think there is some movement toward accepting it as an appropriate use to address pain. But we're not there yet."
Army Says CBD Doesn't Seem Harmful, But Bans Soldiers From Using It Anyway
The U.S. Army hasn't seen any evidence that a key marijuana component is harmful, but is prohibiting soldiers from using it anyway.
"Pure CBD oil has not yet been associated with adverse health effects," the Army said, nonetheless adding that "soldiers are prohibited from using hemp or products containing hemp oil."
The statement is part of a public health alert that the Army released this week warning that dozens of soldiers around the country have been sickened after vaping synthetic compounds designed to mimic the effects of marijuana. Those products are sometimes marketed as containing cannabidiol (CBD).
Army is seeing an increase in emergency room visits from certain vaping products. Click to learn more. https://t.co/AOaPiFBTfs pic.twitter.com/sh8awiulmH

— ArmyPublicHealth (@USAPHC) January 29, 2018
"CBD vape oils may contain synthetic cannabinoids, concentrated tetrahydrocannabinol (THC) and/or other hazardous compounds in addition to, or in place of, CBD oil," the alert said. "This problem has the potential to spread quickly across the Army. Although some vape oils claim to contain CBD oil, CBD, THC, and/or synthetic cannabinoids, many vape oils do not disclose that they may contain illegal and/or potentially hazardous substances to include synthetic cannabinoids."
In recent years, some soldiers have used synthetic cannabinoids in light of the military's ban on the consumption of natural marijuana products. But while the federal government has moved to prohibit the consumption of certain synthetic cannabis-like substances, new ones continue to arrive on the market.
Meanwhile, CBD has received increased attention as a therapeutic natural compound of the cannabis plant.
Unlike its psychoactive cousin tetrahydrocannabinol, or THC, CBD doesn't leave consumers with a high. But it has been shown to relieve severe seizure disorders, and there is mounting evidence that it has pain-relieving, neuroprotective and other beneficial properties as well.
The World Anti-Doping Agency, whose guidelines the International Olympic Committee and other sports associations use to determine lists of banned drugs, recently moved to allow CBD use by athletes.
The Army's warning on synthetic cannabinoids comes amid increasing pressure on the U.S. Department of Veterans Affairs to allow its doctors to recommend natural medical cannabis to military veterans who want to use it to treat PTSD, chronic pain or other issues.