Mayor Pete Declines To Hit Imaginary Marijuana Joint
Former South Bend, Indiana Mayor Pete Buttigieg passed on a hit of an imaginary marijuana joint in a press appearance this week, politely handing it to the next person in the rotation.
During a live-streamed interview on Wednesday with Denver-based Jeff Fard, or Brother Jeff, the host welcomed the 2020 Democratic presidential candidate to the Mile High City and inhaled a fictional joint before passing it to Buttigieg.
Looking surprised, the former mayor mimed taking the invisible spliff and quickly handing it to his right.
With the pretend smoke sesh dispensed with, the host got serious and asked Buttigieg about his perspective on marijuana reform and his plan for industry equity.
"First of all, we've got to legalize it," the candidate replied. "I believe that as we do, we should make sure that as this new industry emerges, the benefits should go to those who have been harmed by the foolish policies and racially disparate impacts of the failed war on drugs."
"We know that this has created all kinds of problems related to mass incarceration and that there is now a whole new generation who have experienced the incarceration of loved ones who are themselves more likely to have problems, and it shows you how the incarceration creates more harms than it was intended to solve," he said, adding that certain states such as Illinois "are being pretty intentional" about promoting restorative justice within a legal marijuana model.
Watch Buttigieg's marijuana comments and refusal to hit an imaginary joint, about 24:40 into the video below: 
"We've got to think about that nationally, we've got to think about expungements, looking backwards at cases where the incarceration did so much harm," he said. "Now is our chance, not only looking forward, but as we look to correct harms from the past to do something about the failures, and in particular the racial inequity, of the war on drugs."
Now, returning to the made-up joint…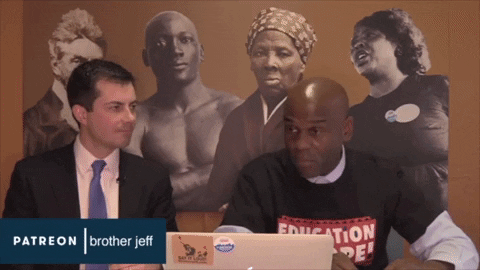 Buttigieg hasn't always had positive experience when someone hands him marijuana. He has spoken about how in college, he narrowly avoided being arrested after someone handed him a joint and a police office pulled up. Walking away from the incident without a criminal record informed his understanding of the racial disparities in prohibition enforcement.
Regardless of his unwillingness to get fake stoned in interviews on the campaign trail, the candidate has shown he's not afraid to get near the reefer.
Last year, he visited a dispensary in Las Vegas to talk about his reform plan—but he deliberately did not purchase any cannabis products, telling reporters that "I'm on the clock and it's going to be a long work day for me."
Formerly Anti-Marijuana Congressman Cosponsors Comprehensive Legalization Bill
Photo courtesy of Facebook/Jeff Fard.