Marijuana's High Makes Blind Studies Difficult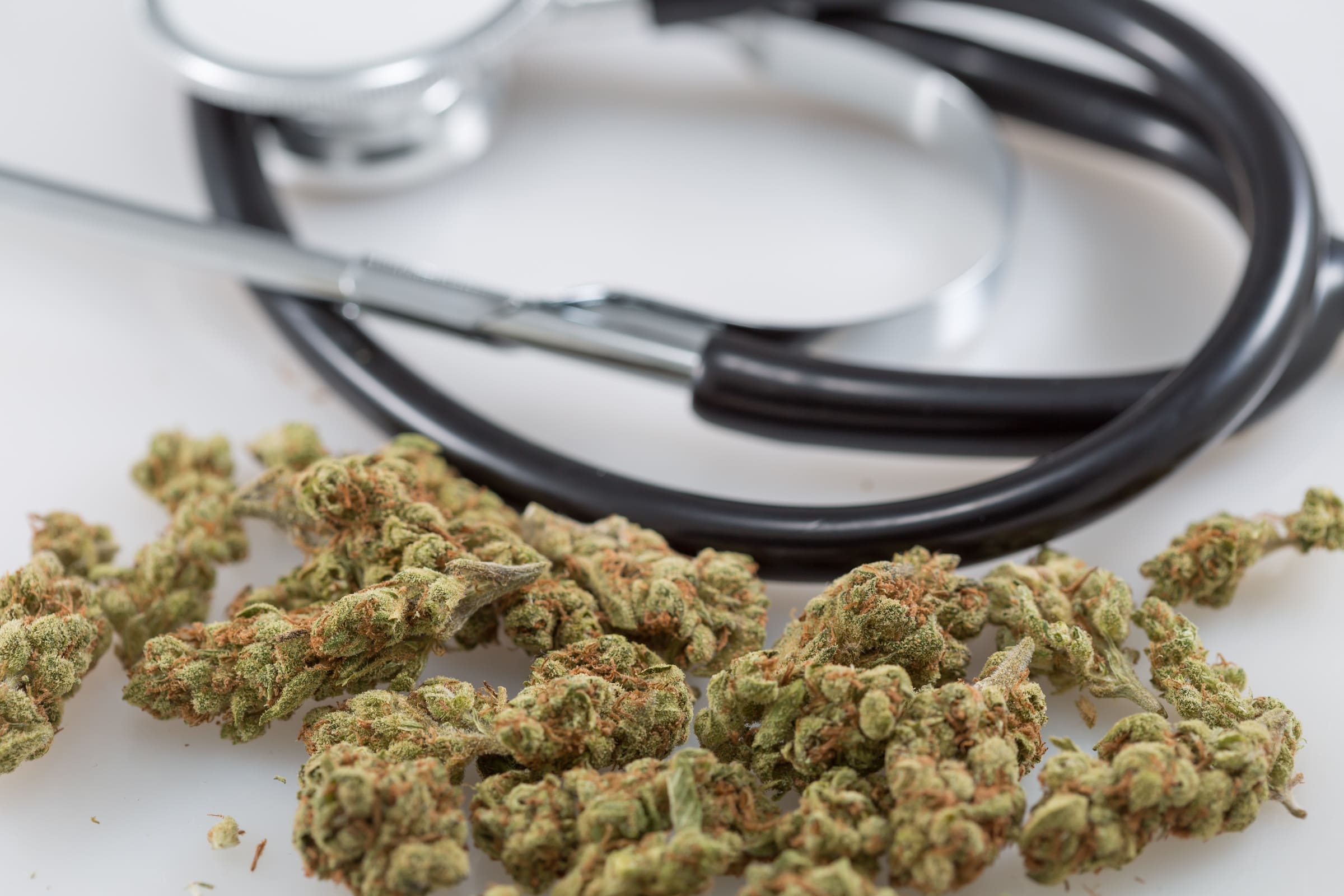 People involved in scientific studies on marijuana's potential medical effects are getting too noticeably high.
And that's a problem, according to a new opinion piece published by JAMA Internal Medicine, a journal published by the American Medical Association.
"In clinical trials of smoked or vaporized medical cannabis, the placebo arm typically uses inactive cannabis. These are flowers from which cannabinoids have been extracted, often with liquid carbon dioxide. This 'placebo' cannabis is indistinguishable in appearance, taste, and odor from natural cannabis," Dr. David Casarett of Duke University School of Medicine wrote in the new article.
"Nevertheless, many trial subjects can distinguish between active cannabis and placebo… These participants guess their group assignment in large part because they detect the psychoactive properties of the active cannabis treatment. That is, the design of the study provides inadequate blinding."
As a result, Casarett is concerned that participants and researchers "overestimate the effectiveness of medical cannabis."
And, he says, "participants who believe they are receiving the active drug might be more alert to adverse effects. Together, these effects should raise substantial concerns about the validity of medical cannabis trials."
Casarett lays out several ways he thinks researchers can reduce the bias inherent from inadequate blinding.
First, he suggests that studies include a psychoactive control. That is, a substance that is not marijuana but which has similar effects so that study participants won't be able to tell the difference.
"Unfortunately, it is not clear what an ideal psychoactive control would be in a cannabis trial. Any drug would need to mimic some of the most prominent effects of cannabis, including an elevated heart rate and dry mouth, as well as euphoria," he writes. "And, of course, any drug should not have any direct clinical effect on the symptom or condition that is the study's primary end point."
Second, Casarett proposes that trials on marijuana's potential benefits recruit participants who have not used cannabis before.
"It is likely, although not certain, that participants who are unfamiliar with the effects of cannabis would be less able to accurately determine whether they are receiving cannabis or a placebo," he writes.
Next, he says that researchers could address inadequate blinding by asking participants questions about whether they believe they got marijuana or a placebo so that a "post hoc evaluation of bias" could be performed.
Finally, Casarett suggests using marijuana strains rich in cannabidiol (CBD), which can counteract the psychoactive effects of cannabis's other components.
"Until the problem of inadequate blinding is solved, there is a very real risk that clinical trials of medical cannabis would overestimate its benefits," he concludes.
Teen Marijuana Use Not Up Since Legalization, Another Federal Study Finds
A new federally-funded survey finds that marijuana use by 8th, 10th and 12th graders has increased slightly over the course of the past year but is generally lower than levels seen prior to when states began legalizing cannabis in 2012.
While measures of lifetime, annual, monthly and daily consumption of cannabis across the grade levels have variously gone up and down over the years, the new national data indicate that legalization of marijuana in certain states has not led to the skyrocketing of youth use that opponents predicted would occur.
The findings, from the annual Monitoring the Future survey, represent the second federal report released in the past week to indicate that prohibitionists' fears were overblown.
A separate study looking specifically at state-by-state numbers showed that teen marijuana use is generally lower now in places with legalization as compared to when the prohibition on adult cannabis consumption was still in place.
8th Grade Marijuana Use By Year, In Percentages:
10th Grade Marijuana Use By Year, In Percentages:
12th Grade Marijuana Use By Year, In Percentages:
The data is part of the annual Monitoring the Future survey, conducted by researchers at the University of Michigan. The survey is now in its 43rd year, and includes responses from 45,000 students in 380 public and private secondary schools across the U.S.
The new numbers are scheduled to be published on Thursday, but Marijuana Moment was able to obtain them early.
Marijuana Moment takes seriously its obligation to respect embargoes to which it has agreed. In this case, however, no such agreement was made. Rather, the data was found on a publicly available website and is thus fair game for publication.
The study also found that use of drugs other than marijuana is on the decline among 10th and 12th graders. Use of cigarettes, which are legally available to adults, is at historic lows across all grade levels surveyed.
Raw Data: Marijuana Use, By Grade And By Year, In Percentages
Teen Marijuana Use Down In Most Legalized States, Federal Data Says
Contrary to fears raised by marijuana opponents, teen use of cannabis is trending downward in most states that have legalized it for adult use.
According to new data from the federally-funded National Survey on Drug Use and Health (NSDUH), the percentage of Colorado teens who used marijuana in the past year is down more than two points in the 2015-2016 version of the study as compared to the 2014-2015 edition.
The same is true in Washington State. In Washington, D.C., the drop was nearly three points. A smaller decline was seen in Oregon, while Alaska showed a slight rise.
Annual teen cannabis use is also down across the U.S. as a whole, but the drop was less significant than that experienced in Colorado and Washington, the first two states to legalize marijuana.
Percentage Of 12-17 Year-Olds Who Used Marijuana In The Past Year
| | | |
| --- | --- | --- |
| STATE | 2014-2015 | 2015-2016 |
| Alaska | 18.44 | 18.86 |
| Colorado | 18.35 | 16.21 |
| District of Columbia | 16.55 | 13.58 |
| Oregon | 17.56 | 17.35 |
| Washington | 15.61 | 13.54 |
| Total U.S. | 12.86 | 12.29 |
Similar drops were seen in most legalization states for monthly teen cannabis use as well.
Percentage Of 12-17 Year-Olds Who Used Marijuana In The Past Month
| | | |
| --- | --- | --- |
| STATE | 2014-2015 | 2015-2016 |
| Alaska | 10.64 | 10.43 |
| Colorado | 11.13 | 9.08 |
| District of Columbia | 8.85 | 8.07 |
| Oregon | 9.42 | 9.77 |
| Washington | 9.17 | 7.93 |
| Total U.S. | 7.2 | 6.75 |
Colorado and Washington State legalized marijuana in 2012, with Alaska, Oregon and Washington, D.C. ending cannabis prohibition in 2014. (Four additional states voted to legalize marijuana in 2016, but those programs weren't running when the new survey was completed.)
While legalization opponents have long argued that ending prohibition would lead to skyrocketing use by young people, that doesn't seem to be happening.
Advocates, on the other hand, have maintained that regulating and controlling the cannabis market and instituting strict age restrictions would actually give teens less access to marijuana than they had when it was illegal and there were no checks for age at the point of sale.
In a Facebook post, cannabis consulting firm Freedman and Koski, Inc, which is run by Colorado's former top marijuana official, said that the drop in teen use in the state "coincides with an increase in funding prevention programs from cannabis taxes."
"Colorado is effectively regulating marijuana for adult use. Teen use appears to be dropping now that state and local authorities are overseeing the production and sale of marijuana," said Brian Vicente, partner at Vicente Sederberg LLC, and one of the lead drafters of Colorado's legalization measure. "There are serious penalties for selling to minors, and regulated cannabis businesses are being vigilant in checking IDs. The days of arresting thousands of adults in order to prevent teens from using marijuana are over."
The new state numbers are part of a state breakdown of NSDUH data that was released last week.
Lawmakers Press Trump Health Official On Marijuana As Opioid Alternative
A bipartisan group of members of Congress is pushing the Trump administration to consider medical marijuana as a safer alternative to opioids.
"As you know, our country is grappling with an opioid epidemic that is now taking 91 lives every single day," the lawmakers wrote in a letter to Acting Health and Human Services Secretary (HHS) Eric D. Hargan. "Recent studies published by qualified academic researchers suggest that marijuana may prove to be a useful alternative treatment for chronic pain instead of harmful, addictive prescription opioids, and that marijuana may reduce the overall number of opioid overdose deaths."
After citing a number of studies demonstrating cannabis's efficacy and that legal marijuana access is associated with reduced opioid issues, the House members lay out a series of questions they want answered:
The evidence that marijuana may have a positive therapeutic warrants additional attention from the federal government. We request that you provide answers to the following questions:
1. Please describe in detail what the Department of Health and Human Services (HHS) is doing to fill the gap in our knowledge about the use, uptake, and effectiveness of medical marijuana as an alternative to opioids for pain treatment in states where it is legal.
a. Please describe in detail any federal efforts to conduct research the impact of state medical and recreational marijuana laws on opioid overdose deaths.
b. Please also describe in detail efforts by other federal agencies under the jurisdiction of HHS.
2. Please describe in detail what HHS and other federal agencies are doing to work with states that have implemented medical marijuana laws to collect data on the impact of these laws on opioid overdose deaths.
3. Is HHS committed to implementing evidence-based policies regarding the use of medical marijuana as an alternative pain treatment in an effort to promote public health?
4. Is HHS committed to making any research on the therapeutic benefits of marijuana available to states including as a more benign alternative to opioids for pain management, so that they can implement evidence-based policies to address the opioid epidemic?
5. Please describe in detail any ongoing efforts to share this research on marijuana's potential as an alternative pain treatment to addictive and dangerous prescription medications with other federal agencies, including but not limited to the Office of National Drug Control Policy, the Drug Enforcement Administration, and the Department of Justice.
"We should not ignore any information that suggests there may be a tool available to fight the opioid epidemic that we are not using to the fullest extent," the legislators conclude in the letter, which is dated Tuesday. "While it is clear that more research is necessary, it is equally clear that medical marijuana is an alternative pain treatment that merits the attention of the federal government."
Congresswoman Tulsi Gabbard (D-HI) posted a series of tweets about the issue on Thursday evening.
As the opioid epidemic continues to ravage communities across the country, we must pursue every available path to prevent, treat, and ultimately end America's reliance on these highly addictive drugs.

— Rep. Tulsi Gabbard (@TulsiPress) December 7, 2017
With 91 lives lost every single day to the opioid epidemic, Acting Secretary Hargan should immediately authorize additional research into medical marijuana as an alternative treatment to urgently address this opioid crisis.

— Rep. Tulsi Gabbard (@TulsiPress) December 7, 2017
The letter comes amid increasingly prominent discussion about marijuana's potential to reduce opioid overdoses. The federal government's top health research official was asked about the topic in two separate Senate hearings this week.
Legal Marijuana Tied To Opioid Death Reductions, Federal Health Official Says
Last week, Sen. Elizabeth Warren (D-MA) sent questions about marijuana and opioids to Alex Azar, President Trump's nominee for HHS secretary.
See the full text of the House lawmakers' new letter below:
Members of Congress: Marijuana Is An Opioid Alternative by tomangell on Scribd