Marijuana Legalization Associated With Decreased Interest In Alcohol, Study Finds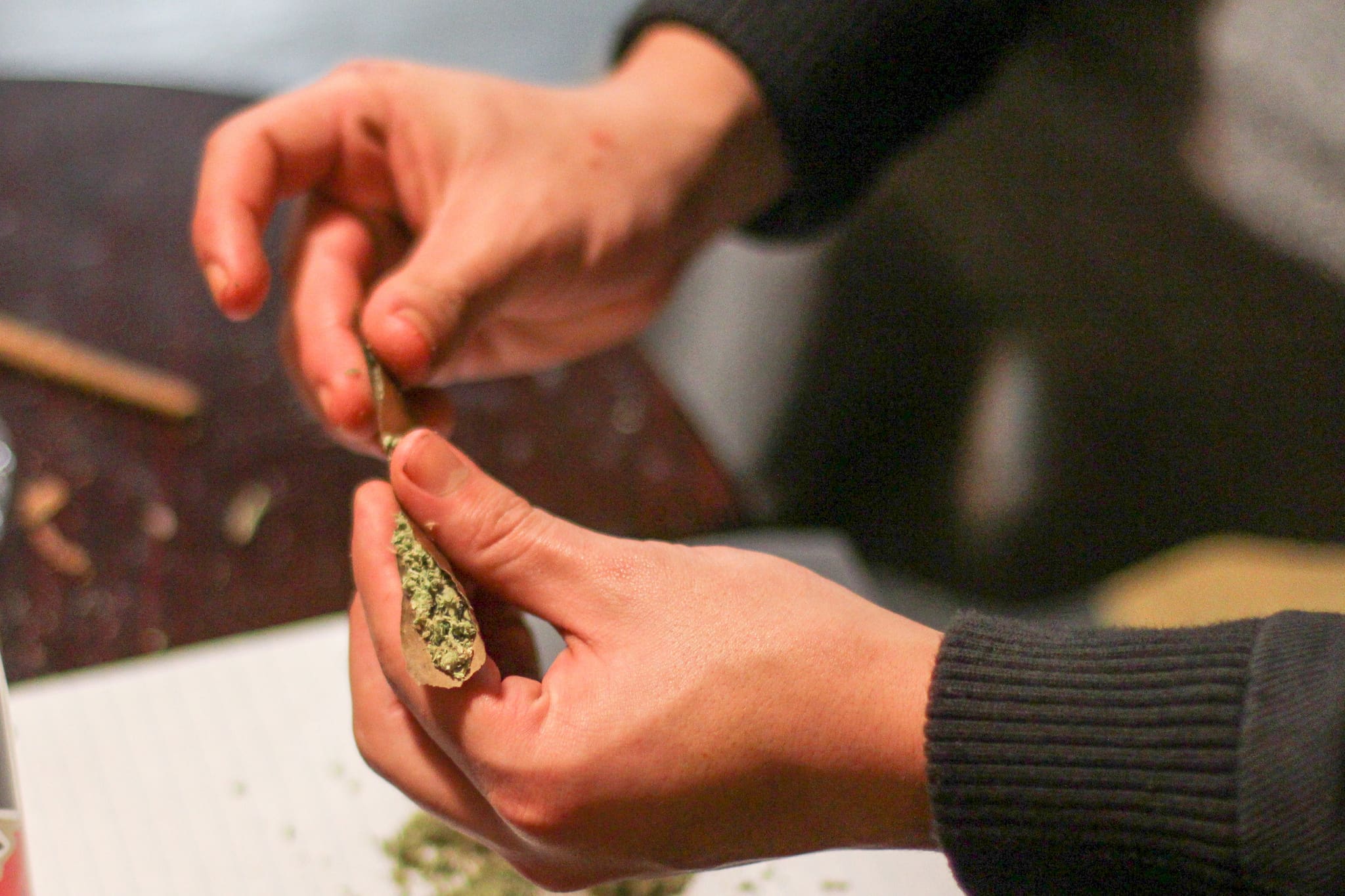 Interest in alcohol declines after states legalize marijuana, according to a new study analyzing online behavior. But for reasons that aren't entirely clear, interest in tobacco products increases following the policy change.
Another notable finding is that interest in cannabis among young people appears to decline after the end of prohibition.
Researchers from the University of Georgia and Syracuse University sought to identify the cross-commodity effects of legalization and used data from a "leading US-based web portal" from January 2014 to April 2017 to see how the implementation of adult-use legal marijuana programs in states changed online behavior such as web searches and engagement with advertisements.
The data set "covers over 28 million searches and 120 million ad impressions related to cannabis, alcohol and tobacco industries," they wrote.
Published in the journal Marketing Science, the study reveals diverging trends for alcohol and tobacco.
Legalization "reduces search volume and advertising effectiveness for alcohol, but increases those for tobacco," the authors wrote. "Hence, cannabis appears a substitute to alcohol, but not to tobacco."
It also determined that recreational marijuana legalization leads to a nearly 17 percent increase in cannabis-related searches—however, that increase was "significantly attenuated" for young people, who did not search for marijuana more post-legalization. On the contrary, the study noted a "significant decrease in cannabis search[es] among the youth after" legalization.
"Contrary to widely held public concern after recreational cannabis is legalized, teenagers appear to lose interest, rather than gain interest," study author Pengyuan Wang said in a press release. "Policymakers only concerned with an uptick in teen users, may want to rethink their stance."
That finding is supported by another recent study exploring youth cannabis consumption. An analysis of federal data from 1993 to 2017 showed that self-reported past-month youth cannabis use decreased by about eight percent in states that legalized marijuana for adult use.
Alcohol searches decreased by about 11 percent after a state legalized marijuana, the researchers behind the new study found. They argued that the results show that the alcohol industry "has valid reasons to be concerned about legal cannabis and may need creative strategies to avoid market decline if [recreational cannabis legalization] passes."
However, predictions about marijuana's potential to disrupt the tobacco industry might have been overblown, the study indicated. Searches for tobacco products increased by almost eight percent and so "tobacco companies may need to reexamine their presumption, and that anti-cannabis legalization is not in their best interest," Wang said.
It's not clear whether the analysis of tobacco search trends included cannabis-adjacent products such as blunts, rolling papers or vaporizer devices, which could overlap between tobacco and marijuana consumers. Marijuana Moment reached out to Wang for clarification but she did not immediately respond.
The research team said that their study is unique because it's the first to analyze "large-scale unobtrusive behavioral data before and after policy change to unveil the treatment effect of [recreational cannabis legalization] using a difference-in-difference approach."
"These findings on cross-commodity relationships help resolve the conflicting literature and provide distinct implications for practitioners," the study authors wrote.
Youth Marijuana Use Declined In States That Legalized, Study Finds
Photo courtesy of Martin Alonso.
Here's What Researchers Know So Far About How Marijuana Legalization Affects Public Health
Opponents of medical and recreational marijuana laws often raise concerns about their effect on public health, claiming that such policies will result in a rise of cannabis use disorder and the use of other potentially harmful substances. A new review, however, found that while marijuana use does increase among adults—but not teens—after legalization, that doesn't necessarily mean more people are engaging in risky behavior.
"Research suggests [medical cannabis laws] increase adult but not adolescent cannabis use, and provisions of the laws associated with less regulated supply may increase adult cannabis use disorders," the paper states. "These laws may reduce some opioid-related harms, while their impacts on alcohol and tobacco use remain uncertain."
"Research on [recreational cannabis laws] is just emerging, but findings suggest little impact on the prevalence of adolescent cannabis use, potential increases in college student use, and unknown effects on other substance use."
To understand the relationship between marijuana laws and public health outcomes, researchers in California analyzed studies published between January 2005 and February 2019 that focused on marijuana policy and consumption, as well as alcohol, opioid and tobacco use. They found 42 articles that fit their criteria.
"Understanding how cannabis policies impact cannabis use is key to making subsequent causal claims about their effects on the use of other substances, but it is also an important question in and of itself," the review's authors write. "If liberalization does not impact cannabis use, but instead shifts some or all existing use (or potential use) from the illegal to legal market, then arguably such policies are welfare enhancing from a governmental perspective (e.g., increased tax revenues, reduced law enforcement expenditures) and from a consumer perspective (e.g., a safer and more consistent product)."
Here's a brief look at some of their findings, which were published this month in the American Journal of Drug and Alcohol Abuse:
Most studies that examined how adolescent marijuana use changed after states approved medical marijuana found that passing such laws had little to no effect on the rate of teen consumption.
Researchers found that medical cannabis laws (MCLs) were associated with an increase in adult use. "Additionally," the review's authors write, "studies that have considered specific provisions of MCLs indicate that increases in adult use are more pronounced for states that adopted laxer policies, such as by allowing retail dispensaries or including nonspecific pain as a qualifying condition."
Only five studies in the review's sample looked at the effects of legalizing recreational marijuana on cannabis use. That's because many of these laws have only recently been implemented. The review found their results to be mixed, showing "increased use prevalence among youth in some states (Washington and Oregon) but not in others (Colorado) and insignificant effects for adults." The authors also caution, however, that these early studies have several limitations.
When they investigated whether MCLs had any effect on cannabis use disorders (CUD), the authors found mixed results among early studies. Later research, however, took a closer look at the specific provisions within them: One study found that states that allowed legal medical dispensaries saw "significantly higher rates of treatment admissions for CUD, both overall and specifically for youth." The review cautions that "we are just beginning to understand the implications of cannabis liberalization on CUD and lifetime trajectories of cannabis use."
Overall, the review's authors write, it's difficult to draw conclusions about the relationship between marijuana policy and alcohol use because what research has been conducted so far is minimal and include several limitations. For example, researchers have yet to figure out how to consistently survey current and changing alcohol policy in order to compare it to cannabis laws.
Although there's a robust body of research looking into marijuana as a potential treatment for chronic pain in place of opioid medications, the review's authors say it's an issue that's "far from settled by the current state of clinical and epidemiological research." They point out that many of the studies that show an association between a reduction in opioid misuse and cannabis legalization policies don't take into account new state laws addressing opioids.
It's still unclear how marijuana laws affect tobacco use: One study found that medical marijuana approval was associated with a "significant decrease in the prevalence of cigarette smoking among adults as well as declines in smoking intensity among daily smokers," while another paper found that older teens increased cigarette use but not cannabis use after medical cannabis laws were enacted.
"Despite the growing attention of researchers, the evidence related to the public health impacts of MCLs or RCLs is inconclusive regarding many of the most important considerations," the review's authors conclude. Not only is more research needed, but a closer look at the nuances of each state's laws and consideration of how long it takes markets to fully emerge are also important to understand the effects of these policies.
Former FDA Head Hints Feds Should Regulate Marijuana To Protect Public Health
Photo courtesy of Sam Doucette on Unsplash.
Two More Studies Show Patients Are Replacing Prescription Painkillers With Marijuana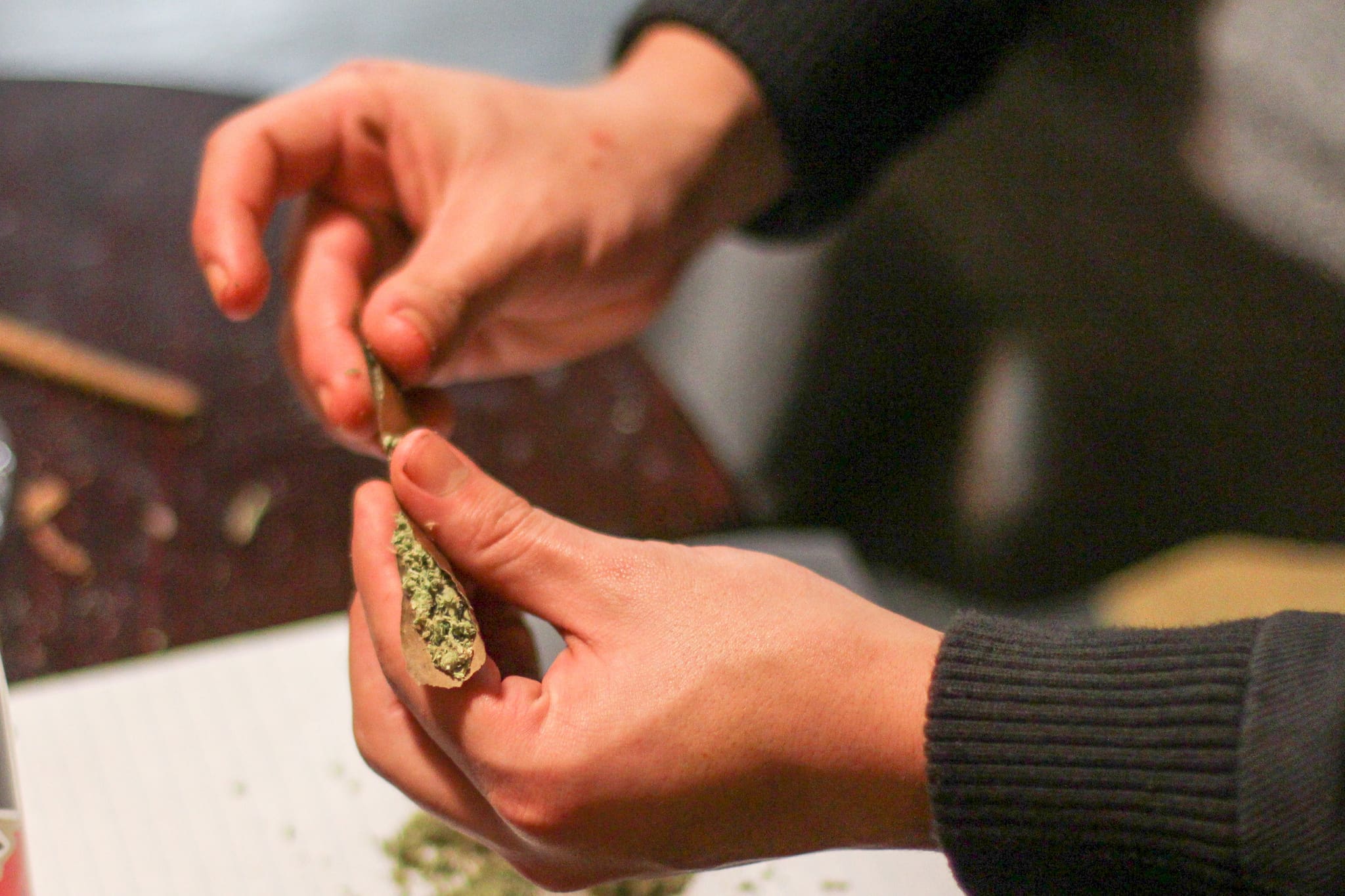 Two new studies out this month offer additional evidence that chronic pain patients are skipping addictive pharmaceuticals and using marijuana instead to help them find relief.
The findings are just the latest in an ever-growing body of research revealing cannabis's potential to help address the country's opioid crisis.
The first study, published in the International Journal of Drug Policy, aimed to investigate whether it's "plausible" that people are substituting marijuana for opioids to help them with pain. Researchers from Florida International University used data from the National Survey on Drug Use and Health to evaluate whether people who live in states where medical cannabis is legal were less likely to turn to opioids for pain relief than those who lived in states where medical marijuana was not an option.
The researchers focused on several variables: whether respondents used or misused any prescription pain relievers during the past year, what states they lived in and whether those states had legalized cannabis for medicinal purposes, among other factors. The responses of 120,764 participants were analyzed for the years 2015 through 2017 of the survey.
According to the authors, "the results generated from the multivariate logistic regression equations show that [medical marijuana laws] are associated with a lower likelihood of opioid pain reliever use, but not misuse."
"Results provide evidence that MMLs may be effective at reducing opioid reliance as survey respondents living in states with medical cannabis legislation are much less apt to report using opioid analgesics than people living in states without such laws, net other factors."
These results, the study states, support other research that shows patients prefer to consume medical marijuana over opioids.
"In addition, cannabis enabled patients to reduce their reliance on opioids with a significant proportion indicating that cannabis was equal to opioids for pain relief and preferring cannabis over opioids if it were an available alternative," it concludes. "Such subjective appraisals by patients are important in this context as the success of a treatment plan is in part determined by the patient's perceptions of treatment efficacy and tolerance of side effects."
The second study, published in PLoS ONE, took the question of whether or not patients substituted marijuana for prescription painkillers directly to the people. In a nationally representative survey of 16,280 adults, researchers from the San Francisco Veterans Affairs Medical Center asked participants to share information about their opioid and marijuana use. They also asked if they'd noticed a change in the amount of opiate medications they needed for pain because of marijuana use, and why patients who substituted cannabis for their prescription pain killers did so.
More than half of the people queried responded to the survey. Of the 9,003 respondents, 486 (5 percent) reported using marijuana and opioids in the past year; 43 percent said they took opioids daily and 23 percent reported consuming marijuana within the past month.
According to the study's findings, 41 percent of that sample decreased or stopped using opioids because of marijuana use, while 46 percent reported no change in opioid use and 8 percent said they increased their opioid intake.
"We found that a substantial number of US adults reported that they substituted marijuana for opioids."
"The most commonly reported reasons for substitution were better pain management (36%) and fewer side effects (32%) and withdrawal symptoms (26%), compared to the non-medical reasons for use: cheaper (13%) and more social acceptance from marijuana use (13%)," the study's authors write.
"More research on this topic is clearly needed," the study states. "Nonetheless, our findings suggest that even if objective measures do not support that marijuana is substitutive for opioid use, patients perceive that marijuana use has reduced their opioid use. Perhaps the commercialization of marijuana and the favorable media coverage surrounding the health effects of marijuana are fostering such a perception."
Ultimately, both studies reveal the importance of patient-centered care in efforts to mitigate opioid use and misuse. That's exactly what the Department of Health & Human Services (HHS) Pain Management Inter-Agency Task Force called for earlier this year.
Pilot Study Shows Marijuana Can Help Chronic Pain Patients Stop Taking Opioids
Photo courtesy of Martin Alonso.
A 'Significant' Number Of Patients Stopped Taking Benzodiazepines After Starting Medical Marijuana
Nearly half of patients using marijuana to help with their respective medical conditions stopped taking prescribed benzodiazepines, a new study reports.
"Within a cohort of 146 patients initiated on medical cannabis therapy, 45.2% patients successfully discontinued their pre-existing benzodiazepine therapy," the study's authors write. "This observation merits further investigation into the risks and benefits of the therapeutic use of medical cannabis and its role relating to benzodiazepine use."
While much research has been dedicated to understanding how medical cannabis could potentially replace opioids for patients who deal with chronic pain and other ailments, the new study suggests patients who take Valium, Xanax and other popular tranquilizers for neurological conditions (such as anxiety, insomnia and seizures) may find relief through marijuana. The findings were published last month in the journal Cannabis and Cannabinoid Research.
Researchers in Canada conducted a retrospective analysis of data collected from a group of patients who had been referred to the Canabo Medical Clinic for medical cannabis to treat a variety of medical conditions. They identified 146 patients who reported taking benzodiazepines regularly at the start of their cannabis therapy.
According to their findings, 44 patients (30 percent) had discontinued their benzodiazepines by their first follow-up visit. Another 21 had stopped the benzodiazepine treatment by their second follow-up visit, and one more person reported doing so at the third visit. All in all, 66 patients, or 45 percent of the sample, stopped taking benzodiazepines after starting a medical marijuana regimen.
"Patients initiated on medical cannabis therapy showed significant benzodiazepine discontinuation rates after their first follow-up visit to their medical cannabis prescriber, and continued to show significant discontinuation rates thereafter," the study states. "Discontinuation was not associated with any measured demographic characteristic. Patients also reported decreased daily distress due to their medical condition(s) following prescription cannabinoids."
The amount of CBD and THC content did not appear to play a role in who continued to discontinued taking the tranquilizers.
The design of the study, however, limited the authors' ability to speculate about the mechanisms underscoring their results. Additionally, because they didn't have access to information on what marijuana strains patients used or how they consumed it, the authors caution that their results can't be generalized to what's available in legal commercial markets today.
"The study results are encouraging, and this work is concurrent with growing public interest in a rapidly developing Canadian cannabis market," said lead author Chad Purcell in a statement. "We are advising the public to observe caution. The results do not suggest that cannabis should be used an alternative to conventional therapies. Our purpose is inspiring others to advance current cannabis understanding as we collect stronger efficacy and safety data that will lead to responsible policy and recommended practices for use."
The study also serves as an opportunity to draw more attention to the potential risks associated with benzodiazepines, Purcell told PsyPost. "I was interested in this project because it presented an opportunity to address benzodiazepines and cannabis use, both of which are becoming increasingly socially relevant. Benzodiazepines can be effective in treating many medical conditions but unlike opioids, there seems to be little public awareness of the risks associated with these commonly used prescription medications."
According to the Centers for Disease Control and Prevention, overdose deaths related to benzodiazepines rose 830 percent between 1999 and 2017.
Patients Are Substituting Marijuana For Addictive Pharmaceutical Drugs, Two New Studies Show
Photo courtesy of Ndispensable.