Marijuana Legalization A Top Priority For 2020 Democratic Primary Voters In New Hampshire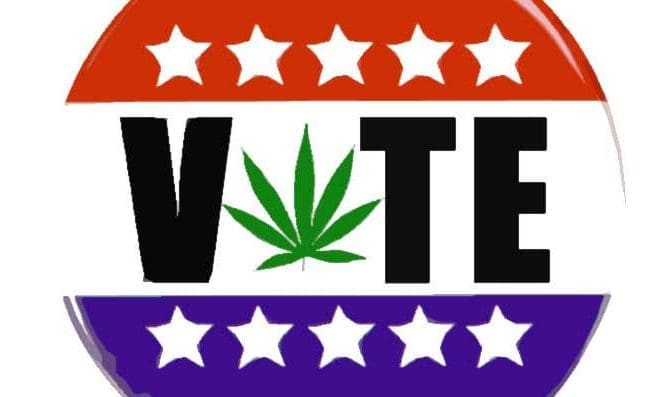 Likely Democratic primary voters in New Hampshire are still backing Sen. Bernie Sanders (I-VT) as 2020 presidential campaign season gets underway—and almost half of his supporters consider marijuana legalization their top issue.
That's according to a Change Research survey released on Monday. Earlier this month, the group polled 1,162 registered Democrats and undeclared voters who are likely to participate in the New Hampshire primary, asking a series of questions about which candidates would get their support and what issues matter to them.
Sanders, who won the state's 2016 Democratic presidential primary by a significant margin, came out on top again. Twenty-six percent said he'd get their vote, 24 percent said they'd support former Vice President Joe Biden (D) and 11 percent chose Sen. Elizabeth Warren (D-MA).
But one strong commonality among Sanders supporters is their passion for cannabis reform. Nearly 50 percent said marijuana legalization was their top issue.
Overall, 9 percent of respondents in the poll (12 percent men, 5 percent women) said that legalizing marijuana was their top priority. That makes it the third highest ranking issue among the state's Democratic voters, ahead of education, jobs and voting rights but just behind environmental concerns.
Most important issue to NH likely Democratic primary voters:

Healthcare 17%
Environmental issues 11%
Legalizing marijuana 9%
Opioids and addiction 8%
Ending corruption 7%
Voting rights/protecting democratic institutions 7%
Jobs/economy 6%
Education 6%https://t.co/457kdaGYsh

— Change Research (@ChangePolls) January 6, 2019
About 47 percent of those voters said Sanders would be their choice, 18 percent said Biden and 9 percent said they'd back Rep. Joe Kennedy III (D-MA), who recently reversed his position on cannabis and came out in support of legalization.
"Marijuana legalization is both sound public policy and good politics," Erik Altieri, executive director of NORML, told Marijuana Moment. "Not only is there a majority of New Hampshire residents as a whole supporting full legalization, amongst Democratic primary voters it ranks third when surveyed on which issue is the most important to them at this very moment."
"This should send a crystal clear message to any Democrat hoping to be their party's presidential nominee, not only do you need to have a position on cannabis policy, you need to have the right position on cannabis policy. No longer will voters accept platitudes and half measures, primary voters want a nominee who fully embraces ending marijuana prohibition and campaigns on it as a key plank in their platform."
Change Research also illustrated who prioritizes marijuana legalization among supporters of five potential candidates:
The research organization conducted a similar poll last month that looked ahead to the 2020 primaries and was designed to be nationally representative. Marijuana legalization didn't rank quite as high on the list of priorities for respondents as in the New Hampshire survey, but a strong portion of Sanders supporters said the issue mattered most to them.
"It is no coincidence that many of the leading names in contention, from Sanders to Warren to Harris to Booker, have proudly signed onto marijuana-centric bills and vocally express their support for taking our nation's marijuana policy in a new and more sensible direction," Altieri said. "Support for legalization is now a requirement and defending prohibition is outright disqualifying."
Kamala Harris Calls For Legalizing Marijuana And Ending War On Drugs In New Book
Photo courtesy of Democracy Chronicles.