Marijuana Industry Groups Urge Congressional Action Amid Vaping-Related Injuries
Two major marijuana industry associations issued statements on Wednesday responding to the recent spike in severe lung injuries that seem to be linked to contaminated cannabis or nicotine vaping products obtained on the illicit market.
About 450 vaping-related injuries, including six fatal cases, have been reported in recent weeks. Though an exact cause has not yet been determined, experts suspect that products causing the injuries have been either contaminated or altered, possibly with thickening additives such as vitamin E acetate that can be deadly when inhaled.
The National Cannabis Industry Association (NCIA) urged Congress to legalize and regulate cannabis so that federal health agencies are able to enforce quality control standards and address illegal sales.
"These unfortunate illnesses and deaths are yet another terrible, and largely avoidable, consequence of failed prohibition policies." – #NCIA Co-founder Aaron Smith. #RegulationWorks https://t.co/jopk4gIaY7

— TheCannabisIndustry (@NCIAorg) September 11, 2019
"These unfortunate illnesses and deaths are yet another terrible, and largely avoidable, consequence of failed prohibition policies," Aaron Smith, executive director of NCIA, said in a statement on Wednesday. "Current federal laws interfere with research, prevent federal regulatory agencies from establishing safety guidelines, discourage states from regulating cannabis, and make it more difficult for state-legal cannabis businesses to displace the illicit market."
The Cannabis Trade Federation (CTF) said it supports a "full investigation into the cause or causes of the incidents to ensure the well-being of all consumers" and said its members should make themselves available to help public health officials and the Centers for Disease Control and Prevention (CDC) by providing any information that could aid in their review.
CTF released this statement today re: reports of pulmonary-related illnesses associated with the use of vaporization products: https://t.co/oN8gV7BKws

— Cannabis Trade Federation (@CanTradeFed) September 11, 2019
"We are troubled and saddened by reports of an outbreak of pulmonary-related illnesses associated with the use of vaporization products, including those that reportedly contained cannabis," CTF said. "As an industry, our primary concern is the safety and well-being of our consumers.
"The Cannabis Trade Federation supports strict regulation of the cannabis industry at both the state and federal level. Consumers and communities will benefit when all cannabis products are subject to rigorous production, safety, and testing standards at the federal level. We urge Congress to act now so that the federal government can serve its proper role in regulating cannabis as a consumer product."
Both NCIA and CTF made a series of recommendations to consumers and industry stakeholders to mitigate the risk of worsening the problem.
First and foremost, consumers shouldn't purchase or use vape products from the illicit market, the groups said.
Most of the products that appear to be linked to the vape injuries were purchased from illegal producers, though one Oregon man visited two licensed marijuana dispensaries before falling ill and dying. Investigators are hoping to analyze remnants of the products he obtained to determine whether they were the cause.
"It doesn't necessarily mean the individual got sick from products that they had purchased at these dispensaries, we just know that the individual shopped at a couple of dispensaries prior to getting ill," a health official told Willamette Week.
NCIA said that licensed vape cartridge producers should suspend the use of any thickening agents until more information is known about the cause of the injuries. If such producers have used vitamin E acetate in their products, they're "strongly encouraged to issue a voluntary recall."
Retailers should also take steps to ensure that any products they're selling do not come from producers using vitamin E acetate.
CTF also said it supports educational outreach efforts and urged states "to review their warnings on vape products and their required disclosures about non-cannabis ingredients included in vape products to maximize consumer knowledge and awareness."
Though the vaping issue seemed to fly mostly under the radar in its early phase, with federal health agencies facing criticism over their muted response to the problem, there's been a significant increase in attention on the federal level since the first vaping-related deaths were reported.
Former Food and Drug Administration (FDA) Commissioner Scott Gottlieb has been especially vocal about the injuries and has seemed to suggest over the past week that federal regulation of marijuana products is necessary to avert such instances.
The agency's current acting commissioner appeared beside President Donald Trump and the secretary of Health and Human Services on Wednesday to announce that flavored e-cigarette cartridges would be banned.
Prohibitionist group Smart Approaches to Marijuana said in a tweet that the e-cigarette ban should be followed up with a national moratorium on cannabis legalization.
With the Trump Administration now poised to ban non-tobacco flavored e-cigarettes, @realDonaldTrump should take a step further in defending public health by calling for a national moratorium on marijuana legalization.

Statement coming soon.#PotVapingCrisis

— SAM (@learnaboutsam) September 11, 2019
Federal Health Agencies Say Researchers Should Test Marijuana From Dispensaries
Image by Lindsay Fox from Pixabay.
Arizona Governor Slams Marijuana Legalization Ballot Measure In Voter Pamphlet Argument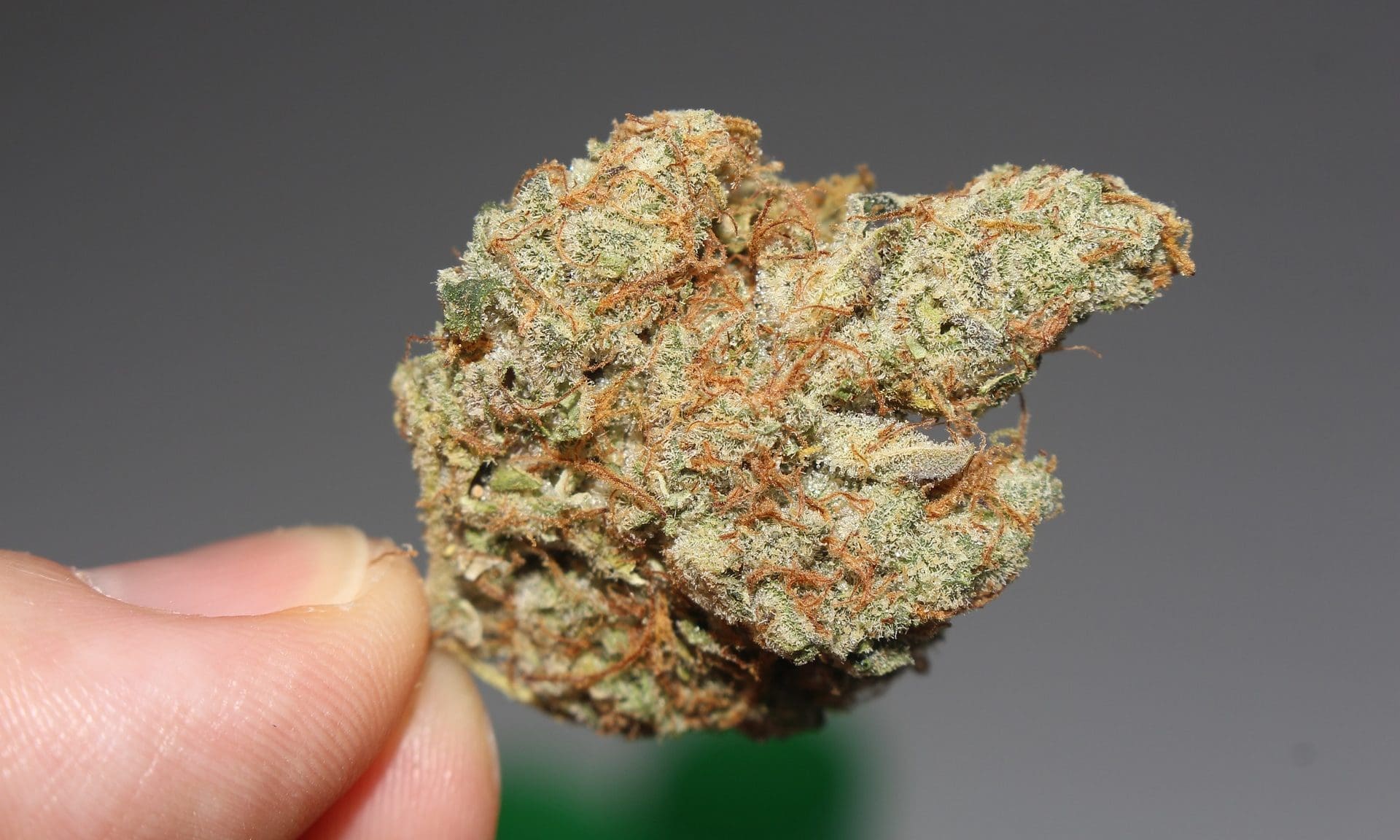 Ahead of what's shaping up to be a contentious campaign season around marijuana in Arizona, Gov. Doug Ducey (R) and other opponents are claiming that legalization would unleash a host of public health hazards on the state.
In an official voter guide argument published on Monday against a proposed initiative that's likely to be on the November ballot, the governor called legalizing cannabis "a bad idea based on false promises."
"We know from states that have fully legalized marijuana that it has real consequences: more deaths on highways caused by high drivers, dramatic increases in teen drug use, and more newborns exposed to marijuana," Ducey claimed in his comments.
It's not yet certain whether the legalization proposal, from Smart and Safe Arizona, will make it to the ballot. County officials have until August 7 to validate hundreds of thousands of signatures submitted by activists last month. But on Monday afternoon, the Arizona secretary of state's office published arguments submitted both for and against the measure, including a handful from elected officials.
The arguments, which will be printed and mailed to registered voters, give a taste of what's to come during the mounting fight over legalization in the weeks leading up to Election Day.
As with politics in general in 2020, expect considerable disagreement over basic facts. For instance, Ducey's argument that cannabis legalization has led to "dramatic increases in teen drug use" seems at odds with available evidence. Even according to legalization opponents, such as the federal government's High Intensity Drug Trafficking Area (HIDTA) program, teen use rates have actually gone down since the end of prohibition for adults.
In a presentation last month to North Dakota lawmakers, who themselves are considering whether to legalize marijuana, the Colorado-based deputy coordinator of the federal National Marijuana Initiative acknowledged that data from government drug use surveys show that Colorado saw a general decline in the number of teens using marijuana after the state enacted legalization.
Another of Ducey's claims, that Colorado has a particularly high rate of teen cannabis use compared to other states, is true. But his submission fails to mention that was also true during the years before legalization.
Ducey wasn't the only official to argue that legalization would increase teen consumption in the new official ballot arguments pamphlet. State Sen. Sine Kerr (R) wrote that she was "deeply saddened by the prospect of how this initiative would harm children."
"Kids would become easy prey for an industry hungry to create a new generation of users," Kerr argued, noting that legal products would include vape pens and edible products such as gummies, cookies and candy, which she implied would appeal to children. (Gummy bears would be banned due to a provision forbidding animal-shaped products.)
"The industry will succeed in hooking too many of our kids and stealing their potential early," she wrote.
Other common arguments against the proposal centered on the increased risk of impaired driving, fears of unbridled advertising by the commercial cannabis industry and economic impacts resulting from unmotivated employees or worker impairment.
"In Arizona, positive marijuana workplace tests have nearly tripled over the past eight years since legalization of medical marijuana," wrote Yavapai County Attorney Sheila Polk, an outspoken cannabis opponent. "Workplaces with higher rates of drug use have employees that are less productive, suffer higher absenteeism, and have more accidents."
Polk, whose office prosecutes cannabis cases, also downplayed the impact that legalization would have on the criminal justice system.
"As for their argument that legalizing recreational pot will empty our prisons? Not a single state has seen a reduction in prison population because of legalization," she argued. "This is because, contrary to the myth, our prisons are not filled with people serving time for marijuana possession."
Legalization supporters, however, point to Polk's own office as a reason to reform marijuana laws. In recent years, Polk famously filed felony charges against a black medical cannabis patient for possessing a small amount of marijuana concentrate purchased legally from a dispensary. Critics accused Polk's office of exhibiting racial bias in the case.
Advocates for the proposed legalization measure, meanwhile, said in ballot arguments that the initiative takes a relatively measured, sensible approach by taxing and regulating marijuana rather than handling it as a criminal matter.
"The war on drugs failed," wrote Chad Campbell, chair of Smart and Safe Arizona, the organization behind the proposed ballot measure. "Marijuana is safest when it's sold in a taxed, tested and regulated environment—not on a street corner."
The campaign says legalization will also bring in at least $300 million in tax revenue that can be used to support things like education, public health, infrastructure and safety. Penalties for driving under the influence of marijuana would go up under the proposal, and millions of dollars in funding would be funneled toward drug treatment and mental health programs.
As for youth use, organizers argue, "we know a well-regulated, licensed, legal environment is the best way to keep marijuana out of the hands of children—period. We set the legal age at 21, limited potency, required childproofed packaging, required products to be unattractive to kids and forbade advertising to youth."
The state's voters narrowly defeated a legalization measure in 2016, but a poll released last month indicates the current initiative is on the path to being approved. The survey found that more than 6 in 10 Arizona voters saying they support legalizing marijuana.
Another supporter, former Gov. Fife Symington (R), who served from 1991 to 1997, wrote in his argument that voters "must constantly re-evaluate our policies in the face of new evidence."
"Today the evidence is overwhelmingly clear: criminalizing law-abiding citizens who choose to responsibly consume marijuana is an outdated policy that wastes precious government resources and unnecessarily restricts individual liberty," he said. "A far more logical approach would be to respect the rights of adults to choose to consume marijuana while taxing and regulating its production and sale."
The proposal imposes significant penalties for selling marijuana products to minors, Symington wrote, allows law enforcement to target drivers who demonstrate impairment and allows employers to maintain a drug-free workplace.
"Finally, and perhaps more importantly," he wrote, "it frees up law enforcement to deal with more serious issues that actually jeopardize public safety."
Perhaps the most balanced ballot argument submitted over the measure came from Will Humble, executive director of the Arizona Public Health Association, who said the proposition "poses public health risks and benefits." Humble's statement, which identifies what he said are both risks and benefits of legalization, is printed twice—once alongside ballot arguments against legalization, and again next to arguments in support of it.
One one hand, Humble argued, ending felony charges for cannabis possession would reduce mental, physical and economic impacts for individuals and families. "Incarceration and felony convictions for marijuana offenses have multigenerational social, economic, and health impacts that have been disproportionately thrust on communities of color," Humble wrote, "because they are more likely to be arrested for and convicted of marijuana offenses."
Humble noted the measure also includes provisions to regulate and test cannabis products, support evidence-based public health programs and prevent sales to minors—although he acknowledged those efforts won't eliminate all risks, which he said include "impaired neurological development from use in adolescence, increased visits to emergency rooms from marijuana intoxication or accidental ingestion by children, adverse birth outcomes from maternal use, and injuries caused by impaired driving or workplace use."
Humble argued that if voters choose to pass the measure, regulators should be prepared to take the new legal sector seriously.
"If the Act passes," he wrote, "we urge the state to use its full regulatory authority to enforce purchasing age-limits, packaging and potency standards, regulate advertising and place of use restrictions, enact workplace use policy requirements, and solidify motor vehicle operation restrictions and penalties. Arizona officials should also partner with state universities to analyze and publish data on its public health impacts."
Read the arguments for and against the Arizona legal marijuana measure below:
Arizona Marijuana Legalizat… by Marijuana Moment on Scribd
Louisiana Law Allowing Medical Marijuana For Any Debilitating Condition To Take Effect
McConnell Slams Pelosi Over Claim Marijuana Is A 'Proven' Therapy Amid Coronavirus Debate
Senate Majority Leader Mitch McConnell (R-KY) took a shot at House Speaker Nancy Pelosi (D-CA) on Tuesday, criticizing recent comments she made defending marijuana provisions that were included in her chamber's latest coronavirus relief legislation.
The majority leader, who has consistently railed against the inclusion of cannabis banking protections in the House COVID-19 bill, said on the Senate floor that Pelosi is "still agitating for strange, new special interest carve-outs for the marijuana industry and even claiming they are COVID-related."
"She said that, with respect to this virus, marijuana is 'a therapy that has proven successful.' You can't make this up," he said.
"I hope she shares her breakthrough with Dr. Fauci," McConnell wryly added, referring to National Institute of Allergy and Infectious Diseases Director Anthony Fauci, who has been helping to lead the White House Coronavirus Task Force.
McConnell is referring to remarks Pelosi made last week after she was asked about components of the House Democrats' bill that Republicans have criticized as not germane, including specifically the marijuana language.
The speaker said she took issue with the suggestion that cannabis banking reform was not relevant amid the pandemic and said marijuana "is a therapy that has proven successful." Prohibitionists have seized on that comment, interpreting it to mean that Pelosi believes cannabis can treat COVID-19.
Speaker Pelosi is still holding up this entire package over bizarre unrelated things like carveouts for the marijuana industry. She even claimed to the press that pot is a proven COVID-19 therapy!

I hope she's shared this breakthrough with Dr. Fauci.

Can we get serious yet? https://t.co/CksSWrMKDN

— Leader McConnell (@senatemajldr) August 4, 2020
That said, it wasn't clear from the brief comment whether that was the case or if Pelosi was broadly referring to the therapeutic benefits of marijuana.
The Food and Drug Administration has made clear that there's currently no solid evidence that cannabinoids can treat COVID-19 and it's warned companies that make that claim.
Marijuana Moment previously exclusively reported that Pelosi—who said in 2018 that doctors should prescribe medical cannabis and yoga more often instead of prescription opioids—supported attaching the banking language to the House's coronavirus package prior to the legislation's introduction.
Senate leadership unveiled their latest round of coronavirus relief legislation last week, and it does not include the cannabis provisions. And given McConnell's particular focus on those components, it seems likely that any attempt to get the language inserted in a bicameral conference will be met with resistance on the Senate side.
House Minority Leader Kevin McCarthy (R-CA) also recently slammed Pelosi's latest cannabis comments on Twitter, saying "let's focus on the pandemic. Not pot."
Meanwhile, the standalone Secure and Fair Enforcement (SAFE) Banking Act has continued to sit in the Senate Banking Committee without action in the months since the House initially approved it.
Last month, a bipartisan coalition of state treasurers sent a letter to congressional leaders, asking that they include marijuana banking protections in the next piece of coronavirus relief legislation.
In May, a bipartisan coalition of 34 state attorneys general similarly wrote to Congress to urge the passage of COVD-19 legislation containing cannabis banking provisions.
McConnell's latest comments also come a week after the House approved an amendment to protect state, territory and tribal marijuana laws from federal interference.
Top House Democrat Talks Marijuana Reform With Major Cannabis Company
Photo courtesy of Senate Majority Leader Mitch McConnell.
Top House Democrat Talks Marijuana Reform With Major Cannabis Company
A top House Democrat said during a recent interview with a major marijuana company that small farmers could benefit from growing cannabis to offset losses in the tobacco industry, and he argued that Democrats view decriminalization as a priority in policing reform discussions.
Majority Whip James Clyburn (D-SC) joined Canopy Growth's David Culver for a new series the company launched called "Under The Canopy" last week, and the pair discussed a wide range of marijuana issues. Notably, the former chair and current member of the Congressional Black Caucus said the group considers decriminalizing cannabis "a big, big issue" in the context of policing reform.
"Most of this is generational like anything else, but it carries the day. Decriminalization carries the day in the caucus," he said. " I think that when you look at demilitarization…I think these issues are majority issues with the Congressional Black Caucus, and I think it's also the same with our House Democratic Caucus."
Advocates had hoped that House leaders would have heeded the calls of various lawmakers calling for marijuana reform as part of their last policing bill, but that did not ultimately materialize.
Clyburn, the third-highest-ranking House Democrat, added that he's been nudged on marijuana reform repeatedly by Rep. Earl Blumenauer (D-OR), whose amendment to protect all state, territory and tribal cannabis programs from federal intervention passed on the House floor last week. The whip was among the 267 members who voted in favor of that measure.
"You cannot have a bigger advocate than Earl Blumenauer. Blumenauer beats up on me almost every day with that," Clyburn, who is a cosponsor of a bill to federally legalize cannabis, said. "I keep telling him, 'Blumenauer, I'm with it. Go beat up on somebody else.'"
Later in the interview, Culver talked about the economic opportunities that cannabis reform could mean for farmers in South Carolina and other states. Clyburn replied that he's "very interested in what you're doing and what we can do to make you more effective and what you can do for us to make life a little bit easier for some of my constituents."
Representative @WhipClyburn knows that the cannabis industry is here to stay, offering numerous economic and health benefits to the U.S.

We're thankful for his support – check out Rep. Clyburn's full interview here: https://t.co/Br4FUvBMfA #CannabisNews pic.twitter.com/lfJRrHaLVD

— Canopy Growth (@CanopyGrowth) August 3, 2020
"I want to see small businesses coming out of this pandemic that was only dreamed about before," he said.
"A lot of people used to grow tobacco, grow cotton, they're now out of businesses," the congressman continued. "There was a time you could make a real good living with 25-30 acres of tobacco. You can't do that today."
Just as solar farms have helped replace those crops, Clyburn said it's the "same thing with growing [cannabis] products that you need in order to stay in business. Some of these small farmers, small landowners, need to be involved in some of your efforts."
At the beginning of the interview, Canopy's Culver and the congressman discussed their shared appreciation for Jack Daniel's whiskey and Diet Coke. But by the end, the marijuana executive floated the idea of meeting in-person down the line and having "some cannabis and coke."
"I don't know about joining you in that, but thank you so much," Clyburn said, laughing.
The top Democrat in the House, Speaker Nancy Pelosi (D-CA), also recently weighed in on marijuana policy, defending the chamber's inclusion of cannabis banking protections in a coronavirus relief package and asserting that the plant's therapeutic benefits are "proven."
Sources told Marijuana Moment recently that House leaders plan to hold a floor vote next month on legislation to federally legalize cannabis.
Nancy Pelosi Says Marijuana Is A 'Therapy That Has Proven Successful' Amid Coronavirus Bill Debate
Photo courtesy of Mike Latimer.