Marijuana Accounts For One In Ten South Dakota Arrests, New Report Shows Ahead Of Legalization Vote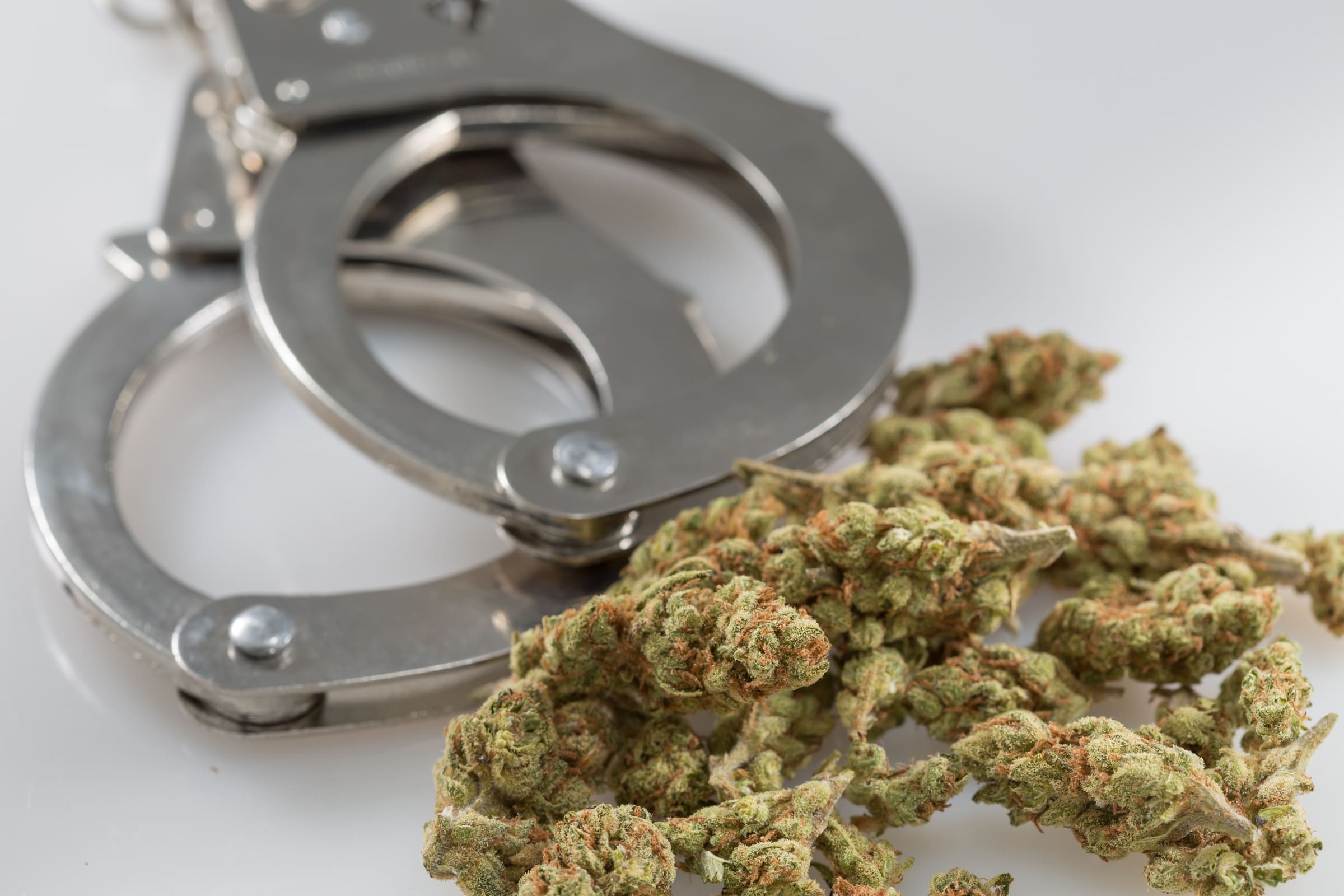 Marijuana arrests in South Dakota are common, costly and carried out on a racially disproportionate basis, a new report released by advocates for a legalization measure on the state's November ballot shows.
In fact, nearly one in 10 of all arrests in the state in 2018 were for cannabis offenses, with 95 percent of those cases concerning simple possession. There were 31,883 marijuana arrests in South Dakota from 2009 to 2018.
That's according to an analysis of federal crime data, which was published by South Dakotans for Better Marijuana Laws on Tuesday.
The campaign says the report underscores the urgent need for voters to approve the adult-use legalization measure.
Most of the possession arrests were for seven grams or less, and about 40 percent were for one gram or less.
Importantly, the data shows that—as is the case across the country—marijuana enforcement has had a disparate impact on people of color, despite comparable rates of consumption among white people.
On average, black residents and Native Americans have been more than five times as likely to be arrested for cannabis compared to white people over the 10-year period the report examines.
"In 2018 Native Americans accounted for 10.3 percent of the population, but they comprised 19 percent of those arrested for marijuana possession," the analysis found. "In 2018 Blacks accounted for 2.9 percent of the population, but they comprised 9.8 percent of marijuana possession arrests."
The report also broke down costs for arresting and incarcerating people over marijuana. The South Dakota Legislative Research Council determined that the state spends $90.26 for every day a person is jailed.
In 2018, there were 4,218 people jailed for cannabis offenses. So assuming each person spent 15 days in jail, South Dakota would be spending $5.7 million on marijuana-driven incarceration. If they spent 90 days in jail, that rises to $34.3 million. And if the maximum one-year sentence for possession of eight ounces or less was doled out, it would cost the state $139 million.
Former U.S. Attorney Brendan Johnson, a sponsor of the initiative, discussed the report during a virtual event on Tuesday.
"When we see that one in 10 arrests in South Dakota are for marijuana, we know that it is taking a huge economic toll on our state—not only in terms of taking productive citizens out of the workforce, but also in terms of the day-to-day law enforcement costs associated with enforcing this prohibition," he said.
Beyond jail time and fines, the analysis also noted that—while difficult to quantify—there are additional costs to those caught up in the criminal justice system because of marijuana.
These arrests "often lead to other harmful consequences that can follow an individual long after formal punishments are completed."
"In South Dakota, depending on the nature of the offense, these can include: loss of eligibility for adoption or foster parenting; loss of eligibility for public housing; loss of eligibility for Supplemental Nutrition Assistance Program (SNAP) and Temporary Assistance to Needy Families (TANF); difficulties securing employment due to employer  discrimination; barriers to professional licensure; loss of educational aid; revocation of driver's license;  and loss of the right to possess a firearm."
This report comes weeks before South Dakota voters will get to decide on separate ballot measures to legalize cannabis for adult use and for medical use. And according to a poll recently released by opponents of the policy change, about 60 percent of voters support the broader reform proposal and more than 70 percent back the narrower medical-focused initiative.
The group behind that poll tried to make the case that it revealed confusion among the electorate, as many respondents said they favor the recreational measure because of the therapeutic applications of cannabis.
Johnson said he disagreed with how the opponents characterized their findings and that he feels that many voters are supportive of the recreational initiative because it would make permanent changes through a constitutional amendment.
"I think that there are an awful lot of people that support both medicinal and recreational," he said. "I think there are an awful lot of people that realize we need a constitutional amendment, or want to see a constitutional amendment, to make sure that those protections are in place."
The separate medical cannabis legalization measure that voters will decide on would make a statutory change to allow patients suffering from debilitating medical conditions to possess and purchase up to three ounces of marijuana from a licensed dispensary.
Under the adult use initiative, people 21 and older could possess and distribute up to one ounce, and they would also be allowed to cultivate up to three cannabis plants.
Vermont Bills To Legalize Marijuana Sales And Expunge Convictions Head To Governor's Desk