Legal Marijuana States Have Lower Opioid Use, New Studies Show
Letting people legally access marijuana appears to reduce reliance on addictive opioids, two new studies published by the American Medical Association find.
"Medical cannabis laws are associated with significant reductions in opioid prescribing in the Medicare Part D population," concludes one paper from researchers at the University of Georgia, Athens. "This finding was particularly strong in states that permit dispensaries, and for reductions in hydrocodone and morphine prescriptions."
The second study, from scientists at the University of Kentucky and Emory University, noted that "marijuana is one of the potential nonopioid alternatives that can relieve pain at a relatively lower risk of addiction and virtually no risk of overdose." It found that laws allowing medical cannabis or recreational marijuana "have the potential to lower opioid prescribing for Medicaid enrollees, a high-risk population for chronic pain, opioid use disorder, and opioid overdose."
"Marijuana liberalization may serve as a component of a comprehensive package to tackle the opioid epidemic," the researchers conclude.
The two papers, released Monday by JAMA Internal Medicine, a publication of the AMA, looked at use of opioids such as fentanyl by people enrolled in Medicare and Medicaid, with both examinations finding that states with legal marijuana access saw lower reliance on the pharmaceutical drugs.
And the easier the access to legal marijuana, the lower the rate of opioid prescribing.
"States with active dispensaries saw 3.742 million fewer daily doses filled; states with home cultivation only [laws] saw 1.792 million fewer filled daily doses," one of the studies, which focused on medical cannabis laws, found.
The other new paper shows that while medical marijuana is associated with reduced opioid prescriptions, recreational laws have an even greater effect.
"State implementation of medical marijuana laws was associated with a 5.88% lower rate of opioid prescribing," the authors wrote. "Moreover, the implementation of adult-use marijuana laws, which all occurred in states with existing medical marijuana laws, was associated with a 6.38% lower rate of opioid prescribing."
U.S. Sen. Kirsten Gillibrand (D-NY) recently suggested that pharmaceutical companies oppose marijuana legalization for selfish reasons.
"To them it's competition for chronic pain, and that's outrageous because we don't have the crisis in people who take marijuana for chronic pain having overdose issues," she said. "It's not the same thing. It's not as highly addictive as opioids are."
The results of the new studies add to a growing body of research indicating that legal marijuana access is associated with reduced opioid issues.
In 2014, for example, a previous JAMA study showed that states with medical cannabis laws have roughly 25 percent lower opioid overdose rates.
A separate analysis published in February concluded that "legally protected and operating medical marijuana dispensaries reduce opioid-related harms," suggesting that "some individuals may be substituting towards marijuana, reducing the quantity of opioids they consume or forgoing initiation of opiates altogether."
And previous work by Ashley and David Bradford of the University of Georgia, who authored one of the new studies released on Monday, showed broad reductions in Medicare and Medicaid pain prescriptions when state medical cannabis laws went into effect. Their new paper builds on that by zeroing in on opioid painkillers and showing that the type of state marijuana law has an effect on the reduction in prescriptions.
"The type of [medical cannabis law] matters," David Bradford said in an email. "Dispensaries have the biggest effect."
The other paper, by the Kentucky and Emory researchers, tabulated reductions in opioid prescriptions associated with changes in laws, finding that medical cannabis policies lead to 39.41 fewer opioid prescriptions per 1,000 enrollees annually and that the effect for recreational legalization was even larger.
"Furthermore, the implementation of adult-use marijuana laws was associated with a 9.78% lower Medicaid spending on prescription opioids, equivalent to an annual saving of $1,815 Medicaid spending per 1,000 enrollees," the study found. "The implementation of medical and adult-use marijuana laws was also associated with a lower rate of Medicaid-covered prescriptions for nonopioid pain medications of 8.36% and 8.69%, respectively."
The research teams behind both new studies said that medical cannabis shows promise as a partial solution to opioid issues.
"Combined with previously published studies suggesting cannabis laws are associated with lower opioid mortality, these findings further strengthen arguments in favor of considering medical applications of cannabis as one tool in the policy arsenal that can be used to diminish the harm of prescription opioids," the Bradfords' Georgia team wrote. "Furthermore, a growing consensus suggests that cannabis can be used to effectively manage pain in some patients. If initial licit prescriptions for opioids can be reduced, then there is a plausible theoretical pathway to anticipate that opioid misuse and abuse could also fall."
When legal marijuana is available, some patients appear to be more likely to choose it instead of prescription pain pills that can lead to addiction or overdose.
"Most opioid use disorder and overdose cases occurred in patients with legitimate prescriptions from health care professionals for pain management. Marijuana liberalization, therefore, may have benefited these patients by providing them with legal protection and access to marijuana as an alternative relief from their pain conditions," the Kentucky and Emory team wrote. "The widespread public support will bring medical marijuana laws to more and more states for years to come, which may help decrease the use of prescription opioids in pain management and the adverse consequences, such as opioid use disorder and overdose."
Those researchers also noted that "marijuana may help ease opioid withdrawal symptoms."
"Thus, marijuana liberalization potentially reduced prescription opioid use on 2 fronts, serving as a substitute for opioid pain medications, and as a complement to opioid use disorder treatment," the wrote. "The potential of adult-use marijuana laws to reduce the use and consequences of addictive opioids deserves consideration, especially in states that have been hit hard by the opioid epidemic.
People Really Do Have A Marijuana "Jay-Dar," New Study Finds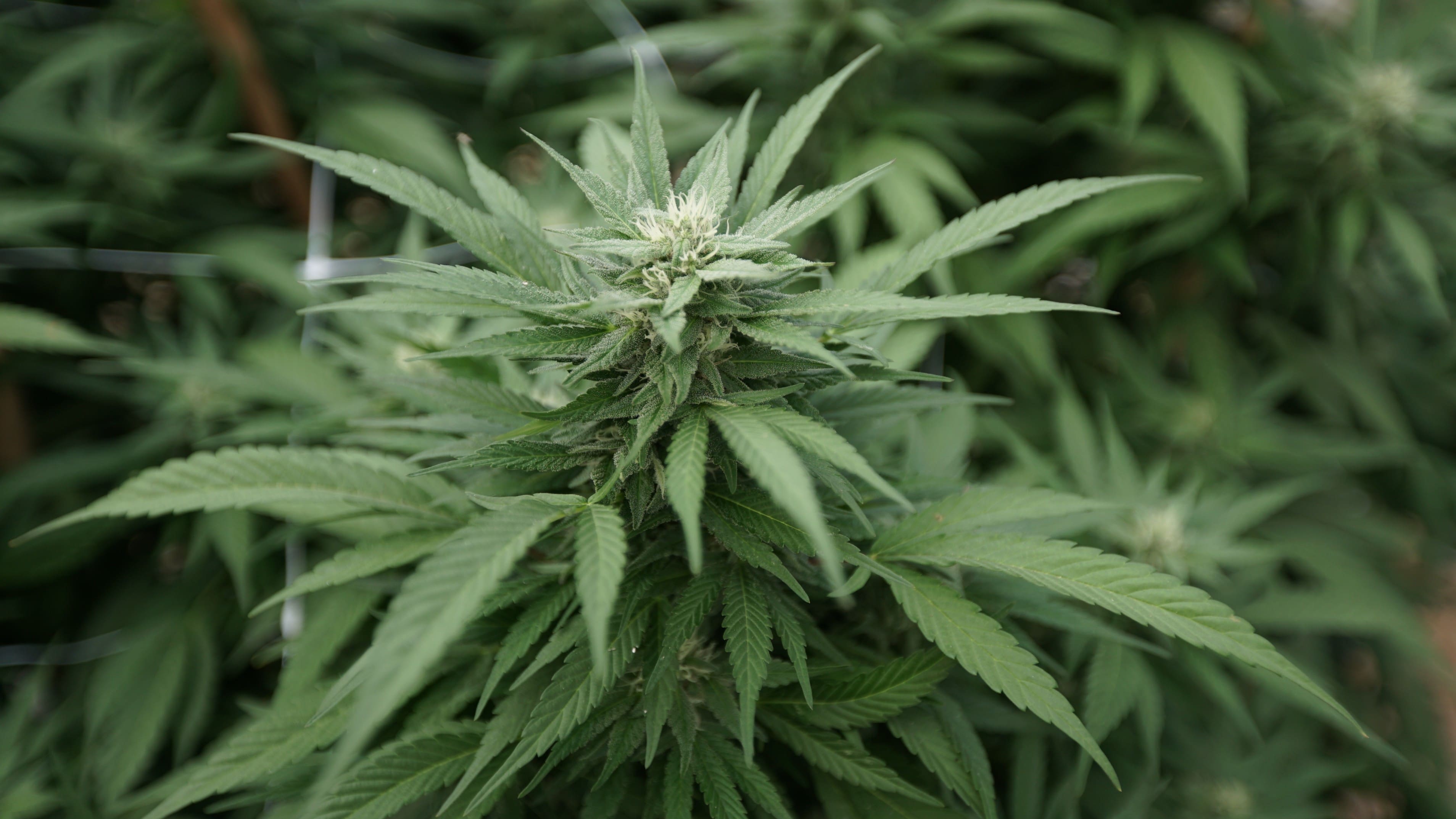 Even in the era of legalization, marijuana consumers continue to face discrimination—socially and, sometimes, in employment. That's why a team of researchers set out to research the "jay-dar" phenomenon, which refers to the ability of individuals to identify cannabis users based on physical attributes.
It turns out that visual cues do appear to help people spot tokers, because the results of a new study confirmed that individuals were more likely to rate cannabis users as users as compared to non-users.
"The present results provide evidence that individuals can discriminate between cannabis users and nonusers based on appearance alone," the study authors concluded. "This ability is consistent regardless of the raters' user status or gender, and age of the target."
The study did find one gender-based distinction, however. People who haven't used marijuana were slightly more likely to identify males as cannabis users, compared to females. In general, marijuana use "explained over 9 percent of the variance in ratings across all photographs," the researchers determined in the new study, published late last month in the journal Substance Use & Misuse.
But what were the primary visual cues people used to identify marijuana users? Well, let's run our own experiment. Try rating the likelihood of marijuana use on a scale of 1-7 based on these photos, which come from an earlier study on the so-called "jay-dar" phenomenon.
OK, which (if any) of these individuals pictured above use marijuana, either for medical or recreational purposes? If you're a non-user, then you might be inclined to choose the former based on gender and gender stereotypes. (Full disclosure: the study doesn't actually identify which is the user, so this was a hypothetical test).
What were the physical attributes that study participants most commonly used to identify marijuana users?
Eyes (e.g. red, glossy): 49.2%
Age (younger or older): 28.7%
General appearance (e.g. unkempt, professional): 27.9%
Facial expression (e.g. blank stare): 24.8%
Smile (e.g. small/big, yellow teeth): 20.5%
Hair (e.g. disheveled): 13.6%
Skin (e.g. acne scars, wrinkles): 12.4%
Race/ethnicity: 9.7%
Clothing (e.g. style of dress): 9.7%
Gender: 8.5%
Intuition (e.g. "gut feeling"): 7.8%
Demeanor (e.g. relaxed): 6.6%
Perceived personality (e.g. outgoing, laid back): 6.6%
"Individuals considering legal recreational cannabis use who fear social or occupational consequences due to negative stereotypes should be aware that others may be able to determine their use based upon appearance," the study authors wrote. "Further, individuals may want to consider the cues being used to identify their cannabis use. The present study indicates that individuals may judge people to be cannabis users based on the appearance of their eyes, facial expression, and how 'well-kempt' they appear."
"As such, individuals who use cannabis should be aware of these features, especially considering the accuracy in determining substance user status."
Legalizing Marijuana Doesn't Lead To Higher Youth Use, New Study Shows
Photo courtesy of Chris Wallis // Side Pocket Images.
Legalizing Marijuana Doesn't Lead To Higher Youth Use, New Study Shows
Yes, states with legal marijuana have slightly higher rates of youth cannabis consumption compared to non-legal states. But the act of legalization doesn't appear to be the primary factor behind that trend, according to a new study.
Instead, researchers concluded that "differences between states with and without legal non‐medical cannabis may partly be due to longer‐term patterns established prior" to legalization's enactment.
A survey of more than 4,000 teenagers throughout the United States found evidence that legal states experience higher consumption rates "regardless of how long the policy had been implemented or whether markets had been established."
The finding appears to run counter to claims made by legalization opponents. A primary concern when it comes to legalization, according to prohibition advocates such as Smart Approaches to Marijuana (SAM), is that establishing legal marijuana markets would cause more youth to seek out cannabis.
But this study, published in the journal Drug and Alcohol Review, came to a different conclusion.
"Relatively few differences were observed between states with an established market and those that only recently legalized, which suggests that differences between legal and non-legal states may be partly due to pre-established trends and a type of 'self-selection' effect, in that states that legalize non-medical cannabis typically have higher rates of cannabis use anyway," the authors wrote.
Survey respondents were asked questions about their level of consumption, mode of use, perceptions of access and risk and driving under the influence.
When it comes to consumption patterns, there was a difference between legal and non-legal states: 13.3 percent of respondents in states without any legal marijuana laws reported using cannabis in the last month, whereas 17.6 percent of those in states with new recreational markets and 20.3 percent of those in states with long-established recreational markets reported consumption over the same time period.
However, the survey also revealed some interesting, behavioral differences between those in legal and non-legal states. Young people in states without recreational marijuana laws are slightly more likely to use marijuana with tobacco, they're less likely to worry about future health issues developing as a result of their cannabis use and they're more likely to report having driven a vehicle within two hours of consuming marijuana.
Another interesting tidbit: perceptions of harm from smoking marijuana are actually somewhat higher in states with long-established recreational marijuana states compared to flatly prohibitionist states.
That would appear to throw another wrench in arguments from anti-legalization groups about the end of prohibition causing young people to think cannabis use is totally without risk.
For instance, SAM's FAQ suggests under a chart labeled, "Youth use rates in states that have legalized marijuana outstrip those that have not," that "youth perception of the risks associated with drug use is perhaps the most important determinant of whether they will engage in illegal drug use."
"In other words, young people who perceive a high risk of harm are less likely to use drugs than young people who perceive a low risk of harm from that drug."
While there are plenty of studies that draw differing conclusions concerning the effects of legalization, this latest research raises serious doubts about the causal relationship between ending prohibition and youth marijuana use.
Here's a selection of data points included in the study.
| | |
| --- | --- |
| | Used cannabis in the last month |
| Prohibited states | 13.30% |
| New, non-medical states | 17.60% |
| Established, non-medical states | 20.30% |
| | |
| --- | --- |
| | Smoked cannabis WITH tobacco in a joint or blunt |
| Prohibited states | 32.70% |
| New, non-medical states | 30.60% |
| Established, non-medical states | 20.50% |
| | |
| --- | --- |
| | Not worried that using cannabis will damage your health in the future |
| Prohibited states | 67.40% |
| New, non-medical states | 55.90% |
| Established, non-medical states | 63.80% |
| | |
| --- | --- |
| | Driven a car or other vehicle within two hours of using cannabis |
| Prohibited states | 29.30% |
| New, non-medical states | 19.10% |
| Established, non-medical states | 26.10% |
Medical Marijuana Reduces Opioid Prescriptions, Another Study Finds
New York Enacts Emergency Rules Allowing Medical Marijuana As Opioid Replacement
New York regulators are moving to allow patients who would normally be prescribed opioids for any condition to use medical marijuana instead.
That means people suffering from severe pain, opioid dependency or other maladies will now qualify to receive medical cannabis, the state Department of Health announced on Thursday.
"Medical marijuana has been shown to be an effective treatment for pain that may also reduce the chance of opioid dependence," New York State Health Commissioner Dr. Howard Zucker said in a press release.
"Adding opioid replacement as a qualifying condition for medical marijuana offers providers another treatment option, which is a critical step in combatting the deadly opioid epidemic affecting people across the state."
Research has consistently demonstrated the ingredients in cannabis can treat various forms of pain, including neuropathic, acute and chronic pain.
Adding severe pain and opioid dependency to the list means that 13 health conditions now qualify patients for medical marijuana in New York. Currently, more than 62,000 patients and about 1,700 practitioners are registered under the state's medical cannabis program, according to the release.
Numerous surveys have shown that, given the option of using cannabis as an alternative to prescription opioids, pain patients would opt for the former. Unlike opioids, marijuana does not come with the same risk of dependency and nobody has fatally overdosed on the plant.
There's also evidence that states that provide legal access to marijuana experience significantly fewer opioid-related hospitalizations. A study released this week found that medical marijuana laws were associated with an almost 30 percent reduction in the amount of Schedule III opioids prescribed to Medicaid enrollees.
New York's Department of Health first announced its plans to add severe pain and opioid dependency to the list of qualifying conditions last month, and is now releasing the emergency regulations to implement the decision.
New York Sen. George Amedore Jr. (R) said in a press release that he's been "strongly advocating to remove barriers and allow the use of medical marijuana as an alternative to opioids because it will help patients, reduce the number of highly addictive opioids in circulation and ultimately, it will save lives."
"We continue to be faced with an opioid epidemic that is devastating communities throughout our state. It's important we continue to do everything possible to address this issue from all sides, so I'm glad the Department of Health is taking this measure that will help high risk patients, as well as those that are struggling with, or have overcome, addiction."
The move from the state health department reflects an evolving approach to marijuana in New York. The New York Democratic Party recently endorsed full marijuana legalization, for example.
And Zucker, the health commissioner, said last month that "the pros outweigh the cons" when it comes to ending cannabis prohibition in the state. A report from his department will recommend full legalization, he added, but a date for its release has not yet been announced.
Last week, Gov. Andrew Cuomo (D), who is facing a primary challenge from pro-legalization actress Cynthia Nixon, encouraged banks to begin working with medical cannabis and hemp businesses.
Broad City's Stars And NY Gov Candidate Cynthia Nixon Are Giving Away A Bong