Lawmakers In Dozens Of States Are Weighing Bills To Regulate Or Ban Kratom
"It really comes down to your evaluation of a harm reduction tool. Other than that, it's a freedom issue."
By Ben Adlin, Filter
Dozens of legislatures across the United States are currently weighing how to regulate or ban kratom, a plant with mild opioid-like properties that's indigenous to Southeast Asia. It's used by people around the world who attest to its abilities to elevate mood, boost energy, relieve pain and—perhaps most crucially in an era of mass overdose deaths—treat symptoms of opioid withdrawal and sometimes replace opioids.
The flurry of state-level scrutiny follows efforts in recent years by the Food and Drug Administration (FDA) and Drug Enforcement Administration (DEA) to ban the drug, which remains unregulated at the federal level.
A majority of states either have no current regulations or very limited rules, such as an age limit. Six states, however—Alabama, Arkansas, Indiana, Tennessee, Vermont and Wisconsin—already have kratom bans, as do a handful of local jurisdictions.
Some states have now proposed further bans on kratom products. Mississippi is one, although lawmakers there have seen multiple such bills fail in recent years. Louisiana lawmakers have also prefiled prohibition legislation.
For Mac Haddow, a lobbyist and senior fellow on public policy at the American Kratom Association, what could be a crisis is an opportunity. He's confident that advocates can defeat the Louisiana bill, for one thing, and he can rattle off a laundry list of other bills in play around the country. He spoke to Filter from Vienna, Austria, where he was presenting at the United Nations Commission on Narcotic Drugs.
"It really comes down to your evaluation of a harm reduction tool. Other than that, it's a freedom issue."
In recent years, nearly 30 U.S. states have introduced or adopted kratom legislation, whether to ban kratom products outright or to more proactively regulate existing markets.
Haddow said he's currently keeping a close eye on legislation either introduced or expected in states including Illinois, Kansas, Minnesota, Michigan, Ohio, Pennsylvania, New Jersey, New York, North Carolina, Florida and Tennessee. "I'm just trying to remember them as best I can," he quipped.
His broader message is a familiar one in the drug policy reform world: He argues that state and federal kratom policies should be guided by available science and common sense, rather than backlash and misunderstanding.
"It really comes down to your evaluation of a harm reduction tool," Haddow said. "Other than that, it's a freedom issue."
The past decade has seen a rush of U.S. political activity around a substance that once flew under the radar. In 2014, the FDA banned the import and export of kratom as a dietary substance. Two years later, the DEA attempted to add kratom to Schedule I of the federal Controlled Substances Act, effectively outlawing it completely. While DEA officials reversed that position after public opposition, the FDA has continued to urge against the use of kratom and insist it has no therapeutic value.
Law enforcement groups have backed many of the state-level bans. In Alabama, for example, which outlawed the substance in 2016, authorities reportedly claimed that kratom products were 13 times stronger than morphine.
Haddow says popular fears around kratom are overblown—and misplaced. He attributes the recent turbulence to a 2010 report out of Sweden that linked kratom products to nine deaths over a 12-month period.
The problem, Haddow said, is that kratom didn't cause those deaths. "We've investigated every single autopsy report we can get our hands on. We've found not one that was kratom only."
The deaths in Sweden were all associated with a single kratom product, a herbal blend called Krypton, which was sold online in Europe. While the FDA cites those deaths as linked to kratom, Haddow noted that researchers behind the original report have since said the deaths were likely caused by an adulterant, O-desmethyltramadol.
It's reminiscent of the so-called "EVALI scare" of 2019, when U.S. health authorities raised the alarm about serious and fatal lung injuries associated with vaping. Initially the Centers for Disease Control (CDC) and some state and local officials sought to blame vaping products in general, feeding into an existing panic over youth nicotine vaping. The injuries were eventually linked instead to unregulated THC vape cartridges adulterated with vitamin E acetate.
Every death or serious injury Haddow has seen linked to kratom, he said, has been the result of either contamination or combining kratom with other drugs, such as opioids or benzodiazepines.
"I think it's true that if you have an adulterated kratom product that you are going to have adverse health events," he said. Likewise, if people are using kratom in an attempt to replace opioids, it would follow that some people who die of opioid-involved overdose might have kratom in their systems.
Similar points were being made by health experts even as states moved to ban kratom years ago. "Direct kratom overdoses from the life-threatening respiratory depression that usually occurs with opioid overdoses have not been reported," Oliver Grundmann, a clinical professor of medicinal chemistry at the University of Florida, told VICE at the time of the Alabama ban.
Kratom itself poses fairly benign health risks, Haddow said, most commonly nausea. Serious side effects are rare and typically occur at high doses. When consumed in its plant form (often in teas, powders or capsules), kratom has lower concentrations of its two main active ingredients, mitragynine and 7-hydroxymitragynine, than some refined products that have recently become available. Think coffee beans versus processed caffeine, or cannabis flower versus distilled THC.
For some people, discontinuing regular kratom use may result in relatively mild withdrawal symptoms. Certain studies, some of which Haddow would dispute, have additionally associated kratom with side effects such as agitation, cardiac problems, hallucinations, weight loss, insomnia and seizures—yet even those found that such harms most frequently occur at high doses or when used alongside other drugs.
The American Kratom Association is hoping to get ahead of the controversy as public awareness of kratom grows and lawmakers feel pressure to act. In addition to trying to combat what it sees as misinformation, the organization has spent the past few years working to pass state-level legislation that would set basic guardrails around kratom while ensuring it remains available to adult consumers.
The model legislation backed by the group is called the Kratom Consumer Protection Act (KCPA). Broadly speaking, it sets a minimum age of 18 to buy kratom products (though some states have made it 21), prohibits the addition of adulterants or "any synthetic or artificially elevated alkaloid content," requires that manufacturers register with the proper regulatory authority and creates standards around packaging and labeling.
"Labeling is critically important," Haddow said. That means not only what's in the product but also who processed and packaged it.
"One of the most important things on the label is who manufactured it and what their address is, because too many kratom products today have no identifiers," he explained. "If you have an adverse event, you don't know who to report it to—or report on—because there's no information that's available."
So far, seven states have already enacted some form of KCPA: Arizona, Colorado, Georgia, Nevada, Oklahoma, Oregon and Utah. Lawmakers in Virginia and West Virginia, meanwhile, just passed their own versions of KCPA bills earlier this year. Similar legislation is also making its way through the Texas legislature.
In Missouri, a bill to regulate kratom passed the legislature last year but was vetoed by Gov. Mike Parson (R). Haddow said he has a meeting scheduled with the governor and his staff, "and we're going to work through whatever their objections were."
"We've been able to answer most of that," he continued, "and we're going to clarify that they're going to sign the bill that passed last time, so that'll be run again."
Georgia already has a form of KCPA in place, but lawmakers introduced a ban this session. Haddow and the American Kratom Association pushed back, and the bill has since been amended. Haddow hopes the final version might even strengthen the KCPA.
Haddow said his group is also on the cusp of helping overturn a kratom ban on the books in Vermont. "We petitioned the state of Vermont, the Department of Health, and they approved our petition to reform the drug rule in Vermont on March 1," he said. The state must next go through rulemaking, although officials are holding off until the end of the session to see whether lawmakers pass a regulation bill that's pending in the legislature.
Similar efforts are underway in Wisconsin, Rhode Island and Arkansas. In Indiana, lawmakers are currently considering legislation to repeal a ban and pass a version of the KCPA.
—
Marijuana Moment is tracking more than 1,000 cannabis, psychedelics and drug policy bills in state legislatures and Congress this year. Patreon supporters pledging at least $25/month get access to our interactive maps, charts and hearing calendar so they don't miss any developments.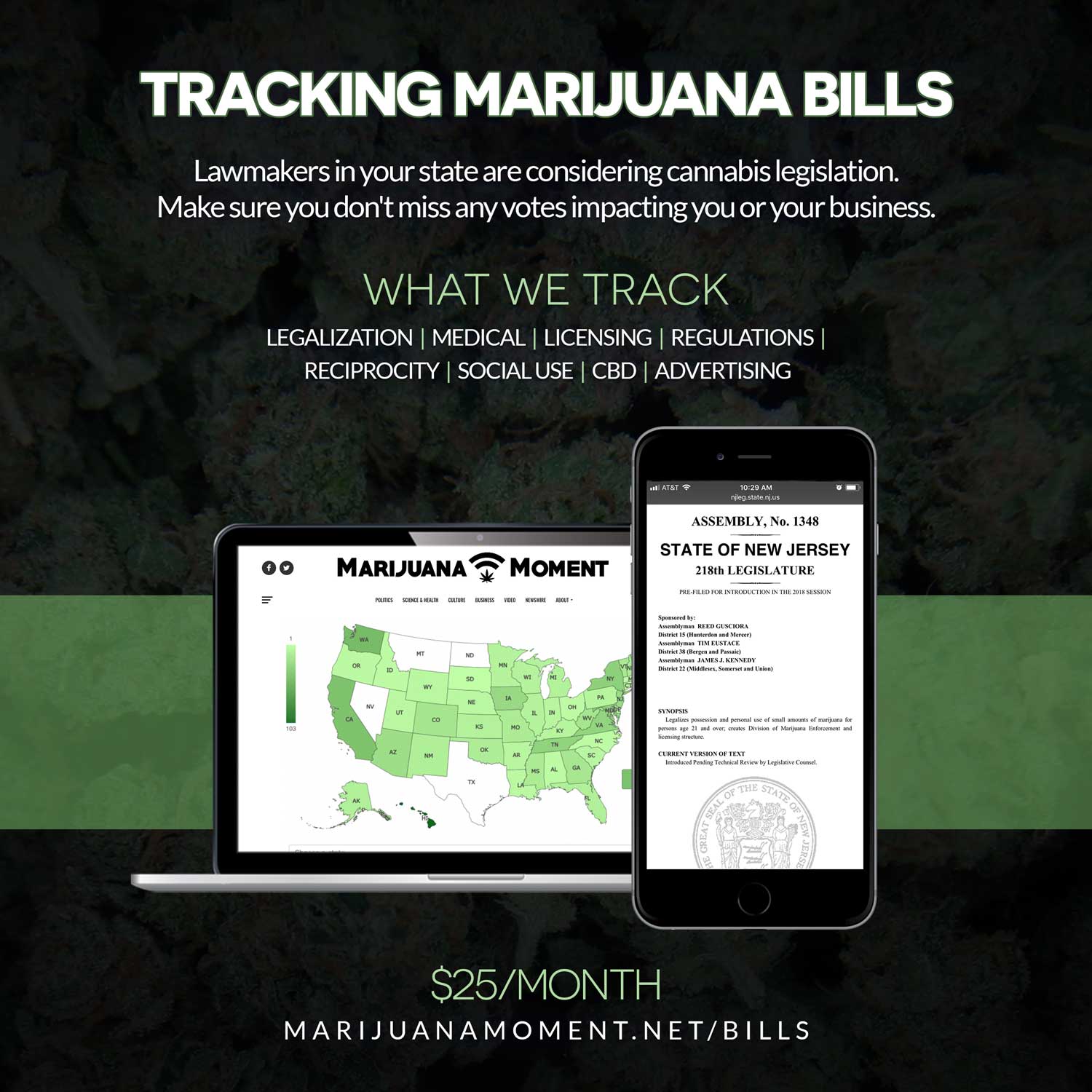 Learn more about our marijuana bill tracker and become a supporter on Patreon to get access.
—
Like other drug policy reform advocates, Haddow has his complaints about stubborn, evidence-blind law enforcement associations and reactive politicians, quick to attack what they don't understand.
When it comes to Alabama? "That's just a tough state," he said. "The district attorneys association was responsible for getting kratom banned in the first place, and they're just locked and loaded against kratom. They don't care about facts. They don't care about any data. I think if the Savior Himself came down and said, 'Kratom is good,' they wouldn't care."
Despite the holdouts, the American Kratom Association and other advocates have had some remarkable successes in winning over politicians. Reform efforts around more mainstream drugs, such as cannabis or psychedelics, have in some cases spent decades struggling to overcome entrenched stigma and stereotypes.
"I tell my wife it's because I'm a great lobbyist, but the truth is, it's because [kratom]'s less well known," Haddow said. "The only thing I have to fight, and the AKA advocates have to fight, is googling kratom. State lawmakers don't know what it is, and so they google it."
Haddow noted that kratom only entered the U.S. in significant amounts in the 1970s, after soldiers encountered the plant during the Vietnam War. Compared with many other drugs, there has been far less time for stigma against kratom to embed itself in US culture and politics.
And unlike other drugs, despite that 2016 DEA effort, kratom still isn't covered under the federal Controlled Substances Act. Haddow wants it to stay that way. While kratom should be regulated for safety and quality and kept out of the hands of children, he said, adults should be trusted to make the decision to use it.
"I spoke with an FDA official today, and he was telling me that one of the biggest concerns the FDA has about kratom is that people are sitting at home and self-medicating with it, and they're trying to get off opioids," he said from Vienna. "I think that strips people not only of their freedom but of their dignity."
If people are self-medicating at home for this purpose, he continued, with a substance that has a low risk profile, "I want people to have access to that."
This article was originally published by Filter, an online magazine covering drug use, drug policy and human rights through a harm reduction lens. Follow Filter on Facebook or Twitter, or sign up for its newsletter.
South Carolina Medical Marijuana Legalization Bill's Fate In Question, But Supporters Are Making A Last-Ditch Push
Photo courtesy of Wikimedia/ThorPorre.