Lawmakers File Three Congressional Bills To Help Small Marijuana Businesses
Small marijuana businesses would be eligible for a wide range of federal economic services under three congressional bills that were filed on Thursday.
Following a House Small Business Committee hearing on opportunities and challenges for small cannabis companies earlier this month, the chair and two other members of the panel filed legislation aimed at resolving some of the issues that were raised.
One bill, from Chairwoman Nydia Velázquez (D-NY), would allow marijuana businesses to access resources from the federal Small Business Administration (SBA). Those resources include microloans, disaster assistance and the loan guaranty program. The congresswoman said her proposal, which is titled the Ensuring Safe Capital Access for All Small Businesses Act, is meant to support social equity in the cannabis industry.
"As our society continues to move the needle on this issue, we must recognize that legal cannabis businesses are often small businesses that fuel local economies and create new jobs," Velázquez said in a press release.
"That is why I am pleased to introduce legislation to extend affordable lending options to small businesses that operate in the cannabis space, while simultaneously recognizing the structural disadvantages facing entrepreneurs from communities of color," she said.
The cannabis industry is growing in NY & nationally. As Chair of @HouseSmallBiz I've authored legislation to let disadvantaged entrepreneurs in this space access SBA loans. We must ensure women, people of color & others in this new market secure financing https://t.co/EN0ghMca5N

— Rep. Nydia Velazquez (@NydiaVelazquez) June 28, 2019
Rep. Jared Golden (D-ME) introduced legislation, called the Ensuring Access to Counseling and Training for All Small Businesses Act, that would prohibit SBA partners that provide guidance and training services from denying help to businesses solely because a firm involves cannabis. Small Business Development Centers, Women's Business Centers and the Veterans Business Outreach Center were named as examples of such training providers that would be impacted.
"Starting a small business is never easy, so we need to ensure entrepreneurs have access to the resources necessary to succeed, no matter the industry," Golden said.
"Continuing to turn some Maine small business owners away from crucial SBA programs and resources holds our economy back and keeps those businesses from creating jobs," he said. "My bill would address this problem by helping small business owners directly or indirectly associated with the cannabis industry get their small businesses off the ground and grow."
Finally, Rep. Dwight Evans (D-PA) introduced the Homegrown Act, which would establish an SBA grant program to provide funding to local and state governments to help them navigate marijuana licensing. The bill specifies that the grant money should be used to lift up communities disproportionately impacted by prohibition.
(2/2) But @HouseSmallBiz Chairwoman @NydiaVelazquez & I are working for change! We've intro bills that extend several Small Business Association initiatives to #smallbiz operating in the cannabis sector so POC can participate in this budding new industry. https://t.co/P2UZWlW5i7

— Dwight Evans (@RepDwightEvans) June 30, 2019
"My bill would act as a poverty-buster and help homegrown small businesses, which are the backbone of our economy," Evans said. "We need to make sure that the booming legal cannabis industry does not become consolidated in the hands of a few big companies."
2018: 465 Philadelpjians were arrested for buying weed — 86% of them were black. https://t.co/VHOjAjO274

— Dwight Evans (@RepDwightEvans) June 30, 2019
"My bill would help small businesses to participate in this industry and knock down barriers to jobs and entrepreneurship for people most adversely impacted by the war on cannabis, which has been especially harsh for people of color," he added.
PLUS, removing cannabis from the Schedule of Controlled Substances — effectively decriminalizing marijuana. #LegalizeIt ✊🏾

— Dwight Evans (@RepDwightEvans) July 1, 2019
Both Velázquez's and Evans's bills also contain provisions to remove marijuana from the Controlled Substances Act, which is likely meant to resolve uncertainty within the SBA as it concerns servicing the cannabis sector but would also have broader effects.
"State cannabis programs are successfully replacing criminal enterprises with tightly-regulated, responsible businesses, but it's increasingly difficult for smaller firms to compete in the legal industry without access to the essential Small Business Administration programs that other industries take for granted," Aaron Smith, executive director of the National Cannabis Industry Association (NCIA), said in a press release.
"By improving access to capital, this legislation will also help level the playing field for entrepreneurs from communities of color and others disproportionately impacted by the failed policies of prohibition seeking to enter the legal cannabis industry," he said.
All told, six pieces of marijuana legislation were introduced in the same 24-hour period on Thursday. Besides these three small business bills, there was one that would allow interstate commerce of cannabis products, another to offer protections for immigrants who consume or possess marijuana and a last one to encourage scientific research into the plant's health benefits.
Read the three business-focused cannabis bills below:
SBA Cannabis Bills by on Scribd
Bipartisan Senators Introduce Marijuana And CBD Research Bill
After New Mexico Lawmakers Fail To Pass Marijuana Legalization, Governor Says Voters Could Decide
Marijuana legalization failed to happen legislatively in New Mexico this year, but now Gov. Michelle Lujan Grisham (D) says she's open to letting voters decide on the policy change.
A bill to legalize cannabis in the state advanced through one Senate committee last month, but it was rejected by another with just days left in the legislative session, which ended on Thursday. When lawmakers reconvene in 2021, the governor said it's possible the legislature will pursue the reform move through a constitutional amendment that would be referred to voters at the ballot box.
Lawmakers would still have to vote in favor of advancing such a proposal to get it on the ballot, but it may be more palatable to some to let voters make the ultimate decision on whether to legalize marijuana in the state.
"We could," Grisham said on Thursday in response to a question about whether the state could pursue a constitutional amendment to legalize. "I mean, I'm open to any number of pathways."
She added that brining advocates and experts to the table while crafting a "regulatory design" for a cannabis market is an "incredibly transparent" process, but it also means "you get a lot of questions about how it works."
"Overwhelmingly in every county, New Mexicans believe that that's a productive economic path forward," the governor said. "My job is to keep with them, making the case and trying to the best of our ability to answer any question, deal with any conflicts and to make sure that when we do anything, our expectation is that New Mexico does it the best and that we set aside and move aside by addressing them, any unintended consequences or potential risks."
Listen to the governor's remarks on a potential marijuana legalization constitutional amendment below: 
"I'll probably do a little of both, and I have no doubt that the legislators will do that as well," she said.
A constitutional amendment to legalize marijuana was approved by a Senate committee in 2015, but it did not advance further. It was reintroduced the next year, but it didn't get a committee vote.
Grisham, who was elected in 2018, has made clear that cannabis reform is a legislative priority, including legalization in her 2020 agenda. She also discussed the need to establish a well-regulated and equitable marijuana market during her State of the State address last month.
The House of Representatives passed a bill in 2019 to legalize marijuana and let state-run stores control most sales. The proposal later advanced through one Senate committee but did not receive a floor vote. Lujan Grisham did sign a more limited bill to simply decriminalize marijuana possession that lawmakers approved during that session, however.
After legalization failed to advance last year, the governor established a working group to study the issue and make recommendations.
Following a series of hearings, the panel released a report in October that said any legalization bill should include automatic expungements of past records and provisions to ensure equity in the industry for communities most impacted by the war on drugs. It also said that home cultivation of marijuana by consumers should either be prohibited or licensed by the state.
In December, the governor's working group released a poll showing overwhelming public support for cannabis legalization.
Photo courtesy of Mike Latimer.
House Candidate Gives Marijuana To Voters At 'First-Ever Congressional Weed Party'
"Get your blunt!" Illinois Democratic congressional candidate Anthony Clark tells a voter in a newly released campaign video. "We're having a pretty dope day party."
Ahead of the state's March 21 primary election, Clark, an Air Force veteran and special education teacher in Chicago, has made marijuana a key campaign priority. On Thursday, he released a video shot at what he's calling the "first ever congressional weed party in Chicago."
"We just wanted to do something different," Clark explains in the video. "I feel like we're all out here in the struggle, we're all out here living, we're all out here grinding on a daily fucking basis."
Clark has said that he first experimented with marijuana in high school but rediscovered it as an adult after being injured in a Seattle shooting. "Weed has literally saved my life. I'm a veteran with PTSD," Clark says in the video. "It's time we changed this narrative that exists, eliminate the stigma."
Did we just make history with the first ever congressional weed party in Chicago? #legalizeit #cannabis #NotMeUspic.twitter.com/JOC0bCCfeq

— Anthony Clark for Congress (@anthonyvclark20) February 20, 2020
Adult-use cannabis sales have been legal in Illinois since January 1.
"We're gonna celebrate that, but there's still a ways to go," Clark tells party attendees, a blunt in one hand and a shot glass in the other. In Illinois, he adds, public funds are still be spent on "jailing street dealers…who are predominantly black and brown in the poor communities."
Clark's candor around his own cannabis use appears to have helped his campaign against incumbent Rep. Danny Davis (D), who's held the seat for the predominantly black district since 1997. Earlier this month, the Chicago Sun-Times endorsed Clark over Davis, saying the district "deserves a representative who is impatient to change the world, which might be Clark's best trait."
In a separate campaign video released in November, Clark smoked marijuana on camera and said he's transparent about his cannabis consumption because "if we really want to make change and we have a platform, you just have to be courageous with your platform."
"I think I have to be just as open about my cannabis use because lying to individuals, I think, plays a direct role in enabling status quo, in enabling the oppressors, the top one percent, to remain," he added.
Support candidate with a donation today fighting for:

✅ Legalization
✅ Auto vacate & expungements
✅ Reparations
✅ jobs & economic growth
✅ Expand medical & hemp
✅ End work discrimination
✅ Black, Brown, women, 🏳️‍🌈 owners/investors

⬇️ https://t.co/sNuEwNJJyN pic.twitter.com/J2vdDXRCvZ

— Anthony Clark for Congress (@anthonyvclark20) November 22, 2019
Some supporters say it was Clark's bold stance on cannabis that first got them involved in the campaign. "I first heard about Anthony Clark on Facebook," one supporter, identified as Miriam, says in the new video, "and I seen him and a group of three people smoking a blunt."
"It's ending the stigma," she says. "It's ending the harsh stigma."
Clark ran for the same congressional seat two years ago. He earned 26% of the primary vote but lost to incumbent Davis, who has generally supported cannabis amendments in Congress but hasn't made the issue a key focus for his office. This year observers expect the challenger to do even better on primary day.
Much has changed in the state since 2018, after all, especially around cannabis. Last year Illinois became the first U.S. state to legalize adult-use sales through its legislature, and state officials so far have been broadly supportive. A day before marijuana became legal, Gov. J.B. Pritzker (D), who made legalization a part of his own election campaign, pardoned more than 11,000 people with low-level cannabis convictions. When stores opened, Lt. Gov. Juliana Stratton (D) was one of the first in line to buy edibles.
At his State of the State address last month, the governor said legalization "gives us a chance to collect tax revenue from the residents of Wisconsin, Missouri, Iowa and Indiana" and provides "a second chance to hundreds of thousands of people who had a low level cannabis conviction or arrest on their record."
Licensed marijuana stores in Illinois sold $40 million worth of recreational marijuana products during the first month of legal sales. State officials say $8.6 million of that came from out-of-state cannabis tourists.
Congressional Candidate Smokes Marijuana And Talks Legalization In Campaign Video
Photo courtesy of Facebook/Anthony Clark
Federal Reserve Sends Reminder That Hemp Businesses Can Get Bank Accounts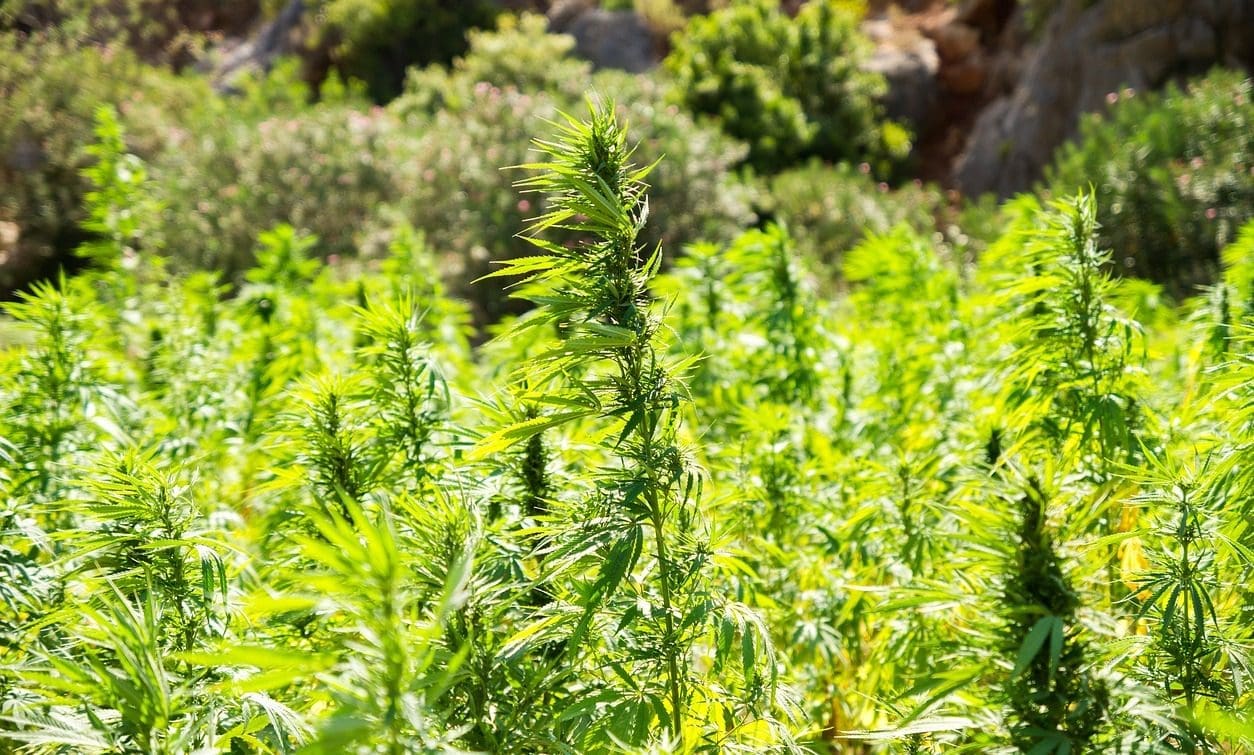 A Federal Reserve Bank district is making clear that financial institutions no longer have to automatically treat hemp businesses as suspicious under reporting rules.
In a post on the St. Louis Federal Reserve Bank website, the institution clarified that since hemp was federally legalized under the 2018 Farm Bill, banks no longer have to file suspicious activity reports just because a business transaction involves the crop.
"Properly licensed industrial hemp producers can now be treated the same as other bank commercial customers for anti-money-laundering regulatory purposes," the notice published this month states.
However, it reiterated that marijuana transactions will continue to be flagged, as the intoxicating variety of the cannabis plant remains federally prohibited.
"Unlike marijuana, hemp contains very low levels of tetrahydrocannabinol (THC), the chemical that causes an altered state when ingested or smoked. Hemp that contains less than 0.3 percent THC is considered legal," Carl White, the senior vice president of the Supervision, Credit, Community Development and Learning Innovation Division at the Fed district, wrote. "The legal marijuana business is not affected by the change in status for hemp production, because marijuana is still considered a controlled substance under federal law."
Despite the change in the legal treatment of hemp, many bankers have been reluctant to work with the industry because of regulatory concerns https://t.co/MqCkZ4PL1c

— St. Louis Fed (@stlouisfed) February 14, 2020
But as others have recognized, the central bank district said that despite "the change in the legal treatment of hemp, many bankers have been reluctant to work with the industry because of regulatory concerns."
To that end, the the Board of Governors of the Federal Reserve System, the Federal Deposit Insurance Corporation, the Office of the Comptroller of the Currency and the Financial Crimes Enforcement Network (FinCEN) issued guidance last year clarifying that "banks are not required to file a Suspicious Activity Report (SAR) on customers solely because they are engaged in the growth or cultivation of hemp in accordance with applicable laws and regulations."
Even so, it is apparent that some financial institutions remain reluctant to bank hemp businesses, and so the Fed is seeking to put them at ease with the new explanatory post.
"The main takeaway from the regulators' statement is that banks no longer need to automatically fill out Suspicious Activity Reports (SARs) when working with a hemp producer customer because hemp production has been legalized," the St. Louis-based bank said in the new post. "They can follow standard procedure and file a SAR if suspicious activity warrants."
"Bankers with questions about the 2018 farm bill and hemp can contact the USDA, state agriculture departments or tribal governments. Because the U.S. Food and Drug Administration retains some regulatory authority over hemp products, banks can contact that agency with questions about hemp-related food, drugs or cosmetics."
The post notes that "banks should be looking out for additional guidance" on federal hemp rules from financial regulators. It's not clear when that will be issued, however.
While marijuana policies remain complicated given federal prohibition, there is significant interest among Federal Reserve Bank districts in ensuring that those rules are clarified as well. The presidents of three such institutions called for guidance on marijuana banking last year.
The Federal Reserve Bank Of Kansas City also recently issued a report on Colorado's cannabis market and determined that it would continue to grow as support for legalization rises, though it may not grow as fast as it initially did immediately following legalization.
Twelve GOP Lawmakers Thank Senate Chairman For Delaying Marijuana Banking Bill
Photo courtesy of Pixabay.