Key GOP Senate Chairman Says It's Time To Fix Marijuana Industry Banking Issues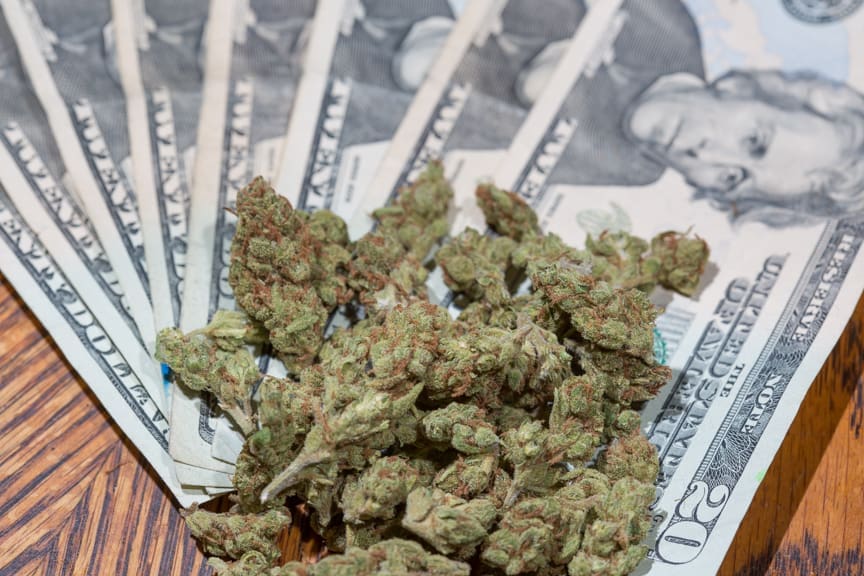 The Republican chair of the Senate Banking Committee said this week that he's on board with resolving financial services issues in the marijuana industry—though he suggested it may be accomplished through different vehicles than what advocates have been pushing for.
Sen. Mike Crapo (R-ID) told Wikileaf he agrees the federal government must find a way to enable banks to service cannabis businesses in legal states without being penalized by federal regulators.
But while a bipartisan proposal that would accomplish that is already on the table—with a Senate version of the Secure and Fair Enforcement (SAFE) Banking Act being cosponsored by nearly a third of the body—Crapo floated the idea that his chamber might instead pursue separate legislation or even seek an administrative fix for the issue rather than pass a bill.
"I think all the issues got well vetted" at a hearing his panel held last month, the chairman told reporter Matt Laslo. "We now need to, I think, move forward and see if there's some way we can draft legislation that will deal with the issue."
"There are other ways it could be solved," he added. "For example regulatory—they could deal with the issue at the Department of Justice, but I don't know."
While Crapo represents one of the only states in the U.S. that has not implemented even modest cannabis reforms, he has appeared increasingly interested in finding a solution to the banking problem. Because marijuana remains federally illegal, financial institutions are wary of taking on state-legal cannabis companies as clients, which has forced many to operate on a largely cash-only basis.
That the chair even decided to hold a committee hearing on cannabis industry banking access took reform advocates by surprise, given that he previously declined to commit to hosting such a forum while marijuana remains federally illegal.
"I appreciate Senator Crapo's support for taking action and am pleased to see bipartisan and bicameral support for the SAFE Banking Act continue to grow," Rep. Ed Perlmutter (D-CO), sponsor of the House version of the bill, told Marijuana Moment. "I look forward to swift passage of the SAFE Banking Act through the House and working with Senator Crapo and others to ensure the Senate also takes action on this important issue."
BIG NEWS: I appreciate the support of Senator Crapo as we work to get cash off our streets and into the banking system from these legitimate cannabis businesses. I look forward to a vote in the House on #SAFEBanking soon. https://t.co/IlSLtWKsVX

— Rep. Ed Perlmutter (@RepPerlmutter) August 1, 2019
According to a source familiar with legislative talks around the banking issue, lawmakers are considering a number of potential amendments to the SAFE Banking Act that could bolster its support in a chamber controlled by Majority Leader Mitch McConnell (R-KY)—a champion of legalizing hemp but not its "illicit cousin" marijuana.
That includes possible provisions to address how to navigate banking transactions between states that have and haven't legalized cannabis and developing Financial Crimes Enforcement Network guidance. Also on the table are issues related to cannabis edibles and marijuana's appeal to children, the source said.
A separate source challenged Crapo's proposal to pursue reform through administrative channels, arguing that such a process wouldn't be feasible because a true marijuana banking fix would require a statutory change.
Nonetheless, advocates welcomed the chairman's comments as a signal that it is possible to move cannabis-related legislation in the 116th Congress.
"Senator Crapo's willingness to hold a hearing recently on the SAFE Banking Act was very encouraging," Michael Correia, director of government relations for the National Cannabis Industry Association, told Marijuana Moment. "We're thrilled to learn that he is open to solving this important issue and we are looking forward to working with the senator and finding a policy solution."
Justin Strekal, political director of NORML, told Marijuana Moment that the chairman's "acknowledgement of, and now apparent support for, reform in regards to state-legal enterprises could be a watershed moment for this Congress."
"If [the SAFE Banking Act] passes the Senate, it will become law and disproportionally benefit small businesses who are currently unable to navigate the dysfunctional status-quo without basic financial services," Strekal said. "This will be good for the nascent cannabis industry and much more importantly, the consumers that they serve."
Senate Hearing Represents A Step Toward Providing Marijuana Banking Access