Illinois Senate Approves Marijuana Legalization Ballot Question
Illinois lawmakers voted to place a marijuana legalization measure on the state's November ballot.
The question posed to voters would read:
"Shall the State of Illinois legalize the cultivation, manufacture, distribution, testing, and sale of marijuana and marijuana products for recreational use by adults 21 and older subject to state regulation, taxation and local ordinance?"
The measure would not be binding, but would likely prod state lawmakers to more seriously consider passing a bill to legalize marijuana in 2019.
The Senate vote on Thursday was 37 to 13. The measure now heads to the House of Representatives for consideration.
SB2275 is up on the floor, @SenCunningham's measure to put an advisory referenda on the ballot on the legalization of marijuana. It passes 37-13.

— IL Senate Democrats (@ILSenDems) March 1, 2018
"The debate over marijuana legalization is continuing to lead many states to consider various ideas and changes to current laws," Sen. Bill Cunningham (D), the chief sponsor of the referendum legislation, said in a press release. "Asking the people of Illinois how they feel about the subject can help determine which path we take as legislators."
Voters in Cook County — the state's most populous county and the second largest in the U.S. — will already see a similar cannabis question on their March 20 primary election ballot.
Several candidates for governor and attorney general are campaigning on platforms that include support for marijuana legalization.
Illinois Voters Will Make Major Marijuana Decisions In March
Lawmakers in at least eight other states are considering bills to place marijuana referendums before voters.
That includes Rhode Island, where a state representative filed a cannabis legalization referendum proposal on Wednesday.
AOC Wants To Work With Republicans To Legalize Marijuana And End War On Drugs
Democrats and Republicans might be divided on a number of major policy issues, but Rep. Alexandria Ocasio-Cortez (D-NY) said on Thursday that ending the drug war and legalizing marijuana are increasingly standing out as exceptions to hyper-partisanship in Congress.
The congresswoman made the point during a virtual town hall alongside cannabis reform ally Rep. Earl Blumenauer (D-OR), stating that since she took office, it's been encouraging to see members on both sides of the aisle come together on issues concerning "civil rights policy and civil liberties," including ending "drug prohibition laws."
"We've been able to propose solutions on a wide spectrum towards decriminalization, towards legalization, and that is increasingly becoming a position that more Republicans are amenable to," she said.
For example, her spending bill amendment to divert $5 million in funding from the Drug Enforcement Administration to an opioid treatment program was approved without opposition in the House last year, Ocasio-Cortez said.
"That's defund before defund became a widespread demand that we heard this year—and Republicans supported it," she said, referencing progressive calls to defund law enforcement amid protests over police killings of black Americans. "So there are some areas where you can find common ground."
Blumenauer also said at the event that "part of why we are fighting so hard to eliminate the failed prohibition on cannabis is because that's been a tool that's been used against people of color in particular that has horrific consequences and helps fuel that prison pipeline that has wreaked such havoc on our communities."
To that end, Ocasio-Cortez said that, beyond federally legalizing cannabis, it's important for lawmakers to ensure that any regulated markets that emerge are structured in a way that encourages participation by communities most hurt under prohibition.
"There are different ways that we can go about legalizing cannabis in the United States, and you can go about it in a way that concentrates power in a [Big Agriculture] way that concentrates power in big banks and that cuts out small mom and pops," she said. "And then there's another path towards legalization where everyday people and especially the black and brown communities that have been disproportionately impacted by the war on drugs can be at the front of the line of enjoying the economic benefits of legalization."
"I think we're just so past due to make sure that we're legalizing cannabis in the United States and that we're expunging people's records from the absolutely unjust war on drugs," the congresswoman said. "It is an incredible priority."
Another New Jersey Poll Shows Marijuana Legalization Passing By A Huge Margin
New York Will Legalize Marijuana By April And Regulate CBD-Infused Drinks, Governor's Advisor Says
The top marijuana advisor to New York Gov. Andrew Cuomo (D) says cannabis legalization legislation will again be introduced through the state budget in January, with the goal being to enact the reform by April. He also previewed state regulations for hemp-derived CBD products, including allowing infused drinks and food items.
During an interview with Canopy Growth Corp.'s David Culver on the company's recently launched video series, "Under The Canopy," Assistant Counsel Axel Bernabe talked about how efforts to legalize marijuana in surrounding states underscore the need for reform in New York. And he said the legislation the governor will be introducing will serve as a "model" for other states, prioritizing social equity and economic development.
In this episode of #UnderTheCanopy we speak to Axel Bernabe of @NYGovCuomo's office who answered our questions on New York's upcoming #hemp regulations, #cannabis #legalization, and the Gov.'s pandemic response. Watch here: https://t.co/5SzWFMnFSU

— Canopy Growth (@CanopyGrowth) October 14, 2020
But he also recognized that neighboring New Jersey may beat the Empire State to the punch, as voters are positioned to approve a legalization referendum next month.
"We're watching New Jersey closely. We've always been confident that we get to this before New Jersey, so if they pass the referendum they still have to have agreement between the governor the Senate over there," he said, referring to necessary implementing legislation that will need to be approved if voters pass the ballot question. "We're working on this. We're going to reintroduce this in our budget in January. We think we can get it done by April 1."
That said, a top New Jersey senator recently indicated that lawmakers in the Garden State could pass the enacting bill as soon as the first week of November.
Over in New York, Cuomo has included legalization in his budget proposal for the last two years, but negotiations have consistently stalled out in the legislature, with sticking points such as how cannabis tax revenue will be allocated preventing a deal from being reached.
"If Jersey can beat us to it, then they'll get the gold star—but I still think we're going to set the model here."
Bernabe said he's especially excited about the public safety and economic development components of the administration's forthcoming legalization proposal. And he spoke about the need to ensure social equity for communities historically targeted by the war on drugs, adding that there will be some changes from this year's version in light of other states' experiences.
"I would say equity pervades the entirety of the bill. It pervades it on the licensing front, it's on the revenue side and the use of funds and providing capital and loans," he said.
Also in the interview, Bernabe talked about pending regulations for hemp-derived cannabinoids. While those who grow the crop for fiber, seeds and other agricultural purposes are covered under existing rules, he said the administration is "literally putting the final tweaks" on policies for consumer CBD products that will take effect at the beginning of 2021.
"We're excited because we've taken the bull by the horns so to speak. I think people recognize that there are a lot of sectors or product lines that haven't really had some thorough regulation attached to them," he said. "You can pick a number of them but probably the most high-profile or obvious ones are something like vapes—so CBD or other cannabinoid extract vapes. Flower, even some tinctures, and foods and beverages."
"How do you regulate that? What are the parameters around it? What's permissible? What's not?" he said. "We dug deep. I don't know that we'll get everything right. We had to make some calls."
NY is on the cusp of opening their hemp market – but what went into the regulatory process to make this a reality? Axel Bernabe from @NYGovCuomo's office discusses this & all things cannabis-related in this episode of #UnderTheCanopy Click here to watch: https://t.co/5SzWFMnFSU pic.twitter.com/HEK351bG5o

— Canopy Growth (@CanopyGrowth) October 18, 2020
The administration official offered an example of a regulation they're likely to pursue that other states have avoided: creating rules for cannabinoid-infused drinks and food items.
"We think of this in terms of consumer protection. Those products are already out there. There's no sense in trying to pretend they're not," he said, adding that one way they're planning to ensure those protections is to set a maximum 25 milligram CBD dose per serving.
"We're really doing it across the board on this," Bernabe said. "We're really looking at every product class and trying to strike a balance between consumer protection and letting people have what they're obviously using extensively for health and wellness."
As the administration finalizes those rules, the state's hemp industry also recently got some news about broader regulations. Since a congressional continuing rider signed by the president last month extends the 2014 Farm Bill pilot program for the crop until next September, the New York Agriculture Department said it will similarly allow hemp businesses to continue to operate under the existing program until September 30, 2021.
"With so much uncertainty right now, we applaud [the department's] move to extend these rules," Allan Gandelman, president of the New York Cannabis Growers and Processors Association, said in a press release on Wednesday.
Another New Jersey Poll Shows Marijuana Legalization Passing By A Huge Margin
Photo courtesy of Mike Latimer.
Montana Marijuana Legalization Initiative Faces Last-Minute Legal Challenge In State Supreme Court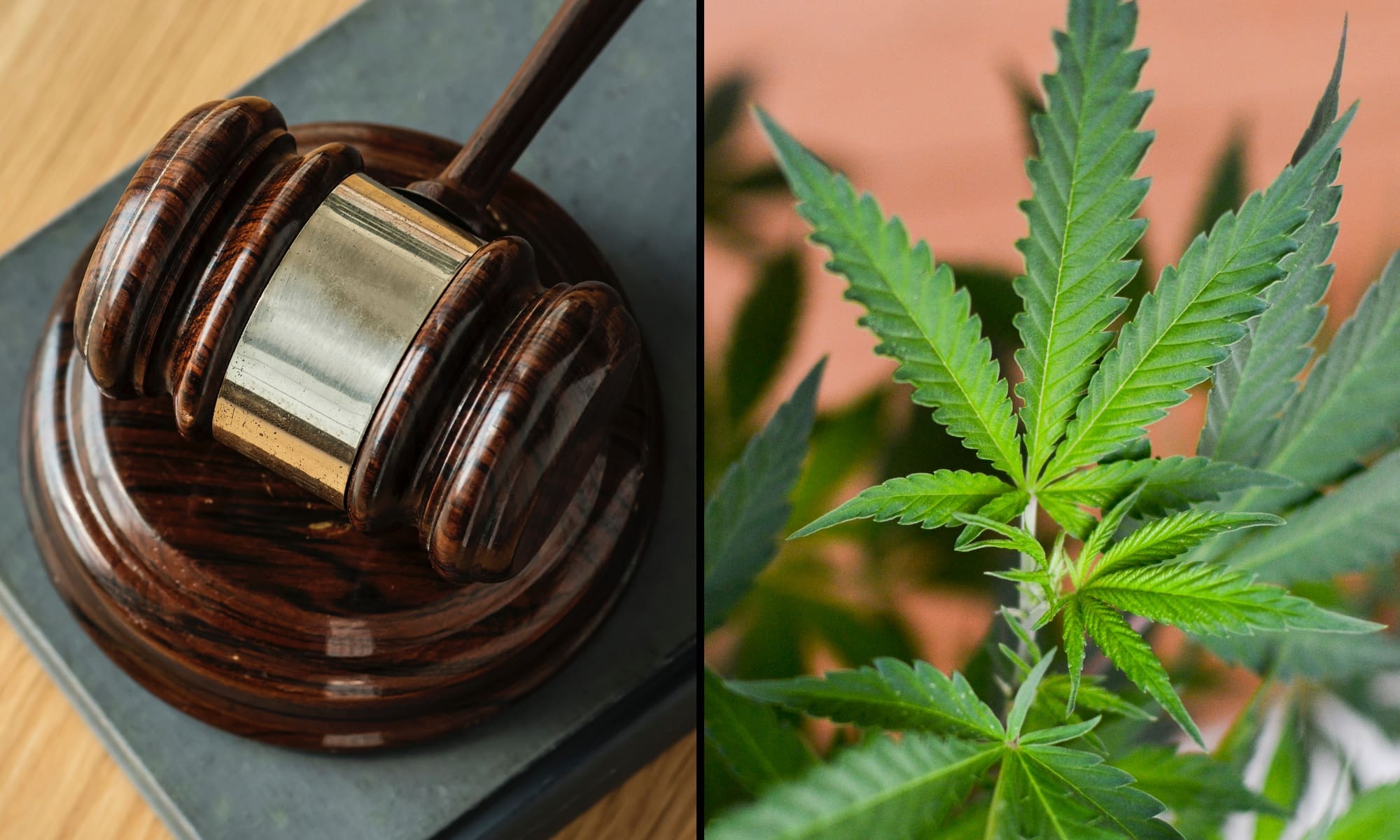 A campaign to legalize marijuana in Montana is facing a last-minute legal challenge, even as residents are already participating in early in-person voting and submitting mail-in ballots that feature a pair of cannabis reform initiatives.
Prohibitionists have retained a law firm that's preparing a lawsuit to be filed before the state Supreme Court against the statutory adult-use legalization measure, arguing that it violates state law by including provisions that would appropriate funds to specific programs. But New Approach Montana, the group behind the initiative, says their opponents "are simply trying to cause confusion."
The proposal in question would establish a legal cannabis market for adults in the state, while a separate constitutional amendment that's also on the ballot would stipulate that only those 21 and older could enter the market.
"We have prepared this lawsuit and we are in the process of filing it," Steve Zabawa of Wrong for Montana said during a press call, KGVO reported. "Brian Thompson at BKBH is our attorney, and we're going to ask that the Supreme Court of Montana remove this thing because it is a flawed initiative."
He cited Article III, Section IV of the state constitution, which says citizens "may enact laws by initiative on all matters except appropriations of money and local or special laws."
Under the legalization initiative, half of the public revenue generated from marijuana sales would go toward environmental conservation programs—a provision that earned the campaign key endorsements last month.
For what it's worth, a 2018 ballot measure that made it on the ballot but was rejected by voters would have increased tobacco taxes and used revenue to fund health programs. But after opponents sent a letter to the secretary of state arguing that it was unconstitutional based on the same appropriations statute, the official said he would not be removing it. The issue did not reach the courts, however.
"I hope next week that the Montana Supreme Court sets a date to hear it and gets it out to their seven justices and then they come to they read through it and then do their research and then throw the initiative off the ballot," Zabawa told the radio station. "That's best case for us."
Of course, the initiative is already on the ballot and voting has started, so presumably if the court sided with the plaintiffs, the votes simply wouldn't be counted or implementation would be prevented. It is also possible that the court could rule that monies raised by legal cannabis sales under the initiative would simply into the state's general fund instead of toward the specific programs delineated in its current text.
In addition to the cannabis revenue earmarked for land, water and wildlife conservation programs, the proposal aims to send funds toward veteran services, substance misuse treatment, health care and local governments, with the rest already being pegged to the general fund.
Zabawa, of Wrong for Montana, also recently filed a complaint with state regulators asking that a nonprofit organization that contributed to the legalization campaign be forced to disclose its donors.
Pepper Peterson of New Approach Montana told Marijuana Moment that the "people of Montana will see right through [the lawsuit], as they continue to vote Yes on CI-118 and I-190."
"They know that legalizing marijuana for adults 21 and over will generate $236 million in new revenue over the next six years, expand access to medical marijuana for patients including veterans, and stop wasting law enforcement time and resources arresting Montanans for marijuana possession," he said. "These initiatives, which were filed in January, have already been vetted and approved by the Montana attorney general. They are well written and closely follow existing Montana law."
"The opposition campaign has been spreading misinformation across Montana for weeks, and this lawsuit announcement is just the latest chapter," he said.
Thompson, the attorney representing the plaintiffs, told Marijuana Moment in a brief phone interview that the complaint would be filed "in the near future," though he declined to give an exact timeline or share a copy of the draft filing.
If the challenge goes through and the legalization initiative is invalidated, that would mark the second time this election cycle that citizen-led reform efforts have been killed by the courts.
The Nebraska Supreme Court ruled last month that a measure to legalize medical cannabis that had qualified for the November ballot could not proceed because it violated the state's single-subject rule for ballot initiatives.
Should the Montana campaign prevail against the legal challenge, however, recent polling indicates that voters are positioned to approve it. Forty-nine percent of respondents in a survey released this week said they support the policy change, with 39 percent opposed and 10 percent remaining undecided.
Another New Jersey Poll Shows Marijuana Legalization Passing By A Huge Margin
Photo elements courtesy of rawpixel and Philip Steffan.