Illinois lawmakers approve cannabis legalization ballot measure (Newsletter: March 2, 2018)
Subscribe to receive Marijuana Moment's newsletter in your inbox every weekday morning. It's the best way to make sure you know which cannabis stories are shaping the day.
Trump talks up death penalty for drugs; RI legalization referendum proposed; Savannah, GA decrim OKed
Your support makes Marijuana Moment possible…
Subscribers who value this daily dispatch enough to show their support with a few dollars help me keep doing this. Please chip in and help ensure Marijuana Moment's continued operations.
http://patreon.com/marijuanamoment
/ TOP THINGS TO KNOW
In televised remarks from the White House, President Trump strongly implied he supports executing people who sell illegal drugs.
The Illinois Senate voted to place a marijuana legalization question on the state's November ballot.
A new Rhode Island bill would place a marijuana legalization question before voters in November. Lawmakers in at least right other states are weighing similar cannabis referendum proposals.
/ FEDERAL
U.S. Attorney General Jeff Sessions directed the Drug Enforcement Administration to consider amending regulations governing aggregate productions quotas for Schedule I and II drugs.
President Trump nominated four people to serve on the U.S. Sentencing Commission.
The White House hosted a summit on responding to opioid issues.
A recent U.S. Court of Appeals for the Ninth Circuit opinion highlights uncertainties surrounding bankruptcy proceedings involving marijuana-related assets.
An analysis suggests that the U.S. State Department is shifting away from a hardline stance on drug production in Colombia.
U.S. Sen. Roy Blunt (R-MO) said he doesn't support legalizing or decriminalizing marijuana but does back the right of states to set their own laws.
U.S. Sen. Cory Booker (D-NJ) cited marijuana reform as an area where he can work with Republicans.
Congressman Ro Khanna (D-CA) tweeted, "There have been far too many lives destroyed by the 'war-on-drugs.'"
New Jersey Republican senatorial candidate Bob Hugin says he opposes legalizing marijuana but supports decriminalization.
A onetime aide to former Congresswoman Janice Hahn (D-CA) was convicted in federal court  of promising to "make things happen" for an unlicensed medical cannabis business business and taking a $5,000 bribe.
/ STATES
The New Jersey Assembly Regulatory Oversight, Reform and Federal Relations Committee will hold a hearing on marijuana legalization on Monday. On a train trip to Washington, D.C., several legislators spoke about their position on ending prohibition.
The Vermont House of Representatives preliminarily approved a bill allowing police to test saliva for marijuana during traffic stops.
Tennessee Lt. Gov. Randy McNally (R) is predicting that medical cannabis legislation will fail.
The New Hampshire House Ways and Means Committee may kill a marijuana legalization bill that already passed the full chamber.
The Connecticut General Assembly's Appropriations Committee filed a bill directing state officials to "develop a plan to legalize and regulate the retail sale of marijuana in the state."
The Rhode Island Senate Finance Committee held a hearing on legislation proposed by Gov. Gina Raimondo (D) to allow reciprocity for out-of-state medical cannabis patients, quintuple the number of dispensaries and add acute pain as a qualifying condition. Separately, a representative filed a bill to expand employment protections for patients.
Pennsylvania Republican gubernatorial candidates all agreed on opposition to legalizing marijuana during a debate.
Minnesota lawmakers are considering legislation to let medical cannabis providers deduct business expenses from taxes.
Illinois lawmakers delivered petition signatures in support of adding intractable pain as a medical cannabis qualifying condition to the office of Gov. Bruce Rauner (R).
The chair of the Kentucky Senate Committee on Veterans, Military Affairs and Public Protection says he is working to move medical cannabis legislation forward.
Arkansas regulators released information about successful medical cannabis cultivation license applicants.
/ LOCAL
The Savannah, Georgia City Council approved a marijuana decriminalization ordinance.
A Denver County, Colorado judge declared a mistrial in a case against the founders of the International Church of Cannabis after prosecutors determined they couldn't seat an impartial jury.
/ INTERNATIONAL
Greek lawmakers approved a bill to legalize medical cannabis production.
Philippines President Rodrigo Duterte ordered police and military personnel not to cooperate in investigations into the country's bloody "war on drugs."
Singapore's health minister said the country should not decriminalize drugs.
/ OPINION & ANALYSIS
A Pew Research Center analysis, using data from a poll the organization conducted in January, shows that 71% of Millennials support legalizing marijuana.
/ BUSINESS
Organizers of the 1969 Woodstock music festival are suing the Woodstock American Products marijuana company over alleged trademark violations.
Alaska collected more than $1 million in marijuana tax revenue in January.
Bloomberg looks at the valuations of marijuana stocks.
Rolling Stone examines evolving efforts to test marijuana for contaminants.
Here's a look at the tobacco industry's evolving interest in marijuana.
/ CULTURE     
Texas Wesleyan University fired a baseball coach who said he wouldn't recruit students from Colorado due to its marijuana legalization law.
Jimi Hendrix's fingerprint card from when he was arrested for heroin and marijuana in 1969 is being auctioned.
Make sure to subscribe to get Marijuana Moment's daily dispatch in your inbox.
FBI seeks tips on cannabis industry corruption (Newsletter: August 18, 2019)
Conservative org ALEC's banking/CBD measures; Warren's Native American plan includes legal marijuana; SD legalization initiative moves forward
Subscribe to receive Marijuana Moment's newsletter in your inbox every weekday morning. It's the best way to make sure you know which cannabis stories are shaping the day.
Your support makes Marijuana Moment possible…

This issue of Marijuana Moment, and our original reporting that is featured in it, are made possible by the generous support of 437 Patreon sponsors. Cannabis industry professionals receive valuable rewards for pledges of $25 and up.
Ryan McQueeney of Midway Dispensary: ""I have been in the cannabis industry since 2015 as a dispensary owner and attorney specializing in cannabis. Tom Angell is without peer in providing up-to-date and accurate information on everything that is happening in this industry and if you are interested in cannabis and hemp industries at all, you must support Tom's work."
Check out the perks of being a sponsor on our Patreon page.
https://www.patreon.com/marijuanamoment

/ TOP THINGS TO KNOW

The Federal Bureau of Investigation is actively seeking tips on public corruption related to the marijuana industry.
"States require licenses to grow and sell the drug—opening the possibility for public officials to become susceptible to bribes in exchange for those licenses. The corruption is more prevalent in western states where the licensing is decentralized—meaning the level of corruption can span from the highest to the lowest level of public officials."
The conservative lawmaker organization American Legislative Exchange Council—better known as ALEC—is floating model measures on marijuana banking and legalizing hemp and CBD for state legislatures to consider.

A new plan on the rights of Indian tribes from Sen. Elizabeth Warren (D-MA), a presidential candidate, includes the ability to legalize marijuana without federal interference.
"A number of Tribal Nations view cannabis as an important opportunity for economic development."
South Dakota's attorney general filed an official summary of a proposed measure to legalize marijuana. Meanwhile, activists got approval to start collecting signatures for a separate initiative focused on medical cannabis.

/ FEDERAL

A federal judge dismissed a lawsuit from a Connecticut police officer who claimed he was wrongfully suspended because of his medical cannabis use.

A federal court ruled that a Florida lawyer who incorrectly told clients they could legally grow marijuana owes about $370,000 in damages.

Office of National Drug Control Policy Director James Carroll spoke critically about marijuana legalization's impact.

Under Secretary of Agriculture for Marketing and Regulatory Programs Greg Ibach toured Oregon hemp businesses with Sen. Jeff Merkley (D-OR).

Sen. Michael Bennet (D-CO), a presidential candidate, tweeted, "Hemp farmers and processors have made clear that the lack of access to the banking system is a significant hurdle to growing their business. We'll keep working to remove this major barrier facing the hemp industry."

Rep. Tulsi Gabbard (D-HI), a presidential candidate, tweeted, "America means freedom. How can we still be incarcerating people for using marijuana? This is counter to everything we stand for. As president, I'll end the federal prohibition on marijuana, end mass incarceration, and reform our criminal justice system."

The House bill to deschedule marijuana and fund programs to repair the harms of the drug war got two new cosponsors, for a total of 35.

The House bill to require the federal government to study the impact of state marijuana laws got one new cosponsor, for a total of 29.

/ STATES

Colorado Gov. Jared Polis (D) touted the state's national leadership on hemp at an American Herbal Products Association conference. Separately, regulators issued a health and safety advisory about potentially unsafe levels of microbial contamination in marijuana products.

The chief of staff for New Jersey Gov. Phil Murphy (D) said that "nothing is off the table" in negotiations about passing marijuana legalization legislation this year.

Montana's lieutenant governor toured a marijuana testing facility and tweeted, "Learned a lot from yesterday's tour of the longest operating state certified medical marijuana testing laboratory and how we can ensure access to safe and healthy medicine for our veterans, cancer patients, and others. Thanks for having me, Stillwater Laboratories!"

Maryland's attorney general wants prosecutors to consider manslaughter charges for people who sell or supply drugs that cause fatal overdoses.

The California Supreme Court said it will issue an opinion on Monday in a case concerning whether the enactment of a zoning ordinance allowing the operation of medical cannabis cooperatives in certain areas may cause a reasonably foreseeable indirect physical change to the environment for the purposes of the California Environmental Quality Act.

A Nevada judge heard closing arguments in a case challenging the state's marijuana business licensing process and could issue a decision this week.

Texas's Permanent School Fund Committee has a marijuana industry investment worth more than $700,000.

Medical cannabis implementation has become a top issue in the Louisiana agriculture commissioner race.

The South Dakota legislature's industrial hemp study committee will meet on Monday.

Pennsylvania lawmakers hosted an anti-marijuana forum. Separately, regulators announced that a business relinquished medical cannabis dispensary permits as part of a settlement over violations.

Michigan regulators filed a formal complaint against and summarily suspended a marijuana testing lab for inaccurate results and/or unreliable testing and reporting practices. Separately, they are hosting a meeting to receive public comment on marijuana licensing and rules on August 29.

A Georgia representative tweeted, "The date rape drug is a federal Schedule V drug but marijuana is a Schedule 1 drug. That's beyond a problem folks. 🤔☹"

—
Marijuana Moment is already tracking more than 1,000 cannabis bills in state legislatures and Congress this year. Patreon supporters pledging at least $25/month get access to our interactive maps, charts and hearing calendar so they don't miss any developments.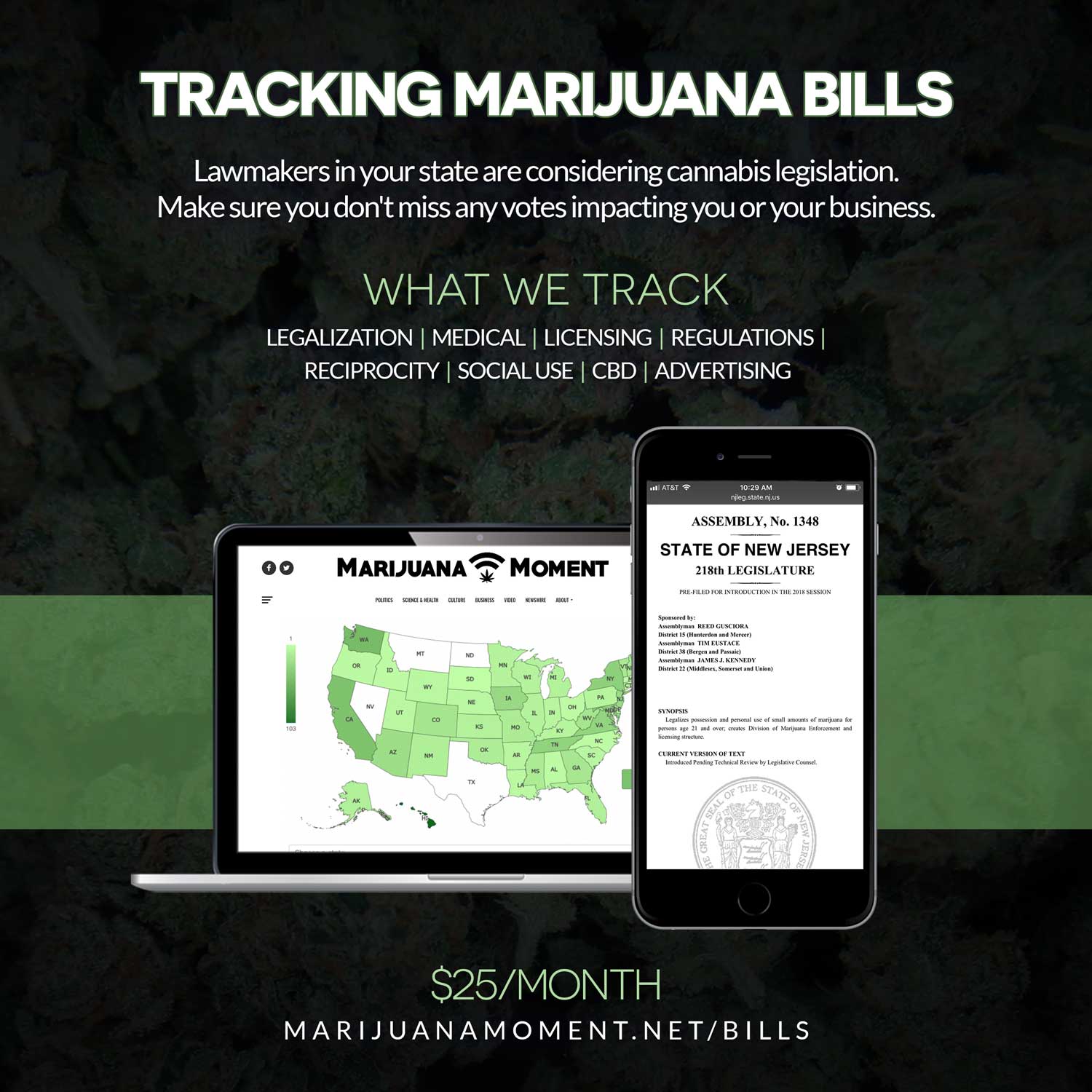 Learn more about our marijuana bill tracker and become a supporter on Patreon to get access.
—
/ LOCAL

Prosecutors and candidates from St. Louis County, Missouri; Nueces County, Texas and Arlington, Virginia coauthored an op-ed defending local moves to not pursue marijuana cases and enact broader reforms.

/ INTERNATIONAL

Ugandan Prime Minister Ruhakana Rugunda said his government plans to issue marijuana cultivation licenses.

Lawmakers in the Czech Republic are considering legislation requiring public insurance to cover medical cannabis.

Chile's government is militarizing its drug war.

/ ADVOCACY

The Republican Party of Kentucky tweeted, "Now we've got the most educated man to have ever served Kentucky, @RyanQuarlesKY! His work on hemp and to promote our #KentuckyProud agriculture industry has helped make Kentucky great and it's time we send him back to Frankfort as our Agriculture Commissioner."

The Possible Plan, a new nonprofit focused on inclusion in the marijuana industry, ran an ad in the the New York Times Magazine's special issue on slavery.

Idahoans for Healthy Kids and Communities formed to oppose a proposed medical cannabis ballot measure in the state.

/ SCIENCE & HEALTH

A study of youth substance abuse treatment found that "[juvenile justice system] referrals' retention rates were significantly higher than those of non-JJS referrals at the end of Phase I (i.e. week 7)" but that "there was no difference in abstinence rates between the groups at the end of phase I or II and any of the quarterly additional follow-up assessments up to one year from treatment onset."

A study found that "pediatric cannabis exposure cases increased in Massachusetts after medical marijuana was legalized in 2012, despite using childproof packaging and warning labels."

A study concluded that "recipes for cannabis edibles are easily accessible through Pinterest" but that "information about dosage, serving size, health effects, and responsible usage are all but absent."

/ OPINION & ANALYSIS

A poll found that New Zealand adults oppose legalizing marijuana, 39%-47%.

/ BUSINESS

CannTrust Holdings Inc. announced that the Ontario Securities Commission approved its request for a management cease trade order.

A half ton of marijuana produced by Sundial Growers Inc. was reportedly returned by Zenabis Global Inc. because it contained visible mold, parts of rubber gloves and other non-cannabis material.

Legal Sea Foods launched a new marijuana-themed ad campaign.

Facebook has been suspending Ohio medical cannabis pages.

/ CULTURE

Netflix is being criticized for continuing to depict marijuana consumption in its programming even as it has pledged to cut back on showing cigarette smoking.

The World Boxing Council is partnering with Craft 1861 to create a CBD wellness protocol.
Make sure to subscribe to get Marijuana Moment's daily dispatch in your inbox.
Feds announce cannabis research priorities (Newsletter: August 16, 2019)
Women lawmakers' marijuana conference; GOP senator talks up medical cannabis but hasn't sponsored bills; Majority legalization support in another poll
Subscribe to receive Marijuana Moment's newsletter in your inbox every weekday morning. It's the best way to make sure you know which cannabis stories are shaping the day.
Your support makes Marijuana Moment possible…

By starting a $10 per month pledge on Patreon—or about 45 cents per issue of this newsletter—you can help us rely less on ads to cover our expenses, hire more journalists and bring you even more marijuana news.
https://www.patreon.com/marijuanamoment

/ TOP THINGS TO KNOW

The National Institute on Drug Abuse's new marijuana research priority list seems to indicate an acceptance that legalization is happening and will continue. Among other areas, the federal government wants to fund studies of differences in regulations, industry marketing and reasons for medical cannabis use.

Sen. Mike Braun (R-IN) keeps saying good things about medical cannabis, but he hasn't put his name on a single marijuana bill since joining Congress.
"When it comes to medical marijuana, there are too many good reasons why you need to start making that legal for that purpose."
Women lawmakers from across the U.S. are holding a marijuana policy summit and touring a cannabis dispensary in Denver this week. Topics of discussion include CBD, licensing, potency, revenue, health and safety.

/ FEDERAL

The White House Office of Management and Budget is reviewing a proposed Department of Labor rule that would allow states to drug test people who file claims for unemployment benefits.

The U.S. attorney for the Northern District of Florida said his office will continue prosecuting marijuana cases even as a number of local prosecutors are putting cannabis enforcement on hold in light of the state's hemp law.

Former Surgeon General Richard Carmona said the Food and Drug Administration is "struggling" with CBD regulations.

A number of Republican senators are reportedly reluctant to move marijuana banking legislation prior to their primary elections next year.

/ STATES

California's treasurer tweeted, "California now has the biggest legal cannabis market in the world but an est $8.7B is spent in our illegal market due to high taxes and a refusal by most cities to allow licensed shops, making it cheaper and easier for people to buy from illicit dealers." Separately, the top marijuana advisor to Gov. Gavin Newsom (D) spoke about ongoing efforts to implement legalization.

Montana Democratic attorney general candidate Kimberly Dudik tweeted, "Best practices in the marijuana industry & maintaining community safety is a priority for me as MT AG. I am attending a policy summit on the evolution of state marijuana policy for the next day to discuss best practices, inc the SAFE Banking Act."

Missouri regulators extended the deadline for medical cannabis business license applications by two days.

Illinois regulators are displaying hemp plants at the State Fair.

Florida's Agriculture Department tweeted, "With 25,000+ uses, #hemp is an incredible alternative & supplemental crop, which will strengthen Florida agriculture & our state economy. We're working hard to create a program which will allow anyone interested to get involved in the new green economy."

Washington State regulators announced a delay in releasing draft conceptual marijuana penalty rules.

The Maryland legislature's Marijuana Legalization Workgroup will meet on Monday.

Michigan regulators filed emergency hemp testing rules. Separately, they released a marijuana licensing report.

—
Marijuana Moment is already tracking more than 1,000 cannabis bills in state legislatures and Congress this year. Patreon supporters pledging at least $25/month get access to our interactive maps, charts and hearing calendar so they don't miss any developments.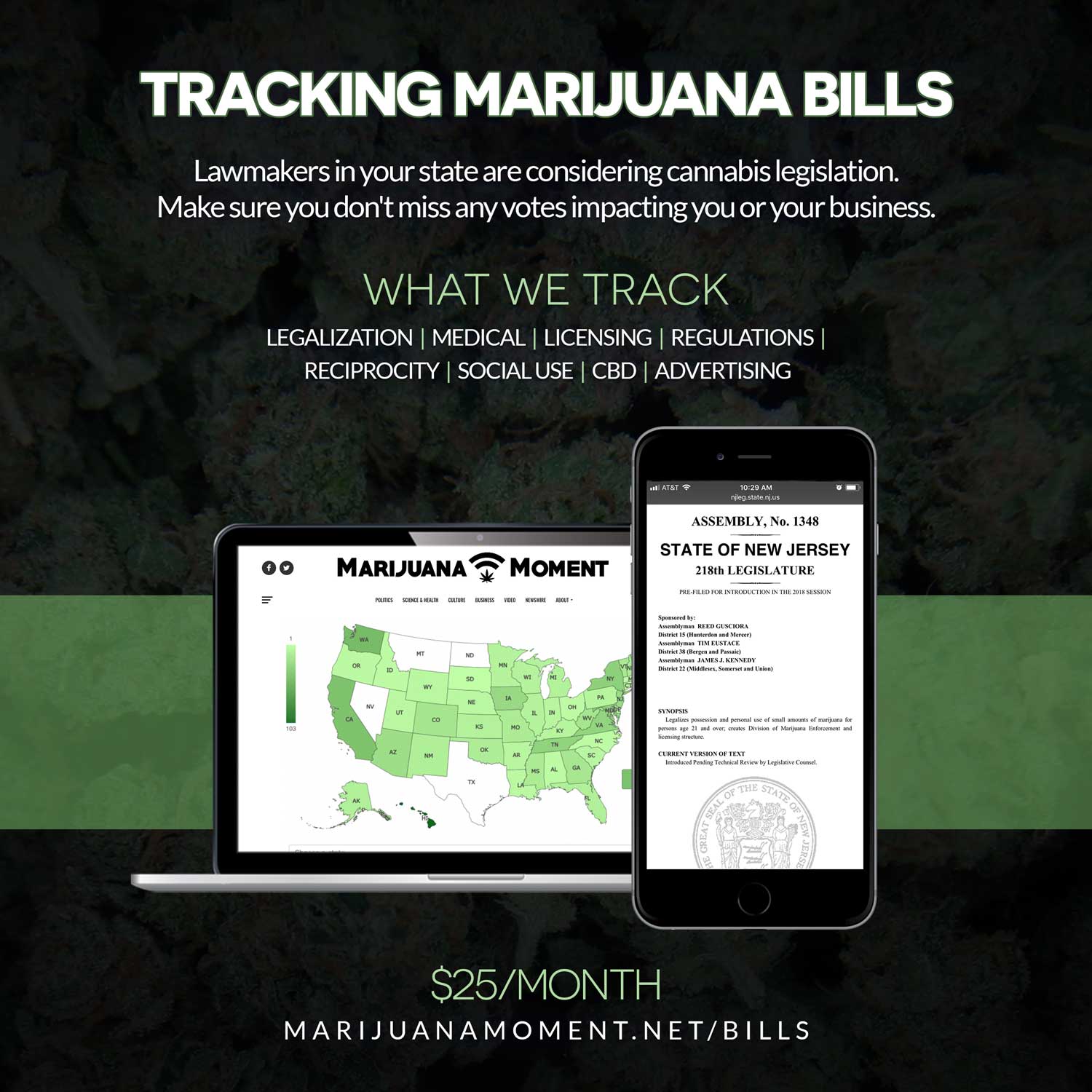 Learn more about our marijuana bill tracker and become a supporter on Patreon to get access.
—
/ LOCAL

The Fairbanks, Alaska City Council approved the city's first on-site marijuana consumption application for a dispensary.

Athens-Clarke County, Georgia police won't carry out marijuana possession arrests in light of confusion caused by the state's hemp law.

The Santa Barbara County, California Board of Supervisors agreed to use marijuana tax revenue to fund libraries.

The Grafton, Massachusetts Board of Selectmen approved a host community agreement with a marijuana dispensary one day after the business's president resigned as chairman of the government body.

/ INTERNATIONAL

Jamaica's minister of industry, commerce, agriculture and fisheries said that import and export regulations for marijuana will be issued soon.

The Canadian government reported that 42% of cannabis consumers purchase at least some of their marijuana from illegal sources.

/ SCIENCE & HEALTH

A survey found that "cancer patients from both legalized and nonlegalized states supported legalization of marijuana for medical purposes and believed in its medical use."

A study concluded that "negative relationships found between adolescent marijuana use and adult educational attainment for each marijuana use measure and for each age group were fully explained by other factors, with one exception: among adolescents aged 12-13 years, those who used marijuana frequently were less likely to attain a high school diploma/GED than those who did not use marijuana frequently."

A study seeking to "investigate the safety and efficacy of psilocybin in persons with chronic anorexia nervosa" will soon be recruiting participants.

/ OPINION & ANALYSIS

A poll found that 63% of Americans support legalizing marijuana and that 23% said they or someone in their home had consumed cannabis within the past six months.

/ BUSINESS

Canopy Growth Corp. said it is working to bring CBD products to the U.S. by the end of the fiscal year.

Aurora Cannabis Inc. increased the size of a secured credit facility to C$360 million from C$200 million.

/ CULTURE

UFC fighter Nate Diaz appeared to smoke marijuana on stage at an open workout event.

Musician Gene Simmons abdicated his role as chief evangelist officer of Invictus.

Former football player Boomer Esiason suggested that the NFL would have to give up marijuana testing to get players to agree to an expanded season.

Family Feud had a question about what kind of businesses are booming in states where marijuana is legal.
Make sure to subscribe to get Marijuana Moment's daily dispatch in your inbox.
Federal agencies reply to hemp banking request from senator (Newsletter: August 15, 2019)
McConnell pens hemp legalization update; POTUS candidate Andrew Yang on marijuana; Former congressman touts longtime legal cannabis support
Subscribe to receive Marijuana Moment's newsletter in your inbox every weekday morning. It's the best way to make sure you know which cannabis stories are shaping the day.
Your support makes Marijuana Moment possible…

There are now 1,170 cannabis-related bills moving through state legislatures and Congress for 2019 sessions.

Never let a marijuana bill catch you by surprise with exclusive access to Marijuana Moment's custom-built cannabis legislation tracker for just $25/month.
Rob Arnold: "These are exciting times, with the era of cannabis prohibition coming to an end. Marijuana Moment helps me stay on top of the issues so that I can do my part to end prohibition by calling politicians with accurate and leading edge information."
https://www.patreon.com/marijuanamoment

/ TOP THINGS TO KNOW

The heads of five federal financial regulatory agencies responded to a letter from Sen. Michael Bennet (D-CO), a presidential candidate, seeking guidance on banking access for hemp businesses. The letters were shared with Marijuana Moment exclusively.
The chair of one body clarified that federal reporting guidelines in place for institutions that work with marijuana businesses no longer apply to hemp companies and said she has "personally discussed the changes during banker outreach meetings both in Washington, D.C. and across the country."
Senate Majority Leader Mitch McConnell (R-KY) gave an update on hemp legalization progress in an op-ed.
"Whatever obstacles Kentucky hemp farmers, processors and manufacturers might encounter as they try to take full advantage of this hemp revolution, I'll be there to help in any way I can."
Marijuana Moment's latest presidential candidate overview takes a comprehensive look at where 2020 contender Andrew Yang stands on cannabis and drug policy reform. Beyond legalizing marijuana, he backs decriminalizing opioids and says he will high-five people he pardons as they leave prison.

Former Rep. Barney Frank (D-MA), who for many years was one of the only lawmakers to push marijuana reform on Capitol Hill, showed up at a Massachusetts cannabis regulatory meeting and touted a state legalization bill he filed back in 1972.
"I am getting old, but at least one thing that I have found improves with age and that is the pleasure of getting to say 'I told you so.'"
/ FEDERAL

The U.S. Preventive Services Task Force recommended that physicians "should screen all adults for illicit drug use."

The National Highway Traffic Safety Administration launched a new anti-impaired driving ad campaign titled, "If You Feel Different, You Drive Different."

Sen. Elizabeth Warren (D-MA), a presidential candidate, suggested she would repeal the 1994 Crime Bill.

South Bend, Indiana Mayor Pete Buttigieg (D), a presidential candidate, spoke about his support for legalizing marijuana and ending incarceration for drug possession.

Former Massachusetts Gov. Bill Weld (R), a presidential candidate, discussed CBD's role in treating cancer.

Sen. Jerry Moran (R-KS) compared Marijuana Policy Project lobbyist Don Murphy to "gum on one shoe" because of his constant presence on Capitol Hill.

/ STATES

New Mexico Gov. Michelle Lujan Grisham (D) intervened in a court case concerning whether regulators must issue medical cannabis cards to out-of-state patients. Meanwhile, the state's marijuana legalization working group held its first meeting.

New Jersey's Senate president spoke about ongoing efforts to build support for a marijuana legalization bill as a backup plan for a ballot measure is considered. He also discussed his concerns about home cultivation and cannabis edibles.

Ohio's House speaker is critical of local moves to stop prosecuting marijuana cases in light of confusion caused by the state's hemp law. Separately, the Medical Marijuana Control Program's expert review committee rescinded a recommendation to add anxiety and autism spectrum disorders as medical cannabis qualifying conditions.

New York's Assembly speaker toured a hemp farm.

The Maryland Court of Appeals ruled that "the mere odor of marijuana coupled with possession of what is clearly less than ten grams of marijuana, absent other circumstances, does not grant officers probable cause to effectuate an arrest and conduct a search incident thereto."

A Nevada court held another hearing in an ongoing case challenging the state's marijuana business license awarding process.

Massachusetts regulators took public testimony on proposed rules allowing marijuana delivery services and social use areas. Separately, officials launched a public education campaign to deter impaired driving which includes ads that feature cannabis consumers discussing their experiences.

Utah regulators selected Akerna to run the state's seed-to-sale medical cannabis tracking system.

Iowa's second CBD medical cannabis manufacturer begins operations on Thursday.

Here's a look at the differences between competing bills to legalize marijuana in Washington, D.C.

—
Marijuana Moment is already tracking more than 1,000 cannabis bills in state legislatures and Congress this year. Patreon supporters pledging at least $25/month get access to our interactive maps, charts and hearing calendar so they don't miss any developments.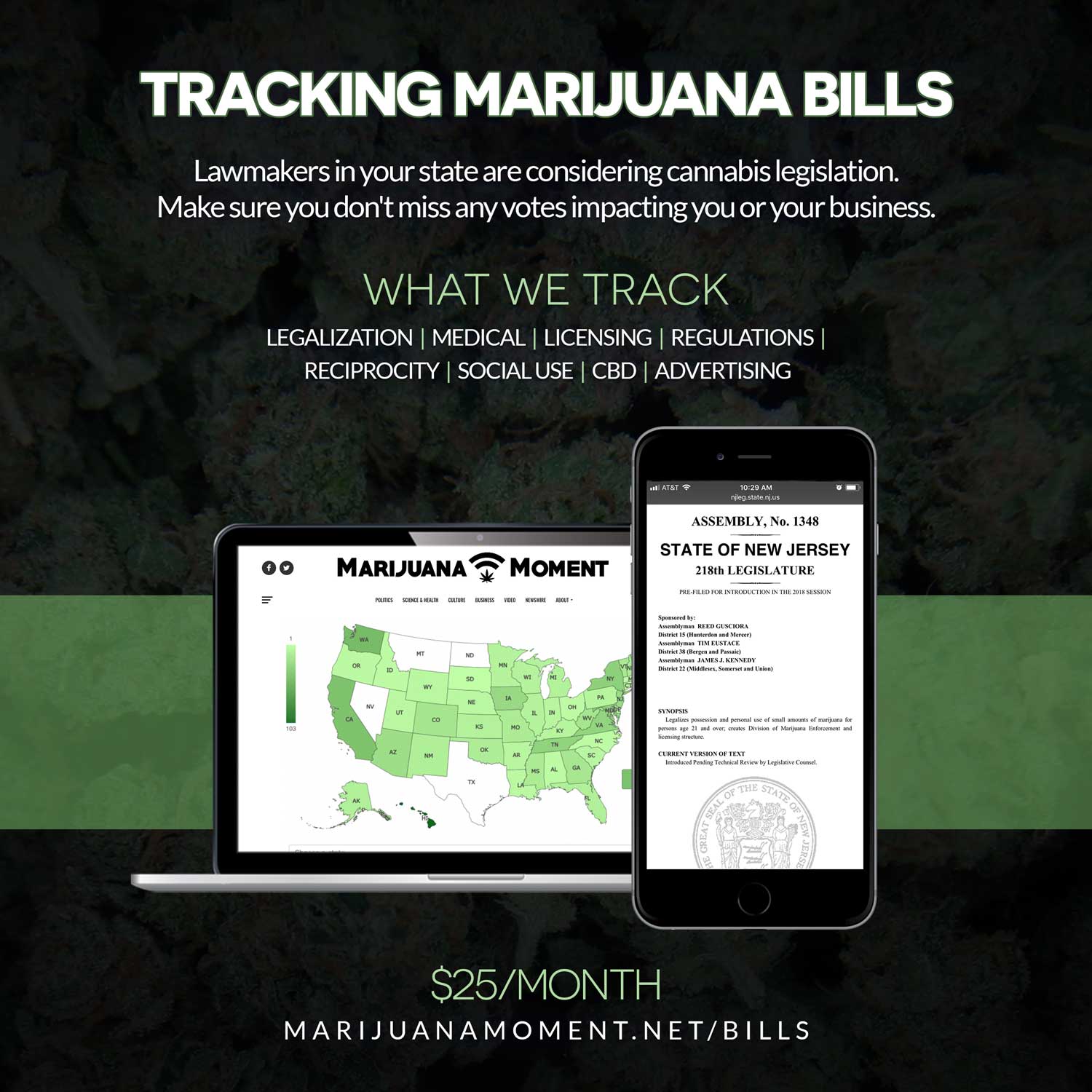 Learn more about our marijuana bill tracker and become a supporter on Patreon to get access.
—
/ LOCAL

Several Philadelphia, Pennsylvania police officers were shot following a narcotics enforcement action.

The Somerville, Massachusetts mayor plans to open a safe consumption facility for illegal drugs next year.

The DeKalb County, Georgia solicitor-general is dismissing low-level marijuana cases in light of confusion in light of the state's new hemp law.

The Richmond County, Georgia state solicitor is putting misdemeanor marijuana possession cases on hold while hemp testing issues are worked out.

The Little Rock, Arkansas City Board is expected to vote next week on a proposal to make marijuana the lowest law enforcement priority.

/ INTERNATIONAL

Mexico's Supreme Court ruled that regulators have 180 days to issue medical cannabis rules.

/ SCIENCE & HEALTH

A study found that "people seeking advice online about dabbing inquired most often about logistics of use, but less often about health, tolerance, and legal risks."

A review suggested that "cannabis-only smoking is associated with changes in vocal fold appearance, respiratory symptoms, and negative lung function changes, especially in heavy smokers."

/ OPINION & ANALYSIS

A survey found that Hispanic Americans are more likely than the general U.S. population to be involved in promoting the legalization of cannabis, and are more interested in the wellness and leisure uses of marijuana and CBD products.

/ BUSINESS

Canopy Growth Corporation reported a 250% increase in quarterly revenue from a year ago but also a $1.2 billion loss.

Facebook asked an Oklahoma judge for more time to respond to a lawsuit alleging the site is illegally discriminating against medical cannabis businesses.

Silver Spike Capital raised $250 million for a marijuana-focused investment firm.

Eaze is reportedly seeking to raise $50 million to $75 million in a new funding round.

Several marijuana companies were included in the Inc. 5,000 rankings.

/ CULTURE

Football player Bryan Cox Jr. was cited for possession of marijuana and paraphernalia.

Singer Toni Braxton tweeted about a CBD billboard in Times Square.

Actor Dean Cain tweeted that the National Football League "NOT be testing for marijuana- it's NOT performance-enhancing."
Make sure to subscribe to get Marijuana Moment's daily dispatch in your inbox.
Photo courtesy of Chris Wallis // Side Pocket Images.