House GOP blocks another cannabis vote (Newsletter: April 19, 2018)
L.A. considers consumption lounges; AAA offers free 4/20 rides; Dan Savage launches marijuana film fest
Subscribe to receive Marijuana Moment's newsletter in your inbox every weekday morning. It's the best way to make sure you know which cannabis stories are shaping the day.
Your support makes Marijuana Moment possible…

12.
That's the number of new Patreon supporters I'm aiming to sign up this week to fund Marijuana Moment's expansion. The plan is to essentially double the amount of cannabis advocacy journalism we're already putting out every day, meaning that more of the dozens of important policy and business developments that happen every week will get the coverage and context they deserve.
Can you be a part of making that happen?
Many thanks to Hal Broker for becoming one of the latest readers to start a monthly pledge to help us reach the goal of 250 so that Marijuana Moment can begin hiring freelance reporters.
http://patreon.com/marijuanamoment

/ TOP THINGS TO KNOW

The U.S. House Rules Committee blocked a vote on another marijuana amendment, this one a measure to remove the 280E tax penalty on cannabis businesses.

Maine lawmakers sent a bill significantly expanding the state's medical cannabis program to Gov. Paul LePage (R).

/ FEDERAL

The White House is getting behind prison reform legislation.

Politico looks at how former Congressman Patrick Kennedy (D-RI), a co-founder of prohibitionist group Smart Approaches to Marijuana, makes money working with pharmaceutical companies.

Congressman Denny Heck (D-WA) is encouraging people to submit marijuana rescheduling comments to the U.S. Food and Drug Administration.

Congressman Tom Garrett (R-VA) said his marijuana descheduling bill, if allowed a floor vote, would pass "with a bipartisan majority – that's probably close to 300 out of 435 votes."

Congressman Tim Walz (D-MN) tweeted about growing bipartisan support for medical cannabis research.

Congressman Ro Khanna (D-CA) tweeted, "A recent study shows a 14% reduction in opioid prescriptions in states that allow medical marijuana. This is yet another reason for more lax marijuana laws — to treat the opioid epidemic and save lives."

Congressman Lacy Clay (D-MO) announced he is cosponsoring the Marijuana Justice Act.

Here's a look at U.S. Senate Majority Leader Mitch McConnell's (R-KY) effort to expedite consideration of his hemp legalization bill.

The U.S. House bill to encourage research on medical cannabis for veterans got 32 new cosponsors, for a total of 34.

The U.S. House bill to deschedule marijuana and withhold funding from states with discriminatory enforcement got one new cosponsor, for a total of 27.

Nevada Democratic congressional candidate Amy Vilela tweeted, "Taking Trump at his word on #cannabis legal states, particularly given the comments of his Attorney General, is a mistake. The administration should defer to the states, but we must continue to press for an end to federal cannabis #prohibition."

New Hampshire Democratic congressional candidate Terence O'Rourke said, ""Every dollar we're spending chasing marijuana is a dollar we could be spending chasing the fat cats on Wall Street,"

(In yesterday's Marijuana Moment I included the wrong link for an item about Congressman Dana Rohrabacher (R-CA) saying Congressman Kevin McCarthy (R-CA), who is expected to run for the top GOP House spot following the retirement of Speaker Paul Ryan (R-WI), would be an improvement for marijuana policy. The correct link is here.)

/ STATES

Arizona Gov. Doug Ducey (R) is working with the medical cannabis industry on reforms to the state's program, including lower patient fees.

Oklahoma lawmakers sent a hemp bill to the desk of Gov. Mary Fallin (R).

The Alaska Senate passed a resolution urging the federal government to respect state marijuana laws.

The Illinois House of Representatives approved a bill to allow medical cannabis administration at schools.

The California Senate Banking and Financial Institutions Committee approved a bill to license banks to serve the marijuana industry. And the Assembly Business and Professions Committee passed several cannabis reform bills.

Colorado's Senate Judiciary Committee defeated a bill to allow marijuana delivery pilot projects.

Hawaii's industrial hemp pilot program will start accepting applications for licenses.

Pennsylvania Gov. Tom Wolf (D) tweeted a video about two twin girls who use medical cannabis to treat autism spectrum disorders.

Florida Democratic gubernatorial candidates discussed marijuana legalization during a debate.

New York Democratic gubernatorial candidate Cynthia Nixon discussed her support for marijuana legalization, revealing that she's only consumed cannabis twice.

Ohio Democratic gubernatorial candidate Joe Schiavoni, currently a state senator, tweeted about his support for legalizing marijuana.

Colorado Democratic gubernatorial candidate Jared Polis, currently a congressman, tweeted about the economic benefits of marijuana legalization.

Here's a look at where Tennessee Republican gubernatorial candidates stand on medical cannabis.

Massachusetts's top marijuana regulator spoke about the need to protect medical cannabis supply.

Delaware lawmakers filed legislation to add glaucoma, chronic debilitating migraines, pediatric autism spectrum disorder and pediatric sensory processing disorder as medical cannabis qualifying conditions.

A New York senator introduced a bill to allow administration of medical cannabis at schools.

Connecticut regulators received 73 applications to open new medical cannabis dispensaries.

Puerto Rico officials are projecting that medical cannabis taxes will generate $14 million per year.

Louisiana regulators awarded more medical cannabis pharmacy licenses.

Washington State regulators proposed rules on cannabis vapor products and retail title certificates.

/ LOCAL

Los Angeles, California's top marijuana regulator said the city is considering allowing consumption lounges.

/ INTERNATIONAL

UK Prime Minister Theresa May faced a question about granting medical cannabis access to a six-year-old boy suffering from severe epilepsy.

Canada's health minister dismissed a resolution calling for decriminalization of all drugs ahead of a Saturday vote at the Liberal Party conference. Meanwhile, racial disparities persist in the country's marijuana arrest rates.

The European Parliament adopted a resolution condemning the bloody Philippine "drug war."

Belgian police seized CBD from a nine-year-old who uses it to treat seizures.

/ ADVOCACY

Trump ally Roger Stone co-authored an op-ed calling for increased access to medical cannabis for military veterans.

Prohibitionist group Marijuana Accountability Coalition is asking people who feel that have been victimized by legalization to submit their stories, which will be used at a "national 4/20 event in Washington, D.C. with Smart Approaches to Marijuana and Patrick Kennedy."

/ SCIENCE & HEALTH

A review concluded that "associations between cannabis use and cognitive functioning in cross-sectional studies of adolescents and young adults are small and may be of questionable clinical importance for most individuals" and that "previous studies of cannabis in youth may have overstated the magnitude and persistence of cognitive deficits associated with use."

/ OPINION & ANALYSIS

The Seattle Times editorial board is skeptical of President Trump's pledge to respect state marijuana laws.

/ BUSINESS  

AAA is offering free "tipsy tow" rides on 4/20 in California and Nevada.

Marijuana delivery service Eaze is expanding into Los Angeles, California.

The CEO of GW Pharmaceuticals spoke about the looming approval of the company's CBD drug.

/ CULTURE     

Dan Savage is launching a new marijuana film festival for next year's 4/20, with events in Denver, San Francisco, Seattle and Portland.

Actor Matthew Modine called on U.S. Attorney General Jeff Sessions to support marijuana law reform, adding that he uses CBD oil for neck pain.

CNN's Dr. Sanjay Gupta is rolling out part four of his continuing "WEED" series this weekend.
Make sure to subscribe to get Marijuana Moment's daily dispatch in your inbox.
DE legal cannabis vote delayed (Newsletter: June 11, 2021)
WY marijuana ballot measures; RI speaker: cannabis could pass in summer; Congress advances bill study dispensary products; VA legalization site
Subscribe to receive Marijuana Moment's newsletter in your inbox every weekday morning. It's the best way to make sure you know which cannabis stories are shaping the day.
Your support makes Marijuana Moment possible…
Looking for more cannabis news and resources? If you support our reporting with a monthly donation of $25 or more, we'll give you access to our Cannabis Bill Tracker, exclusive material from our interviews and more.

Don't miss out – join us at https://www.patreon.com/marijuanamoment

/ TOP THINGS TO KNOW

A planned Delaware House of Representatives vote on a marijuana legalization bill was postponed as the sponsor works to build support with various amendments. Several of his floated changes would scale back equity provisions.

Rhode Island's House speaker says marijuana legalization won't be in the budget but that lawmakers may reconvene in the summer or fall to tackle the issue after details from three separate cannabis plans are reconciled. Gov. Dan McKee (D) also says he "wouldn't be surprised" to see the bills move forward later this year.

Wyoming voters may get the chance to decide on two marijuana ballot initiatives in 2022. The Libertarian Party plans to file the measures—one on medical cannabis and the other on decriminalization—with the secretary of state on Friday.

The House Transportation and Infrastructure Committee approved legislation to let scientists study the actual marijuana that consumers are purchasing from dispensaries instead of researching only government-produced cannabis. It now heads to the House floor.

Virginia regulators launched a new website to educate people about what's allowed—and what's not—under the state's new marijuana legalization law taking effect on July 1.

/ FEDERAL

The White House Office of National Drug Control Policy touted the reduction of poppy cultivation and potential heroin production in Mexico for the third consecutive year.

Sen. Bernie Sanders (I-VT) asked a Politico cannabis reporter if she was stoned during an interview.

Sen. Dan Sullivan (R-AK) said he supports some federal marijuana policy reforms but not ending prohibition altogether.

Rep. Glenn Grothman (R-WI) asked a question during a House hearing about whether the legalization of marijuana is causing cartels to smuggle other drugs.

Rep. Mike Simpson (R-ID) wrote about his opposition to legalizing marijuana in a constituent letter.

/ STATES

Colorado Gov. Jared Polis (D) dodged a question about whether he would sign a bill to enact cannabis restrictions that's on his desk. Separately, regulators sent a bulletin about the Friday expiration of policies enacted during the coronavirus pandemic, including the allowance of remote sales transactions and suspension of fingerprinting for license renewal applications. They also sent a bulletin warning about fraud against marijuana businesses.

New York lawmakers are likely to delay the appointment of members to the new cannabis regulatory body, though a former assemblyman is reportedly likely to be named chairman.

A Pennsylvania appeals court ruled that a man who was fired after failing a drug test due to medical cannabis use can receive unemployment benefits.

The Washington State Social Equity in Cannabis Task Force's Disproportionately Impacted Communities Workgroup will meet on Wednesday.

Michigan regulators will host a marijuana social equity education and outreach session on Thursday.

—
Marijuana Moment is already tracking more than 1,100 cannabis, psychedelics and drug policy bills in state legislatures and Congress this year. Patreon supporters pledging at least $25/month get access to our interactive maps, charts and hearing calendar so they don't miss any developments.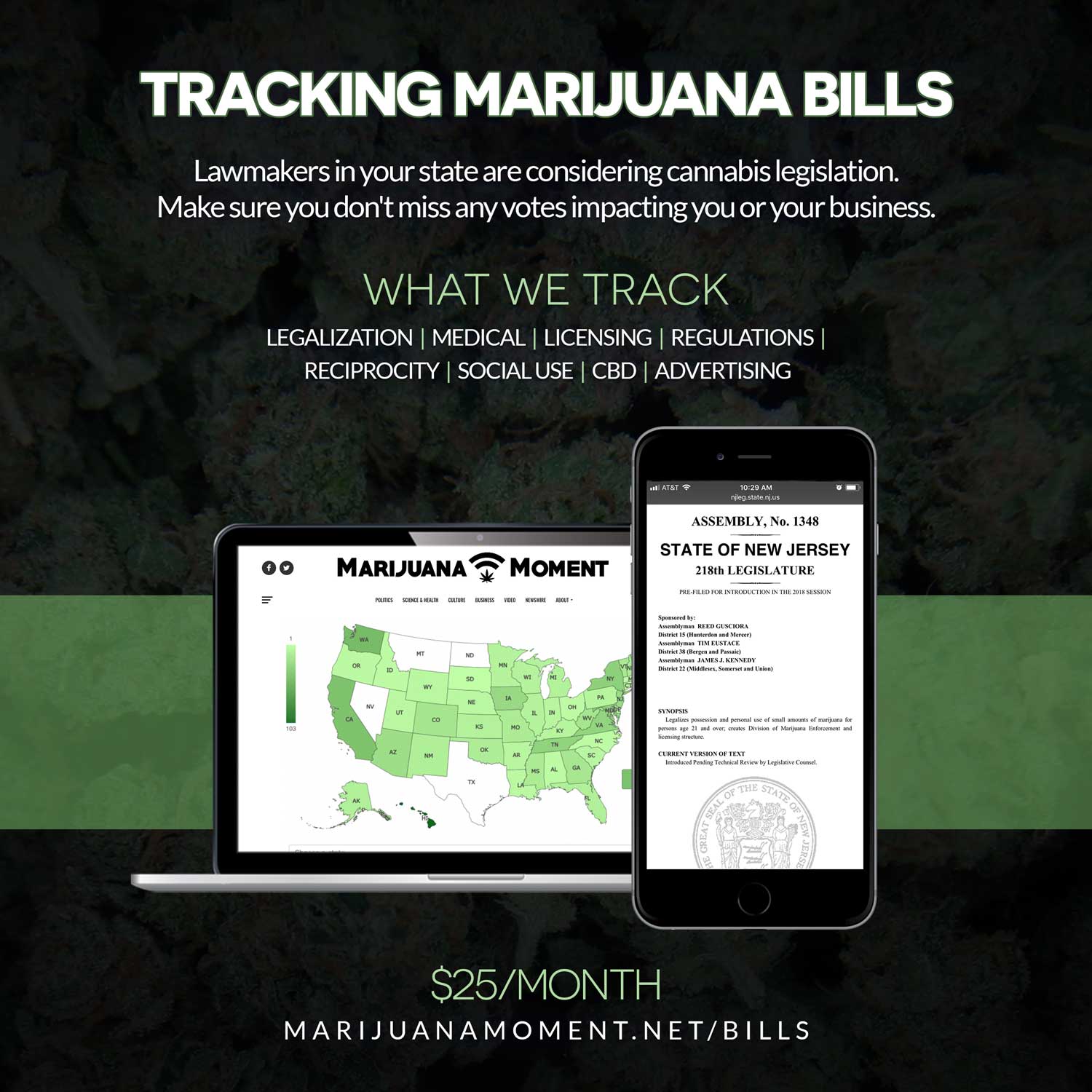 Learn more about our marijuana bill tracker and become a supporter on Patreon to get access.
—
/ LOCAL

New York City Democratic mayoral candidates debated restrictions on where marijuana can be smoked.

The Gwinnett County, Georgia Police Citizens Advisory Board is finalizing a recommendation in support of decriminalizing marijuana.

A Polk County, Iowa attorney candidate said resources should be redirected to violent crime and sexual assault by shifting focus away from prosecuting non-violent low level misdemeanors like marijuana possession.

/ INTERNATIONAL

Spain's Congress approved the creation of a subcommittee to examine medical cannabis issues.

/ SCIENCE & HEALTH

A study concluded that "patients find cannabis treatment effective for a broad range of medical conditions."

A review concluded there are a "rising number of publications with substantial results on the valuable therapeutic innovation of CBD for treating" substance use disorders.

/ ADVOCACY, OPINION & ANALYSIS

The Drug Policy Alliance hired a lobbying firm to help pressure Congress to remove the ban on Washington, D.C. spending its own money to legalize marijuana sales.

AMVETS is hosting a forum about the benefits of medical cannabis for military veterans on June 27.

/ BUSINESS

Columbia Care Inc. launched an online cannabis discovery tool that suggests curated products depending on desired mood and experience, and syncs with local dispensaries inventories and pricing to enable online orders.

Harborside Inc. settled a lawsuit brought by a former employee for approximately $1.5 million.

CURE Pharmaceutical Holding Corp. and Biopharmaceutical Research Company launched a partnership to produce cannabis-based medical products.

Terra Tech Corp. is acquiring SilverStreak Solutions Inc.

The Scotts Miracle-Gro Company's Hawthorne Gardening subsidiary announced that the first recipients of its social justice grant fund are Last Prisoner Project, Marijuana Policy Project Foundation, Minorities for Medical Marijuana and United Returning Citizens and NuLeaf Project.

Merida Capital Holdings is seeking to raise $250 million in funding.

Colorado retailers sold more than $206 million worth of marijuana in April.

/ CULTURE

Sarah Silverman spoke to Conan O'Brien about the time she smoothed over a traffic dispute by buying the other driver some marijuana.
Make sure to subscribe to get Marijuana Moment's daily dispatch in your inbox.
Photo courtesy of Kyle Jaeger.
CT legal cannabis vote pushed to special session (Newsletter: June 10, 2021)
Poll: US voters back drug decrim; New TX effort to put marijuana on local ballots; Cannabis prisoner says MORE Act falls short
Subscribe to receive Marijuana Moment's newsletter in your inbox every weekday morning. It's the best way to make sure you know which cannabis stories are shaping the day.
Your support makes Marijuana Moment possible…
They say a journalist is a machine that converts coffee into copy. But where do you think the coffee comes from? Readers like you!

Signing up for a $25/month subscription will help keep us digging, interviewing and reporting on all the cannabis news that's fit to print. And in return, you'll gain access to our Bill Tracker tool, too, so you can have the most up-to-date information on the drug policy reform efforts around the U.S.

Join Marijuana Moment for $25/month to support our work: https://www.patreon.com/marijuanamoment

/ TOP THINGS TO KNOW

Connecticut's House speaker decided to take up marijuana legalization in a special session in the coming days after Republicans threatened to run out the clock on debate until the end of the regular session at midnight on Wednesday.

A new poll from the ACLU and Drug Policy Alliance found that two-thirds of American voters support decriminalizing drugs. The survey is timed to coincide with the 50th anniversary of President Richard Nixon declaring the war on drugs.

The new organization Ground Game Texas is planning to put marijuana and other progressive issues on local ballots across the state after the Republican-controlled legislature blocked reform this session.

A man who received clemency from President Donald Trump says a pending federal marijuana legalization bill would leave many cannabis prisoners behind with its resentencing provisions. He's asking lawmakers for amendments.

/ FEDERAL

The Department of Energy is funding research and development projects, including one on hemp fiber insulation.

Rep. Eleanor Holmes Norton (D-DC) tweeted, "Thank you, @DrugPolicyOrg, for leading a letter urging Congress to remove the rider prohibiting DC from spending local funds on commercializing recreational marijuana. The letter was signed by 44 local, state + national justice reform, liberty + public health organizations."

/ STATES

Puerto Rico Gov. Pedro Pierluisi Urrutia (NPP) signed a bill preventing medical cannabis from being considered a violation of probation.

Colorado Gov. Jared Polis (D) issued a proclamation declaring Hemp Week, and a U.S. flag made out of hemp is flying over the state capitol.

Vermont Gov. Phil Scott (R) made an appointment to the Cannabis Control Board Advisory Committee.

Pennsylvania's lieutenant governor posted to Facebook about visiting a marijuana exhibition at the Philadelphia Flower Show.

Wyoming's attorney general is defending a police officer whom the state Supreme Court found lied on the stand during a case accusing hemp farmers of growing marijuana.

New Mexico Senate leadership said, in response to a complaint from the state's health secretary, that the body will not investigate a senator's involvement with a medical cannabis business.

The Delaware representative sponsoring a marijuana legalization bill up for a vote on Thursday says he is "uncertain" if it has enough support to pass.

The Alabama senator who sponsored a successful medical cannabis bill spoke about the implementation of the program.

Ohio regulators added Huntington's disease, terminal illness and spasticity as medical cannabis qualifying conditions.

Montana's top marijuana regulator said she hopes to release draft legalization implementation rules by September.

New Jersey officials discussed cannabis research with scientists from Israel.

Tennessee regulators sent a reminder about the need to renew hemp licenses.

Oklahoma regulators reported new medical cannabis tax revenue data.

/ LOCAL

The Sioux Falls, South Dakota City Council is moving to put medical cannabis business applications on hold until state officials issue regulations.

Denver, Colorado's official Twitter account posted, in response to a discussion about people's desire for a cannabis dispensary at the airport, "Come downtown! Denver's A-Train departs the airport on a regular basis.😉 It's federally illegal to transport marijuana in a plane. Thus, @DENAirport's policy on not allowing marijuana consumption or possession."

/ SCIENCE & HEALTH

A study found that "prolonged medical cannabis treatment is associated with quality of life improvement and reduction of analgesic medication consumption in chronic pain patients."

A study found that "drivers in states that legalized medical marijuana self-reported driving after marijuana use slightly more than drivers in states where both medical and recreational were illegal" but that "marijuana users in states that legalized [recreational marijuana] self-reported driving after marijuana use less than their counterparts [in states that haven't enacted legalization]" and that "no predominant pattern suggesting that those in states with liberal marijuana policies were more tolerant of driving after marijuana use."

/ ADVOCACY, OPINION & ANALYSIS

Students for Sensible Drug Policy chapters sent a letter calling on congressional leaders to vote on a federal marijuana legalization bill this month.

The National Cannabis Industry Association published an overview of the science, history and uses of medical cannabis.

/ BUSINESS

Freshly Baked made Massachusetts's first legal recreational marijuana delivery.

Jushi Holdings Inc. reported quarterly revenue of $32.3 million and a net loss of $156.7 million.

Goodness Growth Holdings, Inc's subsidiary Resurgent Biosciences is expanding its intellectual property development and clinical research efforts into psychedelic medicine.

HEXO Corp won dismissal of a shareholder class action lawsuit.

Mydecine Innovations Group said it has discovered more than 40 compounds with pharmacological potential in various species of mushrooms, including varieties of psilocybe cubensis.

Cresco Labs asked a federal judge to dismiss a breach of contract claim from a proposed class action lawsuit alleging it did not pay workers for the time spent putting on and taking off required personal protective equipment during the coronavirus pandemic.

Watco Companies is being sued by a former employee for allegedly improperly firing him over medical cannabis use.

Arkansas dispensaries have sold more than $330 million worth of medical cannabis since the program began.

/ CORRECTION

Wednesday's issue incorrectly reported Illinois' total year-to-date medical cannabis sales as the tally for May. The correct figure is $34.2 million.
Make sure to subscribe to get Marijuana Moment's daily dispatch in your inbox.
Photo courtesy of Chris Wallis // Side Pocket Images.
CT House has votes for legal cannabis bill (Newsletter: June 9, 2021)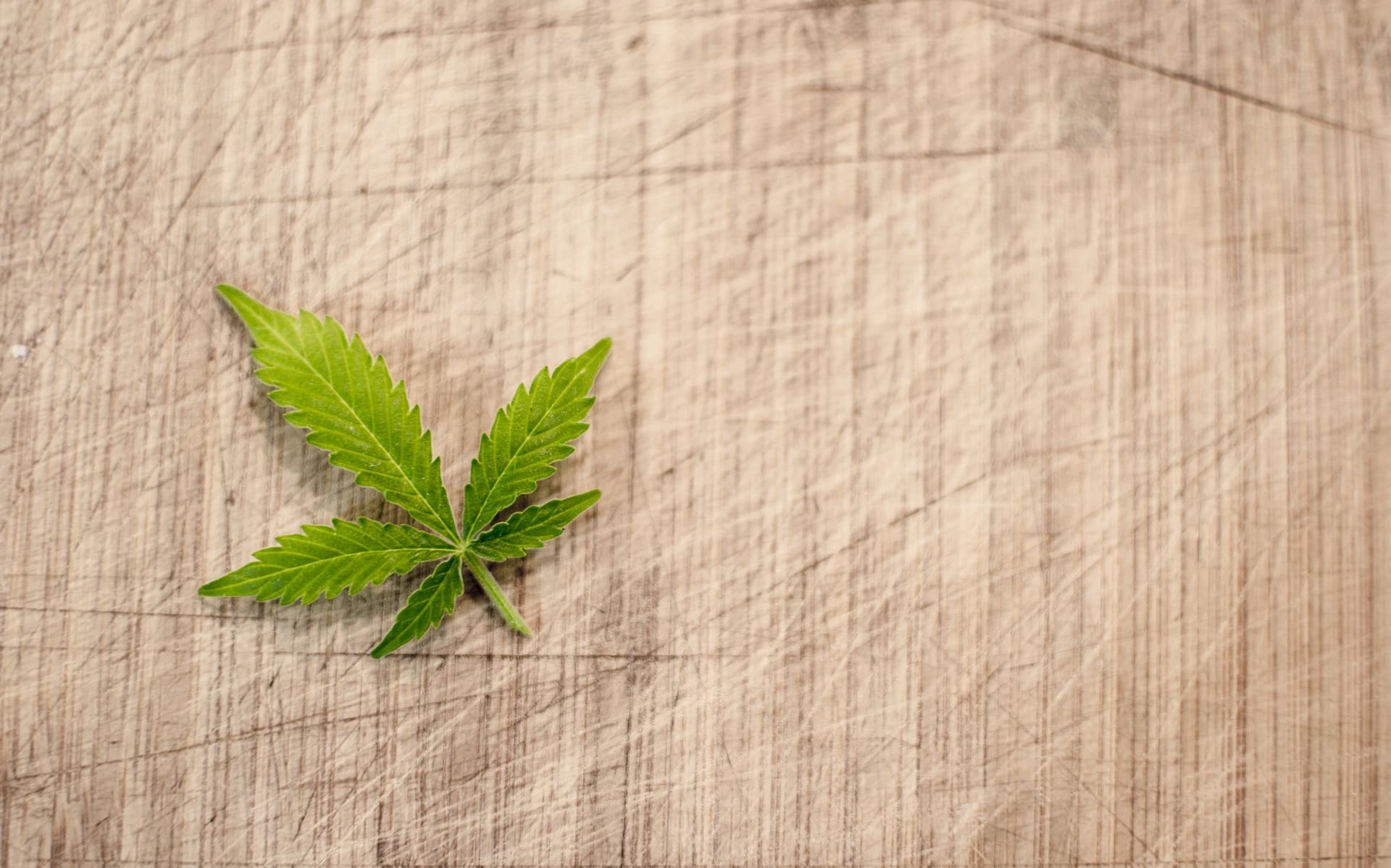 NFL funds marijuana research; CTT gov signs psilocybin bill; Seattle officials push psychedelics reform; Poll: MS voters back legalizing cannabis
Subscribe to receive Marijuana Moment's newsletter in your inbox every weekday morning. It's the best way to make sure you know which cannabis stories are shaping the day.
Your support makes Marijuana Moment possible…
Subscribers who value this daily dispatch enough to show their support with a few dollars help us keep doing this. Please chip in and help ensure Marijuana Moment's continued operations.
https://www.patreon.com/marijuanamoment

/ TOP THINGS TO KNOW

Connecticut Gov. Ned Lamont (D) signed a bill requiring the state to create a working group to "study the health benefits of psilocybin."

Connecticut's House majority leader said he has enough "solid yeses" to get a Senate-passed marijuana legalization bill to the governor's desk by Wednesday—but Republicans are saying it should be slowed down and moved to a special session.

The National Football League plans to award up to $1 million in funding to support research into cannabis, CBD and other alternatives to opioids for treating players' pain. A representative told Marijuana Moment that cannabis's Schedule I status is impeding science.

A majority of the Seattle, Washington City Council signed a letter urging an opioid task force to investigate the role of psychedelics in treating addiction and mental health issues. One lawmaker said he plans to file a lowest law enforcement priority measure soon.

A new poll found that a majority of Mississippi voters support legalizing recreational marijuana. Last month the state Supreme Court overturned a medical cannabis measure that passed overwhelmingly—and voters say it's the top issue that'll determine their votes for political candidates.

/ FEDERAL

Senate Majority Leader Chuck Schumer (D-NY) tweeted, "We must end the federal prohibition on marijuana while ensuring restorative justice for those harmed by the War on Drugs. I'm working with @SenBooker and @RonWyden on comprehensive marijuana reform legislation."

Rep. Ilhan Omar (D-MN) cited racial disparities in arrests for marijuana and other low-level crimes in a letter urging the Department of Justice to investigate several Minnesota law enforcement agencies.

Rep. Mike Garcia (R-CA) accompanied law enforcement on a raid of an illegal marijuana cultivation operation.

/ STATES

Delaware Gov. John Carney (D) said he thinks marijuana is a "bad thing" and refused to say whether he would sign a legalization bill that's up for a House vote this week. Meanwhile, the House speaker said he has concerns over the legislation and isn't sure if it will pass his chamber or not.

Arkansas Gov. Asa Hutchinson (R) authored an op-ed calling on Congress to end the sentencing disparity between crack and powder cocaine.

New Jersey Gov. Phil Murphy (D) said the state is not ready to join Washington in allowing the gifting of marijuana to people who get coronavirus vaccines.

Colorado lawmakers sent Gov. Jared Polis (D) a bill to enact limits on marijuana concentrates, place restrictions on medical cannabis recommendations and require the state to study the impacts of marijuana on certain health outcomes, among other changes.

The Louisiana House of Representatives rejected the Senate's changes to a bill that started out as taxing medical cannabis flower but evolved into a general sales tax extension.

The wife of the only Connecticut Republican senator to vote for a marijuana legalization bill works for cannabis company Curaleaf.

Nevada regulators will host a marijuana regulatory workshop on Tuesday.

—
Marijuana Moment is already tracking more than 1,100 cannabis, psychedelics and drug policy bills in state legislatures and Congress this year. Patreon supporters pledging at least $25/month get access to our interactive maps, charts and hearing calendar so they don't miss any developments.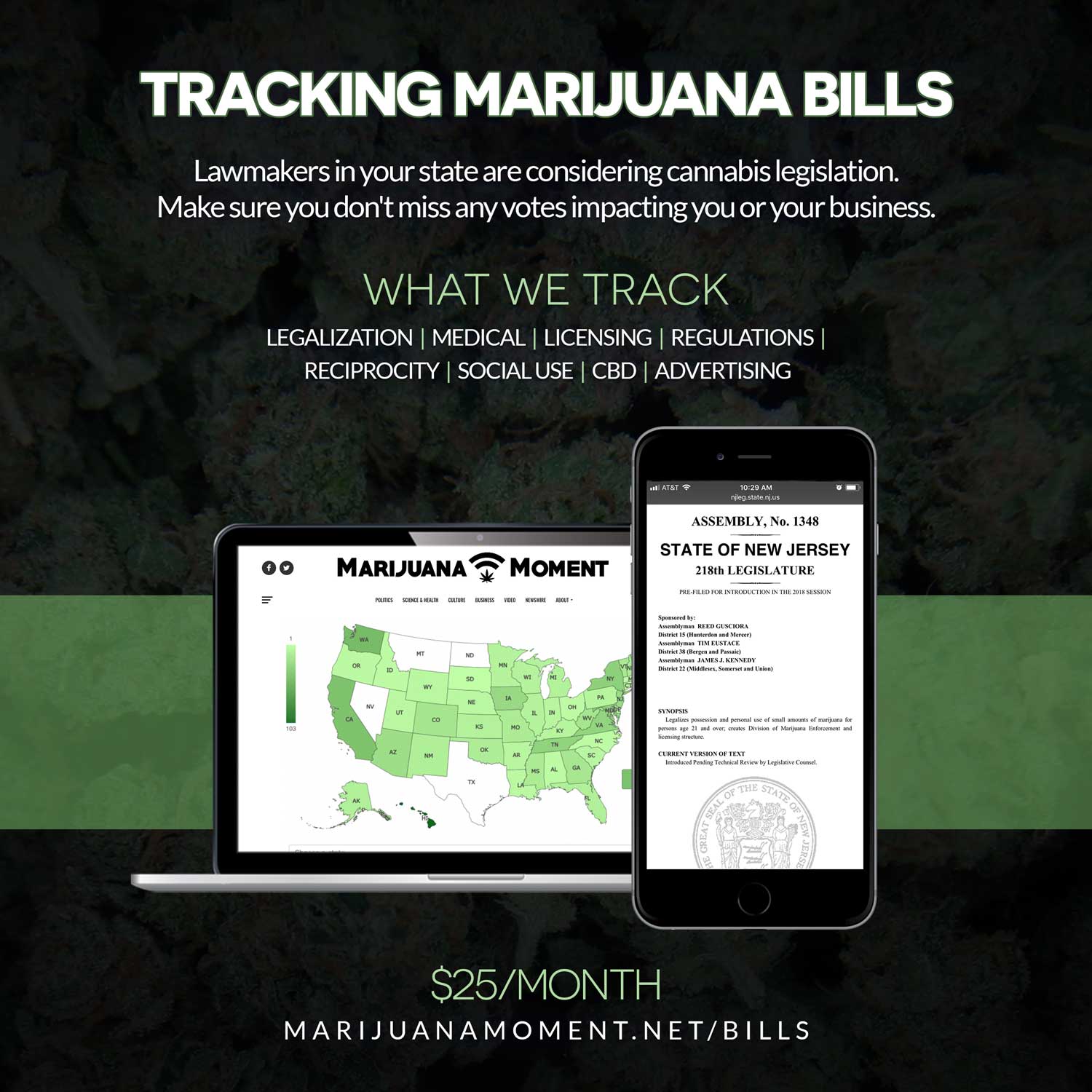 Learn more about our marijuana bill tracker and become a supporter on Patreon to get access.
—
/ LOCAL

Denver, Colorado regulators will host a marijuana rulemaking work group meeting on Thursday.

/ INTERNATIONAL

Morocco's House of Councilors passed a medical cannabis bill.

A Brazilian House committee approved a medical cannabis bill.

Canada's Privy Council Office included questions about drug decriminalization in polling and focus groups.

/ SCIENCE & HEALTH

A study found that "cannabidiol showed a promising therapeutic response in terms of ameliorating affect in a rat model of early-life stress during adolescence and up to adulthood."

A study concluded that "implementation of the Cannabis Act in Canada in 2018 appears to have been associated with decreases of 55%–65% in cannabis-related crimes among male and female youth."

/ ADVOCACY, OPINION & ANALYSIS

The Tennessee Democratic Party tweeted, "Good morning to everyone except Rep. Brandon Ogles (R) who wanted to amend the Tennessee state constitution to forever prohibit recreational marijuana. Recreational marijuana should be legal. Period."

AMVETS called for federal marijuana descheduling in testimony for a House Veterans' Affairs Committee hearing.

/ BUSINESS

Curaleaf Holdings, Inc. is partnering with Rolling Stone on a new line of marijuana products.

Vireo Health International, Inc. changed its name to Goodness Growth Holdings, Inc. and projected revenue in the range of $140 to $180 million in 2022.

Field Trip Health Ltd. applied to list on the NASDAQ Stock Market.

HEXO Corp announced a commitment to offset the carbon emissions of the company and its employees.

Tilray, Inc. launched a new brand called Symbios.

Innovative Industrial Properties, Inc. published an environmental, social and governance report.

Columbia Care Inc. appointed a new board member.

Maine retailers sold $5.4 million worth of recreational marijuana in May, a new record.

Illinois dispensaries sold $34.2 million worth of medical cannabis products in May.
Make sure to subscribe to get Marijuana Moment's daily dispatch in your inbox.