Dan Savage Launches New Marijuana Film Festival For 4/20
Columnist and podcaster Dan Savage already created a film festival focused on sex. Now he's rolling out an entirely new series of events focused on short movies about marijuana.
As part of the the SPLIFF Film Festival, simultaneous celebrations of cannabis cinematography will take place over 4/20 weekend next year in Denver, San Francisco, Seattle and Portland — all in states where marijuana is legal.
"The SPLIFF Film Festival is where filmmakers, artists, animators, and stoners share original film shorts exploring stoner themes," the fest's website says. "From serious takes on pot culture to stoner comedy to mind-blowing weirdness—they all have a home at SPLIFF. Creative types of all stripes entertain, challenge, and amaze SPLIFF audiences with short films that examine and/or celebrate recreational marijuana use and its liberating effects on our imaginations, appetites, libidos, and creative energies."
"At SPLIFF, you'll see films that will make you laugh, films that will make you think, and films that will make you ask, "What the fuck was that?!" SPLIFF is a film festival by stoners, for stoners."
Tickets go on sale this fall.
"Artists, filmmakers, and other creators are invited to make and submit short films—4:20 maximum length—for the first annual SPLIFF," the site says. "We're seeking films that explore the meaning, pleasures, and culture of recreational marijuana use. Trippy films, comedic shorts, quickie documentaries, parodies of anti-pot educational films (think Reefer Madness ridiculousness or D.A.R.E. scare tactics), mind fucks, pot-influenced journeys, films about pot as a pleasure and pot as a medicine—all these have a home at SPLIFF."
From the folks who brought you HUMP! Here's SPLIFF!https://t.co/5lf90mn3ao pic.twitter.com/VB0WUJYoA9

— Spliff Film Fest (@Spliff_filmfest) April 11, 2018
AVN first noted the festival's announcement, pegged to this year's 4/20.
Willie Nelson Wants To Smoke Marijuana With Trump And Putin
Everyone's favorite country singer and legendary stoner Willie Nelson says he'd be glad to smoke weed with Donald Trump, Vladimir Putin and Barack Obama.
The Red Headed Stranger made the revelations in an appearance on The Late Show With Stephen Colbert this week. The host showed Nelson celebrity photos in a rapid-fire fashion and the singer had to say if he'd toke up with them or not.
Nelson doesn't say no to consuming cannabis with a single person, including the former and current presidents. When shown a picture of Putin, Colbert asks if it would help international relations if Nelson shared a joint with him, to which he replies, "There's several people I'd like to see take a hit, so to speak."
When a picture of Donald Trump immediately follows, Nelson says, "Oh yeah. He needs one bad. That could be good for him."
And capping off the round is a photo of former president Barack Obama. Nelson laughs and says, "Yeah, I think he may have already been there a time or two." Now that he's out of office, wouldn't we all love to see the former Choom Gang leader go for a session in Willie's bus?
Absent from the lineup of celebrities was Colbert himself. Is the beard the real clue we need to know The Late Show host is jumping on the pot bandwagon?
Colbert left his desk and studio audience to speak to the singer from the inside of Nelson's famous bus, which wasn't (at the time) full of marijuana smoke. After asking about the bus's name and joking about other people with named vehicles, like Batman or The Pope, Colbert complimented the smell of the "air freshener" inside the bus, saying it was "relaxing."
"Is that lavender? Is that one of the flavors?" he joked, to which Nelson laughed and replied, "If it's not, it will be. The Colbert Lavender. We'll have it," most likely referring to his marijuana company Willie's Reserve.
Colbert asks about the history of Nelson's iconic braids, and then the conversation moves to his support for Beto O'Rourke, the Democratic U.S. Senate candidate from Texas. O'Rourke, as Marijuana Moment has previously reported, wants to end the federal prohibition of marijuana and create a legal, regulated system. Colbert brings up the recently viral photo of Nelson wearing a "Beto For Texas" shirt while giving the camera his upright middle finger, a la Johnny Cash.
The pair go on to cover Nelson's latest album, My Way, which is all Frank Sinatra covers. Colbert plays an old ad for the Space Foundation featuring Ol' Blue Eyes himself and Nelson joking around.
Nelson relays a story about an astronaut recently visiting the bus and telling the country legend, "You're the only I know that's been higher than me." Maybe Nelson is working his way to a smoke session with Elon Musk.
It's not Colbert's funniest segment, but not without some laughs—and certainly respecting, and playing to, Nelson's famous relationship with the plant.
Watch the full interview below:
Photo courtesy of CBS.
Marijuana Looks Like An Alien World Under An Electron Microscope
Have you ever seen marijuana?
No, have you ever seen it up close? Like, really up close?
Ted Kinsman has, and you won't believe his photos.
When viewed under an electron microscope, cannabis looks like an alien world.
"I like to think it's what a person would see if they were just a few microns tall, walking through these forests," Kinsman told Tech Insider in an interview published on Friday.
He included many of his pictures, which are artificially colorized, in his book, "Cannabis: Marijuana Under The Microscope," which was published in May.
Kinsman, who is a professor at the Rochester Institute of Technology, has also photographed psilocybin mushroom spores, bedbugs, spiders and even human brain cells.
Take a look at more photos and learn about Kinsman's techniques in the Tech Insider video below:
Photo courtesy of Ted Kinsman // Tech Insider.

Amsterdam's Marijuana Strategy Means Cops Don't Have Much To Do, Comedy Central Finds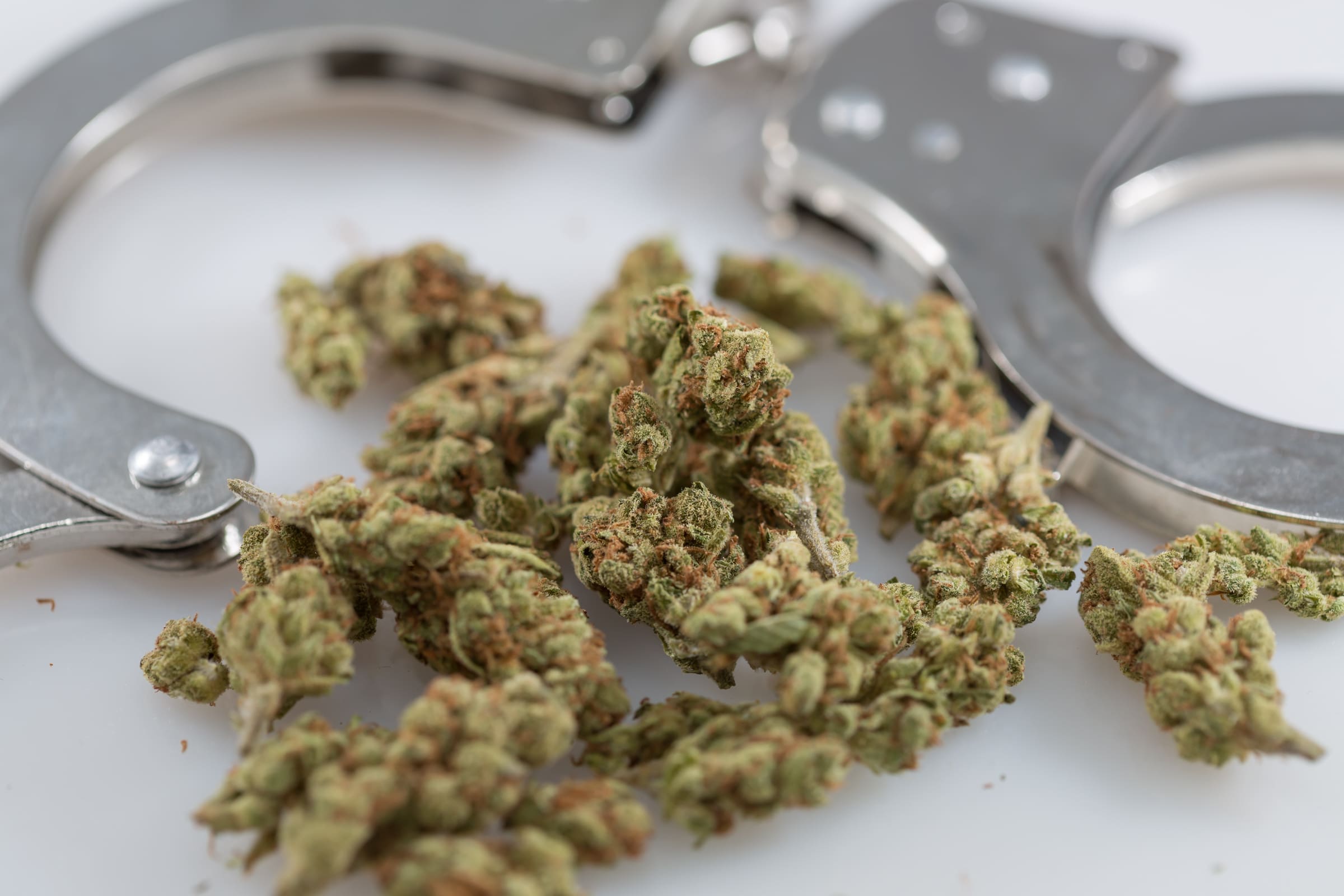 There aren't very many cities in the world where the police will politely wait for you to smoke a joint and then rejoin them while walking the streets, but Amsterdam isn't like many other cities.
Comedy Central's Jim Jeffries took his show to the Netherlands this week for an installment of "Jim's A Cop." In the hilarious segment, he rides and walks with two members of the city's police force while cracking jokes and poorly singing the COPS theme song for hours—all while getting exactly zero calls about active crimes.
Jeffries and the cops discuss the absurdly low crime rate in the city as well as one officer's love for the TV show Dexter. They pass through the famous Red Light District where Jeffries asks, "Why is everyone waving at us?" The cop replies, "They like us."
Jeffries asks if marijuana is legal to which both officers reply, "No." They go on to explain that the coffeeshops operate under what the Dutch call gedoogbeleid, which translates to a "policy of tolerance." It's this tolerance of drug use that contributes to Amsterdam's low crime rate—as well as Holland's moves to close prisons "because the country is so safe," Jeffries says.
The Comedy Central host mentions that, in contrast, the War on Drugs here in the U.S. has contributed to violence and a mass incarceration rate that's the highest in the world.
As Marijuana Moment previously reported, studies have shown legalizing marijuana can free up police time to solve other crimes. It's becoming more obvious that acceptance and legalization of cannabis use makes cities safer.
Watch the clip below:
Legalizing Marijuana Helps Police Solve Other Crimes, New Study Shows