GOP Senator Wants Tax Cut For Marijuana Businesses
A Republican senator from a state where marijuana is legal is pushing this week to give cannabis businesses a measure of tax fairness.
Sen. Cory Gardner of Colorado wants to attach an amendment to a wide-ranging Republican-led tax reform bill that would allow state-legal marijuana growers, processors and sellers to deduct normal businesses expenses from their taxes, just like operators in other industries can.
Under current federal law, a 1980s provision — known as 280E — effectively forces cannabis businesses to pay a much higher tax rate than other companies.
The statute was originally intended to to stop drug cartel leaders from writing off yachts and expensive cars, but today its language means that that growers, processors and sellers of marijuana — which is still a Schedule I substance under federal law — can't take business expense deductions that are available to operators in other sectors.
As a result, cannabis businesses often pay an effective tax rate upwards of 65-75 percent, compared with a normal rate of around 15-30 percent.
Gardner's press secretary said in an email that "he plans to file an amendment" to the broader tax legislation this week to include a 280E fix so that the provision no longer applies to marijuana businesses that operate in accordance with state or local laws.
The senator also cosponsored a standalone bill to reform the provision this month.
"Our current tax code puts thousands of legal marijuana businesses throughout Colorado at a disadvantage by treating them differently than other businesses across the state," he said in a press release about the bill. "Coloradans made their voices heard in 2012 when they legalized marijuana and it's time for the federal government to allow Colorado businesses to compete. This commonsense, bipartisan bill will allow small businesses in Colorado and other states that have legal marijuana businesses to grow their operations, create jobs, and boost the economy."
Marijuana businesses and their supporters failed to attach 280E reform language to the House version of the tax legislation this month. In that chamber, the Rules Committee blocked floor consideration of an amendment on the issue two weeks ago.
"When Congress passed 280E, they never envisioned an industry like ours meant to take ill-gotten gains from drug dealers," Neal Levine, chairman of the New Federalism Fund, said in an interview. "The provision is misapplied to our industry. It's actually helping the drug cartels it was meant to hurt," he said, referring to the fact that extra taxes force legal providers to keep prices artificially high such that they sometimes can't compete with the illegal market.
Levine's group and others have been working to convince members of Congress to reform the provision, emphasizing that it's not a pro-marijuana idea.
"Our industry is actually the only folks who have been able to take market share from the drug cartels," he said.
Gardner mentioned the plan to attach the amendment to the tax bill to a Bloomberg reporter earlier this week.
The tax bill is currently on the Senate floor, and leaders are aiming to pass it before they go home for the weekend.
Even if 280E language is adopted on the Senate floor, in order to be enacted into law it will have to a survive a bicameral conference committee that merges the chamber's bill with the House version that does not contain the provision.
In other financial legislative news of interest to the cannabis industry, House leaders also prevented consideration of an amendment to allow marijuana businesses to access banks this month.
This piece was originally published by Forbes.
(Marijuana Moment's editor provides some content to Forbes via a temporary exclusive publishing license arrangement.)
Sen. Jeff Merkley "Disappointed" That Democrats Blocked His Marijuana Banking Amendment
One of the U.S. Senate's foremost champions for marijuana law reform says he is "disappointed" that fellow Democrats recently joined with Republicans in blocking his amendment to increase cannabis businesses' access to banks.
Last month, Sen. Jeff Merkley (D-OR) offered a measure that would have shielded banks that open accounts for state-legal marijuana businesses from being punished by federal regulators for that activity even though cannabis remains illegal under federal law.
While the Senate Appropriations Committee had approved two similar amendments in previous years, the panel this time voted to table the measure with a bipartisan vote of 21 – 10, with ranking member Sen. Patrick Leahy (D-VT) and other Democrats who normally support marijuana reform objecting on procedural grounds.
"I was disappointed," Merkley said in an interview with BuzzFeed editor Ben Smith on Monday. "We had passed this twice before."
"We need to establish banking for cannabis because a cash economy is an invitation to money laundering and theft and cheating your employees and cheating on your taxes [and] organized crime. All bad."
"I accompanied the owner of a company who had $70,000 in his backpack to pay quarterly taxes," Merkley recounted in response to the cannabis banking question on Monday, which was suggested to BuzzFeed by Marijuana Moment's editor. "It's so bizarre going down the freeway and talking about how they have to pay their employees in cash, have to pay their suppliers in cash. It's a bad system."
"Everyone should agree: States' rights on this. Let the states have an electronic system to track what these businesses are doing, not billions of dollars floating around like this."
I asked!

— Ben Smith (@BuzzFeedBen) July 16, 2018
Despite his disappointment with the measure being blocked, the Oregon Democrat, who is believed to be considering a 2020 presidential run, said that his colleagues "had a fair point to make on the policy front" in tabling the measure.
At the time, Leahy argued that spending bills such as the one before the committee should be kept "free of new controversial policy riders" and that a more appropriate forum would be an authorizing committee that sets banking laws.
"It wasn't existing policy and therefore it was new policy," Merkley acknowledged in the new interview.
But he pointed out that there are few other avenues available for senators to pursue the issue.
"Here's the thing. Normally we could take these policy bills like I was putting forward [and] you could put it on the floor of the Senate as an amendment to something," he said. "In 2017, outside of the budget process, not a single amendment was considered on the floor of the Senate… This is the end of the Senate really as a deliberative body on policy. So if you're blocked in the Appropriations Committee, and you're blocked on the floor, then it's very hard to put ideas out there and say, 'Hey vote on this. This matters.'"
The House Appropriations Committee also defeated a cannabis banking amendment last month.
See the video of Merkley's remarks at about 19:15 into the clip below:
#AM2DM is LIVE discussing the Trump/Putin summit, Sacha Baron Cohen's #WhoIsAmerica, and @SenJeffMerkley is here ⬇️ https://t.co/dYoIIW8VoY

— AM to DM by BuzzFeed News (@AM2DM) July 16, 2018
Photo courtesy of Senate Democrats.
Major Alcohol Association Endorses States' Rights To Legalize Marijuana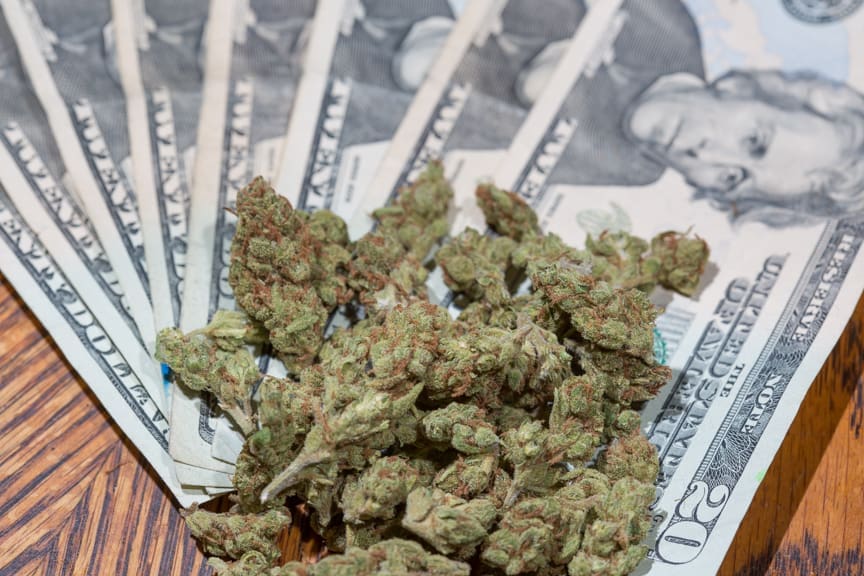 For the first time ever, a major alcohol association has come out in support of ending federal marijuana prohibition so that states can legalize cannabis without interference.
The Wine & Spirits Wholesalers of America (WSWA) announced "an official policy position in favor of a state's right to establish a legal, well-regulated, adult-use cannabis marketplace," in a press release on Thursday.
Today, we became the first and only beverage alcohol association to announce our position in favor of a state's right to establish a legal, well-regulated, adult-use #cannabis marketplace. Read our full statement: https://t.co/0rHHN3aEzU

— WSWA (@WSWAMedia) July 13, 2018
The announcement represented a significant departure from the association's past statements on marijuana reform. Just two years ago, WSWA said in a sponsored advertisement that it was "neutral on the issue of legalization," going on to caution congressional officials about the "dangers associated with the abuse and misuse of marijuana," including drug-impaired driving.
Now the alcohol trade group is singing a different tune.
"The legal cannabis market continues to expand in the United States, generating $7.2 billion in economic activity in 2016," Thursday's press release reads. "WSWA believes that, similar to alcohol, the federal government should give states the power to legalize cannabis, but should ensure they meet an appropriate regulatory threshold."
"Eight decades ago, Americans acknowledged that the Prohibition of alcohol was a failed policy. The state-based system of regulation, adopted after Prohibition, created a U.S. beverage alcohol market that is the safest, most competitive and best regulated in the world." — WSWA Acting Executive Vice President for External Affairs Dawson Hobbs
WSWA went on to outline 13 policies it recommended for states that legalize recreational marijuana.
A minimum age of 21 for purchase, possession and use, along with penalties for providing cannabis to minors;
Establishment of Driving Under the Influence impaired driving standards;
Licensing of producers, processors, distributors and retailers; Policies to prevent vertical monopoly/integration;
Hours and days of sale parity with beverage alcohol;
Tax collection and enforcement; Measures to prevent diversion of cannabis to other states;
Restrictions on sale/common carrier delivery;
Labeling requirements that include potency and health requirements;
Testing of formulas to ensure product purity and consistency;
Advertising restrictions designed to discourage underage access and promote responsible consumption;
Restrictions on health claims on packaging;
Establishment of a designated agency overseeing cannabis industry regulation in each state;
Penalties for licensee violations on par with the state's alcohol regulations;
and Regulations that ensure all products in market can be tracked/traced to source processor/producer.
So what changed from two years ago?
While the group's sudden embrace of local cannabis legalization efforts might strike some as odd given the intrinsic, competitive dynamic that's developed between alcohol and marijuana interests, one aspect of the press release reveals how the broader booze industry could stand to profit:
"Legalization should include regulations that set age restrictions on buyers, as well as license and regulate the supply chain of cannabis, including growers, distributors, retailers and testing laboratories." [Emphasis added.]
In other words, marijuana legalization might take a bite out of alcohol sales—as recent studies have shown—but the cannabis industry has diverse roles for various players to fill. Ancillary operators such as distributors now working under the current three-tier model for alcohol could be used in states with legal, regulated marijuana markets.
Hobbs denied that the association was trying to help the alcohol industry cash in on legal cannabis during an interview with Fox Business on Thursday.
"No, what we're talking about is just creating a pathway for states to have federal recognition of legalization by enacting appropriate regulation that creates a safe and reliable marketplace," Hobbs argued. He also said that the association wouldn't be lobbying Attorney General Jeff Sessions to take action on federal marijuana policy, but rather the group's focus would be on Congress.
Marijuana Moment reached out to WSWA for comment, but a representative was not immediately available.
What remains to be seen is whether other alcohol associations will follow suit. After all, a handful of alcohol interests, including the Arizona Wine and Spirits Wholesale Association and the Boston Beer Company donated to campaigns opposing legalization efforts during the 2016 election.
With this latest development from a major alcohol association, it seems the industry is conceding: If you can't beat 'em, join 'em.
Another encouraging signal of cannabis becoming ever more established and mainstream. https://t.co/uJtNBiTd9k

— Earl Blumenauer (@repblumenauer) July 14, 2018
Cuomo Administration Report Backs Marijuana Legalization In New York
James Cole Talks Jeff Sessions And Marijuana Legalization
Former Deputy Attorney General James Cole wasn't especially surprised when he learned earlier this year that Attorney General Jeff Sessions rescinded his 2013 landmark namesake memo that provided guidance to U.S. attorneys on marijuana enforcement priorities. But he's also skeptical that the policy regression will stand the test of time.
In a phone interview with Marijuana Moment, Cole discussed how the memo came to fruition (he conversed with President Barack Obama during the drafting, but declined to comment on the substance of those conversations), the future of cannabis policy in the United States and how, contrary to Sessions's past statements, good people do smoke marijuana.
Cole, who will be a keynote speaker at the National Cannabis Industry Association's Cannabis Business Summit & Expo later this month, is currently a partner at the law firm Sidley Austin LLP.
This interview has been lightly edited for length and clarity. 
Marijuana Moment: Can you describe your reaction after hearing that Jeff Sessions rescinded your memo?
James Cole: I was not completely surprised. Certainly, the attorney general had expressed his views about marijuana and the marijuana industry. He had also, however, expressed views that he thought that the memo did a pretty good job of trying to rectify and regulate a difficult area because of the legal complications of it.
As to his reasons that it was unnecessary, I didn't agree with that. I thought that, in fact, it was necessary. My concern in drafting the memo was public safety and trying to make sure that, accepting the fact that marijuana was going to be used on an increasing basis based on the resolutions in the states, you wanted to keep the cartels and the gangs out of it. And the best way to do that was by providing a regulatory scheme that would allow legitimate businesses that are well-regulated to exist so they can comply with the law, so that any revenue that may be generated can be brought into the state coffers, so that the enforcement of the regulations can be funded.
It just seemed to me that certainty being the hallmark of any business,  the uniformity of the policy throughout the United States was a necessary element. Right now you've got 93 different U.S. attorneys who are given the discretion to decide what to do, and that does not bring certainty or uniformity. Whether there will be a change of enforcement activity, I don't know. There's certainly a change in policy and there's certainly less comfort in the industry about what to do.
MM: On that last point, it doesn't appear that there's been a lot of eagerness on the part of federal prosecutors to crack down on the legal marijuana industry since the memo was rescinded. What do you make of that?
JC: I think some of it is a political reality. In the states that have legalized marijuana, obviously U.S. attorneys—although a lot of them are not permanently appointed, many are just acting at this point—they are political creatures. They are politically appointed in one form or another, and many times they look at being a U.S. attorney as a political stepping stone. So I think they're responsive to what the political will is in the states where they reside. 
That's one of the realities that really enters into the enforcement mechanism. Is this really a place to use the resources of the federal government or not? The concerns that come in that jurisdiction can be vast and wide, and you may have a U.S. attorney in one jurisdiction—one that doesn't have legalization—reaching out into a jurisdiction that does have legalization because there's some kind of jurisdiction hook. I haven't seen that yet. I don't know if that's ever going to happen, but that could be one of the concerns. At the end of the day, the rescission of the memo may prove to be more symbolic than it is substantive.
MM: When you started drafting the memo, were you having conversations about the issue with President Obama or White House staffers?
JC: Yes.
MM: Can you speak to the nature of those conversations?
JC: No, I cannot. No, I don't talk about my conversations with the president.
MM: What would you tell marijuana business owners concerned about the possibility of a federal crackdown?
JC: Obviously, in most jurisdictions, lawyers are limited in what kind of advice they can give in this space because it is illegal under federal law. So we can advise quite easily about whether or not a particular course of conduct that somebody wants to take is legal or not. We can advise on what we believe the Department of Justice enforcement policy is—it's a little less certain than it used to be. We can advise on what other laws come into play.
But ultimately, it comes down to a risk appetite for most companies that want to operate here as to whether or not they will accept a level of risk that whatever they're doing may get prosecuted with whatever comes with that—which is both the threat of fines, maybe imprisonment, perhaps forfeiture.
MM: Do you feel that federal marijuana legalization is an inevitability?
JC: I believe it is. I look at the new [congressional] legislation that's been proposed, which is, I believe, simple and straightforward. I think Congress is where the activity needs to take place. I think it is moving toward that. There's growing acceptance of it. I think it's a matter of 'when' and not 'if' at this point.
MM: Are there good people who smoke marijuana, contrary to what Sessions has said in the past?
JC: Yes, there are. There are. There are cancer patients, there are people with glaucoma, who get palliative effects from smoking marijuana. I wouldn't call them bad people. I disagree with that.
Analysis: GOP Congress Has Blocked Dozens Of Marijuana Amendments
Photo courtesy of the Department of Justice.