GOP blocks cannabis banking vote (Newsletter: Nov. 20, 2017)
Subscribe to receive Marijuana Moment's newsletter in your inbox every weekday morning. It's the best way to make sure you know which cannabis stories are shaping the day.
Veterans research measure also blocked; Oppo raises "crack weed" fears; NY MMj bill to Cuomo
TOP THINGS TO KNOW
A Republican-controlled congressional committee blocked a vote on a measure to increase marijuana businesses' access to banks.
https://www.marijuanamoment.net/republicans-block-marijuana-banking-measure/
Michigan activists are set to turn in more than 360,000 signatures in support of a 2018 marijuana legalization ballot measure on Monday.
http://wwmt.com/news/local/advocates-to-deliver-signatures-for-recreational-marijuana-petition-to-lansing-today
Ohio Supreme Court Justice Bill O'Neill, who is running for governor, published bizarre Facebook post about his past sexual relationships and mentioning his support for marijuana legalization. He has since apologized.
https://www.facebook.com/WilliamMONeill/posts/10105715840671394
//
http://thehill.com/homenews/campaign/361147-ohio-governor-candidate-apologizes-for-insensitive-remarks-about-sexual
FEDERAL
Congressman Matt Gaetz (R-FL) filed an amendment to a U.S. Department of Veterans Affairs infrastructure bill that would have increased veterans participation in medical cannabis research.
https://rules.house.gov/bill/115/hr-4243
Congresswoman Dina Titus (D-NV) and Congressman Dana Rohrabacher (R-CA) discussed the prospects for federal marijuana law reform.
https://www.reviewjournal.com/news/pot-news/dont-expect-feds-to-move-on-marijuana-soon-panelists-say/
Titus tweeted that Congress should  "puff, puff, pass those bills to protect marijuana businesses and level the playing field for them."
https://twitter.com/repdinatitus/status/931958939134152705
Congressman Earl Blumenauer (D-OR) included blurbs about marijuana and drug policy reform in a mailer to constituents titled, "Outrage Isn't Enough."
https://blumenauer.house.gov/outrage-isnt-enough
Congressman Ro Khanna (D-CA) encouraged local officials in his Silicon Valley district to rescind bans on marijuana businesses.
https://twitter.com/RepRoKhanna/status/931651666859970560
The U.S. House bill to increase military veterans' access to medical cannabis got one new cosponsor, bringing the total to 18.
https://www.congress.gov/bill/115th-congress/house-bill/1820/cosponsors?pageSort=lastToFirst
The U.S. House industrial hemp bill got two new cosponsors, bringing the total to 36.
https://www.congress.gov/bill/115th-congress/house-bill/3530/cosponsors?pageSort=lastToFirst
STATES
New York Gov. Andrew Cuomo (D) has on his desk legislation to make public the names of medical professionals who are certified to recommend medical cannabis, unless they opt out.
http://assembly.state.ny.us/leg/?default_fld=&bn=S05627&term=2017&Summary=Y&Actions=Y&Text=Y&Floor%26nbspVotes=Y
Florida's top medical cannabis regulator told lawmakers that lawsuits are delaying the program's implementation.
http://www.wtvy.com/content/news/Medical-marijuana-czar-Lawsuits-continue-to-delay-implementation-457881353.html
The Wyoming Legislature's Joint Judiciary Committee advanced two bills to close loopholes in current law on marijuana edibles.
https://www.usnews.com/news/best-states/wyoming/articles/2017-11-17/wyoming-lawmakers-advance-marijuana-bills
A New Hampshire representative authored an op-ed calling for marijuana legalization.
http://www.seacoastonline.com/news/20171119/its-time-to-end-failed-war-on-weed
Utah activists are skeptical of limited medical cannabis bills being filed in the legislature.
http://kuer.org/post/host-marijuana-bills-2018-advocates-are-skeptical
Michigan regulators released guidance on transitioning from medical cannabis caregivers and patients to facility license holders and employees, as well as on local and state license fees.
http://www.michigan.gov/som/0,4669,7-192-47796-452523–,00.html
Guam lawmakers will hold hearings on medical cannabis implementation legislation next month.
http://www.guampdn.com/story/news/2017/11/20/hearings-scheduled-medical-marijuana-rules/879860001/
LOCAL
San Diego, California's district attorney appears to be taking a new, friendlier approach to marijuana enforcement.
https://www.voiceofsandiego.org/topics/politics/district-attorney-changing-focus-marijuana-enforcement/
San Jose, California authorities are cracking down on "churches" that are selling marijuana.
http://www.mercurynews.com/2017/11/17/san-jose-city-moves-to-shut-down-two-churches-selling-pot/
Oakland, California regulators are reviewing 255 applications for marijuana business licenses.
http://www.sfchronicle.com/bayarea/article/Oakland-reviewing-255-permit-applications-to-12369894.php
INTERNATIONAL
The UK House of Commons is scheduled to debate the "human and financial costs of drug addiction" on Wednesday.
https://calendar.parliament.uk/calendar/Commons/All/2017/11/22/Daily
A Swedish court ruled that growing marijuana is not legal.
https://www.thelocal.se/20171120/growing-cannabis-to-self-medicate-is-not-allowed-rules-swedish-court
ADVOCACY
Prohibitionist group Smart Approaches to Marijuana's new New Jersey shell organization touts fears of "crack weed" on its website.
https://twitter.com/tomangell/status/931569766296375296
Indiana NORML took out a billboard highlighting research showing legal medical cannabis is associated with reduced opioid deaths.
https://www.indystar.com/story/news/politics/2017/11/17/why-some-people-think-medical-marijuana-isthe-key-ending-opioid-epidemic-marijuana-advocates-think-s/873816001/
SCIENCE & HEALTH
A study found a "clinically and statistically significant evidence of an association between [medical cannabis program] enrollment and opioid prescription cessation and reductions and improved quality of life."
http://journals.plos.org/plosone/article?id=10.1371/journal.pone.0187795
A survey found that healthcare providers "are overwhelmingly in support of [medical marijuana] use in patients with chronic illness, particularly in cancer patients."
http://ascopubs.org/doi/abs/10.1200/JCO.2017.35.31_suppl.235
A study concluded that "cannabis use lowered the odds of atrial fibrillation in patients with heart failure."
http://circ.ahajournals.org/content/136/Suppl_1/A14752
Maryland regulators announced that two medical cannabis companies will conduct a research-and-development study of vaporization devices.
https://www.apnews.com/c7c09addaeb746c1a1fb27559637f1e3
OPINION & ANALYSIS
The Wall Street Journal published an op-ed encouraging more research on marijuana's potential to reduce opioid issues.
https://www.wsj.com/articles/can-marijuana-alleviate-the-opioid-crisis-1511104543
CULTURE     
Cut posted a video of a woman, her mother and her grandmother smoking marijuana together.
https://www.youtube.com/watch?v=bilzhFeDKso
New Jersey legal cannabis moves toward 2020 ballot (Newsletter: December 13, 2019)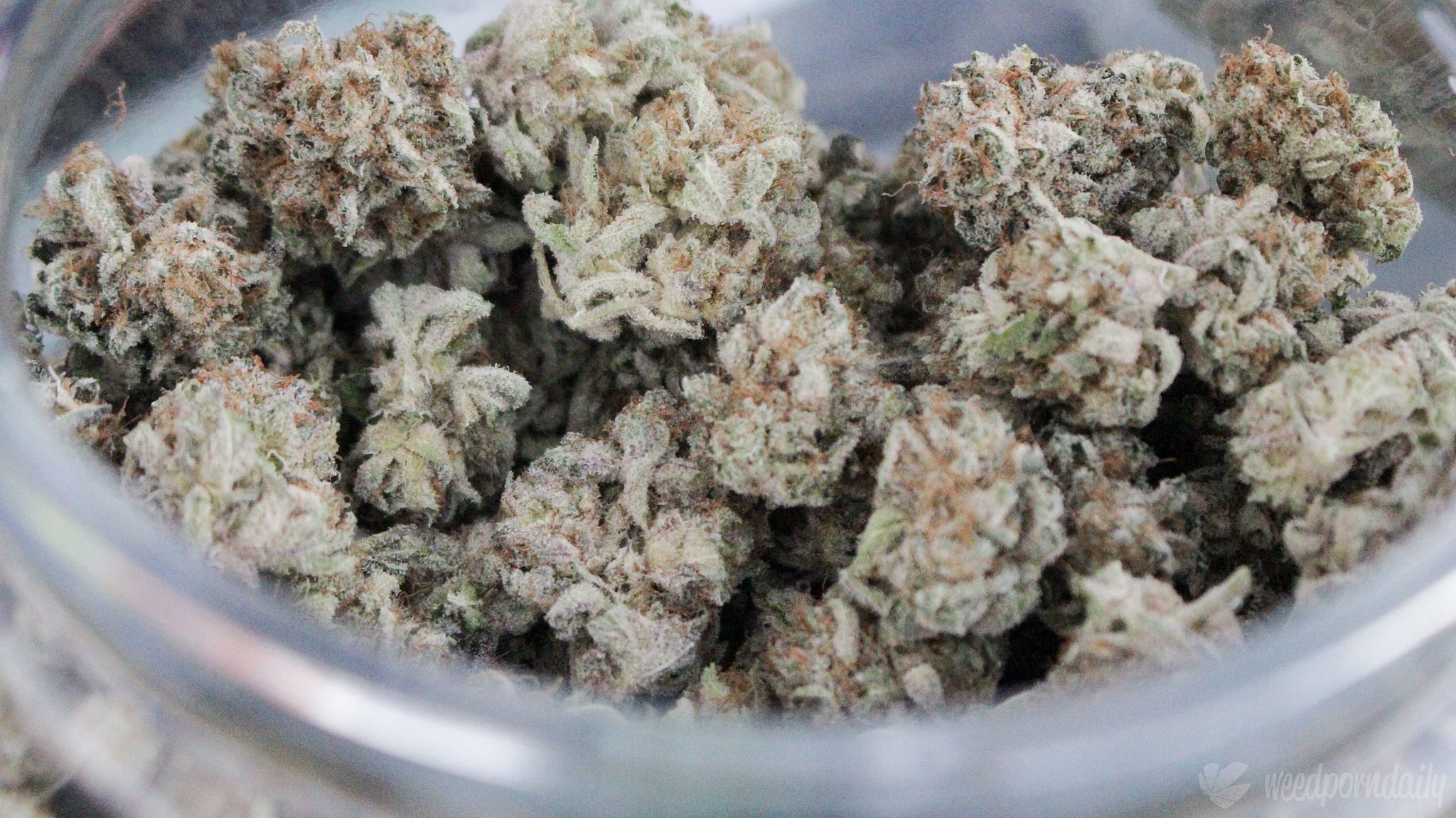 Senators press DEA on marijuana growing; MLB removes cannabis from banned list; Trinidad & Tobago decrim approved; Kansas legalization poll
Subscribe to receive Marijuana Moment's newsletter in your inbox every weekday morning. It's the best way to make sure you know which cannabis stories are shaping the day.
Your support makes Marijuana Moment possible…
Subscribers who value this daily dispatch enough to show their support with a few dollars help us keep doing this. Please chip in and help ensure Marijuana Moment's continued operations.
https://www.patreon.com/marijuanamoment

/ TOP THINGS TO KNOW

A group of eight U.S. senators, led by presidential candidate Sen. Elizabeth Warren (D-MA) sent a letter demanding that the Drug Enforcement Administration provide an update on plans to award more licenses to grow marijuana for research. The lawmakers also want to know if the federal government intends to reschedule cannabis or to study it as an opioid alternative.

New Jersey lawmakers took the first steps toward putting a marijuana legalization referendum on the 2020 ballot with committee hearings in the Senate and Assembly. Floor votes are scheduled for Monday. Meanwhile, expungements legislation also advanced.

Trinidad and Tobago's House of Representatives approved a bill to decriminalize marijuana, with separate broader legislation to legalize and regulate production and sales being considered in a committee.

Major League Baseball formally announced it is removing marijuana from the list of banned substances for players.
"Going forward, marijuana-related conduct will be treated the same as alcohol-related conduct.
A poll found that Kansas residents support legalizing marijuana, 63%-26%.

/ FEDERAL

Sen. Bernie Sanders (I-VT), a presidential candidate, tweeted, "We are not only going to legalize marijuana; we are going to expunge past convictions for marijuana possession. Thank you to @KimFoxxforSA for leading the way on this important issue."

Democratic presidential candidate Andrew Yang announced that his campaign is selling marijuana and math hats again.

Sen. Dick Durbin (D-IL) said he supports decriminalizing marijuana but that he has concerns about measuring impairment and the accessibility of cannabis products to children.

Rep. Hank Johnson (D-GA) subtly called out Rep. Matt Gaetz's (R-FL) prior DUI arrest after the GOP lawmaker spent time during a House Judiciary Committee impeachment hearing reading excerpts from a magazine story about Hunter Biden's struggles with substance use.

The House resolution calling to decriminalize addiction and legalize marijuana and overdose prevention sites got three new cosponsors for a total of three.

/ STATES

Nevada Gov. Steve Sisolak (D) spoke about ongoing efforts to regulate marijuana, saying, "There wasn't an adequate infrastructure put in place in the rush to get the tax revenue and now we're having to pick up the pieces."

Pennsylvania Gov. Tom Wolf (D) tweeted, "The U.S. prison system has historically been unfair to people of color. We're expediting pardons for small marijuana offenses, but there's still more to do."

Virginia's attorney general tweeted, "Yesterday was a huge step toward a smarter, fairer, more just cannabis policy in Virginia. I'm even more confident that we're going to see reform THIS YEAR."

Massachusetts regulators amended a vaping quarantine order to allow the sale of devices to vaporize marijuana flower, devices designed to vaporize concentrates that don't contain usable cannabis and newly manufactured products that pass screens for vitamin E acetate as well as other contaminants.

Ohio regulators proposed amendments to medical cannabis rules, including concerning changes in dispensary ownership. They are also considering petitions to add new qualifying conditions and released updated patient and caregiver numbers.

Illinois regulators sent a bulletin on how municipal and county governments can enact marijuana taxes. They also announced the tiebreaking process for cannabis dispensary license awarding.

A Kentucky representative prefiled a marijuana legalization bill.

California's Cannabis Advisory Committee released a draft of its 2019 annual report.

Maine regulators have so far received 76 applications for marijuana business licenses.

—
Marijuana Moment is already tracking more than 1,000 cannabis bills in state legislatures and Congress this year. Patreon supporters pledging at least $25/month get access to our interactive maps, charts and hearing calendar so they don't miss any developments.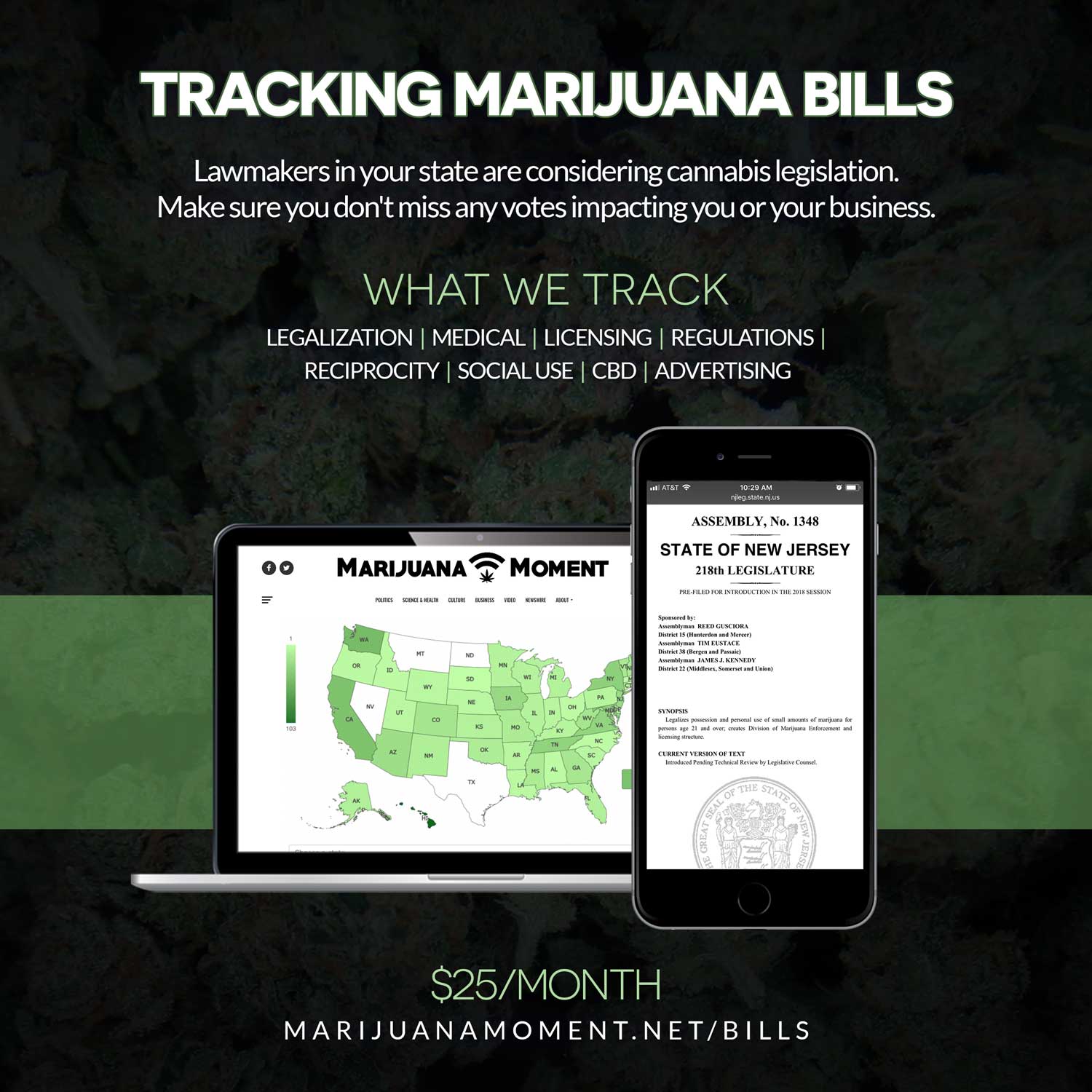 Learn more about our marijuana bill tracker and become a supporter on Patreon to get access.
—
/ LOCAL

Philadelphia, Pennsylvania's district attorney said, "Marijuana is not as harmful to the human mind as watching Donald Trump on television on a daily basis."

/ INTERNATIONAL

The European Union Intellectual Property Office rejected a trademark application for a sign depicting marijuana.

Saskatoon, Canada police reported that marijuana legalization caused "fewer issues than were expected." Meanwhile, Ontario officials removed the cap on the number of cannabis stores and loosened other requirements.

/ SCIENCE & HEALTH

A review concluded that "newly available evidence supports earlier findings that cannabidiol probably reduces the frequency of seizures among children with drug-resistant epilepsy."

A study concluded that "surfaces exposed to side-stream cannabis vapor are positive for THC at quantifiable levels."

A qualitative study of YouTube videos concluded that "microdosing of psychedelic substances, primarily LSD and psilocybin, was used for therapeutic and enhancement purposes, and predominantly beneficial effects were reported."

/ ADVOCACY, OPINION & ANALYSIS

The Libertarian Party of South Dakota launched a "Hemp: We're On It" website that parodies a recent state anti-meth campaign and hits Gov. Kristi Noem (R) for her opposition to hemp.

/ BUSINESS

Anheuser-Busch InBev NV's Labatt Breweries and Tilray Inc.'s High Park Co. are teaming up to sell CBD-infused teas in Canada.

Canopy Growth Corp. and Go Farm Hemp dropped lawsuits filed against one another.

/ CULTURE

South Park aired a marijuana- and cocaine-themed Christmas episode.
Make sure to subscribe to get Marijuana Moment's daily dispatch in your inbox.
Thai PM uses medical cannabis in public (Newsletter: December 12, 2019)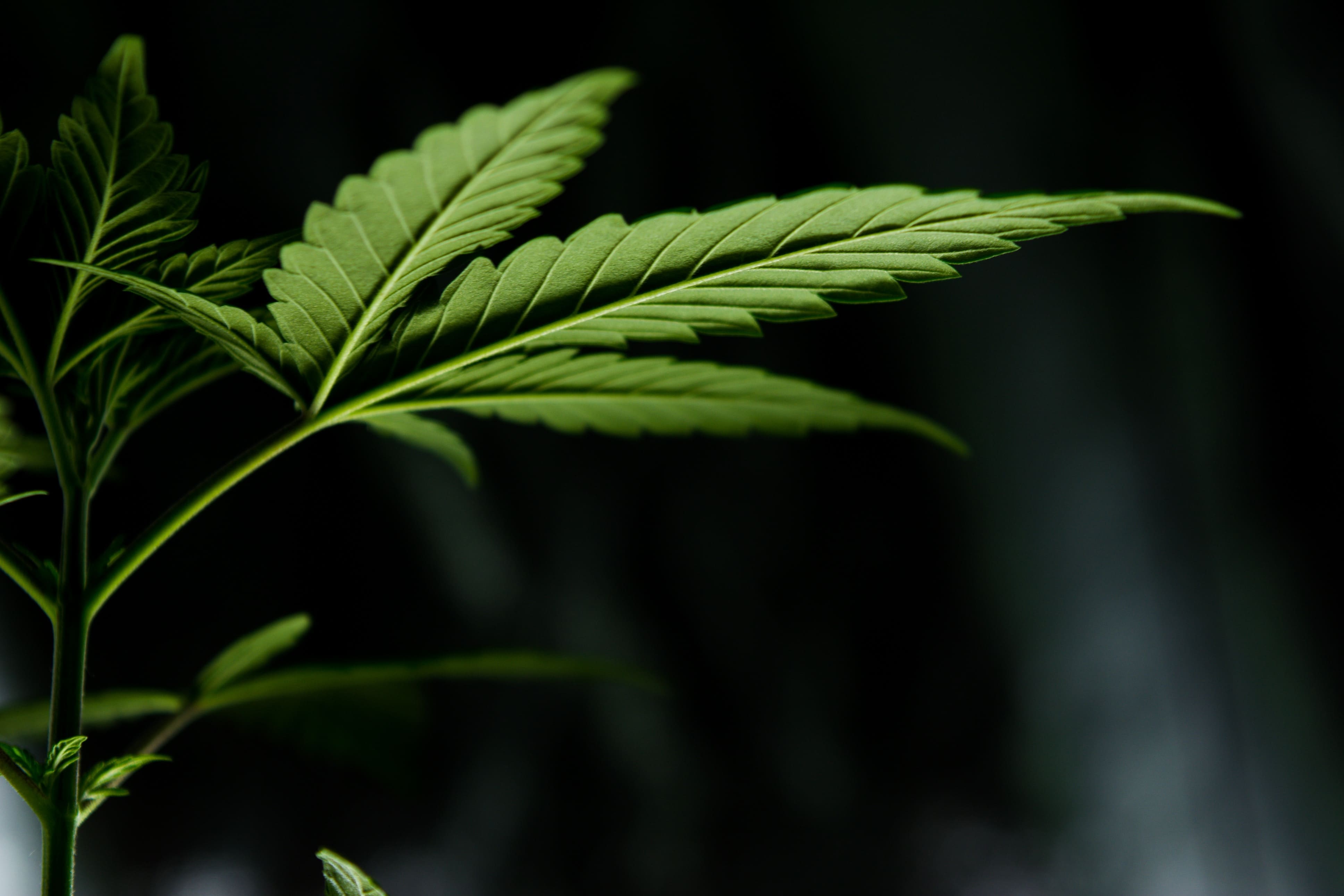 Virginia legal marijuana bill & AG's summit; GOP senator posts pic of dad growing hemp; Study: Bees like big hemp plants
Subscribe to receive Marijuana Moment's newsletter in your inbox every weekday morning. It's the best way to make sure you know which cannabis stories are shaping the day.
Your support makes Marijuana Moment possible…
There are now 1,312 cannabis-related bills moving through state legislatures and Congress for 2019 sessions.

Never let a marijuana bill catch you by surprise with exclusive access to Marijuana Moment's custom-built cannabis legislation tracker for just $25/month.
David Alport of Bridge City Collective: "It is because of Tom's hard work and relentless diligence in covering the cannabis industry that I rely on him for the most up to date information with legislative progress and beyond."
https://www.patreon.com/marijuanamoment

/ TOP THINGS TO KNOW

Thai Prime Minister Prayut Chan-o-cha publicly used medical marijuana oil at an event to announce the government's new cannabis information portal. A mascot named Dr. Ganja was also present.

Virginia's attorney general hosted a cannabis summit to coordinate reform plans in the state as Democrats take legislative control in 2020. Meanwhile, a delegate prefiled a new marijuana legalization bill.

Sen. Mike Rounds (R-SD) posted a picture on Facebook of his dad harvesting hemp plants about 80 years ago. Some local political observers believe the move is a dig at anti-cannabis South Dakota Gov. Kristi Noem (R), who vetoed hemp legislation this year.

Democratic presidential candidate Andrew Yang contrasted rampant legal opioid prescribing with the ongoing federal criminalization of marijuana.

A study found that bees are attracted to hemp, especially tall plants, concluding that "plant height…was strongly correlated with bee species richness and abundance for hemp plots with taller varieties attracting a broader diversity of bee species."

/ FEDERAL

The Department of Agriculture's Rural Business-Cooperative Service said that hemp producers are eligible for the Value-Added Producer Grant program.

The Office of National Drug Control Policy is proposing to conduct surveys on how drug courts are responding to opioid issues.

A National Archives blog post about musician Willie Nelson recounts the time he says he smoked marijuana on the roof of the White House.

Former Surgeon General Joycelyn Elders participated in a panel about rethinking models of substance use, misuse and addiction.

Sen. Bernie Sanders (I-VT), a presidential candidate, tweeted, "When young people say they want to go to college without taking on mountains of debt, we must listen. When young people say they want to end the criminalization of marijuana, we must listen. When young people say they want a planet that is healthy and habitable, we must listen."

Rep. Joe Kennedy (D-MA) called on the U.S. attorney for Massachusetts not to interfere with the opening of safe consumption sites for illegal drugs.

Former Senate Majority Leader Tom Daschle (D-SD) spoke at MJBizCon.

/ STATES

Illinois Gov. J.B. Pritzker (D) tweeted about the first court filings to expunge marijuana convictions, saying, "We will never be able to fully remedy the depth of that unfairness and the damage it visited upon so many families. But we can govern our state with the courage to admit the mistakes of our past—and the decency to correct the record and set a better path forward."

Nebraska Gov. Pete Ricketts (R) said marijuana is a dangerous drug and that legalization will cause problems.

New York's lieutenant governor said the administration will push hard to legalize cannabis in 2020. She also tweeted, "Recreational marijuana should be legalized, regulated and taxed in New York. This is about jobs and boosting our economy – and we will be making a push on this in the upcoming session."

Michigan's lieutenant governor is urging people to use legal marijuana responsibly. Separately, regulators published an industrial hemp FAQ.

Wisconsin Republican lawmakers filed a medical cannabis bill. The Senate majority leader said he opposes it and the Assembly speaker said his caucus "hasn't reached a consensus" on the issue, while the Assembly majority leader is on board. A spokesperson for Gov. Tony Evers (D) said "it's good to see some Republicans following the lead of Democrats to support an idea that's overwhelmingly popular with Wisconsinites."

The California Developmental and Reproductive Toxicant Identification Committee unanimously voted to declare THC a risk to pregnant women and developing fetuses, a move that will require warning labels on cannabis products.

Ohio's Medical Marijuana Advisory Committee will meet on Thursday.

Oklahoma regulators reported that medical cannabis taxes generated nearly $2.8 million in November.

New Jersey regulators issued an additional medical cannabis license.

—
Marijuana Moment is already tracking more than 1,000 cannabis bills in state legislatures and Congress this year. Patreon supporters pledging at least $25/month get access to our interactive maps, charts and hearing calendar so they don't miss any developments.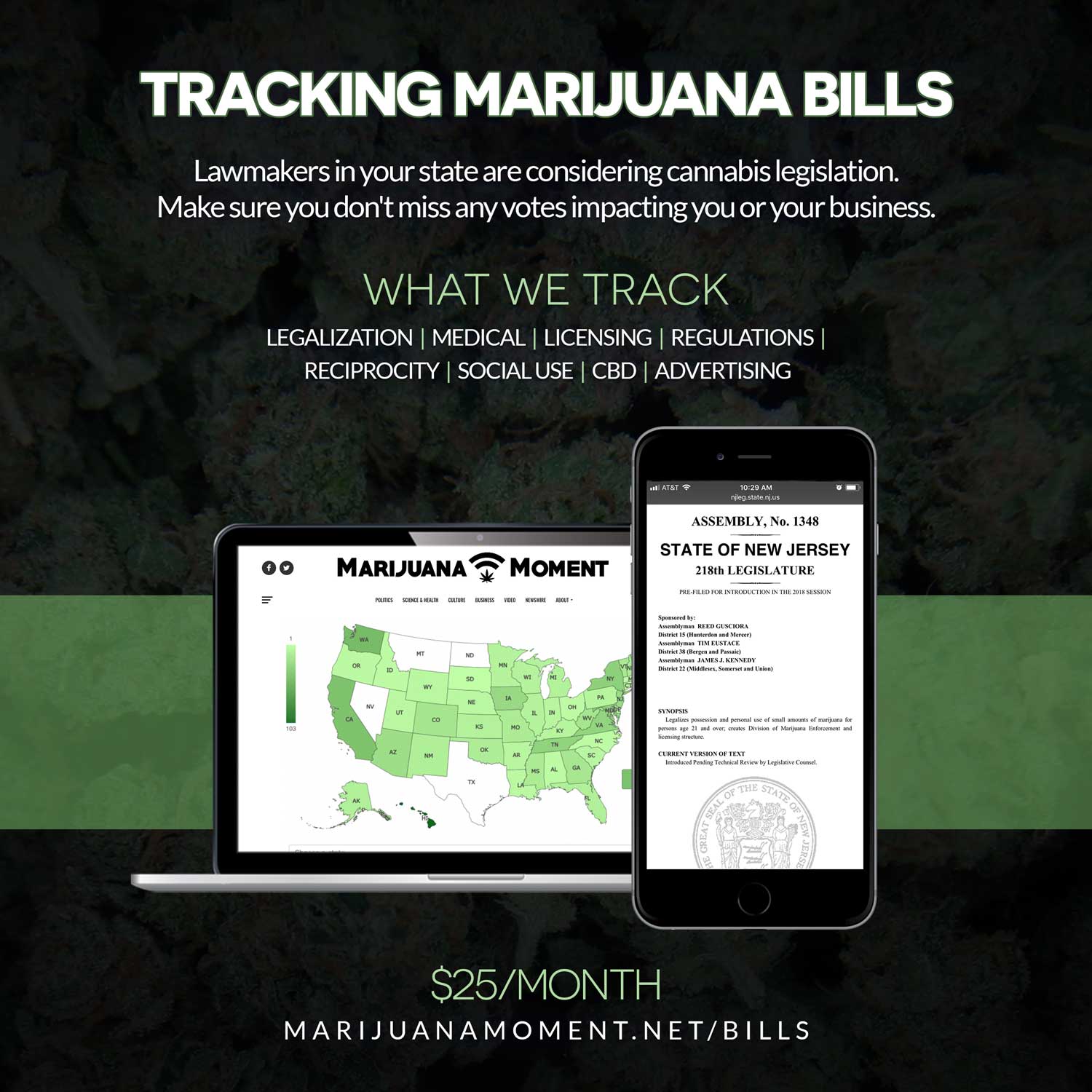 Learn more about our marijuana bill tracker and become a supporter on Patreon to get access.
—
/ LOCAL

The Lake County, Indiana Council gave initial approval to a proposal to let police ticket and fine people for low-level marijuana possession instead of arrest them.

Cook County, Illinois's state's attorney personally filed the first court motions to clear low-level marijuana convictions.

Chicago, Illinois's mayor tweeted, "Cannabis legalization cannot happen without expunging the records of past marijuana use and possession. We know all too well that it's black and brown people who have been locked up for it, denied housing and jobs. I applaud @SAKimFoxx and her efforts to get this done quickly."

The Oakland, California City Council approved a marijuana business tax break opposed by the mayor.

/ INTERNATIONAL

A New Zealand government-commissioned report recommended that policymakers "strengthen regulation of alcohol, legalise and regulate personal use of cannabis, and consider that for all drugs, treating personal drug use as a health issue, with more funding towards prevention, education and treatment."

The Canadian government reported that more than C$908 million worth of marijuana was sold in the first year of legalization.

A Mexican senator filed a medical cannabis bill.

/ SCIENCE & HEALTH

A study found that "mice voluntarily consume both cannabinoids and opioids via gelatin, and that cannabinoids provide long-term relief of chronic pain states."

A review revealed the "therapeutic potential of LSD to reduce psychiatric symptomatology, mainly in alcoholism" and found that "the vast majority of authors describe significant and positive short-term changes in patients."

/ ADVOCACY, OPINION & ANALYSIS

The Cannabis Information Project is a new educational effort founded by major marijuana companies including Columbia Care, Acreage Holdings, Canopy Growth and Cresco Labs.

The National Narcotic Officers' Associations Coalition is opposing efforts to automatically expunge marijuana convictions.

AASA, The School Superintendents Association published a debate about whether it would be OK for a school administrator to accept a gift of marijuana from appreciative parents.

/ BUSINESS

Green Angel CBD, whose hemp shipment was seized by New York City police, plans to sue the city.

MedMen Enterprises Inc. laid off another 20% of its corporate employees, meaning that in the past 30 days it has cut corporate staff by more than 40%.

Wayv launched a digital payment solution for the marijuana industry.

Cowen, Inc. and Marijuana Business Daily launched a research distribution partnership.
Make sure to subscribe to get Marijuana Moment's daily dispatch in your inbox.
Veterans cannabis provisions stripped by congressional leaders (Newsletter: December 11, 2019)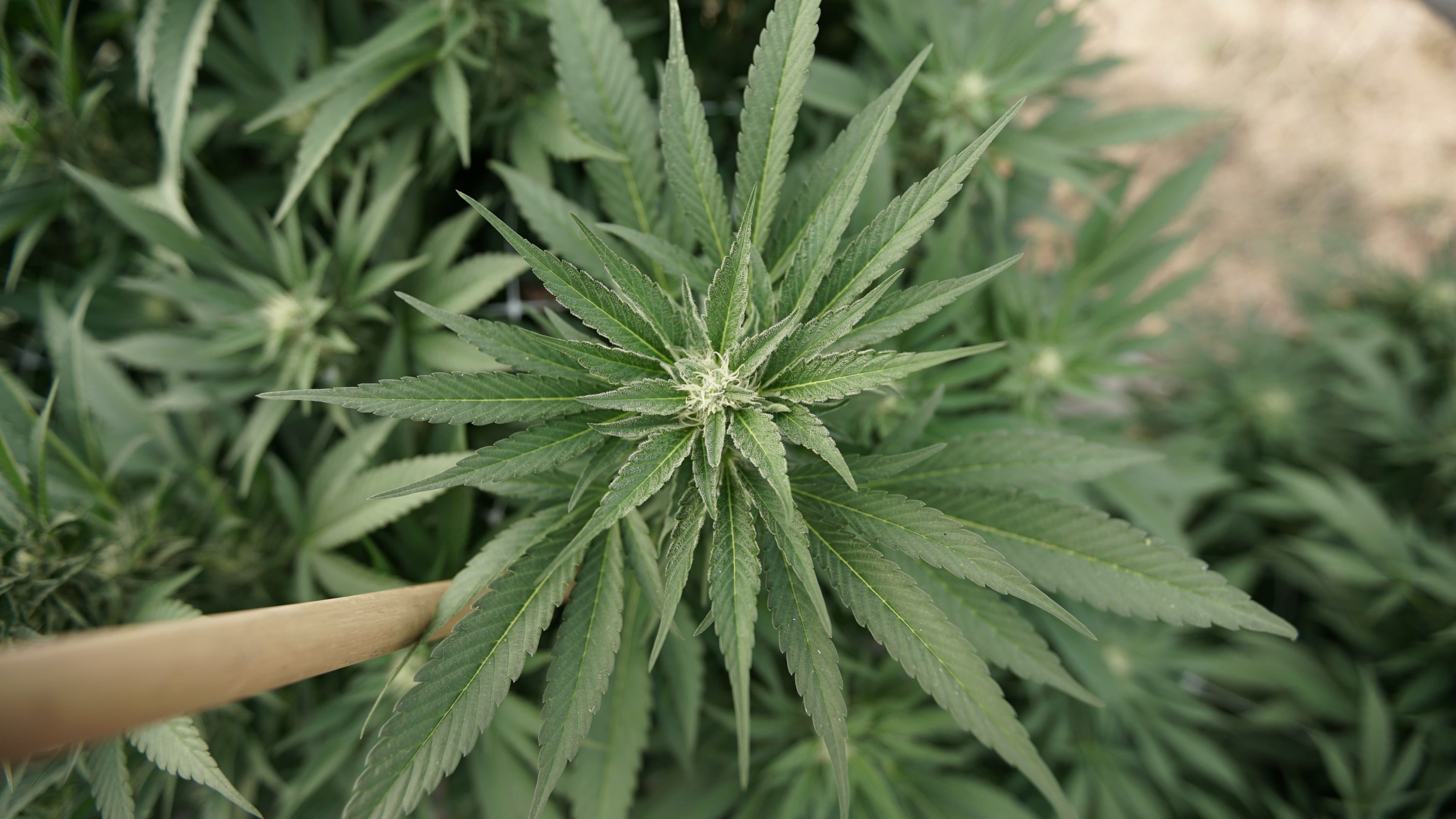 Vermont health official backs legal marijuana sales; MLB to OK cannabis use by players; Killer Mike credits Bernie Sanders for legalization momentum
Subscribe to receive Marijuana Moment's newsletter in your inbox every weekday morning. It's the best way to make sure you know which cannabis stories are shaping the day.
Your support makes Marijuana Moment possible…
By starting a $10 per month pledge on Patreon—or about 45 cents per issue of this newsletter—you can help us rely less on ads to cover our expenses, hire more journalists and bring you even more marijuana news.
https://www.patreon.com/marijuanamoment

/ TOP THINGS TO KNOW

Congressional negotiators stripped veterans-focused marijuana provisions that passed the House from the final negotiated version of the National Defense Authorization Act. Meanwhile, the bill contains nearly a billion dollars to support waging the war on drugs.

A top Vermont Health Department official said the state should legalize marijuana sales in order to better protect public health.
"Without the regulation, we don't know what's in it. We can't control the potency of it. We can't control the access."
Major League Baseball plans to remove marijuana from its banned substances list for minor league players.
Rapper Killer Mike credited Sen. Bernie Sanders (I-VT)—who was the first major presidential candidate to back legalizing marijuana during his 2016 run—with inspiring the cannabis reform movement.
"Marijuana decriminalization was something I never thought I'd see in my lifetime. Yet within four years, I've seen a nationwide push for it, in big part to his campaign."
/ FEDERAL

The Substance Abuse and Mental Health Services Administration's Drug Testing Advisory Board discussed the impact of marijuana laws on drug testing at a meeting last week.

The State Department and Office of National Drug Control Policy hosted officials from Canada and Mexico for the Fourth Annual North American Drug Dialogue.

Two marijuana bills were among the top 10 most viewed on Congress.gov for the week of December 1.

Rep. Tulsi Gabbard (D-HI), a presidential candidate, spoke about ending the war on drugs and marijuana prohibition during a speech in New Hampshire.

Rep. Jared Huffman (D-CA) did an interview with the Cannabis Economy podcast and tweeted, "Cannabis prohibition is an antiquated policy that is on its way out the door."

Illinois Democratic congressional candidate Rachel Ventura, currently a Will County Board member, is pushing to earmark local marijuana tax revenue to help people harmed by prohibition enforcement.

/ STATES

New Jersey Gov. Phil Murphy (D) said he wants to make another attempt to pass marijuana legalization legislation early next year.

Illinois Gov. J.B. Pritzker tweeted about the state beginning to accept marijuana social equity applications, saying, "Our phased rollout is intentional. Illinois' brief startup period was designed to provide the seed capital to social equity applicants. These low-interest loans will help businesses get off the ground & create real opportunity in communities that have suffered in the past."

New York Gov. Andrew Cuomo (D) tweeted, "The hemp industry in NY is exploding. By establishing a regulatory framework for producing and selling hemp and hemp extract we can set the industry on a path to continued growth in a smart, safe way that empowers farmers and consumers."

Virginia's attorney general is hosting a cannabis summit on Wednesday.

Florida's agriculture commissioner is engaged to the founder and former CEO of one of the state's largest medical cannabis companies. Separately, the House Health Quality Subcommittee will hold a hearing on marijuana legalization on Wednesday.

The Michigan House Regulatory Reform approved legislation to ban the use of vitamin E acetate in vaping products. Meanwhile, State Police are investigating two medical cannabis dispensaries for allegedly selling marijuana without a license.

Texas regulators submitted a hemp plan for federal approval.

New Mexico regulators delayed a hearing on a proposal to allow medical cannabis for pets.

/ LOCAL

The Brooklyn, New York district attorney dropped drug charges against a man transporting industrial hemp.

Denver, Colorado officials announced that Royal Resin is voluntarily recalling marijuana products due to the presence of elevated yeast and/or mold counts.

/ INTERNATIONAL

Uruguay's Senate unanimously approved a medical cannabis regulation bill.

Mexico's former secretary of public security was charged with participating in a drug trafficking conspiracy in U.S. federal court.

Uganda's cabinet is studying the potential legalization of marijuana.

/ SCIENCE & HEALTH

A review suggested that "cannabinoids may confer beneficial effects on the gastrointestinal and immune system, such as reducing intestinal permeability, regulating gut bacteria and reducing inflammation" and that "cannabinoids may exert [alcohol use disorder] harm‐reduction effects."

A study on marijuana product descriptions concluded that "online cannabis retailers are making potentially unsubstantiated product claims."

/ ADVOCACY, OPINION & ANALYSIS

The National Cannabis Roundtable released a corporate social responsibility pledge signed by the heads of marijuana businesses.

/ BUSINESS

Dollar General announced it will begin selling CBD products in some of its stores.

Walmart Canada apologized for selling a sweater that appeared to depict Santa Claus with lines of cocaine.

CannTrust Holdings Inc. announced that the New York Stock Exchange notified the company it is no longer in compliance listing rules requiring a stock price in excess of $1 per share.

Leafly launched a new market data analysis tool, online CBD sales platform and partnership with the American Medical Marijuana Physicians Association.

Columbia Care Inc. brought on a new chief growth officer.

Front Range Biosciences is sending plant cultures of hemp and coffee to the International Space Station for an experiment on whether  zero gravity will mutate or genetically alter the plants.

Vice looks at how paid social media influencers are making questionable claims about CBD products.

/ CULTURE

Actor Brad Pitt said he "spent most of the '90s hiding out and smoking pot. I was too uncomfortable with all the attention."

Cartoonist Scott Adams said he wants to legalize drugs beyond marijuana.
Make sure to subscribe to get Marijuana Moment's daily dispatch in your inbox.
Photo courtesy of Chris Wallis // Side Pocket Images.