Senators debate cannabis use by judges (Newsletter: Nov. 17, 2017)
Subscribe to receive Marijuana Moment's newsletter in your inbox every weekday morning. It's the best way to make sure you know which cannabis stories are shaping the day.
No 280E reform in tax bill yet; MI ballot signature turn in; Peru president signs medical cannabis
TOP THINGS TO KNOW
The U.S. Senate Judiciary Committee held a lengthy debate about how many times judges should be allowed to use marijuana before being confirmed to the federal bench.
https://www.marijuanamoment.net/senators-debate-marijuana-use-judges/
Michigan activists will turn in more than 250,000 signatures to qualify a marijuana legalization measure for the state's 2018 ballot on Monday.
http://www.detroitnews.com/story/news/politics/2017/11/16/michigan-marijuana-legalization-ballot-signatures/107746780/
The authors of a journal article on an 11-month-old who died after consuming marijuana are pushing back on press reports that they claimed cannabis caused his death.
https://www.washingtonpost.com/news/to-your-health/wp/2017/11/17/the-truth-behind-the-first-marijuana-overdose-death/
POINT OF PERSONAL PRIVILEGE
I just authored an op-ed in the Los Angeles Times calling on California's congressional delegation — especially Democratic U.S. Sens. Kamala Harris and Dianne Feinstein — to do a better job defending the state's marijuana laws from federal interference. Legal cannabis did, after all, get nearly half a million more votes than Harris did last year.
http://www.latimes.com/opinion/op-ed/la-oe-angell-california-marijuana-20171117-story.html
FEDERAL
The U.S. Senate Finance Committee concluded its work on the tax reform bill on Thursday, and no senators introduced amendments concerning the 280E penalty on marijuana businesses. It remains to be seen whether there will be any floor action on the issue. The House version, which that chamber approved on Thursday, is silent on the matter.
https://www.finance.senate.gov/chairmans-news/finance-committee-passes-historic-tax-overhaul
STATES
California regulators released proposed emergency licensing regulations for marijuana businesses.
https://www.apnews.com/0f51e95aebab443992dfef95aa83b7a2/California-pot-rules-mark-step-toward-2018-legal-sales
//
http://www.bcc.ca.gov/law_regs/bcc_prop_text_reg.pdf
//
http://www.bcc.ca.gov/law_regs/cdfa_prop_text_emerg_reg.pdf
//
http://www.bcc.ca.gov/law_regs/cdph_prop_text_emerg_reg.pdf
Connecticut's first 2018 gubernatorial debate will be hosted by NORML and Students for Sensible Drug Policy chapters.
http://blog.norml.org/2017/11/16/connecticut-norml-affiliate-to-co-host-gubernatorial-debate/
Pennsylvania Gov Tom Wolf (D) announced that roughly 6,000 patients and 300 caregivers have signed up for the state's medical cannabis program.
https://twitter.com/GovernorTomWolf/status/931239217665015813
Maryland Democratic gubernatorial candidate Ben Jealous tweeted about the harms of the drug war.
https://twitter.com/BenJealous/status/931397555996512256
Wisconsin Democratic lawmakers are stepping up their push for medical cannabis legislation.
http://wuwm.com/post/democratic-lawmakers-continue-push-medical-marijuana-legalization-wisconsin
Friday is the deadline to submit Ohio medical cannabis dispensary applications.
https://medicalmarijuana.ohio.gov/News?articleID=95
Nevada regulators announced they will accept medical cannabis cultivation and production license applications from rural areas where no such facilities exist.
https://twitter.com/ColtonLochhead/status/931226683629223936
Washington State regulators are proposing changes to marijuana advertising rules.
https://lcb.wa.gov/sites/default/files/publications/rules/2017%20Proposed%20Rules/Marijuana_Advertising_Rules_FINAL.pdf
A Michigan court reinstated charges against a man accused of running illegal medical cannabis dispensaries.
http://www.detroitnews.com/story/news/local/michigan/2017/11/16/marijuana-charges-reinstated-michigan-dispensary/107736606/
Arkansas's medical director held a meeting to discuss "Opioid Crisis and the effects of Medical Marijuana Law."
http://www.state.ar.us/government/calendar/detail?id=25100509
LOCAL
Denver, Colorado regulators are seeking applicants for a newly created Cannabis Health & Safety Advisory Board.
http://mailchi.mp/denvergov/now-scheduling-appointments-2544561
A Buffalo Township, Pennsylvania couple is suing after police mistook their hibiscus plants for marijuana and held them in custody for several hours.
https://www.usnews.com/news/best-states/pennsylvania/articles/2017-11-17/couple-sues-after-police-mistake-hibiscus-for-marijuana
INTERNATIONAL
Peruvian President Pedro Pablo Kuczynski signed a medical cannabis bill into law.
http://andina.pe/ingles/noticia-peru-president-medical-cannabis-law-breaks-myths-and-prejudices-689953.aspx
Irish lawmakers removed allowances for smoking from a medical cannabis bill in order to earn enough support for it to advance.
https://www.thesun.ie/news/1807835/law-to-legalise-medical-cannabis-only-went-forward-after-reference-to-smoking-was-removed-from-the-bill/
SCIENCE & HEALTH
A study suggested that "legalization of recreational marijuana did not increase marijuana use for youth who did not use marijuana but did increase use in youth who were already using."
http://psycnet.apa.org/doiLanding?doi=10.1037%2Fadb0000327
A Utah survey found that 73% of epilepsy patients reported a noticeable reduction in seizures after taking CBD medical cannabis extracts in conjunction with other medication.
http://www.sltrib.com/news/2017/11/15/cannabis-oil-is-helping-utahs-epilepsy-patients-though-it-isnt-eliminating-seizures-u-survey-finds/
OPINION & ANALYSIS
A poll found that U.S. likely voters support legalizing marijuana, 49% – 38%.
http://www.rasmussenreports.com/public_content/politics/general_politics/november_2017/nearly_half_support_legalizing_pot
An ACLU poll found that 72% of Americans would be more likely to vote for an elected official who supports eliminating mandatory minimum laws, among other findings about attitudes toward criminal justice reform issues.
https://www.aclu.org/news/91-percent-americans-support-criminal-justice-reform-aclu-polling-finds
The Boston Herald editorial board is urging Massachusetts municipalities to tax marijuana as much as they can.
http://www.bostonherald.com/opinion/editorials/2017/11/editorial_max_on_the_pot_tax
The Press of Atlantic City editorial board is wary of legalizing marijuana in New Jersey, it thinks it should still be reclassified.
http://www.pressofatlanticcity.com/opinion/time-to-reclassify-n-j-s-relationship-with-marijuana/article_21a11f52-5558-5095-a2fa-07e680541983.html
BUSINESS
An Arcview Market Research report concludes that "licensed marijuana stores are as profitable as Starbucks stores, if only they were taxed at the federal level like Starbucks, Apple, and other high-end specialty stores."
https://globenewswire.com/news-release/2017/11/16/1194273/0/en/NEW-REPORT-Marijuana-Stores-as-Profitable-as-Starbucks.html
Canopy Growth, Organa Brands and Green House are entering a joint partnership.
https://www.thedailybeast.com/these-three-kings-of-cannabis-are-going-into-business-together
Politico looks at former Pittsburgh Steelers player Jack Ham's involvement in the marijuana industry.
https://www.politico.com/magazine/story/2017/11/16/pittsburgh-steelers-jack-ham-medical-marijuana-what-works-215834
CULTURE     
Anthony Bourdain toured Seattle-area marijuana businesses — and tested their products — for an episode of his CNN series "Parts Unknown" airing this weekend.
https://www.geekwire.com/2017/anthony-bourdain-lunches-geekwire-dishes-tech-pot-vr-porn-changing-seattle/
Adult film actress Cherie DeVille and rapper Coolio announced they are running on a presidential and vice-presidential ticket in 2020 on a platform that includes legalizing marijuana.
https://fuckingawesome.com/pornstarforpresident/#platform
Actress Kathy Bates spoke about how medical cannabis helps football players deal with injuries.
https://www.youtube.com/watch?v=A9xEvdZniR8
Rock Band The Dandy Warhols tweeted that voters should work to defeat Kentucky Gov. Matt Bevin (R) for opposing marijuana legalization.
https://twitter.com/TheDandyWarhols/status/931206734118449154
Veterans cannabis provisions stripped by congressional leaders (Newsletter: December 11, 2019)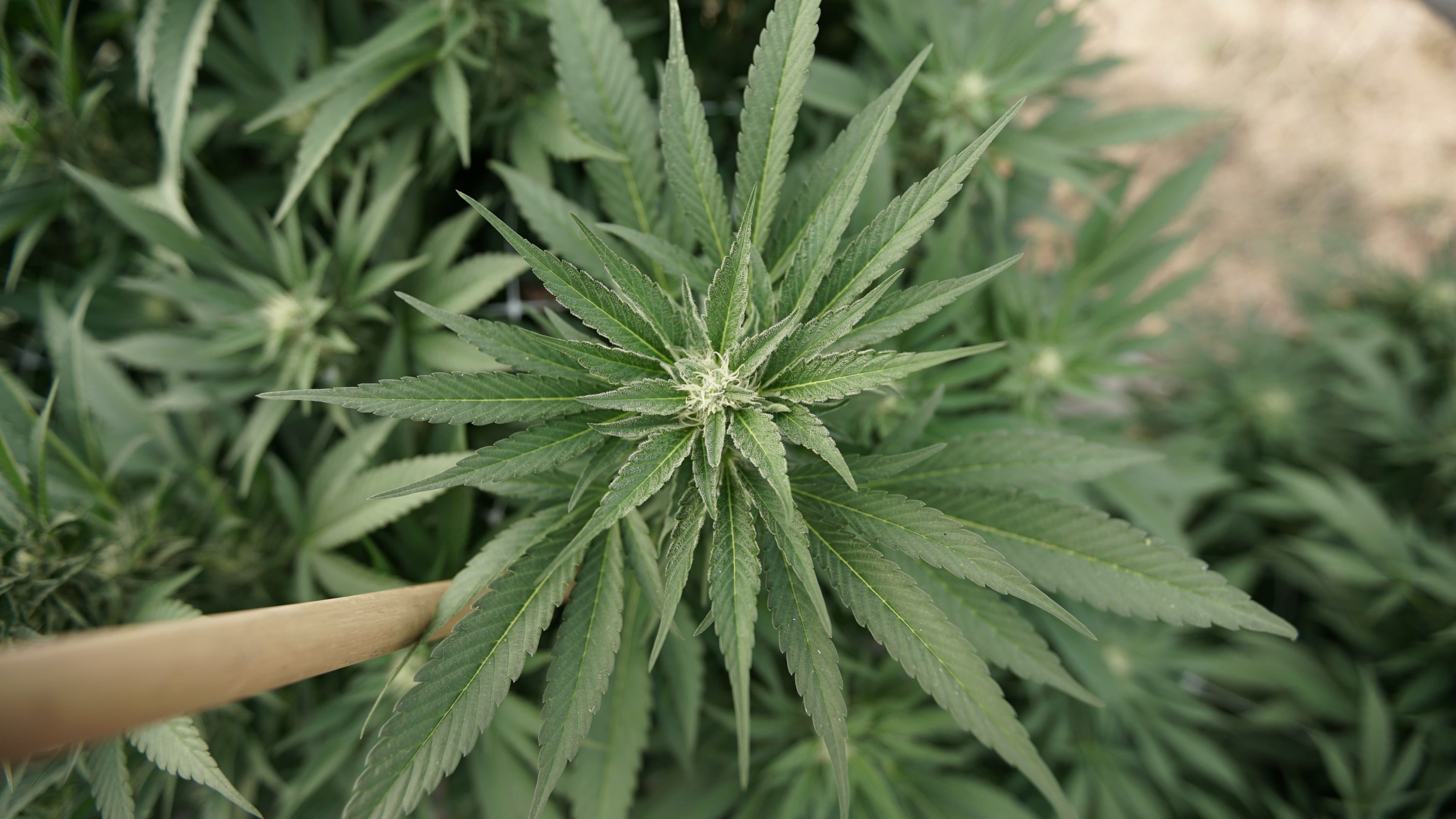 Vermont health official backs legal marijuana sales; MLB to OK cannabis use by players; Killer Mike credits Bernie Sanders for legalization momentum
Subscribe to receive Marijuana Moment's newsletter in your inbox every weekday morning. It's the best way to make sure you know which cannabis stories are shaping the day.
Your support makes Marijuana Moment possible…
By starting a $10 per month pledge on Patreon—or about 45 cents per issue of this newsletter—you can help us rely less on ads to cover our expenses, hire more journalists and bring you even more marijuana news.
https://www.patreon.com/marijuanamoment

/ TOP THINGS TO KNOW

Congressional negotiators stripped veterans-focused marijuana provisions that passed the House from the final negotiated version of the National Defense Authorization Act. Meanwhile, the bill contains nearly a billion dollars to support waging the war on drugs.

A top Vermont Health Department official said the state should legalize marijuana sales in order to better protect public health.
"Without the regulation, we don't know what's in it. We can't control the potency of it. We can't control the access."
Major League Baseball plans to remove marijuana from its banned substances list for minor league players.
Rapper Killer Mike credited Sen. Bernie Sanders (I-VT)—who was the first major presidential candidate to back legalizing marijuana during his 2016 run—with inspiring the cannabis reform movement.
"Marijuana decriminalization was something I never thought I'd see in my lifetime. Yet within four years, I've seen a nationwide push for it, in big part to his campaign."
/ FEDERAL

The Substance Abuse and Mental Health Services Administration's Drug Testing Advisory Board discussed the impact of marijuana laws on drug testing at a meeting last week.

The State Department and Office of National Drug Control Policy hosted officials from Canada and Mexico for the Fourth Annual North American Drug Dialogue.

Two marijuana bills were among the top 10 most viewed on Congress.gov for the week of December 1.

Rep. Tulsi Gabbard (D-HI), a presidential candidate, spoke about ending the war on drugs and marijuana prohibition during a speech in New Hampshire.

Rep. Jared Huffman (D-CA) did an interview with the Cannabis Economy podcast and tweeted, "Cannabis prohibition is an antiquated policy that is on its way out the door."

Illinois Democratic congressional candidate Rachel Ventura, currently a Will County Board member, is pushing to earmark local marijuana tax revenue to help people harmed by prohibition enforcement.

/ STATES

New Jersey Gov. Phil Murphy (D) said he wants to make another attempt to pass marijuana legalization legislation early next year.

Illinois Gov. J.B. Pritzker tweeted about the state beginning to accept marijuana social equity applications, saying, "Our phased rollout is intentional. Illinois' brief startup period was designed to provide the seed capital to social equity applicants. These low-interest loans will help businesses get off the ground & create real opportunity in communities that have suffered in the past."

New York Gov. Andrew Cuomo (D) tweeted, "The hemp industry in NY is exploding. By establishing a regulatory framework for producing and selling hemp and hemp extract we can set the industry on a path to continued growth in a smart, safe way that empowers farmers and consumers."

Virginia's attorney general is hosting a cannabis summit on Wednesday.

Florida's agriculture commissioner is engaged to the founder and former CEO of one of the state's largest medical cannabis companies. Separately, the House Health Quality Subcommittee will hold a hearing on marijuana legalization on Wednesday.

The Michigan House Regulatory Reform approved legislation to ban the use of vitamin E acetate in vaping products. Meanwhile, State Police are investigating two medical cannabis dispensaries for allegedly selling marijuana without a license.

Texas regulators submitted a hemp plan for federal approval.

New Mexico regulators delayed a hearing on a proposal to allow medical cannabis for pets.

/ LOCAL

The Brooklyn, New York district attorney dropped drug charges against a man transporting industrial hemp.

Denver, Colorado officials announced that Royal Resin is voluntarily recalling marijuana products due to the presence of elevated yeast and/or mold counts.

/ INTERNATIONAL

Uruguay's Senate unanimously approved a medical cannabis regulation bill.

Mexico's former secretary of public security was charged with participating in a drug trafficking conspiracy in U.S. federal court.

Uganda's cabinet is studying the potential legalization of marijuana.

/ SCIENCE & HEALTH

A review suggested that "cannabinoids may confer beneficial effects on the gastrointestinal and immune system, such as reducing intestinal permeability, regulating gut bacteria and reducing inflammation" and that "cannabinoids may exert [alcohol use disorder] harm‐reduction effects."

A study on marijuana product descriptions concluded that "online cannabis retailers are making potentially unsubstantiated product claims."

/ ADVOCACY, OPINION & ANALYSIS

The National Cannabis Roundtable released a corporate social responsibility pledge signed by the heads of marijuana businesses.

/ BUSINESS

Dollar General announced it will begin selling CBD products in some of its stores.

Walmart Canada apologized for selling a sweater that appeared to depict Santa Claus with lines of cocaine.

CannTrust Holdings Inc. announced that the New York Stock Exchange notified the company it is no longer in compliance listing rules requiring a stock price in excess of $1 per share.

Leafly launched a new market data analysis tool, online CBD sales platform and partnership with the American Medical Marijuana Physicians Association.

Columbia Care Inc. brought on a new chief growth officer.

Front Range Biosciences is sending plant cultures of hemp and coffee to the International Space Station for an experiment on whether  zero gravity will mutate or genetically alter the plants.

Vice looks at how paid social media influencers are making questionable claims about CBD products.

/ CULTURE

Actor Brad Pitt said he "spent most of the '90s hiding out and smoking pot. I was too uncomfortable with all the attention."

Cartoonist Scott Adams said he wants to legalize drugs beyond marijuana.
Make sure to subscribe to get Marijuana Moment's daily dispatch in your inbox.
Photo courtesy of Chris Wallis // Side Pocket Images.
Justice Department defends student cannabis advocacy rights (Newsletter: December 10, 2019)
Buttigieg backs safe injection sites; AOC to file more psychedelics legislation; Decrim Nature op-ed: Apply legal marijuana lessons to entheogens
Subscribe to receive Marijuana Moment's newsletter in your inbox every weekday morning. It's the best way to make sure you know which cannabis stories are shaping the day.
Your support makes Marijuana Moment possible…
The Department of Justice filed a brief in a free speech case defending the right of college students to speak out on marijuana legalization and other issues.
"The United States of America is not a police state. Repressive speech codes are the indecent hallmark of despotic, totalitarian regimes. They have absolutely no place in our country, and the First Amendment outlaws all tyrannical policies, practices, and acts that abridge the freedom of speech."
South Bend, Indiana Mayor Pete Buttigieg (D), a presidential candidate, said he supports safe injection facilities where people can consume illegal drugs under medical supervision to help mitigate overdoses.
"It is common sense that if you can prevent the harms associated with injection drug use, you should."
Rep. Alexandria Ocasio-Cortez (D-NY) plans to introduce more congressional legislation on psychedelics, according to a Decriminalize Nature activist who spoke with her at a town hall meeting.

In an op-ed for Marijuana Moment, Decriminalize Nature Board Chair Carlos Plazola argues that psychedelic activists need to learn lessons from legal cannabis's implementation.
"If the common person has the ability to grow and use their own healing plants, and share with friends, they can forever hold the corporate interests accountable."
/ FEDERAL

The Food and Drug Administration published an overview of the research and approval process for cannabis and cannabinoids.

U.S. officials knowingly carried out ineffective and at times counterproductive anti-drug operations in Afghanistan, according to documents obtained by the Washington Post.

The  U.S. Court of Appeals for the Ninth Circuit upheld the conviction of a former congressional staffer who tried to bribe marijuana business owners.

Sen. Bernie Sanders (I-VT), a presidential candidate, spoke about his support for ending the war on drugs, legalizing marijuana and expunging records in a speech in Iowa.

Senate Majority Leader Mitch McConnell (R-KY) discussed hemp at a Kentucky Farm Bureau Federation meeting.

Rep. Ed Perlmutter (D-CO) said he thinks his marijuana banking legislation will advance in the Senate.

Rep. Barbara Lee (D-CA) tweeted, "I'm proud to sponsor this House Resolution that would force Congress to admit that the War on Drugs was a racist failure, apologize, and provide justice to all those negatively impacted by it."

/ STATES

New York Gov. Andrew Cuomo (D) signed a hemp regulation bill into law and announced the state will hold a hemp summit next month.

Illinois regulators will begin accepting applications for new recreational marijuana retail licenses on Tuesday.

Virginia regulators are moving to ban vitamin E acetate in medical cannabis vaping devices instead of banning THC and CBD vapes altogether.

Nevada regulators temporarily removed an online database of marijuana business owners and officers. Separately, an analysis portrays the state's cannabis testing labs in an unflattering light.

New Mexico's medical cannabis program now has more than 200 out-of-state patients.

The Washington, D.C. Council's official Twitter account posted a video of the city's Christmas tree lighting, saying, "There hasn't been this much excitement about something being lit at the Wilson Building since we legalized marijuana."

—
Marijuana Moment is already tracking more than 1,000 cannabis bills in state legislatures and Congress this year. Patreon supporters pledging at least $25/month get access to our interactive maps, charts and hearing calendar so they don't miss any developments.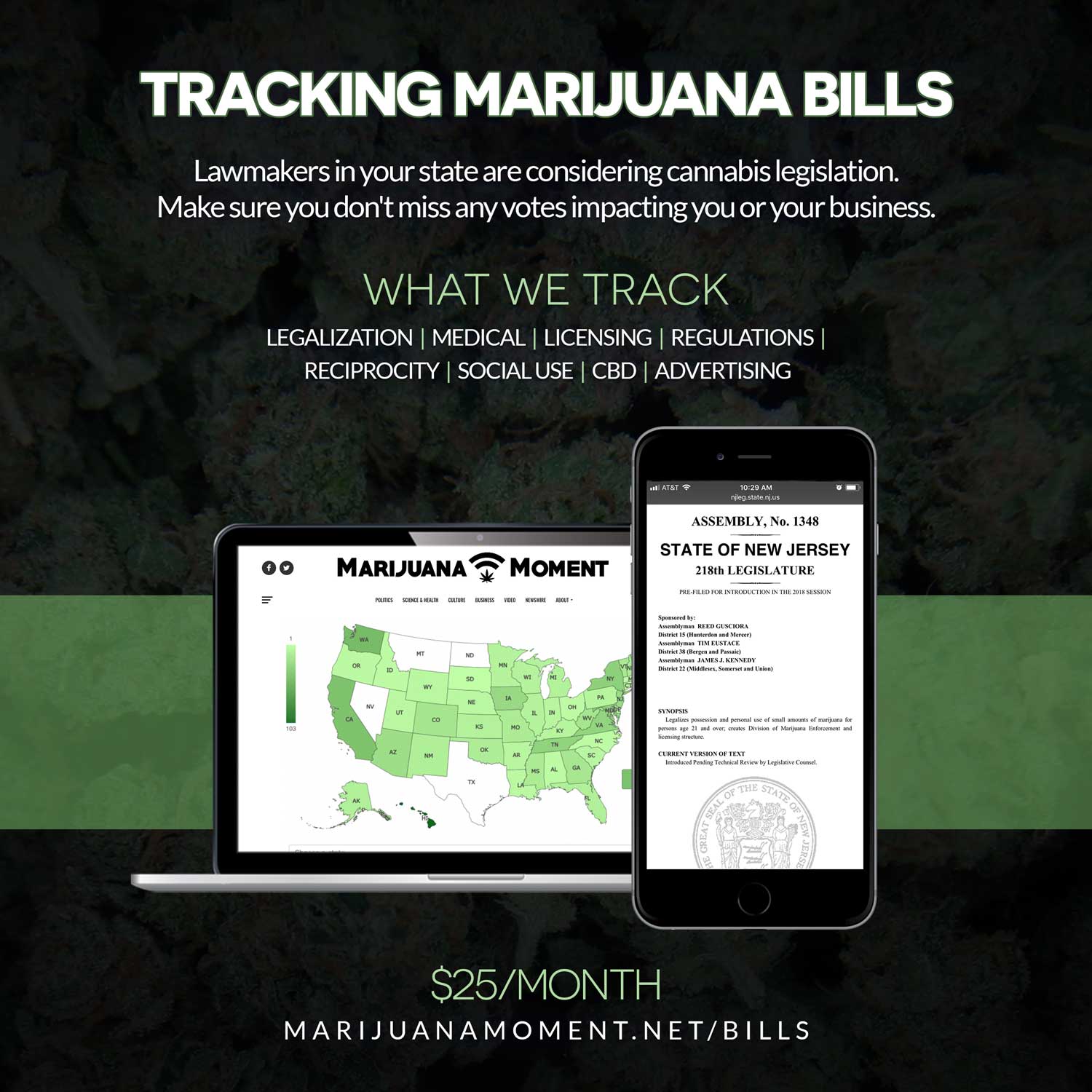 Learn more about our marijuana bill tracker and become a supporter on Patreon to get access.
—
/ LOCAL

Cincinnati, Ohio's police chief denied that officers are specifically targeting African Americans for marijuana enforcement even though 95% of cannabis warning citations in October were issued to black people.

The Point Pleasant Beach, New Jersey mayor, who also serves as executive director of New Jersey Responsible Approaches to Marijuana Policy, authored an op-ed arguing that lawmakers should not place a cannabis legalization referendum on the ballot.

/ INTERNATIONAL

A top aide of Serbian President Aleksandar Vucic is calling for an investigation into his boss to clear him of charges that he and his brother are linked to an illegal marijuana growing operation.

/ SCIENCE & HEALTH

A study "demonstrated a proof of concept that a competitive immunoassay construct can determine if a person has recently used products containing THC, specifically marijuana, from the sweat content of fingerprints."

A study found that "cannabis exposure is linked to a lower odds of [neurocognitive impairment] in the context of HIV" and that a "possible mechanism of this result is the anti-inflammatory effect of cannabis."

/ ADVOCACY, OPINION & ANALYSIS

Staff and affiliates of prohibitionist organization Smart Approaches to Marijuana will hold a Wednesday press conference to oppose legislation placing a cannabis legalization referendum on the 2020 ballot.

/ BUSINESS

Jeffrey O. Friedland, Intiva Pharma LLC and Global Corporate Strategies LLC agreed to pay $4.2 million to settle U.S. Securities and Exchange Commission charges that they fraudulently promoted the stock of OWC Pharmaceutical Research Corp.

Canopy Growth Corporation named Constellation Brands's CFO as its new CEO.

Medicine Man Technologies Inc. appointed a new CEO and leadership team.

Cresco Labs announced the first harvest from its large Illinois cultivation facility.

Burns & Levinson and Vicente Sederberg LLP are partnering to offer legal services to the cannabis industry.

Instagram deleted a post from CBD beverage maker Recess that the company paid people $3 each to share.

Leafly examines efforts to patent cannabis.

Michigan retailers sold more than $1.6 million in recreational marijuana products in the first eight days of legal sales.

/ CULTURE

Federal agents administered Narcan to Juice WRLD shortly before he died at a Chicago airport. Seventy pounds of marijuana, codeine cough syrup, firearms and ammunition were found on the private jet he had arrived on.

Beyoncé denied that she was high in a video in which she said she loves whales and would choose to be one if she could be any animal.

Musician Melissa Etheridge tweeted, "Over the past 40 years our incarcerated population has increased 500% mostly due to the failed war on drugs. Today thousands remain incarcerated for victimless cannabis offenses."
Make sure to subscribe to get Marijuana Moment's daily dispatch in your inbox.
Legal cannabis measure filed in North Dakota (Newsletter: December 9, 2019)
Lawmakers: Let scientists study dispensary marijuana; Signatures collected for Oregon drug decrim measure; Call for Congress to apologize for drug war
Subscribe to receive Marijuana Moment's newsletter in your inbox every weekday morning. It's the best way to make sure you know which cannabis stories are shaping the day.
Your support makes Marijuana Moment possible…
There are now 1,311 cannabis-related bills moving through state legislatures and Congress for 2019 sessions.

Never let a marijuana bill catch you by surprise with exclusive access to Marijuana Moment's custom-built cannabis legislation tracker for just $25/month.
https://www.patreon.com/marijuanamoment

/ TOP THINGS TO KNOW

North Dakota activists filed a proposed 2020 marijuana legalization ballot measure. While a 2018 initiative from the same group had no limits on possession or cultivation, and no licensing—and lost big on Election Day— the new version has regulations and bans cannabis home cultivation.

Oregon activists have begun collecting signatures in support of a proposed 2020 ballot measure to decriminalize drugs in the state and fund treatment programs. David Bronner of Dr. Bronner's told Marijuana Moment in an interview that the company is donating $250,000 to the effort.

A bipartisan group of senators and House members led by Sen. Brian Schatz (D-HI) and Rep. Harley Rouda (D-CA) sent a letter calling on the Department of Justice to let scientists study marijuana purchased at dispensaries.
"There is a need for a greater diversity of cannabis products so that research on benefits and risks reflects the realities of what consumers and patients are using."
Rep. Bonnie Watson Coleman (D-NJ) and 20 cosponsors filed a resolution demanding that Congress apologize to individuals and communities harmed by the war on drugs.
"The House of Representatives hereby apologizes to the individuals and communities harmed through the War on Drugs and acknowledges that actions by this body have demonized and criminalized addiction for more than 80 years instead of accurately treating it as a health concern."
/ FEDERAL

President Trump tweeted, "All necessary work has been completed to declare Mexican Cartels terrorist organizations. Statutorily we are ready to do so. However, at the request of a man who I like and respect, and has worked so well with us, President Andres Manuel @LopezObrador_ ee will temporarily hold off this designation and step up our joint efforts to deal decisively with these vicious and ever-growing organizations!"

The Centers for Disease Control and Prevention listed the brand names of vaping products believed to be associated with cases of severe lung injury.

The Senate Judiciary Subcommittee on Intellectual Property heard testimony on how the Patent and Trademark Office should be able to adapt methods it has used to review cannabis-related applications for addressing the unrelated problem of fraudulent applications originating from China.

Rep. Scott Peters (D-CA) tweeted about discussing medical cannabis with Greenwich Biosciences staff, saying, "There's growing consensus federal cannabis laws should change to support research, like the work at @UCSanDiego's Center for Medicinal Cannabis Research."

Rep. Dwight Evans (D-PA) tweeted about the advancement of marijuana descheduling legislation, saying, "I'm thrilled to see such a big step taken toward ending the failed 'war on drugs' that contributed to institutionalized racism and the criminal justice epidemic."

Rep. Ro Khanna (D-CA) tweeted, "🌿 People arrested for marijuana possession in 2018: 663,367. 👮‍♀️ Total incarcerated population in 1988: 627,402. Repairing the damage of mass incarceration begins with legalizing marijuana, expunging prior offenses and reinvesting in the communities most impacted by the drug war."

The House bill to deschedule marijuana and fund programs to repair the harms of the drug war got one new cosponsor for a total of 65.

/ STATES

Nevada Gov. Steve Sisolak (D) spoke about the importance of ensuring the independence of marijuana testing labs.

Virginia's attorney general discussed his support for marijuana reform in an interview.

Massachusetts health officials said that one of the patients with severe lung injuries who had purchased marijuana vaping products from licensed dispensaries also used illegal and unregulated cannabis products.

Iowa's Senate majority leader said he opposes legalizing marijuana.

A South Carolina judge is allowing a farmer to harvest hemp plants as he awaits trial for allegedly growing them without proper registration.

Maine's Legislative Council rejected a request to give a second chance to a marijuana expungement bill.

Minnesota Department of Agriculture officials visited Oregon to learn about hemp.

Arizona lawmakers are considering enacting limits on the proximity of hemp fields to marijuana farms out of concern about pollination.

Florida regulators filed briefs with the state Supreme Court in a case challenging the requirement that medical cannabis businesses be vertically integrated.

Rhode Island regulators held a public hearing about proposed medical cannabis rules changes.

Drug testing requirements for New Mexico state jobs deemed safety sensitive may be preventing medical cannabis patients from finding work.

Michigan regulators will hold a meeting to receive public comment on marijuana rules on Monday.

—
Marijuana Moment is already tracking more than 1,000 cannabis bills in state legislatures and Congress this year. Patreon supporters pledging at least $25/month get access to our interactive maps, charts and hearing calendar so they don't miss any developments.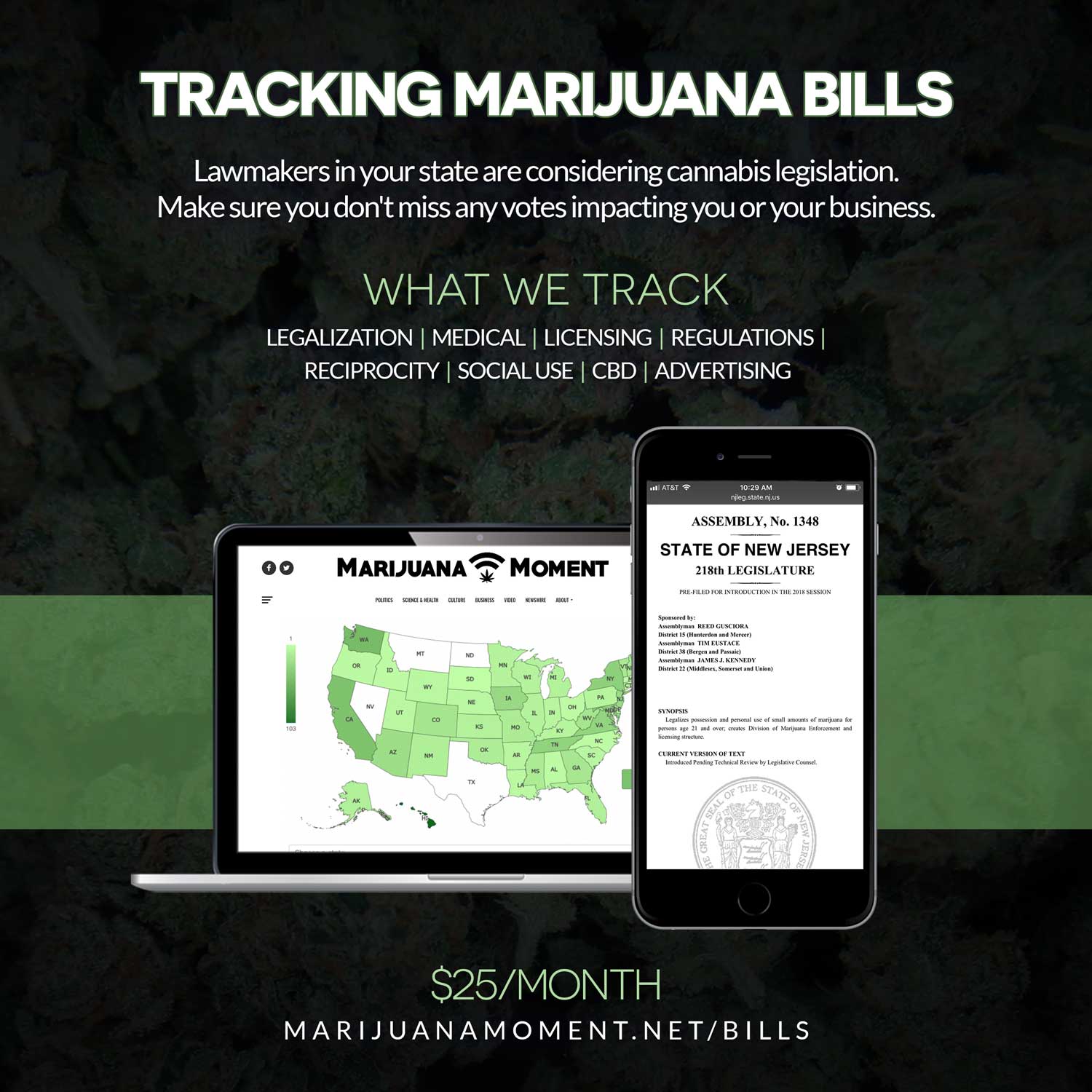 Learn more about our marijuana bill tracker and become a supporter on Patreon to get access.
—
/ LOCAL

The Atlantic City, New Jersey City Council is considering measures opposing marijuana businesses on the Boardwalk and supporting a state effort to legalize open containers of alcohol there.

Grand Rapids, Michigan officials visited Colorado to learn about the marijuana industry.

/ INTERNATIONAL

Israel's High Court of Justice overturned regulators' medical cannabis price controls.

Fiji's attorney general hosted a conference featuring a panel about medical cannabis.

The leader of the UK's Liberal Democrats said she smoked "a fair bit of cannabis at university."

/ SCIENCE & HEALTH

A study of cognitive performance in medical cannabis patients found that "contrary to expectations, performance on neuropsychological tests remained stable or even improved during the acute intoxication stage, and continued to increase during Recovery," concluding that "there was no psychometric evidence for a decline in cognitive ability following THC intoxication."

A survey of oncologists found that "about half thought [medical marijuana] was beneficial for older adults with cancer."

/ ADVOCACY, OPINION & ANALYSIS

The Connecticut Conference of Municipalities hosted a discussion about marijuana legalization.

The Long Island Contractors' Association is calling on New York lawmakers to direct legal marijuana revenue to roads and other infrastructure improvements.

/ BUSINESS

Canopy Growth Corporation said its new line of Canadian marijuana products, including vape pens, beverages and chocolates, will roll out in January.

WeedMD received a C$25 million investment from the Labourers' Pension Fund of Central and Eastern Canada.

GW Pharmaceuticals plc presented new data on the efficacy of its Epidiolex CBD medication in reducing seizures.

High Street Capital Partners LLC is suing CanWell LLC for allegedly "weaponizing" a noncompete agreement between their subsidiaries.

Several major companies listed as interested partners in leaked documents about Trade Park Corporation's planned marijuana farm in Cameroon said they have no knowledge of the project.

/ CULTURE

Miss Universe Canada wore a marijuana-themed outfit during the costume competition, and Miss Universe USA spoke about her support for legalizing cannabis.

Former wrestler Enzo Amore estimated that about half of WWE wrestlers consume cannabis.
Make sure to subscribe to get Marijuana Moment's daily dispatch in your inbox.
Photo courtesy of Kyle Jaeger.